Industry Insights: Brad Sweet
Image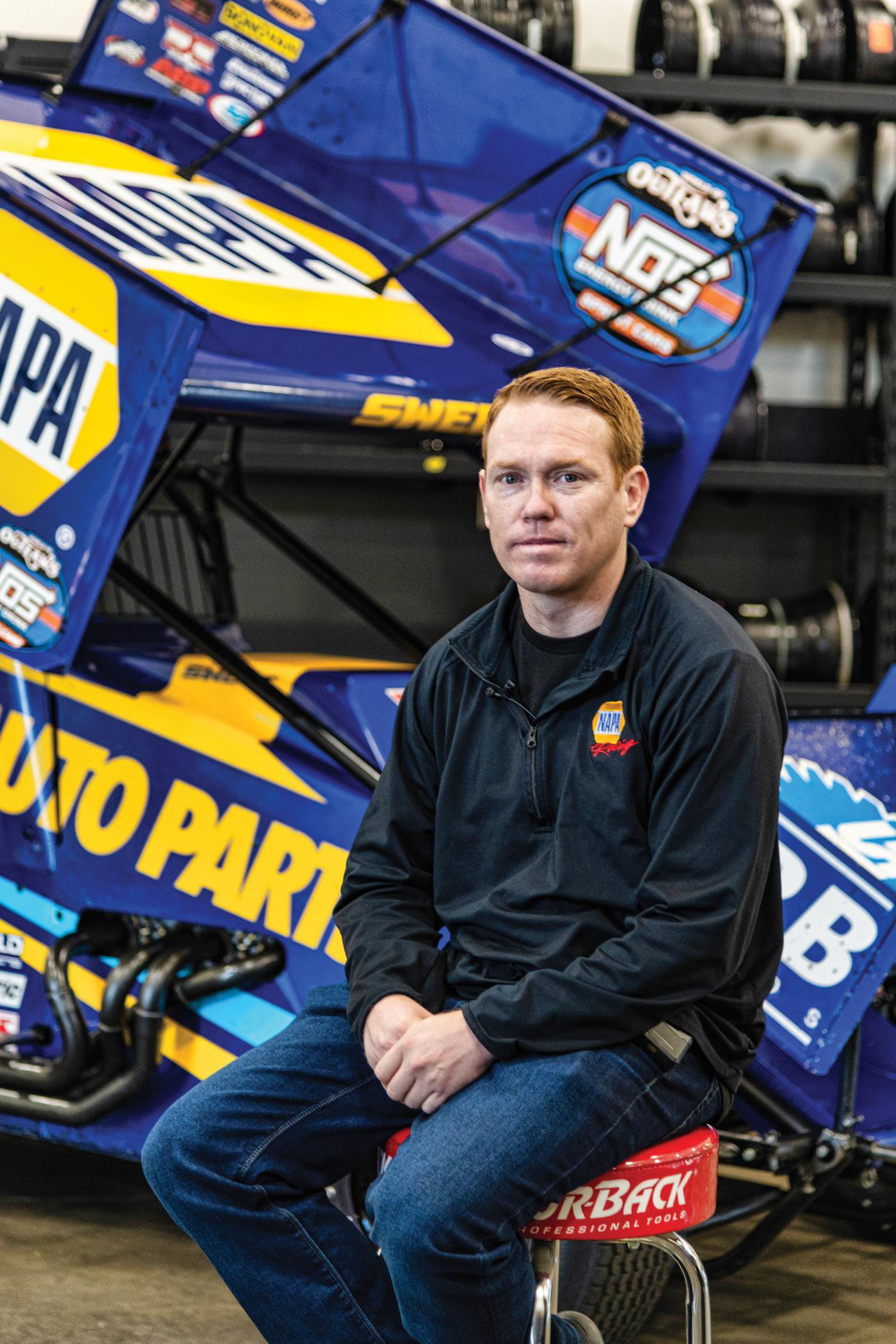 This Grass Valley, California, competitor's passion for dirt racing prompted him to add the title 'promoter' to a sterling resume that includes back-to-back-to-back World of Outlaws championships. His agenda now includes big plans for Silver Dollar Speedway, its signature Gold Cup event, and the high-powered 410 sprint class.
Brad Sweet is among the most successful race car drivers in the World of Outlaws series. Behind the wheel of the Kasey Kahne Racing No. 49 sprint car, Sweet has won three consecutive championships in 2019, 2020, and 2021, and he is leading the points for 2022.
Born in Grass Valley, California, Sweet got his start in the USAC National Midget Series and World of Outlaws, then moved over to ARCA and the NASCAR Camping World Truck Series to learn pavement racing. He did a stint with the NASCAR Xfinity Series as well, further refining his craft before coming back to World of Outlaws as a competition home. His record in Outlaws has been stellar, with 75 wins in 751 starts at press time.
At 36 years old, Sweet is still going strong as a driver, but together with partners Kyle Larson and Colby Copeland, he has taken an interest in race promotion. The trio invested in Silver Dollar Speedway in Chico, California, taking over promotional and management duties. The track was the home course for all three drivers before they launched to the national scene, and Sweet is now responsible for regular operations at the facility in addition to his driving duties.
In July, Sweet and Larson announced a new midweek sprint car series. The High Limit Sprint Car Series will include 12 races in 2023 and will take place on Tuesday, Wednesday, and Thursday evenings to avoid conflicting with other 410 sprint car series. Both Sweet and Larson are expected to compete in the series with other 410 sprint car racers.
Making the jump from the driver's seat to the promoter's office is not easy and requires an entirely different skill set. We asked Sweet to tell us about his reasons, his vision, and his plan for success.
PRI: What made you want to decide to become the promoter at Silver Dollar? That's really crossing over to a very different job.
Sweet: I'm very passionate about Northern California racing, just because it's where I grew up. Some of my best memories are at Silver Dollar Speedway at the Gold Cup Race of Champions. That's something I remember very vividly as a child. That event made me who I am, giving me the desire to race with the World of Outlaws. It's been pretty obvious that the Gold Cup and Chico in general haven't been the best event lately, or what the event used to be. I'm not going to blame anybody for it personally, but I felt like I could do a better job.
PRI: What's behind that? Being a promoter is a very different skill set from driving.
Sweet: My whole life is racing and driving. But part of me started to shift in a different direction and look at business and maybe life after racing. You never know when you're going to be done racing a car. It could be at 40 years old, or some guys race much past that. But I didn't want to get done racing a car and not have anything to fall back on. So I think that's some of why I'm making these moves like I am right now.
I feel like I'm young enough, and I have a good vision of what I would like the event to grow back into. I think the West Coast deserves to have one of the crown jewels in sprint car racing. My goal is to get it back to that point. The opportunity to get these tracks are very few and far between, so I was patient. The timing was right, so here we are. We've learned a lot, and we still have a long way to go.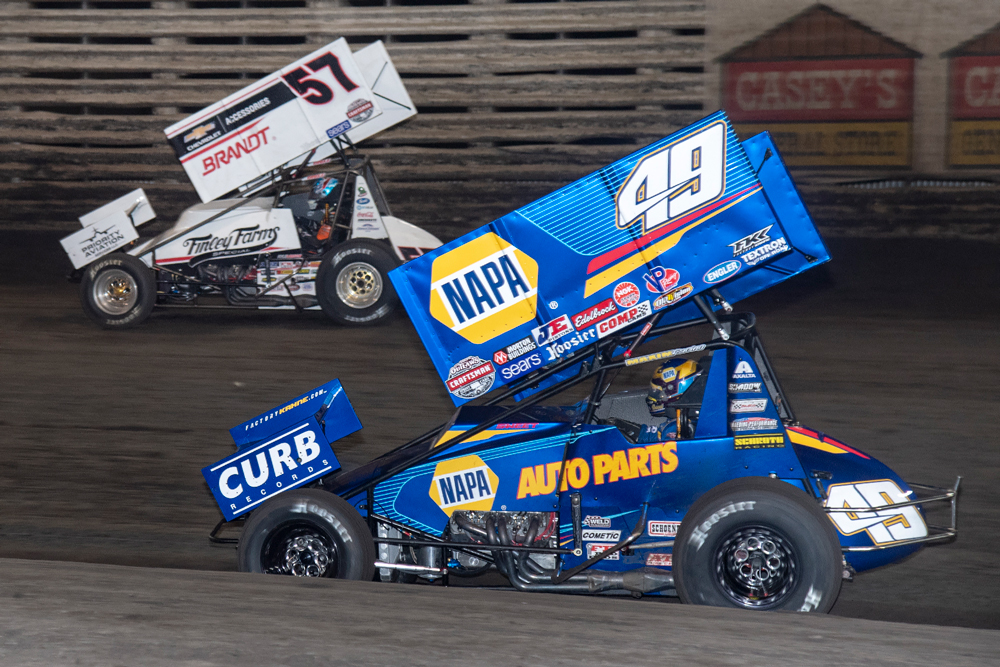 PRI: With your driving schedule, you have some help running the track, right?
Sweet: I couldn't do this without my wife, Rachel. She's definitely a huge part of running the office side of things. Also, Colby Copeland is our general manager, so he's really the boots on the ground. He gets my ideas and then he has to try to execute them, and they're not always easy. So between him and my wife, they're the ones who are at the track. I'm out racing, so I don't even get to be there. They report back to me, but that's how we have to do it right now.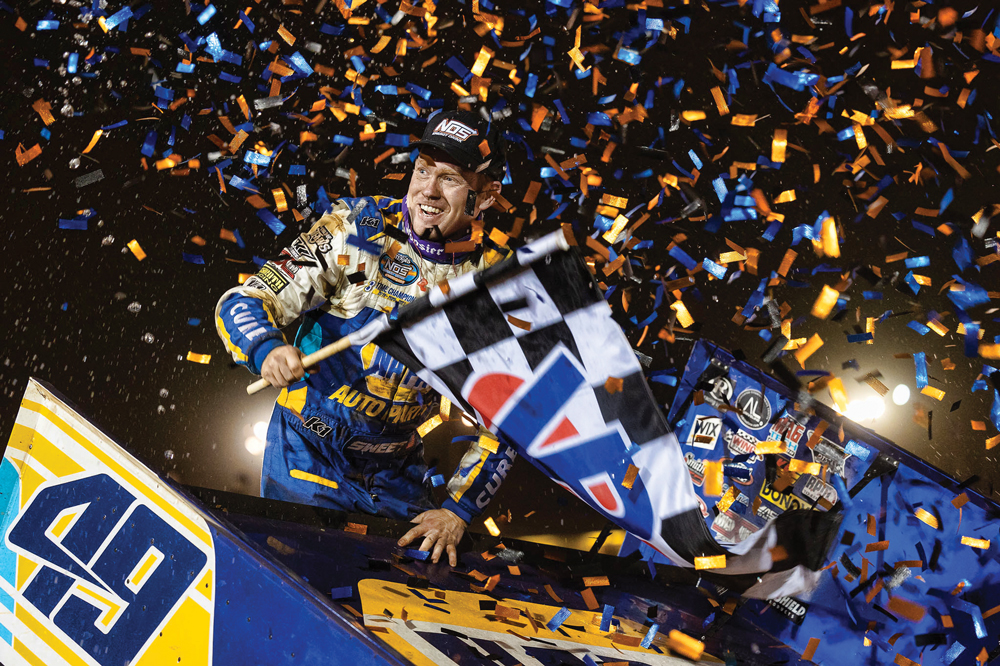 PRI: Was there something specific that got you interested in being a promoter?
Sweet: Honestly, I never really gave much thought to the business side of sprint car racing. I always just looked at it from a driver's standpoint, until I promoted a World of Outlaws race at Placerville, California. I live in Placerville. It was enticing to me to get the Outlaws, but when I went to the promoter there, he said, "Hey, I'll rent you the facility, you can do it."
I thought, "This is a no-brainer. We'll make a ton of money. Everyone will come see this." That's when it hit me that there's a lot more to it all. There's a lot of risk that a promoter takes, but we did the event, and we were profitable, and it was neat to see, to be a part of entertaining so many people.
We did that event for three or four years in a row, and I enjoyed it. I learned a lot about promoting, and then I tried to do some other events. It led me to search around, trying to figure out, what is this race promotion thing all about? Is it really profitable? Is it always profitable? Then I lost money on a few races. So I started looking at the big picture, looking at the events like the Knoxville Nationals and the Kings Royal, and just how well they run their facilities and the things that they do that make it an event, not just a race.
PRI: What do you think is needed for open wheel racing to thrive in the future?
Sweet: I think you have to have the big events. Knoxville Raceway isn't on the map without the Knoxville Nationals. Eldora's not on the map without the Kings Royal. It's kind of a pyramid. It starts with the big, big events. That's what draws the most fans. It builds excitement. Racers dream of winning those big, big races. It puts your race track on the map. One event a year that the whole country's watching. I truly believe the Gold Cup needs to be that event for us at Chico. It needs to be very prestigious, World of Outlaws 410 racing, where the highest level of racing comes to our track.
We want to grow the prestige of the event back to what it was. That's what draws more people in. There are plenty of kids coming up through the ranks right now in go-karts, and we want to entice them to get a sprint car and come race at our tracks here in Northern California. In return, we can put on better events that draw in the fans, and if they come to Gold Cup and they have a great time, they're going to come out to our other events. They're going to start recognizing the local stars that actually were able to battle against the Outlaws. We've been missing that.
PRI: What happened to it?
Sweet: We don't have a lot of promoted star power out here. We've lost our car count for a number of reasons. California has really shifted toward 360 racing. The biggest event in Northern California is the Trophy Cup, which is a 360 race. That's what persuades the younger generation. They want to win Trophy Cup, and I want them to want to win the Gold Cup. I want them to want to build up through 360s and then make it to 410 racing.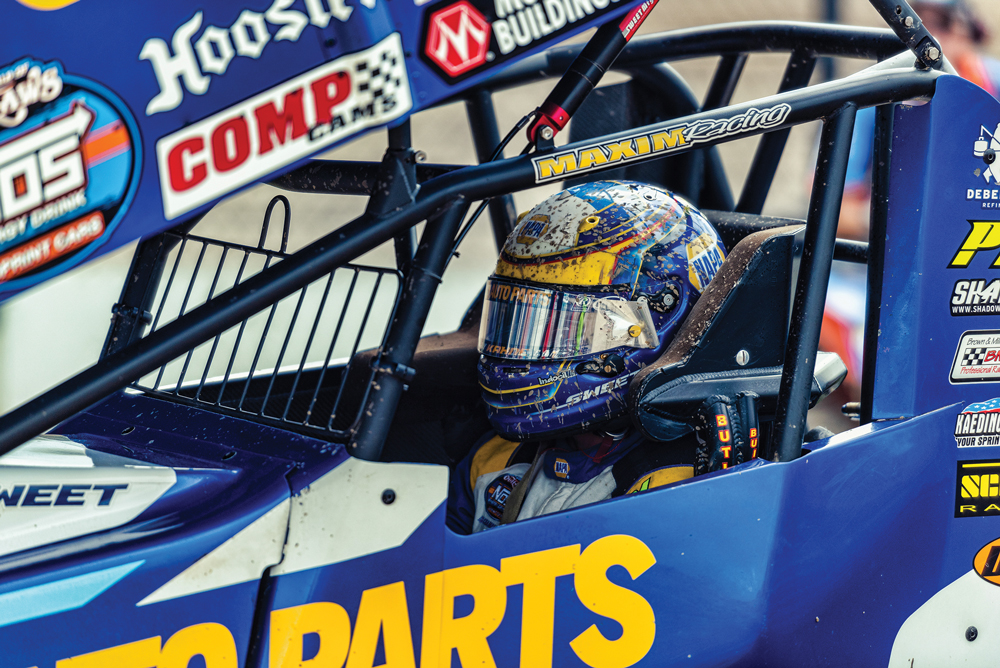 If you go to healthier parts of the country, you're not going to see Lance Dewease running a 360 in Pennsylvania. You're not going to see Donny Schatz or myself running 360s. But out here, you're going to see Dominic Scelzi, Shane Golobic, Justin Sanders, all the main guys running 360, because they're trying to make a living doing it. They're racing 360s because they have to, and we need to change that.
PRI: What specific things are you going to do to build interest in the 410 class and the Gold Cup at Silver Dollar Speedway?
Sweet: Having the King of the West Series run some events at our race track will help. We will also get some of the other track owners to build up some King of the West events. Then we will also make the Gold Cup a very elite event. Guys aren't going to want to miss out, and I think it's already starting to happen. You have the Dirt Cup up in Skagit, Washington, paying $50,000 to win. We're going to pay $25,000 to win at Gold Cup. We've aligned the rules to the rest of the country. So we're on flat top wings and the same tires, which helps teams afford to race these bigger events. You're not always having to buy different tires and different wings and your cars are under the same rules.
We're also going to build our purses. We're going to invest back into the facility. We're going to try different market strategies that haven't been tried before. We're just going to put more of an effort into every aspect of it. We're looking at this as more of a five-to-seven-year plan, not a one-to-three-year plan.
We need to be entertaining, and we need to be affordable. We need to make sure that we're thinking about children and how to entertain them, so we need the shows to be over by 9:30. People don't want to sit in the stands for five or six hours. We're just trying to take a different approach than some of the other promoters and some of the old school ways of thinking.
PRI: What are the old school ways of thinking that you think should change?
Sweet: The alternate entertainment needs to change. I call it alternate entertainment and that can mean your support classes. I think you need to stay focused on the main show, which is why you're selling tickets. If you're going to spend a couple thousand bucks on something else, I think you need to be 100% in control of the time it takes. And ask yourself, does it add value to the show or does it not? It should take 10 minutes, like a halftime show, rather than adding another support class that adds more back gate money. That way of thinking is what drives the show time too long.
Also, I think when there's a bunch of classes that people didn't pay to see, there's actually a point in the night when they're wondering why they're there. But if you could do a T-shirt toss or a guy jumping some cars in the infield, that's exciting. But I think the product is your A Main race.
If fans have a good time at a premier Gold Cup race at Silver Dollar, "they're going to come out to our other events," Brad Sweet said. "They're going to start recognizing the local stars that actually were able to battle against the Outlaws. We've been missing that."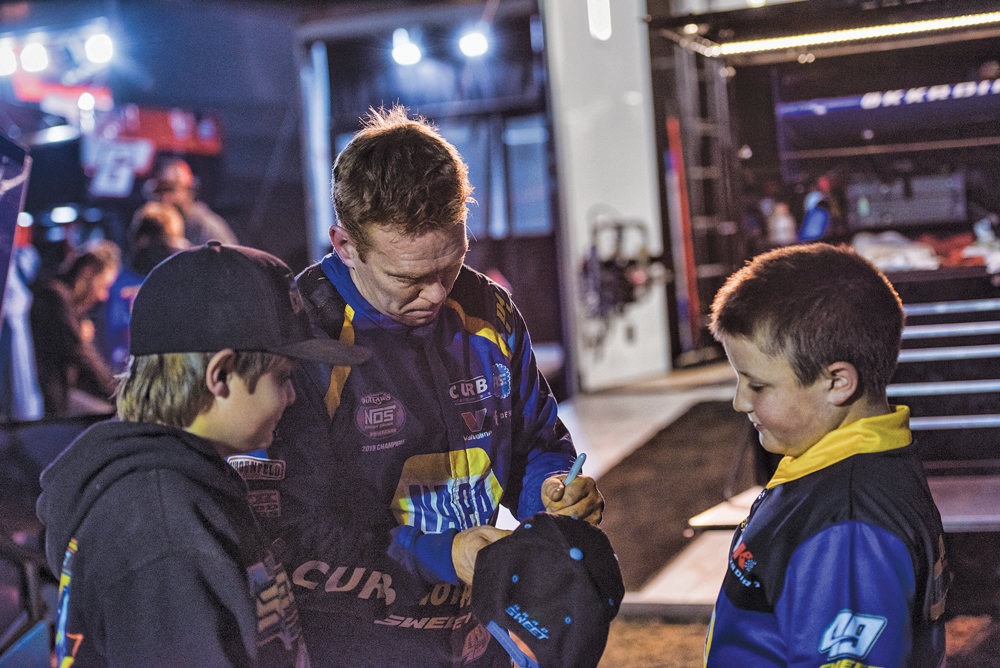 PRI: Are there specific things that we can do as the racing industry to reach out and attract more fans to this kind of open wheel racing?
Sweet: I think you have to have quality entertainment, and not every track does the best job. Back gate promotion takes over in a lot of places because that's the easiest route to go once you start to lose the crowd. So they run four, five, six, seven, eight classes, just building the back gate to make it by. Once that happens, then you lose the fans. No one wants to go to watch six or eight classes of cars. So I think we have to be really focused on front gate promoting, creating alternate entertainment that's not six or seven support classes. You have to give away stuff in the grandstands.
Then there is positivity. There is so much negativity from people. Everything is wrong and nothing is ever right. It is the negativity that drives people away, the negative thoughts on social media, that the track wasn't perfect, or the officiating wasn't perfect.
PRI: You're talking about what drivers say on social media?
Sweet: Drivers, fans, everybody. They just don't understand how damaging those comments are. There are influencers in the racing community who just don't understand how devastating a negative comment and negative comments over and over are to the people they are influencing. You just have to be careful because you can really drive people away with negative comments. If they had ever tried to promote a race, I think a lot of these racers would probably not make the comments that they make. One thing I would suggest is every driver should have to promote one event. So they take the risk one night and understand how hard it is and how stressful it can be.
PRI: How do you manage social media for Silver Dollar Speedway?
Sweet: I have a lot of people who help support me because I just don't have time to sit and think about every post, but I also keep pressure on everybody that social media is very important. We pay a company that does all our ads on social media, and they're better at zooming in on the audience that we're looking for. Those ads are aimed at a 200-mile radius of Chico for anybody who has ever typed in race car, or said race car, or looked up race car, those ads will hit those people. It's much cheaper than TV or billboards to reach the right people.
Then at the race track we have my wife and a couple of girls who are always very creative in trying to get stuff out. Our announcer, Troy Hennig, is always getting press releases out. So it's a joint effort. We have lots of conversations about what we're going to do each and every event.
PRI: How's the relationship between Silver Dollar and the community of Chico?
Sweet: That's a great question because that's one of the first things that I realized. There's a huge disconnect with the people, just from the lack of entertainment value for so long. The community hasn't been out there in years and used to go out there all the time. So that's why when I say organic growth, it's really "boots on the ground" promoting, because it's going to be a slow process of people coming out, having a good time with their kids, being affordable, and then telling their friends. It's a slow process of doing a great job and getting the community back to supporting us. We're doing everything we can as far as outreach, but it still comes down to performance. They still have to come out and enjoy themselves.
PRI: Is there anybody that you try to emulate who you consider a role model, either as a racer or a promoter?
Sweet: There are so many great people that I love having conversations with. I admire what they've done at Eldora. I admire the Knoxville Nationals. I admire John Padjen for what he built at Silver Dollar Speedway, but I want to be innovative. I want to be the leader of the pack. I put a lot of hard work and effort into becoming a champion on the racing side. I'm not going to be any different making Silver Dollar Speedway the best race track on the West Coast.