Image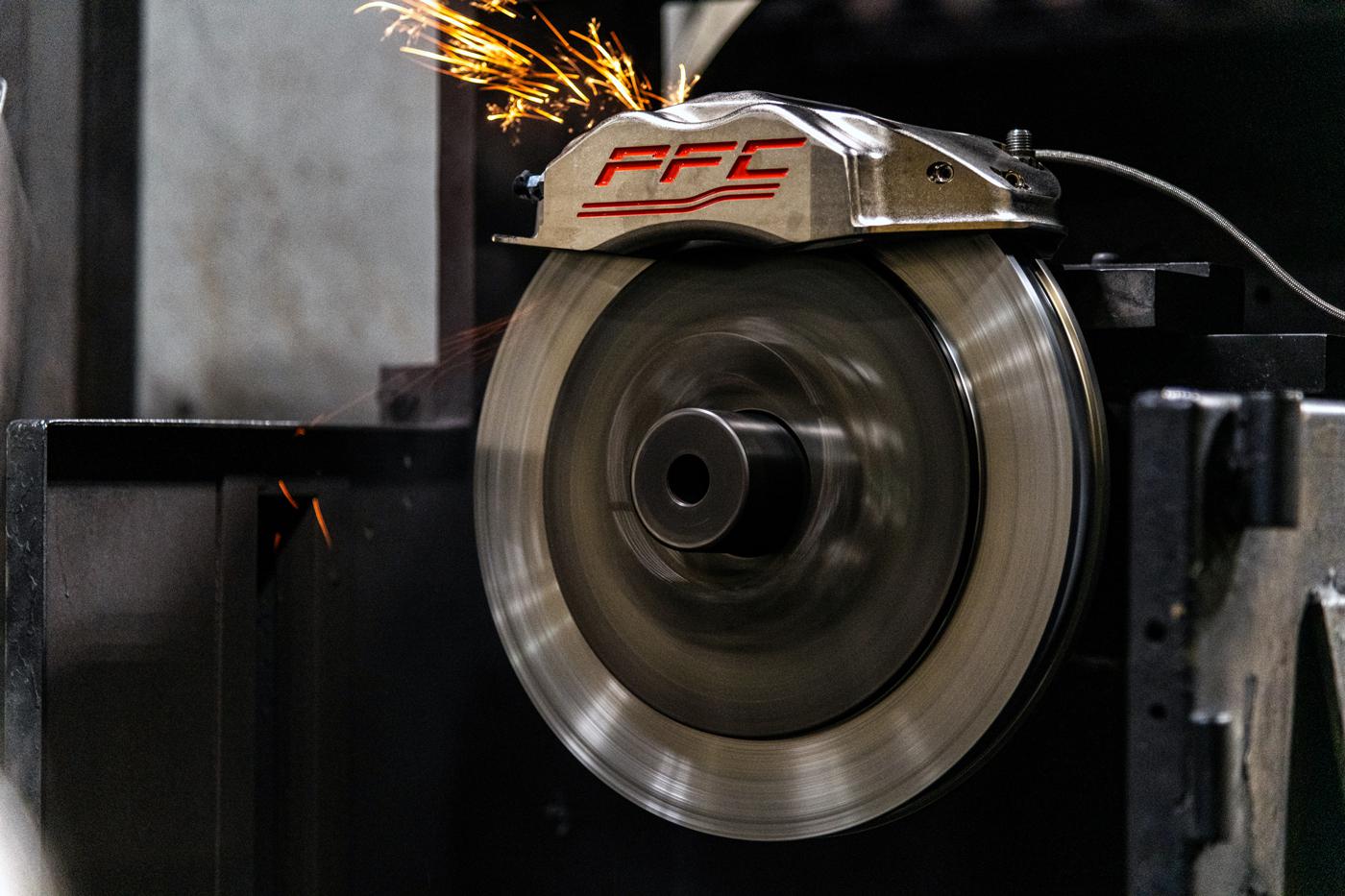 An inside look at braking components and the technology used to design them for the most extreme racing conditions imaginable.
At the pinnacle of racing, packs of cars sweep at maximum, no-lift velocity through the arcing corners of Daytona or Indianapolis. That's one extreme of motorsports, where braking is almost superfluous in top-speed turns. Most of the rest of racing is just the opposite. On road courses, short-track ovals, and in specialized pursuits such as autocross and off-roading, the brake pedal is not for decoration. Constant, heavy use of the brakes as drivers rush from corner to corner quickly results in torturous heat and vibration. In this kind of racing, braking components can get battered like an undersized NFL lineman when the ball is snapped.
The manufacturers that design and produce braking systems for race vehicles know about the hammering their components can face under extreme-application scenarios and have engineered solutions that specifically address the worst temperatures and juddering that certain branches of the sport can dish out. Brake pads, calipers, rotors, and related hardware all exist, and are under ongoing development, to survive—even flourish—under circumstances where the driver is forced to boot the brake pedal again and again, even multiple times per lap. 
Their research makes clear that some of the worst torment directed at brakes comes on short oval tracks, or other venues including tight road circuits, where drivers are forced to max out their braking power. In conversations with technical experts from the performance braking world, they describe new products and ongoing research to effectively deal with maximal braking forces. Some products are aimed at specific branches of racing, while others are more broadly created to be effective across multiple motorsports applications.
Road Circuit Racing
Wilwood's GT Rotor and Lug Hat Drive Assemblies are preassembled packages that eliminate the rotor bolts with a large, internal snap ring used instead to secure the rotor to the hat. The floating-type system allows the rotor to move independently of the hat as both components expand and contract through their heat cycles. Removing the heat allows the rotor to remain flat and true. The rotors are fabricated from a proprietary iron alloy that resists distortion and cracking.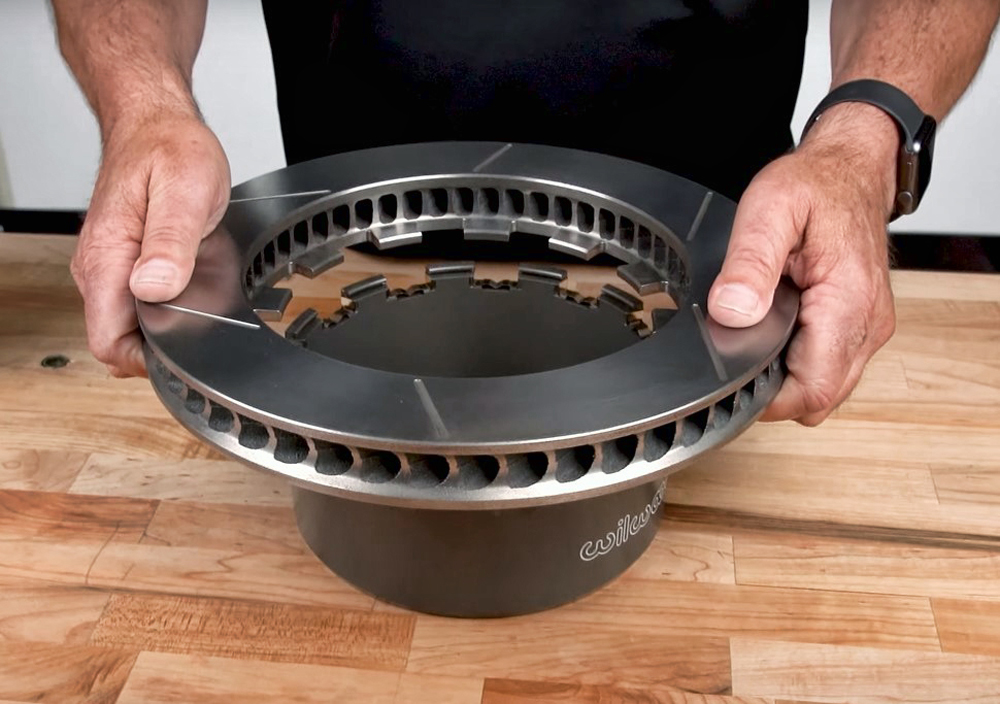 "Floating rotors are advantageous in extreme racing environments because they divorce thermal stress from mounting hat attachment points and wheel hubs," said John Grieco of Wilwood, Camarillo, California. "When rotors are fixed, especially to different metals like an aluminum hat, they will distort through heat cycles, compromising braking efficiency, feel, and shortening their service life. Wilwood's lug-drive mounting system eliminates traditional bobbin-style hardware, rotor bolts, thread locker, and safety wire, and instead utilizes a single large internal snap-ring and ensures longer component life. This system is competition-proven in professional Trans-Am TA2 road racing and oval racing, and is available now for Corvette, BMW 3-series, Camaro, Mustang, and coming soon for wide 5 hubs."
Late Model Short-track Competition
Having its braking products used by three of the past five NASCAR Cup champions has left Brembo of Plymouth, Michigan, positioned to create products aimed at stock car teams racing at smaller venues. At the 2021 PRI Trade Show, Brembo introduced a new, single-package braking kit applicable to both dirt and pavement Late Model racers. Brembo's Late Model package is aimed specifically at weekly racers who a company source said had been clamoring for products that suited their own needs.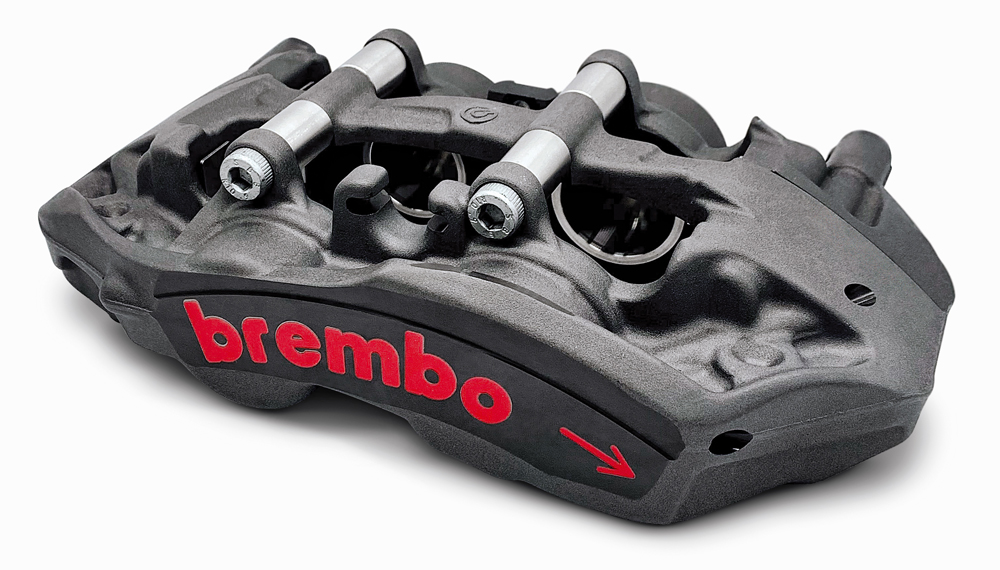 The Brembo package is designed to provide high short-track braking performance at a price that won't break the bank for weekly racers. The new package expanded on Brembo's production of a Late Model-capable brake rotor, incorporating technology and proprietary design elements honed through Brembo's NASCAR experience. Much of that development has focused on pedal feel and drag reduction, using a Brembo-specific seal-and-groove design that was considered to be a must-have attribute for Late Model use. The package's brake calipers rely on a load-optimized asymmetrical design to further boost overall stiffness, which also helps drag reduction by helping the brake pistons retract more efficiently. 
Finding the Balance
An absolutely essential element in tuning the handling characteristics of a race car involves getting the braking forces correct at both ends of the car. BrakeOMeter, LLC, in Chicago, Illinois, makes precision brake bias adjusters that are designed to eliminate the guesswork and hassle of getting a race car's front-to-rear stopping power properly proportioned. Its signature product is marketed as "A Knob with a Brain," allowing micrometer-precise fine-tuning of the car's make-or-break balance.
"Bruce Nesbitt designed and engineered the BrakeOMeter because there was a void in knowing what your brakes are adjusted," said Glen Johnson. "By using the BrakeOMeter, racers have found out they had the incorrect master cylinders size on their cars, either having too much or too little front or rear brake.
"Another challenge was the brake bias adjuster's cable," continued Johnson. "The major complaint from racers was, 'I turned my adjuster one way and it's fine, but when I turn it the other way it doesn't adjust.'"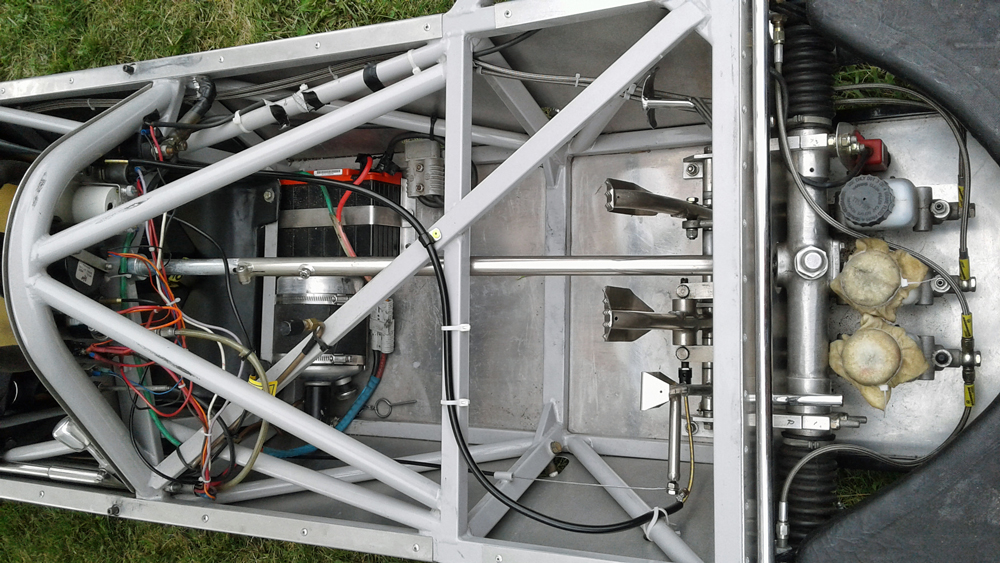 BrakeOMeter bought adjusters from popular suppliers and dissected them, especially the cables, most of which, Johnson stated, were originally intended for use in speedometers, meaning they'd only turn effectively in one direction. "To fix that problem, we have a proprietary cable with a solid core, and the outside layers are biaxially wound, so one layer goes to the right, one to the left, etc., with a naval bronze coating on the outer layer," he said. "With our cable, either way you turn your adjuster, it's going to adjust your brake balance. We went a little bit further because people were complaining they get grit and dirt in their cable. So, we Teflon coat the inside of the housing, you can wash it out and it doesn't need lubrication. We've eliminated the problem of not being able to turn the adjuster only one way."
The click-precise adjustment that BrakeOMeter produces is a true system that allows teams to know exactly how much front or rear brake they have, according to Johnson. He said much of the feedback came from road course and stock car drivers. The BrakeOMeter's thoroughness, plus the precise readings, has convinced drivers and crews to switch to different size master cylinders to improve their braking performance, Johnson added.
Flex-free Calipers for Short Tracks
High heat during heavy braking has a domino effect on braking components. Extreme heat can cause the pads and caliper bodies to warp, which can, in turn, distort the rotor. That means vibration, which, eventually, could lead the bolts holding the whole brake assembly together to stretch and loosen. When the brakes are being booted to the max twice every few seconds, that's a potentially huge problem, especially on short tracks. 
The team at PFC Brakes, based in Clover, South Carolina, think they have a solution. What PFC Brakes has developed is a new monobloc brake caliper for short-track usage, which supplants the far more common system of using caliper halves bolted together. According to Kyle Tellstrom, "Most competitors use two-piece calipers. Ours is stiffer, more rigid, it does not flex, which in turn means less maintenance over time, plus the two brake pistons are moving, rather than having the caliper halves moving or clam-shelling. That all ties into better brake feel, even at high temperatures, when you come off the pedal."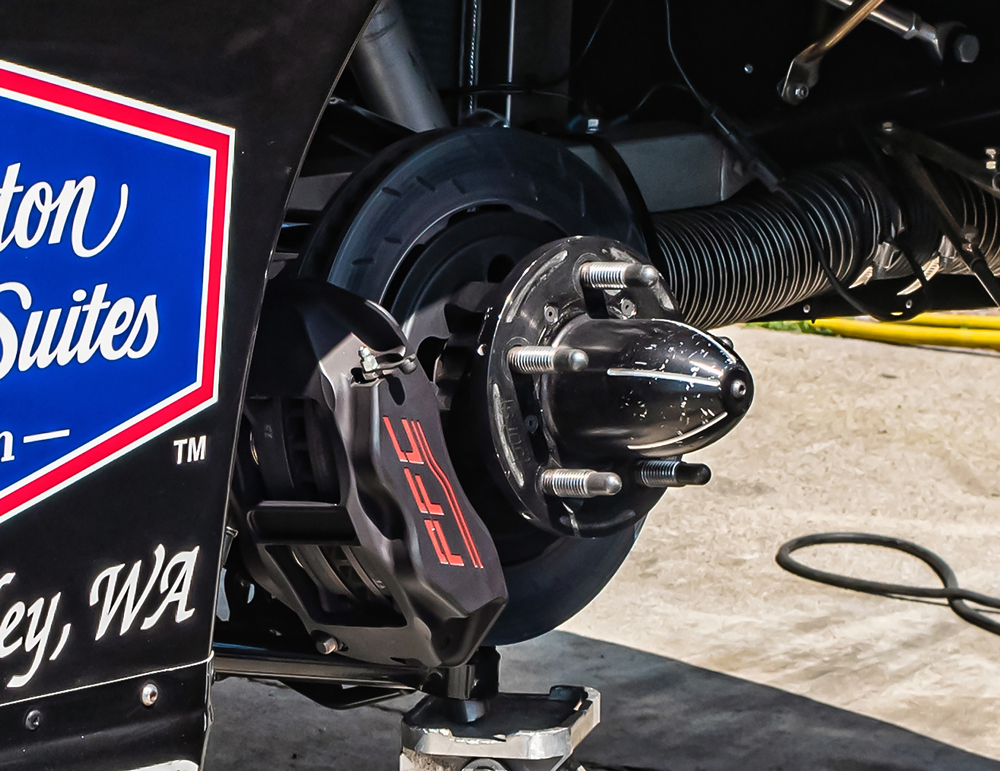 The specific product is PFC Brakes' ZR94 caliper model, either nickel plated or black anodized, in leading or trailing configurations, with a variety of piston diameters. Applications exist for Super Late Models, Pro Late Models, tour-type modifieds, Late Model stock cars, and SCCA Trans-Am TA2, all running on blacktop. By removing the ZR94's external crossover and other non-critical material, the caliper's weight is significantly reduced. An internal fluid passage system adds strength while also inhibiting failure.
"It essentially can be used for road racing applications based on short-track racing components," Tellstrom said. "We use forged aluminum monobloc calipers and two-piece pistons with aluminum bodies and stainless steel faces, efficient tolerances for temperature ranges, plus seal grooves to make sure the pistons don't drag on the rotors. Our rotors are built on zero failure and use mid-moly alloy, which is a grade up from the low-moly alloys that most short-track braking systems use. It's a hardier material that will not crack or fail, even if glowing. We also do dry-machining to promote low metal contaminants."
Endurance Racing
The latest product advance from PAGID Racing in Troy, Michigan, is its line of RSL brake pads for endurance racing, which Jim Emerson describes as the company's primary heritage in manufacturing. "Our goal is to have longevity with performance through the life of the pad," he said. "Traditional endurance racing lasts from eight to 24 hours. We want to ensure our customers that our products have good modulation, with controllability, which is important because most modern sports cars come with ABS. We focus a lot of our pad design to be really cooperative with the ABS systems that are in use."
The RSL pads are aimed primarily at GT-type classes, which can be filled with ABS-equipped race cars, unlike the prototype categories. With technical partners including Turner Motorsports, consistency is a key performance goal, Emerson said. "The ABS works off friction levels, so it has to be the same on lap 10 as on lap 200. The modulation characteristic can be defined as the area where a driver enters the braking zone. We want the ability to pressure the brake with variable pressure input so when the driver releases the brake, the pad comes off the rotor, which then allows for a free-rolling condition. We want the driver to get to that threshold and be able to choose, because not every driver brakes at the same level."
The RSL family is about to be expanded with new 1E and 2E compound formulas aimed at boosting pad longevity. "You want to get as long as you can out of the pad," he said. "We want our pads to last 12 to 18 hours, but our goal is to create the 24-hour pad. We're taking the feedback from our technical partners and adjusting the formula, and we've made some definite strides in the past two to three years."
Broad-Based Severe Service
Hawk Performance of Medina, Ohio, is an all-around braking component supplier specializing in pads, rotors, and fluid for severe applications. "For us, the focus is on pads, because they're our bread and butter and the main component of the braking system," said John Butler. "In motorsport, the consistent force we always fight against is heat. Every part of that brake system is designed around heat dissipation. We make sure we have a friction component that handles that heat, performs consistently within that heat range, and creates consistent amounts of friction across wide ranges of temperatures."
Hawk Performance operates more than 15 dynamometers at its headquarters to test and evaluate the performance of its braking components. Butler said the dynos "can replicate different race tracks, such as Daytona or Road America, to play with those pad compounds, take away different types of metals or compounds, to find that balance of thermal capabilities. A brake pad dyno is a spindle, a caliper, and a rotor, where we'll do either a track replication or take the brake through testing procedures, such as dragging the brake through 1,500 degrees and then do five immediate stops, or do a series of 7 G stops, or 0.5 Gs."
Hawk Performance's most popular product is its line of DTC-60 pads, specifically formulated for cars with high deceleration rates and increased aerodynamic downforce, and applicable for everything from spec Miata classes to off-road trucks to a variety of oval track classes. Its advertised attributes include low-abrasive rotor wear, high torque, and an optimal operating range of 700 to 1,100 degrees. 
"Like a milkshake, it's made up of a lot of steels, fibers, and resins," Butler added. "We want it to have a smooth initial bite, release effectively, and not drag, so the driver can drive the car properly and not have it function as an on-off switch."
SOURCES
BrakeOMeter
brakeometer.com
Brembo
brembo.com/en
Hawk Performance
hawkperformance.com
PAGID Racing
pagidracing.com
PFC
pfcbrakes.com
Wilwood
wilwood.com