PRI Trade Show New Exhibitor Spotlight: Maxima Racing Oils
Image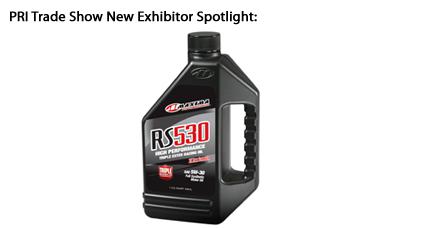 No stranger to the winner's circle in international motorcycle competition since 1979,
Maxima Racing Oils
, Santee, California, is ready to take on the automotive racing market with the launch of a new line of high-performance racing fluids at the upcoming Performance Racing Industry Trade Show in Orlando.
This will be Maxima's first time as a PRI exhibitor, but President Danny Massie has visited the show for a number of years, sizing things up, in preparation for the company's foray into four-wheeled racing with its full synthetic, triple ester-based race-grade oils.
"We feel that the PRI Trade Show, as opposed to some of the other automotive shows, is pretty core in what it does, drawing engine-builders and other attendees who are a really good fit for our line of new-technology, high-performance oils and fluids," he said. "It's more of a nuts-and-bolts, performance-oriented, trade-only show whose clientele is a perfect audience for our product. We've been very impressed by the show and the quantity and quality of attendees it attracts."
While PRI marks the official debut of Maxima's new lineup of more than a dozen RS (Race Series) engine, transmission/gear and suspension oils, as well as other lubricants such as brake fluid and greases, Massie told us the company has been working on the development of automotive products for some time, and is now prepared to offer them in a range of viscosities to cover the entire gamut of motorsports, from oval track, drag and road racing, to the brutal off-road arena, where Maxima has just partnered with the TrophyLite Race Series to become its official racing oil.
"We have been very successful in the motorcycle racing arena, and we're seeing a lot more crossover now between those two markets," Massie told us. "As a result, a lot of our technologies were brought into Indy, NASCAR and other forms of auto racing, which was really what pulled us into that market. We've been operating for at least six or seven years now as a kind of behind-the-scenes supplier to auto racing, without a single product that has been offered for sale in a traditional four-wheel outlet. We've used those opportunities to develop a new line, establish distribution, and get to the place where we're able to preview these products to the retailers, engine builders, race teams and other racing businesspeople who attend PRI."
Aside from unveiling its entire performance automotive line, Maxima will showcase its array of P.O.P. and dealer support materials. "We're looking to fill some distribution holes, as well as take on new dealers," said Massie, who told us the company's high-end, race-bred products offer excellent profit margins.
Inviting attendees to visit the new Maxima exhibit at the show, Massie said, "Our company history is pretty rich and we've got a great story to tell. We're not just oil marketers; we develop everything in-house, all of our formulas are owned by Maxima, and we do all of the testing, blending and packaging right here in our facility. Some of the technology that we're bringing to this market from other types of racing, such as Superbike, is different from what has traditionally been seen in the four-wheeled racing world. I think we have something new that we can help educate them about, not only to better inform them about what our product is, but what it may bring to the table for their particular racing platform."
The PRI Trade Show is being held November 29 - December 1, 2012, in the North/South Building of the Orange County Convention Center, in Orlando. 1,100 companies exhibit, and 38,000 buyers attend. There are more race-winning new products, racing professionals, tech/business seminars and solutions to motorsports challenges than you can find anywhere.
Click here
to register for your credentials online. It takes only minutes.
Click here
to make your room reservations online. It's fast and easy. PRI's contracted room rates start at $69 per night.