Breaking News: John Force To Help Kick Off 2012 PRI Trade Show!
Image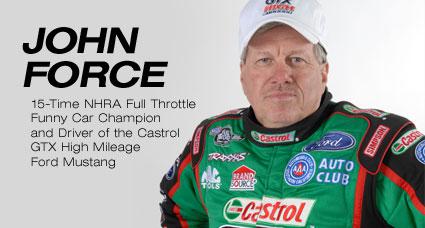 On the morning of November 29, 2012, Performance Racing Industry delivers a truly can't-miss program.
Once again, Dave Despain presents a live version of his popular Wind Tunnel TV program that airs on Speed Channel during the Grand Opening Breakfast on opening day of the PRI Trade Show.
And joining him this year will be none other than 15-Time NHRA Full Throttle Funny Car Champion and Driver of the Castrol GTX High Mileage Ford Mustang John Force!
"The Grand Opening Breakfast is a great racing industry tradition, and we're excited to bring Dave back again. He's an outstanding motorsports journalist, and always brings out the best stories from the special guests. Add John Force to the mix, and we're really going to have some fun," said John Kilroy, producer of the PRI Trade Show.
"John Force is one of the most dominant racers in our lifetime, as well as one of the biggest personalities in the sport. He rewrote the history of NHRA racing in more ways than just his championships. He's amazing, and we're already looking forward to Thursday morning at the Show," continued Kilroy.
Over the years, such respected racing figures as Bobby Rahal, Humpy Wheeler, Dale Inman, Smokey Yunick, Jack Roush, Robert Yates and many more have participated as speakers at the Grand Opening Breakfast. It has become a treasured racing industry tradition.
The Grand Opening Breakfast begins at 8 a.m., Thursday, November 29, 2012, with doors set to open at 7 a.m. It will be held in the northwest corner of the exhibit hall that houses the PRI Trade Show. Show credentials are required for entry.
The PRI Trade Show takes place Thursday, Friday and Saturday, November 29-December 1, 2012, in the North/South Building of the Orange County Convention Center in Orlando, Florida. Approximately 1100 industry suppliers occupying 3200 booths will exhibit the latest developments in auto racing technology before 40,000 attendees from the US and 72 countries.
The Show offers unparalleled access and exposure for racing businesspeople, including retailers of racing components, race engine builders, performance WDs, race car builders, and race track owners and operators, as well as professional race teams.
Motorsports professionals are encouraged to preregister now for credentials for the PRI Trade Show. Early registration will ensure Show materials arrive in the mail prior to your departure for Orlando.
Click here
to register for the 2012 PRI Trade Show. For more information, visit the PRI Trade Show online at
www.performanceracing.com/tradeshow/
.