Image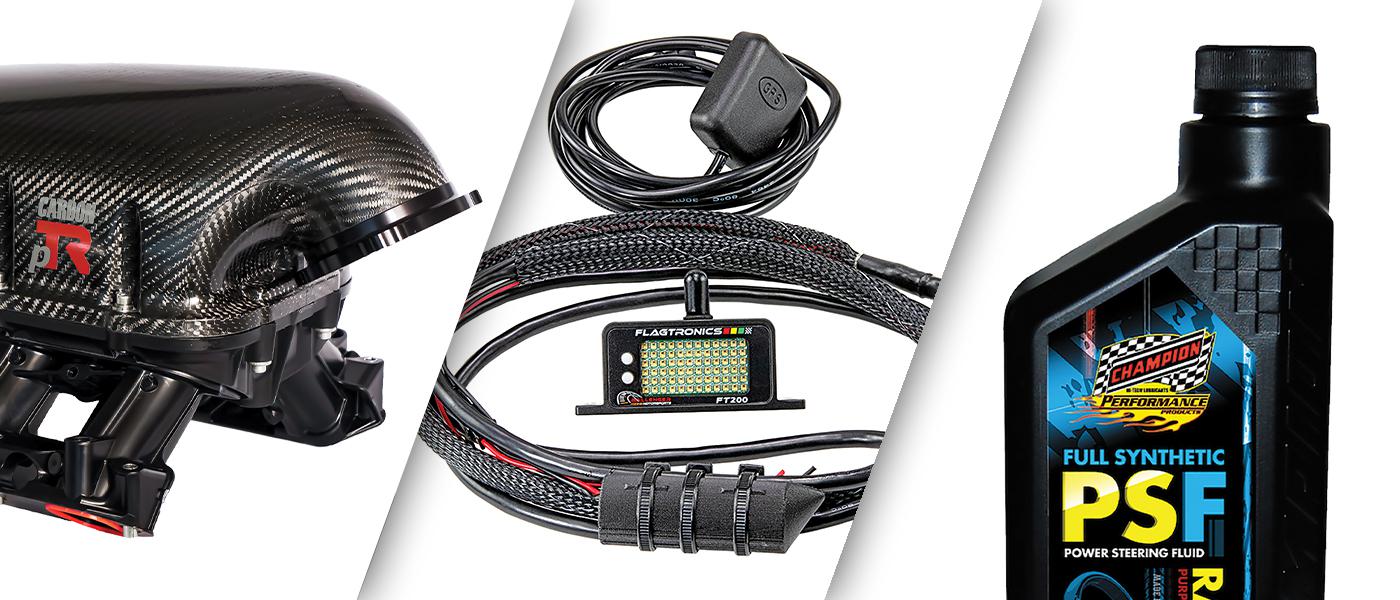 Hundreds of new product announcements cross the desks of PRI editors each month. Following are our top picks for January.
Carbon pTR Intake Manifold
Performance Design
performancedesign.com
The new Carbon pTR intake manifold from Performance Design in Auburn Hills, Michigan, not only dresses up the engine bay with its high-strength carbon-fiber construction, but it also offers tunable velocity stacks.
The intake is available for LS3, LS7 and select cathedral-port applications in the LS family. Performance features include 16 nitrous-nozzle bosses, two MAP sensor locations and NPT ports for accessories such as a purge solenoid or brake booster. It's designed to run a choice of three different injector lengths, and the manifold can be installed with the throttle body facing forward or rearward.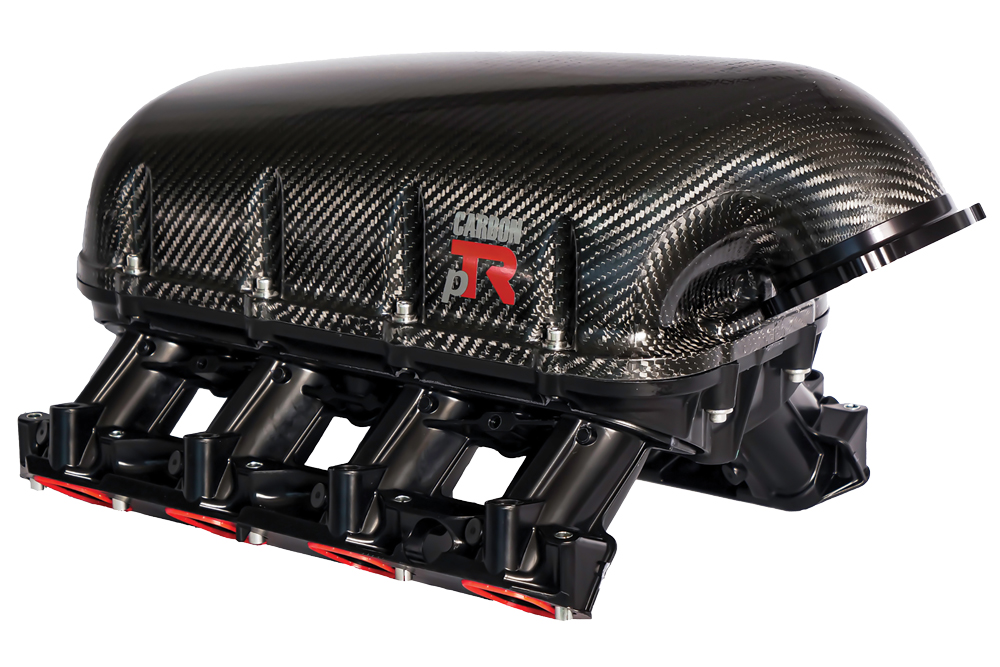 For optimum tuning flexibility, the intake runner length can be changed. The manifold comes with 9.0-inch runners, which are close to stock. But 8.0- and 6.5-inch runners can easily be swapped in.
"If someone is looking to increase the peak power rpm, such as drag racing applications, the short runner will tune well with an engine that is designed to turn and tune at higher rpm," said Caleb Newman. "The long runner gives a great balance of torque and power for most applications."
The intake base is constructed of glass-reinforced nylon, making for a 10-pound weight savings with the carbon-fiber plenum. The composite materials also reduce heat soak to the fresh-air charge. —Mike Magda
FT200 Kit
Flagtronics
flagtronics.com
The FT200 is the in-car component of a dedicated race track safety system from Flagtronics of Mechanicsville, Virginia. This receiver gathers messages and race track conditions sent out by race officials for instant response by the driver.
"It's part of a whole system that also incorporates the race track, corner workers and directors," explained Aleric Sanders. "The in-car unit will change from green to yellow when they enter that zone. There's also a sign board in that area that will change from green to yellow."
The FT200 will be required in all cars racing the Champ Car Endurance Series in 2022, and other sanctioning bodies are looking at the system.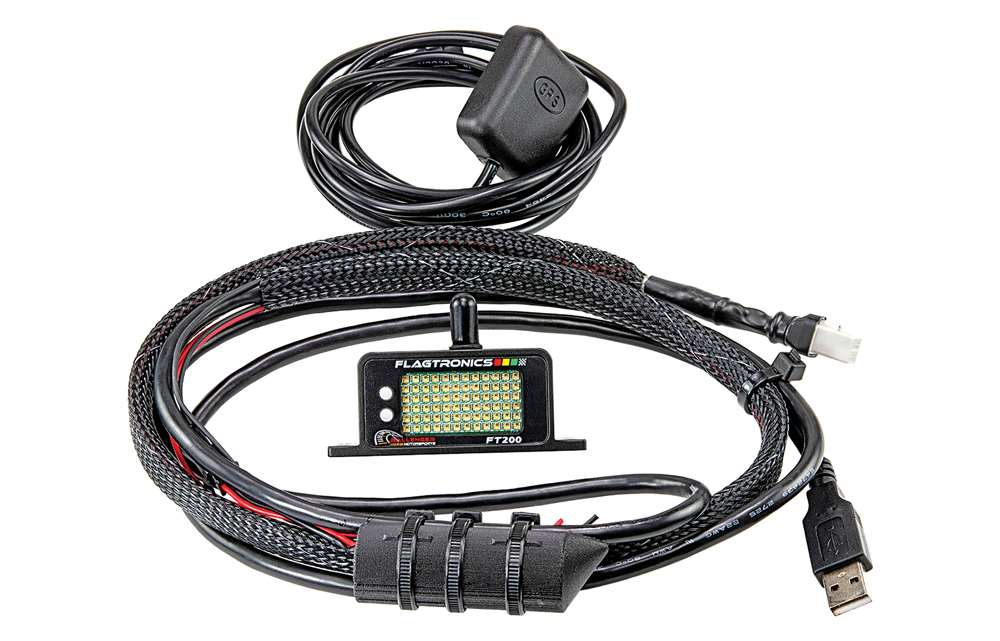 "It's certainly most effective when all the drivers have it," noted Sanders. "Crew chiefs could be yelling 'green, green, green' in their headsets when in reality there's still a yellow out. This brings the same communication to all the drivers at the same time."
The system could also be used to send messages directly to a single driver. "We can individually message cars from race control," said Sanders. This would be effective if, for example, race officials want to black flag a car, but the driver misses notices on the track. 
Other parts of the system include remotes for the corner workers and electronic sign boards. The system can be custom tailored to suit any size or configuration of track. —Mike Magda
Synthetic Racing Power Steering Fluid
Champion Oil
championbrands.com
A full synthetic power-steering fluid (PSF) designed for racing competition is now available from Champion Oil of Clinton, Missouri.
"This fluid reduces temperatures and delivers consistent steering response in competition applications," said Karl Dedolph. "It has exceptional low-temperature flow to reduce initial drag on the power steering pump."
With a 230 viscosity index, which is higher than conventional power-steering fluids, the Champion PSF offers anti-wear properties that can help protect critical components of a racing system.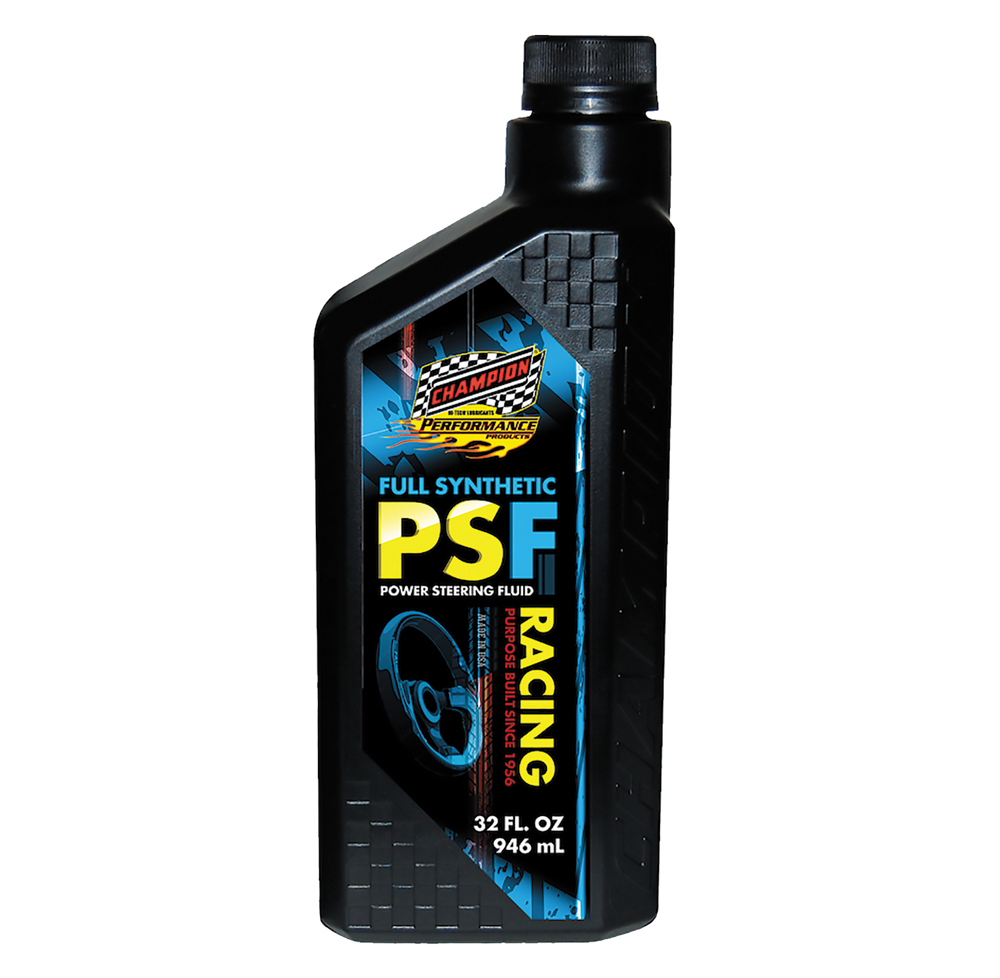 "It keeps performance vehicles in circle track, road racing, off-road, asphalt, drifting and autocross working optimally," said Dedolph. 
The formula features anti-foam agents to prevent pump cavitation and anti-oxidant properties to help stop sludge buildup.
"It's a full synthetic fluid that provides improved thermal stability for less pressure drop as the temperature rises," said Dedolph. "It also offers high-temperature foam resistance for better cooling and improved steering precision."
In addition to using its full synthetic PSF, Champion Oil recommends frequent inspections of the fluid in the system for color changes. A dark fluid signals time for a change. Also look for dirt, debris or sludge in the system, a sign the system may need to be flushed. —Mike Magda
Godzilla H-beam Connecting Rod
K1 Technologies
k1technologies.com
Ford's 7.3-liter Godzilla engine is a definite candidate for a performance swap, so it won't be long before racers are modifying the engine for competition purposes. K1 Technologies in Mentor, Ohio, has developed an H-beam connecting rod constructed from 4340 chromoly steel to handle those higher stress loads.
"The stock rods in most V8s are able to handle upwards of 450 horsepower and 6,000 rpm," noted Matt Polena. "Past that, reliability begins to decline. As we see more builds hit the drag strip, the need to replace the factory connecting rods will become apparent."
The K1 forging offers improved strength through better-aligned grain flow. The forging is shot-peened following machining to reduce potential stress risers. Rod length is 6.319 inches center to center. The H-beam design is also a critical factor in improving strength.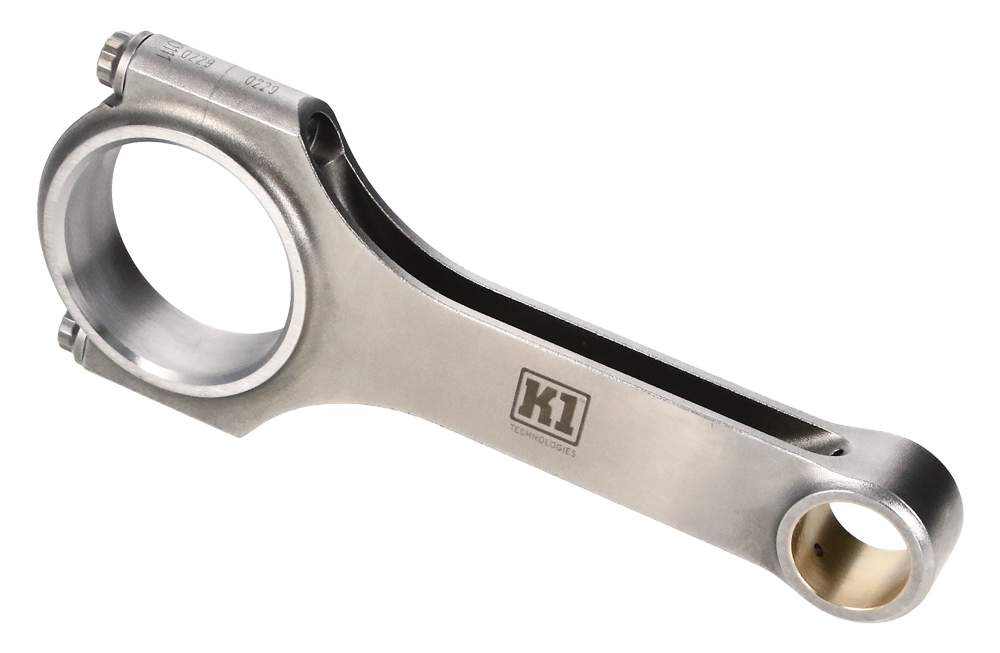 "From the factory, the Godzilla comes with powdered-metal, cracked-cap connecting rods that will hold up to a mild increase in power," explained Polena. "The K1 rod uses a 4340 material that's higher quality than OEM. Plus, these rods also feature ARP 2000-series bolts, which is a large benefit over the factory bolts."
The ARP bolts are nominally rated at 220,000 psi tensile strength. —Mike Magda
COUNTERSINK DEBURRING TOOL
Shaviv USA
vargus.com/shaviv 
"It's one of those tools that people ask for only after they realize they need it," said Nick Prohl, referring to the Shaviv countersink deburring tool (PN 90072).
The tool features the Mango II ratcheting handle and the F20-style blade.
"Sometimes a shop needs a tool that can do multiple holes very quickly," noted Prohl. "Traditionally, countersinks used for deburring are turned with just hand power. With this tool, we use a ratcheting mechanism to take the torque out of the hand. It's a lot easier with less chatter when it comes to deburring the edges of a hole."

The tool is used for heavy-duty chamfering and countersinking rough hole edges that can be found on engine blocks or other critical components on a race vehicle. It weighs 6.2 ounces and features an ergonomic handle, FR ratcheting blade holder, and a blade that is constructed from high-speed steel. It can be used on ferrous and nonferrous materials, including aluminum, brass, cast iron, copper, hardened steel, stainless steel, and even plastic.
It is one of many Bolingbrook, Illinois-based Shaviv products designed for hand deburring chores.
"These tools can do just about anything as long as there's access to the workspace," said Prohl. —Mike Magda
Travel Case Charging System
American Electronics Inc.
americanelectronicsinc.com
Designed to meet the needs of a busy race promoter serving many tracks, the Travel Case Charging System from American Electronics of Greenwood, Indiana, supports up to 12 radios that can be charged from a single AC outlet.
"This is a product that's important to the facilities that put on the races, especially the modern-day promoter who travels from track to track," said John Stiles. 
The heavy-duty case is constructed from diamond-plate aluminum and features individual chargers compatible with the Freedom 16-channel, two-way radios produced by American Electronics.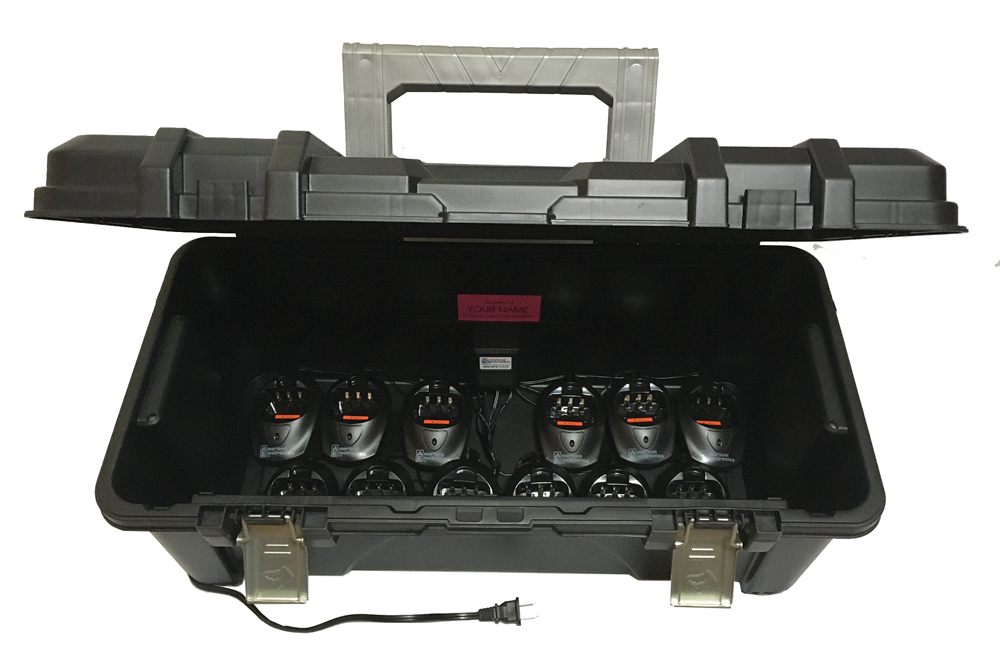 "More than 200 of these cases and radio systems are used by different types of tracks and facilities," noted Stiles. "They can put all their radios in one case, plug it in at the hotel and be ready for a race the next night. It's a piece that's very important for the facilities that put on the races."
Stiles said the system is valuable for even grassroots-style events where a landowner may open his property for an occasional off-road event; however, it is targeted to meet the communication needs of active sanctioning bodies, track promoters and track staffs. —Mike Magda
Edge Roller
Hubbco Metal Fabrication
hubbcolifts.com
Metal body fabrication is indeed both an art form and a craftsman's skill that few truly master. Working with curves is one of those talents that will separate the experts from the novices.
Helping bridge that gap is the handheld Edge Roller from Hubbco Metal Fabrication in Grandville, Michigan. This tool allows users to create unique 3D profiles on the edge of 18- to 22-gauge sheetmetal, which basically eliminates the need for a sheetmetal brake. It will bend edges from 0 to 90 degrees and features a throat depth from .25-inch to 3 inches. The extended throat length allows users to create multiple profiles on top of existing hems.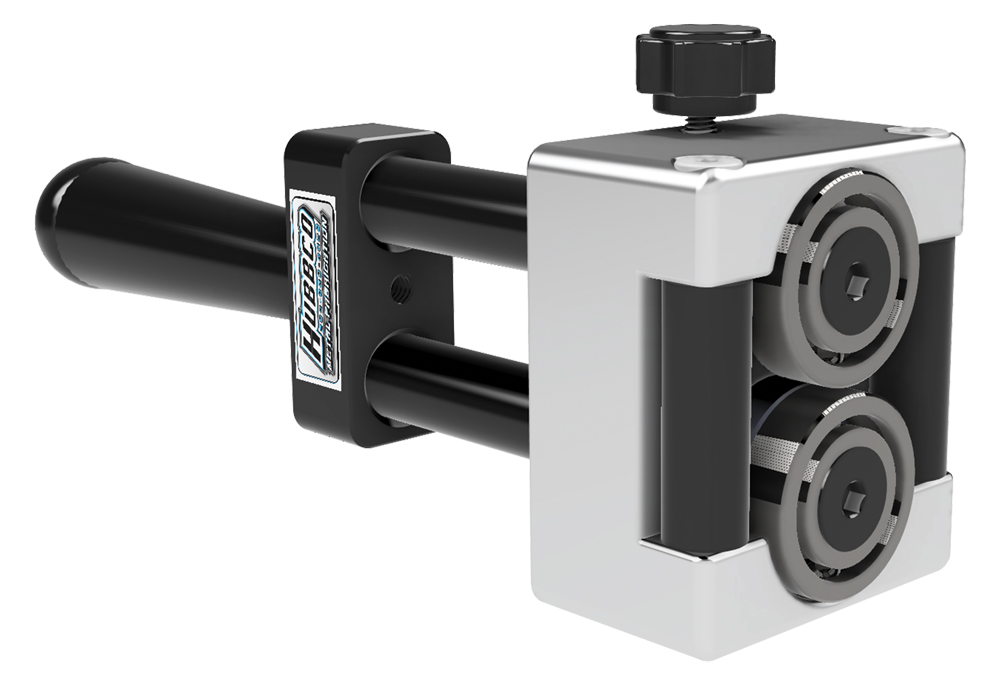 "The more profiles there are, the more strength there is in the metal. There's no other tool that will do all this alone without a brake," said Lucas Hubbell, noting that a fold or crease can occur while shaping an arc with traditional methods. "The roller bearings in the tool enable the formation of lines and folds on a curve."
The Edge Roller construction features alloyed steel finished in durable black oxide. Sealed ball bearings provide smooth operation and keep debris out. Finally, the body is machined from 6061 aluminum, and the rollers are anodized to prevent galling and gouging. —Mike Magda