Newly Appointed: Kash Singh
Image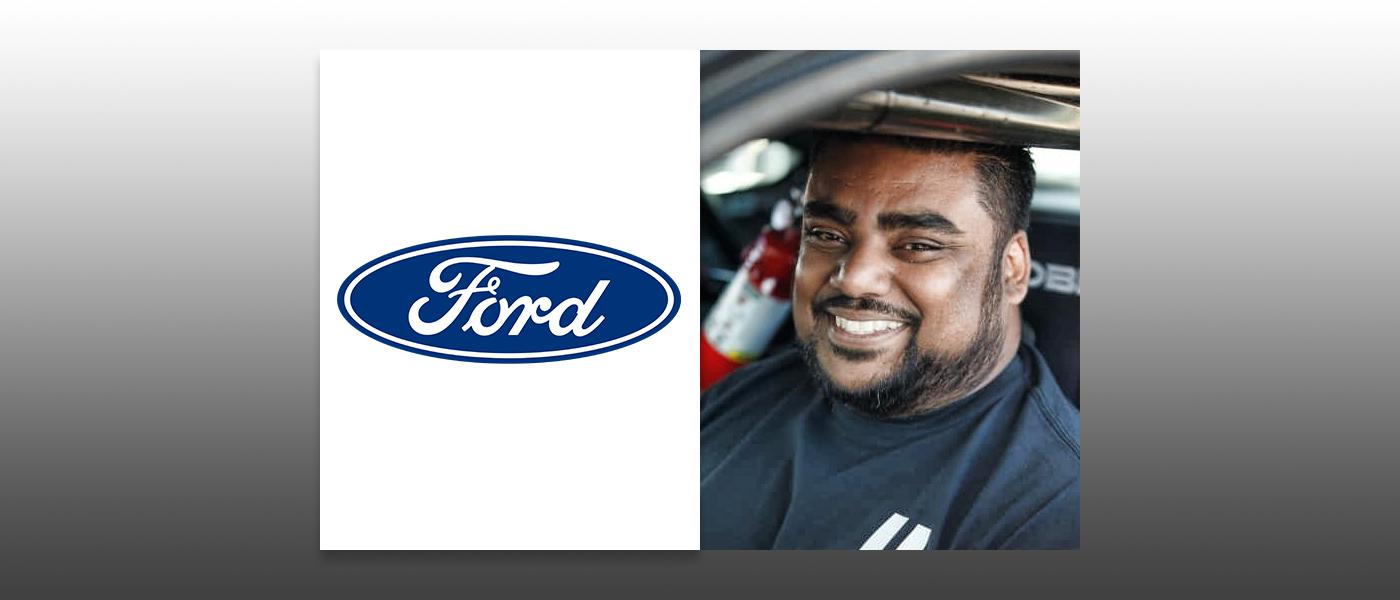 This veteran Pikes Peak racer has upshifted to the role of Global Ford Performance Enthusiast Marketing Manager, where he will tie together "our past, present and future with our customers."
How does one go about stepping into a new position at a global automaker just as the world's economy grinds to a halt? That was Kash Singh's challenge in 2020. He had barely assumed the reigns as Global Ford Performance Enthusiast Marketing Manager before the pandemic put a halt to travel, motorsports events, and car shows of every kind. 
Although it has been more than a year since he assumed the role, in many ways 2021 was his debut. The job entails plenty of in-person outreach to die-hard Ford loyalists, the kind of fans who flock to the car shows and track events that were in short supply last year. Among other job duties, he oversees the Ford Performance Racing School program.
Born in Fiji and raised in Southern California during the great sport-compact boom, Singh is a USC graduate. He joined Ford Motor Company in 2004, making several stops along the corporate path to his current position. He is a hands-on enthusiast and has raced at the Pikes Peak International Hill Climb every year since 2011. He's currently running a turbocharged 2017 Mustang GT in the annual mountain classic. We caught up with Singh at Barrett-Jackson Auction Company's auction in Houston, Texas, late last year.
PRI: You were barely on the job before the COVID shutdowns took place. How did you adapt?
Singh: We started off fresh in January when we did the big show at Barrett-Jackson in Scottsdale. I decided to do Autorama in Detroit, and March 12 the rug was pulled out from under us. That's when we went to work-from-home because of what was going on. Obviously, this is a great job with some of the events I get to do now, but then I was sitting there wondering, "What are we going to do now?" There were no group events. 
At Ford we had to get creative about how to continue to communicate with our enthusiast customers, but also be cognizant of what was going on with COVID. In the heart of the pandemic, a lot of events did cancel. Other events continued; we had maybe two or three events we participated in. But we were extremely cognizant of COVID, with a lot of procedures in place. We followed the guidance of the local county. We tried to push through. We went a little more digital. We held our first digital car show. Instead of us being at car shows, we held one on our Ford Performance website. 
For me personally, I still had an opportunity to meet people at some of the smaller events. I actually spent more time on the road. Since last April, I put close to 45,000 miles on the road, driving. No one else was on the road. I was able to drive to a lot of events for safety reasons. Instead of getting on an airplane, I decided, hey, I'll drive. "Boss, it'd be much safer if I drove a new GT500 to an event." (Laughing)
PRI: How will your past experiences serve you in this new role?
Singh: I think the most important part of it is, I'm an enthusiast. Enthusiasts get influenced so many ways. How did you fall in love with cars? Was it a TV show that got you hooked? Was it a family member? Was it a car you saw on the road? In my case it was a family member. I can thank my cousin. While I was in junior high, he took me to a car show, and there was a candy apple red Lamborghini. Fell in love with the car, had to get the Countach poster on the wall. And then one thing after another. In high school I saved all my money from odd jobs to get my first car. Growing up in LA in the late 1990s and early 2000s, we were more centered around the sport-compact market.
I started building that car and did a lot of car shows. I also made a lot of friends in the industry. So I might be unique in the sense of coming into Ford with that experience in compacts. I know what enthusiasm is. I am an enthusiast. When I show up and speak, it is from the heart. I'm very passionate about this space.
PRI: What are you most looking forward to as things ramp back up?
Singh: More events! Especially with everything that went on in 2020, it's nice that as we get out safely, we get back to what I consider normal life. I know the term "the new normal" has been thrown out there, but we loved cars before, we love cars now, we will get together in the manner that best suits for that, whether it's racing, at an auction or Mustang gatherings. I'd like to get back out and talk to folks. My job position is, how do I tie together our past, present and future with our enthusiast customers?
PRI: What do you see as the biggest challenges in this job?
Singh: Initially it's to get vehicles back on dealer lots the way we're used to. Then also getting folks back out to events, where they feel safe to get out to events. Once the borders open—we've done a lot of events in the US where a lot of folks from Canada come down, or up from Mexico, or even Europe. Pebble Beach is one of those. We were at Pebble Beach Monterey Car Week. I understand the crowd was great, but still we didn't have a lot of folks from foreign countries coming to visit because they couldn't. 
PRI: How do you plan to engage the younger generation?
Singh: It's the younger generation, but also the generation that's adopting electric vehicles. Hopefully, we build the vehicles that younger people want to buy and have the features they want. That's basically cellphone based. That's what the younger generation is used to.
We should also expand the electric side of it. I'm an enthusiast guy—Shelby GT500, Ford Performance Vehicles, Raptor, there's a huge demand for them. But then you look at the Mustang Mach-E. That customer base has demands of that vehicle as well. It might be a little different from the consumer who wants big V8 power, but they're just as enthusiastic, and they love their vehicles. So it's attracting younger, but also this newer demographic that's popping up.
PRI: What have been your most gratifying professional accomplishments?
Singh: I go back as an enthusiast. Take the company, the job aspect out of it. As an enthusiast, planting the seed in someone who wasn't into our lifestyle or sport, whether it's in motorsports, car shows or just car meets. It's seeing the light in their eyes. "Oh my gosh, I'm really interested in what you do now." And then at some point, "It's your fault that I went and bought this fast car." Or, "I bought tickets to this race because you got me into racing."
PRI: Is there anyone in the motorsports industry who inspires you?
Singh: Everybody wants to leave their mark on the world. And I say this without any plug for anybody: Carroll Shelby. At the end of the day, he was a man who was a racer, a team owner. For all the laurels that everyone has talked about, everybody tries to emulate him at some point. You've got folks in the industry now who I think look up to Carroll and see what he did, how he was able to create a car company in his own right. All of us want our name across a car, but to have that kind of impact, Carroll would be one of those folks.
PRI: How did you get started racing at Pikes Peak, and what are the special challenges of building a race car for that venue?
Singh: My progression was the import world, a little drag racing, a little bit of road course, not much. Then I bought a 350Z. In Southern California, a lot of folks were into spirited canyon driving. I got into that aspect of it and liked that. I got hired by Ford after that. I loved the way the '05 Mustang looked and in 2006 purchased an '06 Mustang. Then the GT500 came out, and I saw a white one with blue stripes—America's racing colors. I really fell in love with it and was fortunate to purchase one in '08.
So I'm sitting in San Antonio watching a TV talk show about the Pikes Peak Highway, and I thought, "Oh, it'd be kind of interesting to go race that." On a whim, just thought that. Three years later I'm racing my GT500 at my first race at Pikes Peak. 
The challenge of Pikes Peak is the mountain itself. You've got competitors, but the competitors are a brotherhood, a sisterhood. It's all family. Everybody wants to help each other make it to the top of the mountain on race day. Your challenge to yourself is, make it to the top, hopefully with a good time, and get a donut. It's all about that donut at the top. You really have to manage cooling—that is probably the number-one concern for racers up there at high altitude. The density of air is low, and you want to make power, too. And then braking. One-hundred-and-fifty-six turns, twelve-and-a-half miles, you're going to use the brakes quite a bit.
Kash Singh
TITLE:
Global Ford Performance Enthusiast Marketing Manager
ORGANIZATION:
Ford Motor Company
HOMETOWN:
Seattle,
Washington 
FAST FACT:
Kash Singh was an extra in the original The Fast and the Furious movie. Producers found him and his custom wide-body 1995 Honda Accord while recruiting at local car shows. The pay? A whopping $12 per hour plus free gas.