PRI Tech: Considerations For Racing Fire Suppression Systems
Image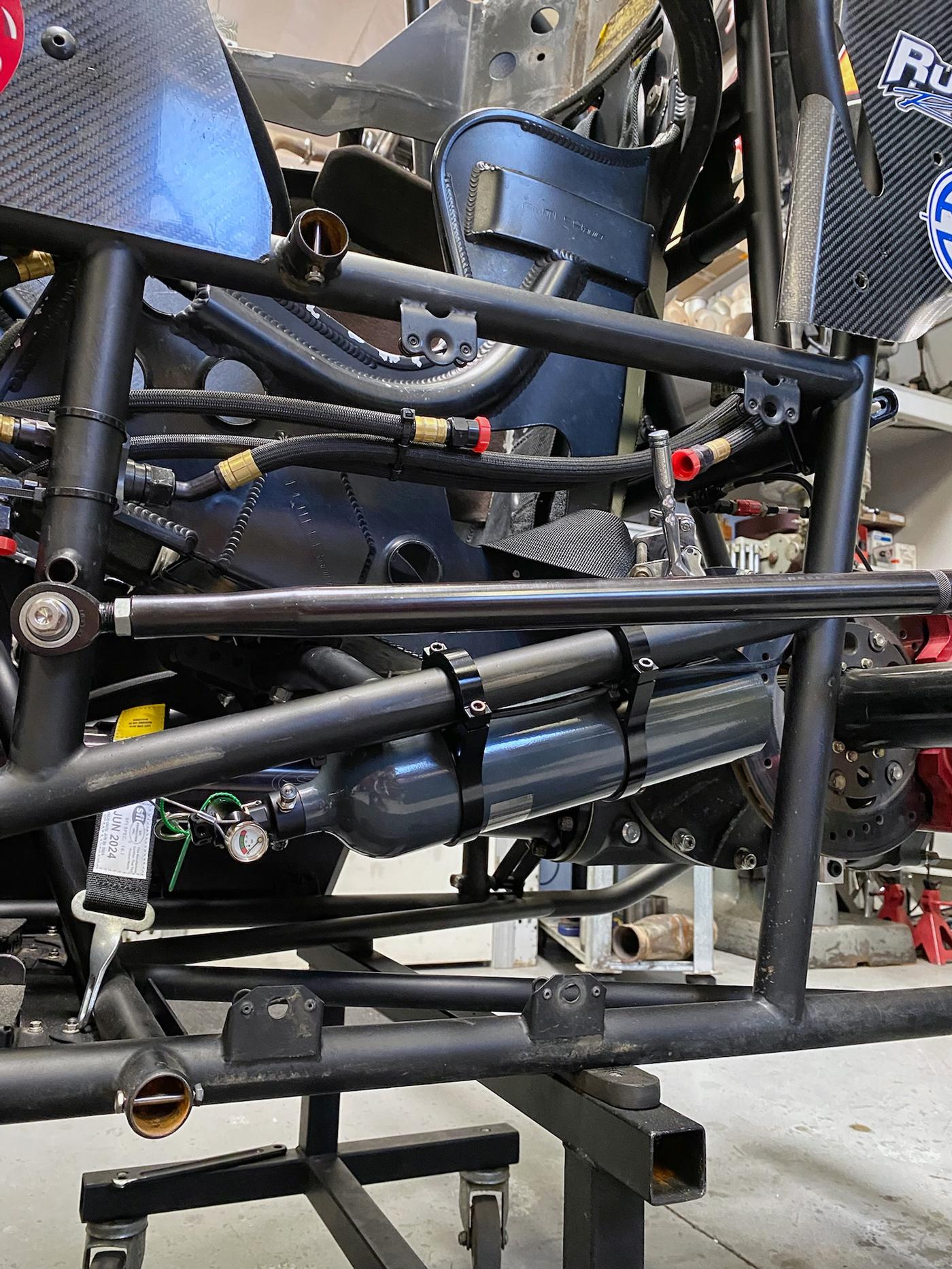 SFI has recently mandated fire suppression systems for sprint cars. Here, Lifeline USA's automatically activated 5-pound SFI 17.3 system is mounted under the seat in a sprint car. 
Determine which type of system to install now before each second of a fire event becomes more and more crucial.
Over the last decade, fire suppression has moved to the forefront of discussion in the racing world. We continue to evolve driver safety in our sport, yet the proximity of a safety response team has too often been the dictating factor in determining our standards. 
Rally car teams in more remote environments were the first to develop and require system efficacy. This trend followed with sports cars on 2- to 3-mile road courses. Yet, some notable fires resulting in injury still occurred in half-mile ovals with faster response times. The initial 20 seconds of a fire event, where the fire suppression system is the only responder, is critical.
When we discuss fire protection, we focus on plumbed-in systems. There are two primary deployment methods available: automatic or driver-activated. Driver-activated systems are deployed as a first step in a fire event while the driver is still belted in. Both systems allow drivers to focus on getting out of the vehicle while the fire system fights the fire. 
Handheld systems are intended to be supplemental because they require an active user. In rally or off-road, their primary use is to help other competitors. In a significant fire event, the driver needs to be able to focus on extraction.
There are several factors that define the effectiveness and suitability of a fire suppression system. This includes the suppressant type, amount, delivery method, and system design. 
For a series with existing fire suppression rules, many of these factors will already be defined. This leaves you with fewer choices to make—so always start by reading the rules, as these factors are all interrelated. Yet, with a proper system design, suppressant type is more often the defining factor. 
Types of Fire Suppressants
There are three major classes of fire suppressants: gas, foam, and powder. For most applications, gas agents are the gold standard. They react with the fire three-dimensionally. This means they expand in a volume of space to fight fire. 3M Novec 1230 is the leading modern gas agent, as Halon suppressant has been illegal to manufacture for well over a decade.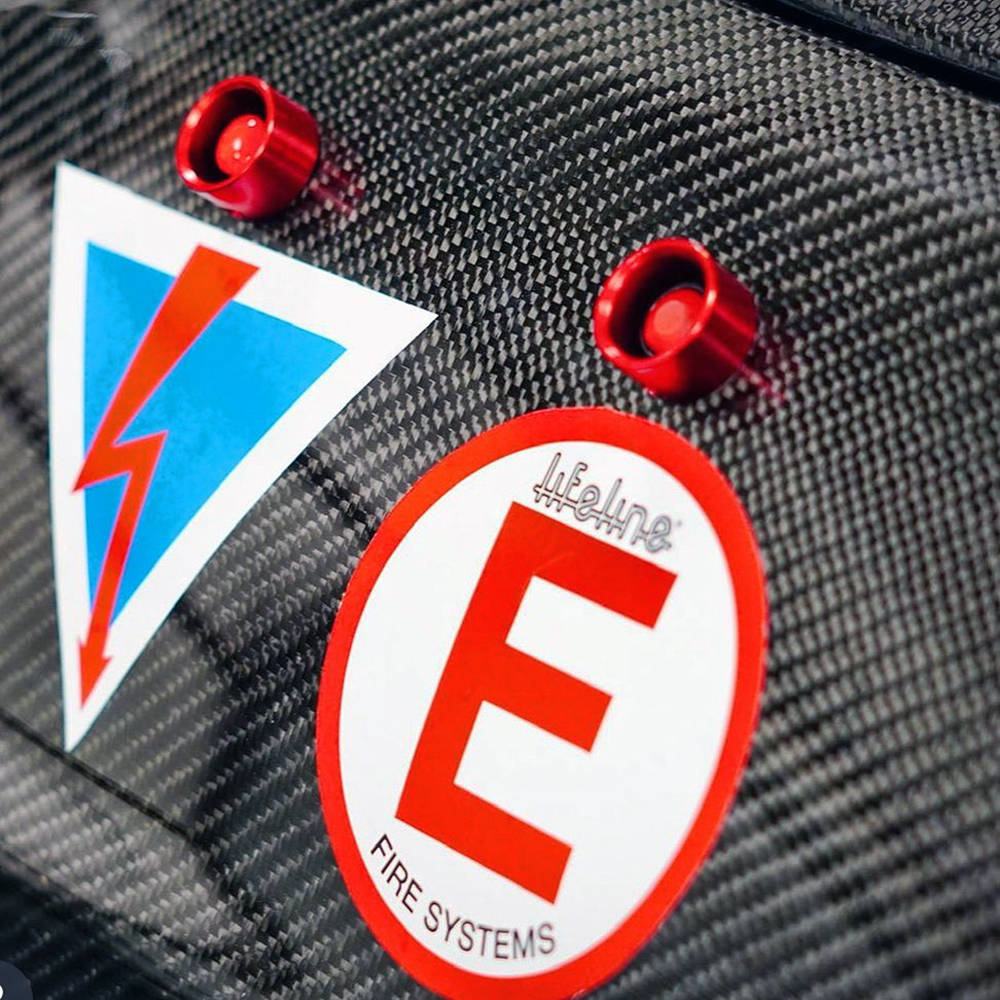 Novec is non-conductive and non-corrosive. This is critical in vehicles with expensive and advanced electronic systems. It also evaporates with no residue for easy clean-up. Finally, Novec is a super-coolant, which puts it at the forefront of the newest technology for EV and hybrid vehicles. Preventing thermal runaway is critical to fire containment in electric platforms.
Foam is another effective suppressant. It has the benefit of drawing heat out and preventing reignition due to the high volume of water in the foam solution. Yet, it is a two-dimensional agent that must cover and smother the fire with a foam film. Thus, there are efficacy limitations, especially in racing vehicles with larger volume cockpits with more complex contours that are harder to smother with a foam barrier, typically but not limited to production-based cars and trucks.
Finally, powder can be effective for many types of fuels as a suppressant. When mounted in a racing vehicle, however, powder packs down with vibration, making it dense, hard, and difficult to deploy. It takes a very advanced deployment system to both prevent this and deploy in rollover situations. For this reason, powder is often confined to crew or safety team use.
Suppressant Delivery Methods
Suppressant delivery method is no less important than the suppressant itself. It is a factor that differentiates many manufacturers. It isn't uncommon to have different nozzle designs for gas and foam suppressants, and even specific designs for engine versus cockpit, or SFI versus FIA homologated systems.
For example, nozzle count isn't defined in FIA homologated systems as it is in their SFI counterparts. They are more of a factor of system design; not "more is better." Tubing length and diameter, as well as operating pressure, also play a critical role in system design and performance. Installation should follow both your sanctioning body's rulebook as well as your system instruction manual. This is critical to achieve the intended performance.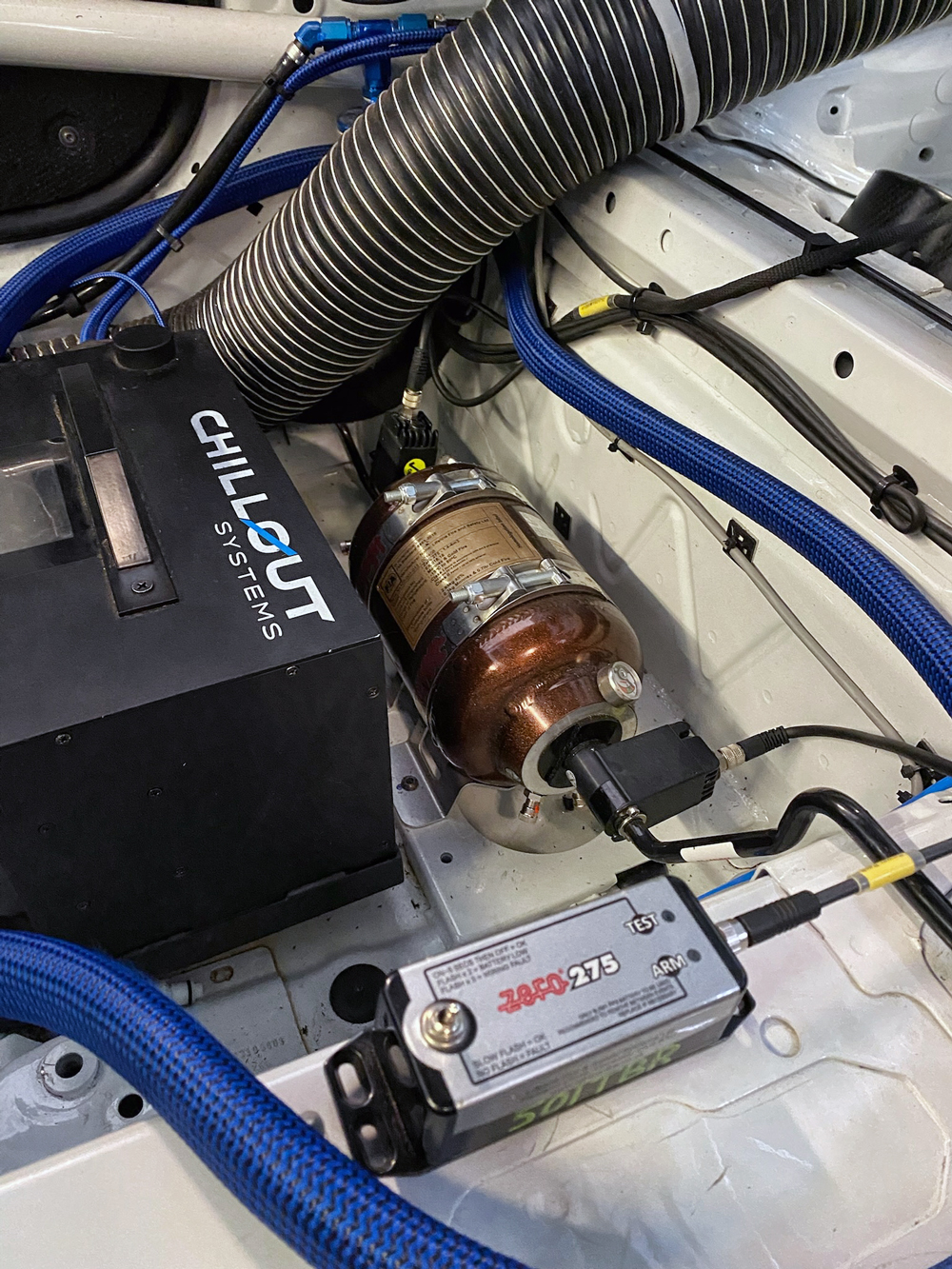 Some final factors may also influence your decision on a fire suppression system. They include: 
• Vehicle size and interior volume: Larger vehicles with larger cockpit and engine bay volumes such as Trophy Trucks, stock cars, and production sedans typically require more suppressant than small single-seater formula cars.
• Engine bay and cockpit airflow: As more air flows through these areas from a combination of higher speeds and more open design as found in a sprint car cockpit or Ultra4 engine area, suppressant will be diluted when the fire system is deployed while moving, so more is required. Conversely, a closed-cockpit prototype requires much less suppressant to maintain safer levels for the driver inside.
• System size. 
• Activation method (mechanical, automatic, electrical, and auto electrical).
• Weight constraints: Weight is often less of a concern for a vehicle adding ballast than those at or over the weight limit, but many still focus on an effective lightweight system to allow more freedom in ballast placement. 
• Rulebook requirements.
• Budget. 
Once a fire suppression system has been installed, just like any other part on the vehicle it must be properly maintained to remain effective and compliant. Both the SFI and FIA require that fire systems be serviced every two years by an authorized dealer. If you have installed a water-based foam system, ensure that your vehicle isn't stored in freezing conditions. If so, make sure your manufacturer has incorporated an antifreeze in their suppressant.
Fire protection is a critical component in continuing to make our sport safer and more sustainable. Choosing the correct system for your vehicle and type of racing shouldn't be daunting, but there are several factors—more than we can even touch on in this article—to consider. If you don't have a clear answer of what is correct for you, engage with your supplier or manufacturer to ensure you are getting the protection you're paying for. A fire system spends 99.44% of its life riding around as ballast. When you need it, you'll be thankful you invested the time to choose the correct one. 
James Clay is a professional sports car racer and has been involved in the racing industry since 1997 as the president of BimmerWorld and BimmerWorld Racing. In 2015, James and team expanded their racing industry footprint with the start of Lifeline USA, the American arm of the UK fire suppression manufacturer Lifeline.