Newly Appointed: Malissa Pennington
Image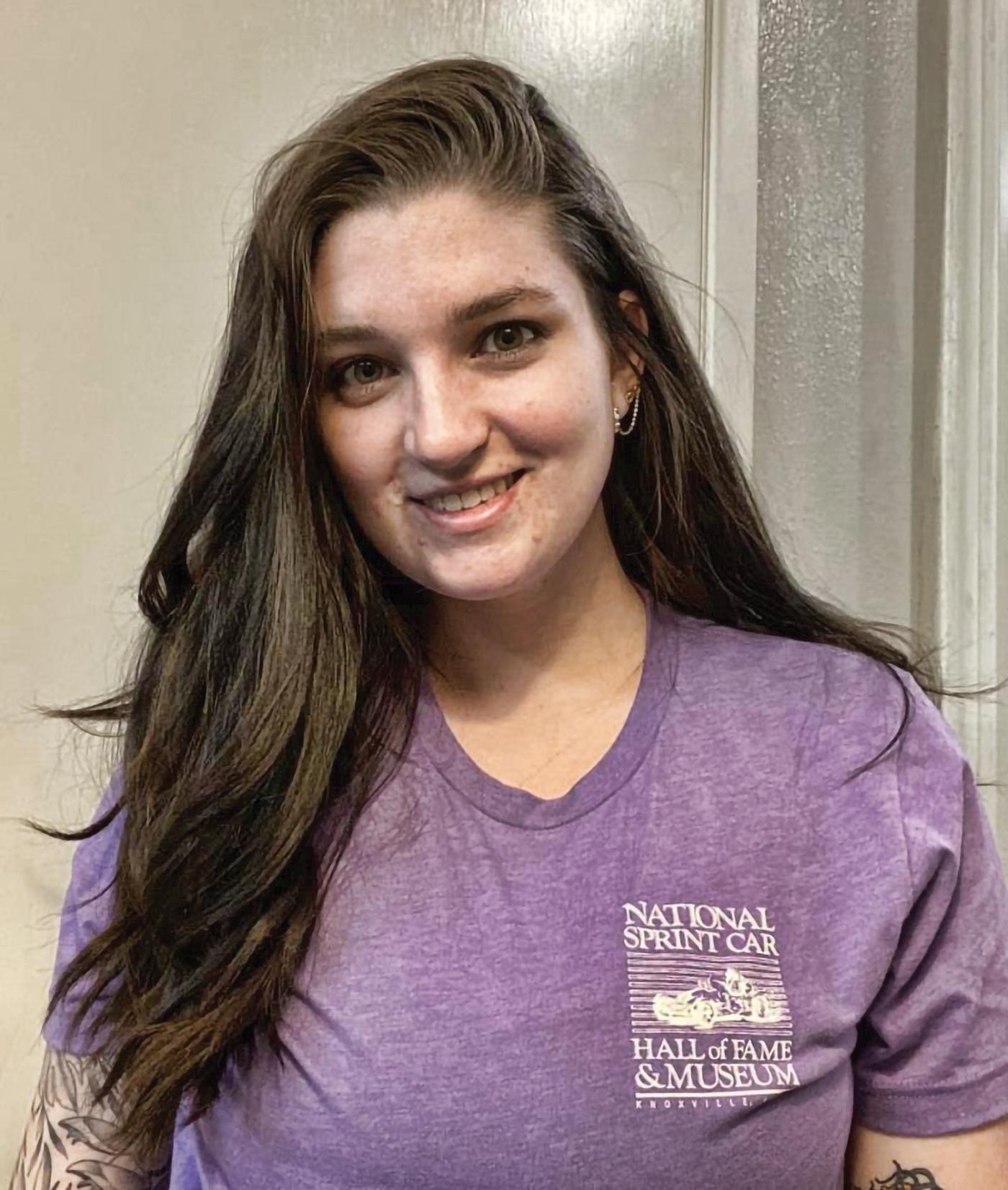 This Kansas City-area native grew up in a motorsports family, suggesting her current role with the National Sprint Car Hall of Fame & Museum may have been predestined.
Growing up in a racing family, it probably stood to reason Malissa Pennington would one day find herself on duty at one of motorsports' most celebrated and revered venues. After all, the Missouri native was surrounded by competitors—her dad raced street stocks, her brother ran quarter midgets, an uncle raced go-karts—from the start. Pennington raced bikes herself as a youth; in 2013 she was BMX state champion for her age group.
"I was always around and helping out at tracks like Topeka," she recalled of those earlier days, "working in the concession stand and places like that. Those are some of my first memories of getting excited about race cars. I had to be no more than 8 years old at the time."
Fast-forward to the present day, and the recently named special events coordinator at the National Sprint Car Hall of Fame and Museum in Knoxville, Iowa, has a good-sized to-do list, chief among them educating race enthusiasts and potential fans on the world of sprint cars.
"For someone new to sprint cars, it can be overwhelming to try and understand it all," she noted. "In the very near future…new educational displays will travel around with me to different events. [These] pieces will be centered around what to know, where to look, and who to follow."
Keep reading to discover what Pennington and the National Sprint Car Hall of Fame & Museum team have in store for the near- and long-term, as well as the one thing she absolutely can't live without.
PRI: Why are you excited to take on this new position? Why is it a great fit for you?
Pennington: As a race fan—especially a dirt race fan—getting to be right in the middle of it all…I get excited just waking up in the morning. Part of my job includes traveling around with our raffle sprint car. We go from Knoxville, Iowa, to Minnesota, California, Pennsylvania, and many more places. But it's exciting even when I am not traveling because [this position] is based on education. Researching auction items, planning golf tournaments, helping with whatever projects I can; it incorporates other aspects like scheduling, organizing, design, and creativity. Every day I go to work I learn something new. Not to mention, the fact that I get to travel and see new places, new tracks, and new people makes this opportunity especially fulfilling. Working in racing means I don't have a "job" in the traditional sense—it means I get to do what I love each and every day.
PRI: Clarify your racing family background for us and explain how it'll serve you in this new role.
Pennington: My dad's family would race anything they could: cars, bikes, each other. They all got the itch to race, and it's never left. When I was introduced to the family I was introduced to racing. My brother raced quarter midgets, I raced bikes. Eventually my brother and I got older, and life happened. So we went from racing to the stands…although we still love it. Every time my dad's side of the family meets, we must discuss what's new in the racing world. Who won the NASCAR race? Where is Terry McCarl and how are Austin and Carson (McCarl) doing? I know the feeling of walking into your favorite track and smelling the dirt, hearing the engines roar, and feeling your skin bristle with excitement. I use that excitement and channel it into my work.
PRI: Give us one or two of your long-term goals.
Pennington: One is to find new ways to introduce the National Sprint Car Hall of Fame & Museum to new people. Another is to improve and elevate sales for our raffle sprint car. We print off 15,000 raffle tickets each year and I would like to find more engaging ways to help sell those tickets. In this world of online participation, it's really important for me to be able to provide an engaging and exciting experience in person. I've met countless people out on the road who have never seen or even heard of sprint cars before, and I don't want to be the person that says, "Oh, just go online and enter and read all about it," and have that be their first experience with a sprint car. My job needs to speak to all generations.
PRI: From your perspective, what are some of the biggest challenges your organization faces right now and how will you overcome them?
Pennington: A big one is with our raffle sprint car. With COVID-19 putting a pretty sizable pause on our way of life, everybody—not just us—has run into issues obtaining parts. Through the amazing work of those who did my job before me, we are sitting pretty good with our current car, except for a select few parts. If not much changes in the next year, this will affect how we obtain parts for our next car. Because we are a nonprofit, the parts on the car are donated, so you can imagine, with an already sizable parts shortage, how hard it can be for companies to participate. I should mention, though, that all of the organizations and parties we work with on this project are incredible, and everything they do for us is beyond appreciated. But the answer to overcoming it is time and patience. With supply chain issues likely to continue, we expect to start next year's project earlier knowing that parts may not arrive until later in the year.
PRI: Who has been the biggest influence in either your professional or personal life, and why?
Pennington: It would have to be my mom. She's taught me so much about just being a woman, and especially being a woman in a male-dominated field. Whenever I felt discouraged about something she would always tell me, "You can do whatever you set your mind to." That has stuck with me throughout my life. My parents had the opportunity to choose their kids through the power of adoption, and I am beyond blessed to have the family I do and the support system I have.
PRI: Excluding your cellphone/tablet/computer, what's one thing you can't live without?
Pennington: I can honestly say I cannot live without coffee. I am a cup-every-morning type of coffee drinker. Sometimes one in the afternoon, but every morning I have to get my caffeine. I like my coffee with hazelnut creamer and a dash of cinnamon.
Malissa Pennington
Title:
Special Events Coordinator
Organization:
National Sprint Car Hall of Fame & Museum
Hometown:
Liberty, Missouri
Fast Fact:
Malissa Pennington collects vintage Pyrex—from 1915 all the way up to the 1980s. She has eight pieces and a few sets. "One that's near and dear to my heart is a set of bowls with a rare pattern," she told us. "I found them in an antique mall in Branson, Missouri."