INDUSTRY INSIGHTS: STEVE MYERS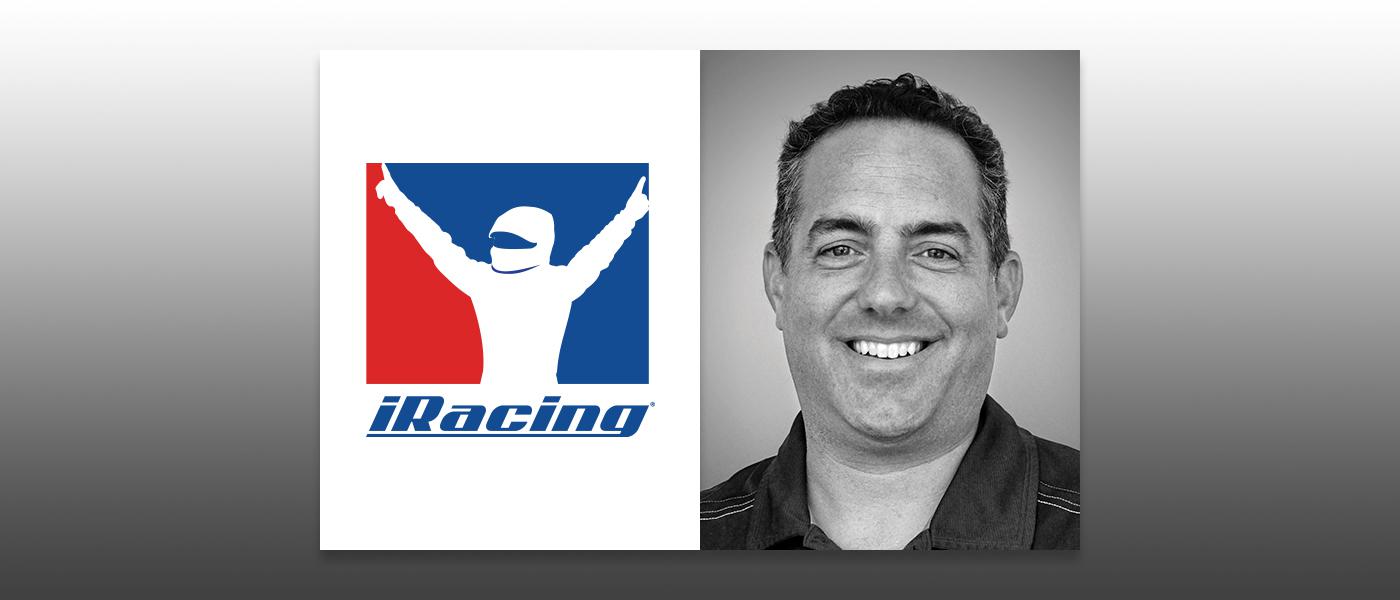 With live racing relegated to the sidelines for much of spring, interest in eSports—and especially iRacing—skyrocketed. 

Here, the company's executive VP/executive producer explains how they dealt with an influx of both users and viewers, how they decide which race tracks to feature on the platform, and what they expect once competitive motorsports returns to normal.
Few companies could imagine a scenario where, almost instantly, their product is catapulted into the limelight and exposed to a worldwide audience. It's almost the stuff of a Hollywood movie, only in this case it actually happened. Earlier this year, with the arrival of the COVID-19 crisis and virtually all forms of motorsports halted, that was the situation for iRacing. Their platform of digital motorsports simulation was viewed by millions on network television, while tens of thousands of new customers flocked to the platform to enjoy the sport while living under stay-at-home orders.
Steve Myers spent the past 20 years preparing for such a moment. The executive vice president and executive producer of iRacing has devoted his professional life to the development and growth of eSports competition.
iRacing, headquartered in Chelmsford, Massachusetts, is the brainchild of former Papyrus Racing Games founder Dave Kaemmer and John Henry, principal owner of the Boston Red Sox and Roush Fenway Racing. Papyrus was the predecessor of iRacing, which was formed in 2004. Myers was the first employee of the fledgling company, and he has been hands-on with every aspect of the development of the company's digital product.
The events of the past few months were certainly a most unique series of circumstances, and an experience that will surely shape the future of eSports—and iRacing—for years to come. In the midst of the experience, Myers took the time to talk with PRI Magazine.
PRI: iRacing was in a unique position with the arrival of the COVID-19 crisis. Was it a challenge to ramp up and seize the opportunity of the moment?
Myers: To be honest, it wasn't, because we were prepared. We started the company in 2004, and the service has been operating since 2008, and we've been doing eSports broadcasts for over a decade with NASCAR. From that perspective, it wasn't difficult because we already had the relationships, we already had the content, and a lot of the drivers were already competing on the service. So the real difficulty was in working out the logistics and technical aspects of getting our broadcast room working with the FOX broadcast room.
PRI: Tell us about iRacing. How would you describe it to someone who is new to eSports?
Myers: Our goal was to create the most authentic racing simulation that a person could buy and use in their home. On top of that, we wanted to create the virtual sport of SIM racing. Now that word is called "eSports." We had this vision in 2004 of what this would be, and in a lot of ways the world kind of shifted to where we were. You go to our website at iracing.com and sign up for a membership, download the software, and within 20 minutes you are on the computer racing people from 160 countries around the world. It's a 24-7, 365-days-a-year environment. Racing is going on 24 hours a day, and there are usually between 8,000 and 15,000 people online at any given time who are racing.
PRI: We've seen some of the sophisticated rigs used in iRacing, but is that level of equipment necessary? Can a person be competitive without it?
Myers: Yes. It's funny, Timmy Hill was one of the breakout stars of the recent iRacing Pro Invitational, and Timmy just has a 12-year-old (steering) wheel that's strapped to his desk with a single monitor. You absolutely do not need a rig to enjoy iRacing. Most people have a computer in their home already that can run the software. The biggest expense is spending around $300 on a wheel-and-pedal set, which is pretty straightforward.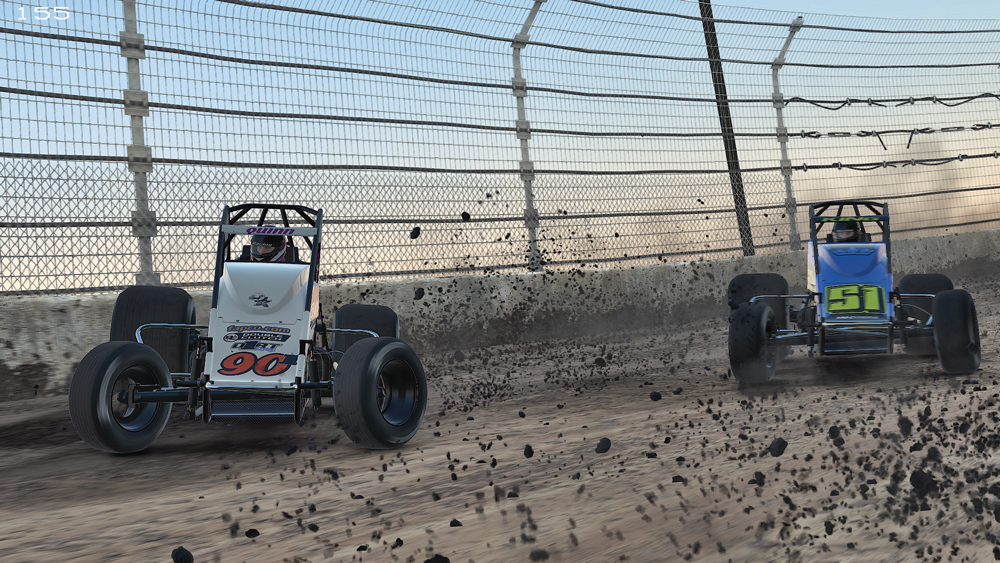 PRI: As we've seen all along in racing for the past hundred years, competition obviously makes things more intense. But I would think one of the joys iRacing tries to promote is the simple fun of competing with people in an enjoyable environment.
Myers: You know, one of the interesting things that's come from professional racers when they tried iRacing for the first time was that they felt more nervous than they felt in their actual race car. You're doing something outside your comfort zone. iRacing kind of takes away some of the senses these guys have always used while driving their race car, and it's made it fun to watch them adapt and get that competitive spirit. Toward the end, they were taking it pretty seriously and really competing because they were taking pride in looking at their results every week.
PRI: The gaming platform was once a matter of a $50 software purchase. We've seen the platform shift to a subscription model, which is how iRacing operates. What drove the shift to the new model?
Myers: As much as motorsports is a popular form of entertainment, it's still in some sense a niche market in the video game world. We had to create a premium product that maybe costs a little bit more than a traditional product—but the subscription model allows us to continue to develop our products and to provide new content and features in a way that no other business has ever done. We don't have a publisher; we're self-financed and we do all of this ourselves. Once you buy a piece of content, as long as you have an active membership it's always there. For instance, with some of these cars we've made five or six rounds of improvement to the product from the time it was originally released. So yes, it's a different model than the traditional boxed-product model, but over an extended period of time the costs will start to even out. And you're not forced to buy a new product that's been developed. We've tried to make it so that everyone has something they can do, and it's not a ridiculous amount of money they have to spend to do it.
PRI: Give us an idea of iRacing as a company. What staff does it take to do the development, the administration, the maintenance, all of those things?
Myers: We've just reached about 60 employees. It's funny, the last six or seven weeks our business has exploded to the point where we had to hire customer service people, another finance person, another HR person, some tech support people. We've been so busy and our service has so dramatically exploded over these last six weeks that we needed help. From a technical side, there are probably 25 to 30 technical people doing the website and the SIM software. There are probably another five people dealing with the operations, keeping our websites up and database services. And the rest are production staff and marketing people.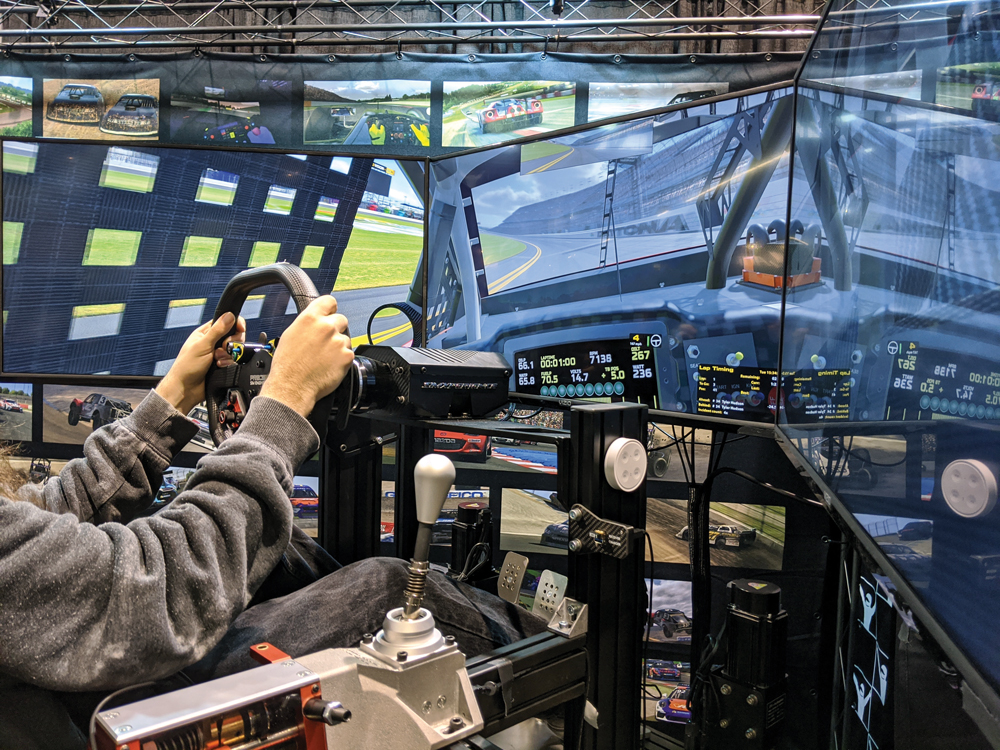 PRI: From the business side, how do you determine which race tracks to feature on your platform?
Myers: It's a combination of things. We look at what is popular, and what our customers want. That's kind of the beauty of having a membership-based product; our customers vote with their dollars and give us feedback. So we try to listen, first and foremost. We also have larger business objectives; dirt racing, for instance. That project started with us designing a track surface model, where we're tracking how much heat and rubber is going into a track during a race so that the lines of the track change based on what is changing in the track. That was the first step in being able to create dirt tracks. That allowed us to do the World of Outlaws stuff and the Lucas Oil Off Road stuff.
Sometimes we have a vision for future stuff we want to develop, and we want it to benefit many areas of our service. We try to look at projects that allow us to make a bigger picture without over-saturating the racing in a particular category. We want to add content within existing series, but it's also the "wow" factor. What's the greatest new thing that's coming out? That's usually what our customers want.
PRI: What's the timeframe typically needed to develop a new facility and bring it online?
Myers: Once we sign an agreement with a track or a car manufacturer, we go on-site and laser scan the track and take thousands and thousands of photographs. That takes anywhere from a couple of days to two weeks. Once we collect that data it takes us roughly four months from start to finish to get the track developed and built. Something very large, such as Nürburgring, will take longer because of the sheer size. And it's the same with a car; it takes about four months to develop the model and the sound and physics of that particular car. The artwork is what takes the longest to create in any of these projects.
PRI: One of the elements I'm guessing you need to navigate is the use of sponsor and team logos and designs. What is involved in working with trademarked images and logos?
Myers: The good news is that we're not recreating real-world series, because we treat iRacing essentially as its own sanctioning body. We are the sanctioning body for the digital SIM racing in our service. We develop a relationship and a partnership with the series that we create virtual eSports series within our world. So we're not typically worried about going and getting Denny Hamlin's FedEx Toyota paint scheme licensed to put into our product, for example. If we do that, it's usually as a thank-you and we're not paying for it as part of a business relationship. Particularly on the car side of things. If there has been a team that has been very helpful to us in collecting data needed to build the cars, usually as a thank-you we will put their paint scheme into our paint kit. But for the most part, once we've done an agreement with the track or a manufacturer we're just worried about the trademark and the brand associated with that property.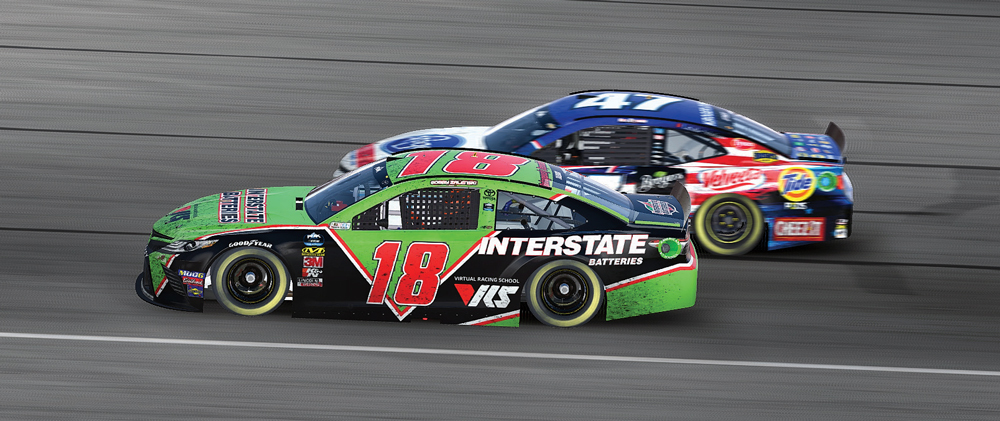 When we build a race track, we capture the billboards and the signage exactly as it was the day we went there to take photographs. In a way, we're providing a service back to those properties because they can then generate revenue off the signage on the track, or showing how a longtime sponsor is getting the extra benefit on a platform that is being exposed to close to 200,000 people around the world. I like to joke that some of these tracks have billboards with mom-and-pop businesses, and you can look closely at the billboard (in our platform) and see the phone number for a local pizza place. If you call that number, the pizza place is actually going to answer the phone. So that's one unique and cool aspect to what we're doing.
PRI: You've developed a wide array of racing competitions. Short track, NASCAR, IndyCar, off-road, road racing, sports cars. What type of racing has been most popular so far among users?
Myers: You know, it changes all the time. Often, it's just based on what's popular right now. At the present the NASCAR stuff is huge, but so is the sports car stuff and the road racing stuff in Europe. It's regional in some ways; in North America the NASCAR racing is the clear leader in terms of what's popular. Ironically, the most popular racing series we have on our service is the MX-5 Cup series. That's the entry-level racing series, and it also happens to be a really fun car to drive and race with other people.
One of the beauties when we developed our service was that we learned the model on what not to do. For example, it's not a good idea to create an authentic racing simulation and immediately have people jump right into a NASCAR Cup car. There is a reason why there are only a handful of people who are really skilled at it, because it's very difficult to drive one of those cars. So we put you in a street stock, and a Legends car, and then an MX-5 Cup car, because we want to teach you and let you have a chance to become comfortable with racing. Like the real world, it helps users learn the product and learn to race with other people.
What's different about racing and racing games in particular is that if you're playing Call of Duty or one of the first-person shooter games, if you stink at the game it just affects you. You just keep getting killed by some 13-year-old kid who is talking junk to you. But in racing, if I'm with 20 other people on the race track and I'm terrible at it, I ruin the experience for them. So we try to keep track of everything you do in these races and use that data as your gateway to being able to compete with higher level vehicles and other people.
PRI: I must say, it was an amazing turn to see iRacing make the transition to a live national TV audience with hundreds of thousands of viewers. The exposure for your product, Steve, was immeasurable. That had to be a thrill for you and your staff.
Myers: Yes, (although) it has been tough a little bit in that you don't want a pandemic to be the reason why your company is elevated to a higher level of popularity. But we worked really hard to be able to capitalize on this moment, and from that respect we were proud of what we accomplished. When we were in the middle of all this it was hard to see the big picture; you're going day-to-day just trying to get the next TV show scripted out and make it happen. So now that we've had a little chance to kind of breathe and look at what we've done, the thing I'm most happy about is the people who never thought they would watch a video game on television, seeing them post positive comments on social media about how spending a couple of hours watching with their family gave them some enjoyment. That is the thing I'm most proud of and most happy about. We will never forget that feeling and the experience we had these past few weeks.
PRI: Let's talk about your customers for a moment. Do you have any data that tells you the average age of your customers? My guess is that it would skew fairly young.
Myers: It's interesting, these last six weeks have changed that a little bit. It would be hard to provide an accurate answer until we've had an opportunity down the road to take another look at that. Before, we actually skewed a little bit older, more toward the late 20s and early 30s and above. You have to put some time and effort to get better at our product, and I think maybe younger customers don't yet have the patience to sit down and work at it. But I don't think there's any question that our numbers have skewed a little younger these past few weeks.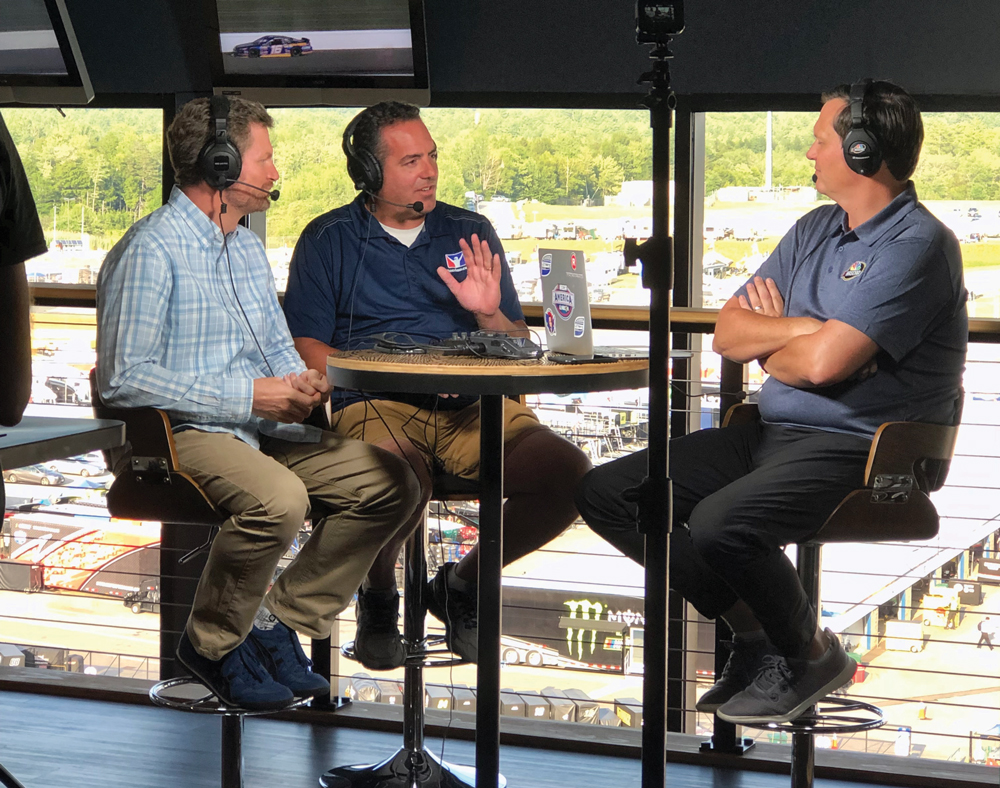 PRI: iRacing surpassed 100,000 members just a few months before the COVID-19 crisis hit. What has been the impact of your membership thus far this year? Can you share some membership numbers?
Myers: Today we will surpass 175,000 active customers; before the pandemic we were probably around 115,000. To gain 60,000 members in six weeks was a massive jump in our customer base. That's great from our perspective because it isn't just going to help us this year; once these people come in and enjoy it, they'll get their friends to join. This has been an opportunity we believe will set us up for a decade of success. Which is a dream come true, because we started this company in 2004 with the grand idea and bold plans, but there was a lot of risk. But to the credit of Dave (Kaemmer) and John (Henry), they took the gamble and invested in this. We feel very secure about our future at this point.
PRI: How can you maintain this positive momentum once racing gets back to normal?
Myers: Well, let's be honest. It would be pretty hard to replicate being on national TV when there is nothing else that's on television and have over a million people tune in. It will be impossible to replicate that. But I think we've proven there is an appetite for people to want content like this. My hope is that once life gets back to normal we can revisit something like a Wednesday night FOX show where we're showing our different content. There are some cool and unique things we can do with that show, and I think we can continue to do fun things in the future.
This has also helped elevate our NASCAR eSports series. The viewers for that series have tripled over the past two months, and that's a sign people are aware of what we're doing and that the content is really great entertainment. That part will continue to grow, and ultimately that series at the end of this year will have six races on NBCSN, with the final six races (culminating in the winner) taking home $100,000 with over $300,000 in prize money. We have the Porsche series that we're doing the same thing, focused on the European market. We'll be giving out over $1 million in prize money this year in our eSports, and I think that series will grow because of the success we've had in growing our membership and the attention we have generated.
PRI: How did you get involved in iRacing? Tell us a little bit about your background.
Myers: I loved racing since I was a little kid. My dad was into cars, and he kind of got me into the love of cars as well. We went to IndyCar races and Formula One races and NASCAR races, and I got into SIM racing when I was 18, 19 years old. And I got into the Papyrus games. One day I picked up the box for one of the games—I think it was the Grand Prix Legends game—and saw the address for (Papyrus) on the box. I grew up in Massachusetts, and Dave, I was amazed to see that Papyrus was located literally in the town next to where I grew up! I had that moment of like, "This is what I want to do the rest of my life." I quit my job—I was a project manager for a company doing trade shows—and took a certificate program to show that I could use a computer and got a job doing tech support at a software company in Boston. I started sending my resume to Papyrus, and after eight months of sending them my resume every week touting my background in racing, I think they finally called me in for an interview because they were sick of getting my resume every week. They offered me a software testing job, which is basically an entry-level job in software development. That was in 2000, and through the years I was promoted, and we started iRacing in 2004. I was the first employee Dave and John hired, and we hired the staff and built the company up from there.
PRI: Steve, I know it's been a whirlwind time for you and everyone at iRacing. I appreciate you giving us a few minutes during this busy time.
Myers: Thank you, Dave. It's been fun.