SPONSOR SPOTLIGHT: LOGAN SCHUCHART AND DRYDENE PERFORMANCE PRODUCTS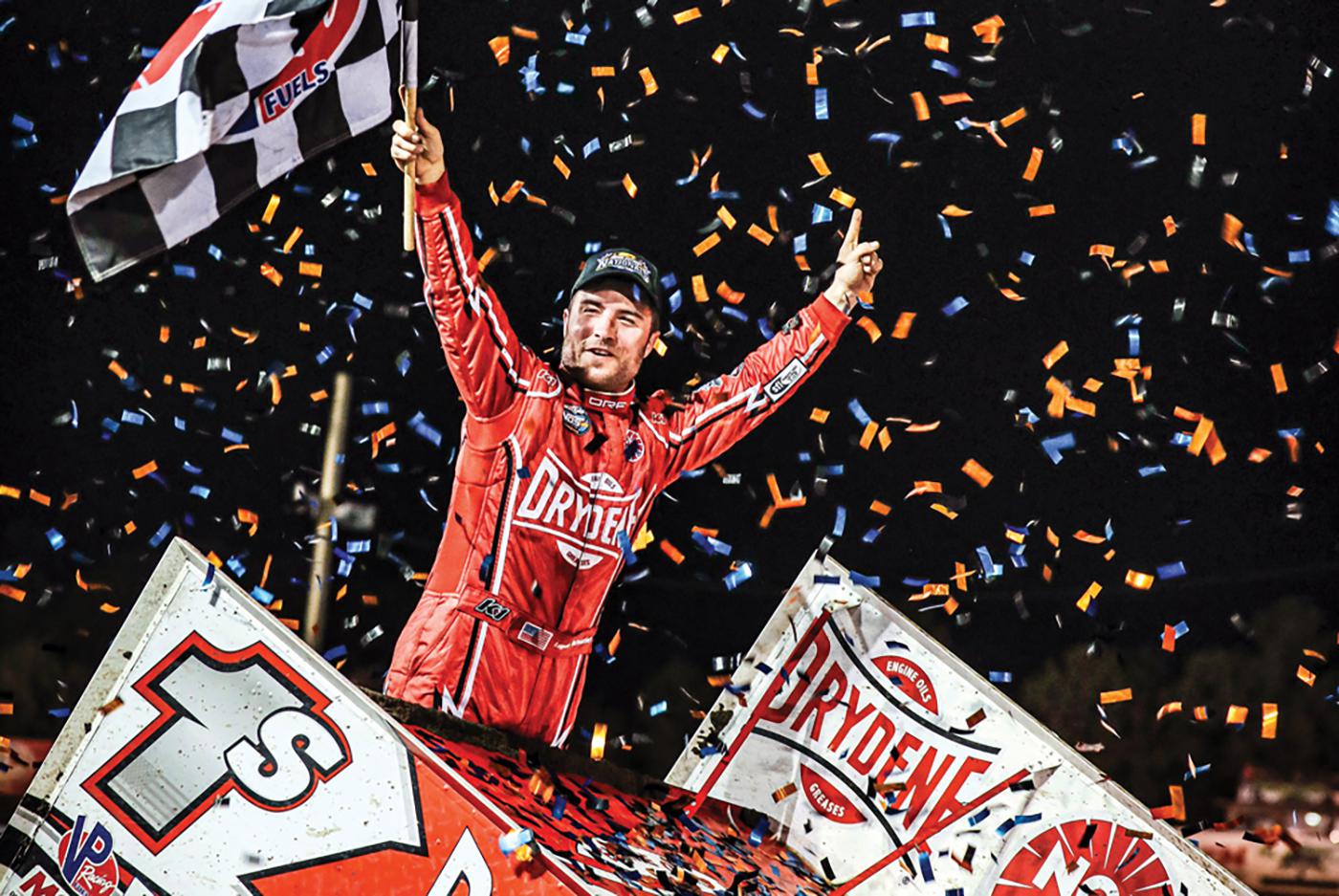 This productive pairing of storied family enterprises yields powerful results on and off the track.
History roams these race tracks. And when combined with equally potent elements like family, proximity, and personal spirit, it can forge powerful bonds and yield results far beyond the ordinary.
It's also what launched the partnership of Drydene Performance Products and World of Outlaws NOS Energy Drink Sprint Car Series racer Logan Schuchart (pronounced "shoe-hart"). Both of these family-oriented Pennsylvania natives have their own rich history. Drydene is a maker of lubricants, founded back in 1893. Schuchart's team, Shark Racing, is the creation of Bobby Allen, a hall-of-fame sprint car competitor who started in the 1960s.
Schuchart is Allen's grandson. He races alongside his uncle, fellow Shark teammate Jacob Allen—Bobby's son, also sponsored by Drydene.
But while many such shared elements underpin this fruitful sponsorship, it's ultimately driven by results. Last year was Schuchart's first full season sponsored by Drydene, and it proved to be a breakout year. Schuchart won eight races, doubling his World of Outlaws career win total and elevating him to fifth in the series points standings.
To learn more, we talked to Dave Klinger, Drydene Performance Products president, and Bobby Allen, Shark Racing owner/manager.
PRI: How did this partnership come about?
Dave Klinger, Drydene Performance Products: A person here sent me a video PR piece Logan had put together. I realized that Logan was the grandson of Bobby Allen. I've always been a huge dirt track race fan since I was a kid. My grandfather took me to all the races, and Bobby Allen was one of my big heroes. So that connection with Bobby, and the fact that they're based in Pennsylvania like Drydene is. And then to see Logan's PR and how he had been performing—it just seemed like a really natural fit for us.
Bobby Allen, Shark Racing: Drydene was wanting to get into sponsoring races to sell their products. And by coincidence, they're from around here, too. They also liked it because they're a family business, and we're a family racing team. So that got us in the front door.
PRI: Why did this partnership make sense from a business standpoint?
Klinger: Before this, Drydene was more of a regional brand on the mid-Atlantic, but now we have our sights set on taking the brand national. The World of Outlaws teams are traveling literally from East Coast to West Coast, so that recognition is on a national basis. That's huge for us right now.
Allen: The big guys have got big sponsors. Even to run the All-Star or just run around here, you've got to have some money behind you.
PRI: How do you measure the results of the partnership?
Klinger: We run an incredible amount of metrics, looking at return on investment. We can measure it from the standpoint of fan engagement and orders. You can look at that and say, "Okay, boom, there was an uptick at this point in time when we made a sponsorship announcement—website hits, social media, product orders, product inquiries, distributor inquiries." Those are the metrics that we're using to really gauge the success. When we see that spike after doing certain things, that can be a jump up, and then it flattens out. That maintenance side of things creates rates of return as well.
Allen: Sponsors don't want excuses. They want results. And naturally, the better you can run up front the more exposure you get. When you run up front, you're selling products. The folks from Drydene showed us graphs, and they were way up there, in terms of how much we've improved their business.
PRI: What is the duration of the agreement? Is there an option to extend it?
Klinger: The current agreement goes through this year. When we signed with Logan, we signed specifically for 2018, and then we made the announcement at the end of 2018 that we were doing a multi-year deal, which was for 2019 and 2020. Right now, we're in negotiations to extend our sponsorship beyond this year.
Allen: Our first year, they wanted to try us out in the middle of summer. They gave us a little bit of money. And then we sat down and put together a sponsorship for two years. That was when we got sponsored last year.
PRI: How has the partnership stayed active during the COVID-19 shutdown/slowdown? (Editor's note: This interview was conducted in late April 2020.)
Klinger: We're doing our very best to keep our teams—Logan, Shark Racing, the others—active on our social media platform. We also have them participating in the iRacing circuit. It's now just really focusing on the website, social media, and staying in touch with the teams to make sure that everything is well with them, that they're continuing to stay positive.
Allen: Right now, iRacing is our main outlet. That's good for us, because it can expose you. But it takes a lot of practice. We're trying to figure that out in a short amount of time.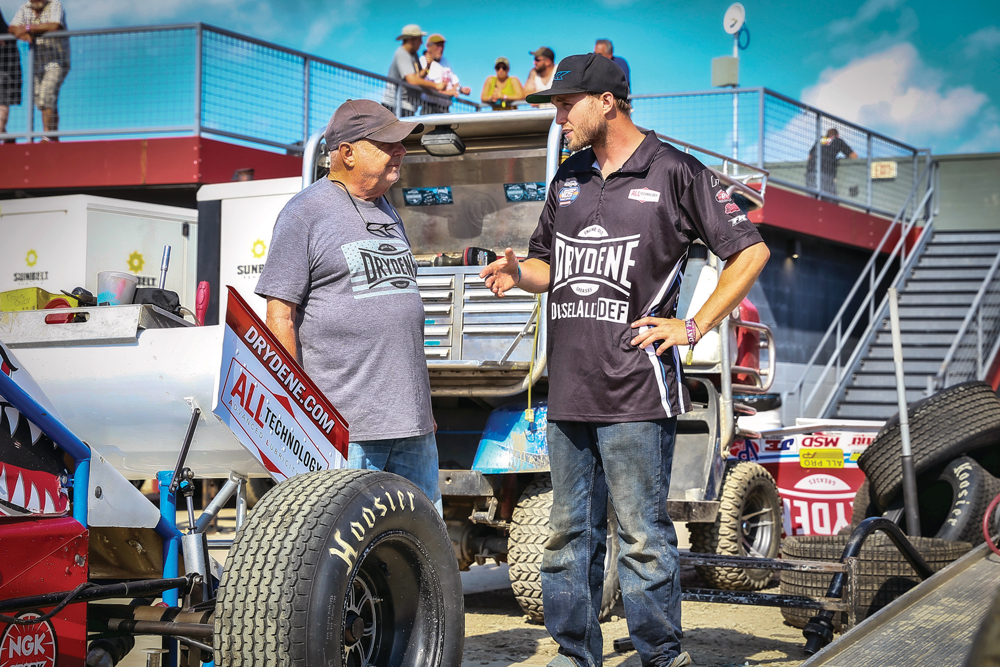 PRI: Do you think the coronavirus crisis will widen the gap between teams that have large sponsors and those who don't?
Klinger: It will be interesting when it all comes back, because so many of these teams aren't sponsored as well. We haven't stopped paying sponsorship money to teams, and that obviously is something that helps hold them over through something like the coronavirus crisis. But I think we're going to have some fallout. The crews that are with other teams still have a passion, and they love what they do. But they've got to eat in the meantime. If there's no racing, they might just have to trail off and find a different job.
Allen: I don't see much difference between the big teams and little teams as far as getting through this. Most of these guys are racers. They're not racing on the road for the money, I can tell you that. They're doing it because they love it. It's only been in the last three or four years that I've been able to pay anybody.
PRI: How satisfied are you with this sponsorship relationship?
Klinger: We're very pleased. Logan is a really great brand ambassador. And the whole team continues to impress me, even now moving to iRacing. He had a podium finish last week and he was in the top five this week. That's him in literally just the last three or four weeks taking up the sport and saying, "I'm not just doing it for fun. I want to be competitive." He wore his red race suit for the iRace, because he knew there would be pictures taken and posted on social media. That's just fantastic.
Allen: We're very satisfied. They make us feel like part of the family. They're right there for us no matter what. They're a good sponsor.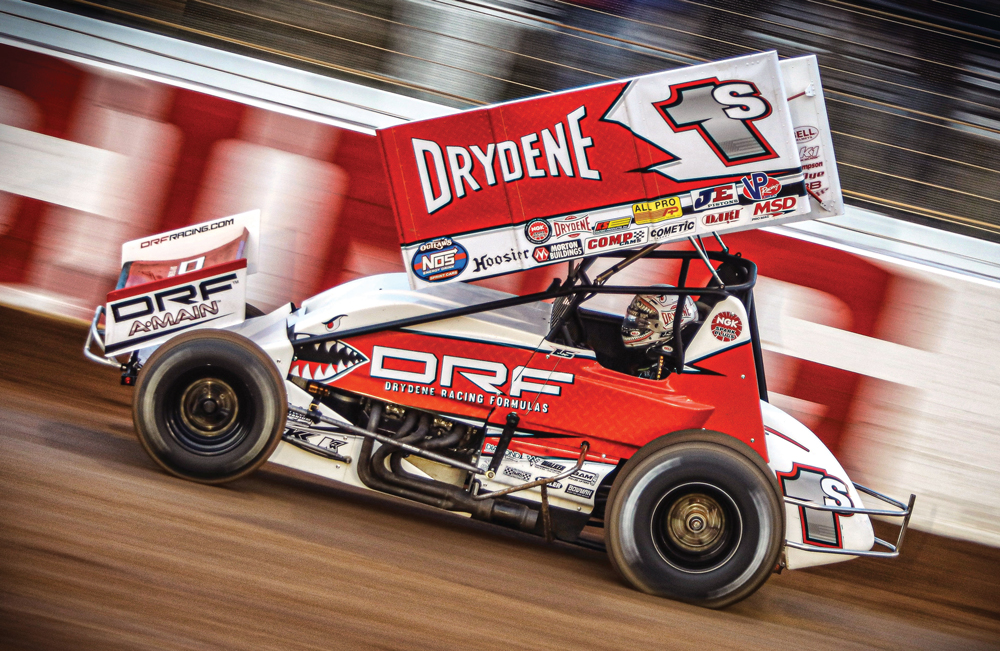 PRI: Do you have any advice for racers or teams trying to get sponsorships?
Klinger: I'm not suggesting that racers go out and hire a professional PR person. But in my opinion, they do need to be proactive. We're looking for somebody to come to us and actually pitch a story of why they would be a good fit for us. It's having that storyline—"I started five years ago. Here's my success, my background, and my passion for the sport."
Allen: You've got to win races. And you've got to have a portfolio to show what you've got. There's also this thing I came up with—"KBD." Know somebody. Be there at the right time. Don't burn your bridges!