Image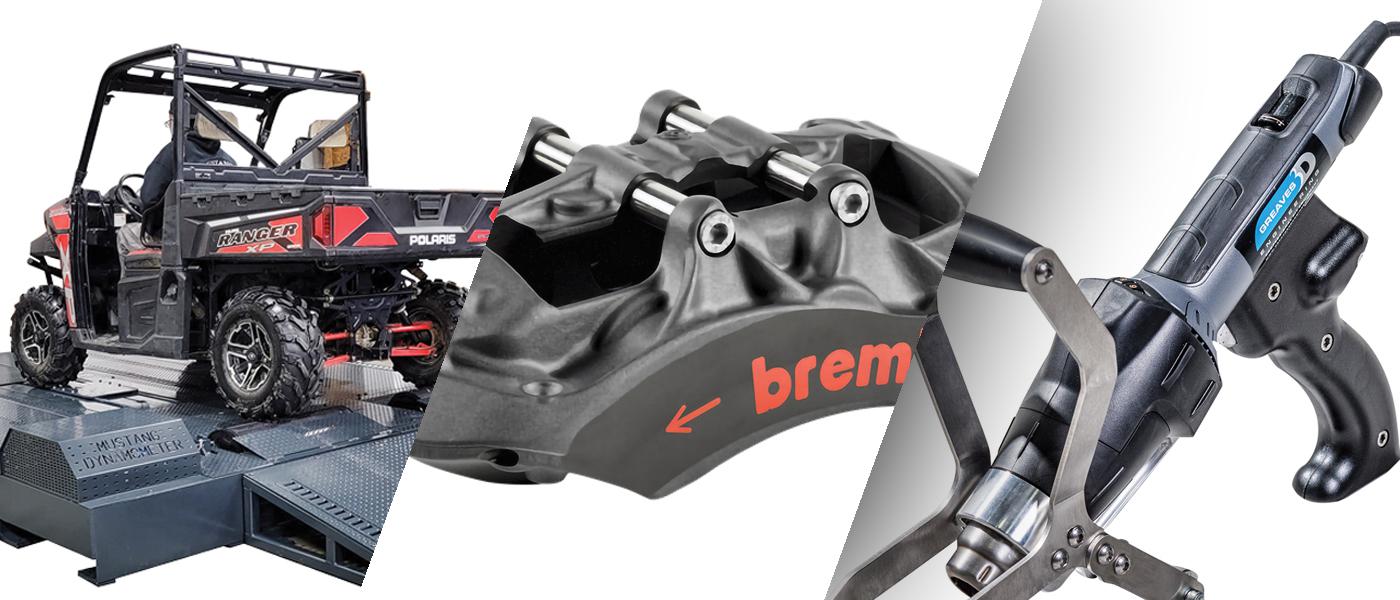 Hundreds of new product announcements cross the desks of PRI editors each month. Following are our top picks for August.
Max-Lift BSR Shaft Rockers for LT
COMP Cams
compcams.com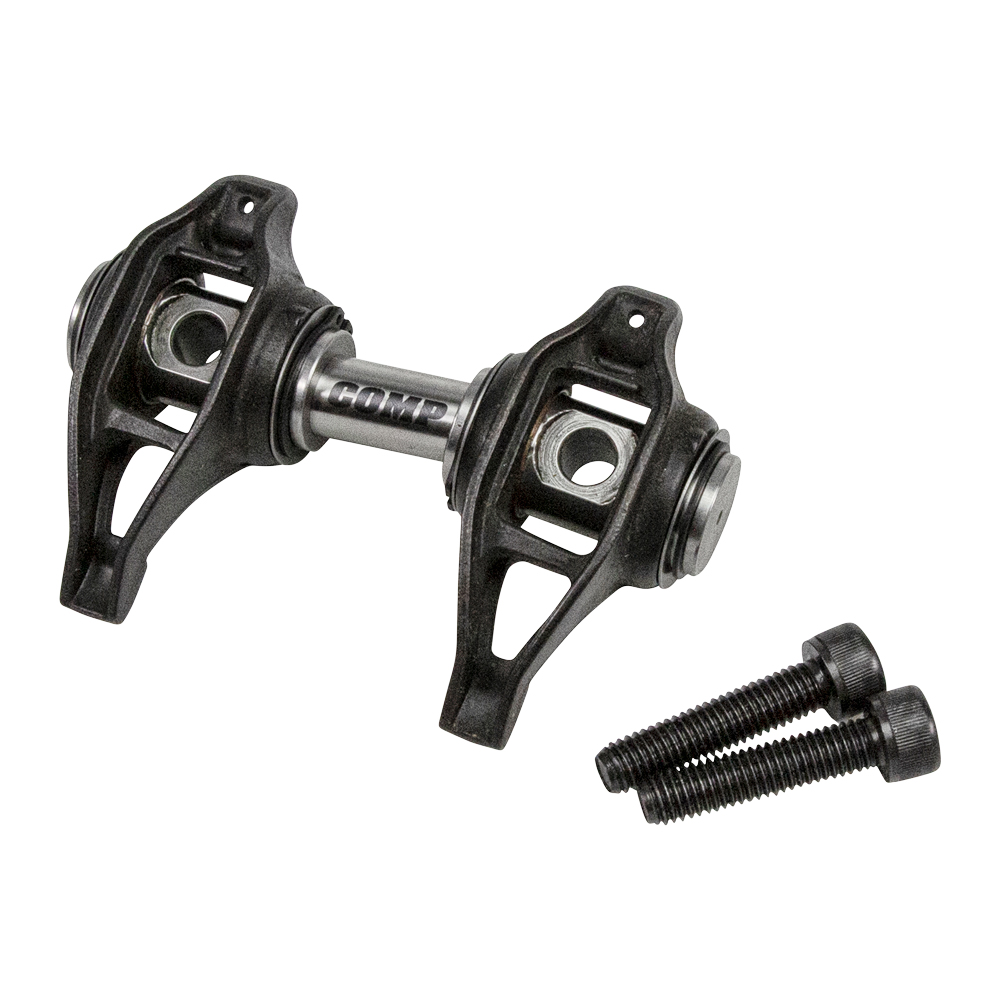 Testing at COMP Cams in Olive Branch, Mississippi, once revealed that LS engine valvetrain deflection measured on the Spintron was not matching the predictions calculated in sophisticated computer simulation and modeling software.
"Deflection is an enemy for performance over a wide rpm range, because the component loads go up by more than the square of engine speed," explained Billy Godbold. "And your running duration at the valve shrinks as system loads and resulting deflection increases."
Engineers determined that the software assumed the rocker-arm trunions were fixed when, in fact, the aluminum stands would flex when loaded. Armed with that knowledge, COMP Cams developed the patent-pending Max-Lift BSR shaft-rocker system for the LS. That technology is now available for the GM Gen V LT engine family.
This bolt-in system increases the valvetrain stability by tying pairs of rocker arms together and using tri-layer bushings instead of needle bearings. The increased stiffness in the valvetrain allows more aggressive camshafts up to .675-inch valve lift.
"With the BSR rocker systems, we increase the stand and system stiffness, resulting in less duration loss with rpm, increased power, and improved valvetrain dynamics, all with a very simple, elegant, and robust improvement," concluded Godbold. —Mike Magda
MD-SXS/UTV Chassis Dyno
Mustang Dynamometer
mustangdyne.com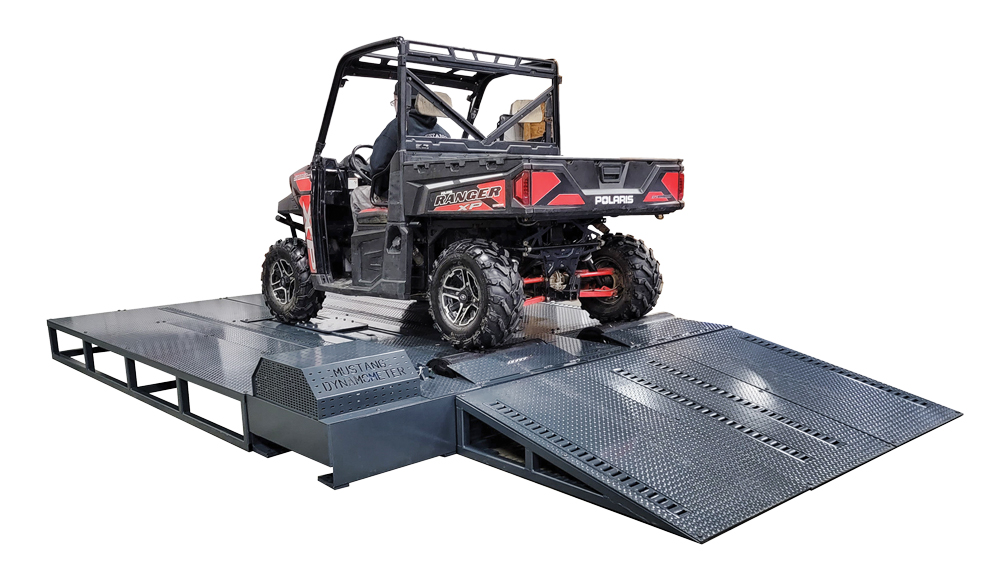 The increasing popularity of racing UTVs and side-by-sides prompted Mustang Dynamometer in North Las Vegas, Nevada, to develop a powersports chassis dyno. This low-profile design with 12.625-inch rollers will support up to 850 horsepower while topping out at 200 mph.
"Mustang routinely expands its product line as the needs of the market change. We felt there was a need for a dedicated side-by-side and UTV offering that could also handle motorcycles," said Michael Caldwell. "There was clearly a need for this product and, thus, we stepped up and designed one."
The system features a closed-loop digital controller with web-based HoleShot software. Also included is the patented Virtual Road Simulation technology. The dyno requires 230V single phase while the controls run on 115V single phase. The loading device is an air-cooled eddy current power absorber.
"The unit requires a 20-foot long by 10-foot space to accommodate the test bench and the ramp," added Caldwell. "The unit can handle wheelbases up to 134 inches, so we have plenty of platform for those four-seaters and longer wheelbase platforms.
"The MD-SXS/UTV is primarily meant for off-road vehicles that can be switched to 2WD mode in lieu of 4WD mode for dyno testing," added Caldwell. "If there is a substantial shift to a full-time AWD transmission, we will definitely add an AWD option to the dyno." —Mike Magda
HyperSpark Master Kits
Holley Performance Products
holley.com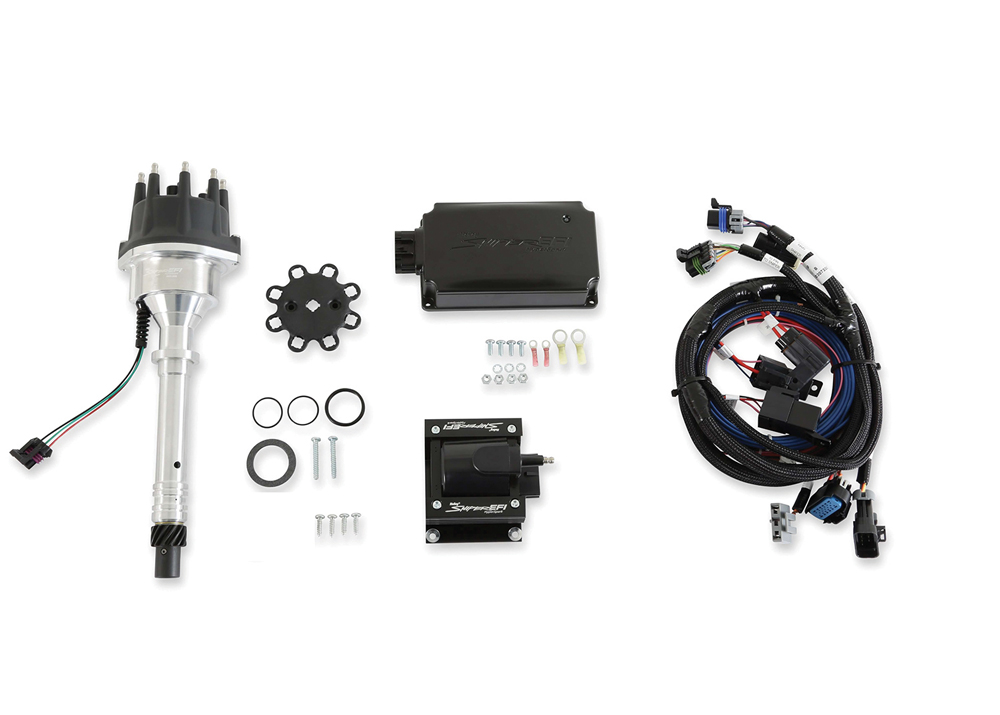 The Holley Sniper product line has long been introducing EFI to a variety of engine applications, but a matching, streamlined ignition system with the same simplicity wasn't available—until now.
"The purpose of the HyperSpark Master Kit is to make the jump from carburetor to Sniper EFI as simple as possible for the enthusiast or racer," said Evan Perkins of Holley Performance Products, Bowling Green, Kentucky. "Now, users can have a modern, high-current, computer-tunable ignition that only requires four flying lead connections."
The system features a true plug-and-play harness with the four flying connectors—switched power, battery positive, battery negative and fuel pump power. There's also a built-in 40A relay that provides power to all the system components.
"The biggest benefit for a weekend warrior is the ease of installation," added Perkins. "The ignition is also built around the Sniper EFI platform, which maximizes compatibility and minimizes troubles with antique or tired factory ignitions."
The system is complete with an ignition box, coil, distributor, and harness. The distributor features a Hall-Effect crank trigger sensor that provides noise-free rpm signal to the Sniper ECU. Making the installation even easier is a patented clear installation cap that eliminates confusion over phasing the distributor to set the #1 plug wire.
Tuning is easy with the Sniper EFI software, and rev limits can be set as a safety measure, according to Perkins. —Mike Magda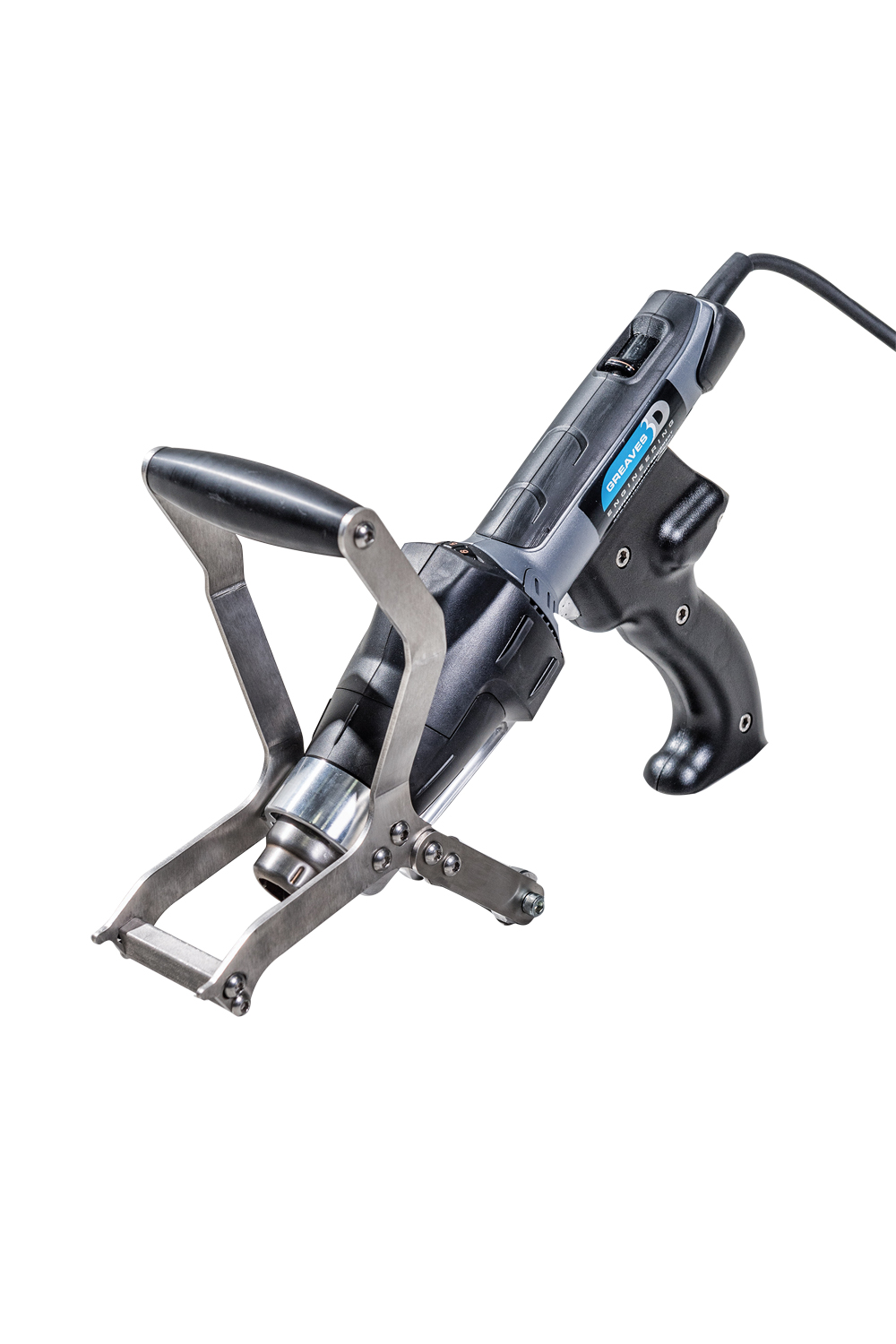 Race teams that beat up their tires on asphalt courses will surely appreciate the TS-03 tire scraper available from United Race Parts (URP) in Troutman, North Carolina, which is an authorized distributor for Greaves 3D Engineering.
"It's been one of our most successful products," said Bryan Powell. "[Crew members] used to use a putty knife and torch to heat up the rubber."
The TS-03 features a molded handle for user comfort. The integrated heat gun offers variable fan speed that provides 300 to 600 liters per minute airflow. The heat gun also has a temperature range of 100 to 600 degrees with a total 2,000-watt output. The adjustable handle and blade positions can be set to suit the user.
"This tool makes it a lot easier and faster for the teams," said Powell. "It is a much more precise way to clean the tire and check for wear."
Both oval and road-course racers can avoid unwanted tire damage due to using inappropriate tools or excessive heat with other methods. The TS-03 can safely remove debris and leave a smooth, undamaged surface.
"We've actually had kart racers use them as well as the sports car teams," said Powell.
A scraper station is also available from URP to help improve the speed and efficiency of the TS-03. The station secures the tire for ease of scraping, and a foot pedal is used to rotate the tire when needed. —Mike Magda
KRC-1040 Quick-disconnect Throttle Linkage
Kluhsman Racing Components
krcracing.com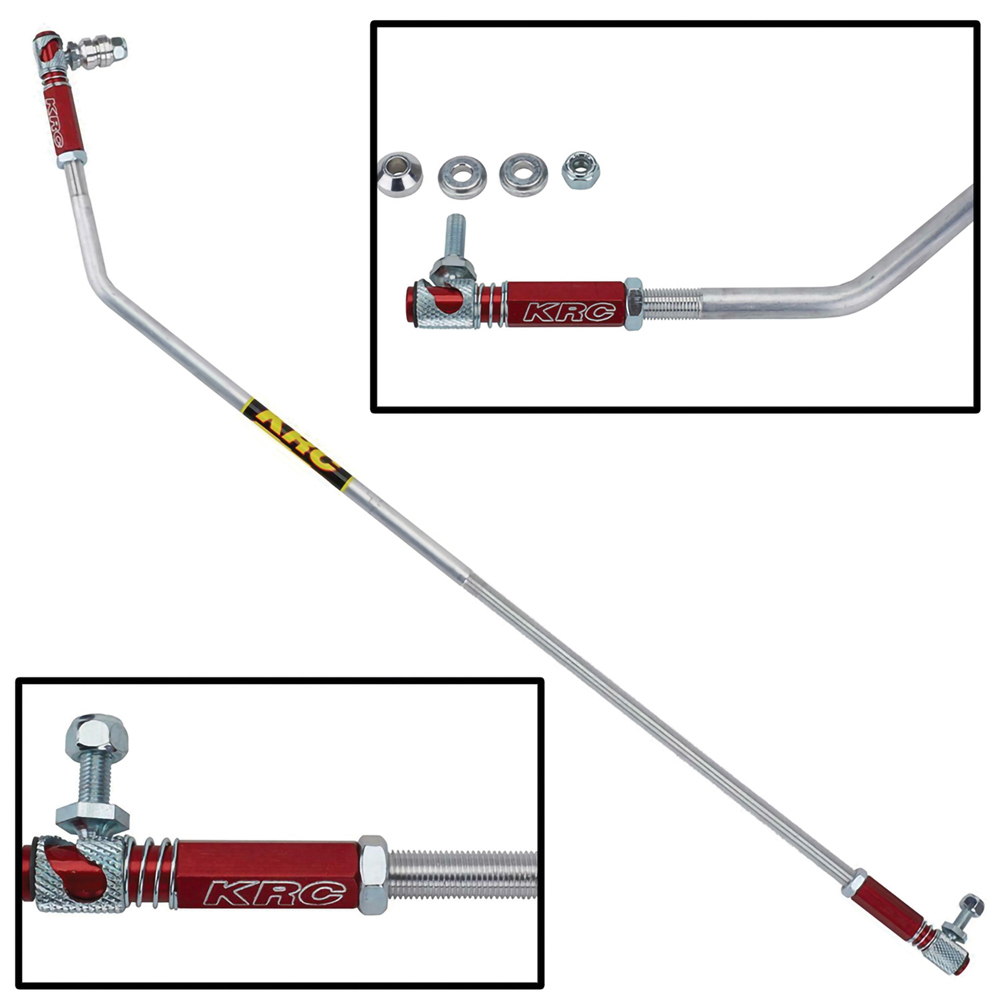 If you're looking to change carburetors quickly in the pits, the 1040 quick-disconnect throttle linkage from Kluhsman Racing Components in Lockwood, Missouri, will save time. It's also designed to be adjustable, helping control wheel spin with a long foot pedal for a rough slick track, or a short-throw foot pedal for tacky smooth tracks.
Made in the USA from 6061 aluminum with steel safety locks, the linkage has smooth throttle balls for more precise control. It's designed for dirt track or asphalt stock cars, off-road vehicles, and drag-racing applications.
"This product was actually drawn out on a cocktail napkin in a motor coach," recalled Mel Kluhsman, adding that tech inspectors were often removing carbs to check for cheating. Most of the linkages were made of Heim fittings shimmed with washers and secured with small nuts—both of which often fell into the intake manifold or were lost on the ground. "It took about four or five designs to finally end up with the patented KRC-1040. It's on thousands of cars now."
The throttle rods will hook up to most carburetors with the included bushings. The rod ends are anodized to withstand severe racing conditions.
"The KRC-1040 is very useful during carburetor swaps," said Kluhsman. "Simply unlock, pull the carburetor off, make sure you have another KRC-1042 (throttle ball assembly kit) installed on your carburetor. Then you're ready to go." —Mike Magda
SRP Pro 2618 LS Piston Line
JE Pistons
jepistons.com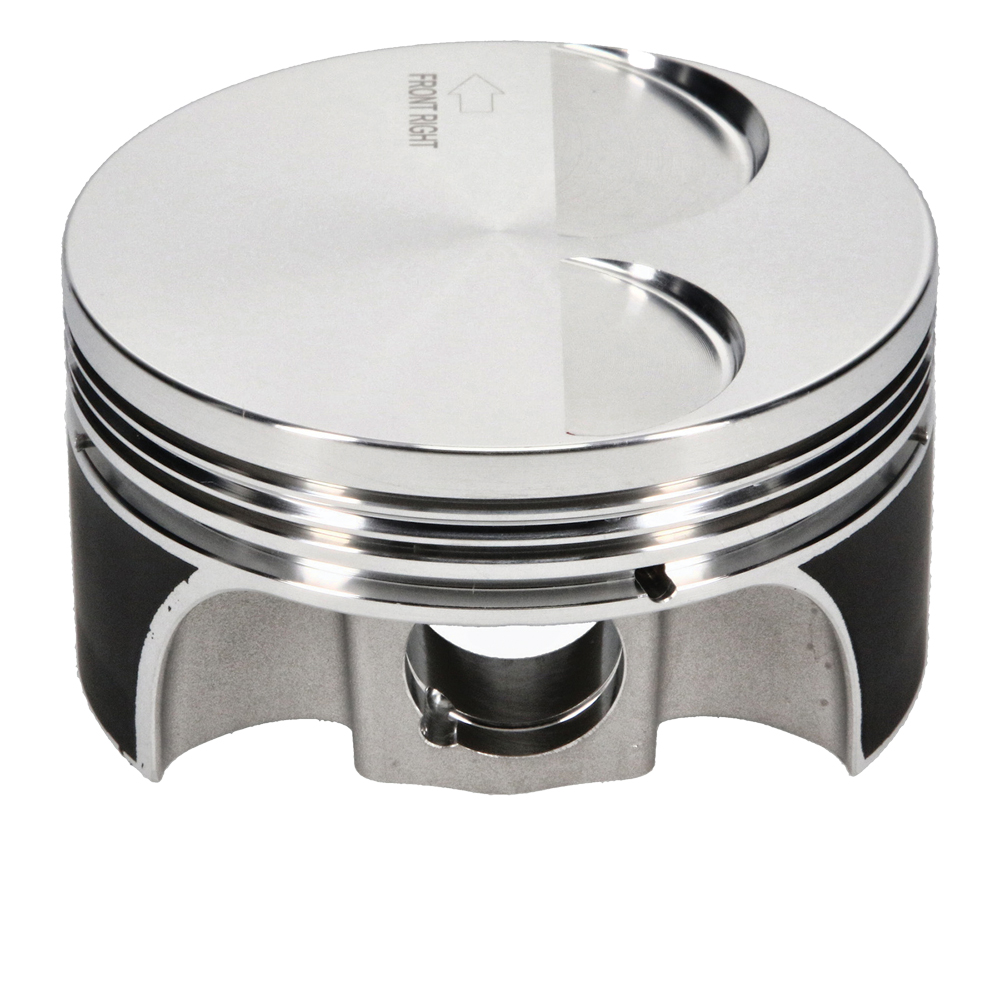 JE Pistons in Cypress, California, now has a complete line of pistons constructed from 2618 alloy for the LS engine family. There are more than 100 off-the-shelf part numbers with specifications that will cover most applications.
"Street/strip applications are covered in a pretty wide range of power goals," said Bryce Mulvey. "These are 2618 pistons with sportsman level pricing, so they're ready to handle everything from NA builds to moderate power adders."
These pistons are designed with Multi-Fit valve pockets to accommodate popular 12- and 15-degree LS cylinder heads. They are CNC machined with performance style cam-and-barrel skirt shapes to reduce piston rock and improve ring seal.
Other features include offset wrist-pin bores, low-friction skirt coating, and an accumulator groove between the top and second rings. This groove helps reduce pressure from combustion gasses, thereby reducing ring flutter. All part numbers include wrist pins, locks, and Pro Seal rings.
Piston strength is enhanced with a stout .225- to .235-inch top land thickness.
"Doing all our forging in-house in the USA gives us complete control over the manufacturing process and allows us to easily adapt techniques and conditions to achieve the necessary goals for specific parts," added Mulvey. —Mike Magda
Pista 6-piston Caliper
Brembo
brembo.com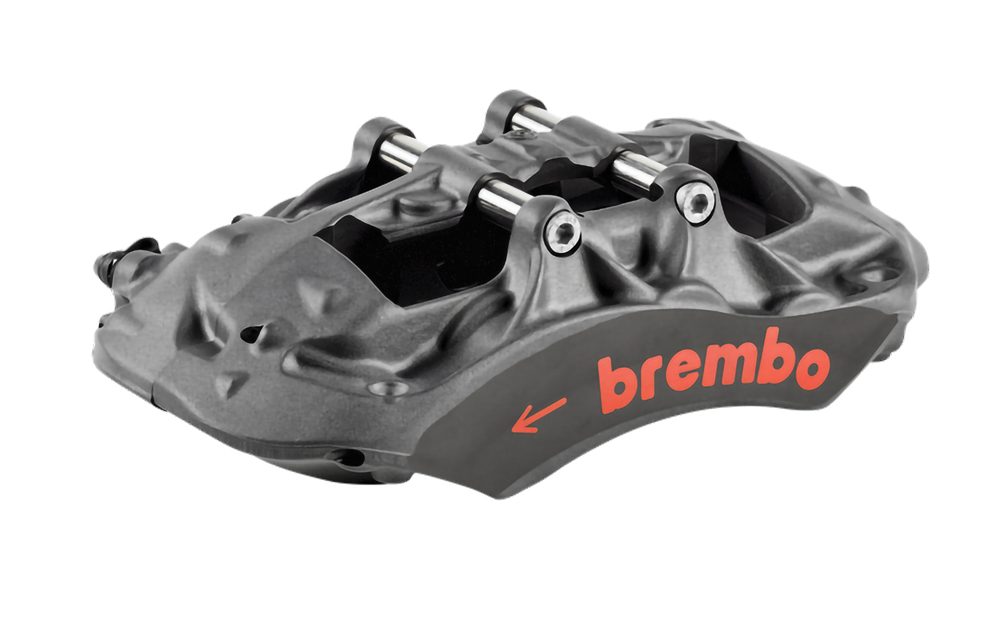 For intense competition, Brembo in Plymouth, Michigan, has developed the new Pista FF family of brake products, including the FF6 six-piston caliper. "This new line of brake calipers is ideal for use on the track, allowing drivers to get the most out of their cars under extreme conditions in a constant search for the best lap time," said Mike Messina.
This caliper is constructed of forged aluminum, asymmetrically designed, and radial mounted. Pista calipers were engineered with internal brake fluid passages that efficiently channel the brake fluid for maximum pressure and bleedability of the system. The calipers also have a rapid release system for the pads to help speed up pit stops.
"As a whole, Brembo's new line of Pista products is the perfect next-level upgrade for so many of today's highly capable road cars seeing more and more track time," added Messina.
All the new design elements contribute to improved pedal feel and feedback to the driver, along with consistent repeatability and reliability. The system is also available with a four-piston caliper. —Mike Magda