INDUSTRY INSIGHTS: JORDAN ZLOTOFF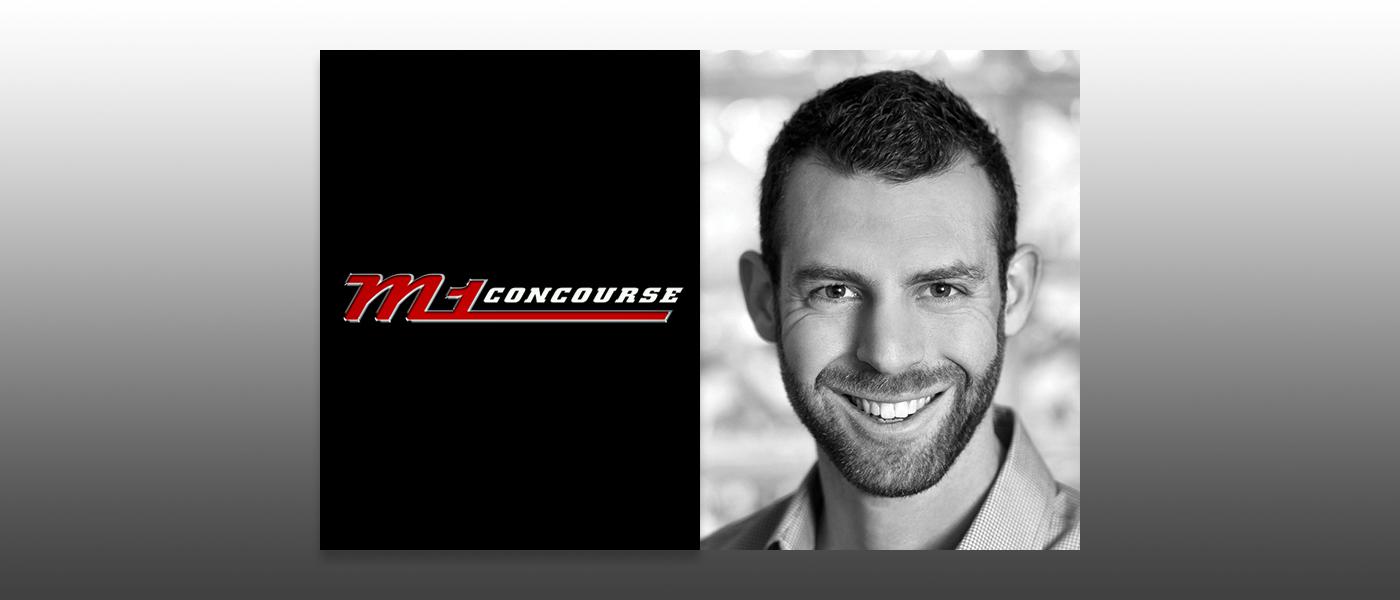 Referring to his facility as a "motorsports playground," the chief executive of M1 Concourse in the Detroit metro area has discovered a winning business model in services for a customer base steeped in American car culture.
Since the earliest days of the motor vehicle, our nation's car culture has drawn countless numbers of Americans together to share their love of all things automotive. A modern-day expression of this passion has been the birth of "garage communities," offering high-end garage space as well as social interaction to gearheads of all ages.
M1 Concourse has taken this concept of garage communities to unmatched levels. The 87-acre Pontiac, Michigan, facility has developed a cutting-edge selection of private garages, a motorsports club, and well-appointed corporate events, all of which are surrounded by a 1.5-mile performance road course. Located along historic Woodward Avenue in the Detroit suburb, M1 is perfectly positioned to capture and cultivate the century-old car culture of the Motor City.
This month, PRI visits with M1 Concourse CEO Jordan Zlotoff, who has been with the facility since its groundbreaking in 2014. A Michigan native and MBA candidate at the University of Michigan's Ross School of Business, Zlotoff's fresh thinking and passion for motorsports are evident at every turn.
M1 Concourse is a "motorsports playground" located on the former site of a General Motors factory in Pontiac, Michigan. The facility features a 1.5-mile performance track and is home to the world's largest private garage community, with 173 completely finished individual garage units. M1 Concourse includes a master-deeded condo community, allowing individuals to purchase garages to store their cars and present the ultimate private entertainment suite. M1 Motorsports Club boasts 150 members and offers private driving activities and programs for corporate partners and individuals and "team building" events for various organizations. The facility is located adjacent to Detroit's historic Woodward Avenue, and has become a key part of the annual Woodward Dream Cruise, one of the largest performance-themed gatherings in the world. The newest project for Zlotoff and his associates is the American Festival of Speed—modeled after the Goodwood Festival of Speed in the UK—which will debut in fall 2021.
PRI: I'm curious about the origins of your facility. How did the initial concept of the M1 Concourse come about?
Zlotoff: The original concept for M1 Concourse was to build a private garage community. This concept has been tried and tested around the country and has been successful in various forms—such as five to 10 acres—and basically includes car storage in a specific community and area for that purpose. Probably the most successful of these has been AutoMotorPlex outside of Minneapolis. The idea for a multi-purpose facility at M1 that included a track and the possibility for public and corporate events really came about when we discovered the piece of land that we have here. It was really just by circumstance that we happened to find 87 acres in Oakland County that was undeveloped, and that the city of Pontiac was willing to work with us on our intended use for the land.
The whole model of private motorsports facilities is a very difficult one economically. Most of these facilities are located very far outside the metropolitan area. So if you look at places like The Thermal Club, Spring Mountain, Autobahn—these are all outstanding facilities but difficult to get to. Our property is very close to the communities of Metro Detroit, which has the largest population of collector car and automotive enthusiasts in the world. We have over 60,000 classic, exotic, and muscle cars registered in the Detroit area. It's five times bigger than the next biggest market, which is Los Angeles. We realized that we had a special opportunity to build something that was more than just car condos. It was an opportunity to build the track and build a successful Track Club and Motorsports Club, as well as the private and public event activations as well.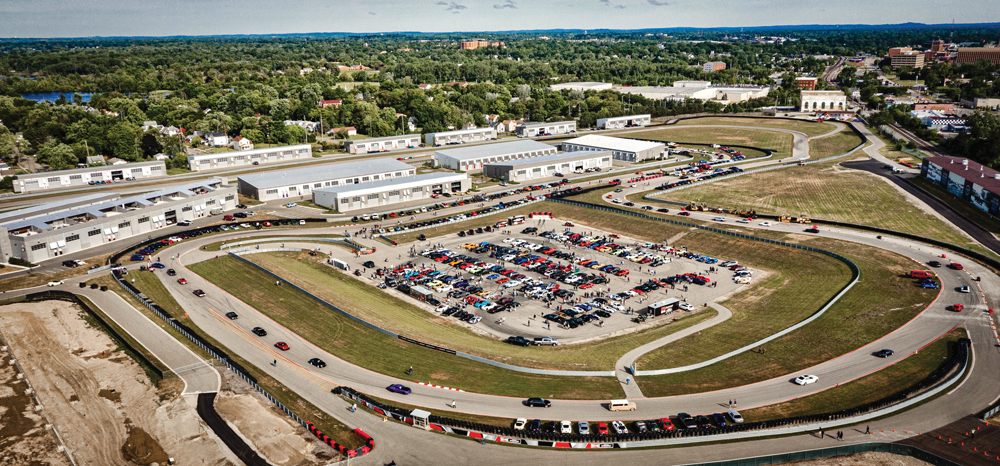 PRI: When you connect with someone with a performance car, is there a goal or a thought to help that person become involved in motorsports competition?
Zlotoff: Not always. Most of our Motorsports Club members—I would say over 90%—have not raced in an SCCA event and likely won't. They are typically successful individuals with a high-performance vehicle, and they want to learn how to drive it well and see what it's capable of, and understand how to operate it correctly and push it to the limits of its performance in a safe fashion. Sometimes that leads them to getting into racing, whether that's SCCA or NASA or other racing leagues or circuits. But not always.
Much of what we do at M1 is recreational performance driving. Most of our folks don't come from that background and most won't get into that type of activity, but we all want to understand the mechanics of how to drive our car well and make it perform well. So we go through a lot of the same educational programming, but just because of our audience they may not necessarily get into racing.
PRI: You've made good use of social media to reach your audience. Can you give us some specific tips on how social media can be effective for a motorsports venue?
Zlotoff: I can offer a couple of things but by no means am I a social media expert. I would say the number one thing is to have excellent content. We're very fortunate to have a lot of that here at M1, and if you follow our social media feed you'll see amazing pictures of the inside of incredible garages that have been beautifully designed and decorated. Photos like that on our social media feed get a lot of attention. We attract large crowds, which are obviously great to capture videos and photos of, but we also have very rare, exotic, and unique cars. That sort of content, and making things engaging for the viewership—whether it's posing questions, or asking for comments or insights about certain things—has been effective. Which car would you want to drive on the track? How would you build a garage? What would you want to do at M1? Content that people can engage with is important.
Also, you need to be consistent. Whether it's every day, every other day, whatever—but constantly posting fresh content is very important. We happen to have a great photographer and social media manager on staff, and that's been a big part of cultivating a large following.
PRI: The concept of private garages is interesting, but I can definitely see a practical side to this, because many of us who have a performance car are limited on garage space at home. Do you hear that from your participants, the practicality of all of this?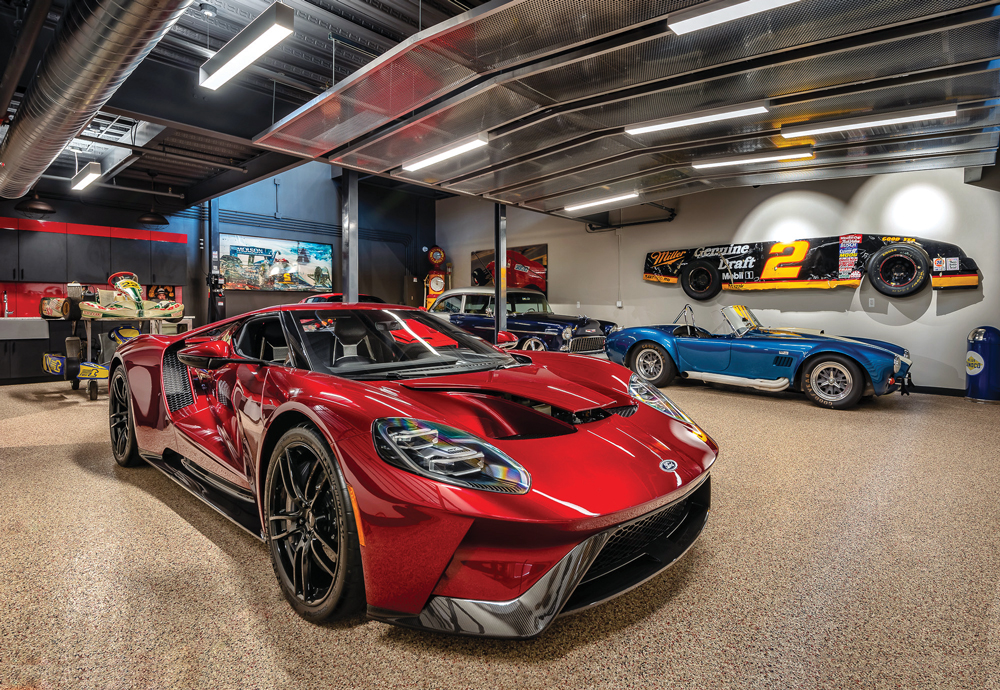 Zlotoff: All the time! (Laughing.) That might not be the biggest reason, but it's very common. Many folks are looking to buy a garage because they've run out of room at their home residence. They could get a spot at a U-Haul storage facility, or they could potentially build a car barn or a pole barn. Most of our clientele live in suburbs, where it would not be possible to build a big addition to their house or build a car barn on their property. The idea of being able to have the storage here and being a part of a community of other people that have like-minded interests is the big selling point. It's not only the storage element, but it's about being part of a community of shared enthusiasts. That's really the attraction. We have plenty of folks who have been collecting cars, and maybe they have a six- or eight-car garage. They want to downsize their house because the kids have left, but they're stuck there because they need a place to store their cars. So we provide an easy solution for that.
PRI: You've developed fleet partnerships with manufacturers such as Dodge and Lexus. How do you develop and cultivate those partnerships?
Zlotoff: That definitely takes time to develop, but we think we offer a really strong value proposition for all of the different brands, which is high amounts of visibility from the right audience. We have the right individuals—whether it's our Motorsports Club members, our garage owners, or our corporate partners—coming through M1 on a very frequent basis. We have a little over 150,000 visitors to M1 Concourse each year, and virtually all of them are automotive enthusiasts. Not only do we have a lot of eyeballs, but we have the right eyeballs at M1. We're a venue where different automotive brands want to place their product because they know the right people are seeing them.
Those relationships take time to develop, and it's obviously all about networking and building the bridges with the right people at each of the brands. We've had a great relationship so far with Lexus, Dodge, and Mazda, and we're looking forward to bringing on a few other partners in the upcoming year as well.
PRI: Do you get interest, Jordan, from motorsports teams interested in track rental for testing? Do you do much of that?
Zlotoff: We do it on occasion, and it's not completely outside our ballpark. But it's a little less frequent, partly because we're a little more of an expensive venue to rent than some other tracks that might be farther away, or tracks that might be a little more racing-oriented. We are a true hospitality facility, and we're doing VIP events, team-building events, marketing, and testing for the OEMs or journalists. So it tends to lend itself less to folks who are purely interested in the racing scene.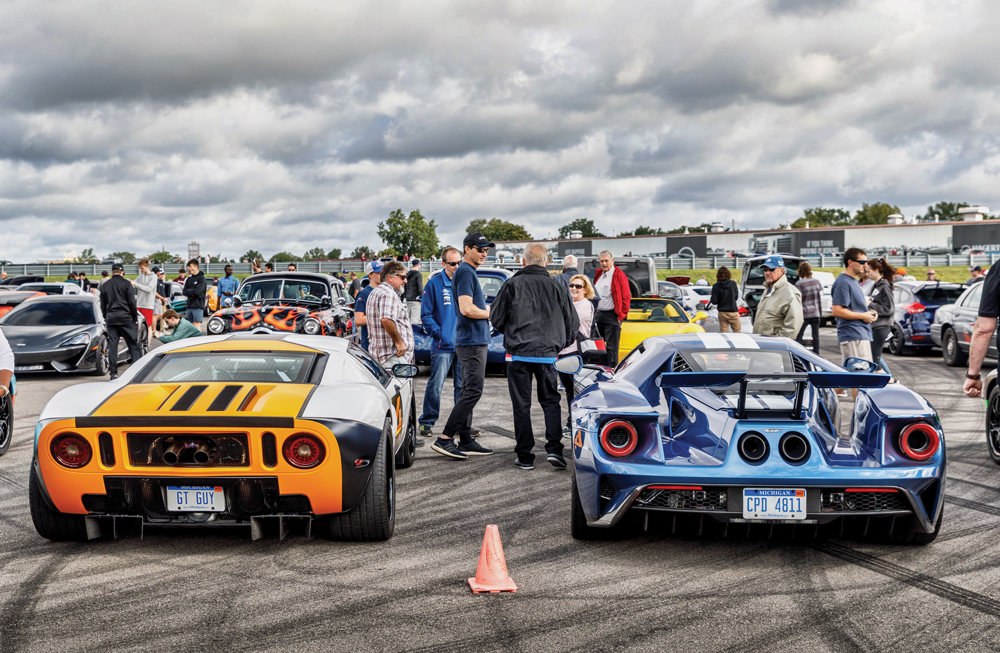 PRI: There are various garage communities throughout the country, but one thing that sets M1 Concourse apart is the racing course, and your hospitality operations. Is there another facility like yours in the country?
Zlotoff: There are others that are similar, but I would say that none are exactly like ours that incorporate the same level of public involvement, corporate involvement, private garage owners, and private track club. If you look at other facilities like Monticello in New York or the APEX Track in the southwest, there are some similarities in that they have private track clubs and they have a performance road course. Some facilities around the country are starting to build garages. But none have all three or four elements totally mixed together. None have the same scale that we do in terms of number of garages, the number of public events, and the number of corporate events. We are truly unique in that respect, and a lot of that is really just our good fortune in being able to have this location. We're close to a metropolitan area, and also being in the Motor City with the Big Three OEMs here, and obviously all of our gearhead and motorsports enthusiasts living so close.
PRI: What's the greatest challenge for M1 Concourse? I'm thinking of elements such as marketing, logistics, finance, etc.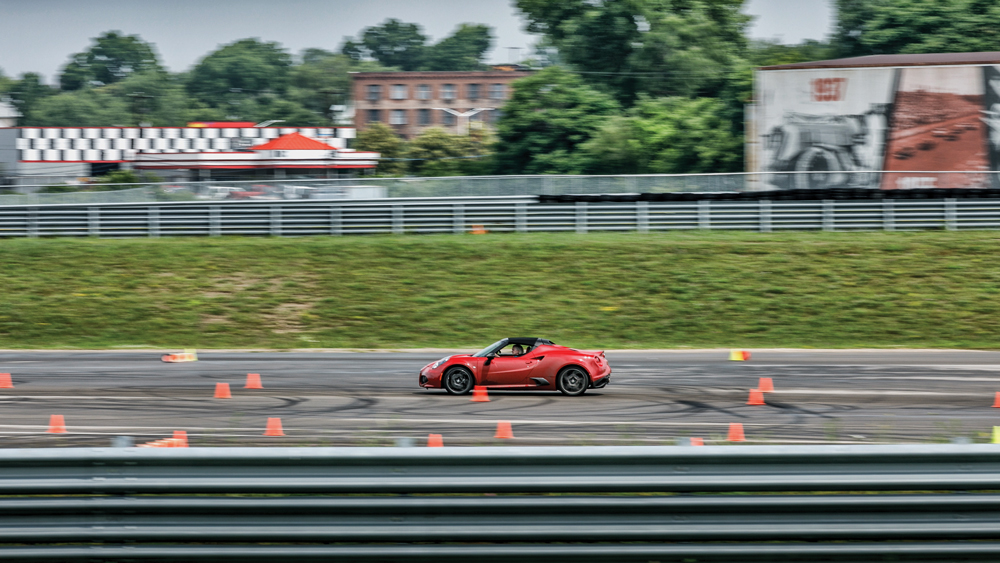 Zlotoff: The biggest hurdle for us is where to focus all of our attention, because there are so many directions we could go. There isn't a playbook that we can just pick up and say, "Okay, we're going to do 'X'," and then execute it and it's been done 10 times before at these other cities or regions. There are certain elements of our business that have been done before, but not altogether. And we also have a finite piece of land, with these 87 acres. Other facilities might have several hundred acres and they have more flexibility. But what we build here and focus our resources on, it impacts the type of events, activities, and programming we want to have. Because there are so many different directions you can take things, finding the one that makes the most sense for our customers and our clients and make a successful business is probably the most difficult thing.
PRI: M1 Concourse is in a unique category, different than a traditional, ticket-selling motorsports venue. Are there things you study when you look at other venues in your category? Are there things you're seeing them do that you can apply to your venue?
Zlotoff: There are things, absolutely. The idea of a private motorsports club is not new. I think that's been around for 15 years or maybe more. Some of the other venues that exist across the country have really honed their models in terms of what do members really want, what services are being provided, and different pricing structures. Those are things where we want to use [as] best practices and incorporate here. We've definitely learned lessons from other venue operators and owners, and we have a strong collaboration with the other owners across the country. We don't see ourselves as being in competition, because so much of our customer base is local to our specific market. We've shared a lot of our best practices in terms of building the garages, activating for public events, and bringing on corporate partners. We've definitely learned a lot from other venues in terms of how they run their motorsports clubs and private track clubs, and what amenities they might offer. Different tiers or structures to their clubs, guest privileges, all those types of things. We've learned, not exclusively, but many things from those different facilities.
PRI: Along the same lines, are there ideas you've cultivated at your facility that you feel could be used at other venues?
Zlotoff: I think we've developed the gold standard and benchmark in garage communities. I don't say that to boast. I've just seen enough press surrounding M1 and other venues that have tried to copy our model, and I'm happy to share many of our best practices with other operators and owners. But the way we built our garage community, I think, has been truly first class. Like I mentioned, we have the largest community in the world in terms of number of garages sold here, in square footage of garages sold, and I think that's something we've done very well and executed very well. But a lot of it was good fortune, just being in the Detroit area. So we're frequently asked what types of building construction we use, how large to make the units, what types of features to include. We've learned a lot of lessons along the way, but that's probably the thing we're asked about the most.
PRI: We'll wrap things up with this, Jordan. What's next for your facility? What ideas and projects do you foresee developing over the next couple of years?
Zlotoff: The next big chapter for us is the development of our conference center and restaurant. Right now, the public is only able to access our facility during specific public events and car shows, so having a restaurant on-site will allow the public to come in seven days a week to view track activity. They can enjoy food and drink here at M1. And also, the very large events we're now planning through the Pontiac Motorsports Exposition, including the American Festival of Speed, are going to be enormous public attractions not only locally but nationally as well. So we're looking forward to developing those events, and continuing with our garage construction.
PRI: Very good. Thank you, Jordan, for sharing this time with us. We wish you and everyone at M1 Concourse much success in the coming months.
Zlotoff: Thank you, Dave. And thank you to our friends at PRI.