INDUSTRY INSIGHTS: RAY EVERNHAM
Image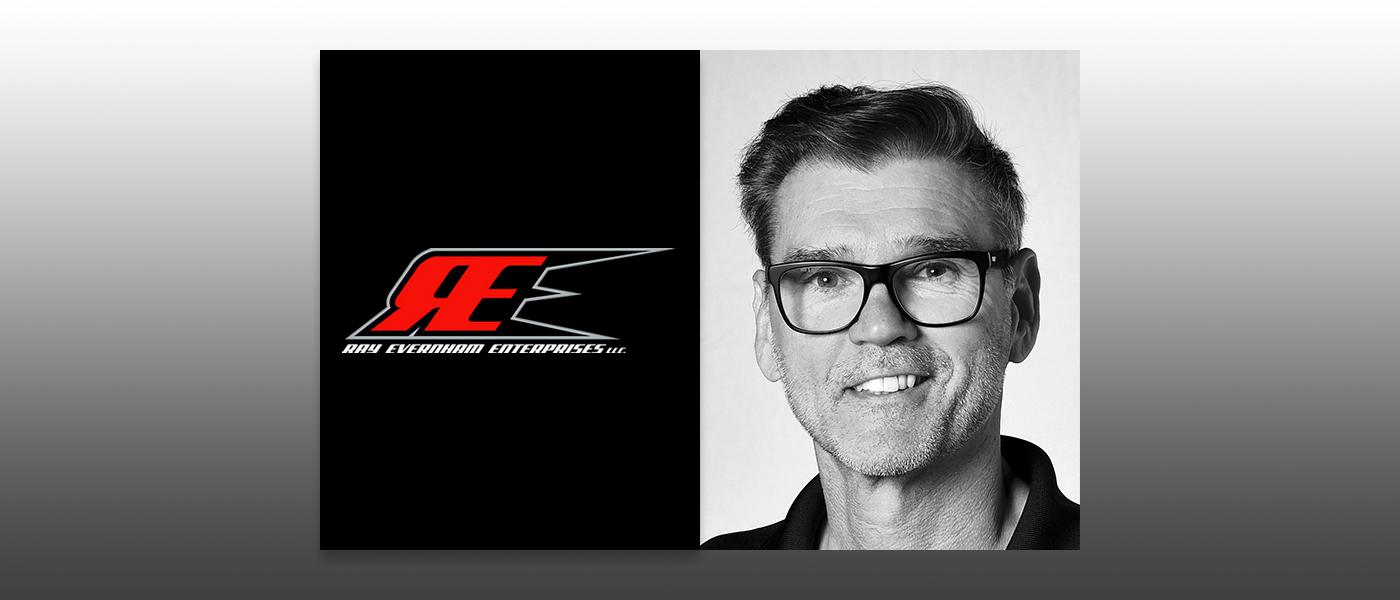 From racer to crew chief to team owner, the NASCAR Hall of Famer looks back on five decades worth of motorsports experiences and offers a preview of the upcoming Superstar Racing Experience.
Ray Evernham has never stopped looking forward. A bright-eyed New Jersey boy who began driving race cars as a teenager, Evernham followed his passion for motorsports to the pinnacle, serving as a championship crew chief in NASCAR for nearly 20 years. He remains very much engaged in a variety of motorsports and media projects.
Evernham, who now resides in Cornelius, North Carolina, recently announced his involvement in the Superstar Racing Experience (SRX), a new motorsports series scheduled to launch in 2021 that will showcase past and present racers in specially designed race cars comparable to the IROC series of years ago.
As a highly successful crew chief with Hendrick Motorsports, Evernham won three NASCAR Cup series championships with driver Jeff Gordon. He later partnered with Dodge to launch Evernham Motorsports before transitioning to media work that included producing "AmeriCarna" on Velocity (now MotorTrend) as well as "Glory Road" on NBCSN. Evernham is also the majority owner and president of JRi Shocks.
And in 2018, he was inducted into the NASCAR Hall of Fame.
PRI's Industry Insights recently caught up with Evernham for a discussion on the state of American motorsports, as well as a look back at his lifetime of racing experiences.
PRI: Obviously, the recent announcement of the Superstar Racing Experience was big news. Give us an idea of how the concept and the new series came about.
Evernham: You know, I don't think the concept of a series like this is new, and it seems strange that my first big break in motorsports came from working with the IROC series years ago. I got to work with a lot of great people there and I saw some of the things that made the series great, and some of the things that unfortunately caused the series to stop running. George Pyne is a former CEO of NASCAR, and George and I have remained friends and have talked about many things through the years. I've always wanted to do something like the old IROC series, with a twist for the 21st century. Everybody we talked with thought this was a great idea, so George and I talked to some TV people and CBS Television thought it was a great idea. Then we talked to Tony Stewart, and he thought it was a great idea, too. The next thing you know we're rolling along, and things came together from there.
PRI: What's the central principle behind the SRX series?
Evernham: I believe today's race fan is looking for a form of motorsports entertainment that puts things back in the driver's hands. Obviously, rules have gotten complicated, there are speeds and issues and whatnot, and we just want to do something that's pretty simple, like grassroots racing. We want to get some of today's superstar drivers involved, drivers who can still wheel a car and still want to do this; they just don't want to do it at 200 miles an hour, 36 times a year. So we're working on a program to put these racing superstars and legends on grassroots shorter tracks, in a car specifically built for our SRX series.
We really want to make it a good race car, a car that's difficult to drive yet keeps guys together so they can bump and bang and do what race drivers like to do.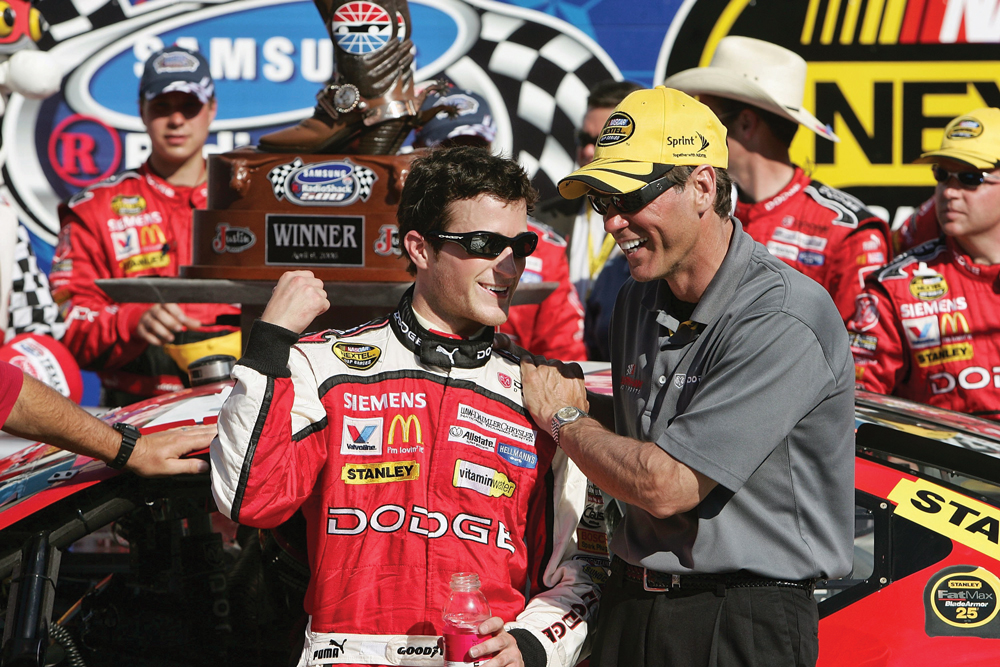 PRI: You've obviously put a lot of thought into what today's racing fan is looking for in terms of entertainment. Is there a certain thing you believe will capture their imagination? How do you do this?
Evernham: Well, I think the first thing is shorter shows, right? I think they are looking for shorter windows, for sure. And I think it boils down to the drivers, that's what it's really about. People who have bought tickets to sporting events all these years, they didn't buy a ticket to see the ball or the bat. They bought a ticket to see how fast somebody could run, how high they could jump, how far they could throw the ball. It's about competition and watching someone do something you don't think you can do.
With the legends we've signed up for our series and more to come, with TV coverage, we're going to give fans a look behind the curtain, an up-close look. It's not going to be all about who's got a better car, or rules, or who was penalized for an infraction on the car. These will be equally prepared cars, but we're going to allow the drivers to work on their car a little bit. We're also going to have some legendary crew chiefs involved, and they'll have a small realm to make adjustments to the car. That does a couple of things—it adds an entertainment value because of the personalities, and how they communicate to make those changes. You get a guy who comes from NASCAR and he's working with a guy who comes from Formula One…different worlds.
We're looking to show the fans the lifestyle side of this, the entertainment side, the personal side. How did we get there? How did we build the car? How did the driver and crew chief communicate? The race will be the main event, but we want to show how the competitors got to this point, and share the drama. We'll have drivers and crew chiefs with some history, so there will be fireworks. But we'll go back and show that history, and talk about it.
One of the exciting elements is rotating drivers in and out, because some drivers can't run the whole series. Guys who are active in various series, guys still racing, who want to come and run one or two races with us. We've had some current Cup and IndyCar drivers ask if they can run a couple of races; we've had some very capable celebrities who want to run some races with us. It will be very interesting, and it will be about the people and not the cars.
PRI: You touched on something there, Ray. I'm talking about a wide spectrum of cars, at all levels. Do our cars today need to be harder to drive?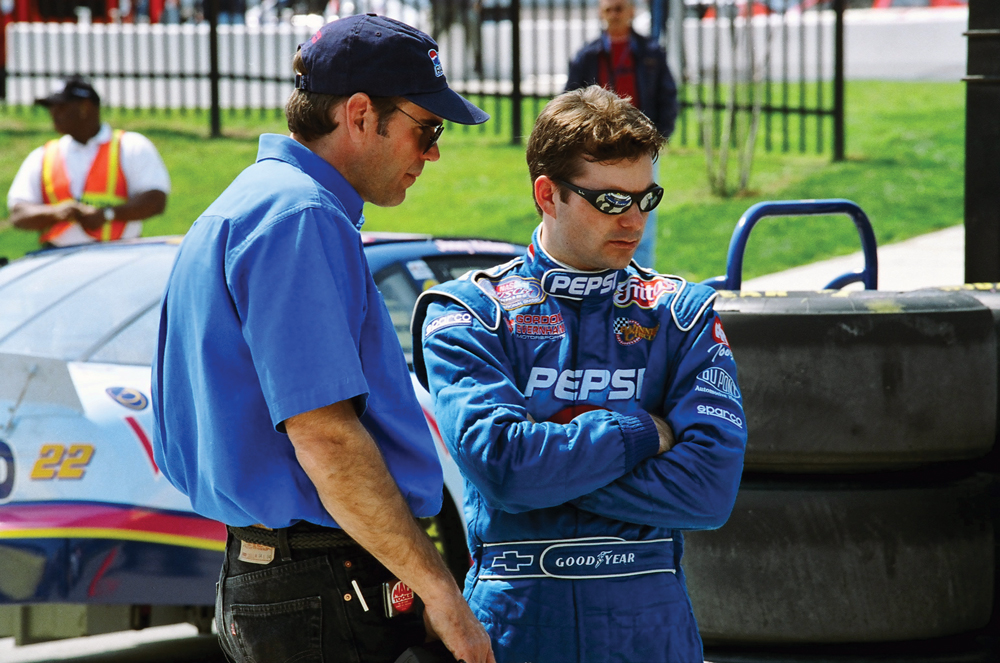 Evernham: I think the cars are hard to drive now. Let's just say this: I think the cars are easy to drive, but they're hard to drive fast. I watched the Indy 500, and those guys are driving their asses off. The Cup cars, those guys are driving hard. The problem is that the line for being able to adjust is too narrow. The speeds are so high; they are hard to drive perfectly. And that isn't creating a lot of opportunities to pass. Once you get some great drivers and they're all about the same, the passing is only on an aerodynamic issue or on a restart, right? I think we need to create some cars that make that lane wider. It's not about making the cars harder to drive, because I can tell you that those cars today are so stuck, so much downforce, going so fast, that it's just not creating much excitement for anybody but the driver.
PRI: On a more global scale, the COVID-19 crisis has obviously impacted the industry this year. How does our industry move on from this?
Evernham: I wish I knew that answer. We need to be sure and keep fans engaged, and we need to make sure that if fans can't be at the race track, we use whatever technology possible to engage with fans. The one thing we can do is make sure we vote for the people who can straighten this out. We've got to get the fans back in the grandstand at some point. Motorsports is always going to have a following; to attract new fans, we've got to make sure we keep it exciting and make sure we're giving them what they want to see. Right now it's a difficult time—I've seen some of the smartest people I know in racing trying to figure things out. I'm going to watch Roger Penske and Jay Frye in IndyCar, I'm going to watch Jim France at NASCAR. We've got to remember it's a big, big ship, and you can't turn it around in a hurry.
But I think things like SRX will be good for all motorsports, because if you could start any sport from a clean sheet of paper, you'd do things differently. Well, we've got that clean sheet, and I think we're going to be able to generate interest from all fans. And if they watch our races maybe they'll watch other races, too.
PRI: Aside from the pandemic, what's your assessment of the state of motorsports today? I'm talking a broad look here.
Evernham: I haven't been able to be at a short track in a while, but I watch some of the streamed races. Sprint [car] racing and midget racing, it is as healthy as they've ever been. A large reason for that is there aren't many rules. The racing is exciting. One of the great things this year is what Kyle Larson is doing across all forms of dirt racing. But they've got that formula: The cars are familiar to the people, the racing is good, and they have heroes. It's still about these guys becoming heroes, whether it's Donny Schatz or Kyle Larson. Short track racing on the dirt open wheel side is healthy. Some of the other short track areas, pavement and other things, we need to take a look at how to get more people involved. Maybe doing some different things.
Some of the series I go to, such as the Mazda Miata series, they have a gazillion of those cars, and most of the drivers are young kids. Maybe we need to partner with series like that to get the kids involved in oval racing. Every time I see a drifting event with hundreds of cars and thousands of kids watching, I keep thinking we need to get them to swing over to the oval side and get them involved.
PRI: Let's talk about you a little bit. When you made the decision to step away from your role as a NASCAR crew chief, that was a major life change. What was the biggest adjustment in the months after leaving that career?
Evernham: You know, that was actually 21 years ago. I haven't sat on a pit box in 21 years—September 1999. But thinking back to that time, the toughest adjustment was just not being in the fight on Sunday. I did okay at the shop, I liked the shop. But when I was at the race track—Friday, Saturday, Sunday—it was a constant hustle. Talking to the driver, making changes. Then on Sunday you're in the battle. I miss that the most. As an owner you have skin in the game, but it's not the same. And I loved my TV career with ESPN and NBC. I worked with great people and it was enjoyable. But there was nothing that motivated me like being in the middle of the fight on Sunday.
PRI: A lot of people have difficulty stepping away. You know what I mean, Ray? We both know lots of guys who have struggled to get away from racing. Why was that tough for you, not being in the fight?
Evernham: I don't know…everybody has a turn at something, right? Deep down inside, you know yourself when it's time to step down and do something else. I don't think you lose talent, but you do lose a little commitment. You get burned out, you get numb. Timing was right for me to step down as a crew chief. And the timing was right for me, as an owner, to sell my team. Because when you start to lose that desire and other things start to enter your mind, you lose that edge. I was pretty lucky because at the time I wondered, "Oh, I quit being a crew chief too early," or "I quit being a car owner too early." But in reality, the timing was perfect for both those things to happen.
I've seen a lot of really talented guys who either burn out or they lose that edge and they ride too long. People see them at the end of their career and they think, "Man, that guy is an also-ran." But you say, "No, that dude was the man on pit road 10 years ago." I've always tried not to let my ego override my intelligence. (Laughing.)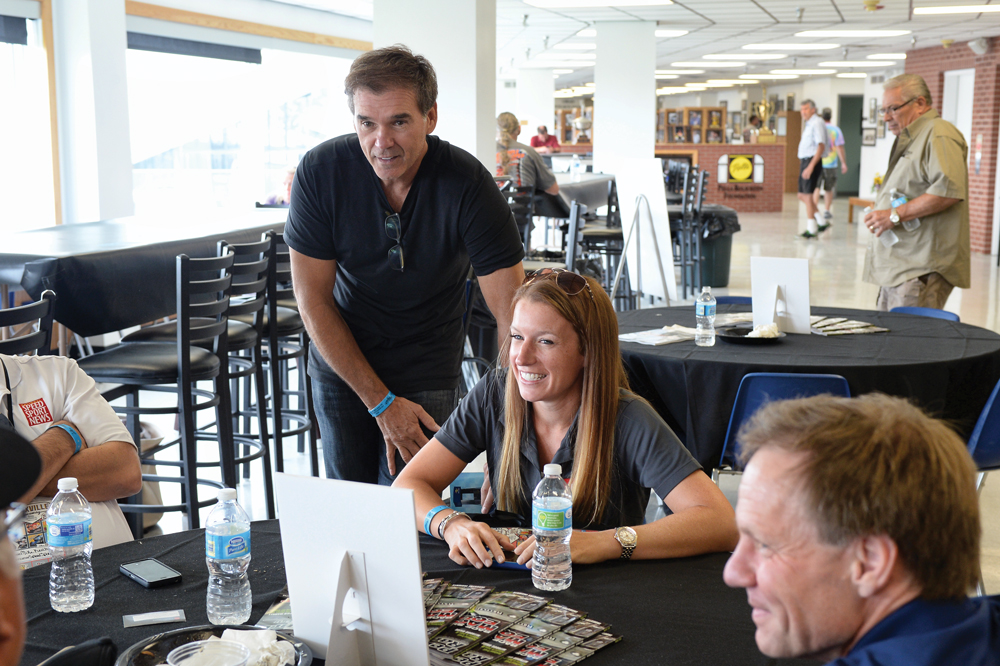 PRI: You've been involved in a lot of different programs since then. "AmeriCarna" and your other projects seem to be an extension of your personality, your passion for automobiles and performance. I realize it's a lot of work, but I suspect that's a rewarding feeling to be involved with things you love.
Evernham: I love doing the "AmeriCarna" show, I really do. Automobiles have been a huge part of the timeline of America. I'm a big hot rod, old rock 'n roll guy. I fell in love with the 1950s and 1960s, and I can see how the automobile had a huge influence on America. From the times guys got back from World War II on up to recent times, there are so many interesting car stories out there. Doing "AmeriCarna," I enjoy that. And doing "Glory Road" on NBC, getting the older guys together to talk about what really happened there, it's fun.
I don't have to tell you, Dave…TV is hard work. It's like anything else, there aren't a lot of people who make a lot of money in TV, right? (Laughing.) I looked at TV as a reward, and the ability to document some of our history was important to me.
PRI: You've got some experience now with how the business side of television works. From the perspective of producing some of these projects and bringing some of these projects to life, what's the key to navigating the business elements of television?
Evernham: You've got to make it interesting. How you tell the story is important. The SRX is going to be a great series with great drivers and crew chiefs, but we've still got to do a good job telling the story. Because if we don't entertain the fans, they aren't going to watch.
I always had my little formula I called the three E's. When you're producing a television show, you've got to have entertainment, emotion, and education. You have to have those things.
PRI: I've always felt like a crew chief at any level is in the people business more than the race car business. What have you learned about leadership, and dealing with people?
Evernham: The key thing is being really clear on communication and expectations. It used to be easier than it is now, because people, their expectations and the things they are willing to do are different than they used to be. Old racers are used to a different level of commitment, and the sacrifices people would make to get to the race track. There are still people like that out there, but not as many. So understanding what motivates each person is important. You have to communicate with them on what you want done. And you have to understand their expectations.
I was really fortunate to be part of Hendrick Motorsports and the Rainbow Warriors, because everybody there was like me. We'd work 24 hours a day if that's what it took to win. That's not what motivates everybody anymore. You have to deal with expectations, and that's a big challenge for every crew chief today.
PRI: Going into the Hall of Fame is a validation for anybody in motorsports. When you look back to 2018 and your induction into the NASCAR Hall of Fame, what does it mean to you today?
Evernham: That was the greatest honor I've ever received. To think back to where I came from, and to ever imagine meeting or knowing some of the people I've known, to have your name even mentioned in the same sentence as some of the people in the Hall of Fame is still something I honestly can't put into words. It's a stunning moment. No matter how good you thought you were, you're still in disbelief that you were good enough to be inducted into that Hall of Fame.
It is honestly…when they announce your name, it's a firehose of emotion. You can't explain it. It changes your life. Many people told me, "When they call your name, it's going to change your life." I didn't get that, not until it actually happened. Because that's true…when they called my name at my induction, it changed my life. It's a much different feeling of accomplishment than anything you will ever feel in your life. For those of us who are racers, that was everything. All of a sudden, all those people you've admired and raced against, and this sport you're so in love with, they are all standing in front of you, clapping. They are recognizing that you were one of the best in that arena…it's a very humbling experience.
PRI: Very interesting. Let's close with this…. You've been involved in motorsports and performance for more than four decades now. Man, that's a lot of life lessons along the way! I realize this is a hypothetical question, but if you had the chance to sit down with 20-year-old Ray Evernham, what do you tell him? How do you prepare him for what's coming?
Evernham: Actually, I've got five decades, because I started in the 1970s! (Laughing.) Oh, man. What would I tell that kid? I don't know, because that 20-year-old Ray was a partier. He wouldn't have listened. But I'd tell him to quit partying, pay attention, and make a commitment. I think I could have been a much better driver than I was if I'd had somebody to teach me about commitment and help me with my confidence.
I don't know that I would change anything about my life. We all regret some things that hurt other people, so I think we'd all do those things differently. But if you gave me a pen back then and told me to write out the script for my life, I couldn't have written the script any better than the way it actually played out. I've been pretty blessed. So I might just tell that 20-year-old Ray this: Take care of your health, try to be a better person every day, quit your partying, and don't hurt people.
PRI: Those are all good things. Ray, we appreciate your sharing some time with us. We wish you the best with the new series and all of your projects in the coming months.
Evernham: Thank you, Dave.