Business Profile: Hamke Racecars and Parts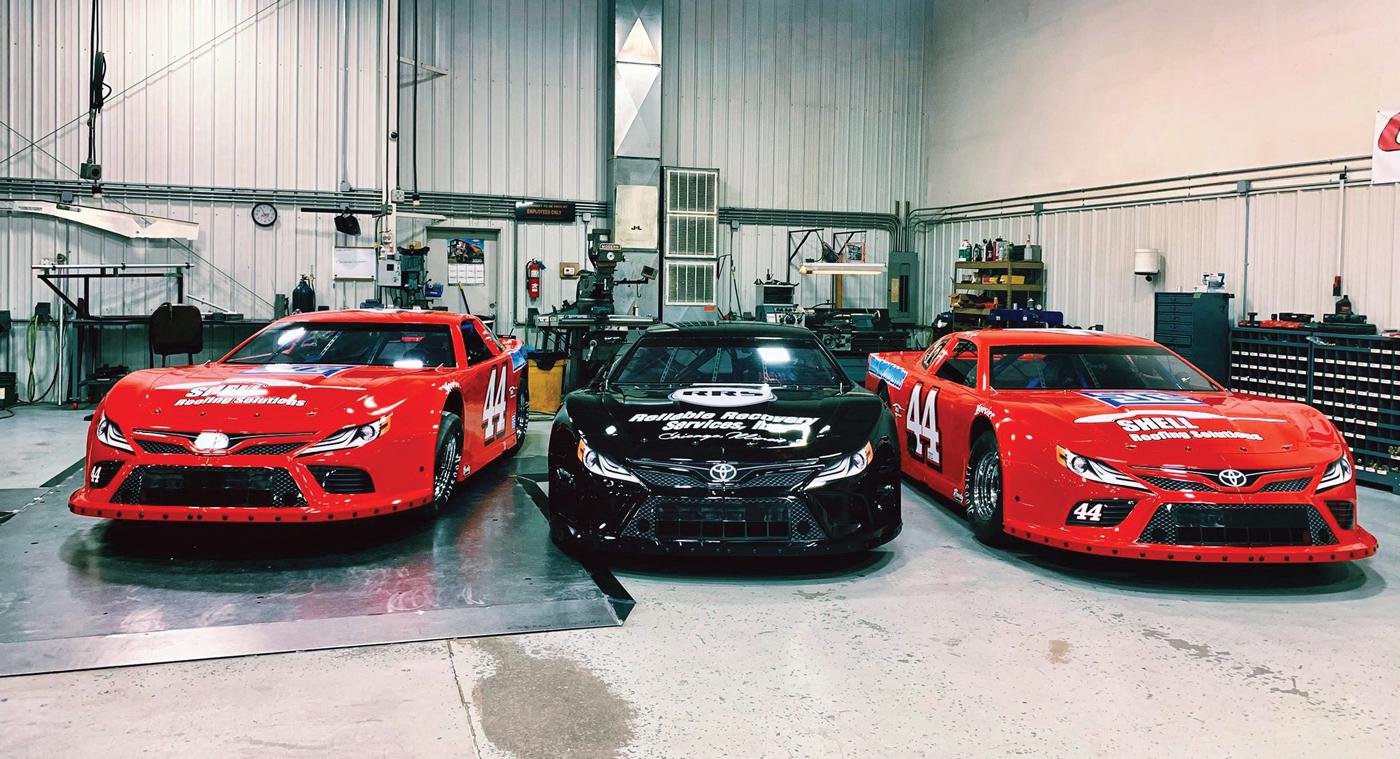 Since a change in ownership in late 2018, the Rowdy chassis has been making its own imprint on Super Late Model racing with a focus on driver safety, effective engineering, and customer support.
According to Cody Glick, the hit that veteran short-track racer Boris Jurkovic took during the 2020 Snowball Derby in December was "one of the three worst" he'd ever seen. (The car was toast, but Jurkovic confirmed for PRI a week later that he wasn't hurt, just feeling some body soreness).
"The Rowdy car did well," Jurkovic said. "I hit it pretty hard, but everything did what it should."
Glick, the general manager at Hamke Racecars and Parts in Mooresville, North Carolina, and owner Justin Oertel told PRI Magazine that Jurkovic's experience speaks to the company's focus on driver safety—a commitment that's engineered into the 55 Rowdy chassis that Hamke has built. 
"If things were done like they were done five years ago, he would have gotten hurt," Glick added. "One thing that really stands out for us is safety. That's something we really strived to focus on."
While proud of their safety record, Oertel and Glick are equally focused on putting more racers into Rowdy chassis and putting more Rowdy cars into the winner's circle. In fact, a Rowdy car won the Snowflake 100 in December, and Rowdy cars took 4th, 5th, 6th, and 7th in the 2020 Snowball Derby, both at Five Flags Speedway in Pensacola, Florida. Glick is already looking ahead to this year's edition.
"I set a goal each year for how many cars we have at the Snowball Derby," he said. "For 2019, I projected 10, and we had eight. I projected 20 for 2020, and we had 18. We want to have 30 at the 2021 Derby."
Oertel and Glick are, of course, well aware that it will take more than driver safety to achieve that goal. They explained that attention to chassis quality, aerodynamics, and wide-ranging customer support will get Rowdy there.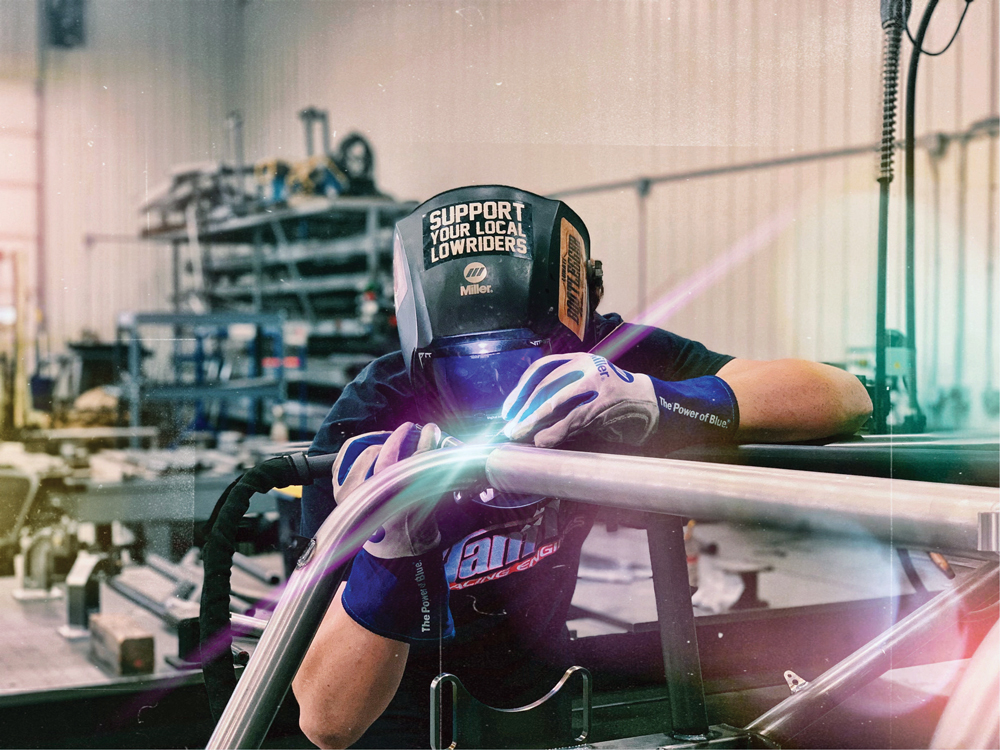 ROOTED IN RACING GLORY
Oertel has been involved in racing for decades, backing race teams with his business partner, Chrystal Beinlich. Twenty years ago, they started CJ Materials and Recycling, a concrete recycling company in Lincolnshire, Illinois, which sponsored race teams. They decided to switch from racing cars to building them for customers, including engines to chassis. (Oertel also operates Hamner Sealed Engines, also in Lincolnshire.) 
"We wanted to make racing better for everybody," Oertel said. "We spent a lot of our own money to do that, but we couldn't have done it without Cody and our employees; and Chrystal is a big part of what we do. I wouldn't be here without her."
The partners purchased Hamke Racecars and Parts from legendary racer and car builder Robert Hamke when he retired in 2018. (Hamke passed away in July 2020.) Then, they teamed with Kyle Busch's Rowdy Manufacturing brand to focus on Super Late Models. Busch remains affiliated with the venture but is not an owner. The budding company employs 12, including a few carried over from the former Hamke operation. 
SIMPLIFY AND IMPROVE
Hamke's approach to building the Rowdy chassis is based on reducing complexity that Glick said has made things more difficult for racers.
"We're taking out over-complicated engineering to make it simple again for the average racer," he said. "Repeatability is key for us. We spend tens of thousands of dollars on fixturing to make sure that happens. So, if you buy one chassis from us and then a second, you can take the shocks and springs off one and put them on the other and hit the race track driving."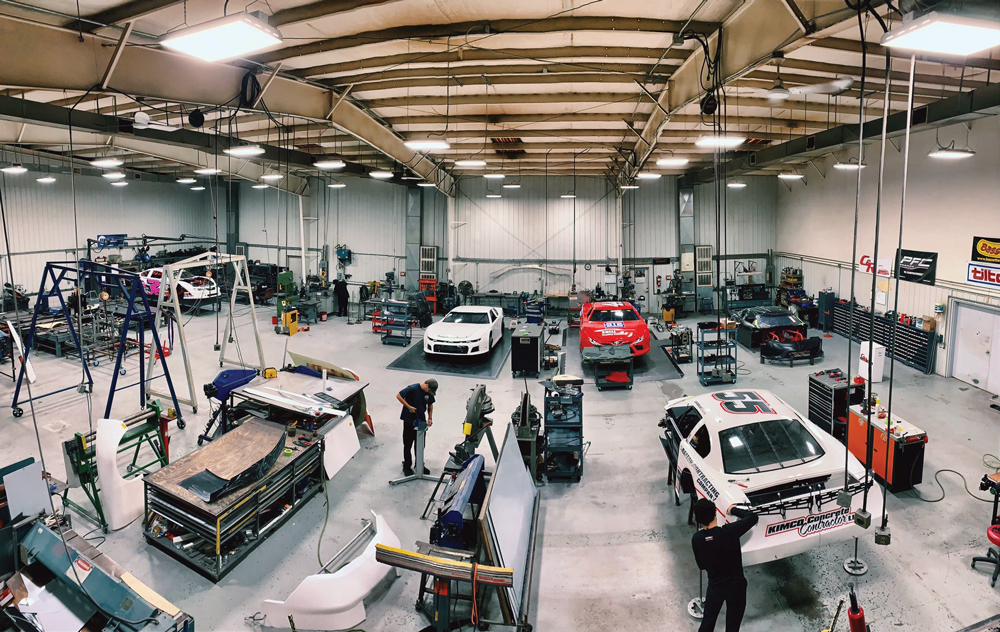 That approach certainly works for Matthew Craig, who, at 21 years old, has already won five Super Late Model championships. 
"The Rowdy cars have been really great," Craig said. "They're easy to work on. What I like most is that, at the track, if you make an adjustment, you can really feel the changes. It makes it a lot easier to dial in the car."
While underscoring that they are continually looking for ways to make racing more affordable, Oertel and Glick said their team does not cut corners on safety and performance. In addition, Glick explained that the Rowdy chassis incorporates some proprietary features that aid aerodynamics, though he preferred not to describe those for publication.
"We don't spare expense, but we don't exaggerate it, either," said Oertel.
While highlighting the investment in equipment to build high-quality chassis, Hamke's management team does not consider any of its machinery as the company's most important asset. Rather, they point to the employees. Among the 12 are a core group of techs whose skills are praised by management and customers alike.
"Racers see Cody and me, but they don't usually see the faces of the people who make it possible for us to do our jobs," said Oertel.
"We could not do this without them," added Glick. "They're the heart and soul of this place."
The racers, however, do notice. Jurkovic, in addition to being grateful for the cars' safety, acknowledges Rowdy's engineering and build quality.
"I've gotten to know the crew pretty well," he stated. "Everything they do is top quality. The welders are great. The craftsmanship is amazing. I do not think you're going to get better equipment or support. I wish I had this stuff 20 years ago!"
SUPPORT NETWORK
Oertel and Glick see the Rowdy product as much more than a car. While crediting other manufacturers for stepping up track support, the management believes they have elevated that aspect. The support they provide their teams at the track, in turn, supports continual development that benefits all Rowdy drivers. 
They tout this feedback loop as a major factor in Rowdy's growth, because it keeps improving the product. It has, Glick explained, also helped bring new drivers into the sport. 
"They want to help all the Rowdy cars get better," said Craig. "They always come to you on the track to see how you're doing and to offer help. They bring all the Rowdy drivers together. So, you get four to five teams adding their input and more people working toward making the cars better."
"Their input is great," agreed Jurkovic, "and their knowledge is second to none."
BACK TO SAFETY
Oertel and Glick do not hesitate to steer the conversation back to driver safety. They stress that development there never stops. While maintaining that everything in the cockpit did its job in Jurkovic's recent hit, they see each wreck as an opportunity to make further tweaks and changes. 
"Any advancements we've made since starting in December 2018 have focused on keeping the driver safe," said Oertel. "For example, we've got steel plates where others don't."
Glick also cited carbon fiber seats, though he acknowledged that not all in the sport agree on its benefits. "I think it's a great seat," he said. "It's also the way we mount it that makes it a good, safe seat."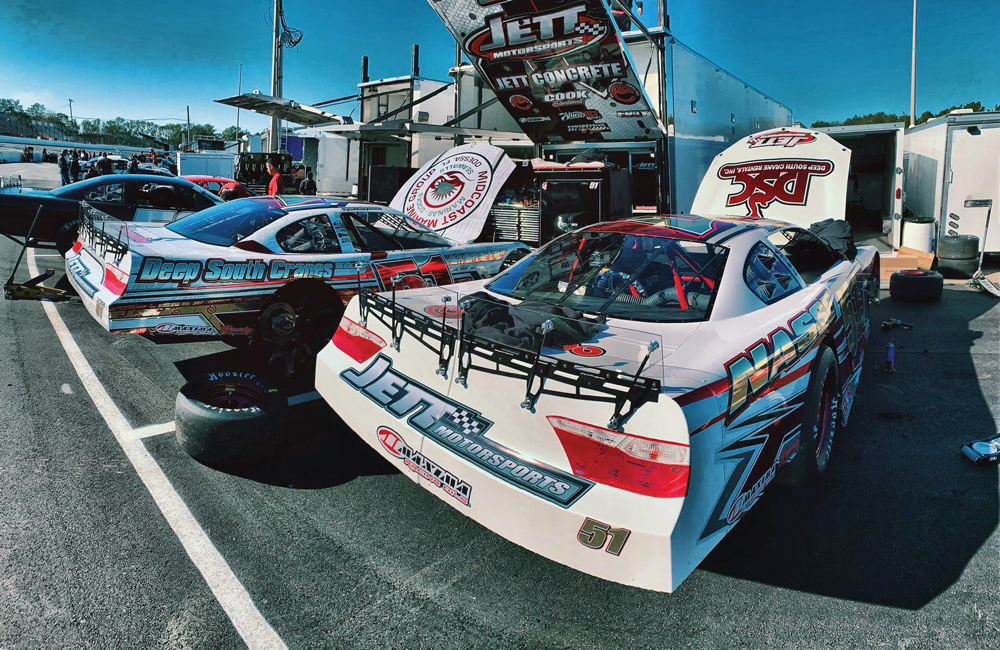 As Glick explained, seats are often mounted in two places in the race car, at the back plate and under the driver's legs. "We go one step further and do three," he said. "Our seat is mounted with a back plate as well as through the chassis again, right behind the mid-back of the driver, and also under the legs of the driver."
Both agree that the drive for innovation is based on their experience in racing over the last 20 years. "Everything needed to be changed," Oertel said. "Where before it might have taken somebody to get hurt to make a change, we've taken the necessary steps to eliminate that situation before somebody got hurt."
Glick elaborated, describing an approach that's not too different than what the leaders in passenger car safety might do. "We've thought of worst-case scenarios, such as 'if the car hit the wall here' or 'if it catches on fire' to try to prevent things we've seen in the past and incorporate into our chassis," he said.
The decision-making extends into the shop. Management relies on the expertise of the techs to implement new ideas. "It's a company decision on all things," said Glick.
GETTING THE WORD OUT
For any racer, the proof is always on the track, and Oertel and Glick have embraced social media to make sure more people see the proof. They hired Molly Helmuth, owner of 9D Creative, to start and manage the program, and it now plays a significant role in their marketing.
Helmuth, who previously drove in the CARS Super Late Model Tour, moved from her home in Seattle, Washington, to North Carolina. She has been managing Rowdy's social media platforms since the shop started just over two years ago, and also handles the website and other marketing.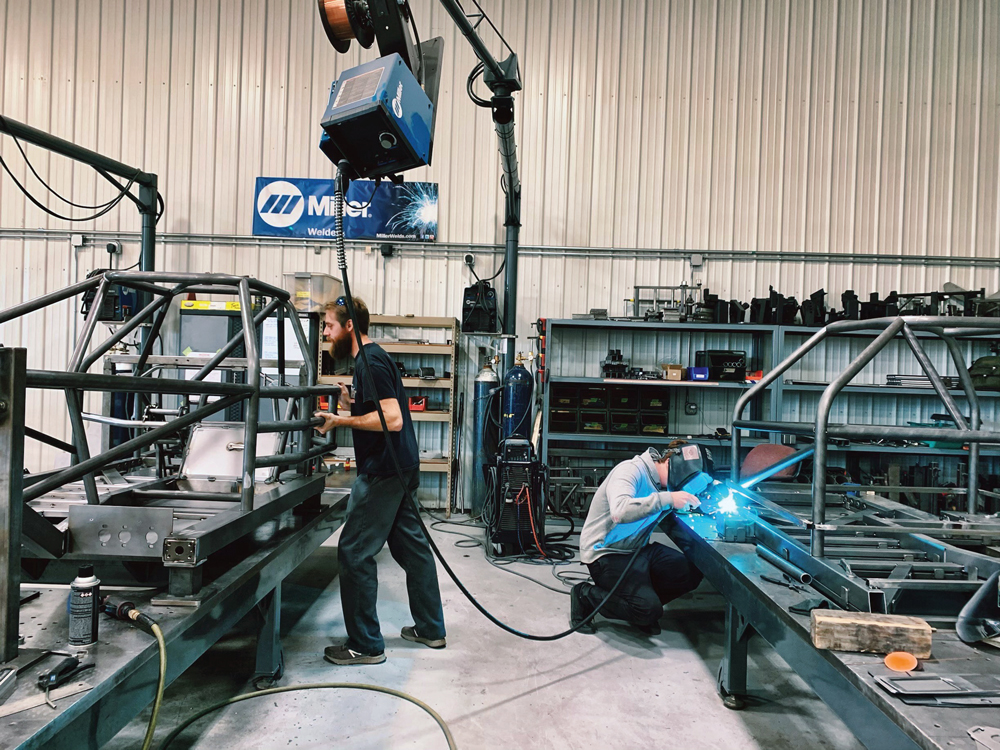 Helmuth steadily posts on the company's Facebook page, Instagram and Twitter accounts, including her own photos and video from races and the shop.
"I like to highlight all the teams, all the pole positions and, of course, any wins. You have to keep the content fresh and relevant to the fans," said Helmuth, who conveniently lives close to the shop. "It's important for me to post up-to-date photos every week since operations move so quickly in the shop."
NEVER STOP LEARNING, IMPROVING
Whether in the shop or on the track, Oertel and Glick express a clear vision for how they will achieve their goals for Rowdy and their drivers. Keeping those goals in sight is an ongoing race.
"It's a non-stop learning process," said Oertel, who applies a long-term view to that philosophy. "On a daily basis, we're trying to make things better, safer, and more affordable to help racers buy more and be able to race more. That is what's going to keep us around for the next 20–30 years. Whatever we can do to give back to the sport and help the racers is better for everybody."