PRI SHOW REPORT: Power Structures
Image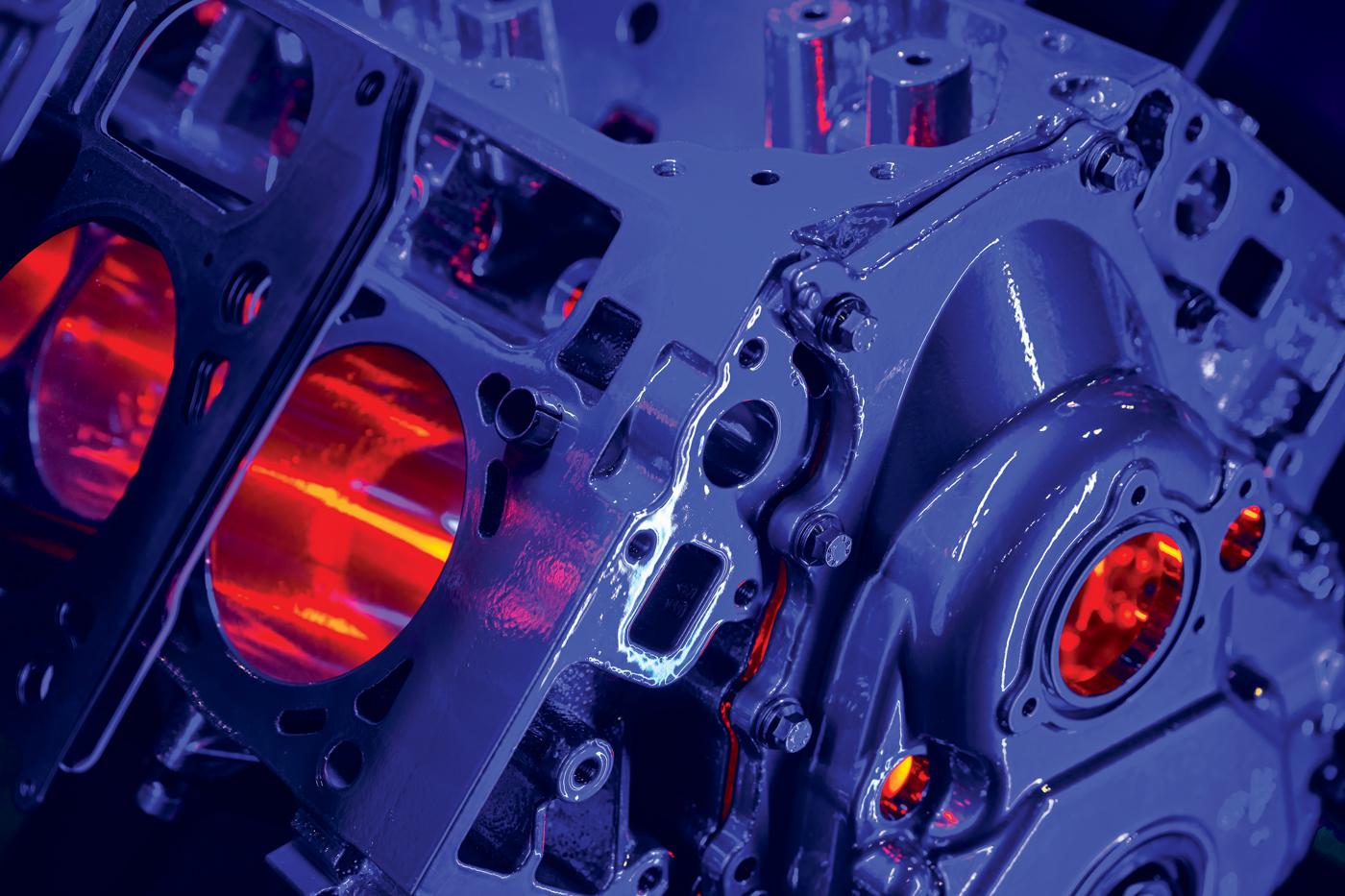 Whether naturally aspirated or propelled by nitrous, turbos, or superchargers, race engine technology was front and center at the industry's annual salute to speed in downtown Indianapolis.
Each December, top suppliers show off their muscle in the form of high-performance engines on display at the annual PRI Trade Show.
Various motorsports disciplines are represented, including truck and tractor pulling, sprint and midget racing, UTV performance, drag racing, marine performance, the import market, and much more.
While it's nearly impossible to single out a favorite from the Show floor, we did manage to hone in on 10 impressive powerplants showcasing a bevy of hardcore race parts across diverse applications—which can only be found at PRI.
Noonan
439ci Nitro-injected –
Based on 4.8-inch Billet Hemi Block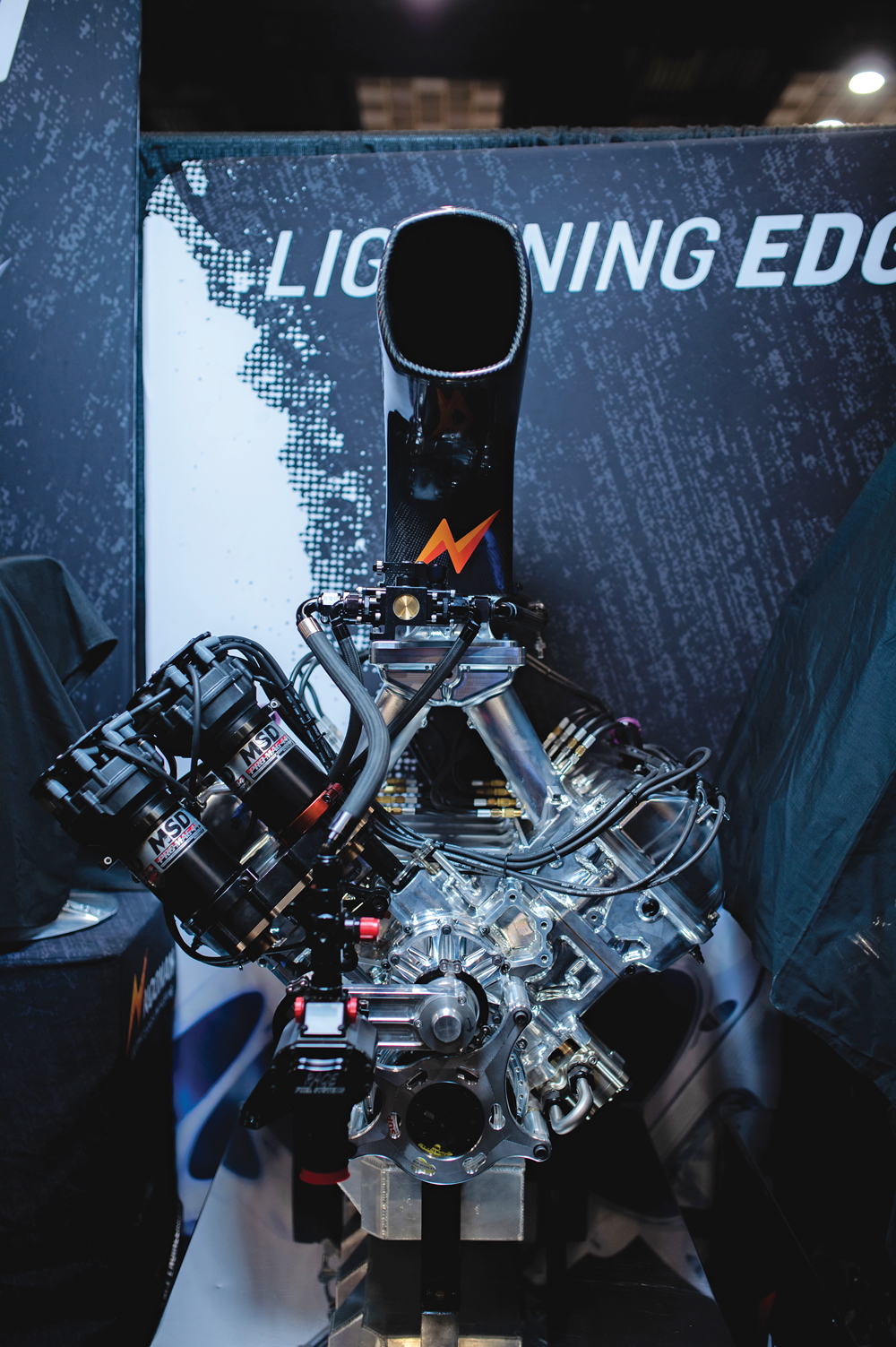 Engine builder:
Noonan Race Engineering
Application:
NHRA Top Alcohol Dragster
Horsepower:
4,000 hp
Features:
• 6,500 rpm redline
• 30 gallons per minute of fuel – 92% Nitro
• Three injectors and two spark plugs per cylinder
• Complete billet construction, all new components
• Developed in six months, all designed in conjunction
• Set to race for the first time during the 2023 season with their own car
"Our machine work really stands out [when compared] to any other company…. All our other engine combinations won five championships this year in every category." —Jamie Noonan, founder of Noonan Race Engineering
"The whole combo hasn't been done before…. This is the first 100% billet unit from oil pan to manifold in its class."
ProCharger
540 Big Block Chevy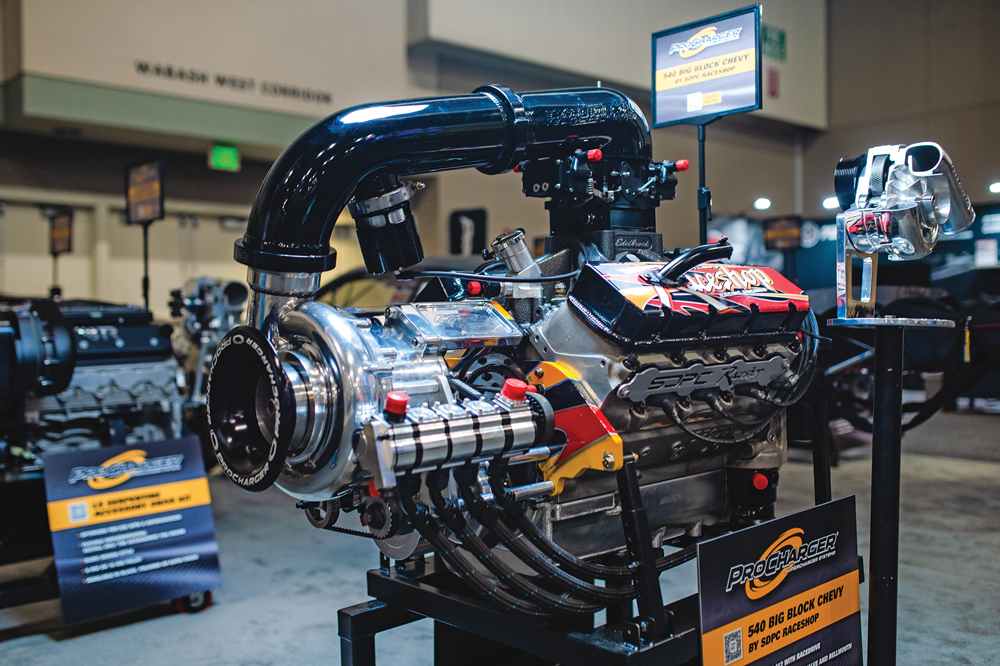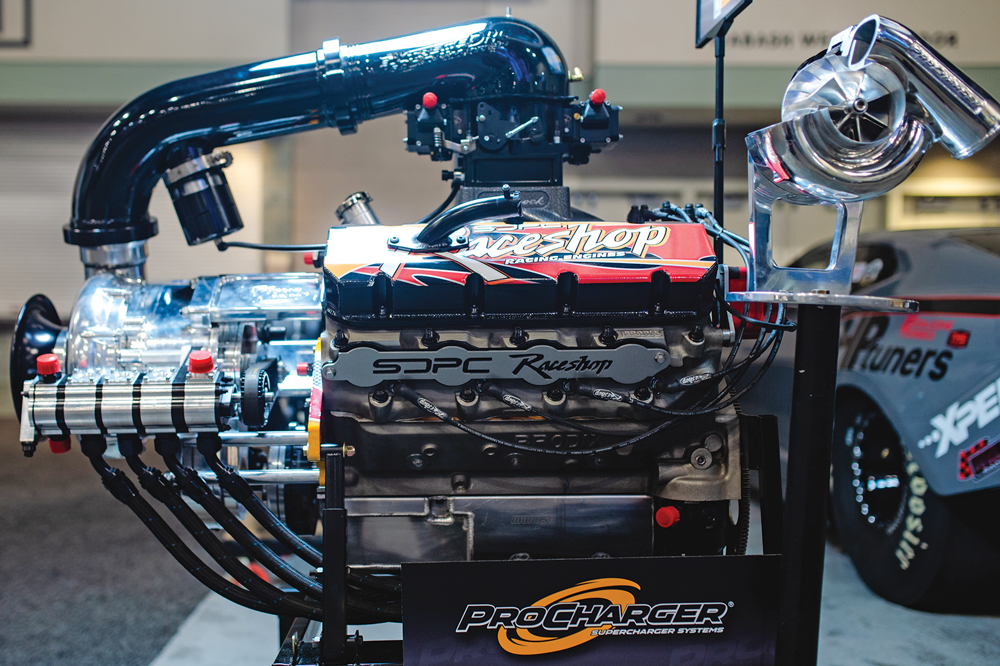 Engine builder:
SDPC Raceshop
Application:
NHRA Top Dragster – 6.10 and under class
Horsepower:
2,275+ hp
Features:
• Multi-time NHRA Division championship-winning package
• This exact engine won the last race of the NHRA Top Dragster 2022 season in Texas
• Features ProCharger F-3R-112 with RaceDrive
• The engine alone is 1,000 hp. The ProCharger blower adds more than 1,200 hp, more than the
base engine alone
• Blow-through APD carb setup
• Custom forged Raceshop pistons by Diamond
• Engine is refreshed every season, supercharger lasts multiple seasons
"Very consistent and durable powerplant…the guys like it because they can make 2,000+ horsepower and run a whole season and not have to worry about maintenance. Just change the oil in it and that's pretty much it." —Walt Sipp, motorsports manager at ProCharger
ARP
850ci+ Chrysler Hemi Configuration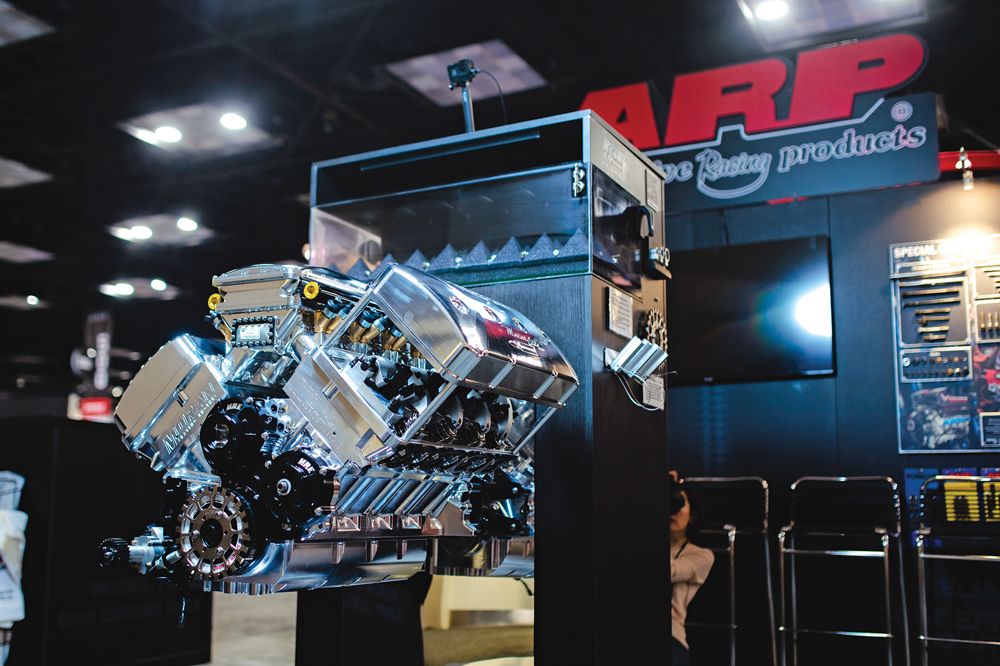 Engine builder:
Moran Racing Engines
Application:
NHRA Pro Mod/Custom Crate Engine
Horsepower:
5,300 hp
Features:
• Only four examples ever made
• Complete billet construction from manifold to oil pan
• 7,200 rpm peak power
• 5.3-inch bore spacing
• Square engine design – 4 3/4-inch bore and stroke
• Twin 104-mm turbos (small turbo setup)
• Newly designed 550 and 850 pound/hour fuel injectors and fuel rail
• Methanol-powered
• Rear-mounted throttle bodies
• Dailey Engineering dry sump system
"The technology in the intake manifold is completely different than anybody else is running. I can't dig too deep into that, but it's very cool from an engineering perspective." —Anthony Donnarumma, design engineer at Moran Motorsports
"Watching this thing do a power pull on the dyno and seeing the numbers that come off it is probably the coolest part of the whole engine."
Schaeffer's Specialized Lubricants
12-Valve Super Stock Super B Cummins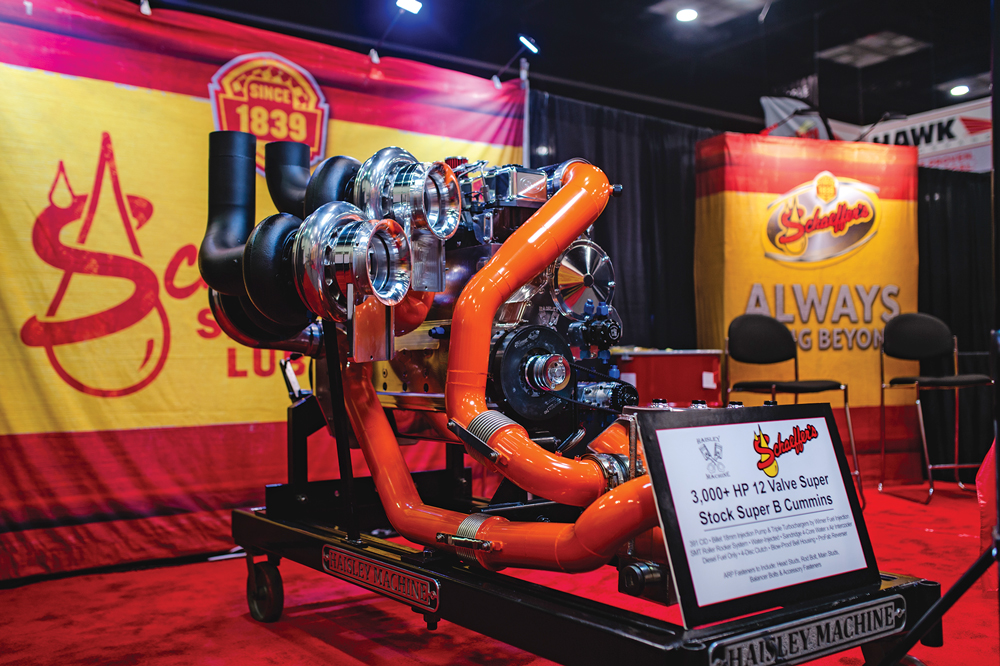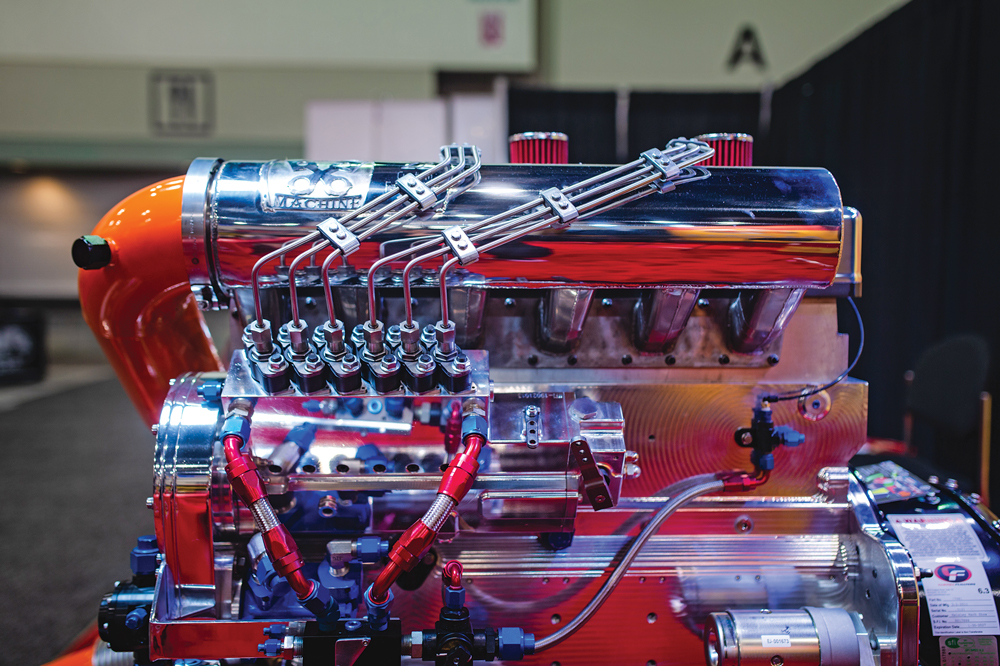 Engine builder:
Haisley Machine
Application:
Truck/Tractor Pulling
Horsepower:
3,000+ hp
Features:
• 391 CID
• Triple turbocharger setup for 160 PSI of boost
• Complete billet block
• Custom dry-sump lubrication system
• Billet 18-mm injection pump
• SMT roller rocker system
• Water injection
• Sandridge four-core air-to-water intercooler
• ARP fasteners
• Haisley builds a new engine for display at every PRI Show
"Almost like a work of art…he's [Haisley] been doing this a long time, so he has these visions of, 'I can improve this by doing this, rather than following the old process.'" —Steve Brewer, vice president of Schaeffer's Specialized Lubricants
"We can't determine the torque on it because there is no engine dyno that can handle this. It might suck all the air out of the room with those turbos."
Fleece Performance Engineering
6.7-liter Cummins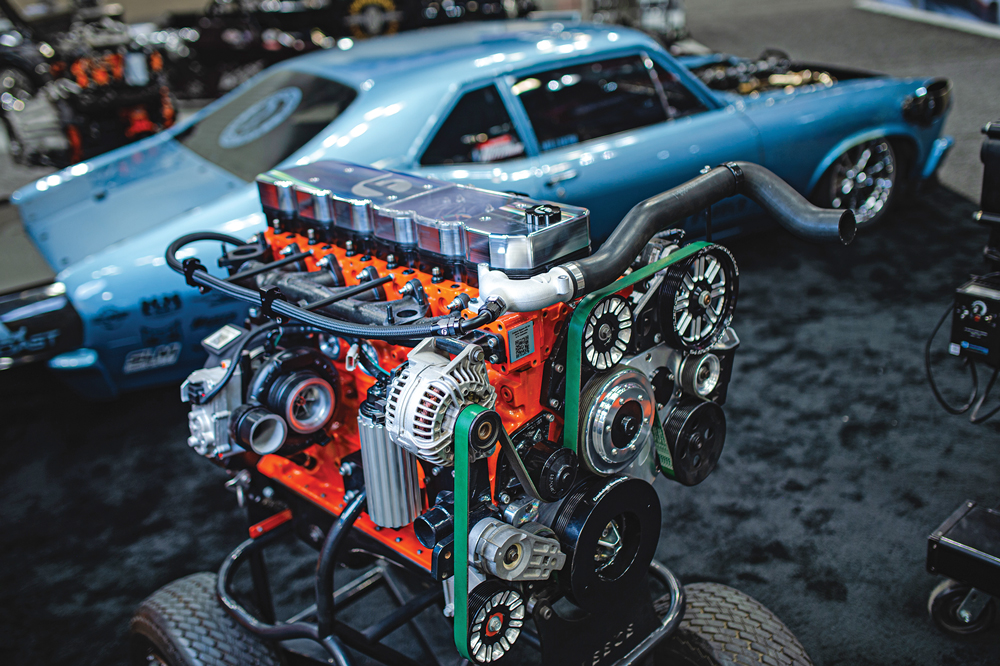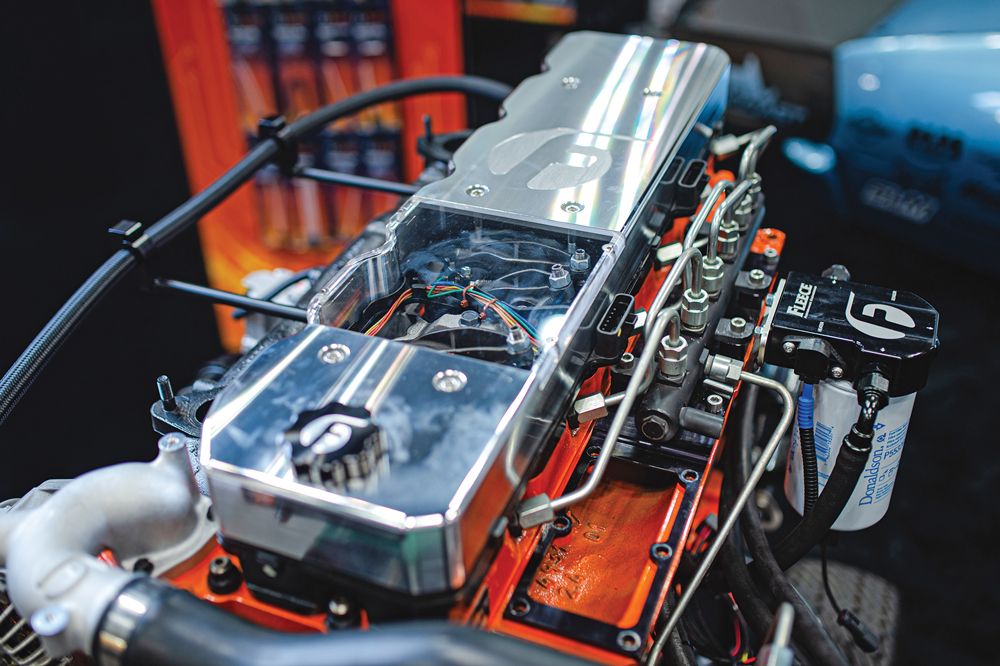 Engine builder:
Fleece Performance Engineering
Application:
Custom crate engine
Horsepower:
Up to 700 hp
Features:
• Freedom Series HD cylinder head
• Freedom Street HD engine block
• In-house Cheetah 63-mm turbocharger
• PowerFlo 750 CP3 fuel pump
• Upgraded Stage 2 valvetrain package
• Billet front cover and pulleys
"We sell more 6.7 Cummins turbos than anything else…. We designed the whole package to be a good drop-in replacement engine." —Paul Ritchardson, product development manager at Fleece Performance Engineering
Indy Cylinder Head
572ci Race Wedge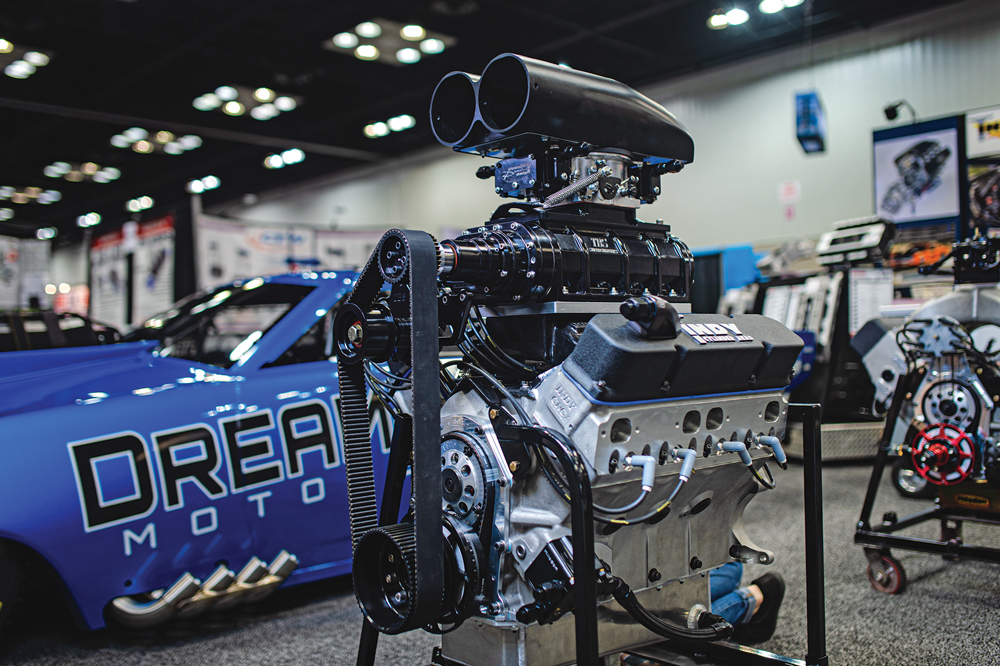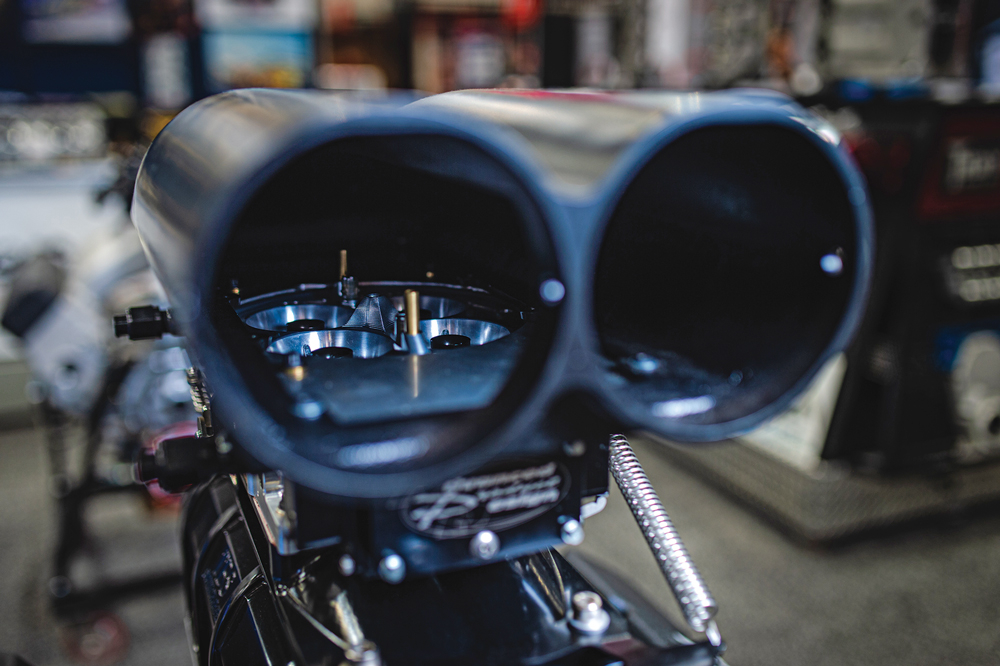 Engine builder:
Indy Cylinder Head
Application:
Pro Mod/Pro Stock
Horsepower:
1,250 hp
Features:
• 450 pounds dry weight including supercharger
• Indy Maxx aluminum block
• Blower Shop 250 Blower – 7-psi pulley
• GPR aluminum rods
• In-house wet sump oiling system, oil pan, valve covers
• Single alcohol-powered carburetor
"We are proud of the fact that it is a lightweight and reliable package…for the power and the price point, it's amazing. It's meant to race the whole year without anything but changing the oil. Reliability is what we targeted." —Charli Wheatcraft, president of Indy Cylinder Head
ARP
Stage 5 Polaris 1,004cc Turbo Stroker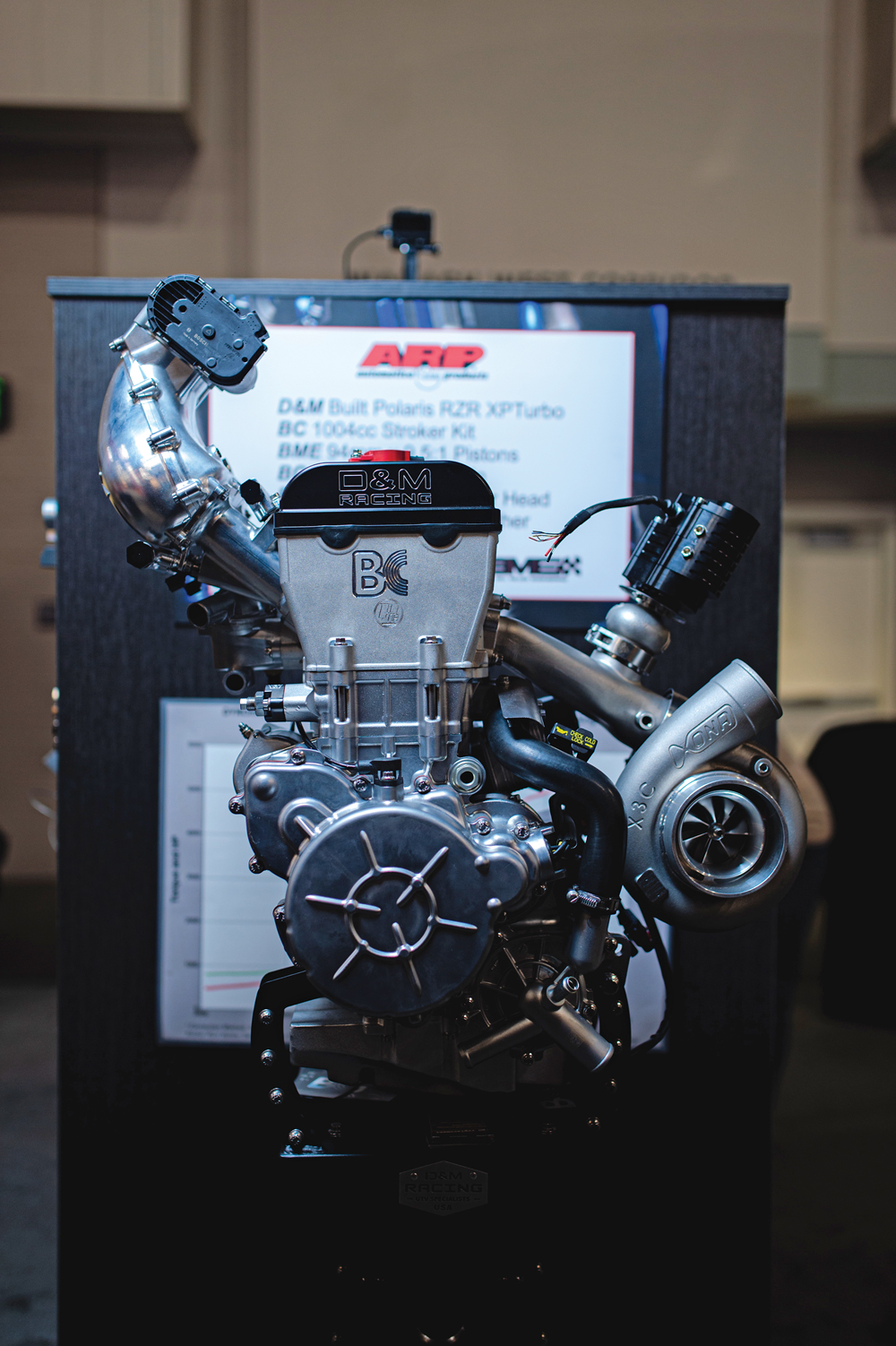 Engine builder:
D&M
Application:
Custom Crate Engine/Sand Dune Drag
Horsepower:
500 hp
Features:
• Designed for Polaris RZR XPTurbo
• 8,000–9,000 rpm redline
• Brian Crower 1,004cc stroker kit
• Custom King Bearings
• "Shuffle pinned" - each main fastener gets its own unique dowel pin
• BME 94-mm bore x 9.5:1 stroker pistons
• Brian Crower cams, valvetrain
• Brian Crower ported cylinder heads
• TPR valve cover and breather
• 70-mm XONA turbo
• Clutch rated for 1,000 hp
"The power-to-weight ratio is unheard of, it's insane. It's like the old sport compact days,
and a lot of those guys are getting into the side-by-side (desert drag) market now."
—Jared Raschke of ARP
"Racers can get a full season out of one engine. With the stock Polaris powerplant, you are changing the motor every race."
Turn 14 Distribution
2.8-liter Stroker RB26 Inline-six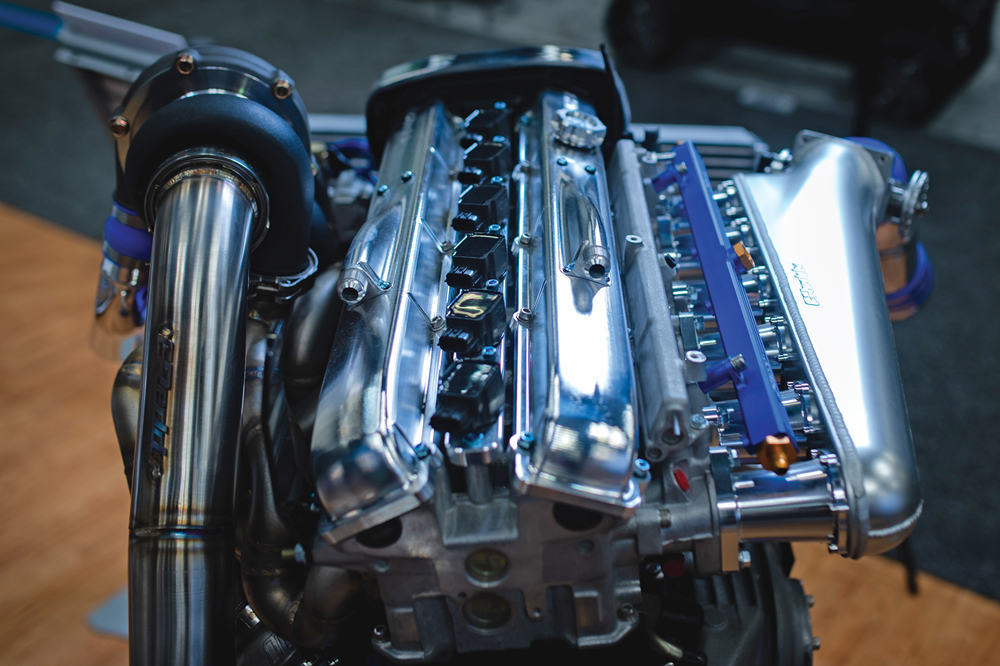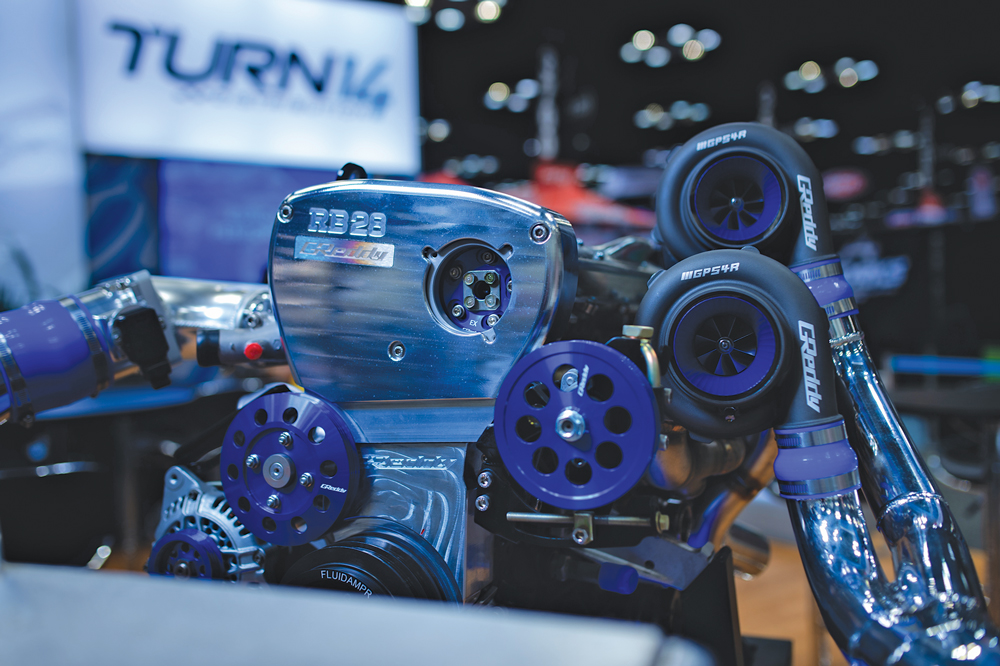 Engine builder:
GReddy Performance
Application:
Custom Crate Engine
Horsepower:
800 hp
Features:
• Fully built stroker engine, capable of 2,000 hp
• GReddy billet valve cover
• GReddy prototype twin GP54R turbo kit (available in 2023)
• GReddy Type 29F intercooler
• GReddy 90-mm single throttle surge tank
• GReddy fuel rail for 10.5-mm injectors
• GReddy BNR34 aluminum pulley kit
• GReddy x Taarks Oil block adapter
• GReddy R35 ignition coil conversion kit for RB26
• GReddy aluminum oil pan
"We built this so that if you have an R32 [GT-R] imported from Japan and you are looking to upgrade your tired engine, new technologies allow this to be an amazing street engine or a crazy 2,000-horsepower racing powerplant." —Kenji Sumino, president of GReddy
Engler Machine and Tool
166ci Ford Four-Cylinder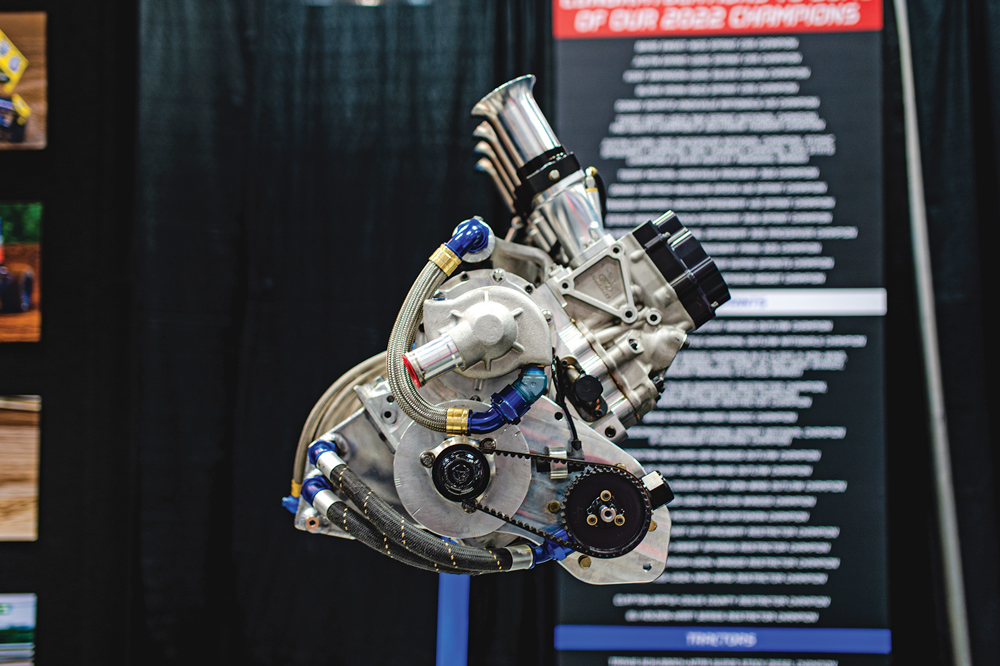 Engine builder:
Engler Machine and Tool
Application:
USAC National Midgets
Horsepower:
370 hp
Features:
• First ever all-billet and fully forged Ford powerplant within USAC National Midget Series
• 8,700 rpm redline
• Seven-year development process, three years collaborative project just for the camshaft
• Engler Machine complete injection system (individual throttle bodies, runners,
injectors, nozzles, lines)
• Dailey Engineering dry-sump lubrication system
"The best part about the billet block is versatility. Let's say you want to put a Mopar or Toyota head on it, you can just change the bolt pattern and use that head instead." —Tim Engler, founder of Engler Machine and Tool
"Out of 36 competitors at the [2022] Turkey Night race, 28 of them are running Toyota engines. I want to give the guys another option. This is the most modern and up-to-date package to be competitive with the Mopars and the Toyotas."
D&J Precision Machine
6.7-liter Cummins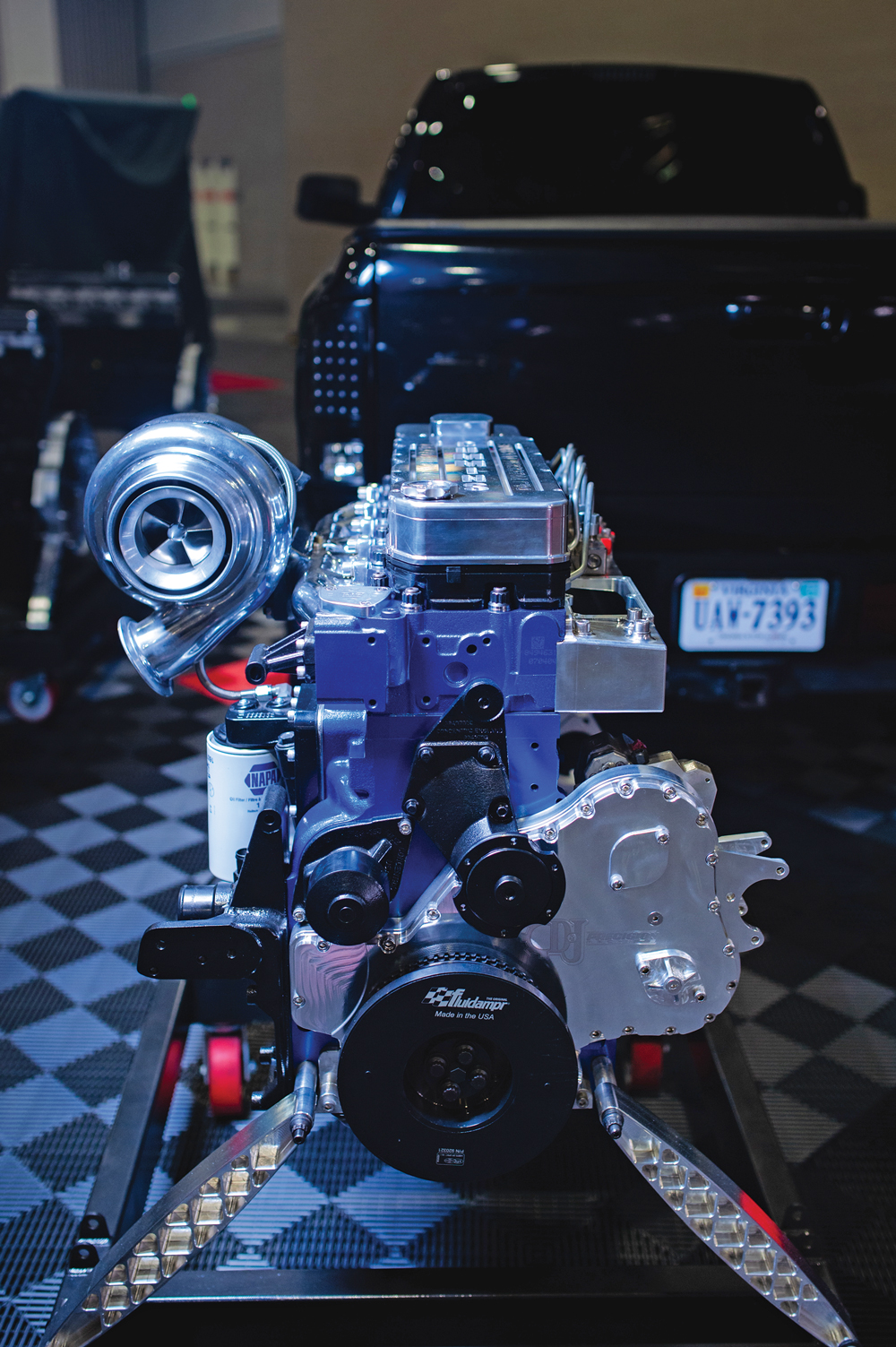 Engine builder:
D&J Precision Machine
Application:
Custom Crate Engine
Horsepower:
3,000 hp
Features:
• Fully built and assembled by D&J
• ENFORCER Series deck plate block (adds a 1-inch-tall deck plate)
• Stage 3 billet cylinder head (two times the flow of a stock head) with upgraded valvetrain
• D&J billet LED valve cover, front cover, oil pan, crank seals, and oil cooler housing
• D&J billet gear-driven dual CP3 fuel pump housing
• D&J HD girdle
• FSR billet pistons and Total Seal piston rings
• D&J X-BEAM 1-inch longer rods
• Billet flat tappet camshaft
"We run these engines on the street and in dirt drags. We have setups from budget-friendly reman packages starting at 700 horsepower all the way to a 3,000 horsepower capable ENFORCER block." —Josh Hills, sales manager of D&J Precision Machine