Image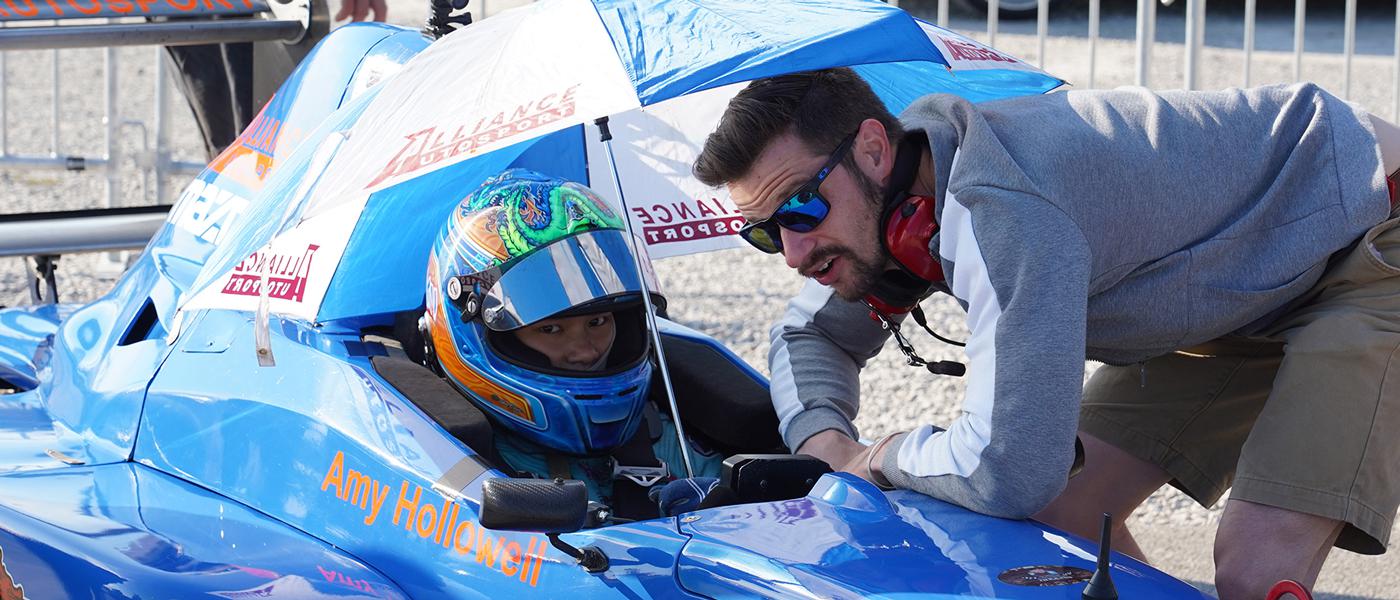 Photo courtesy of Alliance Autosport
As the 2022 season gets underway, road racing is experiencing a growth spurt, especially at the amateur levels. So how are these racers and teams improving their programs while still grappling with pandemic-related supply-chain obstacles?
It looks like 2022 will be a boom year for road racing. As this report was being compiled in January, the SCCA's first Majors event at Homestead-Miami Speedway in Florida was run with an entry list that was not only larger than last year, it also eclipsed the number of entries in pre-pandemic 2019. Likewise, the field for the Rolex 24 at Daytona, season opener for the IMSA WeatherTech SportsCar Championship, will be the largest in years if the entries for the Roar Before the Rolex 24 are any indication. Some 61 cars, the most since 2014, were signed up for the two days of testing that make up the Roar. 
At the other end of the road race spectrum, "there's this huge boom of participation in entry-level endurance racing," said Eddie Nakato of AR Motorsports, Tigard, Oregon. "This boom in demand is honestly pretty insane." 
Bruce Griggs of Griggs Racing in Sonoma, California, agreed. "Endurance racing is growing like crazy at the amateur level," he confirmed.
Both Nakato and Griggs have customers who participate in the Lucky Dog Racing League, a series that "grew out of the $500 car Lemons deal, but it's growing and becoming more sophisticated," said Griggs. "There are all kinds of cars in it. We have a couple of older Mustangs, Fox-body and SN95s, under construction here. We're putting Lexan in them, composite body panels. And I'm doing a chassis development project on a mid-engine, LS-powered 1967 Corvair with a tube frame."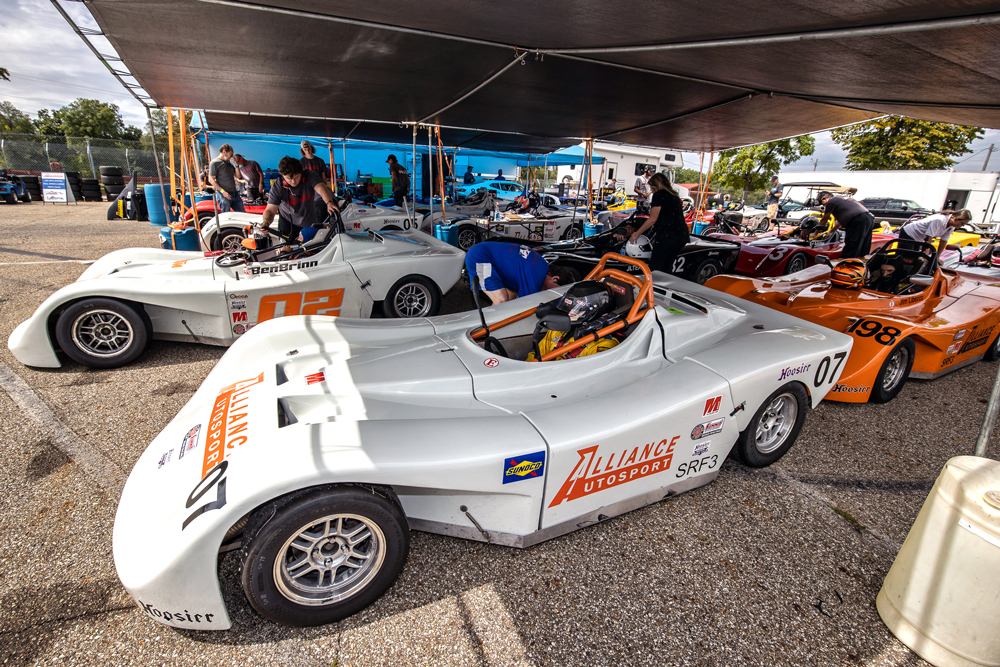 "The demand from drivers to go racing is really, really high right now. We're seeing record car counts," said Scott Rettich of Alliance Autosport, Columbus, Ohio. That is despite the fact that many of his customers are having trouble "making the time to get away to go racing. Given that we are in club racing [Alliance Autosport is a customer service representative for SCCA Enterprises], all of our customers are essentially gentleman drivers. Some of them have businesses that are now booming, and they're having a hard time getting employees. Or they're getting double-scheduled because of all their family activities." Yet his business is growing, aided by the fact that "there's a huge number of new drivers coming in."  
Fred Lux of the Lux Performance Group in Portland, Oregon, is experiencing this growth surge in a different way. He said it's getting more challenging to find the experienced crew members that he hires to support his team of Trans-Am Vipers on race weekends. "The market is pushing less experienced crew members to come forward, and they're asking for bigger compensation, too. We are focusing on a mentality of retaining people on the team. We want to be 'that' company to work for in terms of professionalism, but also in taking good care of our team members." 
Nakato, too, said one of his biggest challenges is "making sure we have the drivers available to transport the vehicles, the mechanics available to work on the vehicles, and the crew available to support the vehicles while at the race track." 
AR Motorsports is "a bit unusual," Nakato said, in that it builds, maintains, and supports customer-owned race cars as well as renting race cars for arrive-and-drive customers. "Typically, those are two different types of businesses." During the height of racing season, "the demand [for personnel] is outstripping our supply and availability of labor to be able to turn the cars around fast enough to hit another race."
Personnel shortages are just one of the many challenges racers face in this pandemic-affected season. How are they coping, and what are they doing to improve their chances of winning?
Addressing Challenges
Like many other forms of competition, road racing is experiencing parts shortages, with tire supply among the most problematic. 
"Parts supply is a nightmare, and where it hit us the hardest was with tires," Nakato said. "Racers can drive without the upgraded turbo or this extra control arm, but not without tires."
At the 25 Hours of Thunderhill in December, "our first, second, third, and fourth tire choices were all unavailable in the quantity we needed," he continued. "And that was 120 days out from the race. We ended up going with a tire that was not ideal, and it caused a lot of problems for us, but that was all that was available."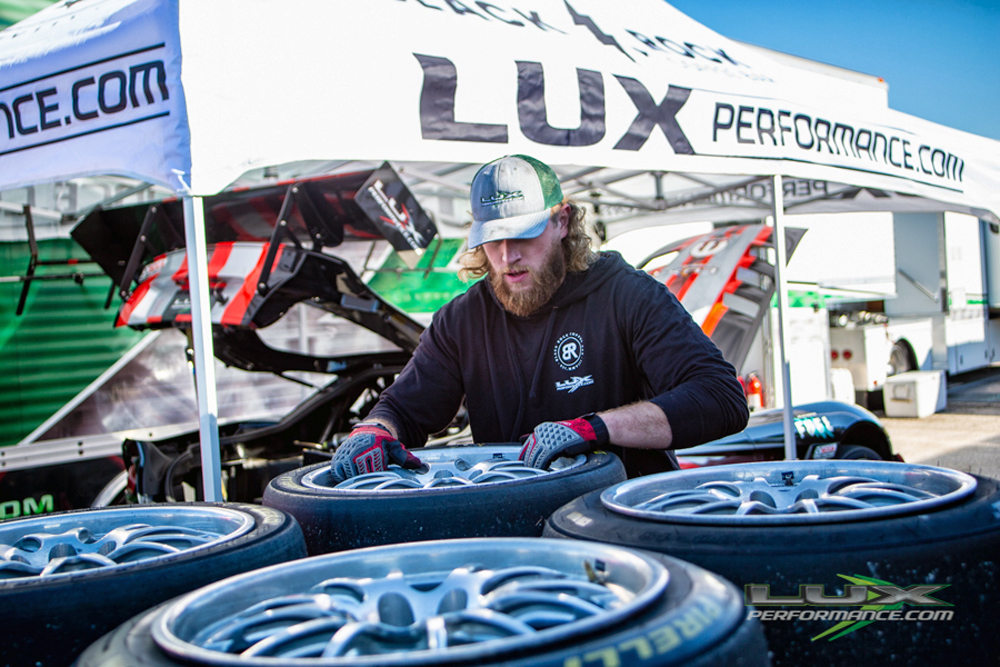 Nakato admitted the problem was exacerbated by the quantity of tires he needed, "something like 14 sets of tires. That's where we got hit. Everybody could provide us with two or three, but nobody could provide us with 14." 
To mitigate the supply problem, Nakato is considering "ordering tires a year in advance, just to make sure we have them. Honestly, that's unheard of. Tires don't really keep for that long, particularly race tires. But we don't have a choice, because the alternative is having to call somebody and say, 'Hey, I know you spent a large amount of time and money to prep the car, but now we can't get to the race because we don't have tires to run it.'"
Lux, too, had trouble getting tires. "Michelin shipped me two sets of tires that landed in a warehouse that caught COVID and got locked up," he explained. "Once Jackson Motorsports found that out, they air-freighted me two sets directly, so they went above and beyond to get me what I wanted. They're working hard, doing more work than they used to and staying on top of things. But if a team wasn't shopping at the right places, stuff just wouldn't come. No one would know when it's coming, or even if it's coming."
Chris Taylor of Chris Taylor Racing Services in Del Valle, Texas, has his own work-around to get the tires he needs for the SCCA B-Spec cars he manages. "The spec tire for B-Spec is Hankook, and Hankook Motorsports is about 10 minutes from my shop," he said. "Thankfully for us they have a couple hundred tires in their warehouse. They're still getting stuff delivered, but maybe not as often as they want."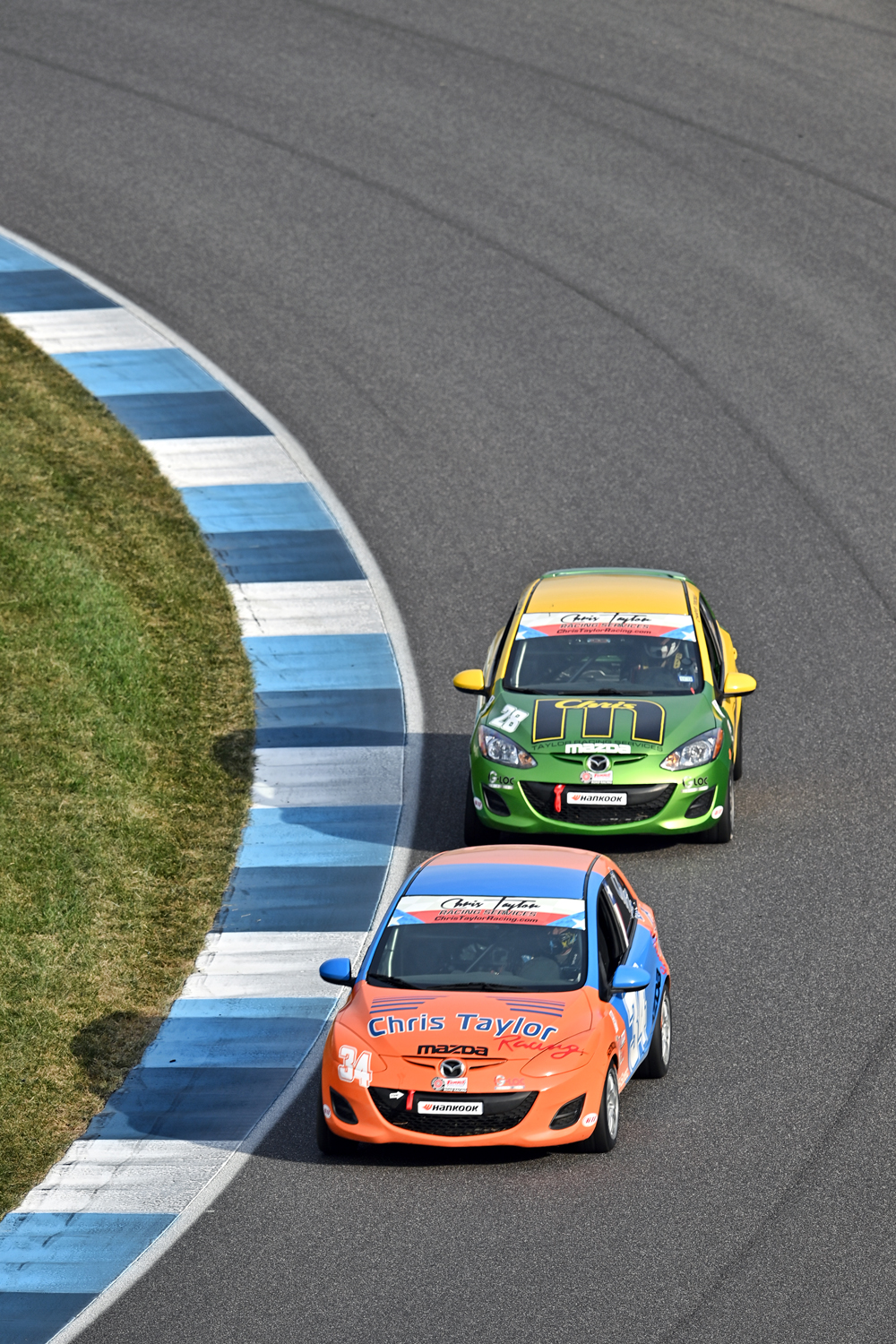 Also in short supply are brake pads. "We've had supplier problems with the brake pads for our FE2 [Formula Enterprises 2] cars," Rettich said, "so we're having to implement some necessary changes to deal with the supply chain issues that the whole world is having to contend with." 
"There's been a shortage of Raybestos, the ST-45 brake pad compounds we use a lot," said Griggs. To a "really good driver, a brake pad is a critical thing. They drive the car a lot with the brake pedal: trail brake, finesse and modulate the brakes to make the car do what they want. When a driver has the car all dialed in with a certain type of brake pad, and their brake rotors are living and doing everything well, they don't want to change. If they have to, then they have to go through a whole process of testing, learning, re-adjusting, and dealing with it, and that can be expensive." 
Joe Aquilante of Phoenix Performance in Phoenixville, Pennsylvania, said he's getting an adequate supply of parts for his team (which won all four Touring Class championships at the SCCA Runoffs in Indianapolis last season), "but we have had to order extra things. We're probably carrying $100,000 more in parts inventory than we normally would. Normally we do a just-in-time philosophy because it saves cash flow, but now we have to buy two of everything. Now those parts are sitting in inventory, and that sucks up cash, so we have to be careful about that."
Aquilante said he buys parts from "whoever has them. From there it's who has them that's close by so we can eliminate shipping. Then it's whoever gives the best discounts for volume buying." He uses "three or four major vendors: Turn 14 Distribution, Atech Motorsports, and Hoerr Racing Products are probably the major ones that we check for everything." And while availability is important, "we can't completely sacrifice pricing. There is a limit to what the customers will pay. We have to be really careful from the customer's viewpoint to make sure we are paying the best prices we can get."
To ease supply woes, some race teams have branched out into the parts business. Taylor, for example, retails suspension parts, brakes, and other pieces for the compact cars that race in the B-Spec class. "One of the things I spotted early on was our rulebook said we can run this, this, and this part, but nobody sold all those parts. Racers would have to find the guy to buy the sway bar from, find the guy to buy the shocks from. So I tried to put everything in one place."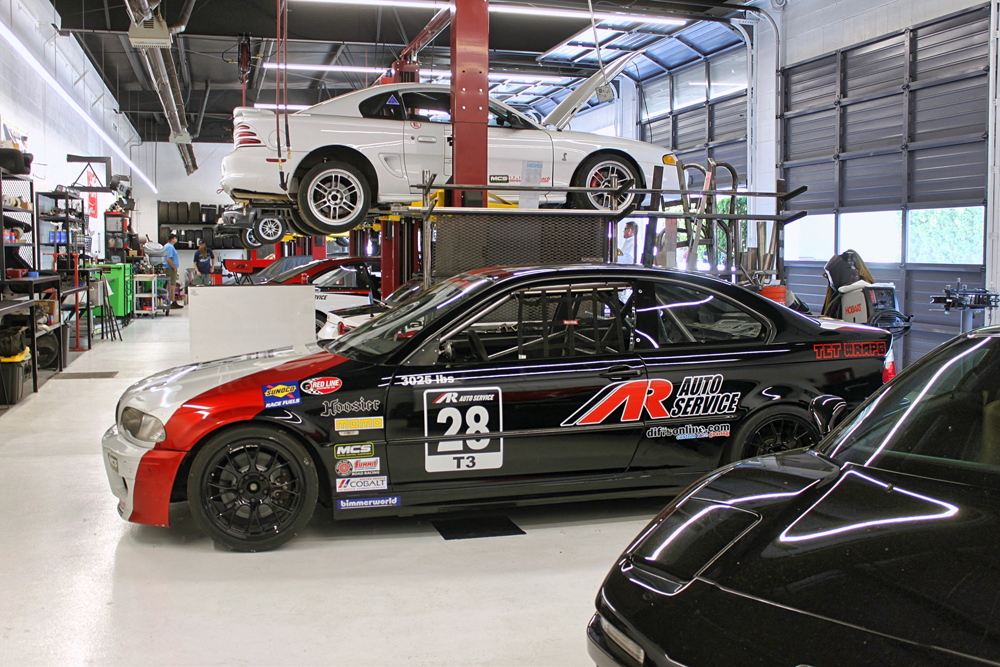 The ubiquity of B-Spec donor cars means parts are widely available from major manufacturers and retailers, including Bilstein, Eibach, Hyperco, and Swift. "The Mini guys get a lot of their stuff from Bimmer World," Taylor said, and major online retailers like Summit and Jegs are good sources for "seats, harnesses, and safety gear. But the nice thing about our group is that they're big on supporting guys like me, so there are a lot of small-time shops and wholesalers that people buy their parts from." 
AR Motorsports specializes in German makes—primarily BMW and Porsche—and sources parts from Ground Control, SPL Parts, Hyperco, and Eibach. Also, Nakato recently acquired Cobalt Racing Brakes, what he described as a "boutique company that catered primarily to professional race teams." Nakato was one of its first distributors some 15 years ago, and he is now "bringing this pro-motorsport-level product to the more mainstream track day market. We mix and manufacture the brake pads all in-house; and because we're such a small company, we're fairly nimble and can change the way we operate in response to the rapidly changing market. That can keep us from running out of materials, which I see all across the brake industry."
Going Faster
For Aquilante, coming off of a very successful 2021 season means "making evolutionary, not revolutionary changes. Racing is a game of blocking and tackling. It's three yards and a cloud of dust. Seldom does one thing come along and revolutionize the whole thing, especially in touring cars, which are street-based automobiles. We're not expecting major changes in how to qualify for the Runoffs." The action plan for Phoenix Performance, Aquilante said, is "Eat, sleep, race, win, repeat. It's been that way for the past four to five years."
Rettich, on the other hand, is looking forward to a change that will revolutionize the SCCA's Spec Racer Ford 3 cars. 
"These cars started with a street gearbox, a standard manual transmission, and it was a bit of a weak link," he explained. "Plus, with fewer and fewer people driving stick shift on the street, it became time to switch to sequential transmissions. This year we're switching over to Sadev sequential transmissions. While the gearbox is a big investment, it will make the class more popular. Now, instead of having to use the clutch when shifting and learning how to heel-toe, we're switching to clutchless, no-lift shifting. It's a big upgrade in technology, and the operating costs should go down. They shouldn't have to change clutches and transmissions as often." 
Rettich noted that "a few purists want to continue with the stick shift, but most people are excited about the sequential." He said about half of the active cars have ordered the new transmission, and Sadev is shipping "about 25–50 a month, so it's a transition period. It will take until the end of year for most people who want a Sadev to get one."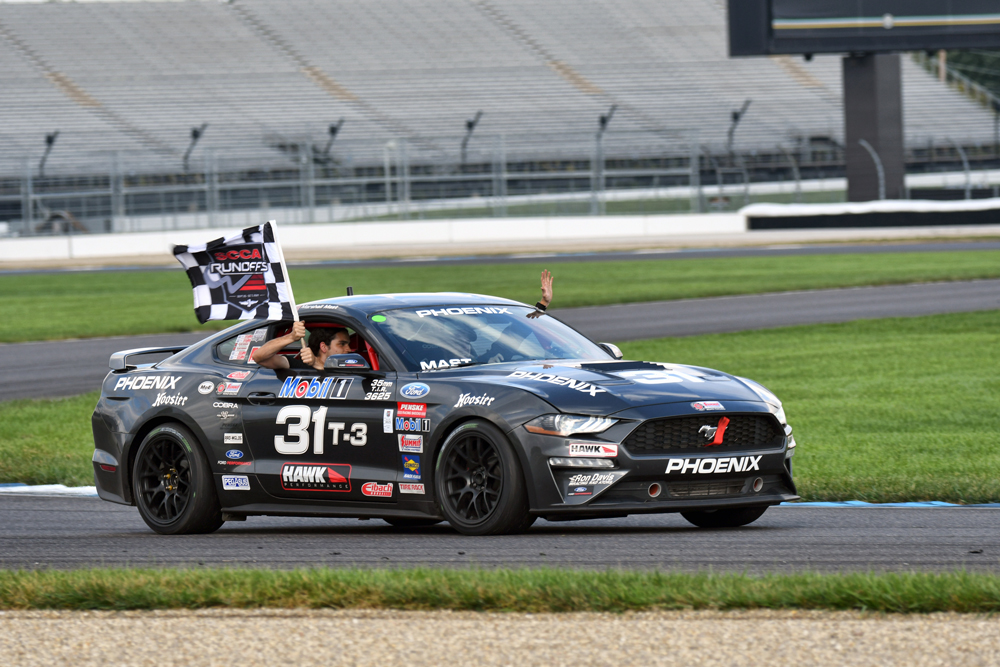 For Taylor and his B-Spec fleet, "there's not as much we can do mechanically. We don't have a hot new part frenzy, but there's definitely always room for improvement on understanding setup, alignment changes, things like that. One of the big factors in our team's speed increase over the last two years has been getting an understanding of what the perfect alignment is—how to tune the chassis for better handling, faster lap times, and increased driver confidence."
To gain that understanding, Taylor has his drivers do what he calls "sweeps," making laps after a chassis change "as far as possible in one direction, then as far as possible in the other direction, then recording the actual data from an onboard computer or the good old butt dyno." That way the driver "can make informed and educated changes to make the car better." 
For many of these teams, especially those, like Taylor's, in spec series with limited opportunities to make mechanical changes, the new breed of data acquisition systems has helped make critical refinements. 
Taylor uses AiM data acquisition equipment, and has favorable experiences with the new Garmin Catalyst, which can provide feedback in real time, even through the driver's comm system. 
"It's kind of like AI learning," Taylor said. "A guy runs 10 laps, and it records the car pulling 1.5 Gs in the middle of a corner, so it knows the capability of the car is 1.5 Gs. It will then tell the driver to brake later, brake harder, if the driver is only pulling .9 G under braking because it learned the vehicle is capable of 1.5. The beauty of the AiM and Garmin data is we can compare the entire [B-Spec] fleet and driver pool, both in testing and during race weekends. A bunch of us will be huddled around a Garmin Catalyst five minutes after a session, or a laptop comparing data traces and onboard video before we go out for the next run."
Data acquisition "is getting easier and more user-friendly," said Lux. Last year was the first time he put the VBOX system on his team's Vipers. "There's a camera in front, a camera on the driver, and the feeds go straight to a memory card. It has Bluetooth to set up the cameras, and it plugs into the OBD, or the AiM or MoTeC systems. All the data on the cars—the gas, brake, gear, steering input—is overlaid with videos." There's "a lot of data for coaching" on those cards, and he can turn them into the sanctioning body at the end of a run "if something happens on-track. They can use that for answering all the driving and performance questions."
According to Griggs, racers "can't compete well" without data acquisition, especially in road racing's higher tiers—"SCCA at the national level, Major series, the Runoffs, Trans-Am, Trans-Am 2, they all run data acquisition. In IMSA everybody runs it." 
The system Griggs uses "integrates with the AiM systems," he said. "It's GPS, but it's absolutely every sensor in the engine management system plus front and rear brake pressure, wheel speeds, all positions of the shocks, the whole attitude of the car. All the math tracks that come from that are calculating all the G loads, pitch rate, roll rate, and everything about the car so we can govern aerodynamics of the car, control the splitter angle on corner entry and things like that. We can really tune things.
"But that's the pro level, and the pro level is only so many people," he continued. "In road racing, the money is being spent at amateur and club levels, everything from open track days to time trials, autocross, and now this endurance racing. It's real race cars and real racing. They're running wheel-to-wheel, driving hard, trying to stay on the track, stay together and not run into each other."
Driver's Ed: How Can Road Racers Step Up Their Game?
Among the team owners, car builders, and driving instructors we interviewed about the state of road racing today, several mentioned one tip to help drivers improve their performance: Don't make mistakes. How does a driver achieve that easier-said-than-done goal? A few of our sources elaborated. 
"Almost all drivers, from hobby drivers to professional racing drivers, have room to improve how they maximize tire performance, manage weight transfer, and use the entire track, from edge to edge," said Mark Hicks of Chin Track Days, Orlando, Florida. "That is the secret to making great road course laps. Not horsepower. Often the drivers misplace their priorities, giving emphasis to adding power over improving grip. Tire performance is where it's at."
Chris Taylor of Chris Taylor Racing Services highly recommends making any sort of changes or trying different setups on the race cars in what he calls a "low-pressure environment," rather than on race day. "I can't say enough about renting a track for a day to focus on trying stuff and not be worried about the fact that there's just one practice session before qualifying." Taylor's Del Valle, Texas, shop is "across the street" from the Circuit of The Americas and about 20 miles away from Harris Hill Raceway in San Marcos. "If I have enough fuel, tires, and drivers, we can go to Harris Hill and run from 9 a.m. to 5 p.m. nonstop. It's nice to be able to make all those changes and write them down." That way, he said, a team doesn't find itself at the track on race day "with a car that's not fast, wondering, 'Where do we even start?'"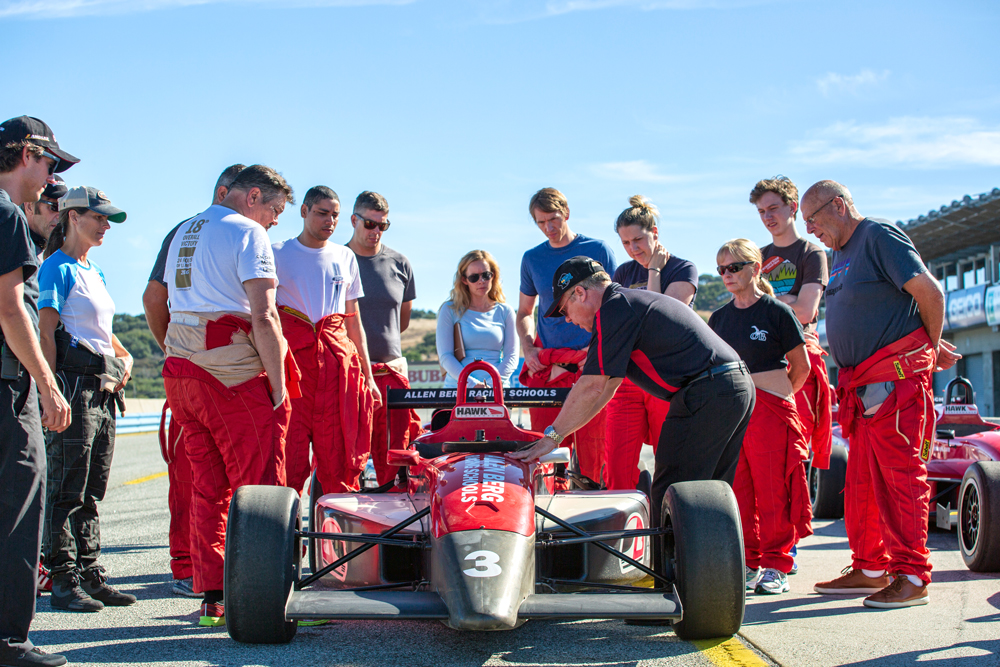 Hicks has seen "lots of well-developed professional teams" out of World Challenge, IMSA, Porsche Cup, and others at Chin Track Days "to get quality test time that's outside the boundaries of test requirements of their sanctioning bodies." A track day is also a good opportunity "for work on experimental or prototype stuff, because they're not getting scrutinized by other teams in the series." 
While tracking the results of setup changes and keeping tabs on driver performance is often done via data acquisition, Hicks and Taylor agreed that even the most sophisticated of those systems can't replace the feedback from a competent human coach. That is especially true with the "hobby enthusiast" drivers that populate many Chin Track Days events, Hicks said.
"There is a learning curve initially to help drivers understand the fundamental vehicle dynamics that occur on a race track," Hicks explained. "In-car coaching is helpful for drivers in real time, to have an expert instruct where to position the car, how to use the wheel and pedals for best effect, manage traffic, all of those things."
"People communicate and learn differently," Taylor added. For example, "brake pressure data may show a driver is using 1,600 psi in one corner, but in another they're using only 800 psi, and the Garmin is saying, 'Brake harder.'" In that same situation, Taylor may tell his driver, "Instead of easing on the brakes, wait just a second, or just a beat longer, and then stomp on the pedal for all it's worth."
The best part of doing that kind of coaching, Taylor said, is "seeing the 'a-ha' moment, when people get it."
Allen Berg of Allen Berg Racing Schools in San Diego, California, offered a different kind of advice, to improve what he called "the off-track element" of driver funding.
"The cost of actual track racing has gone up significantly, while the age of participation has dropped," he noted. "Drivers are now coming into Formula 1 in their late teens, which means they're starting racing when they're very young, 7–8 years of age, and moving up through the ladders. Because these drivers are younger, they're kids in school, and they don't have the skillset to put together financial support packages for themselves to go racing in Formula 4 or Formula 3. That makes them reliant on family money to pay for the racing. 
"It's a real weakness in the sport, and an area that drivers can explore and improve on," Berg continued, while acknowledging, "it's also the hardest part of the whole business." —Drew Hardin
Sources
Allen Berg Racing Schools
allenbergracingschools.com
Alliance Autosport
allianceautosport.com
AR Motorsports
ar-motorsports.com
Chin Track Days
chintrackdays.com
Chris Taylor Racing Services
christaylorracing.com
Griggs Racing
griggsracing.com
Lux Performance
luxperformance.com
Phoenix Performance
phoenixperformance.net