Business Profile: Hyper Racing
Image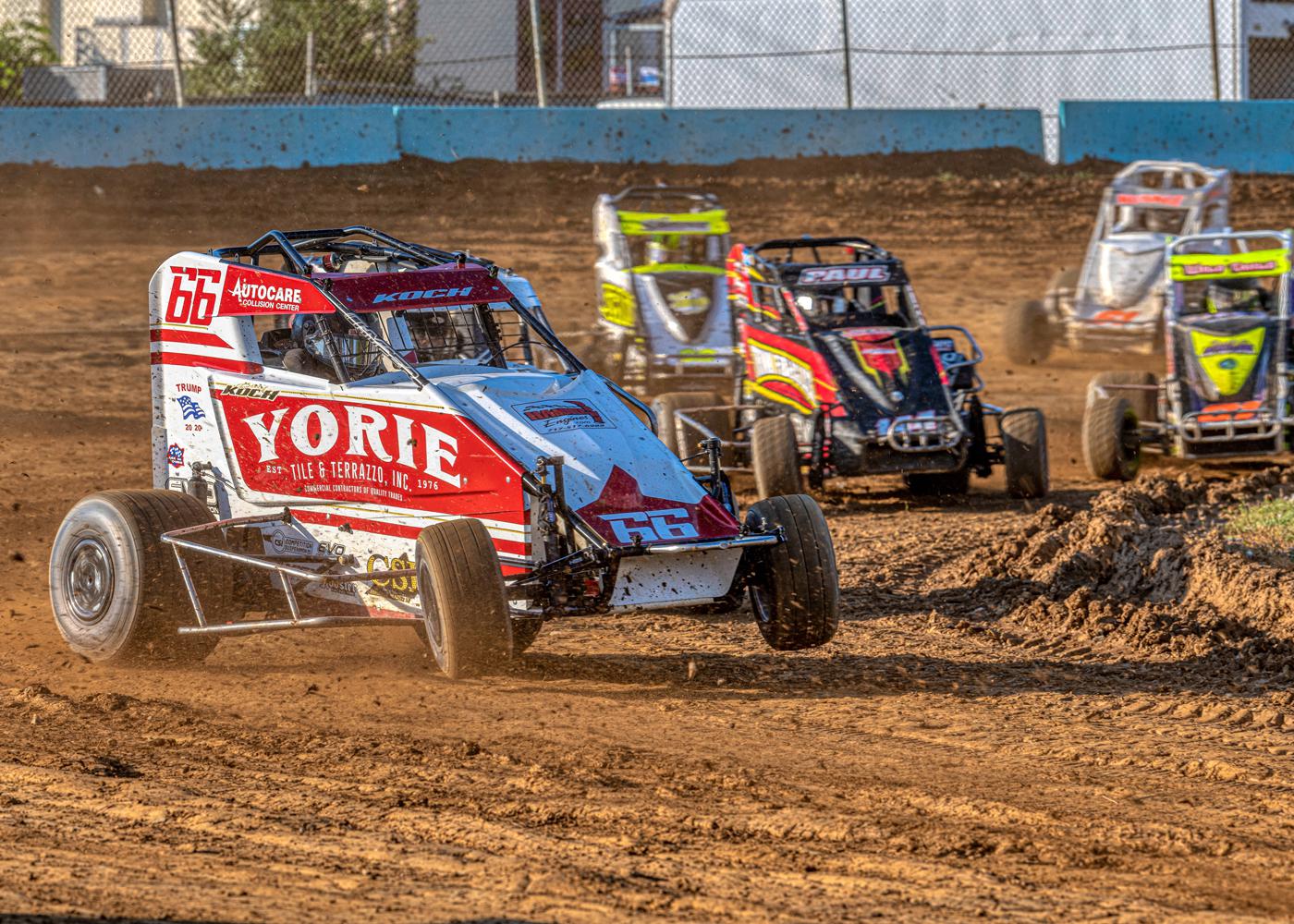 The 600cc micro-sprint class is exploding nationwide. Packing a high-energy blend of innovative engineering, first-class customer support, and a bold drive to "push to the very edge," this trailblazing Pennsylvania-based shop is growing right along with it.
It would be tempting to write that Hyper Racing is happily riding the monster wave that's currently buoying 600cc micro sprints to new heights, but that wouldn't tell the whole story. Certainly, Hyper Racing owners Mike and Christy Dicely are enjoying the view from the crest: The Lewisberry, Pennsylvania, firm reported 39% growth from 2020 to 2021, and projects an additional 15–20% increase in 2022. 
"The 600cc sprint class is booming across the whole country," Mike Dicely noted. "As one of the biggest players in that market, we are able to capitalize on that growth." 
Yes, it's a big and growing market. But a company doesn't get to be one of the biggest players without doing many things right.
600s Ascendant
Dicely attributes the 600 wave to "a combination of factors. With the online streaming that is available now, more people can watch the incredible racing that 600cc sprints provide, through platforms such as FloRacing, Fast Four Media, DIRTVision, The Cushion, and others. On a track that's the right size and properly prepared, 600s offer the most intense racing a driver can experience. As more people see this, they want that experience. The class also offers many $10K-to-win races, and the massive Tulsa Shootout. That's also a big draw."
Additionally, NASCAR Cup, Xfinity, and Camping World drivers "are using 600 sprints and other dirt-track, open wheel cars to stay sharp and continue to develop." As examples, he cited Brett Moffitt and Sheldon Creed, among others. "It is well-known how much Kyle Larson races open wheel on dirt. Chris Bell grew up racing in the 600 class. And plenty of other drivers have made it big after getting their base experience in 600s."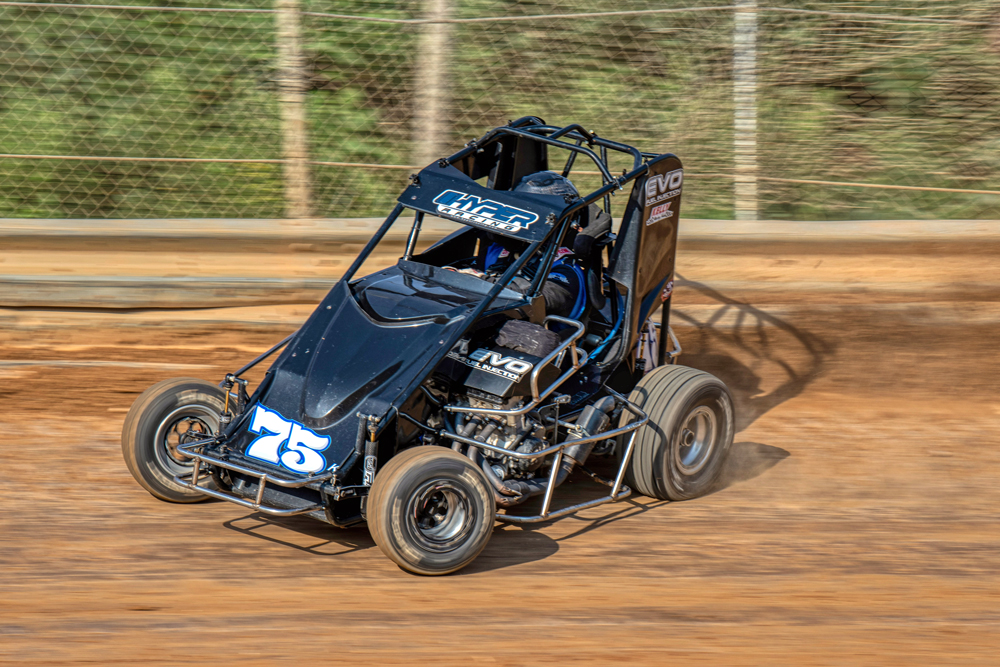 In fact, "Everyone is trying to race as much as they can, and 600cc sprints offer a compelling and affordable way to get that extra track time," Dicely continued. "We heard that first-hand from Hailie Deegan, who bought a Hyper Racing chassis last year to gain more experience, racing at Millbridge Speedway in North Carolina." Additionally, "Parents see 600s as the best driver development class," or at least a logical step between a quarter midget and a full-size midget or sprint car.
Even the pandemic has played a positive role, "encouraging outdoor activities, while limiting eating out, vacations, and travel. Racing in general got a big boost from the new mindset."
But that wouldn't have helped Hyper if the company wasn't already "very well positioned before the pandemic, with a very strong e-commerce arm, cloud-based ERP, and a VoIP phone system," Dicely continued. "Now, after being cooped up for months at home, customers are comfortable ordering parts online, or at least surfing the net to get more educated. Also, being able to run the business from the cloud enables us to work from anywhere. That helped a lot during lockdown, and when an employee was quarantined."
At the same time, Hyper Racing seems to have completely sidestepped the "Great Resignation," hiring four new employees during 2021, and confidently expecting to add another two or three this year. "We have no problem finding employees," Dicely told us. "I always keep my eye out at the tracks looking for prospects. I look for racers with a good personality, who everyone likes, and who are team players with mechanical skills and intelligence."
Technical Innovation
Another "right thing" Hyper has done—since 2017—is to sponsor the Hyper Racing 600 Speedweek: six races on six consecutive July nights, ranging over the eastern third of Pennsylvania, from south of Philadelphia to north of I-80 and just past Lebanon to the west. "We see it as our way of giving back and sharing the awesome Pennsylvania dirt track culture with the world," Dicely said proudly. "Big races like this get all the best drivers together," so fans "see the best racing. Our name recognition in Pennsylvania is already huge, but it helps when fans come to watch 'the Hyper Racing 600s' and they see an awesome show. Then they want to get a 600 of their own."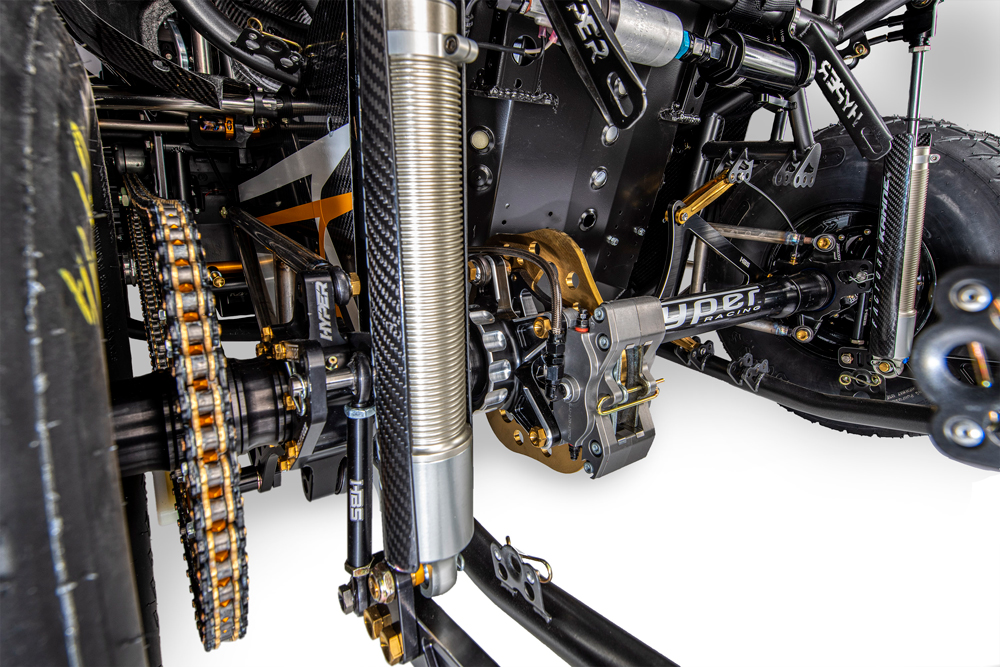 When they do, Hyper is ready with some of the most technically innovative 600s on the market. "600cc sprints are unique in that there are a lot of different chassis designs out there. They are not like midgets or full-size sprints where all the parts fit all the chassis. For the most part, the components on our 600 chassis do not fit on other brands. Instead of the Z-link that most other manufacturers offer, our chassis use a wishbone rear, because of the high anti-squat it provides. 600s have a low center of gravity, and for longitudinal traction, you need to keep the CG up. Also, our wheelbase is a bit longer, and we mount the steering rack to the front axle. And because our drivers range from 8 to 70 years old, and from 60 to 300 pounds, we make the car very adjustable and configurable. We offer an adjustable pedal assembly of our own design in addition to an adjustable steering-wheel mounting system, a movable shifter assembly, and a seat that adjusts for height. So our chassis easily fits pretty much anyone." 
Hyper applies the same technology to its 270 micro and Lightning sprint/midget chassis. The company also makes chassis for quarter midgets and parts for Sharp Mini Late Models. "We provide high-quality parts that are in stock, although the popularity of the 600 class and the pandemic have made this a real challenge," Dicely added.
Web Presence
Digital technology has also contributed directly to Hyper's success, much as it has driven the 600 wave in general. Dicely mentioned "online advertising through Google and Bing, as well as keeping our organic search results at the top. Maintaining a good presence on all social media platforms is a must. We also advertise on FloRacing and other streaming services. Our robust website (hyperracing.com) is open 24/7. We update it constantly to provide detailed part descriptions and photography. We've added the capability to provide live rate quotes from the major shippers at the time of sale, so customers know the delivery times they can expect. Then we follow up with email confirmation at many phases throughout the ordering process."
That said, Dicely still believes in the power of paper. "Our print catalog is sought after for technical guidance, as well as parts photography and descriptions." He credits the catalog to his wife and business partner Christy, who had worked as a graphic designer before co-founding Hyper Racing. "We always wonder when the day will come, when we will stop producing a catalog and go completely online," he added. "So far that hasn't happened."
Paper or digital, the catalog will likely remain vital to the business. While complete chassis account for 18% of Hyper's sales, parts make up the rest. Some are manufactured by Hyper: "Our unique products, like our left front brake caliper, adjustable pedal assembly, bearing carriers, spindles—they are all proprietary. They are designed in-house and manufactured in our own machine shop. Or, if we don't have the capacity, we sub them out to a few trusted local shops. But the products that already exist—rear brake calipers, seats, seat belts, wheels, etc.—we purchase." Dicely sees no point in literally reinventing the racing wheel.
Customer Service
Additionally, Dicely clearly understands that "having a well-designed chassis that wins big races all across the country is where it starts. But that's irrelevant in an entry-level class if you don't offer support to go along with it. It's not enough just to offer parts and keep them in stock. Our customers need their questions answered. We need to answer the phone every time it rings, to guide the customer who many times isn't even purchasing a part—they just have a tech question. Having knowledgeable employees is a huge part of this, and we have the most awesome employees. They really account for all of our success."
Certainly, Hyper Racing's reputation for advanced engineering helps attract new customers. When Steven Snyder Jr. turned 14 three years ago, his father/crew chief/team owner Steven Sr. decided it was time to move up from quarter midgets to 600s. "We reached out to several people"—including former 600, and now midget racer Andrew Layser—"and they led us to Hyper. Hyper has a very good chassis," the elder Snyder explained. "We won a tremendous number of races last year against the best in the nation." In fact, Steven Jr. aced the 2021 KKM Giveback Classic at Port City Raceway in Tulsa in October and won the Keith Kunz midget ride at the Chili Bowl in January. "My son has friends who race other chassis, and they say, 'Man, ours just doesn't come out of the corners the way yours does. We can't get it to do what you're doing.'"
Service figured into the equation as well. "Mike will help you out if you ever have any trouble," Snyder continued. "He answers the phone if it's morning, afternoon, or even if you are calling from the track. If you have a question about gearing, or stagger, or something that's throwing your car into a fit," Mike can help, "because he raced himself for many, many years. And if he can't diagnose it over the phone, he's willing to have you bring the car to his shop," a mere 90-minute drive for the Maryland-based Snyders.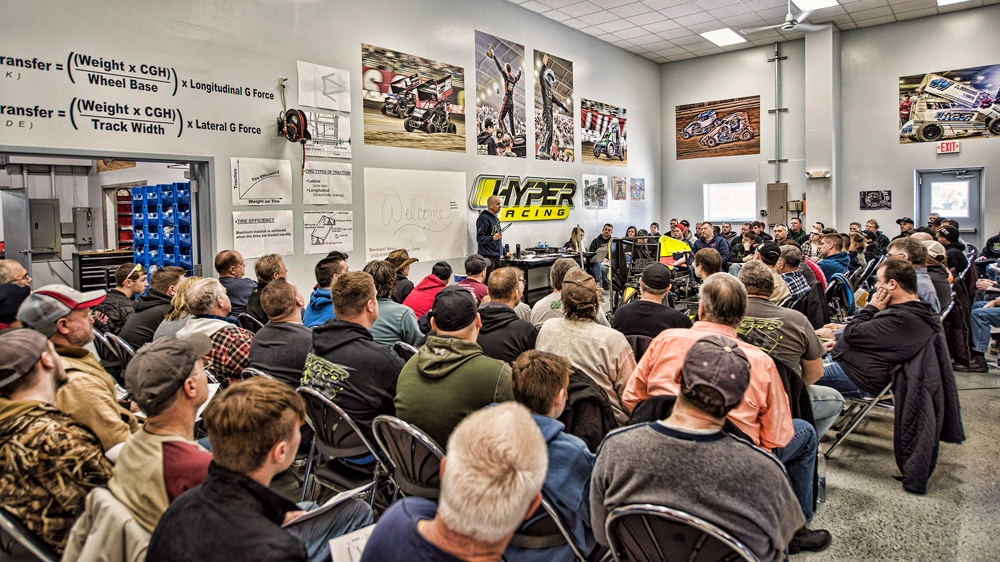 Fuel-injection issues can be particularly vexing. "There are a lot of electronics involved with it. But we don't have to ship the injection to him." Instead, "he'll say, 'Just come up here, we'll see what's going on,' and he will fix it. He supports all of his customers. If you want to race, he wants to see you race."
Caleb Martin of Angelton, Texas, runs 305 and 360 winged sprints, as well as 600cc micros. "I've been doing it for more than 20 years," he told us. "But when I was a little kid, the Hyper catalog was always the coolest, and they had the cool-looking cars."
Martin began racing micros when he was 14, and he continued to compete after college. "I was winning a bunch of races with other chassis," Martin said. "Mike saw that, and we struck up a deal." That was in 2010, when Martin finished fourth in the I-30 600 Outlaw Nationals in Little Rock, running on Hyper's then-new Jacob's ladder-and-wishbone suspension. "Nobody had ever used that design before. And we had a lot of success. We won 12 races in 2011," and eight more in 2012.
"Mike never gets complacent," added Martin, "and that's a big deal for me. Whether it's the chassis or the injection, he's always looking for another competitive edge. I like having that on my side. If I have a problem, they take care of it quickly. Most of the people who work there can answer your questions. Their service, their shop, their website—their whole business is second-to-none."
Getting Started, Moving Ahead
Longtime PRI readers may recall that we first profiled Hyper Racing back in October 2006. Author Bill Sessa noted then how, like so many other successful racing entrepreneurs, Dicely was practically born into the sport. As a preschooler in the early 1970s, he watched his father and uncle run a mini-sprint at the sixth-mile Lanco Speedway in Newmanstown. As a high-schooler, Dicely was already driving—and winning—in the team's number-one car. He graduated from Millersville University and for seven years worked as a mechanical engineer while continuing to race and to work out the design of a new and better race car. 
In 1994, with encouragement from his new bride Christy, they both quit their day jobs to launch Hyper Racing. Dicely explained the name he chose for his company: "I've always been a hyper person, a go-getter."
Hyper sold three chassis that first year. Between then and the end of 2021, they sold more than 1,600. Since that 2006 report, their facility has nearly doubled in size, from 8,000 to 15,000 square feet.
From the beginning, Dicely believed that the role of technology was not to make a car faster regardless of cost, but to maximize performance-per-dollar for racers on a budget. Hyper has always devoted significant floor space to design and development, and currently boasts a Roehrig shock dyno and an ASNU injector nozzle cleaning and diagnostic machine, as well as engine and chassis dynamometers. One recent acquisition is a CAD workstation featuring SOLIDWORKS 3D modeling software with FEA stress analysis. 
When we asked Dicely about the challenges Hyper has faced along the way, he recalled 2003 as a particularly difficult time. Hyper was just beginning to spread out nationwide, but "most of our sales were to Pennsylvania racers, who bought from our parts trailer at Pennsylvania tracks. That year we had massive rainouts. Sales plummeted. We had to cut spending and survive off our inventory stockpile. Christy and I went without a paycheck. It was a very tough year."
Then, in 2017, Dicely saw the need to change Hyper Racing's Enterprise Resource Planning (ERP) software. The change should have upgraded Hyper's IT capabilities, but instead, "the implementation was not well done, and we could barely function for about three weeks during our busiest season. We had to work countless hours to get everything fixed. I thank my dedicated employees for helping the business get through that. If you see your business starting to slide, you need to work harder and smarter."
Then Dicely added something we really did not expect. "In the beginning [a major challenge] was my own personality," he admitted. "I was first a passionate race car driver who loved the competition, the adrenaline rush, the risk of racing. I didn't know a lot about running a business." He still takes "calculated risks. I push the business to the very edge, find that adrenaline rush, and it makes me feel very alive. This, of course, makes for some scary times, but I am not going out knowing I left something on the table. You have to take risks and not be afraid of failure to reach your maximum potential."