Image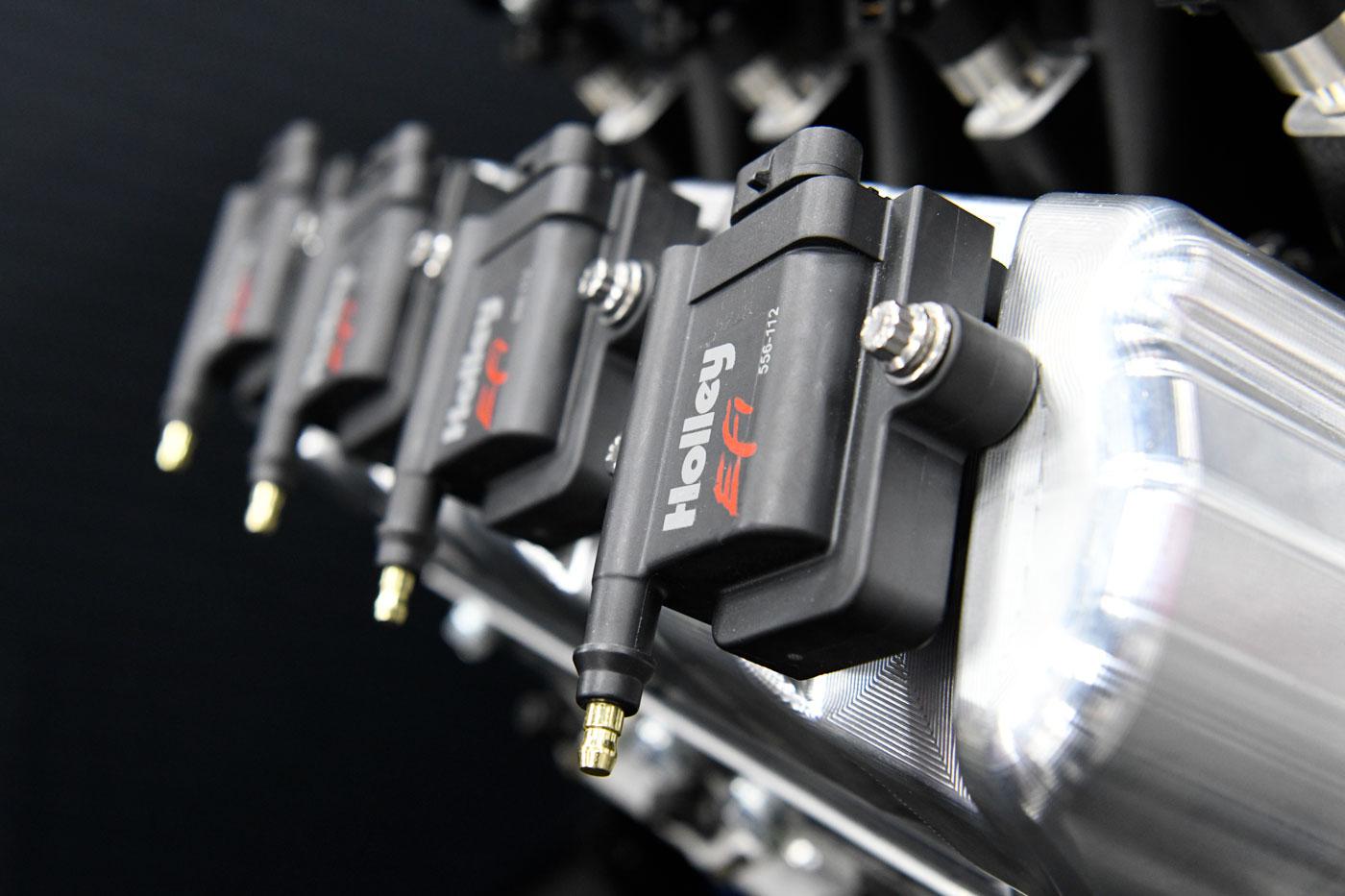 EFI supports more horsepower now than ever, and aftermarket companies are racing to develop larger and improved injectors along with more sophisticated electronic controls.
At the start of every NASCAR season, a couple of teams will each send 100 or so fuel injectors to the Fuel Injector Clinic (FIC) in Hobe Sound, Florida. Using a purpose-built test bench that cost $250,000, Randy Earle and his crew will evaluate and record extensive data for every injector.
"The teams want us to pick the very best set of eight, or if they have two cars, then the two best sets of eight," explained Earle, noting that teams are prohibited from modifying the injectors, which accounts for the intense selection process. "We match the best eight for flow at less than 1% difference, and they're matched for dead time as good as we can get it, hopefully around 2%."
Such precision is needed in many of today's highly competitive racing divisions where the rules allow or mandate electronic fuel injection (EFI). A set of injectors off the shelf could vary around 5% flow, and the open-shut time could vary as much as 38%. A set of matched performance injectors should be close to 2% for flow rate, yet FIC has seen the dead times off as much as 30%. Such a discrepancy can lead to tuning headaches or a loss of overall efficiency.
"How many times have you seen a guy lose a race on the last lap because the car runs out of fuel?" asked Earle. "The more efficient the fuel injectors, the better the engine will be in terms of fuel economy and how that race car performs."
Results Focused
The EFI market has expanded considerably in the past decade, and so has the need for race-worthy components. Only a handful of aftermarket companies used to offer performance replacement injectors and racing-quality electronic control units (ECU). Other support equipment like throttle bodies, dedicated intake manifolds, and high-pressure fuel pumps were also in limited supply.
A couple of trends set the stage for the increased interest in EFI. First, speedy and cheap import cars that were all fuel injected became popular with younger enthusiasts who rebelled against big block engines and muscle cars. This next-generation hot rodder was brought up on laptops and video games and had no fear of fuel and ignition maps.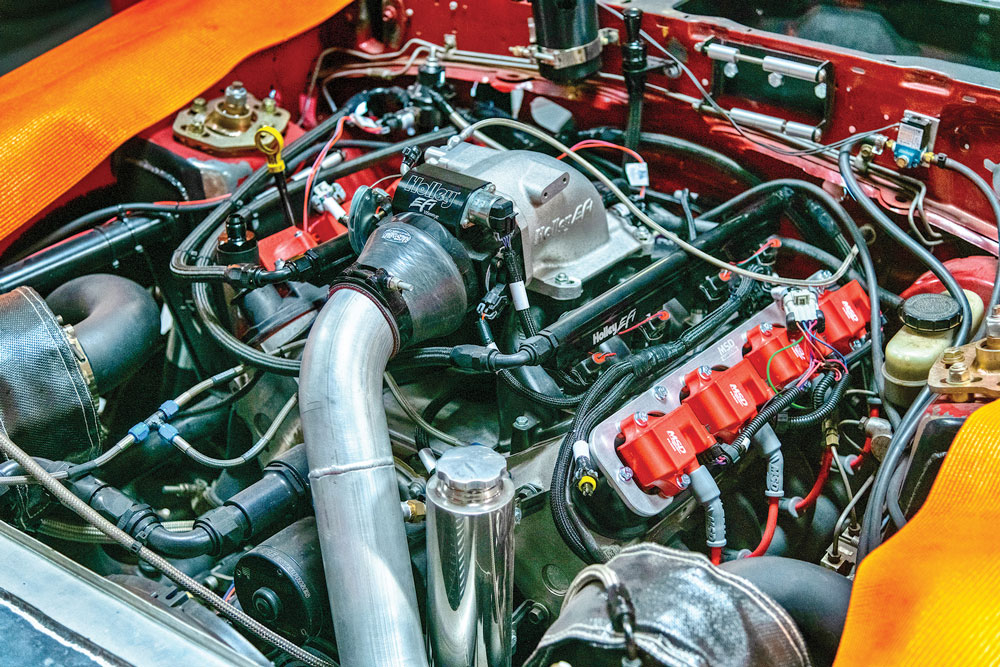 Then came huge boost numbers from the explosive growth in outlaw and small-tire drag racing. Even though these racers were bullish on V8 engines and classic doorslammer cars, boost from turbos and powerful centrifugal superchargers required precise fuel delivery that even the best blow-through carburetor couldn't deliver.
Along the way, NASCAR and NHRA Pro Stock converted to EFI, basically completing the circle of technology in the motorsports arena and encouraging continued development.
More fuel is the mantra of today's EFI development. That means larger, more responsive injectors that can handle different fuels, such as E85 and methanol. Also, there is growing interest in direct injection (DI), a form of fuel injection that delivers fuel directly into the combustion chamber under very high fuel pressure. Many of today's high-performance factory cars have DI, and customers want even more performance from those systems. Regardless of the delivery method, aftermarket ECUs have increased in versatility and boast software advancements that support increased power levels.
"We'll have software updates for our current products," said Doug Flynn of Holley Performance Products, Bowling Green, Kentucky. "But I can't talk about the new products we're working on."
Holley has been one of the leaders in EFI development, so much so that many racers don't know the full list of features available in the company's performance ECUs.
"We have a ton of stuff now that we have given the racers, and I don't think 80% know half the features in it today," explained Flynn. "That is proven because people say to me, 'Hey, you need to do this, this, this, and this.' But that is what we have had for the past two years!"
Some of the confusion may originate in the early configurations of EFI setups that had separate boxes for different functions, such as start retard or nitrous retard. Current ECUs now combine many functions related to ignition timing, nitrous delivery, traction control, and more.
"Everybody has too much power, and getting that power managed down the track through engine control, transmission control, transmission dumps, converter lockups, electronic shocks—all that stuff," explained Flynn. "Having all that control plus data acquisition in one piece of software is, I think, probably the biggest area that people are looking for today."
Supporting technology for EFI systems has also improved greatly over the past few years, starting with more powerful brushless fuel pumps with PWM control that can be managed with the ECU. Even fuel filters had to be designed to maintain precision in the fuel injector.
"The number-one problem for any fuel system is dirt," explained Brad Cauzillo of Kinsler Fuel Injection, Troy, Michigan. "All EFI injectors and pressure-relief valves need 3-micron protection, but 3-micron filters plug up too quickly. So, most racers used 10-micron, which is too coarse."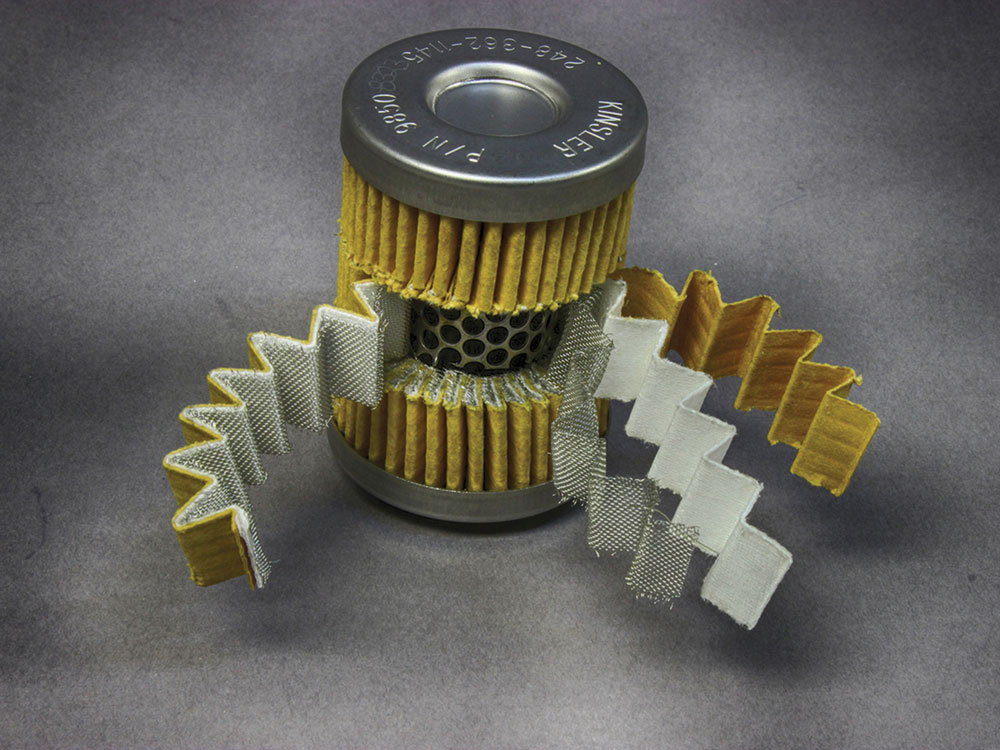 Kinsler responded with a new 10/3 filter for NASCAR teams that featured a 10-micron premium paper top layer that removes about 95% of the debris. Then there's a 3-micron precision lower layer.
"NASCAR Cup teams have found this filter to work so well that about 75% now run it," added Cauzillo. "It's also suitable for other EFI systems."
An improved pressure relief valve is another upgrade that has been critical to high-power EFI systems. Carbureted systems used a pressure regulator that held the fuel back in the system to achieve the desired pressure. In EFI systems, a pressure-relief valve will bleed fuel out of the system back to the tank to maintain the required pressure.
"It is important to control the fuel pressure precisely," said Cauzillo. "If the pressure to the injectors varies, then the fuel flow through them will vary."
Working with the GM IndyCar program, Kinsler designed a more precise valve. Most valves rely on a ball bearing to close off the seat and control the outlet flow. But if the ball can't find the center of the seat, that design will show a large hysteresis curve; that is, the opening and closing pressures will differ dramatically. Kinsler's design features a flat-faced pintle that swivels freely down to a flat, precision-ground seat.
"It closes precisely every time," said Cauzillo. "There has never been a failure in the field among the 10,460 valves shipped to date."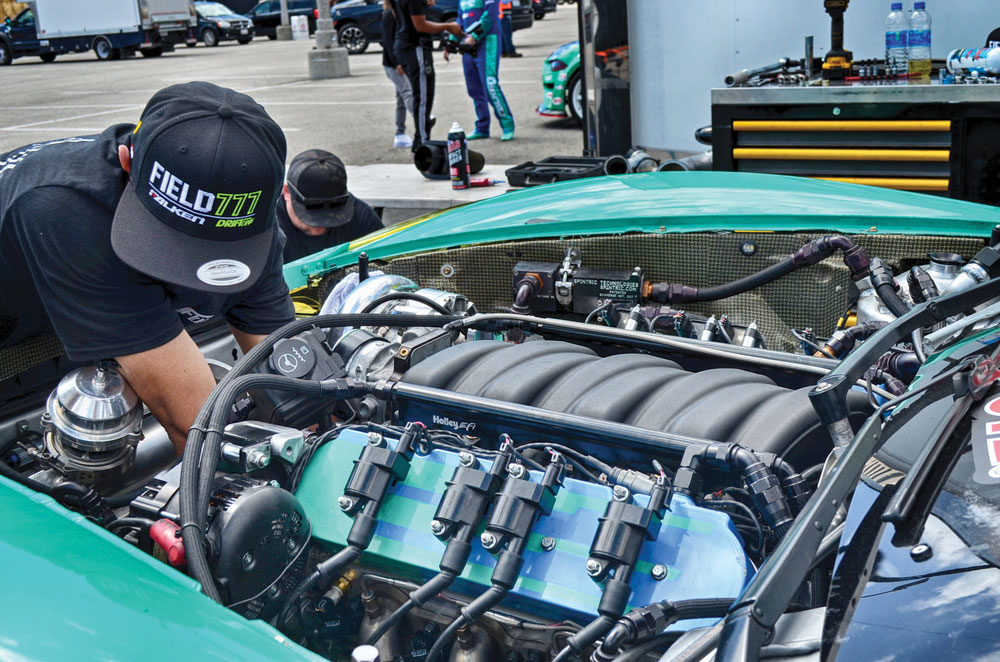 Another component that has been upgraded is the throttle body. Even though its basic function is to control the airflow to the intake manifold plenum, there are options in design and size. Most throttle bodies feature round throttle plates in one-, two- or four-blade configurations. Other throttle bodies have a single oval plate. As with other engine components, throttle bodies are being manufactured from billet aluminum.
"We have size options, and durability is a priority with so much boost these days," said Joe Hilerio of BLP Racing Products, Orlando, Florida. "We use a proprietary polymer bushing that allows us to tighten up our tolerances around the shaft."
One option available to some V8 racers is eight throttle bodies, or an EFI system with individual runners (IR). Hilborn, which is a division of Holley, offers a version of its big block Chevy fuel-injection setup with ram tubes. This classic look is reminiscent of the 1960s gasser cars that ran mechanical fuel injection, yet it can also offer performance advantages when rules allow an IR system.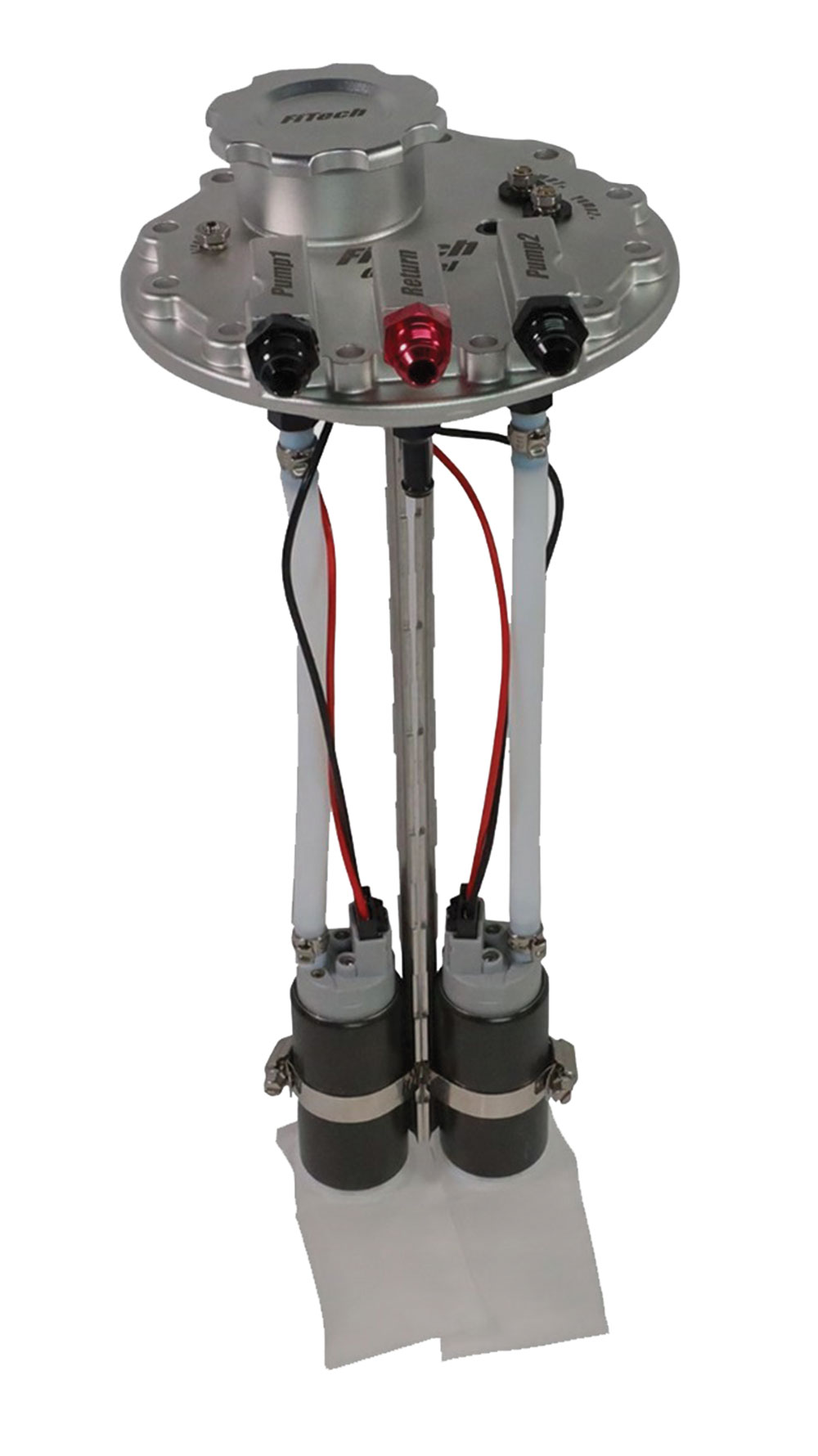 "It is being used in racing and actually has really good performance," said Flynn. "The cost and complexity of the linkage, I think, is prohibitive to gaining a lot of volume. I personally know of some racers that run it, and it actually performs better than other designs, if sized properly.
"The problem with a common plenum in a manifold is that you get a lot of crosstalk," continued Flynn. "It can rob one cylinder of air, and it can even rob fuel from another port. It gets pretty nasty inside there. When you have individual runners, that problem is gone. So if you size the port properly and tune with the trumpet, you can get the best of all worlds. But it's for a naturally aspirated engine. If you want to put on a turbo, you're back to a common plenum."
Over at FiTech, based in Riverside, California, an expanded line of fuel pumps is helping racers make the conversion to EFI.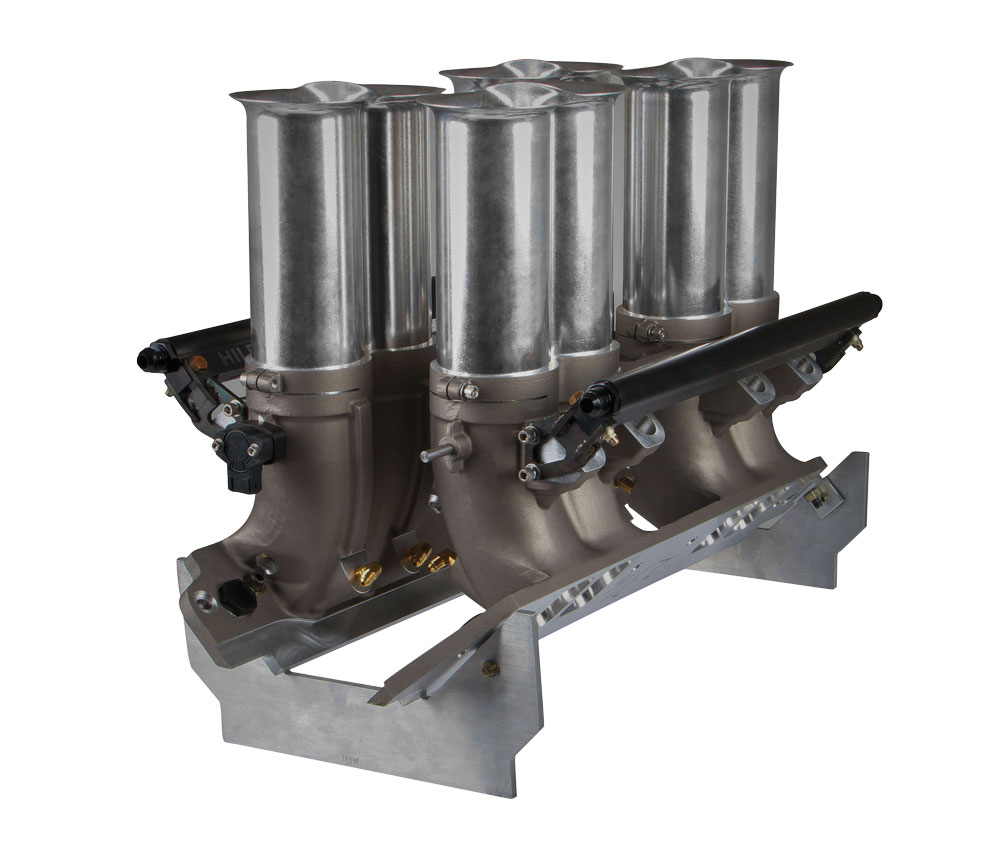 "We go to PRI every year and hear that someone doesn't want to get rid of his fuel cell to go to fuel injection," said Mike Wahl. "He also doesn't want to run an inline pump. We have a really trick pump that uses the most common bolt pattern for fuel cells, and it can support 1,600 horsepower."
The majority of aftermarket performance EFI systems are based on port injection with each intake runner having one, two, or even three fuel injectors providing the fuel above the intake valve. Many OEMs have transitioned to DI to improve fuel economy and emissions; however, direct injection is more complex and expensive.
Some aftermarket companies are offering DI-delete kits that plug up the injector mounting location in the cylinder and then repurpose the intake manifold for traditional port injection. Driving this conversion trend is the scarcity of salvaged LS engines and growing availability of used LT engines after GM introduced the DI-equipped LT family in 2014.
"We're diving into the LT engine and selling a complete delete kit. We're getting a lot of circle track guys because they're running out of LS engines," said Wahl. "What we noticed on that platform is that everything above the injectors is getting kind of dirty. It's holding all the contaminants from the air. When we do the port injection, we get a much cleaner engine. And it seems they stay tuned, and performance stays longer."
Wahl said that a DI upgrade is in the works at his shop.
Ron Sievers at AUS Injection in Tempe, Arizona, also hints of a DI offering. "We haven't introduced it," said Sievers. "But we know that will be in the future. What we're looking at is taking a DI injector and modifying it, like we do with our other high-performance injectors. But it has a different set of hurdles to overcome because it's a totally different system that runs under much higher pressure. There are a lot of factors to get it right."
AUS specializes in upgrading a factory Delphi injector and offers a wide range of flow rates from 114 lb/hr up to 190 lb/hr. With a different style Bosch injector as the starting point, AUS can work up to 220 lb/hr. The upgrade starts with a complete disassembly of the injector.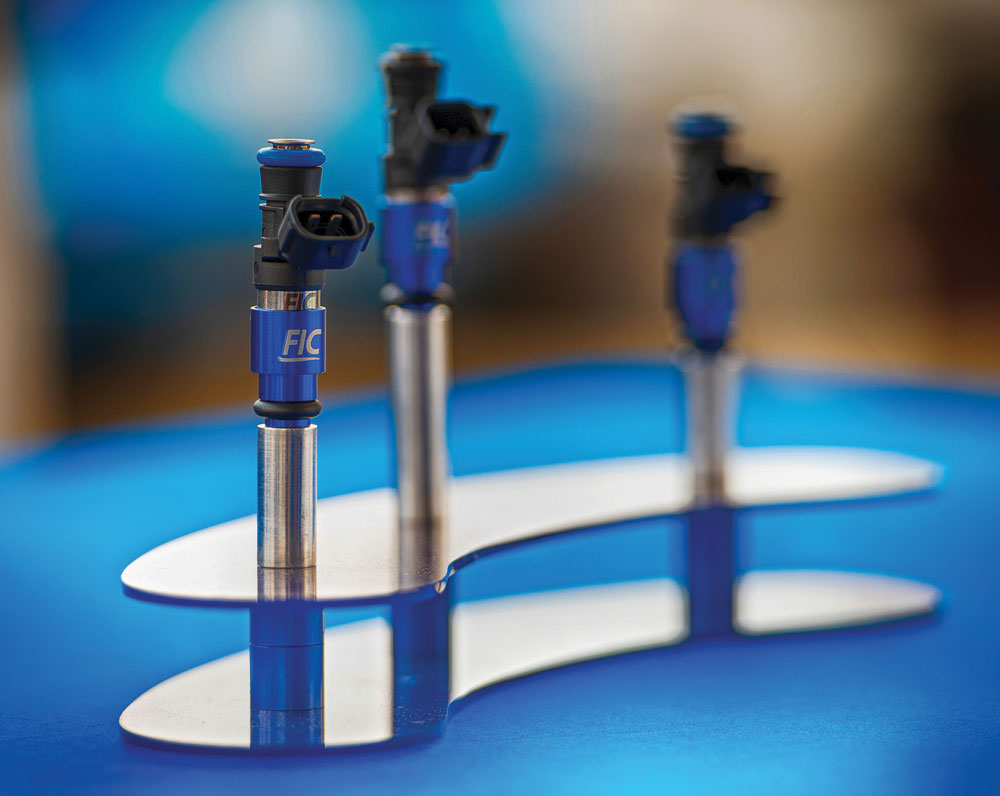 "Some of what we do is obviously proprietary," said Sievers. "We actually re-engineer them to get a specific flow rate. We use the Delphi injector because it has a very fast response time and holds up through the whole cycle. We use all stainless-steel internals, so there are no issues with E85.
"Believe it or not, it started in the marine world because marinas started selling E85," continued Sievers. "When they did that, it was a mess, because E85 is really harsh and busts everything loose. It cleans everything and then pushes debris through the fuel system and clogs everything up."
While E85 is generally used for street-strip applications, hardcore racers will use ethanol and need to be aware of similar issues if the injector isn't prepared properly.
"If ethanol sits around in those injectors, then we recommend that you run that car on a regular basis, or start it up every two, three weeks," said Earle. "Just make sure that it doesn't sit a couple of months. The nice thing about our setup is all of our injectors are serial numbered. So if one goes bad, we can pick one to match your set."
Larger injectors that are compatible with all fuels will likely be an industry priority in the future, as will injectors that receive blessings from the EPA and CARB. Another growing opportunity will be powersports.
"Right now, it's looking at what those customers are needing in terms of their power goals, trying to figure out the fitment issues in their applications and what sizes they need," said Earle. "Then we have to figure out what injectors they need and determine the data needs for the tuning process. It's kind of a whole new emerging market that's certainly out there for the taking."
The Crusade For Efficiency
Electronic fuel injection is a key reason why the thermal efficiency of the gasoline internal combustion engine (ICE) has improved over the past few decades, but there remains a large gap with other forms of vehicle propulsion. Conventional wisdom said ICE are about 20% thermal efficient. That is, for every gallon of gasoline, only 20% of potential energy becomes mechanical energy used to propel the vehicle. Much of the wasted energy is heat dissipation in addition to losses due to friction, drivetrain, etc.
Diesel engines are said to be in the 40%–50% range of thermal efficiency. Formula 1 engines are also in this range, but they boast advanced design, exotic materials, designer fuels, direct injection, electric turbochargers, and energy recovery systems. Still, ICE are slowly gaining efficiency as other technology is passed down, including fuel injector design.
"To improve the thermal efficiency of the system, I think that's more engineering in other areas of the engine," said Doug Flynn of Holley Performance Products, Bowling Green, Kentucky. "That being said, when you push the limits of everything that far, you need to make sure your fuel and ignition timing are spot-on accurate."
"We're playing with different angles on injectors and different spray patterns to see if we can get a cleaner shot into manifolds, versus straight down and then the manifold does the work," said Mike Wahl of FiTech, Riverside, California. "We're trying to help out the spray pattern and get it there faster. Jeremy, our engineer and co-owner, is constantly doing testing on fuel injector efficiency and sensory efficiency."
Still, conventional port fuel injection is improving, if only because advanced testing is revealing where to find and correct inconsistencies. "In the early days of EFI, hardly anyone was aware that there were all sorts of fuel-pressure fluctuations at the injectors," recalled Jim Kinsler of Kinsler Fuel Injection, Troy, Michigan.
When an injector is open, a small fixed-size orifice is uncovered, allowing fuel to pass through the nozzle. More fuel-line pressure will deliver more fuel flow, but there are pressure fluctuations as the injector operates.
"These fluctuations are extremely rapid and can only be measured using a super-fast piezoelectric pressure sensor, such as one made by Kistler," said Kinsler. "We once flowed an IndyCar engine that indicated 130 psi on a normal gauge and noticed a little vibration of the needle. Using the piezoelectric sensor, the actual pressure was bouncing between 100 and 160 psi, which is plus or minus 30 psi."
Based on this research, Kinsler helped the race teams he worked with reduce pressure fluctuations and equalize fuel delivery to the cylinders. "The fuel use was reduced, and more power was made," summed up Kinsler.
The future, however, will lead to DI. "With direct injection, there's 1,000 psi," noted Ron Sievers of AUS Injection, Tempe, Arizona. "It's a really good design for fuel efficiency because you're getting the fuel exactly where it needs to be, and it's atomized very well." —Mike Magda
SOURCES
AUS Injection
ausinjector.com
BLP Racing Products
blp.com
FiTech EFI
fitechefi.com
Fuel Injector Clinic
fuelinjectorclinic.com
Holley Performance Products
holley.com
Kinsler Fuel Injection
kinsler.com