Image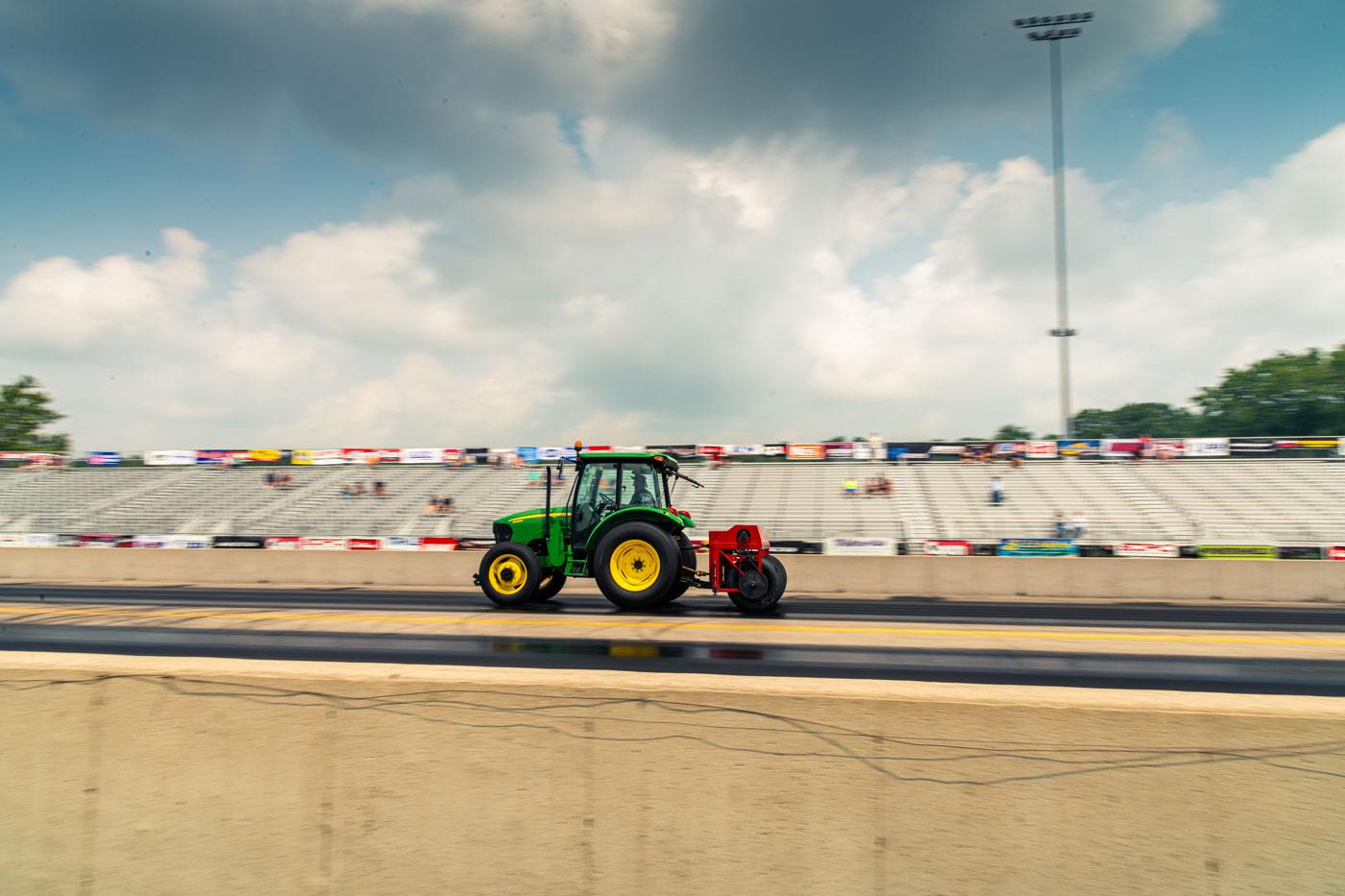 New race track surfacing technologies and a specialized approach to the needs of different motorsports disciplines is helping to topple established records, enhance the fan experience, and improve the bottom line for race organizers.
Whether you're going 11/10ths on a circuit or just headed to the grocery store, surface quality plays a role in just about every stint behind the wheel. Paved roads have existed in the United States for well over a century, and while it might be easy to assume that there's not much to them from a design standpoint, there's actually a stunning amount of application-specific science that plays into today's surface constructions.
To create track surfaces that provide motorsports-quality grip as well as the durability to handle the abuses of competition year after year, builders must take a range of factors into account. Everything from the types of cars that will use the surface and the annual climate in the region to the characteristics of the rocks that are sourced from their local quarries play a role in the process before a single foot of pavement is applied. As a result, the most esteemed race tracks use a surface that's truly bespoke to their needs.
Fast And Made To Last
Frederico Bastos of Phoenix Industries in Prescott Valley, Arizona, explained that while there's some obvious commonality between the desired traits of a typical roadway surface and a race track surface, an ideal version of the latter requires some unique attributes.
"You want the asphalt to be smooth and not tracking or segregating—those are things that we look for even when we're driving down our streets and highways," Bastos explained. "But in racing you have higher speeds involved, so any imperfections on the track surface will be exacerbated when you drive over them, especially if you're in a lighter car or on a motorcycle. And you want an asphalt that protects the surface from the natural stresses that can come up from the ground underneath it as well as the stresses that are being applied to the top of the track surface. On a typical public road, your biggest concern is usually weight caused by traffic loads. But on a track, you have a relatively small number of vehicles traveling on it at a given time, and they're very light. There, your bigger concern is more about lateral stresses—the sheer forces from high-grip tires that are exerting a lot of torque on that surface."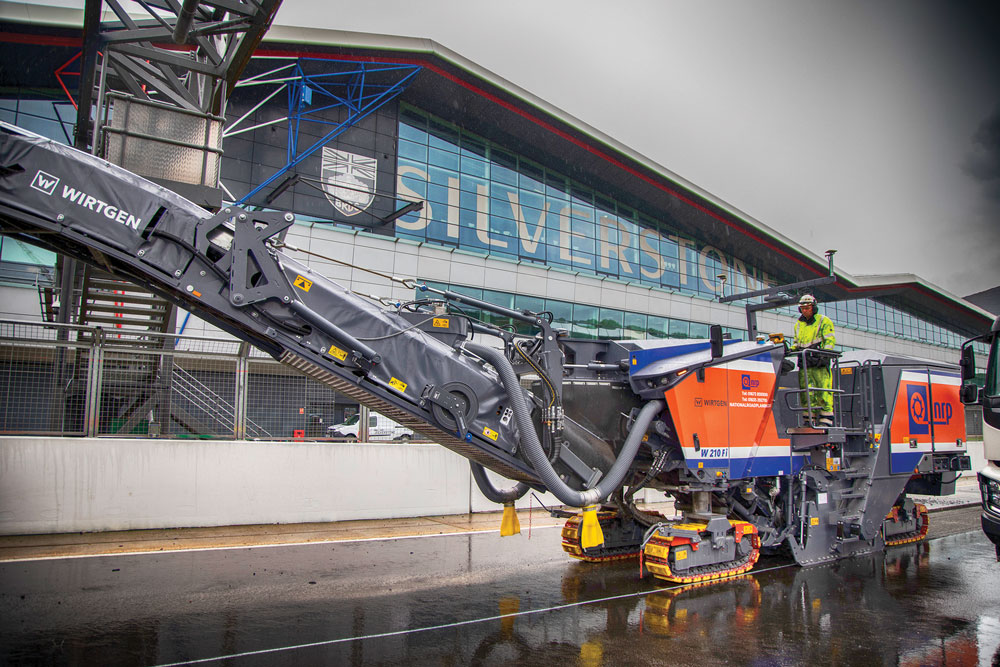 Cedric Burkhardt of Topcon Positioning Systems in Livermore, California, pointed out that the requirements of the racing series that use the track can also come into play in surface design. "For example, with a Formula 1 circuit, delivering the maximum amount of grip available from the car is a priority, so the surface you'll see on an FIA Grade 1 race circuit is often a little bit different than on tracks used by IndyCar, IMSA, or even NASCAR. For instance, at the Rolex 24, you'll see the back end of the cars will come out of line as they're exiting the Horseshoe, and that really just comes down to the grip available from that surface."
Those changes in grip can make the racing more exciting for the fans, but Burkhardt noted that durability also plays heavily into the design of a track surface. "If you're an F1 track, you might have the capital to repave your track every five years if need be, but that might not be something other types of tracks want to do," he said.
While the surfaces at most road courses and oval tracks have been designed to last significantly longer than that, a range of different factors can affect their longevity. "Since Daytona and Sebring are based in Florida, they're not dealing with the same climate conditions that a track like Road America up in Wisconsin has, where the winter months are more abusive to the surface. The friendlier the climate is, the longer the track surface will stay intact," Burkhardt added.
And as Bastos noted, the geographical location of a track plays a fundamental role in the surface design on several different levels. "The asphalt needs to exhibit the right adhesive properties to keep the aggregate—and other elements that make up the surface—glued together, and it also needs to have the proper flexibility," he explained. "Flexibility is what's going to allow the asphalt to withstand those stresses without cracking, which can allow water and other contaminants to get in and accelerate the deterioration of the asphalt. Getting the ideal amount of adhesion and flexibility comes down, in part, to the asphalt oil content in the mixture, and the type of rock that's being used is a significant factor in determining what that should be. You're getting rocks from a quarry that's probably within a 60-mile radius of the facility when you start a project, and those rocks are the heaviest component used in the process, so you don't want to truck that material in from very far away. So, the type of rock that's available locally ends up being an important factor in that mix design."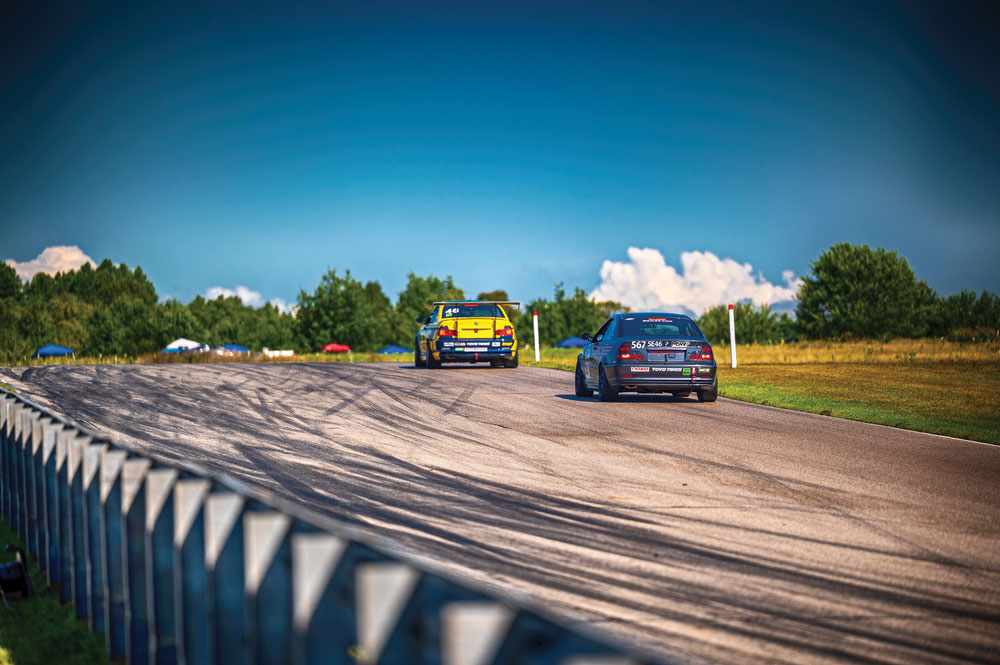 Track location plays into the mix design for other reasons as well. "At Atlanta Motor Speedway, the surface is designed to be porous—water drains through the track surface instead of going over the surface to drain," Burkhardt said. "That leaves little holes in the surface, which cause more abrasion on the tires, but those holes also allow water to be drained away from the racing surface quicker and more effectively than it would be without it. That potentially means shorter—and fewer—rain delays."
The modifier used in the asphalt mixture can also have a significant effect on the track surface. Phoenix Industries handled the repaving process of Buttonwillow Raceway Park (BRP) back in 2014, and the mixture that it used for that project included a rubber modifier in the asphalt. Bastos told us that this rubber modifier is particularly beneficial in race track applications. "It can give you the flexibility and adhesiveness that you want, and it undergoes a chemical reaction with the asphalt oil that helps to protect it from deteriorating," he said. "All factors being equal, this should roughly double the life expectancy of a track surface versus regular asphalt."
Bastos said that Buttonwillow was the first track in the country to use Phoenix Industries' rubber modifier in the resurfacing process of its track. The company will also construct the surface of a new, 2.5-mile road course that's being added to the facility this year.
BRP President Les Phillips said that the unique asphalt mixture not only enhanced the surface's longevity, it also improved on-track performance. "Every class immediately reported faster lap times. We have many SRF cars that race here, and they reported two-second improvements. That's typical of what we saw across the board."
Building For Straight-Line Speed
While the construction of any track surface is essentially purpose-built for the reasons mentioned above, drag strip track surface design is truly an animal all its own. "Asphalt's fine for half-track or farther down, but concrete is really the way to go for a drag strip launch surface," said Kurt Johnson of Total Venue Concepts, Petersburg, Indiana. "The surface needs to be as flat as possible, and it has to have enough texture in it to grip rubber."
Johnson said that while most drag strips are repaved every 15 to 20 years, regular maintenance is crucial to keep the track not only fast and consistent, but safe. "As the surface degrades over time, it loses the ability for rubber to stick to it, and any time you take away surface area on the tire, you're creating a safety issue. But we can go in every five to eight years or so and do a grind process that cuts the strip flat."
He said that some folks are concerned about the aggregate, but advances in the technology used in this process has progressed significantly in recent years. "The big grinder leaves the track looking like corduroy, and you've got to get that out, so we use large floor grinders to remove those ringlets," Johnson explained. "Companies used to use carbide tips to do that, and they weren't hard enough to cut most aggregate, so you'd end up with an adhesion problem once you showed the aggregate. But now we're using diamonds to finish the surface and put texture in it, and we can use one that's specific to the geographic location that allows us to cut that particular type of rock."
The concrete surface is only one piece of the drag strip puzzle. "The subgrade and subbase are just as important as what's on top," he continued. "Concrete and asphalt are porous, and we've got to be able to get the water away from the racing surface from underneath, or else it'll wick right through and rubber will never adhere to it." As a result, a properly designed drag strip will be raised up higher than the surrounding area, and the surface mixture will employ the use of aggregates in the subbase that allow for water to flow away from the racing surface without compromising the high compaction needed in order to prevent the drag strip from physically shifting around.
As with road course and circle track surfaces, fluctuations in temperature cause the drag strip surface to expand and contract. Since more than one type of surface material is often involved in the construction of a drag strip, Johnson said it's crucial to design the track with that in mind. "Expansion joints are very important, and we typically don't see enough of them put into race tracks. If you don't have a big expansion joint wherever the concrete meets with the asphalt, you're going to get a bump in the surface because the asphalt expands at a much higher rate."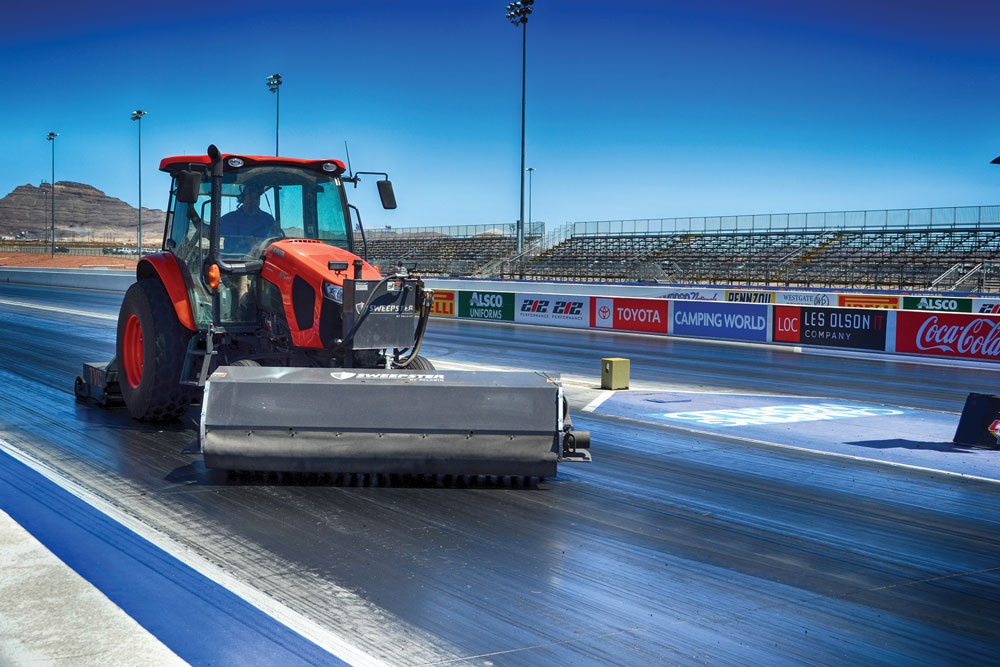 Since consistency plays such a key role in competitive drag racing, the mechanical grip offered by a drag strip surface is also an important factor in its overall quality. That's where top-layer treatments and traction compounds start to come into play. "Powdered resin can help with adhesion to the substrate before the traction compound glue is applied," said Brian Parish of Rocket Track Products, Ostrander, Ohio. "And that can improve the glue's longevity. But regular maintenance is always required to keep the track in good working order. While you want some amount of rubber on the track, too much of it will cause the surface to get soft, and the glue will get gummy as a result."
He added that, even on a well-maintained track surface, the type of traction compound used and how it's applied can have a significant effect on the quality of the racing. "Some tracks might want something that's just ready to use straight out of the drum, while others want a concentrated solution so that they can adjust the mixture on their end—they know the track really well, and they know how it's going to react to changes in the mixture. They might want to make adjustments based on the weather that day or the event that's running, and that allows them to get the best surface that they can," explained Parish.
Return On Investment
Paving a track is a costly endeavor regardless of the approach, and that can lead to deferred maintenance or just generally shoddy track conditions. But beyond addressing potential safety concerns, a good track surface ensures that teams can perform at their best.
"In downforce cars and other cars that rely on a floor to produce grip, the lower we can run the car, the more efficiently it will work," said Indy NXT series driver James Roe. "A smooth track allows the car to really come alive because we can run it a lot lower than we can at a track that's in rough condition, and it also creates less mechanical wear and tear on components like springs and dampers. Everyone loves a repaved race track; we've got several tracks on the race calendar this year that have recently been repaved, or are currently in the process of being repaved, and they're the talk of the town because we know that new lap records are coming."
And that can make a track more attractive to racers who are looking to make history as well as those who are eager to witness it.
"It brings the performance of your race track to the cutting edge of the existing envelope," said Johnson. "That allows racers to run those record numbers, and that's what the fans want to see."
SOURCES
Phoenix Industries
phoenixindustries.com
Rocket Track Products
rockettrackproducts.com
James Roe
jamesroejr.com
Topcon Positioning Systems
topconpositioning.com
Total Venue Concepts
totalvenueconcepts.com