Business Profile: Bernheisel Race Cars
Image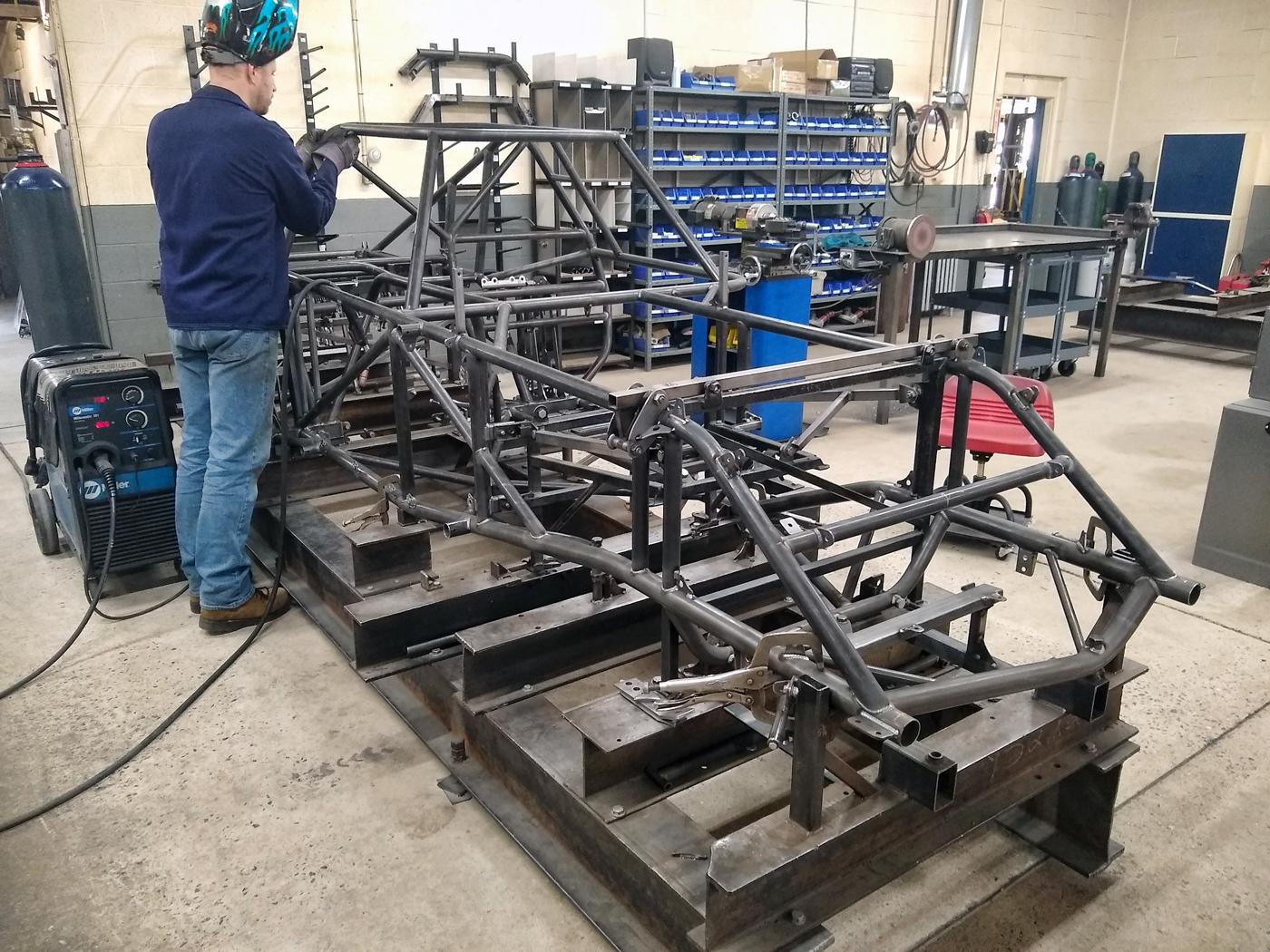 Quality products, outstanding customer service, and multi-tiered promotion have all contributed to this diversified shop's success in the dirt late model market.
Diversify and specialize: Where some people would see opposing concepts, Jim Bernheisel sees a formula for success, an operating philosophy that has grown the parts franchise he opened in 1981 into today's Bernheisel Race Cars, Inc., an industrial complex encompassing Bernheisel Race Components, Lazer Chassis, Focus Shock Technologies, and the newly expanded Precision Powder Coating—totaling 25,000 square feet on a three-acre campus in Jonestown, Pennsylvania.
Lazer builds both dirt late models and modifieds, but of the two, "dirt late models are our main focus, by a landslide," said Bernheisel, representing "probably 90% of our chassis-building and fabrication, and 70% of our parts sales. We build 30 cars a year, which is bigger than a lot of people, and not as large as the mass producers. But I like knowing my customers, almost all of them on a first-name basis. Most of my customers have my cell phone number, and I answer every one of their emails."
Bernheisel explained the synergy of his multiple operations: "The racing business has become very specialized. You have to know your field of expertise, your type of race car. Having those various companies under our umbrella allows us to diversify, without stepping away from what we're good at doing. We build chassis. We also powder-coat them and powder-coat the parts that go on them. Our shock division builds the shocks that go on them. Through our parts division, we source what we believe to be the best parts for the job. So all our operations tie together, they all build sales for each other, and they allow us to tightly control how things are done. That suits us."
What doesn't suit Bernheisel doesn't stand for long. He attributes at least part of his success to being "a little bit hard-headed. When things get tough, I just lower my head and run it into that brick wall one more time."
That is, in fact, how Bernheisel started the company. He built his first race car in 1978, in Lebanon, Pennsylvania, using a CSC cage kit on a 1969 Chevelle frame. "I went to one of the most famous speed shops in the country, which will remain nameless, because I am not going to badmouth them. I wanted to buy some parts that I had seen in a magazine ad. They told me those parts were junk, that nobody wanted them. And I said, 'Well, I want them, and there have to be other people who want them.' So I went to a bank and borrowed enough money to buy a dealership. I sold zillions of those parts—and I was in the race car business.
"Then, about seven years later, I quit my regular job and said, 'Well, we're either going to do this or we're not,'" he added.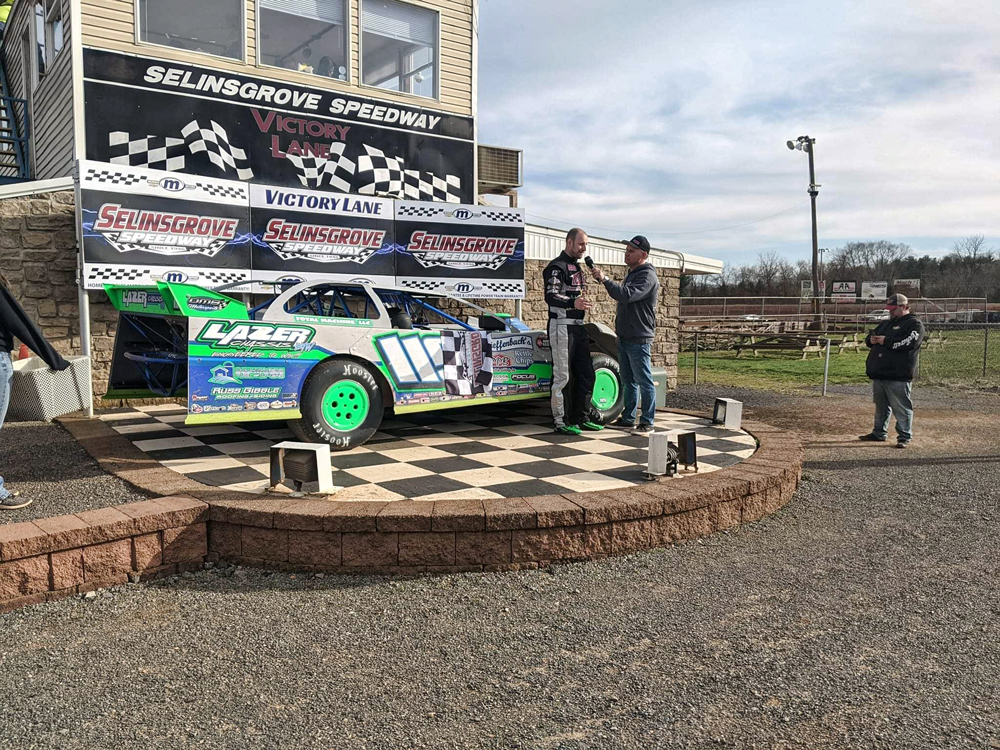 Growing Family, Growing Business
Later still, Bernheisel's sons Brandon, born in 1983, and Bryan, born in 1985, joined the business. Bernheisel calls Brandon "the heir to the throne" and expects that one day he will head up the Bernheisel complex. "Just like me, he's been crazy about racing since he was a little kid. He's taking on more and more management responsibility," while also designing new suspension components for production. As crew chief for Bernheisel Racing, Brandon sets up and maintains the family race cars.
Bryan, "who had to learn to like racing," is now the team driver, when he isn't running the fabrication shop. "I know everybody is proud of their kids," said Bernheisel, "but Bryan is absolutely one of the most talented fabricators in the country and has a reputation as such.
"And I would be remiss if I did not mention Donna, my wife of 40 years, who has been a huge source of support and encouragement."
Including Brandon and Bryan, Bernheisel employs 12 people. "I have a good group," he said. "We like this to be a nice work environment. It has those pressure-packed moments, as any job does. But for the most part we think it's a nice place to work. I treat my people well, I try to pay them well, and to make it worth their while to stay here for a long time."
Finding those employees hasn't always been easy. "It's a challenge for any industry," said Bernheisel, "especially this industry, because the skill sets are so specialized." Any automotive experience is a plus. "For example, when we are looking for someone to work in the body shop, or even the powder-coat shop, we look for someone with an auto-body background. They tend to be able to do what we need them to do. And we teach them from there." Similarly, "in parts and shipping, we look for someone who has an understanding of what's going on in that world." But always, "we look for people with good attitudes, who are going to fit in," and who show "an enthusiasm for racing. One young man in our shipping department came to us fresh out of school, but he loved racing and was anxious to learn."
Cultivating Customers
Bernheisel battered down another brick wall when popular opinion announced the death of brick-and-mortar stores. "They kept saying, 'The world has changed. Everybody buys online. Stores don't stock anything anymore.' Well, we think that's incorrect," he explained. Online sales have their place, "but the racing business is still very specialized. People want to touch the product. They want to feel it. They want someone who can give them good advice when they are looking for the parts they need. So we house about $1 million in product in our store at all times, and we represent it well in our 5,000-square-foot showroom. We know what we are talking about. And we bend over backward to help a customer through a problem.
"We're not trying to sell someone something they don't want," Bernheisel emphasized. "We are helping customers get the right product for the best value. Not every business appreciates that, but in the long run it's the business philosophy that the customer appreciates."
Similarly, Bernheisel's approach to promotion is "multi-tiered," encompassing both traditional and digital platforms. "We still do a fair amount of print advertising, and we still print a traditional catalog, which we hand out at shows. I've been going to trade shows since I started this business, and I still enjoy them, which is one of the reasons we've shown at PRI for many years. We try to keep our name in front of people wherever it's appropriate." That includes mall shows, and even speaking at school events. But because he categorizes himself as "old school," Bernheisel leaves social media to Brandon and Bryan, "whether it's Facebook or banner ads on various platforms.
"We go to the races, which is another way to put our name out there," he continued. Bernheisel Racing fields two cars, driven by Jim and Bryan. "We have a two-seater that we can give rides in as well."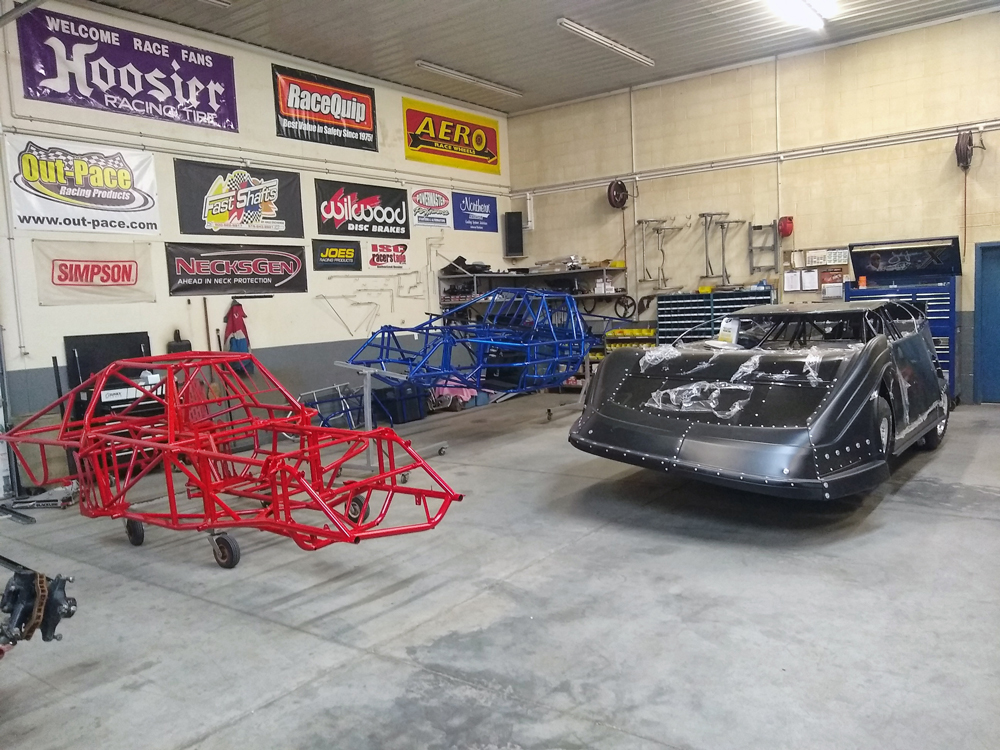 Even at the track, Bernheisel encounters another dichotomous, head-to-the-bricks situation. Ranging over eastern Pennsylvania, with forays into Maryland, New Jersey, the Virginias, and as far south as Charlotte, Bernheisel Racing runs against its own customers. "It's a Catch-22," Bernheisel lamented. "If our cars run good, people say, 'You're not going to give me the good information, because you're running against me,' which is ludicrous, because I'm in the racing business. We are the only manufacturer in the late-model industry to publish our set-ups online, for anybody to see.
"And then if my cars don't run good, the same people say, 'Why should I buy anything from him, when he can't even beat me.'" Still others seem to doubt that one manufacturer can deliver build quality, customer service, and winning speed. "They must think, 'Okay, what's the catch?' But it's all part of the business, and we've learned to manage it the best we can."
Bernheisel doesn't bring a parts truck to the track. "The first year I was in business I tried it, and I realized that trying to do that and race is virtually impossible," he explained. Instead, he makes sure that other companies' parts trucks are well-stocked with Bernheisel components. "And we're available at the track to answer our customers' questions. If they need help, we will help them. Plus, we bring more than enough parts to repair our own cars. Our customers know that if they need something and we have it with us, it is available to them, also."
Bernheisel knows he has customers who rely on his team for spares at the track. "So when we came out with a new car this year, we called them to let them know that some of the parts on the new car would no longer work for them."
Track Champions
"It's not only the equipment, but the knowledge that sets them apart," commented Chad Homan, who has driven Lazer dirt late models to six track championships, in six years, at four different venues—his latest at New York's Fulton Speedway in 2021. "They've been so good to me, not only telling me what they know works, but what they are experimenting with, and giving me the chance to try it."
By 2016, Homan had raced for a quarter century, advancing from micro-sprints to pro stocks to big block modifieds.  But he "was getting frustrated, going broke, and ready to try something different," when he spotted a brand-new Lazer dirt late model up for auction at what was then the National Parts Peddler (now the Northeast Racing Products) Trade Show in Syracuse. "I talked with Jim Bernheisel at the show, and I ended up buying the auction car.
"And my first night out, I ended up getting lapped," continued Homan. "The car just wasn't where I wanted it. So I called Jim and told him what was going on. And he said, 'Do this, do this.' He suggested three or four changes. And I went out the next week and won."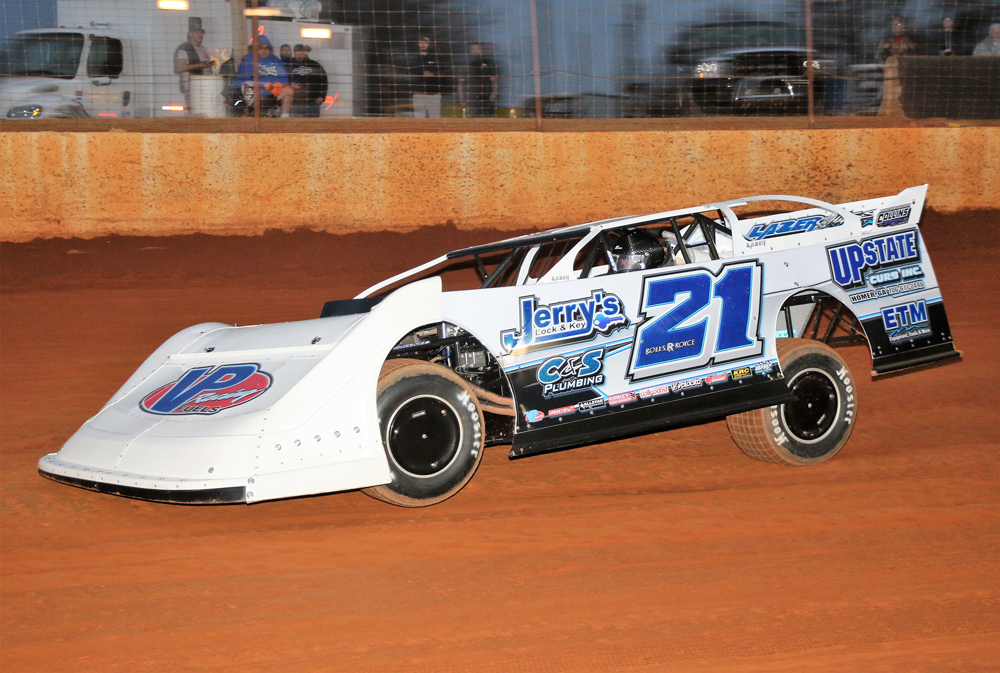 In fact, Homan won "a bunch of races" over the next two years. "Then we went to the Steel City Stampede at Lernerville, and just got absolutely smoked." This time he spoke to Brandon Bernheisel. "Regionally, we're good," Homan added. "But we're not up to the RUSH tour level yet. And Brandon said, 'We didn't want to mess with your program because you've been winning so much—but we've been waiting for you to say this.' They had a whole new shock package for me, ready to go. They completely changed out what I was doing. They updated my car with what they had learned in the prior two years. And we won eight or nine races that year at Outlaw Speedway in Dundee."
Bernheisel has also helped Homan set up for different track surfaces, as he "bounces around" from Fulton to Genesee to Woodhull; to Skyline in Ohio and across the Canadian border to Humberstone. Beginning last year Homan has campaigned two cars—his third and fourth Lazer chassis—continuing to run a RUSH 604 crate motor in one, while exploring the Super Late Model division with the other. "In 10 years running big block modifieds," Homan concluded, "I won three races. But in six years with Lazer I've won 175. They have completely turned my career around."
Seven hours south of Fulton, Scott Sweeney Jr. clinched the 2021 track championship at Virginia's Winchester Speedway, driving a 10-year-old Lazer dirt late model. "I really liked that car a lot," Sweeney reported. "I wouldn't say the car I had before it was a bad car, but the Lazer handled a lot better. It didn't need as much input from the driver to initiate a turn. I was so impressed with how it entered the corner, and how stable it was. I was able to hang in the top five, or even in the top three, every night, against a lot of new cars. The way the Lazer performed was just awesome."
Sweeney bought the 2012 Lazer in 2019 from his father, himself a racer for 38 years. Scott Sweeney Sr. "was so impressed with how [the Lazer] drove that he went out and bought a brand-new one."
We spoke with the younger Sweeney in mid-April, the day after his first night in his own brand-new 2022 Lazer. "I was super happy with how that car come out of the box and ran like my old one, only better. I started ninth and was up to fifth" when his thermostat sprang a leak. "It's a really high-quality car," he added. "The welders and the chassis builders at Bernheisel are awesome."
Sweeney was impressed with the buying experience as well. "When you go up there and look at a chassis, you get a one-on-one experience. Jim will talk to you about anything you want to know. Whenever I've called since, he's been the same way. I bought my new car as a bare chassis and had to assemble it on my own. I asked a lot of questions, and he didn't have any problem helping me through it. I had an issue trying to figure out some of the bracketry on the rearend, and Jim said, 'Here's my personal number; shoot me some pictures or a video, and we'll get you squared away.' A lot of places won't do that for you.
"While other cars are more expensive, I really don't think you can buy anything better," Sweeney added. "Hopefully, 10 years from now I might still be winning track championships with it."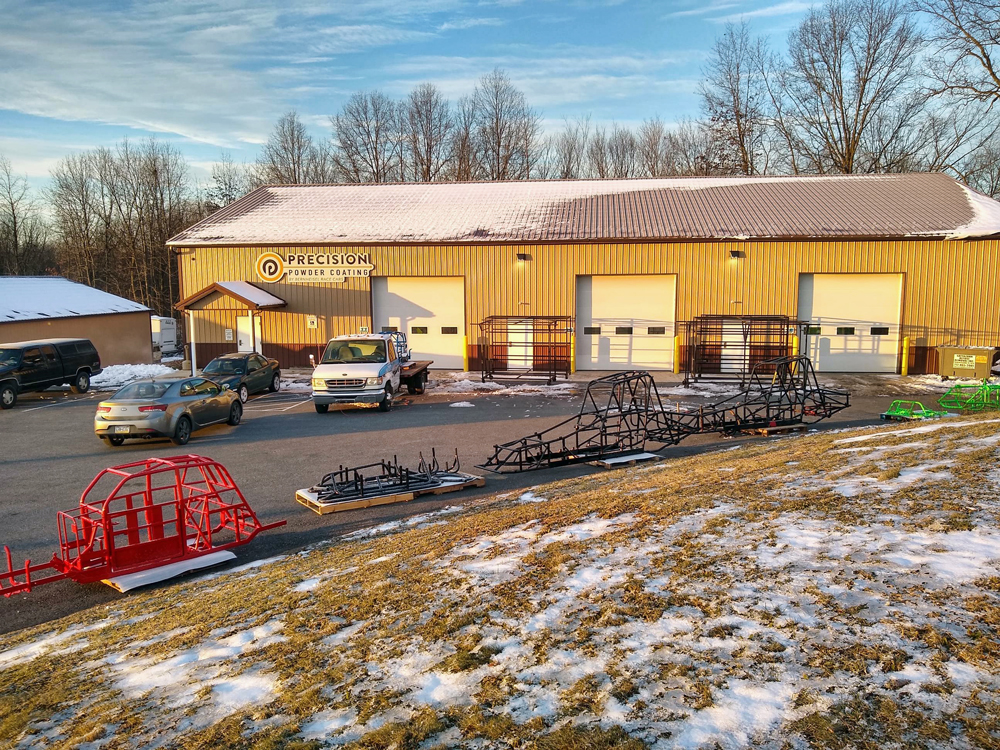 Building Better, Buying Smarter
For all of Bernheisel's diversification, the company can't manufacture every component that goes into its cars. So we wondered how Bernheisel decides what to build onsite and what to buy from outside. "It's a matter of knowing your strengths," he explained, and making the things you're good at making. Even then, there are exceptions. "We are really good at fabricating steel parts, and if it's a part for one of our cars, we know how many we are going to need. But there are pieces we are capable of making, but if we can't sell enough volume, then we purchase them from someone else."
How Bernheisel chooses his suppliers "has morphed over the years. When I started this business, manufacturers gave retailers protected territories. That allowed us to grow without getting trounced by bigger competitors. Now it's all about buying power, and how much money you want to spend. We're strong enough now that that doesn't matter to us. So when we choose a supplier, it's based on a number of factors." Reputation is a big one, with multiple facets. "Are they someone we are going to like dealing with? Are they someone we want to be associated with? And is their reputation going to create demand for their products? We do business with some suppliers simply because customers have called us and requested their products. We do a ton of business with another company because my son went to pick out something for himself at the PRI Show, and we both liked it so much we became one of their biggest distributors. Or a company may simply have a product that meets a need we haven't met."
In every case, however, Bernheisel looks for a fair price and a reliable supply. "We're not concerned with being the cheapest, but the price has to be reasonable and palatable," he explained. "Then we have to be able to actually get the product, because the best products that you can't get do you no good."
The Unconventional Path
Unlike his sons, Jim Bernheisel was not born into a racing family. But he has "been in love with racing as long as I can remember. I was the first person in my family to own a business or have a race car, and I've been very fortunate. I didn't know what I didn't know, which was probably a blessing from the Lord, because if I did know, I probably wouldn't have done this. But I learned the hard way. Sometimes it was from being a little hard-headed, rather than taking the conventional path. Sometimes that would have been easier and smarter. But other times we found different ways to do things, just by exploring things on our own."
Bernheisel said he had to learn about "buying and selling, dealing with banks, dealing with lawyers and insurance. There's nuance to all of that, and I didn't have anybody to teach me. So I tried to align myself with people who were honest and forthright, and I soaked in everything I could learn from them."
Cash flow often presented a challenge, and sometimes Bernheisel took risks to grow the company. "I'm a pretty nice guy with a good reputation," he stated, "but if I want to pick up a new line, they still want me to pay for those parts.
"Another challenge has been learning how to lose customers. I used to get my feelings hurt and get kind of bitter about it, and I literally prayed to God to be better at it. Now, I still don't like losing customers, and I wish everybody bought their race cars from me. But life's not like that, and if you buy a race car somewhere else, that's not going to affect my relationship with you. If you treated me fairly and honestly, I'm okay with whatever you do.
"I live in a very unique situation, in that I work with my sons every day; then I go racing with them on weekends; and then I go to church with them, and, remarkably, we get along pretty well. I am very blessed."