Image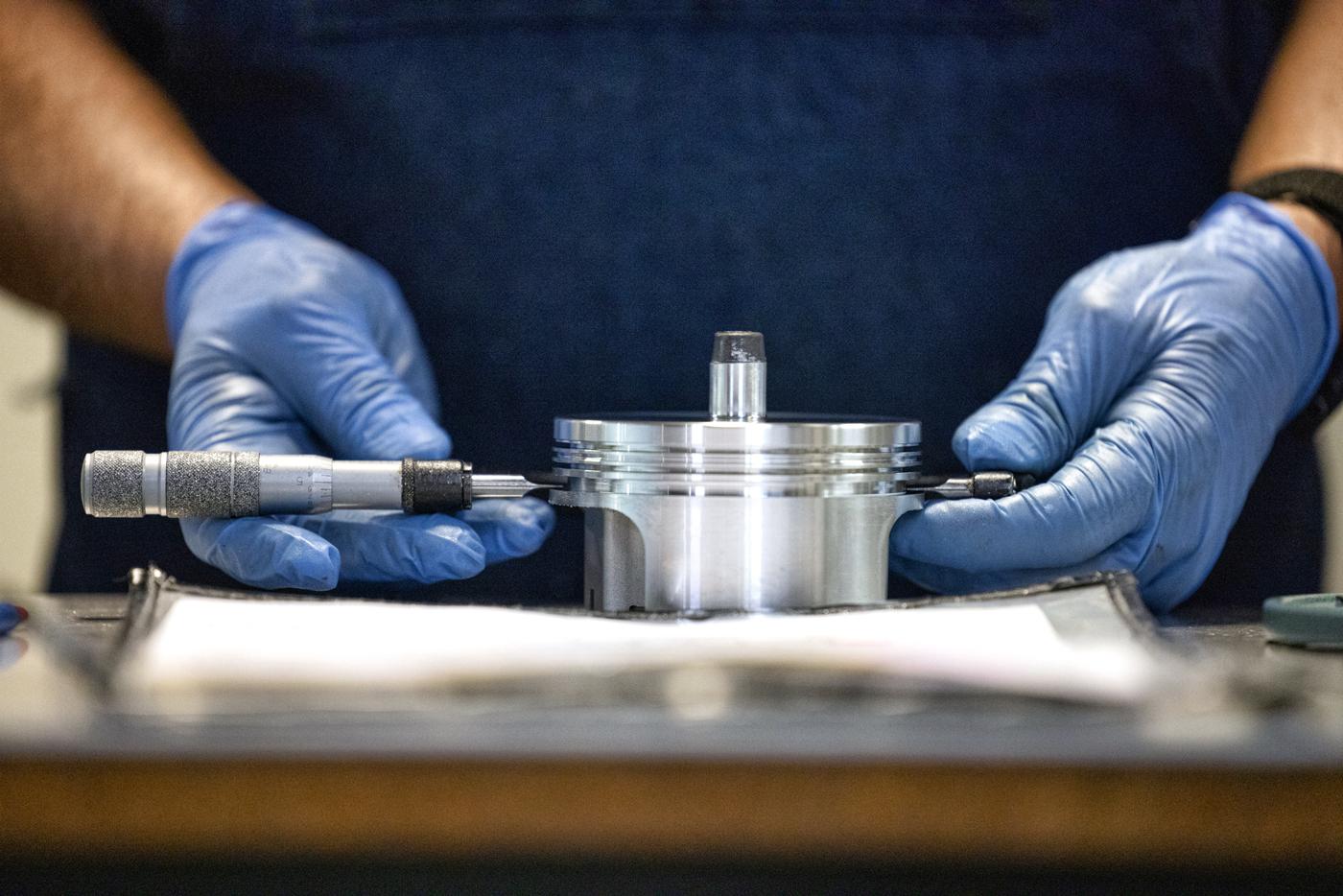 Custom pistons are in heavy demand as engine builders test the limits of their motors. One manufacturer alone has engineered more than 600 different models in the past year.
With few rules to respect, grudge racers will test critical limits when building an engine. As a result, they send in numerous parts for failure analysis.
Chris Madsen of Ross Racing Pistons in El Segundo, California, recalled one such powerplant: "It was a long-stroke, large-displacement small block with a lot of nitrous. It was a typical, all-they-could-stuff-in-there to make it as big as possible. But they just could not keep pistons in the engine for more than a couple runs."
The team also complained of inconsistent vacuum readings in the oil pan before sending a sample piston, which was built by a competitor, to Madsen. He recognized the issue with a cursory inspection but double-checked the profile dimensions on a CMM (coordinate measuring machine) to verify.
"We could tell by the wear pattern on the skirt," said Madsen. "Where it changes direction at bottom-dead-center (BDC), it rocked really hard and left a witness mark. We had a pretty good idea of how far the skirt was hanging below the sleeve at BDC, and it would rock so violently that it would collapse the skirt."
Ross engineers applied a different profile to the piston, essentially moving the gage point higher to help maintain cylinder seal at BDC.
"But there is a point of no return where you can't do anything," added Madsen. "We've seen it before. You're never going to get away from some problems unless you change your combination."
Engine builders often go to piston manufacturers to help solve problems, even when the piston isn't the complication. Pistons happen to bear the scars of poor tuning, improper valvetrain setup, or excessive boost. Whenever a struggling engine is disassembled, there can be a pause for reflection and consolation with a piston tech. And when a new engine with high hopes is coming together, engine builders will bypass the off-the-shelf units in favor of a custom piston to gain an advantage.
"Yes, we have a custom piston program," explained Joe Maylish of MAHLE Motorsport, Fletcher, North Carolina. "Last year, we made nearly 600 different designs. Our engineers deal with that every single day. One thing we're able to do more with engine builders is 3D printing. We can take their concept, make a 3D-printed plastic piston, and send it to them for mock up. While 3D printing has been around for a while, we've been doing it more often because the designs have become more exotic."
Pursuit of Power
Still, the driving force for custom pistons is the pursuit of more horsepower.
"We are seeing even more extreme engine applications where engine builders and end users alike are pushing power and rpm levels far beyond what we have seen in the past," said Nick Diaz of CP-Carrillo, Irvine, California. "Some of this can be seen in compound turbo/supercharging and higher use of E85 to E100 fuels. Also, thinner piston rings for lower drag and better sealing are finding their way into various applications, and piston coatings are becoming more commonplace to help longevity in endurance applications."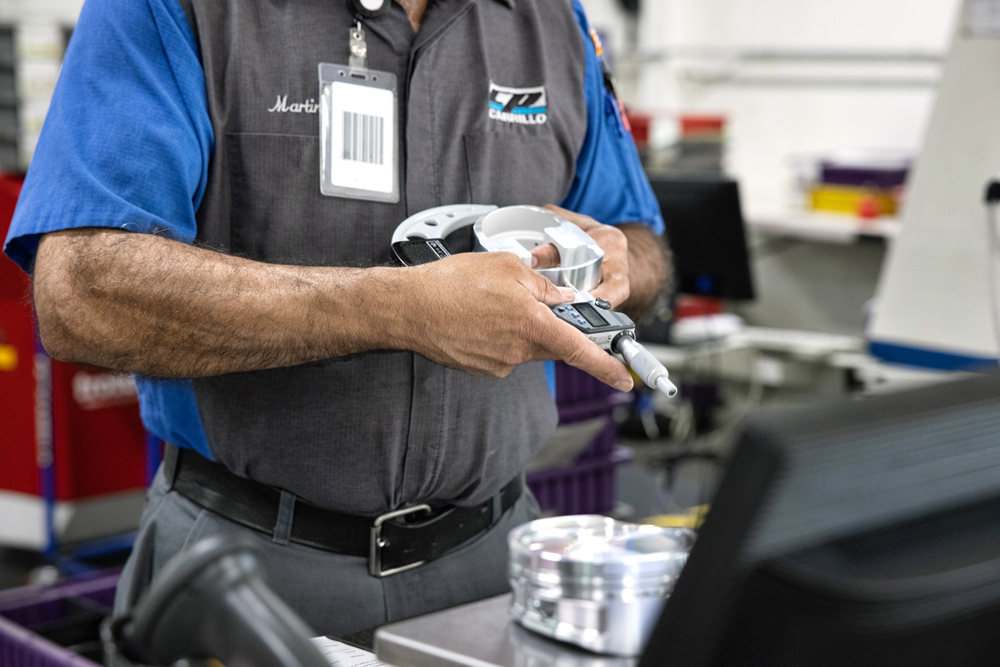 Over at Diamond Pistons in Clinton Township, Michigan, custom pistons are the company's core business. "With many racing applications, engine builders are constantly reviewing and making changes to better the performance of their engines," said Mike Panetta. "More common than not, pistons are subject to changes and improvements with every rebuild. We work with the builders on areas of improvement, with the intent to produce a better performing piston, improving ring seal and horsepower."
One market that has caught the eye of many piston manufacturers is the European supercar. "We are currently working on new product lines to expand our offerings for European engine platforms, along with other sport-compact offerings across multiple engine platforms," added Panetta. 
Diamond Pistons has launched new pistons for the Audi/Lamborghini 5.2-liter FSI platform, while JE Pistons in Cypress, California, has introduced pistons for Lamborghini, Audi, and Ferrari.
"I think that's a huge, growing market," said Nick DiBlasi of JE Pistons, noting that the popularity of track days, standing-mile competitions and roll racing is bringing new entrants into the performance arena. He also said there are unique challenges to developing product for some of the import engines. "They're really weight-sensitive relative to, say, an LS engine. Also, there are huge variants to an LS bore, from LS1 out to an LSX. But with some of the European stuff, it's basically one aluminum block that's Nikasil coated. So, you don't have a lot of wiggle room. 
"Also, these pistons have direct-injection bowls," added DiBlasi. "It's extremely important to get those angles correct because the combustion event happens above the piston, and it has to be there for emissions and power. Otherwise, if you blow past that, you're going to wash the cylinder walls and have catastrophic ring failure."
The domestic market is certainly not forgotten as piston manufacturers keep up with increasing demand. 
"We're getting further into the LT and late-model Hemi market," said Alex Gonzales of RaceTec Pistons, Huntington Beach, California. "We're making them for all-out race motors. It's a high-boost, high-compression product. It's just a matter of designing it and getting it on the shop floor into the machines. It's nothing that difficult. It's just new."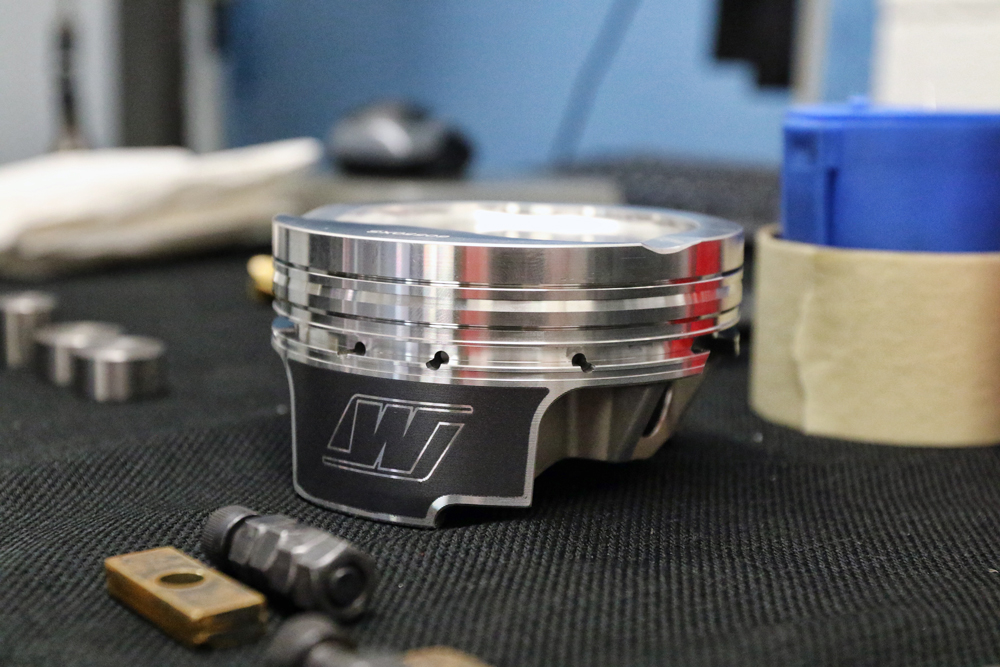 Following the unexpected demand for racing products during the pandemic, there is still a hangover for on-time production. Supplier difficulties in acquiring raw materials and labor issues have combined to increase pressure on piston companies to deliver.
"We've had multiple people come to us asking for quicker turnaround times. We're just trying to please the masses now," admitted Gonzales, adding that developing new shelf products is taking a back seat to custom orders. "We're constantly making new stuff. Somebody will have a cylinder head and say nobody has a piston for it. We'll make it. It's just a matter of getting in line and getting it done. We don't develop stuff for shelf without needing to. We're not going to invest time and engineering and development for something that we're not going to sell that very moment. We'd rather focus on a sale that's waiting."
One ongoing effort at RaceTec is building a customer base that orders multiple sets of pistons. "We have the ability to mass produce," said Gonzales. "We have a guy up in the Washington area who builds a lot of LS-type crate engines. He'll call and say he has X amount of blocks at this bore size, X amount of this crankshaft stroke, and X amount of this connecting-rod length. Now make me pistons for this much compression using this head."
While different types of LS builds are seemingly endless in the performance market, Matt Polena of Wiseco Performance Products in Mentor, Ohio, is seeing more interest in engines with a 3.900-inch stroke crankshaft. "Between internal experience and input from leading racing and engine building partners, Wiseco's line of LS 3.900-inch-stroke pistons was designed specifically for that rod angle, optimizing both performance and durability," said Polena. "The skirt shape was specifically designed to reduce piston rock with 3.900-stroker rod angle, allowing the rings to maintain better ring seal."
Wiseco also introduced pistons for Ford's Gen II 3.5-liter EcoBoost and the 7.3-liter Godzilla V8. "The Godzilla engine has a stout foundation, giving builders a lot of room to make a lot of power. Wiseco's forged pistons are designed with this in mind. Features include 2618 material, proprietary ArmorGlide skirt coating and H13 wrist pin," said Polena. "The EcoBoost pistons have lateral gas ports for improved ring seal."
Budget-Friendly Options
While high-end, big-horsepower engines draw many of the headlines, there's still a huge market in sportsman categories where engine builders are seeking performance on a budget.
"We cater to the grassroots racers, and most of it is pretty basic," said Kirk Peters of Howards Cams, Oshkosh, Wisconsin. "We use a 2618 material. The edges are already radiused, as opposed to when I was younger and had to take pistons to the belt sander to break all the edges, so you don't get hot spots."
The Chevy four-valve, four-cylinder engine is a favorite with entry-level hobby stock and sport mod-type racers at local circle tracks, so Howards has developed a piston that falls within a typical rules package.
"They're allowed to have four valve reliefs on a flat top, no domes," said Peters, adding that racers required to use the Chevy Vortec cylinder head are also active customers. "They have to run a two-barrel carb, and there are valve lift and vacuum rules. We have to make everything match up to those rules."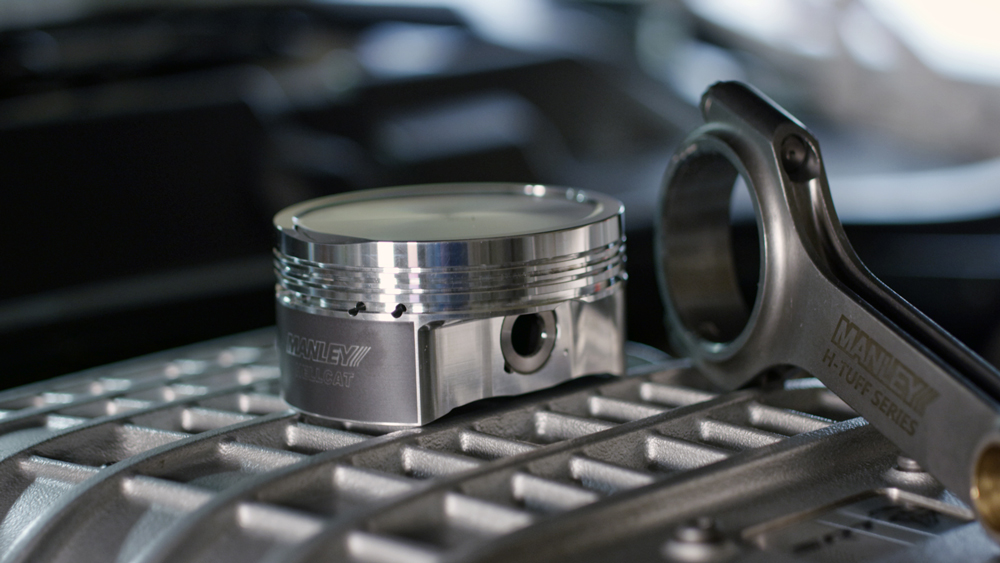 More sanctioning bodies are requiring spec pistons along with other restrictions in an effort to reduce engine costs.
"We sat down with Mazda, which wanted a spec piston for one of its series," recalled MAHLE Motorsport's Maylish. "Now, Mazda bought the pistons and supplied them themselves. Then, last year we made an LS3 piston for Trans-Am TA2 racing. If they request it, we can laser-etch a logo, like we did with WISSOTA."
When developing a spec piston, the objective is to equalize the compression ratio, use a material specified by the organization and develop an appropriate ring package that is durable and readily available. Another noteworthy line from MAHLE is the PowerPak set, which takes a popular racing design and makes it always available.
"The concept is to have a shelf-stock piston that is a high quality and that engine builders will find is consistent and available," said Maylish. "As an engine builder, you certainly don't want pistons that are all over the chart as far as gram weight. It's definitely been more difficult with the onset of the pandemic, but having parts available is something that we continue to strive for."
Another manufacturer with strong ties to the sportsman classes is Manley Performance Products in Lakewood, New Jersey. Boasting a very large catalog of pistons, Manley is stepping up development of product for domestic late-model engines, such as the 6.2-liter Hellcat Hemi. There's also a separate catalog for sport-compact applications. 
The extensive Manley offerings place the company in a strong position to serve sportsman racers in addition to select custom work. "We're really good at doing shelf stock and custom private label programs. One of our strengths is we'll work with specific customers, create some platforms and custom work for them," explained Trip Manley. "In our small block Chevy offerings, we've got two-barrel and four-barrel pistons for dirt tracks, we've got some big block pistons, but we don't have a Brodix SR20 piston. We don't have pistons for the massive amount of different cylinder heads that are out there for big blocks. That's not our wheelhouse."
What's in the Manley wheelhouse is a 2618 piston with a competitive skirt design for many of the sportsman applications.
"I like to say that we're really good at developing pistons that may not be the lightest, but they provide a great combination of features," added Manley. "We don't go after the crazy lightest piston. We're really all about making power and having durability."
Newer Materials
The topic of lighter weight pistons revolves around both design and new materials, the latter having manufacturers working with suppliers to evaluate new alloys. The choice between 2618 and 4032 aluminum has served the racing market well in both performance and price point. However, as other industries, such as aerospace, develop new alloys that are lighter and stronger, racers will be attracted to them.
"We have been testing a lot of new materials," said DiBlasi. "I can't specify the alloy, but the name of the game is: How do we get a product that has the durability of 2618, but has the wearability of 4032?"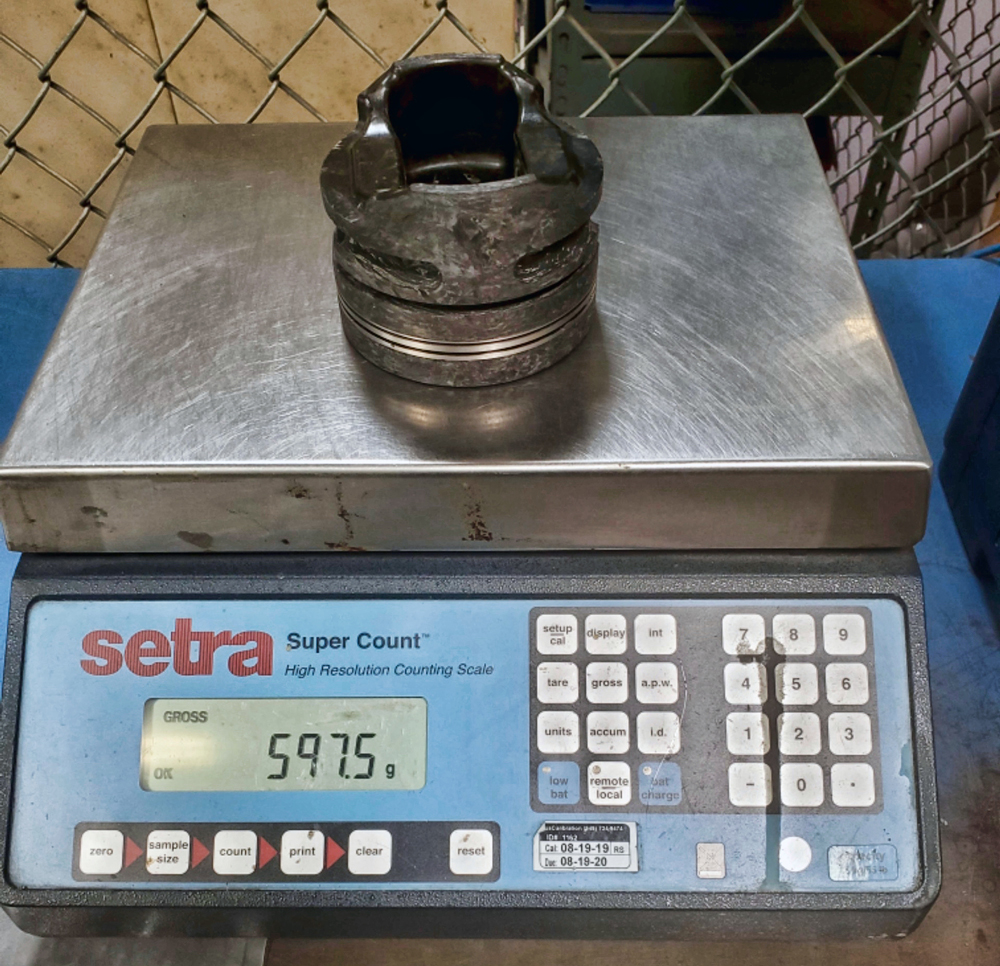 JE is working with a college that is using a federal grant to test alloys with Materion, an engineering firm with considerable experience in advanced materials.
"Some of them are good, but some of them are just out of the price point of most companies altogether," noted DiBlasi. "We're talking 25 times the cost for the material. But it has the properties we're looking for. At some point, though, you can change the pistons five times and it's still cheaper."
On the exotic side, pistons are made from metal matrix composites (MMC), but most sanctioning bodies have banned that material. Another composite that is undergoing testing in the hopes of being approved by racing organizations is offered by AWA Composites in Rolling Hills Estates, California. This "forged" composite material was first seen as a connecting rod a few years ago at the PRI Trade Show. Last December the company showed off a composite piston that featured titanium ring grooves. AWA is currently testing the piston and rod with a leading Top Fuel team in addition to building a KB500 engine for dyno testing. Even though such a piston would be quite expensive up front, Bryan Gill of AWA believes it will withstand an entire season of racing.
"We're in probably the last stage of testing. We've run them on alcohol and a small percentage of nitro," said Gill. "The next test will be to run on a full complement of 85% nitro. We're very encouraged with what we've seen this far. We feel like we have something that's disruptive in its technology."
The goal is to validate the piston's durability and complete a cost-versus-benefit analysis using the composite piston in place of a traditional aluminum piston designed for nitro engines. Gill has said his piston conceivably could run a full schedule of NHRA events compared to the current pistons lasting only two or three weekends.
"We can't make claims of durability if they've run only two or three passes on our pistons. We just need more laps before we can conclusively say," claimed Gill, adding that his pistons are 40% lighter than standard models. "Once the data is complete, then AWA can present a viability argument to NHRA for consideration."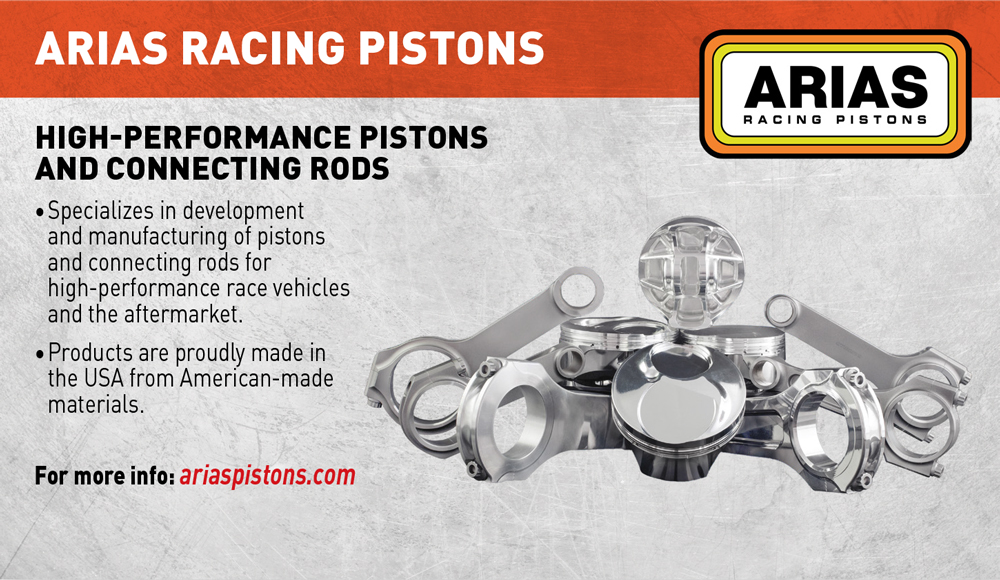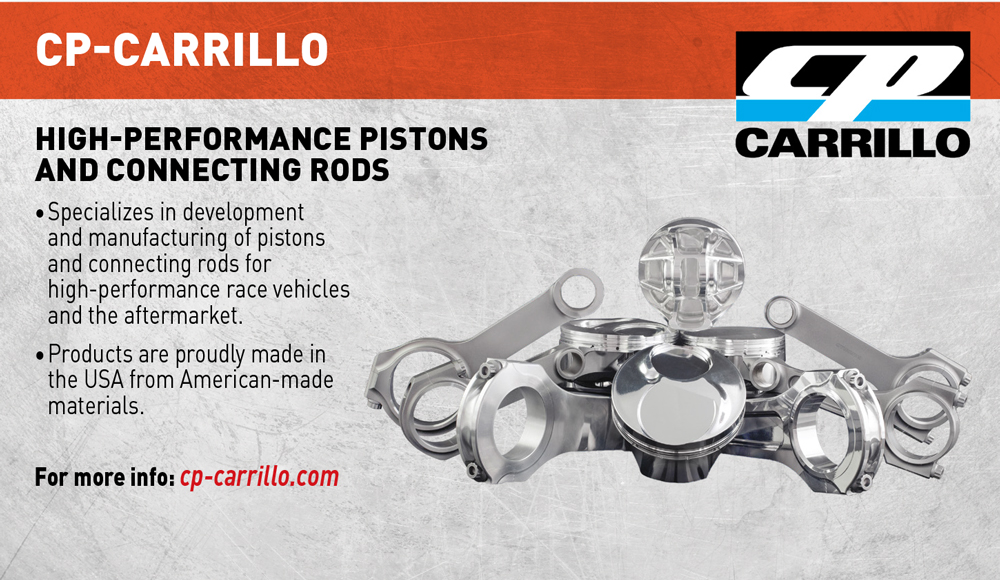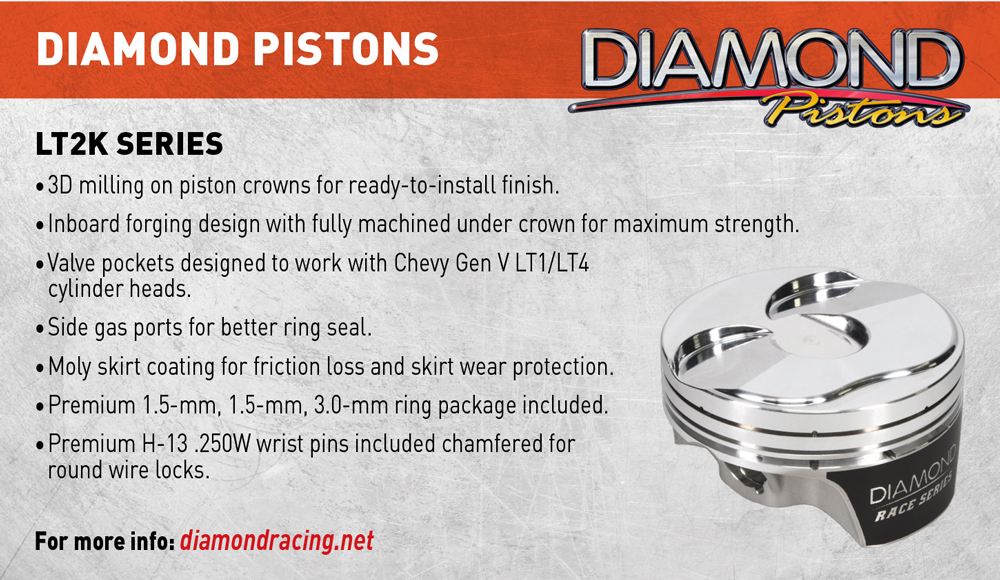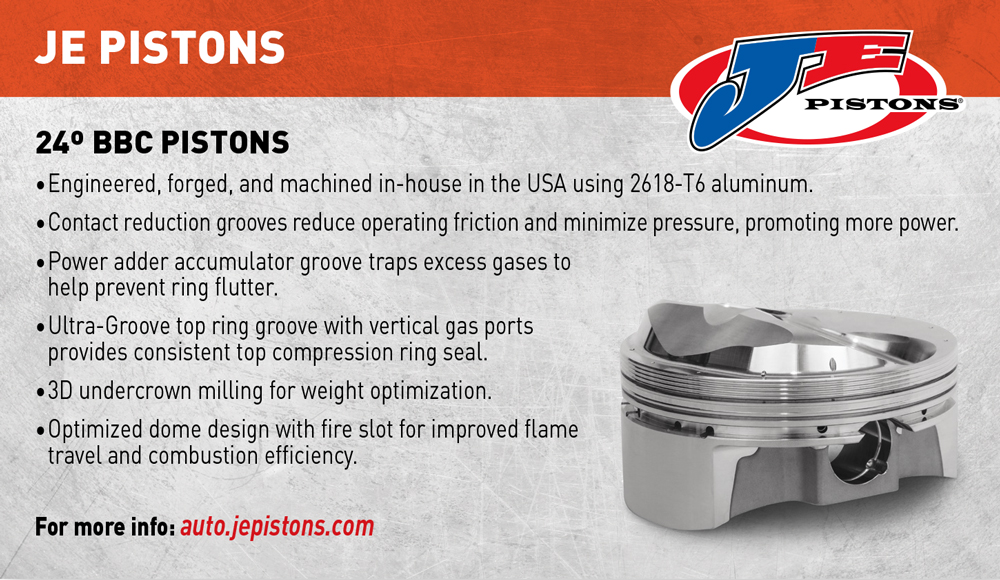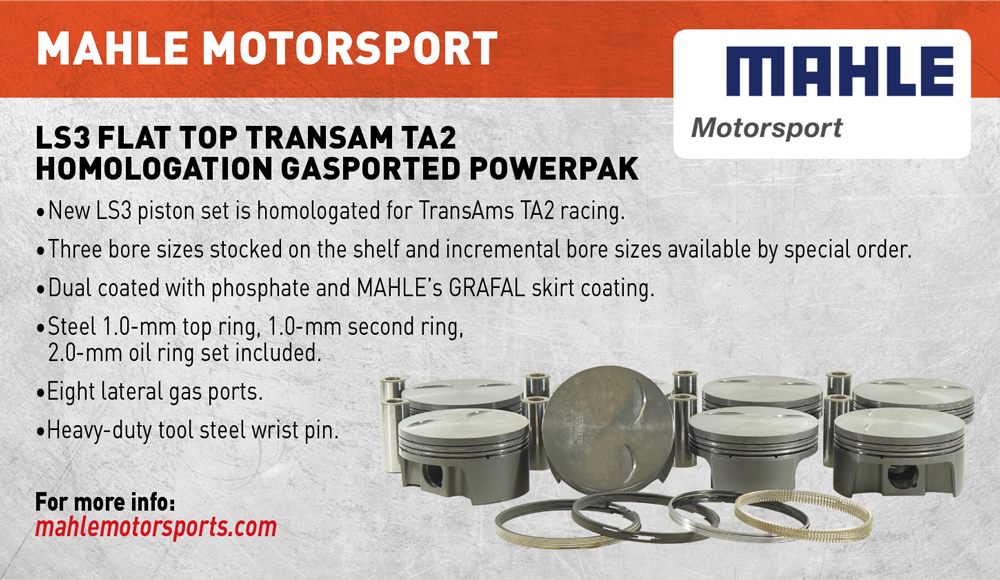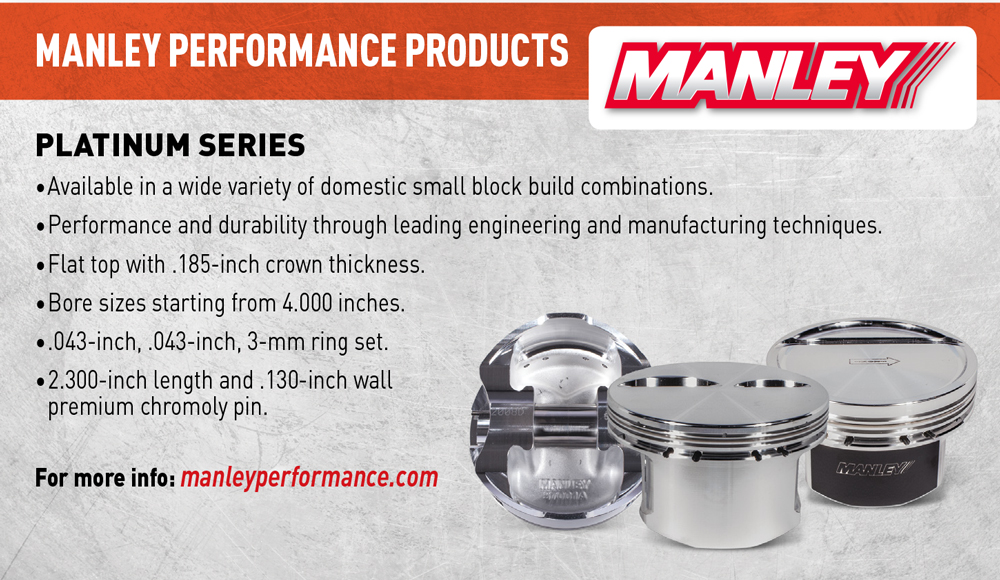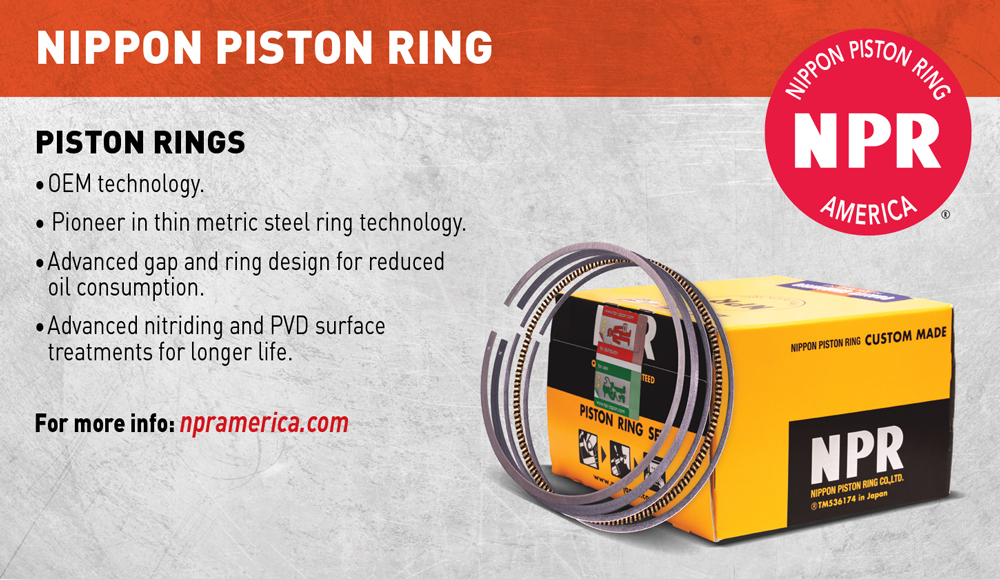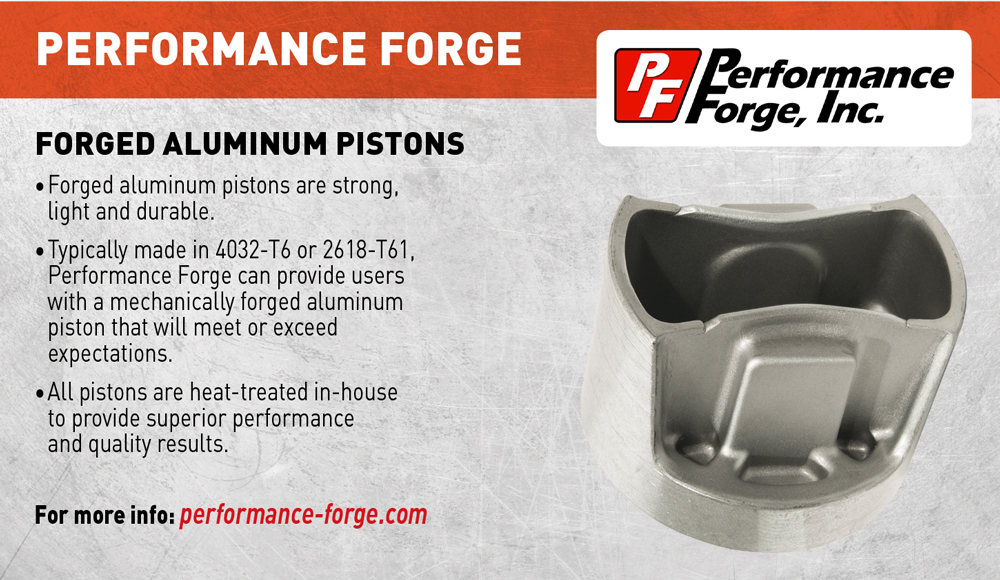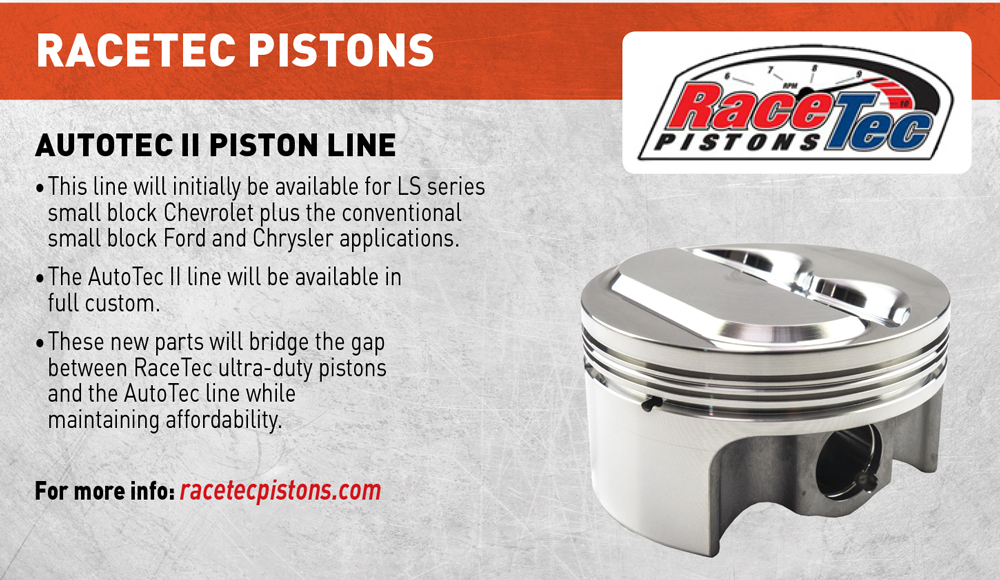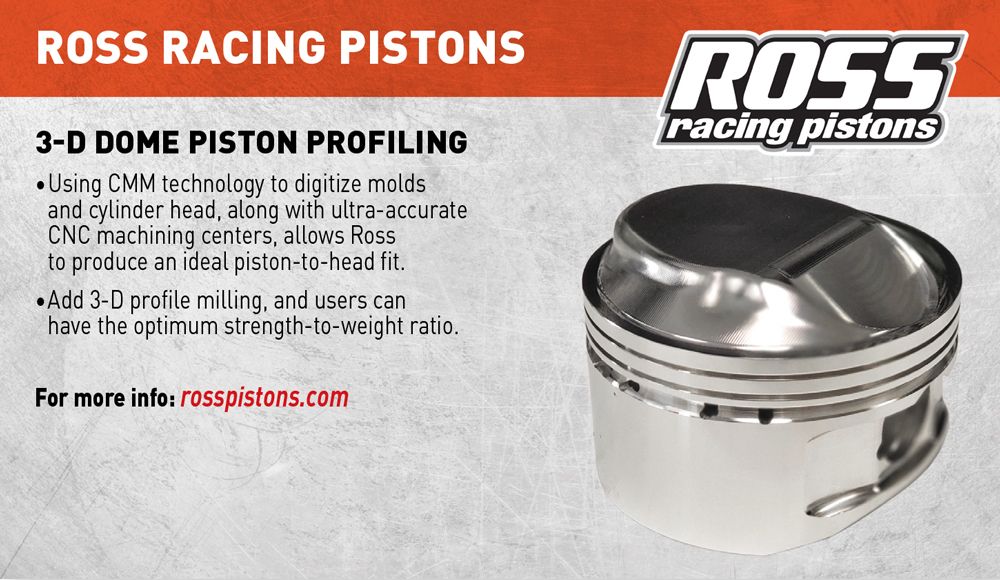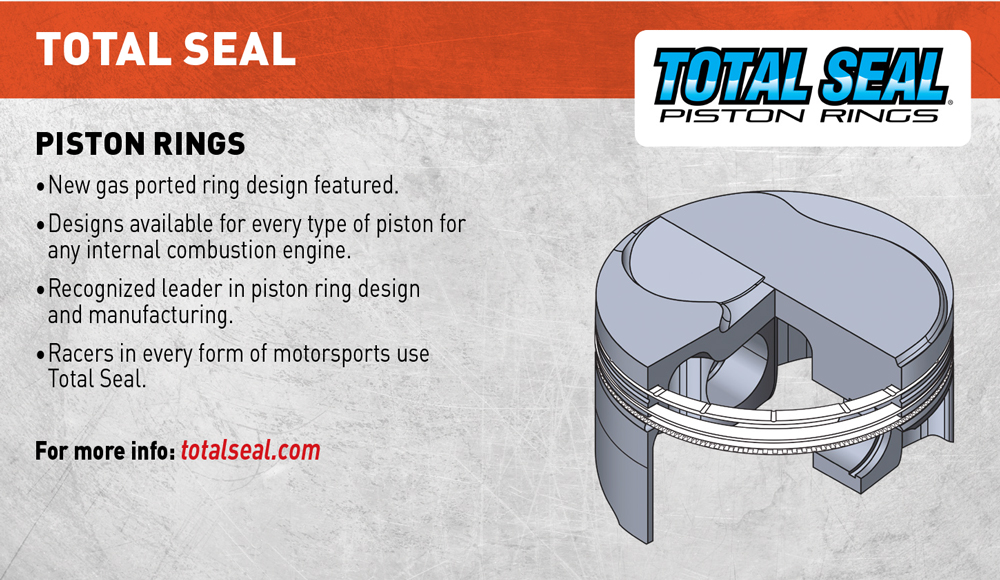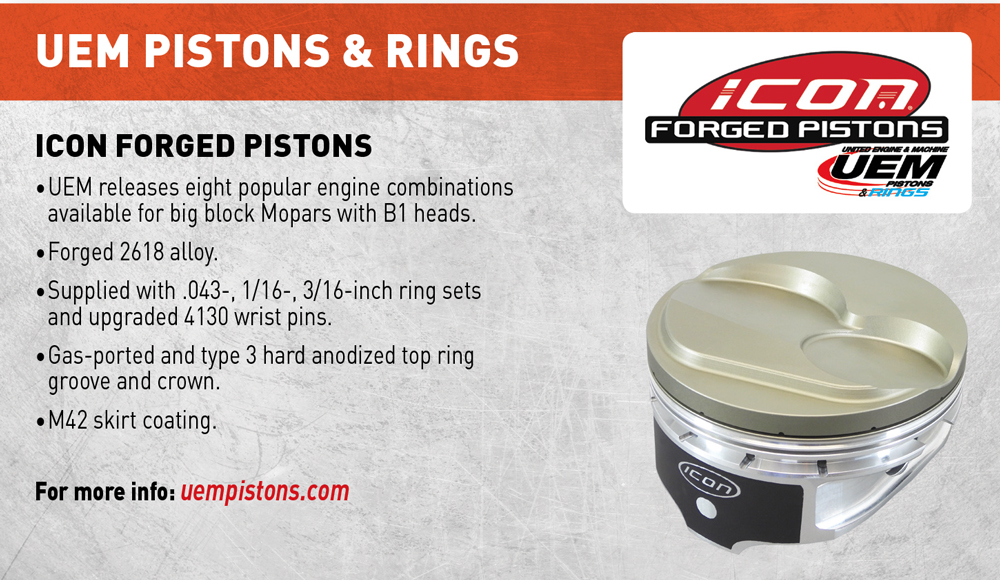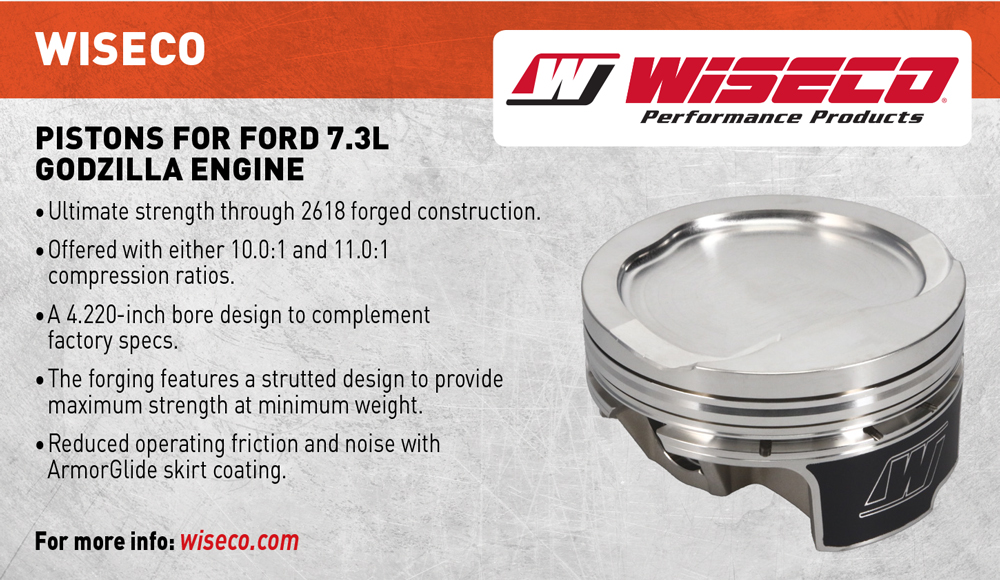 Forging Advances
Regardless of the material used, piston manufacturers still need raw forgings to machine into the final product. Some companies will machine one-off piston designs from billet stock; however, most racing manufacturers will source their forgings from large, independent suppliers, such as Performance Forge.
Based in Montebello, California, Performance Forge works with piston manufacturers to develop tooling, which itself is undergoing a transition of its own.
"The design of the tooling itself; that is, how we go about making the tooling in order to make it live longer and maintain dimensional tolerances, has changed in the past five years," said Wayne Ramay. "We've changed the materials that we make the tooling out of and the designs that we use. It still will yield the same piston, but we just make the tooling different."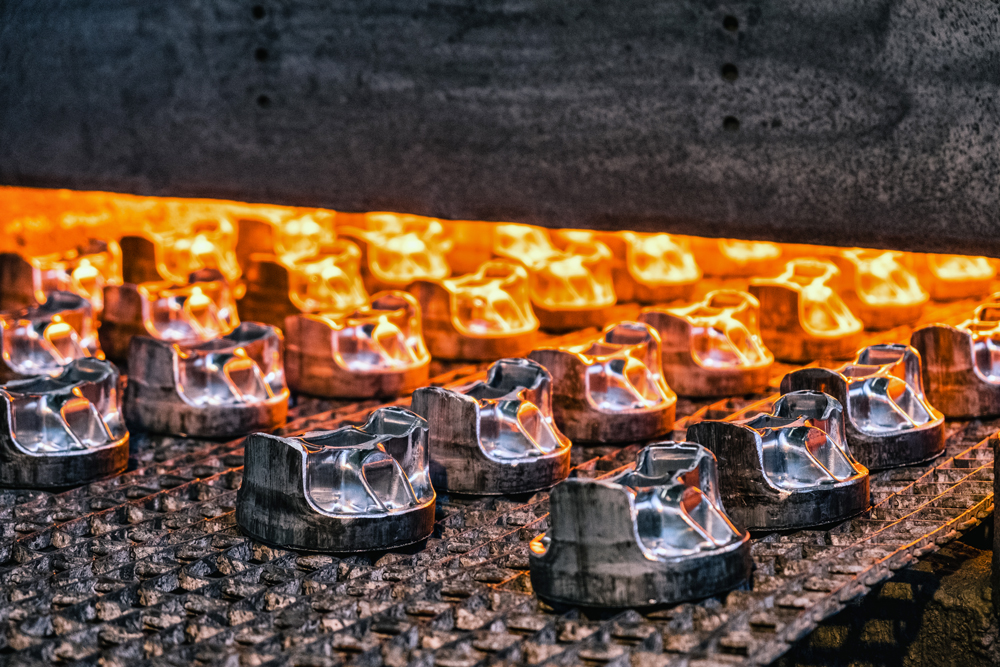 Another significant change at Performance Forge is the oven used to preheat the metal to a malleable temperature. "We've come up with a new oven that heats up the raw material more efficiently and quickly. This helps us with a lot of things but mainly the grain," said Ramay. "Grain size is a real key. You can think of large grains like a blob of curds in cottage cheese, and that's not very strong. Smaller, tighter grains that are more compressed will flow with the forging and make it stronger. These ovens help make grains small. Between the oven and our mechanical presses, we have the tightest grain structure in the industry."
Still, piston designers keep coming up with demands that can't always be delivered. "Right now, they are asking for some crazy stuff that you wouldn't even be able to get the tooling out of the part," said Ramay. "They're asking for undercuts to be forged into the part, and we've not been able to figure it out. But I've had people ask me about it."
Piston Ring Trends
In the domain of piston rings, racers are seeing two distinct trends: transitioning from cast-iron to steel and replacing moly coatings with physical vapor deposition (PVD) coatings.
"In the last 20 years, NASCAR and top-level race teams have moved toward the steel/PVD combination," said Lake Speed Jr. of Total Seal, Phoenix, Arizona. "But in the grassroots levels, ductile iron/moly is still the predominant choice because of cost."
Speed, however, is quick to remind customers that he's implying purchase price, not the total operating costs of switching to steel/PVD. He noted that for a NASCAR team 20 years ago, the state-of-the-art ring package was .043, .043, 3 mm.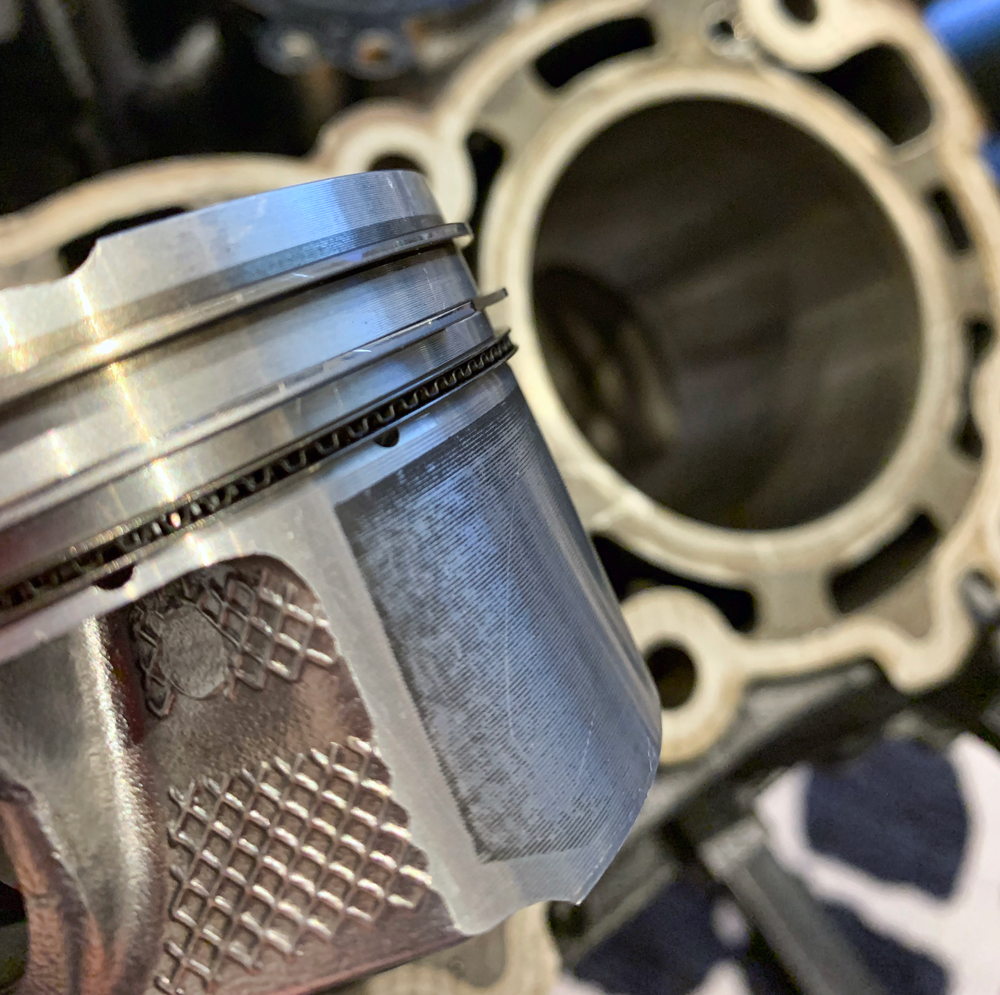 "Fast forward to today and the teams are running PVD-coated steel rings with a top ring around .020 to .024," said Speed. "So it's half the thickness. But with that old package, that engine ran one race, and the engine would be down five to eight horsepower by the end of the race. Today you have engines running three races, so those rings are living three times longer."
Over the course of a season, racers using the stronger-yet-lighter ring packages will see less wear on the cylinder liners, so there's less to bore out on the next rebuild.
"That means the block and sleeves will last longer, so the overall operating cost will be lower, even though some of these parts will be more expensive on the front end," said Speed. "But people have been hesitant to make the move for different reasons."
With the new ring material and coating, engine builders will have to adjust their honing strategies.
"Ductile/moly is porous, and PVD is not. So, the porous ring will hold oil and it's soft, so it will break-in easier," explained Speed. "Since the PVD coating doesn't hold oil, the surface finish on the cylinder walls becomes much more critical. The cylinder finish has to hold oil because the ring won't. You don't want the finish too smooth or too rough, but you need enough Rpk (reduced peak height) to get the steel rings to break in properly." —Mike Magda
What's New in the Manufacturing Plant?
Automation and streamlining are two buzzwords often heard when discussing piston manufacturing. Due to the high standards of precision required to produce pistons for racing applications, suppliers are taking steps to ensure critical tolerances are met while meeting turnaround deadlines that never seem to keep up with engine builder demands.
"We have been working for the better part of the year to implement various stages of automation during our production process. This will allow us to streamline different operations during the manufacturing process," said Nick Diaz of CP-Carrillo, Irvine, California, noting that automation will free up time needed for other hands-on procedures in custom work while allowing larger runs of shelf items. 
CP-Carrillo's manufacturing process has roots in the design software used to create both custom and shelf pistons. "As the design is completed, the data is uploaded directly into the system, which verifies the information is correct and then launches G-code from our automation server to the machines on the floor," explained Bryan Moreland. "When features deviate from our automation, it flags the job and puts the job in a queue for custom programming. As the programmers finalize their portion of the job, they then launch it into the CAM system, which has all the tools to produce the part designed."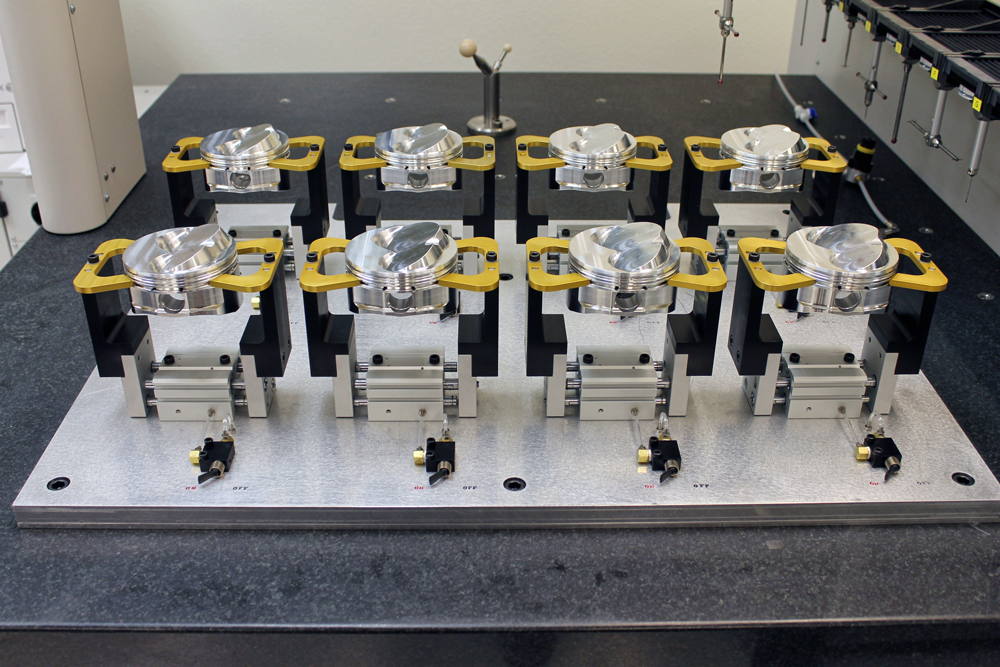 The system is flexible enough to allow the sales staff to pull up any piston design on their computers while talking to customers and make changes as requested. A CMM file is created for every piston, which then allows the production team to validate measurements at any time during or after the manufacturing is complete.
"The files are automatically stored on the network under the job number and accessible at a moment's notice," added Moreland. "The programs used by the CMM are customized by the design of the piston and use our custom design interface to determine what styli are needed to get into the narrow ring grooves and other features of the piston. Base alignment is established from basic features that hold the piston in the cylinder, so the data correlates with the customer's installation in the engine."
Ross Racing Pistons in El Segundo, California, is another company that has been streamlining manufacturing to help ensure accuracy. It developed advanced fixtures that stay with the piston longer to reduce the frequency of changing fixtures for different machining operations.
"Every time you change that piston and you put it in a different fixture, it gets a little harder to maintain that accuracy, because you get tolerance stacking," said Chris Madsen. "We're working on a balance between multiple machines and more operations in one machine. The secret to us is our fixturing." —Mike Magda
SOURCES
Arias Pistons
ariaspistons.com
AWA Composites
awacomposites.com
CP-Carrillo
cp-carrillo.com
Diamond Pistons
diamondracing.net
Howards Cams
howardscams.com
JE Pistons
jepistons.com
MAHLE Motorsport
us.mahle.com/mahlemotorsports/
Manley Performance Products
manleyperformance.com
NPR of America
npramerica.com
Performance Forge
performance-forge.com
RaceTec Pistons
racetecpistons.com
Ross Racing Pistons
rosspistons.com
Total Seal
totalseal.com
UEM Pistons
uempistons.com
Wiseco Performance Products
wiseco.com