Image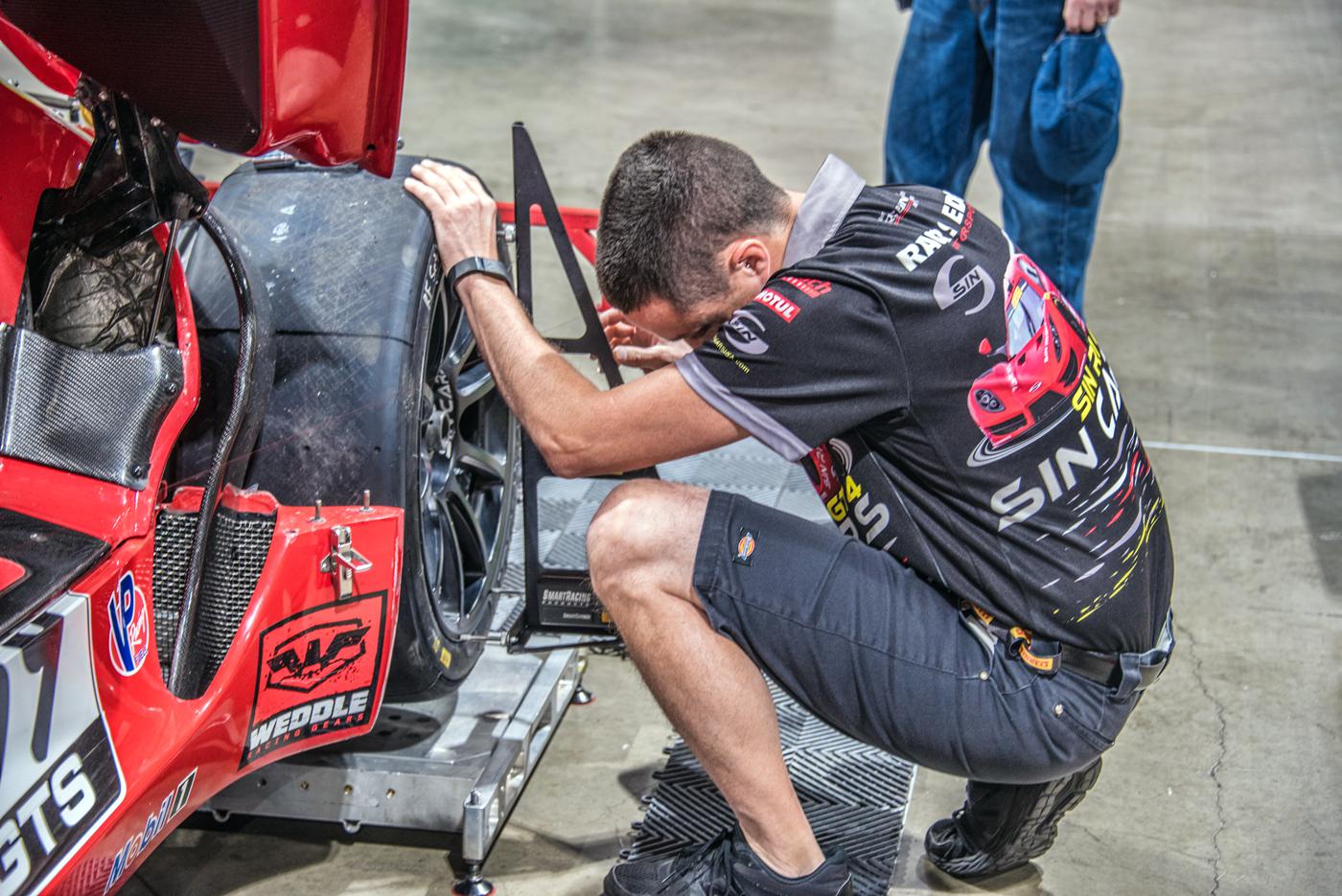 From gauges to pull-down rigs, it's the gear that's bringing more sophisticated setup capabilities to budget-minded teams.
As rule sets have evolved to put a greater emphasis on chassis setups across many motorsports disciplines in recent years, the related equipment has become an increasingly vital element of racers' programs. 
"Back in the day everybody built their own cars, and that was a big factor in a team's success," said Keith Berner of Accu-Force Dynos & Testers, Millersburg, Ohio. "Now these cars are using many more common components, so it's more about making sure that the car is set up and adjusted appropriately. If I've got the same mouse trap as you, I've got to make sure my spring is going to work better at this track. And a lot of that comes down to the equipment you have access to. We used to be looking for tenths; these days we're looking for thousandths."
Although most of these tools have been around in one form or another for some time now, much of it has been relegated to professional or semi pro-level teams with substantial financial backing. But that's starting to change.
"Some of the technology that was beyond the reach of most teams a decade ago is now much more attainable," said Lynnie Doughton of DRP Performance Products, Rocky Mount, Virginia. "The price points have come down enough that even teams at the short track level can access it."
And with that in mind, we're looking at some of the most popular pieces of chassis setup equipment that are designed for racers who don't have a blank check to work with.  
Maxwell Industries
"This year, in particular, I've noticed that a lot more of the weekly guys are buying shock dynos and getting more involved in the technical aspects of suspension components," said Steve Watt of Maxwell Industries, Ventura, California. "The tech has trickled down to the local Saturday night racers—they have to have it because they can't really be competitive without it. If one local guy gets their hands on the equipment, it's only a matter of time before it becomes almost obligatory, and these younger guys are much more tech-savvy than the generation before them." 
Watt said that among the various pieces of chassis setup equipment available on the market, shock dynos are going to be the most valuable tool for budget-minded competitors. 
"That dictates most of the adjustment that you're going to do on a race car," he explained. "A torsion bar or a coil spring is a spring rate, so that's going to tell you how much the car is going to move. Meanwhile the shock absorbers are all timing—that tells you how fast they're going to get to those points in the suspension travel. So that's going to be a more important tool than a spring or torsion bar dyno. Once you know your spring rate it's pretty straight-forward, but because of how advanced shocks are now, you can adjust the compression and rebound almost infinitely on all four corners. So you need to know exactly what you're adjusting it to, and what the value is when you get there."
And Watt said because of that, more shock dynos are being designed with the intent of keeping costs to a minimum without compromising functionality and accuracy. "Our two-horsepower shock dyno is a good example. This is our most popular shock dyno—I would say probably 99% of the World of Outlaws teams have one in their trailer. It's really popular with the dirt modifieds, USAC sprint cars, and Outlaw sprint cars in part because it basically provides the most bang for the buck."
Beyond keeping the costs down, Watt noted that their primary focus was to make these shock dynos as intuitive to use for the customer as they could, in turn minimizing the amount of time racers would need to spend on the dyno so they can get to work in the shop. 
"You punch in the name and serial number of your shock and you're up and running—it's all in the database," he explained. "And we wanted to make it as foolproof as possible, so everything's automatically saved and you can't delete a file without confirming, like, four times. It's made for someone like me who tends to be click-happy. When they wrote the software, they used me as the guinea pig. For a mechanically focused guy like me, it's perfect." 
Intercomp
Intercomp in Medina, Minnesota, continues to improve racers' chassis setup experience with its wireless group of products, including its recently released RFX wireless suspension load stick. The company's RFX Wireless Weighing Technology eliminates the cabled indicator found on most current load sticks and allows anywhere from one to four load sticks to be read on one RFX Wireless Handheld Indicator. "Without a cable to mind, our load stick allows racers to concentrate on obtaining the correct measurement and less about breaking an indicator cable and rendering the tool useless," said Aaron Van Heel. Individual load sticks are available without an indicator, he noted, which allows single- or dual-load stick systems to be expanded at a later time.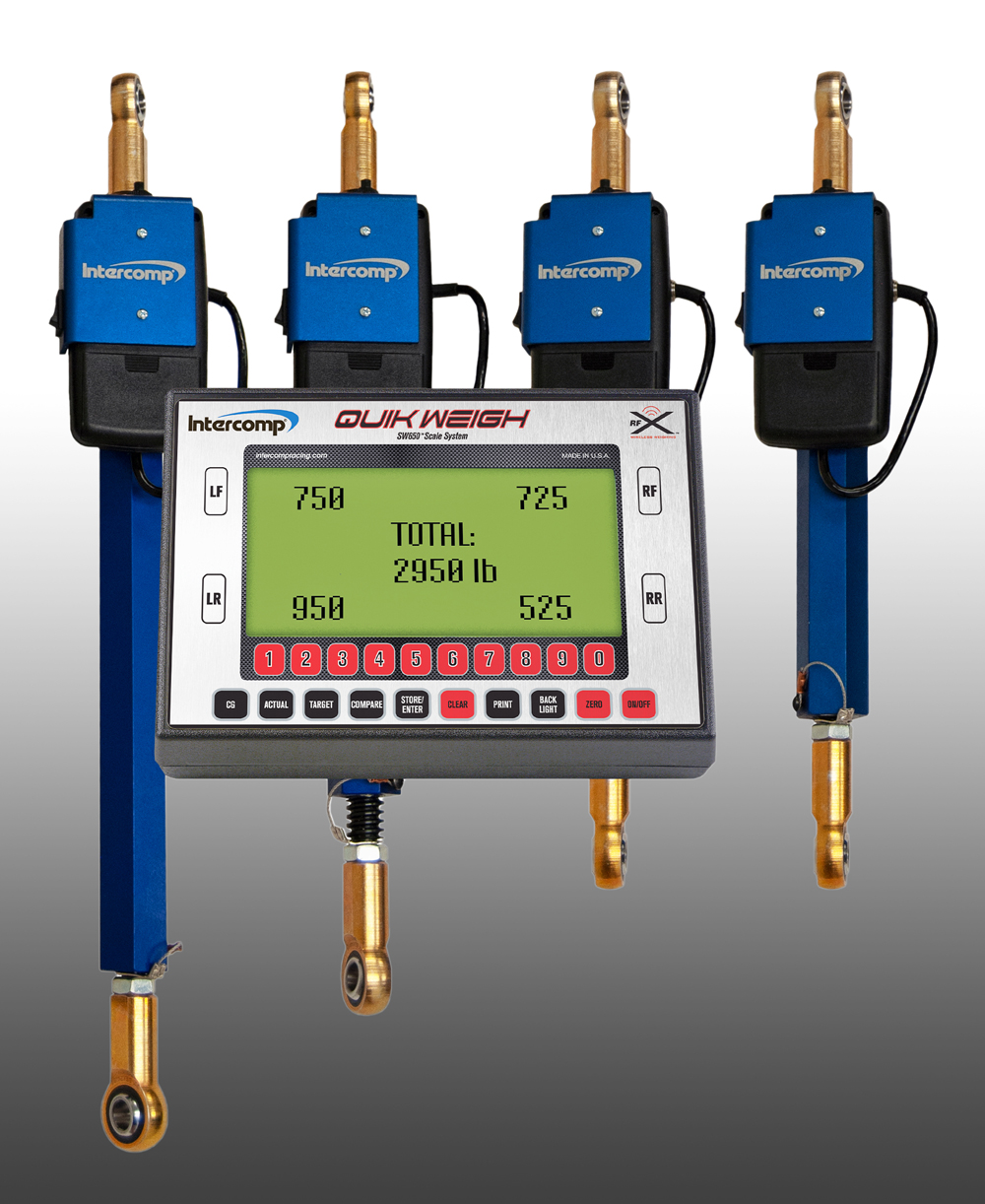 Van Heel explained that load sticks that are mounted on all four corners of a race car can provide a picture of a car's load distribution in different chassis attitudes. "This allows racers to determine the exact spring rates needed to get the car into the dynamic ride heights needed to carry maximum speed and momentum through a turn. The two-load stick system allows a racer to collect dynamic load data at left-side, right-side, or opposing corners of the car. These can be critical measurements that can mean the difference between a fast or slow car in dirt and paved oval racing," he said.
Each Intercomp load stick features an industrial-strength 3,000-pound capacity load cell and can span shock mounting points 15–25.25 inches apart, using three interchangeable bodies, while the actual bodies are made from hex-shaped billet aluminum, with high-quality spherical rod ends with low-friction PTFE inserts. A single load stick and indicator allows for use at one corner of the car, while the two- and four-piece systems allow for complex attitude adjustment.
Accu-Force Dynos & Testers
Berner noted that while the most important tools in chassis setup are often dependent on what class a racer is running in and the rule set that's involved, there are some pieces of equipment that tend to be crucial across the board. 
"For instance, you definitely have to have a front-end gauge to make sure that your caster and camber are set correctly," he said. "But these days we're getting to the point where you more or less need to have a spring smasher to be competitive in something like crate Late Model. It has changed the sport in a way—it's almost more important to a racer's competitiveness now than a set of scales was 20 years ago. Being able to understand a spring curve and make changes is really important because, at this point, the guy beside you probably does. And if you don't, he has a clear advantage." 
With that in mind, he pointed to Accu-Force's standard manual spring smasher as a piece of equipment that can even the playing field without breaking the bank. "It will give you center-to-center of your coilover spring, it gives you the weight, and you can do an off-set weight as well."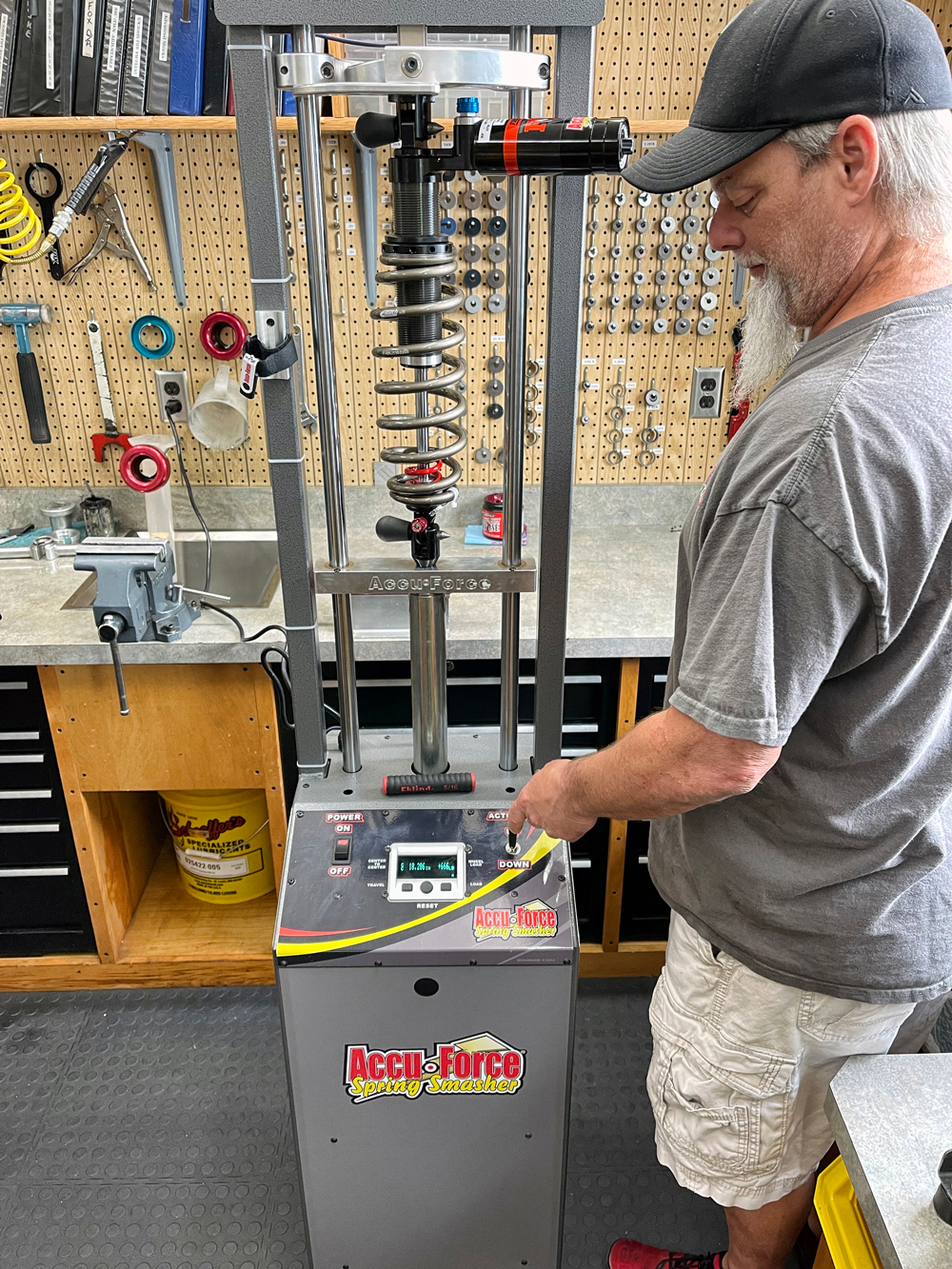 But he also said that in order for racers to get the most value out of this equipment, they really need a thorough understanding of its capabilities. "If we wanted to change the springs at the race track when we were using these very early on, as long as we knew what that center-to-center was and we had the load information, you could put any spring you wanted in there and put that dimension back. You didn't have to scale it, you didn't have to get the tape measure out—you just did it. It made it really fast and easy to change out springs at the race track. And it would make you better. If the track slowed up two seconds, a lot of times you would need to change the spring in the right front. This made it easy."
But once they started doing that, they soon realized that they often needed to change the spring curve as well. "That is where you're getting into spring rubbers, bump stops, and everything else," he said. "We might lighten the spring up and then we knew that at full travel it was at, say, 2,100 pounds. So we knew we could use a lighter spring in it with those bump stops and spring rubbers to let it get there easier, and we've changed that curve to where it's still 2,100 pounds at 4 inches of travel. We started out doing that kind of tuning on the right front, but now we're doing that on every corner. And if the guy running beside you is smart enough to understand that and you don't, he's going to be a little bit quicker than you are. So to keep up you've got to be able to do that, too, and it's pretty hard to do without a spring smasher."
PROFORM
While advanced setup gear like shock dynos and pull-down fixtures are becoming increasingly important to racers at the grassroots and sportsman levels, Dennis Grzebyk of PROFORM in Warren, Michigan, confirmed that the basics are still essential in order to provide a solid foundation for more sophisticated tuning. 
"Each team is going to have a chassis setup in their head, percentage-wise, for every corner of the car, and it's going to be very difficult to get that without a set of scales. It's also going to tell you if your chassis isn't set up the way you want it, so you can adjust your bars, move the percentages around and get it wherever you want it to be. For track guys it's usually 40/60 front and rear, but the dirt and the modified racers tend to do each corner differently to their own specifications. Circle track guys generally need more pressure up front to get the bite going into the corner, but they need to finely balance that to make sure there's also enough grip coming out."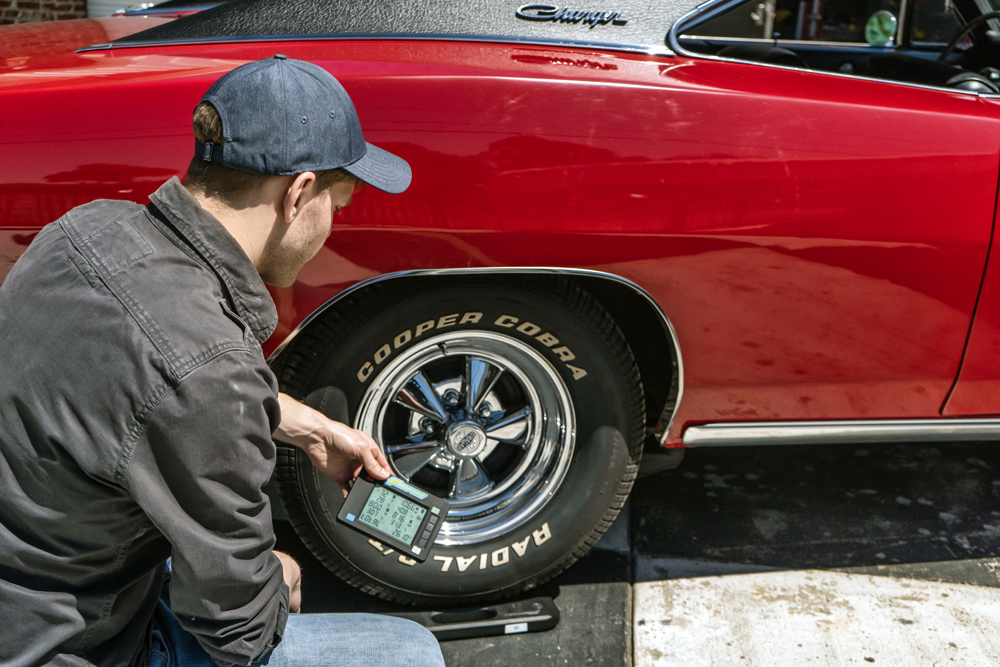 He added that teams tend to do a lot of initial adjustment, but once they've found a formula that works, they'll want to ensure that the car can be quickly and accurately set up to that formula according to the scale measurements. And with that in mind, PROFORM designed a corner scale system that's both simple and accessible to racers that need to keep costs out of the stratosphere. 
PROFORM's scales were designed with the grassroots racer in mind. "Before this, you couldn't touch a set for less than two grand, and we released ours for under $800," said Grzebyk. "Aside from the cost, I think that another reason that they've been so popular for us is because we designed it so you can just drive up onto them without ramps. It's a low-profile pad that eliminates the need for those, and it also has a built-in support so it can't flip over when you're placing the car on them." 
While PROFORM offers these scales in both wired and wireless configurations, Grzebyk said that most racers opt to spend a little bit extra in order to ditch the cables. "The price gap between the two isn't very wide, and folks generally like to avoid having wires running all over the place so people won't trip on stuff and possibly damage the controller by knocking it over. Things can happen when you're focused on getting the car ready."
DRP Performance
Doughton said that the core basics like scales, camber/caster gauges, and tire barometers are essentially mandatory in order to perform accurate measurements at the track. "You need stuff like that to even be remotely competitive at this point. At the next level, you should be looking at setup struts and spring load machines, and pull-down fixtures would be the next step up from that." 
And although the cost of a typical pull-down rig is beyond the means of most budget-minded racers, DRP Performance offers a much more affordable option for those who're willing to put in a bit of elbow grease. 
"We offer DIY component kits for a lot of our equipment, including our pull-down fixtures," he explained. "The name said it all—this is for the guy who is willing to do a little bit of fabrication work in order to put together his own system, and the kit comes with all of the electronics sorted out. For around $3,500 someone can put together a piece of equipment that normally would have cost them anywhere from $12,000 to $20,000. You give up a few features with that savings, but for smart teams that are willing to put in the work, there are absolutely ways to get around spending that kind of money. And we're here to help them do that."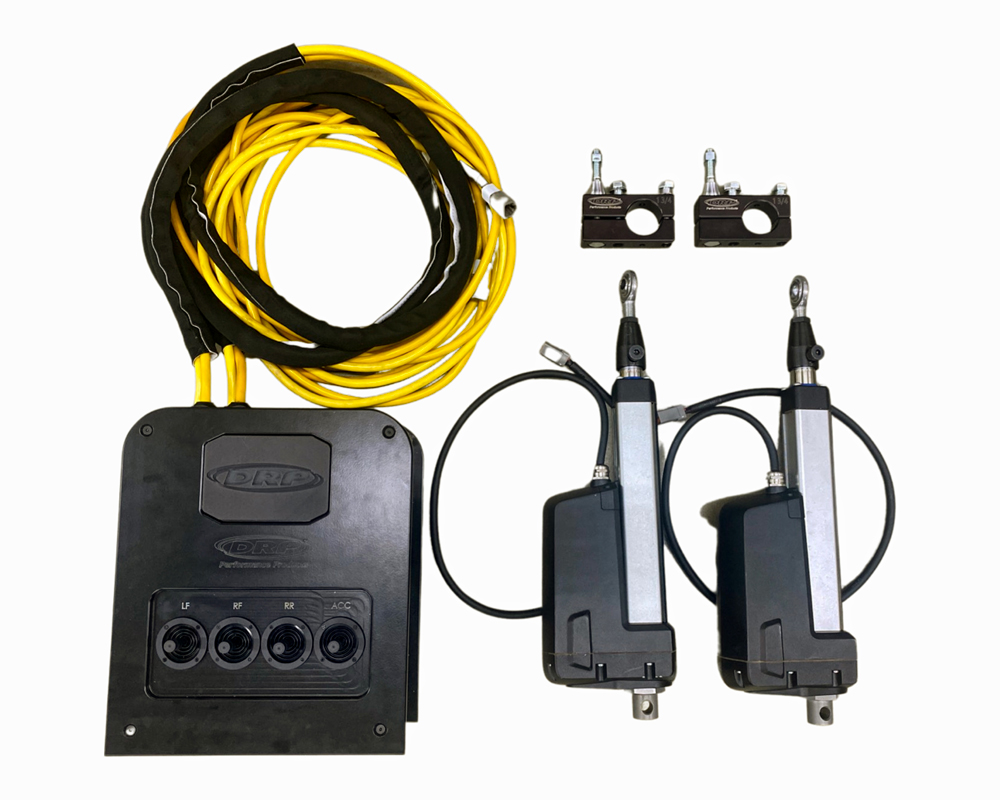 But he's also quick to point out that if a racer wants to utilize this kind of equipment to its full potential, education is absolutely key. "You've got to be willing to invest in that as well. There are ways to get around spending crazy amounts of money in this realm—the equipment just makes the job quicker and easier. If you can't afford to invest in that equipment, you've got to invest in the knowledge." 
And in that regard, he pointed to DRP University as a low-cost option for racers who're willing to put in the time. "The site has dozens and dozens of training videos that can teach people things that would normally take a lifetime to learn in a matter of a few weeks or months," he said. "We're talking about topics like setup strategies, dynamic balance, dynamic wheel positions, and the physics behind how it all works. There's also training that focuses on how to analyze what you're getting from data acquisition systems. Having the data is one thing; understanding what to do with it is another. It's our belief that the more knowledgeable race teams get, the more money they can save."
Sources
Accu-Force Shock Dynos
accuforceshockdyno.com
DRP Performance Products
drpperformance.net
Intercomp
intercompracing.com
Maxwell Industries
maxwellindustries.com
PROFORM
proformparts.com