Image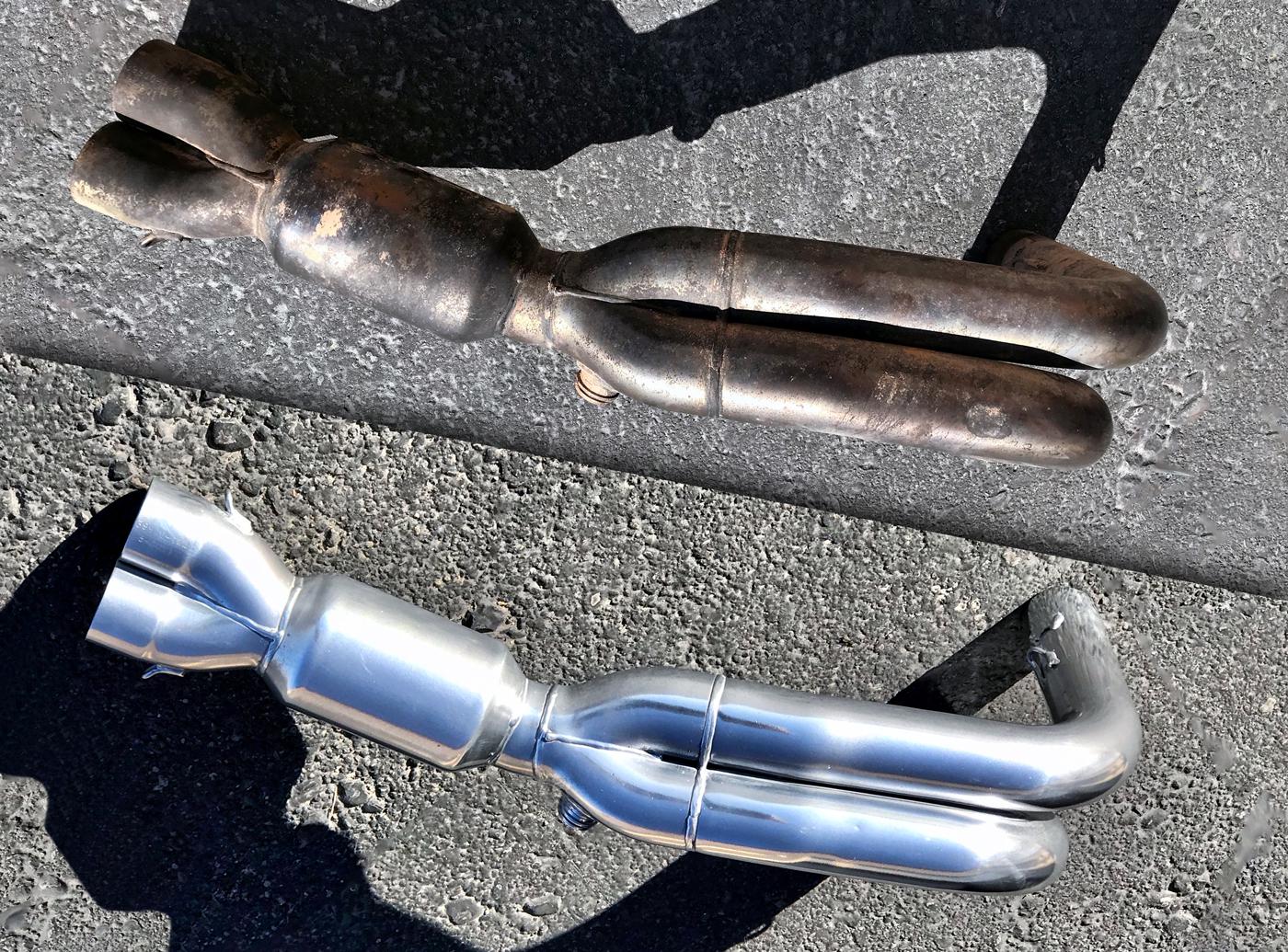 Headers before and after being coated with CermaKrome from Tech Line Coatings.
We asked suppliers to identify their best coatings for specific race engine components, what goes into them, and why they're so effective. Their answers could mean the difference between victory and defeat.
We've all heard the expression, "Winning by a razor-thin margin." Yet for coating suppliers, the thickness of a razor blade is massive. For them, victory can be a matter of just a few microns of coating—less than 1/100th the thickness of that oh-so-slender shaving device.
That tiny layer of protection can easily mean the difference between grenading an engine in the final lap or hammering it home to take the checkers. "People tell us all the time, 'I lost oil pressure, but we finished the race,'" said Gary Huffman of Calico Coatings, Denver, North Carolina. "It survived because of the coatings." 
For many years, coatings had their doubters and detractors. It was one of those advantages that maybe just seemed too good to be true. Now the industry has matured and gained mainstream acceptance. Coatings have become a necessary ingredient to be competitive in many forms of motorsports.
In a recent article, we detailed this highly specialized, deeply technical field, what these processes can do for racers, and how to benefit from them (see PRI Magazine, October 2021). Here we're taking that a step further, asking those same top sources to discuss their best coatings for individual components and why they recommend them. 
The examples they gave us are a wide array of clear, proven products that racers can choose from to boost power, increase longevity, and sometimes even improve the looks of their engine.
Pistons
Of all the components in an engine, pistons arguably take the most abuse. They face the full brunt of the combustion process while dealing with side loads from the swinging crankshaft and riding on just a thin film of oil between the rings and the cylinder wall. For this reason, pistons receive considerable attention from the coatings industry.
PolyDyn Performance Coatings in Houston, Texas, is a pioneer in piston coatings, with origins that stretch back to NASA's mid-1960s Gemini space program. Armed with lessons he learned from the brutal forces of rocket motors and space flight, company founder Carl Benton then brought his developments to other fields—first, the rough and rugged world of oil drilling, then the punishing ranks of NASCAR Cup competition.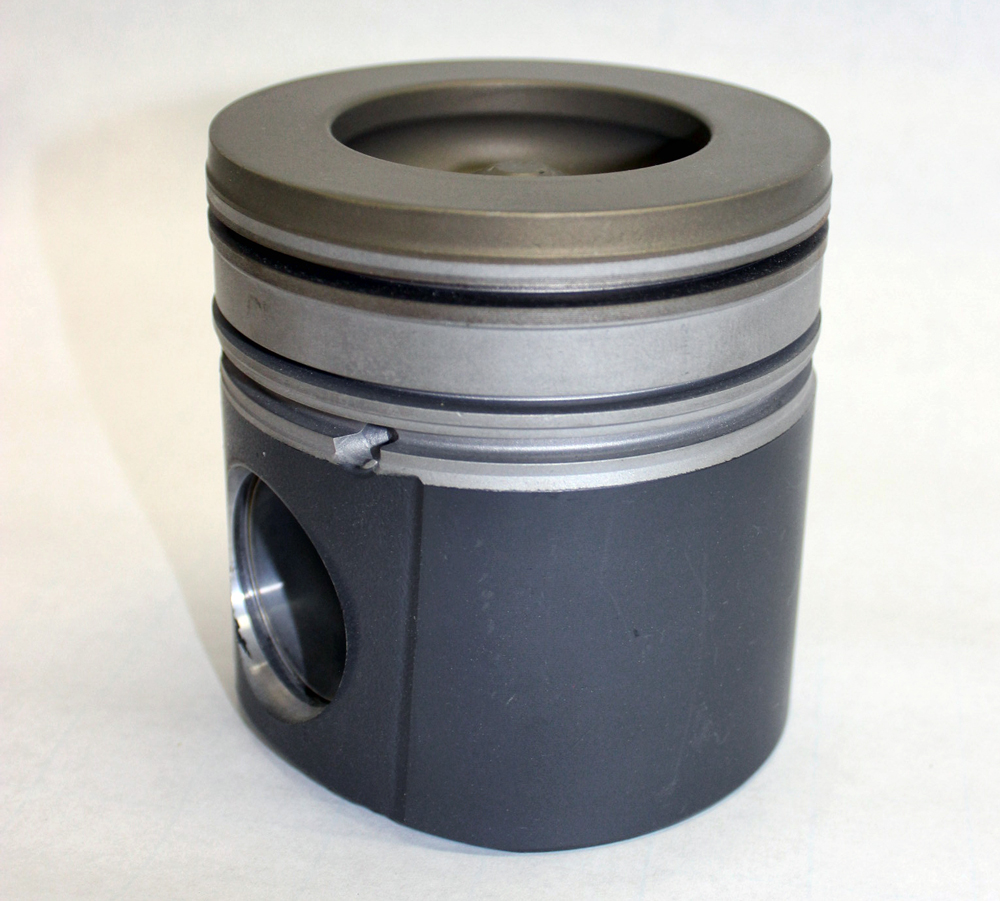 PolyDyn now offers a number of different coatings for piston skirts and piston domes. The company's RP piston skirt coating was the first product PolyDyn offered, and it was developed directly from Benton's work with NASA. "It's highly enriched with a polymer called FEP [fluorinated ethylene propylene]," he explained. "This material is unique in that it attracts oil to itself. So it holds the oil on the skirt of the piston much better than the bare metal itself. But piston slap on a cylinder wall can really put the hurt on the piston skirt. So we added another very similar coating. We figured out that if we sprayed that right on top, wet-on-wet, and then baked it, the performance increases are rather significant."
For those who need additional protection on piston skirts, the company offers its PD-14 coating, which uses a unique resin system related to nylon. For even more extreme applications, PolyDyn created its 52-G coating formulation. 
"Our 52-G coating was developed for David Reher of the Reher-Morrison drag racing team," said Benton. "I had worked with them a lot during their Pro Stock days. Then they started building these huge-cubic-inch Pro Mod motors. Because they're big stroker motors, the piston moves rather violently in the cylinders. Our original RP coating did well with that, but it wasn't as good as we were hoping for. That's when I went to the drawing board and a couple of the chemists that I always rely on."
On the recommendation of those chemists, PolyDyn came up with a coating that uses a unique dry film lubricant, with graphite and other materials added. The result was PolyDyn's 52-G coating, the company's top-line piston-skirt coating, designed to handle extreme abuse. 
The skirt isn't the only part of a piston that gets punished. The top of the piston takes the full force of extreme heat and pressure dealt by high boost, heavy nitrous loads, and exotic fuel blends. To help mitigate these forces, PolyDyn developed several proprietary coatings for piston domes.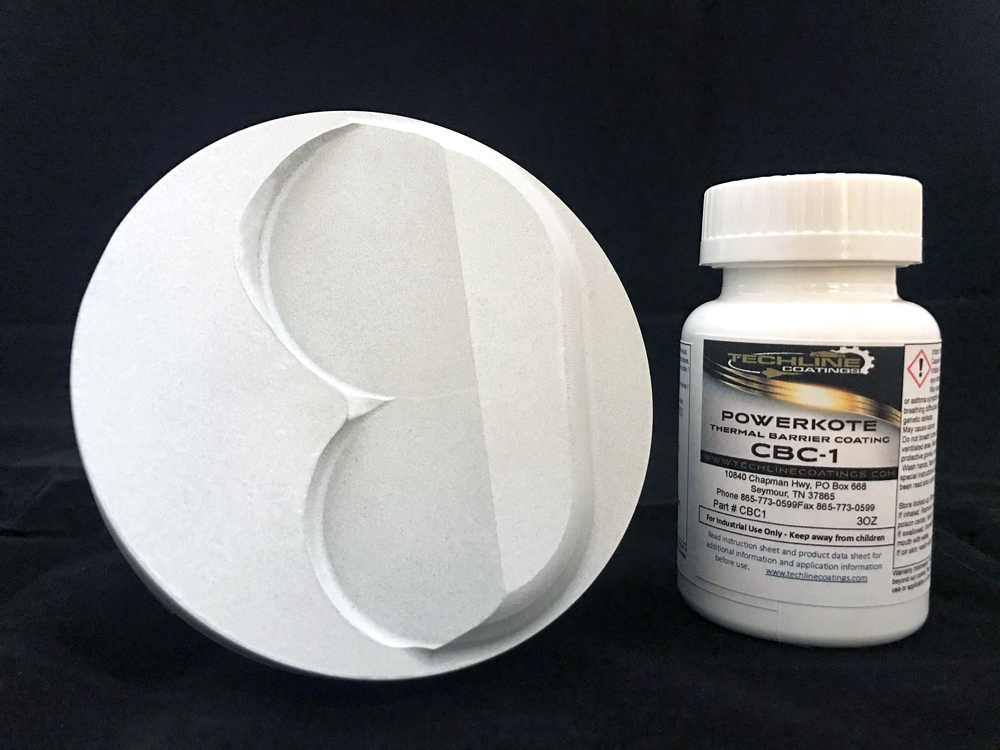 "To protect the top of the piston and keep it from burning, I started working with a company that had a unique technology called synthetic polymetric ceramics," explained Benton. "We started putting different materials into the resin system to create PolyDyn HS Gold. It uses a particle called yttrium zirconium oxide, which is often used on rocket nozzles."
Over time, the company found that an even more robust coating was needed for extreme applications such as diesel pulling and high-strung, pushed-to-the-limit Japanese-engine drag cars. For those intense uses, the company developed its top-of-the-line HS Titanium piston dome coating.
"HS Titanium uses a material called boron nitride," said Benton. "Boron nitride is actually a lubricating ceramic, and it's stable to 3,200 degrees Fahrenheit. At first, I didn't think I could actually get it to blend into the resin system. But my chemist buddies figured out how to do that. Once we got it to where it would stay suspended, then off to the races we went."
Like most coaters, PolyDyn does all the work for the customer, including prep, application, and any necessary final finishing. There are DIY piston coating alternatives for racers who are more inclined to handle the job themselves. 
Tech Line Coatings in Rutledge, Tennessee, offers a range of user-applied coatings for piston crowns, formulated to protect the surface and control heat. "Our CBC-1 water-based thermal barrier coating is for lower-compression engines, up to about 11.5:1," said Rick Williams. "This coating helps to spread heat out over the piston to prevent hot spots, and it's a thermal barrier for the piston itself to help everything run cooler.
"Our CBC-2 piston coating is in the same family, but it's cured after it's sprayed on," continued Williams. "All of these cure at 300 degrees because we're dealing with aluminum, and you don't want to get it too hot. Once it's cured, you can polish it and have almost a chrome-like finish. Then our CBX-1 piston coating is what I call the 'mack daddy' of piston-crown coatings. That's the top performer. It can handle anything—nitro, turbo, supercharged, diesel."
While some racers may not initially feel confident taking on the job of coating pistons, Williams explained that the process isn't beyond the abilities of anyone with good basic shop skills. By doing so, racers can reduce the cost of coating parts significantly, he said. "Applying these coatings is pretty simple and straightforward. It does take a little bit of time when you're prepping every piston, but it can save a lot of money. A small bottle of coating from us can spray, on average, at least 20 pistons. I think most shops charge more to spray one piston top than what the whole bottle of our coatings cost."
Valves
All parts of the valvetrain face their own unique forms of punishment in a race engine, which can sap performance and significantly reduce longevity. This has made them fertile territory for coating suppliers, who apply their magic to valves and other components to give them increased efficiency and longer life.
One such supplier is Calico Coatings, which, among other things, specializes in diamond-like carbon (DLC) coatings for valves. "DLC coatings are extremely hard," said Huffman. "They're extremely thin, too—typically only two to three microns in thickness. At the same time, their hardness is off the Rockwell scale, so they're very wear resistant. They also have a very high lubricity rating.
"A lot of engine builders specify DLC for coatings, but they don't necessarily understand that DLC comes in a lot of flavors," continued Huffman. "You have to be very specific about the application. You may put a DLC on a wrist pin, but it might not be the best DLC formula for valvetrain components such as the valve itself."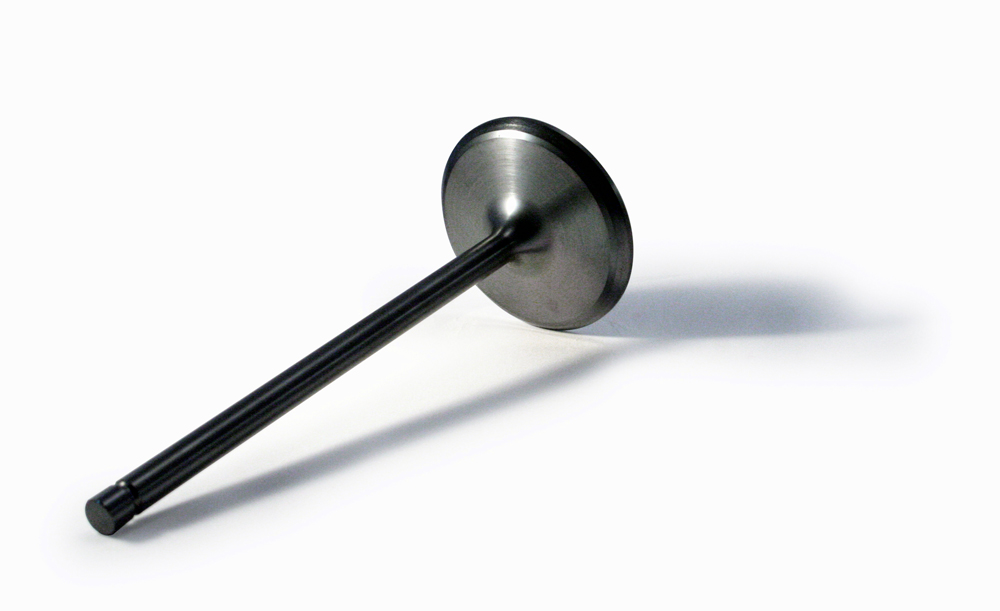 In general, DLC coatings are difficult to apply, making them typically more expensive than other coating technologies used on valves, such as chrome nitride. Nonetheless, DLC coatings offer a number of advantages that can justify the higher cost. 
"If you want to run tight clearances, you really need a good lubricity film," said Huffman. "A DLC is a very good option that allows you to go there. When you put it on the face of a softer material, like a titanium valve, it's a big advantage because valves rotate. Every time they hit the seat, with whatever the spring pressure is, it's hitting at a rotation angle, and it's coming off at a rotation. That can be a problem without good lubricity. 
"That wasn't an issue when there were leaded fuels," continued Huffman, "because the sulfur in lead is a lubricant. Without it, you start beating up the face of the valve, because there's no lubrication between the seat and the face. But coating them with a DLC puts the lubrication back in between those two mating surfaces and toughens the face of the valves, so they last longer."
Bearings
Other components on the list of most abused engine parts are bearings, many of which have to sustain the massive energy transferred from the pistons and connecting rods. Accordingly, engine bearings of all types are the subject of much attention from coaters. 
Line2Line Coatings in Clarkston, Michigan, is best known for its abradable graphite coatings that are used to minimize running clearances and protect everything from pistons to oil pumps. After considerable development and research, the company recently expanded its offerings to bearing coatings. 
"For years, customers have been coming to us to coat pistons and other parts," said Andy Suman. "They kept asking if we did bearings. We didn't back then because there were some things we needed to develop further. Now we've put in the research to develop a great product that provides improved lubricity and offers a big margin of insurance against damage from oil starvation in bearings."
Like the company's other coatings, Line2Line's bearing coatings can be applied with its unique powder-coating process. This offers the advantage of allowing them to build up much thicker coatings than other coaters can. "Most shops have to do multiple coats to get the thickness that we can," explained Suman. "That can cause issues with layers peeling off later. Powder coating allows us to build up thick coatings in a single application, so we don't have that problem. We can ultimately go much thicker with our coatings, too."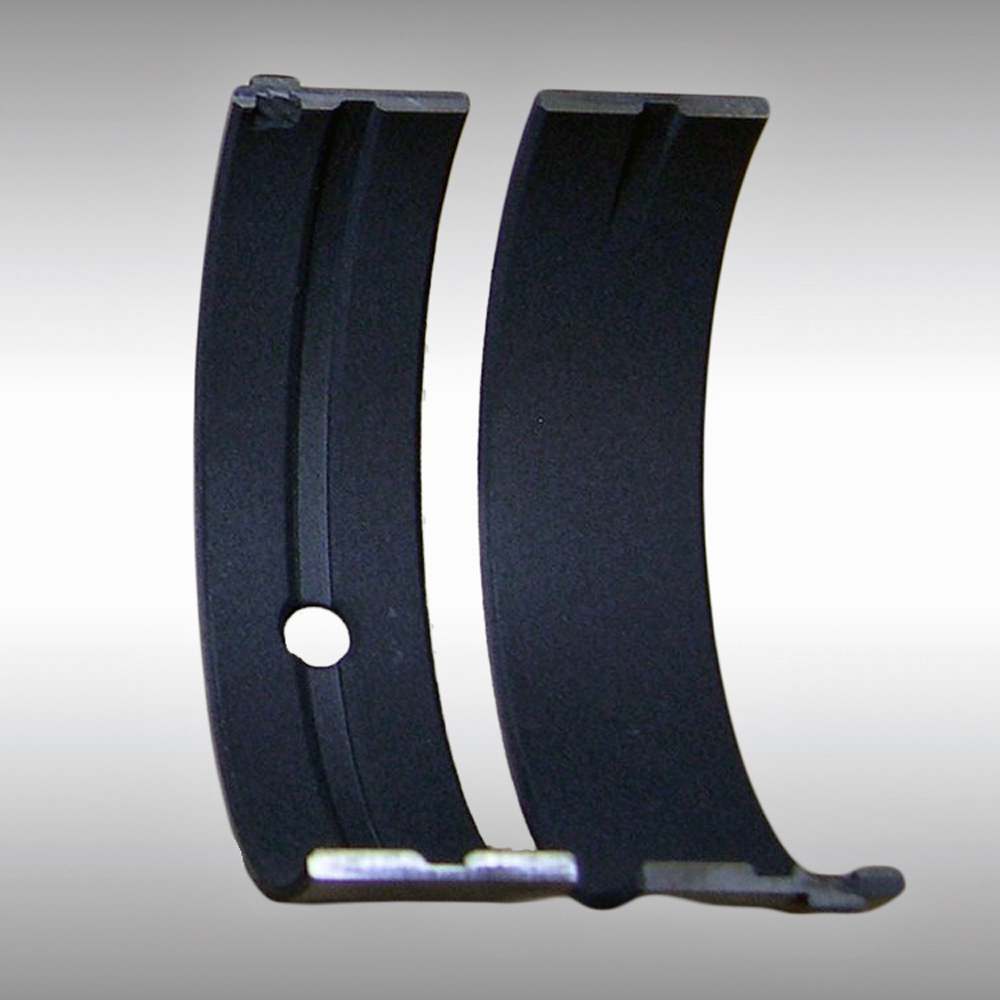 These thicker coats can be used to take up clearances in parts. When components are assembled and run initially, the coating then wears itself to an optimum clearance, harmlessly shedding the excess in tiny particles that drain out with the engine oil.
In addition to applying coatings in powder form to build up clearances, Line2Line can also apply its bearing coatings in liquid form. This is done to achieve a thin coat of extremely uniform thickness to preserve oil wedge set-up and provide insurance in case journals contact the bearings. "Even a split second of oil starvation can ruin bearings," said Suman. "The lubricity of this coating protects the bearing if that happens."
For the most part, bearing manufacturers don't apply coatings to their bearings—it's something the customer typically initiates. But some bearing suppliers, such as Precision Products Performance Center in Arden, North Carolina, believe so strongly in the value of coatings for racing engines that they sell bearings with the appropriate coatings already applied. "It started with an engine builder named Nick Ramey at Yates Racing, before it became Roush Yates Racing," recalled Debbie Jackson at Precision Products Performance Center. "We built titanium pins for him and used a Casidiam DLC coating from Anatech [now IHC coatings]. Using a DLC coating enabled engine builders to use materials they once couldn't even consider, like titanium and C350 Vascomax.
"Coating resolved galling issues and other incompatibilities," continued Jackson. "On standard wrist-pin materials that didn't require coatings, it improved wear, reduced friction, and some engine builders even saw gains in horsepower by being able to restrict oil." 
The success of these offerings made believers out of Precision Products Performance Center, helping to popularize coated bearings, while creating rapid growth for the company and its suppliers. "The market for this grew so rapidly that Anatech moved its facility to North Carolina to be closer to us and other racing facilities," said Jackson. "Precision Products also built the first rub test fixture to test these coatings. To date, there are numerous DLC coating facilities, and nothing has surpassed their coatings on our rub test." 
Exhaust
While most coatings do their work inside the engine, far away from what can be witnessed with the naked eye, exhaust components are out in the open where they can be seen—and all too often felt. The latter effect can result in burned hands when working on engines, or heat-induced component failure for other parts in the engine compartment. 
To help minimize such issues, Swain Tech Coatings in Scottsville, New York, specializes in hard coatings designed to contain heat. Unlike paint-based coatings with ceramic material added, Swain Tech's coatings are an actual ceramic, which requires a unique application process. "As a true ceramic, they start out as solid materials," explained Richard Tucker. "Those solid materials are fed into a high-energy gun that changes them from a solid to a molten state. The material is sprayed or blown onto the part at near supersonic speeds, where it impacts and bonds to the part."
These ceramic coatings provide significantly higher heat insulation than paint or powder coating, according to Tucker. There is one very noticeable downside—Swain Tech's Coatings aren't visually attractive in the traditional sense. "We affectionately call it an ugly coating because it looks like white sandpaper when it's freshly applied," said Tucker. "Then that white will mark or scratch in normal shipping, handling, and installation. It doesn't really damage the coating. It just shows blemishes on the surface. Then when it sees heat, it might discolor."
The upside of this relatively low visual appeal is its effectiveness as an insulator. "Results vary, but our coatings typically reduce radiant temperature by about 30%," said Tucker. At typical exhaust-system temperatures, that percentage works out to be a 100-degree or more drop in heat.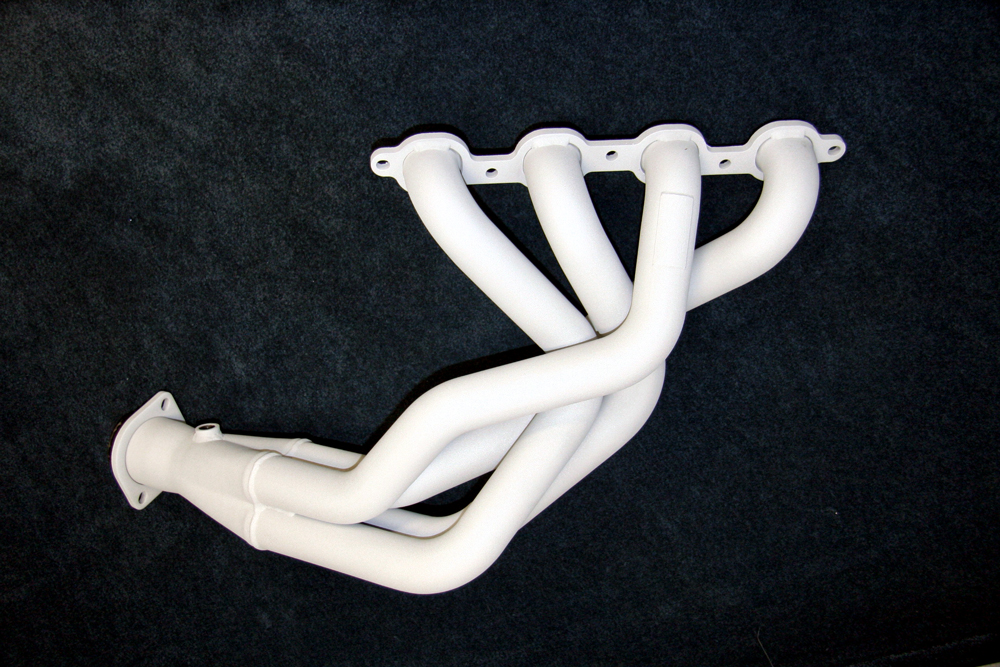 "The main things people seek us out for is that they either have too much heat in the engine bay, too much heat in the cockpit, or there might be sensitive electronics in proximity to where they have to route the exhaust," explained Tucker. "Or in a type of vehicle where you have to wrench on it pretty frequently, like in drag racing. With our coating, adjustments can be done without as much fear of getting burned. The part can be touched relatively quickly after the engine is shut down." 
Not everyone demands that kind of intense heat insulation. And with the hottest components in an exhaust system typically sprawling out in the open, many racers still seek a more visually appealing coating, even if it doesn't insulate quite as well. For this, Tech Line Coatings offers a wide range of user-applied spray-on coatings for exhaust systems, along with other coatings formulated for chemical resistance, thermal management, lubrication, and more.
Although these coatings do insulate to some degree, and they can improve performance by trapping heat and thereby accelerating exhaust flow, their primary selling point for many customers is the visual appeal they can add to components. 
One of the company's most popular exhaust coatings is its CermaKrome line, which has a silvery, almost chrome-like appearance. "CermaKrome is an aluminum ceramic," said Rick Williams of Tech Line. "It's an appearance coating, but it's definitely just as functional as all of the rest of our exhaust coatings. It's chemical resistant, corrosion resistant, and rust resistant." Williams reported that some users have gone as long as 16 years without significant wear or failure of the coating.
Along with the CermaKrome line, the company offers a rainbow of hues, in various product lines formulated for different specialized uses. Yet even with the vast choices offered, Tech Line Coatings' second most popular color is far less flashy. "Right behind CermaKrome, our most popular colors are black, black, black, black, and black," said Williams. "I say that because we offer about five different types of blacks. And we have a different family name or series for our blacks. They were formulated over the years for slightly different purposes, but each one of them provides pretty much the same performance." 
To dispel any notions that these are purely cosmetic coatings, Williams shared one particular black-colored coating's history, a rather 'out of this world' project from the company's early days. "Our BHK line was one of those original black formulas," said Williams. "It's good up to 2,000 degrees F on the metal itself. It actually was used in experimentation for NASA's X-30 Space Plane project years ago."
Sources
Calico Coatings
calicocoatings.com
Line2Line Coatings
line2linecoatings.com
PolyDyn Performance Coatings
polydyn.com
Precision Products Performance Center
pppcenter.com
Swain Tech Coatings
swaintech.com
Tech Line Coatings
techlinecoatings.com