Business Profile: Stainless Diesel
Image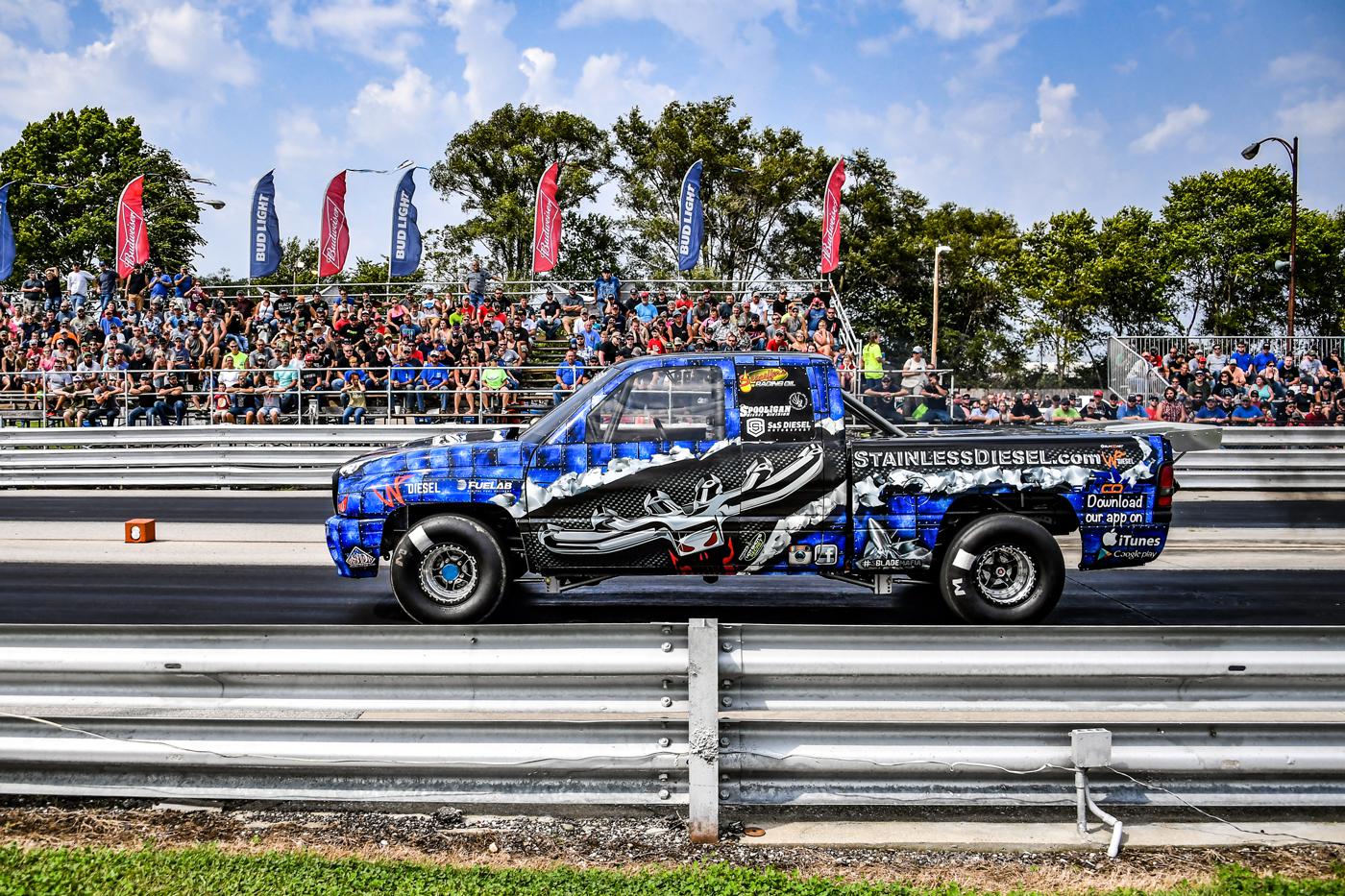 This former gasoline-powered racer is filling the need for those in the turbodiesel market and setting blistering times to match.
Adapting to the needs of the diesel drag racing market is what turned racer Johnny Gilbert into a business owner.
It's 2022 and he's adapting again. There's a demand for stock-appearing turbochargers that Gilbert's Stainless Diesel is supplying.
"We're known more for high horsepower as far as drag racing and sled pulling, but what we're looking to do more of are stock, bolt-on turbos," he said. "We're super excited about it and pushing it aggressively."
That approach isn't new at all for Gilbert and Stainless Diesel. His company in Middlebury, Indiana, specializes in single- and twin-turbo piping kits, billet five-blade turbo upgrade compressor wheels, and personalized BorgWarner turbochargers. The shop services professional customers that make 3,000-plus horsepower but also daily drivers who need just 400 to 600.
For Gilbert, it was an experience at the race track that was pivotal in his development of Stainless Diesel.
Fueled by Diesel
As he is with marketing his stock-appearing turbos today, Gilbert was likely "pushing it aggressively" when he broke the rearend in his 1971 big block Chevelle at Osceola Dragway, his home track, about 16 years ago. Officials allowed him to use the 2001 Dodge Ram 2500 diesel he used to tow his car to the event to make a pass and collect points.
"I won the round!" and two more that day, he said, the memory still worthy of exclamation.
The truck was powerful then, but it has evolved into a monster that's won three straight Hot Shot's Secret Pro Street titles in the Outlaw Diesel Super Series (ODSS) and holds a division record pass of 4.82 at 158 mph set at Wagler Motorsports Park in Indiana.
"It still has the original cab, and that's about it," Gilbert said about his truck.
The experience of putting his pickup on the track changed things for Gilbert. "I had the most fun—people were giving me a bunch of crap" about his diesel substitute. "It took me from my racing roots in the gas world to want to race a diesel."
He began looking for diesel racing organizations, while his background helping his truck-driving father repair semi-trucks gave him a leg up on diesel knowledge. The effort soon spun Stainless Diesel from a "side hustle" into a fulltime business.
"I was enamored by the ability to make more horsepower out of a diesel pickup truck" and erase an image of slow and cumbersome, he said.
He soon realized, however, that if you wanted a new performance diesel drag racing part, "you had to make it yourself."
Easy Replacement
Market demand explains the current push by Stainless Diesel with its stock-appearing, bolt-on turbochargers. Gilbert's team is targeting customers who tow and want cooler exhaust gas temperatures (EGTs) and faster response, but also drag racers or sled pullers who want to move up a class and need more horsepower.
Gilbert admitted that the change is driven in part by more states inspecting street-strip vehicles. "Basically, it's to have a guy be able to play but still have his truck be compliant," he said.
Owners of 1990s and early 2000s trucks are also buying stock-appearing turbos as their old units fail.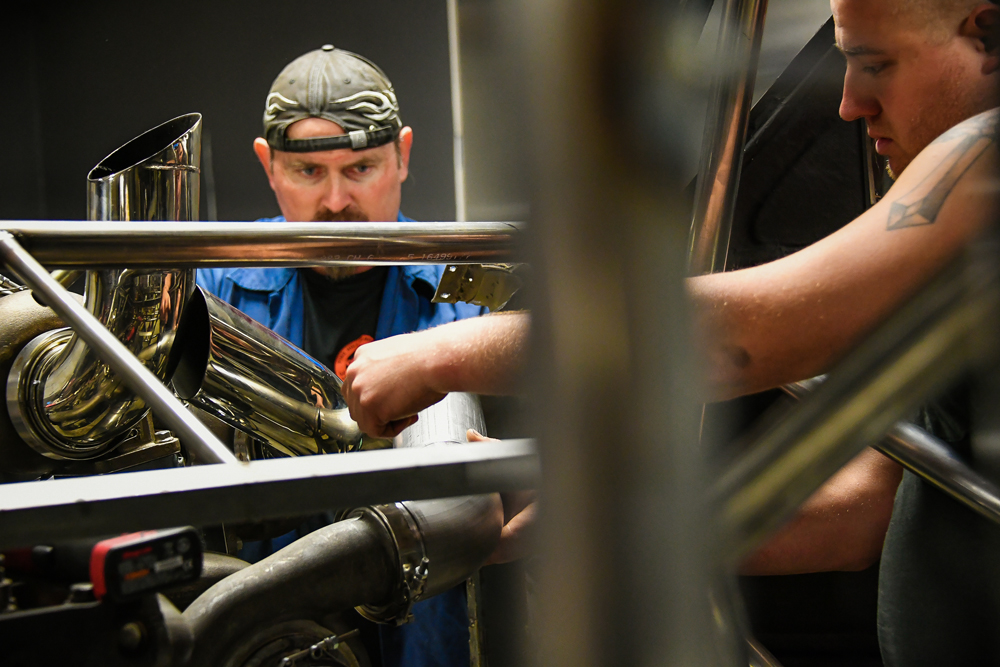 The beauty of stock replacement is the ease of installation. "You don't have to upgrade anything," Gilbert said, whereas a new turbo mount could set off a costly chain-reaction of new parts and fabrication.
Stainless Diesel offers stock-appearing turbochargers for all Ford Powerstroke and Dodge Cummins applications (Stainless Diesel is the original manufacturer of stainless exhaust manifolds for Cummins) and all but the past few years of Chevy Duramax.
About 90% of the stock-appearing turbos use Stainless Diesel's 5 Blade Mafia design developed about 10 years ago when Gilbert was looking for a turbo to work specifically with compound systems. He used noted manufacturers including BorgWarner and Holset in the development.
"We tweaked them a little bit to be more diesel specific and work with our compound (systems), which are like a two-stage air compressor" that provide power at low and high ends, he said.
5 Blade Mafia wheels are light compared to a cast wheel, Gilbert said, and help keep EGTs cool while still producing big horsepower.
As a bonus, they produce a loud jet engine turbo whistle. "Guys like that," Gilbert added.
Brandon Matthews, owner of Greenline Diesel in Jacksonville, North Carolina, a Stainless Diesel dealer, agreed that the 5 Blade Mafia sound is alluring. "It doesn't sound like anything else out there, he said. "It's just a distinct sound."
At a recent race he recalled hearing a truck from a distance and noted, "Yep, that truck has a 5 Blade on it," Matthews said.
Performance and Passion
Matthews said he sells Stainless Diesel turbochargers for reasons well beyond the sound. They also produce higher torque, lower EGTs, and faster spool time.
He said Gilbert's crew has put considerable time into testing and development, studying things like compressor wheel design and airflow for the diesel turbo market.
"Stainless was at the forefront of all that," he said.
Like Gilbert, Matthews revels in the success diesel racers—with backing from manufacturers like Stainless Diesel—are having against "the gas guys."
"There are 8,000-pound four-wheel-drive trucks beating cars that really shouldn't be beaten," he said wryly.
Though he has raced a few times, Stainless Diesel customer Derrick Barney isn't worried about winning on the drag strip in his maroon with gold trim 2011 Ram 2500. But don't misunderstand, he digs the chance to make big horsepower with "Big Sexy."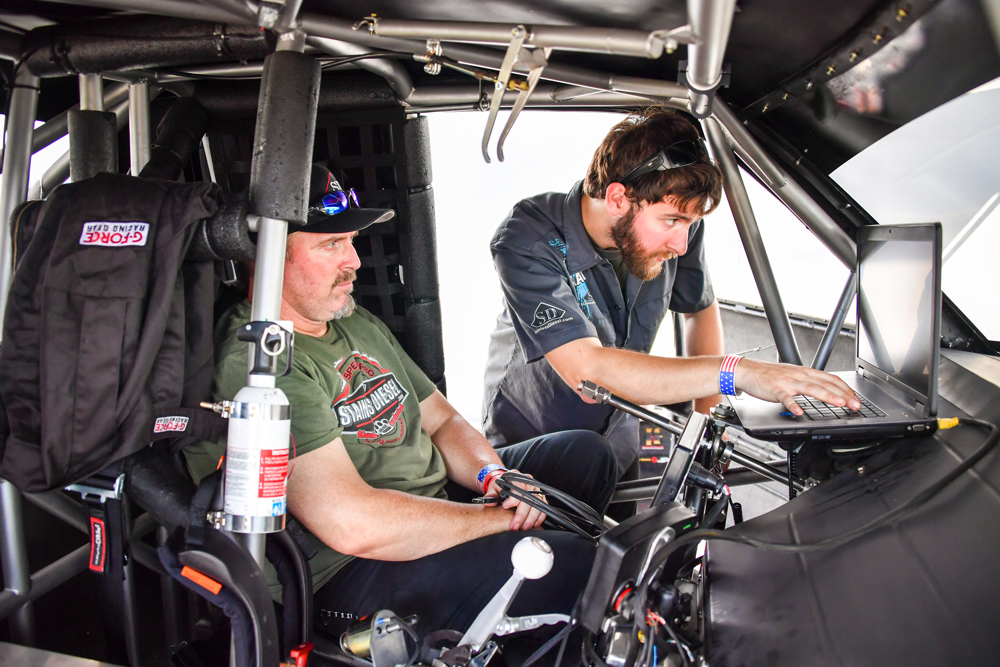 The Chebanse, Illinois, resident recalls first taking his daily driver to Stainless Diesel, having learned of Gilbert's reputation for turbocharging. "You don't know how it's going to go when you meet someone with a well-known name," he said, "but he's just another dude hanging out doing truck stuff."
Barney has updated his turbo five or six times to get his 6.7-liter Cummins to 1,100 horsepower—and he's shooting for 1,400 or higher. "It's just one of those things that gets addicting," he said. "You just keep wanting more and more."
He credits Gilbert for his patience and taking time for any customer, and said his passion motivates other diesel owners.
Barney has come to understand that passion. "Honestly, I knew very little about diesel when I bought my first truck," he said. "But once I found out you could make them a little bit more powerful, a little bit faster, it snowballed, and it's more and more fun."
In-house Advantages
Stainless Diesel, which has seven full-time employees, has a number of CNC machines in its 4,800-square-foot shop used to manufacture turbos and components, including piping kits, exhaust manifolds, flanges, and brackets.
It wasn't always that way. Gilbert outsourced a lot, but he grew tired of vendor backups. "I realized that we really needed to bring stuff in-house to have more control over the timeframe…like when you need something done in short order," he said.
The transition began about six years ago and quickly gained momentum.
Though the machine shop owners he had relied on were upset at first, Gilbert made it business, not personal, and now his shop is a backup for them.
In-house control also reduces inventory, which improves cash flow. And, there's quality. "We can control the tolerances, and if I want to make a design change, it's quick and easy for us," Gilbert said.
CNC equipment at Stainless Diesel includes a Haas TL1 lathe, a Brothers 1000X with fourth-axis capability, and a five-axis Matsura machining center that could lead to even more production in-house. He said the Brothers' unit is used to machine exhaust manifolds and turbo adapters—the latter in demand by customers who pull a trailer in the winter but switch to larger turbos for the pulling season.
Gilbert noted he's purchased all of his machinery at the PRI Trade Show.
Gilbert and his son, John Gilbert III, mostly use Fusion 360 software for their designs, but are looking into using Mastercam in the near future.
Johnny Gilbert does most of the R&D and product development while his son, who went to school for CAD training, is also a machinist, turbo assembler, and the race team tuner. Other family members include Johnny's wife, Amy, who does marketing and graphic design and manages the company's website (stainlessdiesel.com); and daughter Brianna, who handles accounting and inventory. Trevor Lortie is lead sales manager/marketing; Stephen O'Neill, turbo assembly, sales and technical support, and part of the race team; and Eric Long is a fabricator and welder. Roy Currier is the crew chief for the race team.
The Diesel World
Gilbert's love of diesel drag racing is driven in part by the "commonality of battling the gas guys." But it's not easy.
"Everyone knows you're at somewhat of a disadvantage of technology, speed," weight and more, he said. "In the diesel world, there is so much torque to manage—and torque breaks parts."
This spring Gilbert said he was "very concerned" about inflation and diesel fuel prices, and he worries it might keep entry-level racers away.
In speaking with customers and vendors, however, the mentality is "keep on moving forward, but pay attention."
Another approach is to equip race and tow vehicles with new products, including the stock-appearing bolt-ons. "Making things more efficient—that's going to help fuel economy for sure," Gilbert said.
Those battles aside, Gilbert is "amazed" at what his company has accomplished in just 16 years. "The connections we've made in this process of starting as a small shop and getting a little bit larger and a little bit larger…and meeting all the people," he said. "I love talking to people from all over the country and helping them with their projects," including "the gas guys."
Gilbert wants to continue to feed off that energy. "It's neat to see the diesel industry grow, in the racing aspect," he said. "I'm pretty excited for the future."
Racing With—and Beating?—'The Gas Guys'
Competitors in the Outlaw Diesel Super Series Pro Street division likely celebrated Johnny Gilbert's decision to give his 2001 Dodge Ram 2500 a "timeout" in 2022 after three straight championships.
Those in other high-horsepower drag racing series, meanwhile, will get to know Gilbert and his proclivity for diesel this year.
He turned in his 4,400-pound truck for a carbon-fiber, split-window 1963 Corvette that weighs 2,700 pounds "with me in it,"
Gilbert said.
Originally built by SRC Motorsports' Wally Stroupe in North Carolina and reconstructed with help from Hammertech Racecars in Indiana, Gilbert's Pro Mod is powered by an all-billet, 6.7-liter inline Cummins diesel with a MoTeC ECM (engine control module). It also has a one-off manifold, fabricated, of course, at Gilbert's Stainless Diesel shop in Middlebury, Indiana, to fit the turbo in
the chassis.
With the ECM, it'll have in excess of 3,500 horsepower.
"We want to go race with the gas guys," Gilbert said, not hiding his friendly but competitive demeanor.
There's no restriction on using diesel in series such as NMCA and Outlaw Pro Mod, though he admitted it is very unusual.
He believes there will be marketing value for his business, and he plans to test some new components, too. "I'm pretty excited for that this year," he said.
A gas drag racer in earlier years who now has diesel in his veins, Gilbert's expecting a curious reaction. "We'll be kind of the oddity, the only diesel guys in the pack," he said with a confident laugh. "I'm sure we'll get the gas guys scratching their heads a little bit." —Andy Heintzelman