Image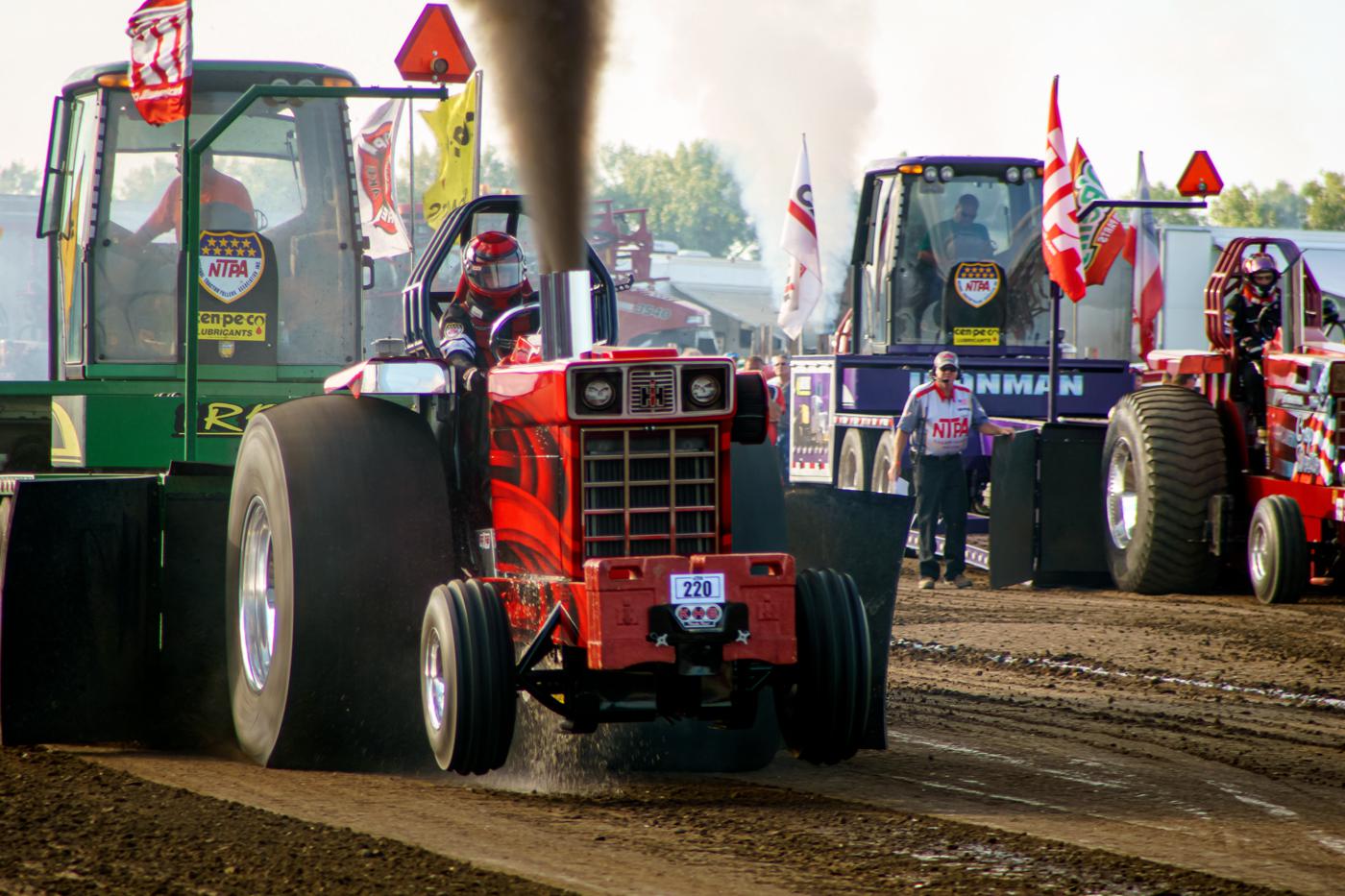 Photo by Ryan Roossinck Photos
Like many other segments of motorsports, diesel pulling has seen significant increases in horsepower and the integration of more sophisticated technology in recent years. While the hardware parallels drag racing and other popular disciplines in some respects, many aspects of competitive pulling are wholly unique to the sport.
Tube frames, billet engine blocks, and wild multi-turbo setups might sound like the checklist for a radial tire drag car or a hardcore time attack setup, but it's also becoming an increasingly common sight in the world of competitive diesel truck and tractor pulling. It's a segment of motorsports that's not as widely publicized as some of the more traditional racing disciplines, but that doesn't mean that these teams are treading water. 
"Over the last five years or so, people have started to notice that there's a big opportunity here," said Van Haisley of Haisley Machine, Fairmount, Indiana. "They're realizing that they need to start supporting this type of racing and making parts for these teams. Early on, if you wanted something, you basically had to make it yourself. Now the pullers of today can pick up the phone and get what they need—provided they can deal with the current supply chain issues." 
Although some of the components used in competitive diesel pulling have commonality with other types of racing, others are highly specific to this segment. To get a better understanding of the current state of affairs in the diesel pulling world, we spoke with racers and builders involved in the top tiers of competition to find out what sort of support they need and where they're getting it.
Rob Russell
2021 NTPA Grand National Pro Stock Champion
"There are basically no parts on a Pro Stock tractor that you can just buy at your local store," Russell stated. "Just about every part on that tractor is an aftermarket billet piece. Horsepower is a big factor. Back in 2011, we were at about 3,000 horsepower, and we're right at 5,000 horsepower today." 
He said the influx of specialized data acquisition systems has helped push competition to another level in Pro Stock pulling. "We do a lot of tuning by data logging, and the technology in our sport is changing constantly. Every year there's something new. And every time we find another 300 hp, we also find a new weak point that has to be addressed."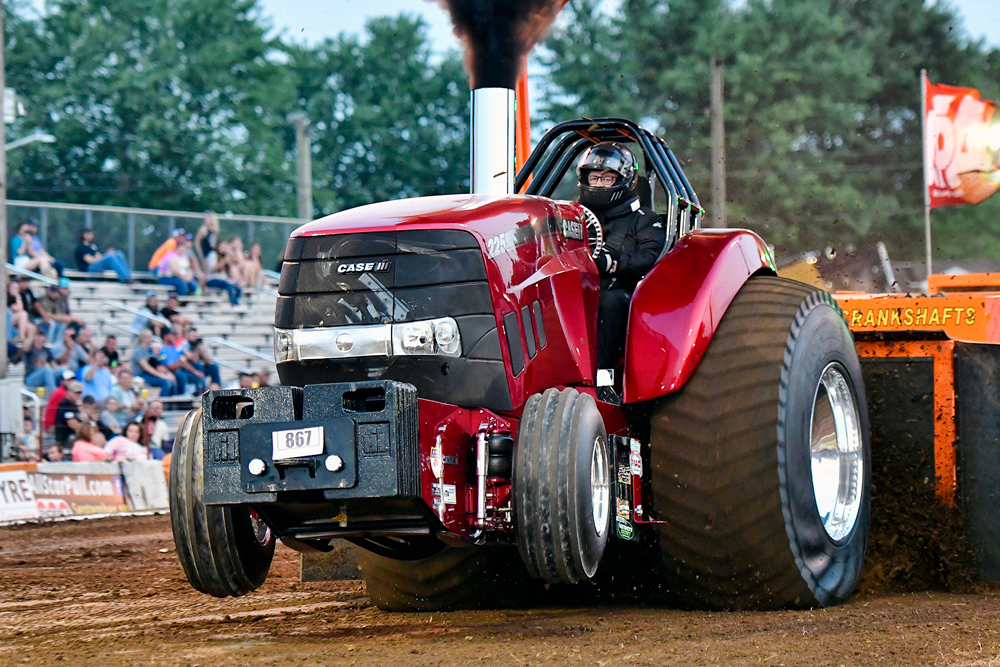 As the technology continues to evolve, the tractors are also hooking up better, and that has translated to more abuse on the drivetrain. "Companies like Pro Puller are making tires that are allowing these tractors to put the power down so much more effectively, but that's also when we start seeing new failures. So we're making changes, like going from three-gear planetaries to billet four-gear planetaries, switching from 1 3/4-inch shaft size on the ring and pinion to 2-inch shafts, and we're using wider gearing in the transmission to keep everything together." 
Russell's Pro Stock puller is motivated by a 680-cubic-inch mill that's based on a 619-cubic-inch John Deere architecture. Sourced from Riverside Engines in Tiffin, Ohio, this powerplant starts with a stock block but otherwise shares very little with its production counterpart. Pro Stock rules dictate that displacement is limited to 680 cubic inches, the stock crank must fit in the block, and the cylinder head has to bolt into the stock location. 
"We use a billet crankshaft with a 5 3/4-inch stroke with a stock 5 1/8-inch bore," he explained. "Riverside uses heavier sleeves and a billet piston made in-house, and the rods that are produced in-house are four-bolt cap. We run a compression ring called a C-ring to seal the cylinder head to the block, and we've made that head 6 inches longer than stock—3 inches forward and back, and we run tie-down bolts on the cylinder head into a steel cover to help hold that head in place."
He also noted that he has plans to move to a billet block next year. Produced by Chaos Fabrication in Washington, Pennsylvania, the new block will be 300 pounds heavier than the stock block due in part to its lack of water jackets, which will bolster the block's strength in turn. Russell's drivetrain combination includes a centrifugal clutch from Crower in San Diego, California, with a Baldwin, Wisconsin-based Profab Machine throwout bearing that's hooked to a reverser from SCS Gearbox. "A reverser is a good option if you have a rearend ratio that you like," he said. "The problem is that it's not like asphalt—we can't change our ring and pinion very quickly. So I have four different ratios I can use in the transmission depending on the track conditions."
Russell's tube chassis is sourced from Engler Machine and Tool in Princeton, Indiana. "There's a half-dozen different chassis builders, and most everyone runs a tube chassis now with a truck rearend," he said. "Back when these tractors were making around 2,800 hp, you kind of needed the chassis to flex a little. But it seems like now, with the horsepower we're making and the tires that have been developed—the stiffer it is, the better."
His upgrades for the 2022 season include a bigger fuel pump and a larger single turbo setup, along with new Mitas tires, but he's quick to point out that testing new combinations is an art in and of itself. "Coming off of a successful season, it's tough because we don't want to screw things up. But we can't sit still either—it's too competitive. Dyno testing is useful, but this is why a data logger is so important in our sport. I run a TS Performance data acquisition system, and Corsa has a new system that allows you to put sensors on your driveline that will measure torque and horsepower. Every year the power keeps going up, and every time that happens, we find the next weak point in the combination." 
Van Haisley
Haisley Machine; Super Stock Diesel Competitor
Along with engine building and machining services that he and his wife Patty offer through Haisley Machine, Van campaigns the "Rock Hard Ram" Dodge 2500 4x4 truck in Super Stock Diesel class competition. "The only difference between the engines we run and a high-performance drag race engine is our lack of spark plugs," he quipped. "We're running 150 pounds of boost with a three-turbo setup."
His latest engine combination consists of a Cummins-based 391-cubic-inch billet aluminum block with no water provisions and a cast-iron head that, with the help of a robust amount of boost, develops in excess of 3,300 hp. "My atmospheric chargers are 110 mm, and the manifold charger is 115 mm," he explained. "It's a two-stage system, so we have two chargers blowing into the manifold charger. All of the charge air runs through a big Bell intercooler on a belt-driven pump—that air will be about 650 degrees leaving the turbochargers, and I rarely exceed 100 degrees with the air entering the engine."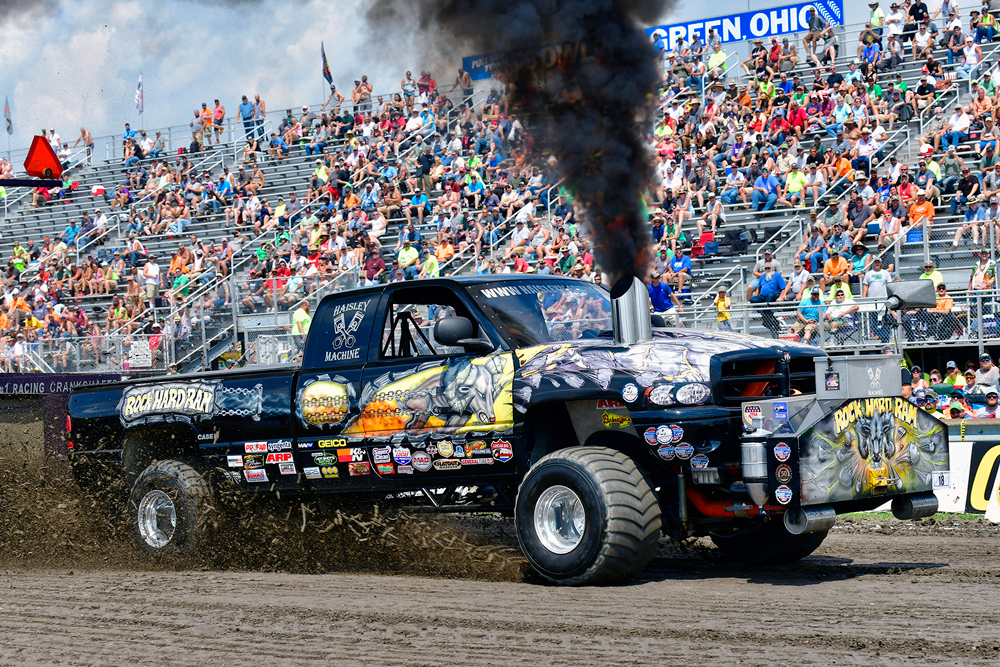 He said that while power is easier to come by these days, sanctioning bodies' tire rules have placed a greater emphasis on technique. "With the pickups in our sport we've got all this power available, but they've got us in a box when it comes to tires. They can only be so big in circumference, and the tread patch can only be so wide. It has made the sport very entertaining because the guy behind the wheel has to be able to control all of that horsepower and torque to get these things down the track." 
Like Russell, Haisley uses a reverser with a single forward gear rather than a traditional transmission. His is sourced from Profab Machine, which also supplies the transfer case. "It's just like a sprint car—you have about 20 sets of quick-change gears that allow us to swap the ratio right there in the transfer case," he said. "Profab and SCS Gearbox are the two big players in this sport when it comes to reversers." 
The rearend used in his Dodge 2500 is a tandem SQHD unit that was originally designed for a semi-truck. "Each unit is rated for 19,000 pounds, so it would be a 38,000-pound total rearend setup," he said. "These are generally sourced from big truck rebuilders, and SCS Gearbox makes the spools and axles we use. We fabricate our own sheetmetal housings for them to reduce weight." 
The truck's new drawn over mandrel (DOM) chassis for the 2022 season comes from Barker Machine and Fabrication in Whitehouse, Ohio. "It's basically an upper rail, a lower rail, and a lot of webbing in between," he said. "We bent and broke a lot of frames over the years, so we've implemented different angles and reinforcement strategies to get that strength. The way the hitches are installed on them is another big thing. There are some manufacturers that are making the chassis out of chromoly now, but I think they're still struggling with them, to be honest." 
He told us that due in part to the use of water injection in setups like his, when today's engines fail, they tend to do so catastrophically, and that means that testing and maintenance are more critical than ever. "We change the oil in them every 1,200 feet; it's 6 1/2 gallons of oil each time. We also put new rings in them about every 50 runs, but the big maintenance items are things like the valvetrain, the oil, and the clutch. The clutch also gets adjusted after every pass down the track—it's one of the most important torque management features that we have."
Travis Schlabach
2021 NTPA Grand National Super Stock Diesel Champion
"I think the technology behind turbochargers and fuel injection have made the biggest difference in the climb of power levels over the past five or 10 years," Schlabach said. "You put more air in the motor, you need more fuel to support it, and once you have that, you're looking for more air again. It's a vicious cycle."
Schlabach competes in Super Stock with the "Bone Twister," a tractor based on the International Harvester 1066 that sends roughly 5,000 hp to the rear tires thanks to a cast-iron, production-based, 540-cubic-inch inline six-cylinder engine that was designed and built by Hypermax Engineering in Gilberts, Illinois. 
"In the past year or two, some people have been working on billet blocks, and solid billet heads are readily available, but my block still has water around the sleeves, and I still have water in my cylinder head," he noted. "The advantage of having water in the block and cylinder head is that we can pre-heat the motor to about 160 degrees with a water heater that goes right in our radiator piping. So an hour before we want to start this thing, I can get the motor warmed up. If I start the engine with no heat in it, it'll take six to eight cans of ether to get it to the point where it will run correctly. If you already have that heat available, you can get it there with one to two cans. I think that having the water there to help cool the motor down at the end of the run is an advantage, too, especially if there's a sled reset or something like that." 
His turbo setup comes from Hypermax as well. "It's a three-charger rig. We take atmospheric air through two top chargers running in parallel, and they blow into a bottom charger that's mounted right on the exhaust manifold. That compressed air then comes out of the bottom charger and goes into the motor." He said his intake manifold boost pressure is typically somewhere in the 300- to 325-pound range, but some competitors are cresting 400 pounds in his class.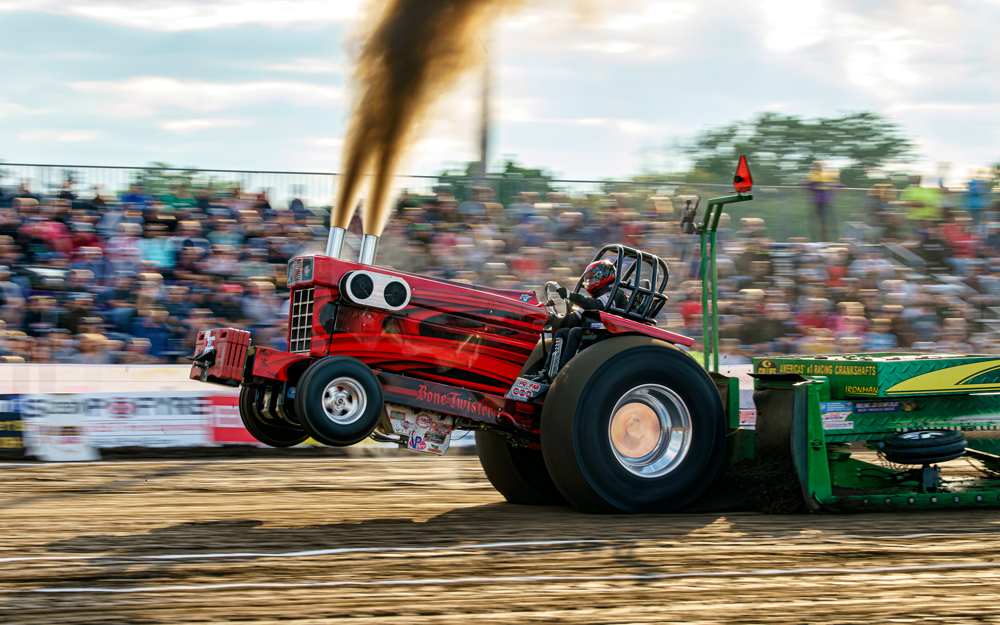 The tractor's four-speed transmission is sourced from Profab Machine. It's a cast aluminum center section with billet end caps, and Schlabach said that Profab manufactures its own custom gearsets for it as well. "I've had really good luck using a four-speed—we can pick a gear based on track conditions and what we want to do. And it's incredibly strong, I don't think that we've hit the ceiling for its power handling yet." 
The rearend is a Rockwell SQHD with a billet carrier that's sourced from Engler Machine and Tool, and Engler built the tractor's chromoly tube chassis as well. "Tim Engler is a wealth of knowledge in this sport," Schlabach said. "Tim, along with Larry Peterson at Profab, and Jeff and Jerry at Hypermax Engineering, have been instrumental in my success over the years."
The engine in his tractor sits in a cradle that allows it to rock back and forth. "There are three bolts that hold the entire motor assembly in that tractor. As the engine creates torque, it naturally wants to pick up one of the rear tires. By allowing it to pivot a little bit, it helps keep that tire on the ground." 
In terms of maintenance, Schlabach checks the clutch after every few passes and is always keeping an eye on the valvetrain. "And, of course, we check our oil screens after every pass to see if we're getting any bearing material or anything like that," he said. "Maybe half-way through the year we'll put a set of rings in it to keep the blow-by to a minimum, and we'll replace pistons once a year. Turbo maintenance is also really important. The thing about a multi-charger rig is that if a compressor wheel goes out at the top, it can cause a domino effect of failures in the setup. If everything's running right you don't have much to worry about, but if you starve it for oil or it gets overheated, you can run into problems." 
Colin Ross
Chaos Fabrication
Ross was recently involved in a build at Chaos Fabrication dubbed El Niño, a Pro Stock tractor built for the Parish family of Marion, Kentucky. "The engine is based on an International DT466 inline six-cylinder engine," he said. "Pro Stock caps displacement at 680 cubic inches, so 672 cubic inches is as big as we could get away with. We designed the engine in-house and had it cast because we wanted something better, and there just wasn't anything out there. We saw a lot of areas in the blocks that we were using that needed improvement, so we took it upon ourselves to create our own."
The engine in El Niño is paired with a four-speed gearbox from Profab Machine that sends the grunt to the rear tires through a Rockwell rearend. Underpinning the tractor is a chromoly tube frame chassis from Engler Machine and Tool, and Chaos Engineering incorporated a third frame rail into it to further stiffen things.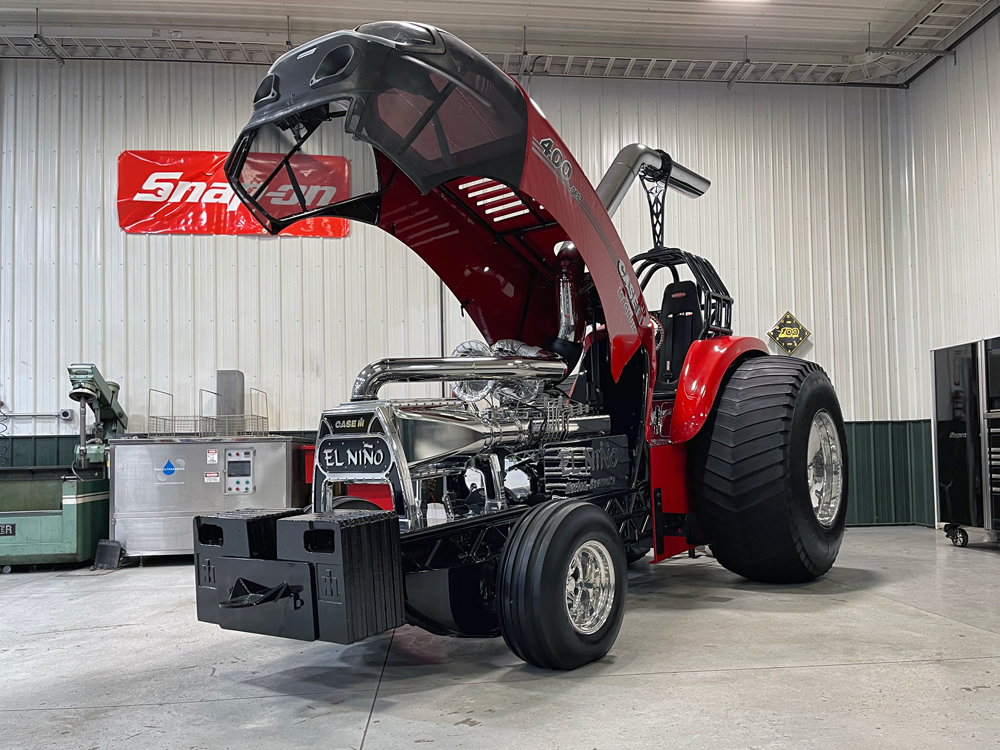 "One of the things that has helped out the tractors in Pro Stock significantly is stiffer frames," he said. "That was a night-and-day difference for that class. In the past, competitors wanted the chassis to be flexible, but now they want them to be stiff, and I think the horsepower is what changed things. It takes torque to make a chassis flex like that, and that means it is robbing torque from the rear tires."
He also noted that dyno testing has become essential for these teams. "It's been a horsepower chase in recent years. Horsepower doesn't guarantee wins, but it sure doesn't hurt to have all that you can get." 
In terms of parts sourcing, Ross said that there are names that tend to come up time and again for certain components, but in other aspects of pulling, it really just comes down to the relationships that suppliers have built with the teams they support. "We do a lot of work with Hypermax Engineering for engine parts, Wimer Fuel and Air does the turbo setups and the injection pumps on all of our stuff, and Sonny Bryant is at the top of the list for crankshafts."
Looking down the road, Ross said that electronic fuel injection may take on greater importance in diesel pulling, but the jury is still out. "There are some people trying it now, so a lot of folks have their eyes on that at the moment. But I think it's going to take a lot of time and money to make it work."
SOURCES
Van Haisley
haisleymachine.com
Colin Ross
facebook.com/Triple-Bypass-Ross-Family-Pulling-156347615167252/
Rob Russell
facebook.com/Workhorse-Pulling-Team-402494086524737/
Travis Schlabach