PRI Motorsports Retail Business Survey: Websites
Image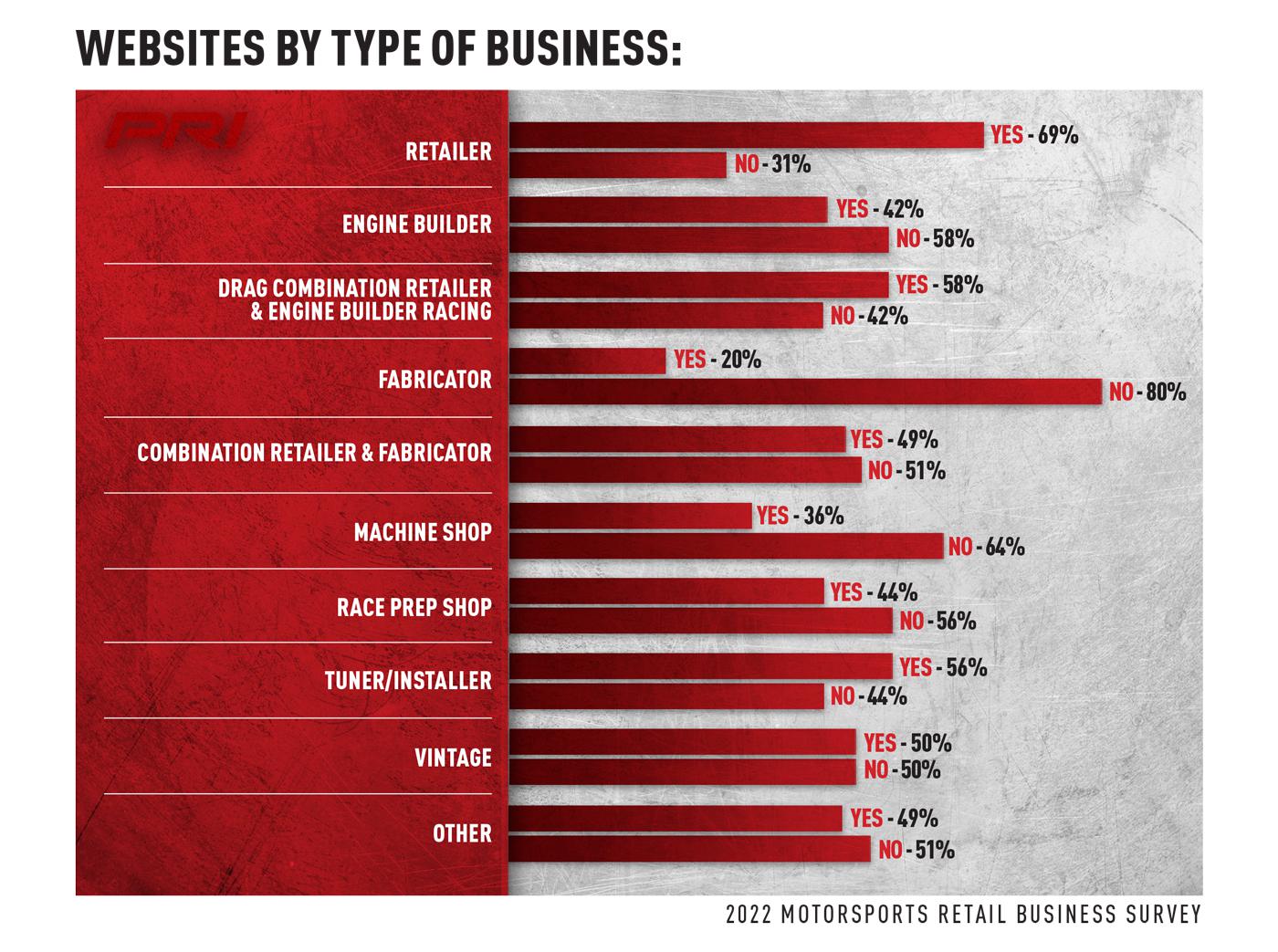 Many race businesses still don't have them, so PRI asked some that do, as well as professional web developers, to share tips on what an effective site needs and how to launch one inexpensively. 
For the past several years, results of PRI's annual Motorsports Retail Business Survey have revealed that just 50% of racing businesses that answer our questionnaire report having a website. Drilling down into the results shows that 69% of retailers have websites, but just 42% of engine builders and 20% of fabricators/builders do, too.
What benefits are businesses without a website missing? PRI talked to three website developers that specialize in motorsports clients to find out. All shared some basic website must-haves to get maximum value from the investment.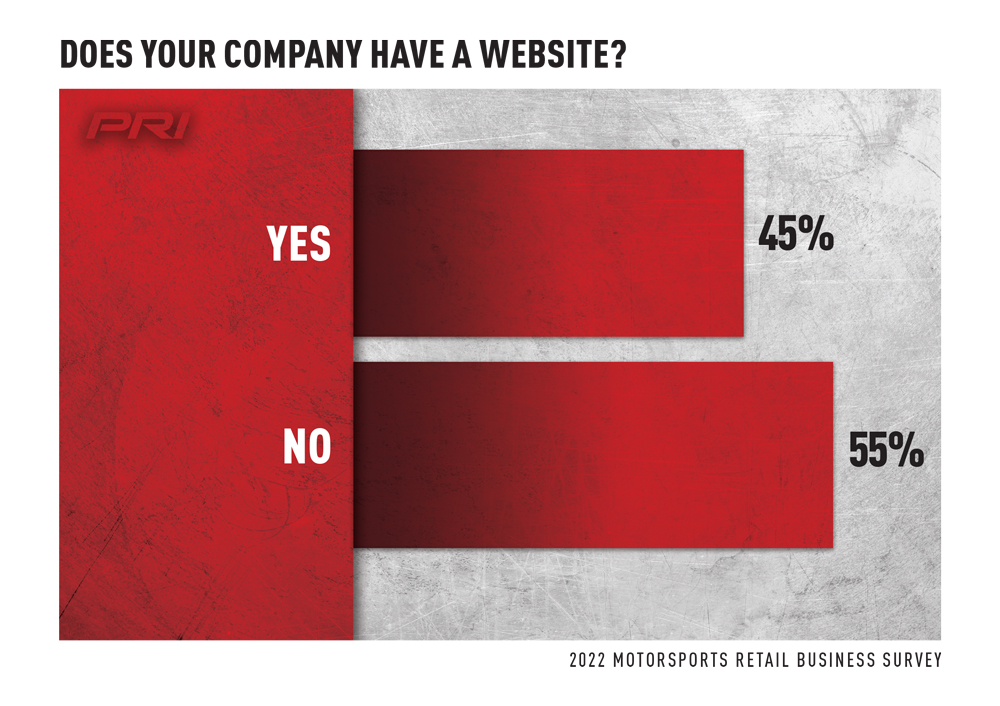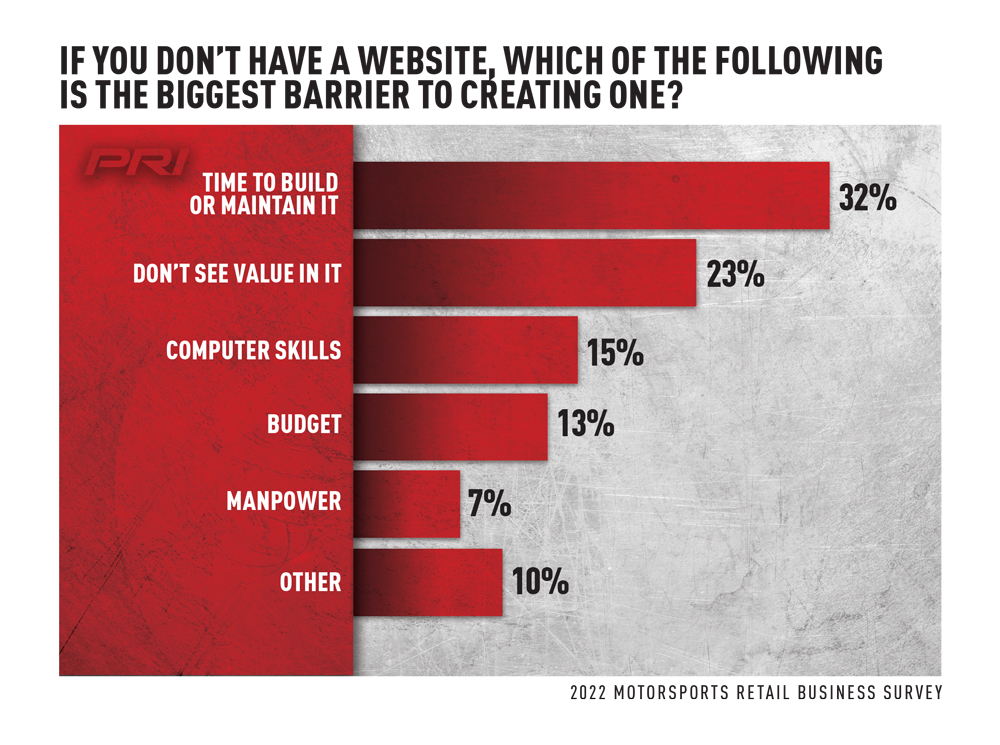 We also spoke with an oval track parts retailer that added e-commerce about two years ago and an engine builder that launched an all-new site with new features in late 2021. 
We found that some race businesses use Facebook instead of a website. One, MasterSbilt Race Cars in Crothersville, Indiana, which builds dirt late model cars, uses an older website only for search results and to mirror its Facebook feed. "We've done more business over Facebook than we ever did with the website," Tader Masters said.
While all three of the web developers included agree on many basics, each offers some specific actionable advice here.
In summary:
1. Even many "good" websites can use some immediate attention, especially updating contact information.
2. Social media and a website can work together to boost effectiveness of both, without increasing work for the business.
3. Launching a brand-new, professionally made, multi-page site can cost under $1,500.
4. The website developers we spoke with build sites that clients can update themselves and offer monthly packages to do that work for them if they prefer.
A Rebuild, or a Brand New Site?
Ainsley Jacobs' company, P.TEN Marketing in Augusta, Georgia, develops and manages websites for a wide array of racing and street performance businesses. "I'd say about 70% of my clients' sites are rebuilds or refreshes. The rest need completely new sites," Jacobs said.
The most glaring problem she sees on older websites is a lack of basic information, such as clear descriptions of products and services, location, and hours of operation. 
That becomes a place to start with a new or refreshed site. She recommends choosing a vendor that will be hands-on in taking a client through every step, from purchasing the domain and securing hosting to developing, deploying, and managing the site. 
Jacobs counsels clients to use a website design that showcases their individual business's character. "If the website looks the same as a competitor's, the customer may assume the product is the same, as well."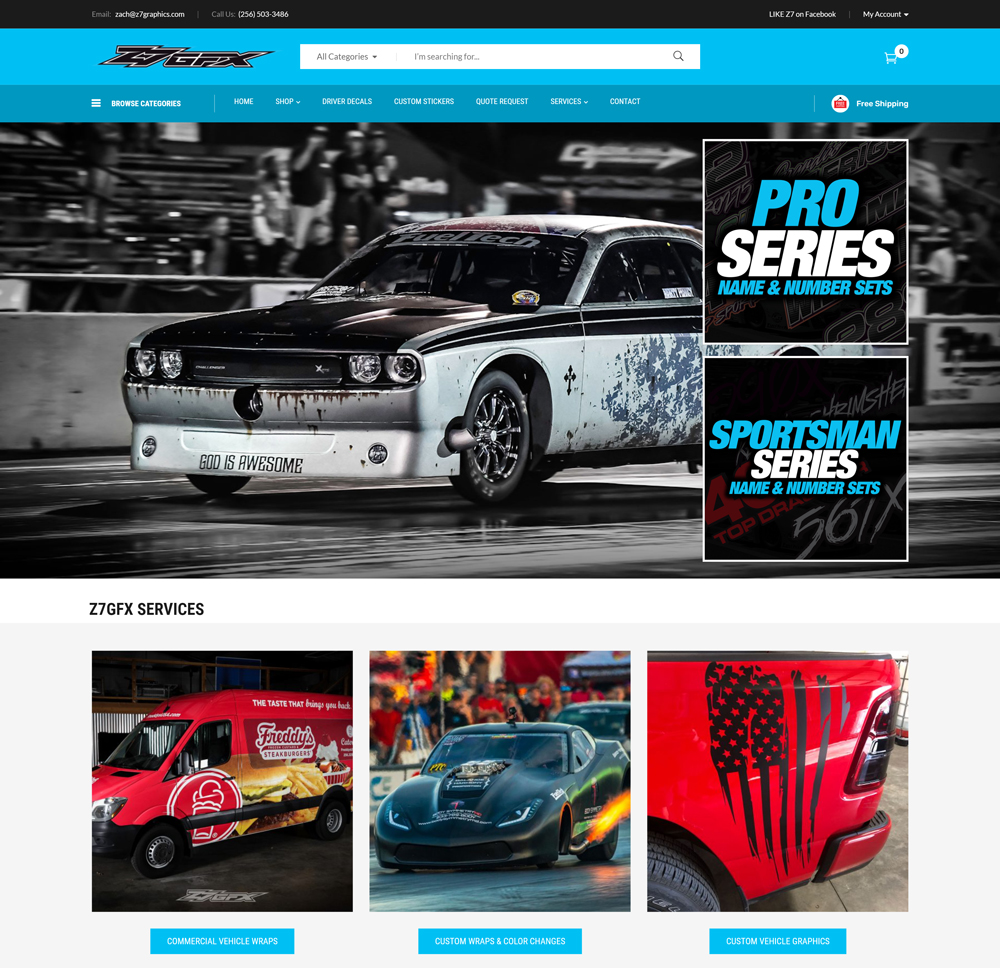 Jacobs cited fresh and useful content as essential not only for search engine optimization and search rankings, but also for generating customer interest. She recommends active updating, including a 300- to 500-word blog post at least once or twice a month, plus passive content from integrating social media streams and Google reviews.
"If you think you don't have anything to blog about, your customers sure do," she said. "Post about their successes and wins. The search engines respond positively, and your customers get value from the recognition."
In instances when cost comes up as an obstacle to having a website, Jacobs said it usually relates to setting up e-commerce. While e-commerce involves such complex elements as inventory integration, retail and wholesale pricing, shipping logistics, and credit card processing, available services such as Shopify can streamline the process. 
The 'Magic Formula' for Small Race Businesses
Many race drivers, tracks, and other motorsports businesses know Ben Shelton for his former company, MSR Mafia Marketing and PR Services. MyRacePass bought the firm in August 2021, also hiring Shelton and his staff and bringing on more than 170 of their website clients. Shelton told PRI that MyRacePass in Lincoln, Nebraska, now handles roughly 70% of race track websites in North America.
PRI asked Shelton what he would advise for an engine or chassis builder with a few employees, and who either has an old website or no website at all.
"If you have a website that's from the early 2000s and hasn't been touched again, it can hurt you," he said. "A potential customer will see it's outdated and think you don't have what they need or that maybe you're not even in business anymore."
Shelton agreed that the idea of adding e-commerce can intimidate some companies into thinking any website is too much to handle, and he said that many just need a web presence.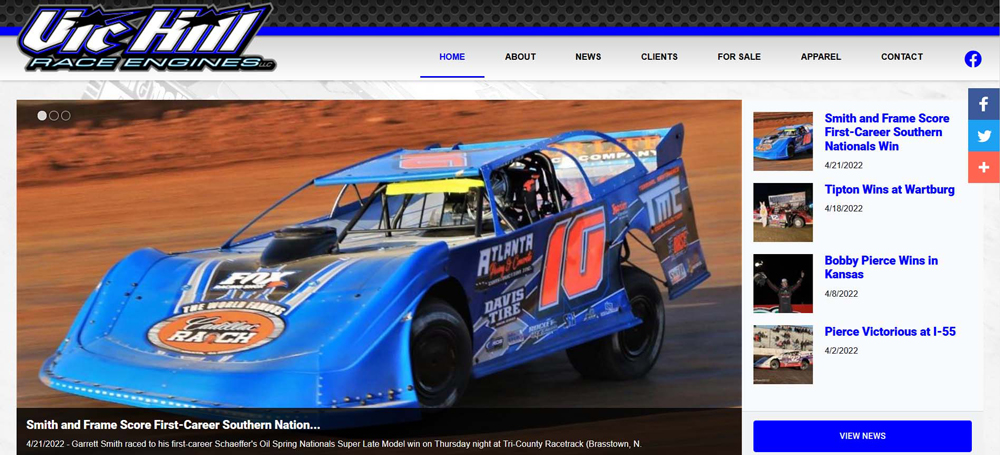 "Often, we find ourselves 'down-selling' to what they really need," Shelton explained. "The magic formula for such businesses is to 1) highlight what the company offers, 2) feature customer accomplishments, 3) provide good contact information, and 4) keep the content concise. Remember, many people prefer to see photos and watch videos."
Shelton agreed that race businesses need both a website and social media pages, with the latter's feeds integrated into the site. He also emphasized a must-do: "Make sure the website is mobile-optimized. If it's not, Google won't index it." (All the web developers we spoke with optimize sites for mobile phone viewing.)
While website developers may vary in cost, MyRacePass highlights packages on its site starting at $1,000 for a basic five-page informational site and $39 per month for hosting. A site with e-commerce starts at $2,000 and $79 per month. 
Interestingly, Shelton said that some motorsports customers follow their own "old-fashioned" approach to e-commerce. "We find that, especially with dirt track clients, many go to the websites to see what products are offered, but they still pick up the phone to place an order. They want to talk to a person and make sure they get exactly what they need." 
How an Old Family Business Moved to E-Commerce
Don Kreitz at Kreitz Oval Track Parts in Sinking Spring, Pennsylvania, can relate to Shelton's observation about "old-fashioned" e-commerce, even though he is not a client. Kreitz told PRI that the business had a web presence for 20 years, but only shifted to an e-commerce site when COVID-19 struck in 2020. He said the change increased business, though not all customers take advantage of the easy ordering through the site's Shopify platform.
"We still have people who have been in racing for a while who only place orders over the phone, even a lot of the younger people," he said. "We get so many calls where they say, 'I saw this on your website.' The way it is laid out makes it so much easier for them to find what they need. Then they call with questions and place an order."
Kreitz's father started the business in 1968 as a welding shop. The website, as well, has been a family project. "My daughter Kassidy did the site, said Kreitz. "She went to college for this. She was in Drexel University in the middle of COVID-19 and taking classes remotely." 
Kreitz said he would encourage similar businesses to offer e-commerce websites, but he advised that it is "a lot of work." His sister and business partner, Vicki Ely, handles site updates.
"We don't have all our inventory on the website yet, but we've sold almost everything that we feature," Kreitz said. "We try to add a few items each week. Each item needs photos, which we do in-house. You must write good descriptions, and each item needs the weight and box size. It's very time consuming, especially because our products are so specialized, but nowadays, I think it's something you need to have." 
Stepping Slowly Into E-Commerce
Pro Motor Engines (PME) in Mooresville, North Carolina, which provides approved engine packages for NASCAR, ARCA, and SCCA series and the Trans-Am TA2 class, recently switched gears for its website strategy. Dennis Borem told PRI the business launched a new e-commerce website in late 2021 to replace an older informational site. Also part of the conversation was Jesse Kiser, whose firm, Earnest Marketing, handles PME's website and content. 
"We want to reach a larger customer base and have more retail sales," Borem said about the change. "We've had some sales without doing any advertising, and we've had some inquiries on engine packages." 
He explained that the site launched with "a good foundation of our third-party products" and that more of PME's own products and engine packages will be added. 
Borem relies on Kiser's company to keep evolving the site. Kiser offered advice for e-commerce and for developing simple sites where online selling is not needed.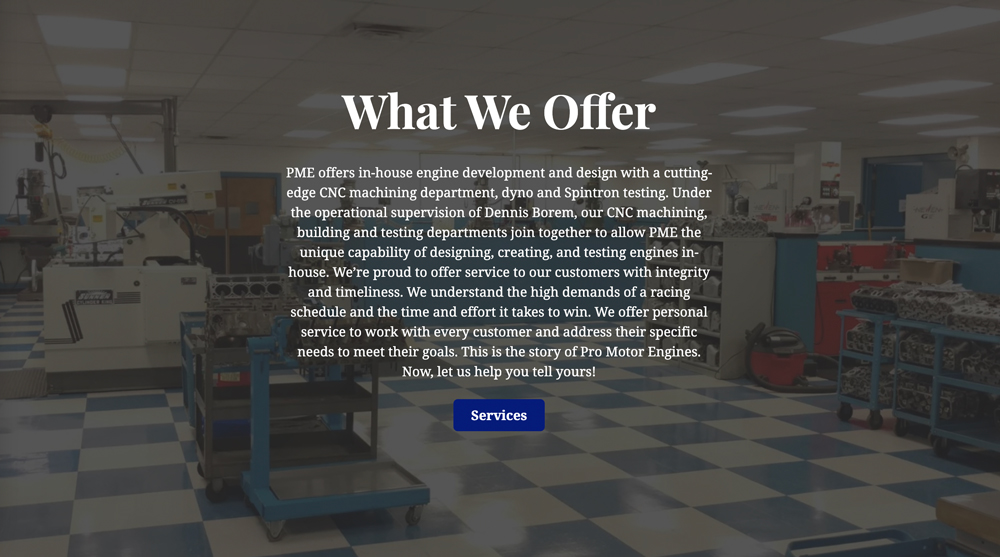 For an e-commerce site, he said, "Don't over-complicate. I always tell my clients to look at Holley's site. It's simple and functions well. They made it easy to buy parts and easy to navigate to their tech articles."
Kiser suggested that a business needing e-commerce could get started with a Shopify account and website builder account for "under a couple-hundred dollars a month." He contrasted that with a business doing $10 million a year that may be spending $3,000 monthly just on the e-commerce package.
"Those differences, without proper context, breed misconceptions about cost," Kiser said.
Among businesses without a website, or still idling along with an old one, Kiser said he still encounters misconceptions about what an effective site requires. "Put simply, a website needs to be a tool that provides convenience for customers and solves problems for the business," he said. "A good, simple website gets the customer one step closer to contacting you to buy something. It should have all vital information about your business. That is the most basic thing needed, and it is missing from many sites."
For example, Kiser explained that providing basic information on engine packages can reduce time spent providing the same information to callers. The website information can then encourage serious customers to call.
For a small business needing just a bare-minimum web presence, Kiser suggested three essentials:
1. A simple landing page that shows who you are and has a legitimate domain name. 
2. A Google My Business account, which is especially important for those serving a local area. Make sure the information is up to date and accurate.
3. Link Facebook and other social account feeds to the website and post at least once a week to show you are an active business.
SOURCES
Earnest Marketing
earnestmarketingnc.com
Kreitz Oval Track Parts
kreitzovaltrackparts.com
MasterSbilt Race Cars
mastersbilt.com
MyRacePass
myracepass.com
P.TEN Marketing
ptenmarketing.com
Pro Motor Engines (PME)
pmeengines.com