Image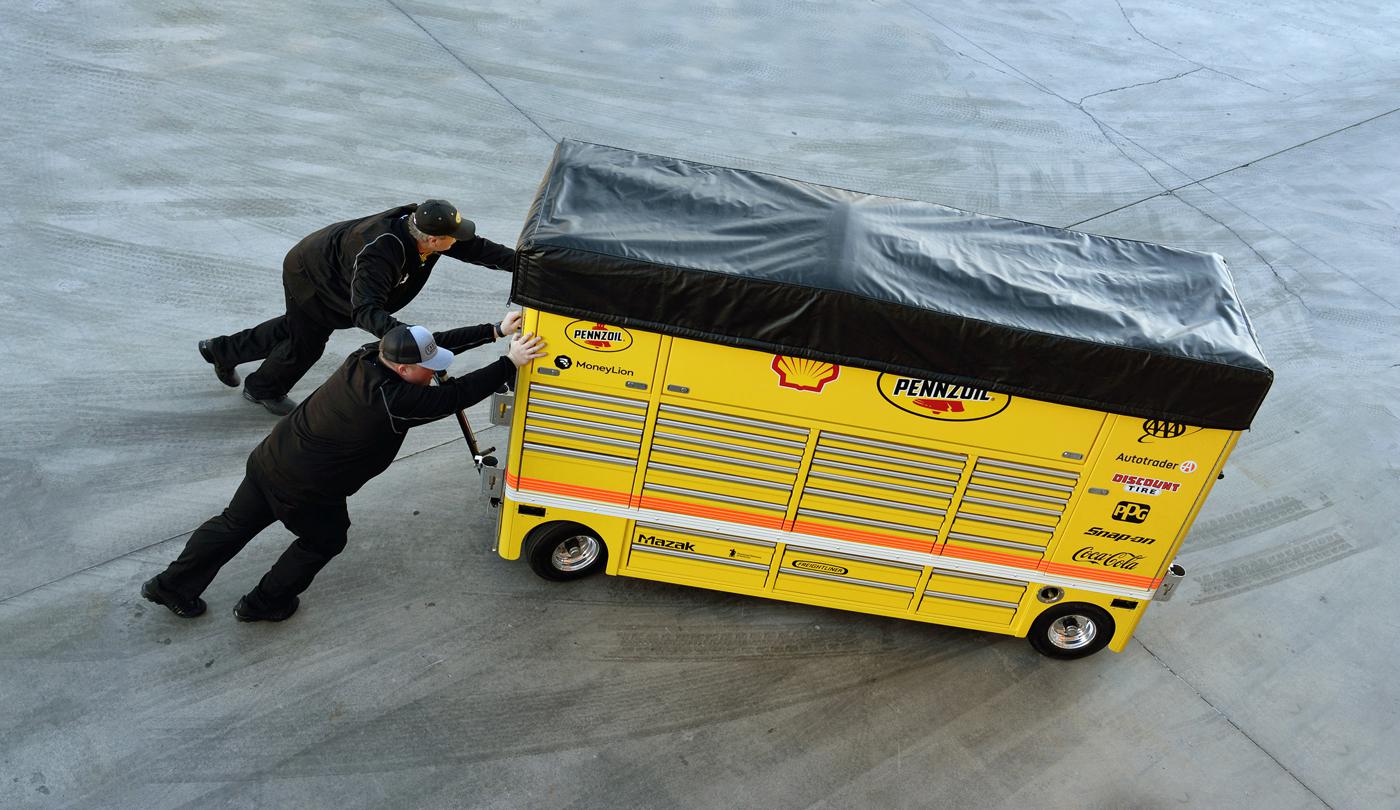 Whether they're analyzing telemetry data at the track or wrenching on the car back at the shop, teams need specialized workstations in order to work efficiently. Tailor-made solutions can deliver exactly what they need to perform at their best.
Lap times and ETs can provide a sense of a car's setup and a driver's technique, but a team's competitiveness isn't just about on-track performance. The work that's done in the pits and back at the shop is also critical to their success, and optimized workflow can yield tangible benefits on race day. 
"Organization is absolutely essential for these teams," said Randy Booth of Beta Tools, Columbia, Pennsylvania. "In the upper tiers of motorsport, just about every one of the technicians on a team has a specific job for a specific part of the car. There's an engine mechanic, a gearbox mechanic, a suspension mechanic, and so on, and they focus on that specific aspect of the car. In order to achieve the level of efficiency they need for their race program to be successful, they need to be highly organized in terms of the tools that they use."
That means "one size fits all" solutions for their workstations are rarely the best option, so the ability to build out customized solutions is essential. Here we'll take a closer look at how manufacturers collaborate with their customers to develop application-specific systems to get these teams exactly what they need. 
Beta Tools
Booth said that while organization is a universal necessity for motorsports teams, the requirements for the workshop equipment can vary significantly. "Some of it depends on the size of the organization, and what they want to optimize, whether that's workflow in the shop, at the track, or in the pit box. But in all of these situations, it comes down to having the right tool in the right spot when you need it."
That organization can also allow teams to identify issues before they become bigger problems. "Having a custom foam cutout for tools allows a technician to immediately determine if something's missing or misplaced. Leaving a tool in a car could become a real problem if it's not noticed right away."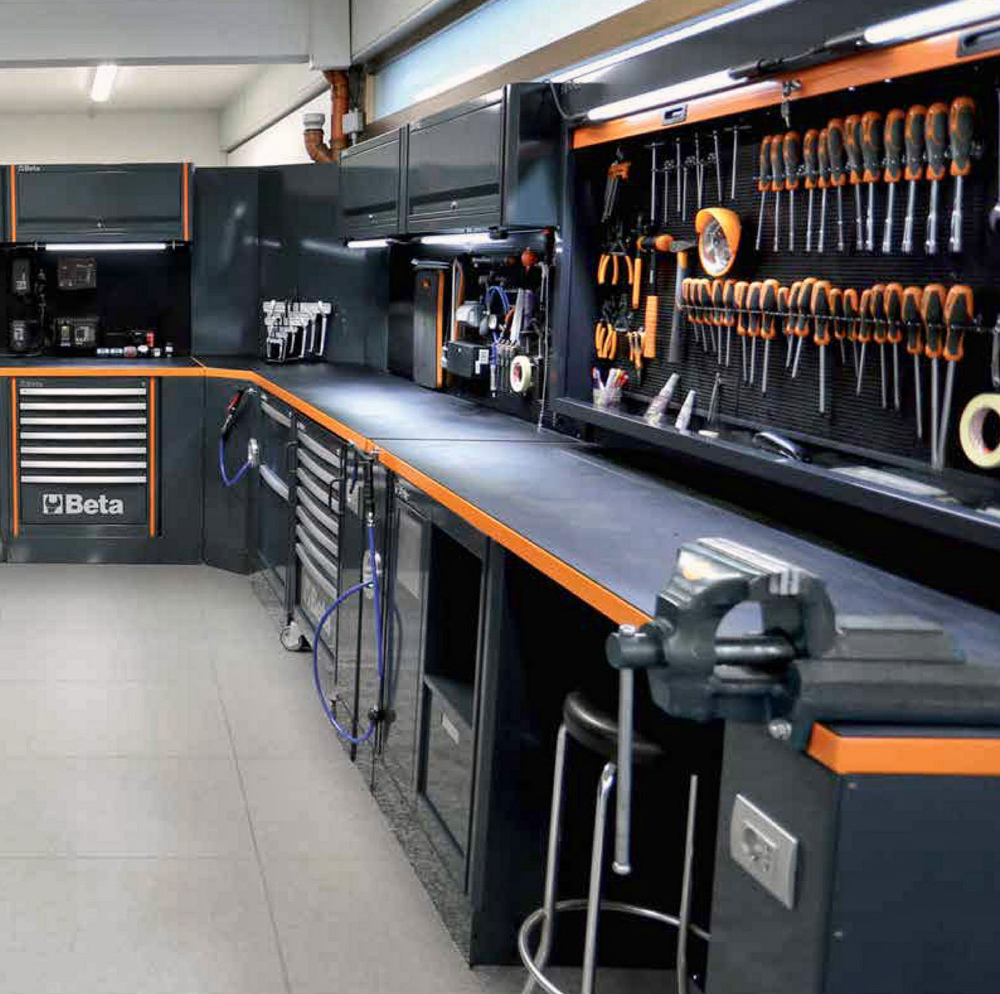 Customers have many potential options when it comes to custom configurations with Beta Tools' products, so the company developed an online platform that allows customers to build out their systems from the ground up. "It has all the tool box configurations, the different work surface options, and they can also select specific 'modules' to integrate into these systems, whether that's toolbox storage, multi-drawer systems, vertical storage, or other the systems that are offered," Booth explained. "The platform allows them to lay all of that out themselves, if they prefer to do it that way."
Beta Tools also offers sets that consist of specific selections of tools that customers can choose from to fill out tool box drawers, and the presets are offered in either foam cutouts or ABS thermal form trays. "We do them in full-drawer, half-drawer, and quarter-drawer increments," he said. "One drawer could be sockets and ratchets, the next drawer could be all T-handles, and the next could be files, or whatever configuration they need." 
The company offers fully customized foam sets as well. "As long as I know what the individual items are that they need, we can put that together for them."
For those who would rather not go through the configurator on their own, Beta Tools can walk them through the design process by more traditional means as well. "We can work with them in-person or over the phone to get a sense of what they need by getting information like the size of the shop, how many technicians they have, how many drawers they want a given technician to have, and what kind of storage they need based on their use-case," Booth said. "Then we start building it out from there. We can help them configure the drawers for the tool sets as well. It's truly full service."
United Race Parts
United Race Parts in Troutman, North Carolina, tends to focus mainly on completely custom workstations with its UK partners Greaves 3D Engineering because, as Thomas Decker explained, the technological sophistication at the higher levels of motorsports more or less requires it today. "The IT infrastructure, the telemetry data they're analyzing, and the communications systems—they all play a part in the equipment that they need, and each team operates differently. These systems are basically 'race control' for a lot of these teams, and because there's a variety of different suppliers for radios, data acquisition systems, video processing, and things like that, it creates this huge variety of system combinations that need to be taken into account and integrated properly. That dictates things like the wiring layout for the stand and how its design will accommodate all of those different pieces of equipment."
Decker said they typically start a project with a general concept proposal and work with the team to hone in on the ideal setup for their application and the technology they're using. "One of the projects we're currently working on started with a chat at the track. Within a few days Greaves had a rough concept rendering that we shared with the team, and after getting some feedback on that, we developed another rendering based on those notes, and it continues back and forth from there. It's a collaborative process that gets us to exactly what their vision is for the system." 
Rather than using an online configurator to give customers a sense of the look and feel of a potential workstation design, United Race Parts typically keeps one or two different configurations at its facility so race teams can check out the systems and features to get a better sense of what they need and what they don't. 
"In some cases, the requirements are so specific that we don't really have a standard configuration that makes sense to use as a template," Decker said. "Typically, those teams have seen our stands before and they understand how we work with Greaves to build stands, but their need is so specialized that there isn't really a pre-existing configuration that makes sense to build off of. In those situations, it's about understanding the end goal, the time frame, and collaborating through those concept renderings before we move into production." 
Badass Workbench
"The vast majority of a team's budget is typically going into the car, but the shop needs to be considered as well," said Cody Freeze of Badass Workbench, Kearney, Nebraska. "Whether it's a wall of tools, fabrication equipment, or welding gear, a workbench system like this often becomes the focal point of the garage. If done right, it's a one-time investment."
Freeze said that when teams become frustrated with standardized systems that don't really meet their needs, they turn to manufacturers like Badass Workbench to get something that has the features and durability required to function effectively and endure in a motorsports environment. "At some point they get tired of re-investing in equipment to address a certain issue. Our goal is to fix those problems once and for all."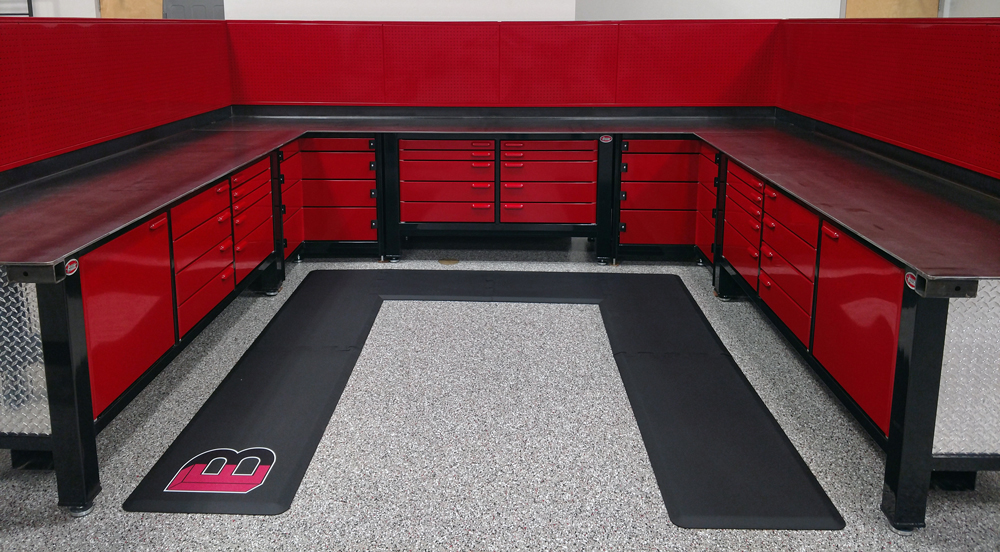 The company offers a base template to start from, and a 3D configurator on the website allows customers to dig further into the available options in terms of general layout, drawer dimensions, tabletop materials, and other possibilities. When customers want something with deeper customization, he prefers to work with them directly. "In some cases, someone will come to us and say, 'I need this specific type of workbench, it has to have these specific features in these dimensions, and this is what we want to do with it.' In those situations, we work with the customer from the ground up in terms of design and have someone on-site who creates Solidworks renderings that we can share with the customer. That allows us to work together and offer suggestions or make any tweaks that might be needed along the way to ensure that everyone is on the same page."
In other situations, customers may prefer to collaborate onsite, and that's an option as well. "Usually, we can handle most of it over the phone, but in the past, we've worked together over Zoom and things like that, too," Freeze said. "We've flown out to customer sites to do walk-throughs at shops to get a better idea of exactly what they want to accomplish. Sometimes laying eyes on the facility helps to clear up any potential ambiguities."
CTech Manufacturing
CTech Manufacturing in Weston, Wisconsin, was built from the ground up to manufacture custom storage solutions, according to Max Kittleson, which includes tool boxes, pit carts, drawer inserts, and cabinets. "CTech products utilize parametric design properties to maximize the potential for customization," Kittleson explained. "That means our engineers can easily manipulate product dimensions, drawer counts and heights, add options, and much more during the design process."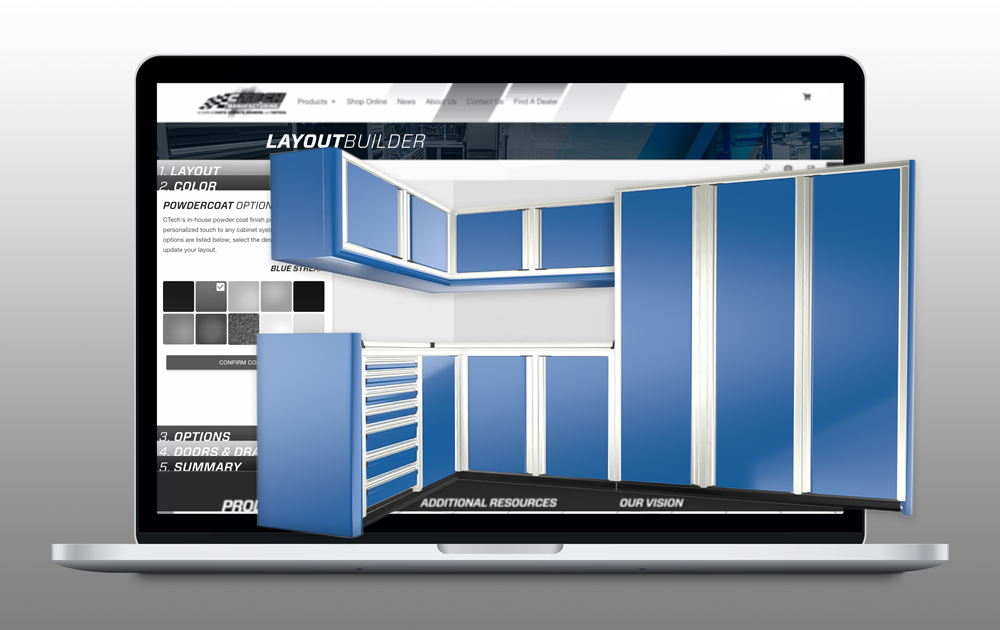 CTech recently redeveloped its website, providing a completely web-based online cabinet building experience. "The first experience is a 'clean slate' cabinet layout builder, which allows customers to design and order sophisticated cabinet systems from scratch in an engaging 3D rendering interface," Kittleson said. "The second experience begins in our new e-commerce storefront, where customers can select pre-configured cabinet sections and packages that can then be customized and ordered with just a couple clicks. Both of these experiences share the same basic workflow; customers enter the online builder and adjust cabinet dimensions, select a powder-coat finish, add or remove features, and even customize individual cabinet compartments by adding drawer stacks and changing cabinet door swing directions. Once the customer has designed a custom cabinet, their creation can be added to a shopping cart and purchased via credit card.
A similar web-based cart builder option is currently in development from CTech that will allow racers to build their own custom pit carts and toolboxes from the website. This will be launched in the coming months to allow teams to purchase new equipment for the 2023 season.
Moduline
Tim Cass of Moduline in Brockton, Massachusetts, pointed out that it's not just the motorsports discipline and the technology involved that necessitate specialized tool boxes, workstations, and storage systems, it's also where the work is being done. "In some situations, you need to be able to get those tools to the car rather than the other way around, and that can change the requirements of the system significantly."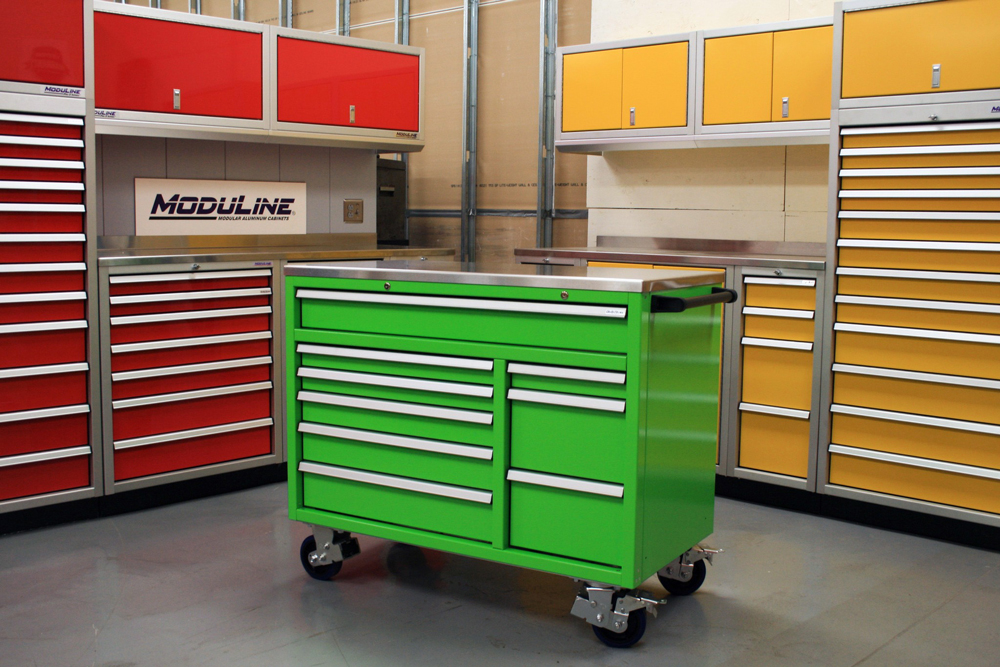 Because of that, Moduline generally takes a hands-on approach to custom system design to make sure their customers get the right solution for their use-case. "It's about discussing what the needs are with the client, and getting their ideas," Cass said. "They may have something very specific in mind that they think they need, but when you get down to it, there might be a better solution that they weren't aware of. So it's a conversation where we get a sense of what the requirements are and what they're envisioning, then we sketch it out in CAD for them and brainstorm together to make sure that they get a solution that fits the bill." 
Moduline's collaborative process with its clients is typically conducted through a series of phone calls, emails, and concept renderings shared with those customers. Cass said that while an online configurator system might work well for combining basic off-the-shelf elements of a workstation or tool box, it can get complicated very quickly. 
"On a basic level those systems are great, but the configurator isn't going to ask questions," he explained. "With an a-la-carte system like ours, we can really tailor it to the end user's needs based on what they want and the space that they have available. Where the system is going to be installed can also have a significant impact on the overall design—whether that's a race shop, a trailer, or somewhere else. The personal touch really matters with a product like this."
SOURCES
Badass Workbench
badass-workbench.com
Beta Tools
betatoolsusa.com
CTECH Manufacturing
ctechmanufacturing.com
Moduline
modulinecabinets.com
United Race Parts
unitedraceparts.com