Special Report: Community Relations
Image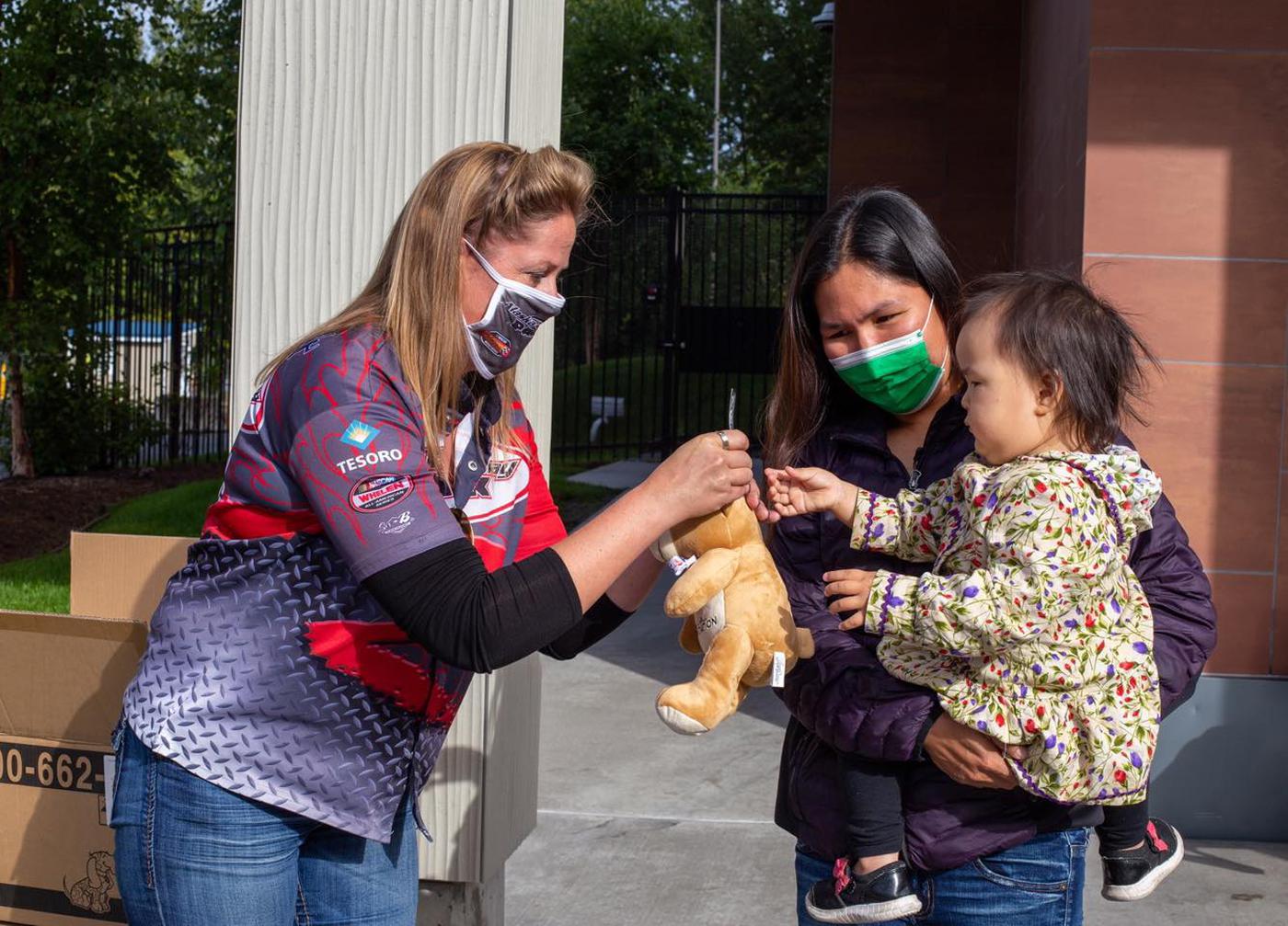 Alaska Raceway Park's Michelle Lackey Maynor, at left, provides Speedy Bears to children at Patient Housing at Alaska Native Medical Center.
Being a good neighbor helps promote harmony with the local community, but according to these track executives, undeniable benefits exist for operators willing to invest the time in outreach.
Running a race track is not for the faint of heart. It may look like fun and games with the grandstands full, cars roaring around the track, and the concession stand line reaching to the paddock. But track operators have to walk a fine line in giving fans what they want, racers what they expect, and keeping the local community happy. 
That last part, community relations, may be the biggest ongoing challenge. Race tracks are noisy and draw traffic, and thus are easy targets for activists of all stripes. Even if the complainers are a distinct minority, they often have outsize influence among the local political class and on social media.
"We're kind of a nuisance business. Somebody told me that term once, and I kind of liked it," said Michelle Lackey Maynor of Alaska Raceway Park, Palmer, Alaska. "We have a lot of fun and we do racing and we really enjoy it, but not everybody enjoys the noise, so I try to make sure that we're key players in the growth of our area, as well as try to keep up that goodwill part of things."
Even well-established racing facilities can't rest on their laurels, as urban sprawl has pushed new neighborhoods out toward tracks located in formerly remote locales. "The track is 68 years old this year," said Doug Hobbs of Evergreen Speedway, Monroe, Washington. "When they first built the speedway, there wasn't a house near this race track. And now, as communities have grown, the houses are within sight of the race track, coming down the hill.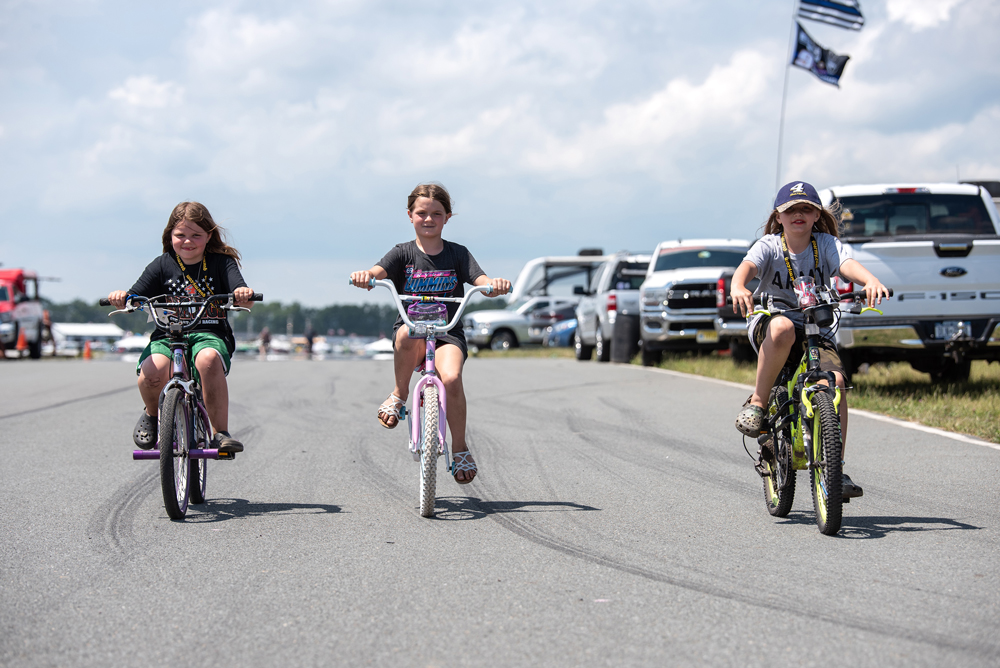 "I guess more than anything, noise is the problem facing many tracks across America," he continued. "You try to let the homeowners' association know about your bigger events, let them know the challenges of traffic you're going to bring to the area. I think it's all about communication. We try to over-communicate with the county officials and city officials about what to expect. Last year when we brought in well more than a standing-room-only crowd for Nitro Circus, we started hours in advance with the city to start traffic control, trying to avoid some of those issues. When you're trying to funnel an extra 10,000 cars on a two-lane street, it gets congested."
"Motorsports has an uphill battle compared to stick-and-ball sports when it comes to the community," said AJ Moore of Lake Erie Speedway, North East, Pennsylvania. "A lot of people, they'll lean more toward baseball, football, basketball, hockey, because they know it. With motorsports, you have to come out, you've got to taste it, see if you like it. We do a lot of thrill shows to just get them in the door. I think that is a battle because [the stick-and-ball sports are] just what everybody knows. Which in turn makes us possibly have to do a little bit more in advertising just to be top-of-mind."
Joining Up
One key step to making community relations run smoother is to join the various local organizations that network with other businesses and coordinate promotional and charitable events. The representatives from the tracks we spoke with were all active participants in multiple organizations.
"We work really closely with our Chamber of Commerce in the northeast and also our Erie Sports Commission and VisitErie," Moore said. "The Sports Commission has helped us tremendously throughout the years in trying to get different events to come into the area. Tracks should be working with these non-profits. Anybody who is not trying to talk to the Chamber of Commerce or look for the Sports Commission is missing something. The Sports Commissions, they really help with the hotel rooms and stuff like that to try to keep the costs down for people coming in." 
Ben May of Pocono Raceway in Long Pond, Pennsylvania, is on the board of directors of the Pocono Mountains Visitors Bureau as well as the Pocono Mountains United Way. "We like to encourage our staff, if they have the time and are available, to find various groups in the region and join and see how they can give back," May said. "That's been a big deal for us, making sure that we're approachable, that we're not just seen as this group that brings in a ton of people once a year and then disappears. While we have NASCAR specifically one weekend a year, we're engaged year-round."
Membership in these organizations can lead to wider connections in the community. "One thing that I have always done, is that when it comes to schools, churches, kids, animals, we always find a way to say yes," Hobbs said. "We work with everything from battered women's shelters to gospel missions to helping out schools continuously. We are always giving. We take a lot of pride in that, and we get very few complaints. I think part of that is just because we're so tied in with the Chamber of Commerce, we're tied in with the lodging tax, we're tied in with tourism promotion. I helped out the state in 2020 and 2021. We created a group that got race tracks open in 2020 under COVID-19, at least to competitors only. I helped spearhead that group. When you help a lot and people know you are doing it for the right reasons, they'll be a lot more accommodating when you need something to help you. We don't do it for the wrong reasons, we just do it because we think it's the right thing to do."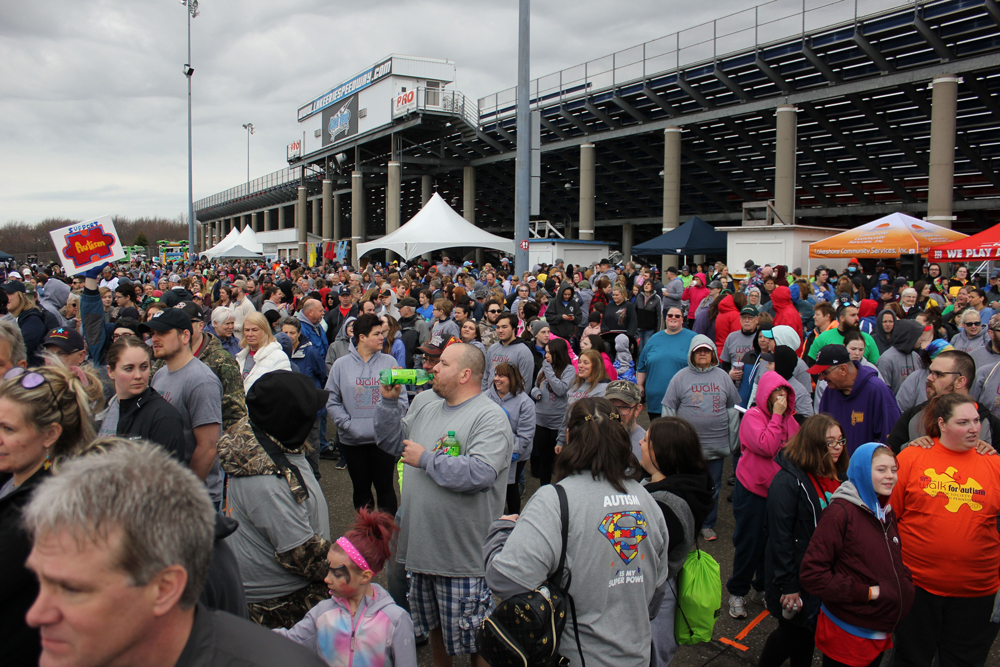 Opening up the track to other groups in the community is one significant way racing facilities build relationships. "We're pretty active in the community," Maynor said. "I'm on the community council, I volunteer there as the treasurer and help out with various things like a clean-up project we've got coming up in a couple of weeks. I'm also a member of one of the local Rotary Clubs. Getting involved in the community has been really helpful for us. We help out with stuff at the elementary school, various fundraisers and such. We have a lot of space at the track so we're pretty open to using it for whatever community events might come up."
Sonoma Raceway in Sonoma, California, is part of Speedway Motorsports, which owns several of the major race tracks in the United States. But even while part of a larger nation-spanning corporation, Sonoma Raceway is very active in local organizations. "Sonoma Raceway is an active member in its local communities by partnering with several key groups and organizations in the Sonoma Valley, North Bay, and on a national level including the North Bay Leadership Council, Sonoma Valley Chamber of Commerce, Sonoma Vintner's and Grower's Alliance, and Green Sports Alliance among others," said Jill Gregory. "These memberships allow Sonoma Raceway to connect with diverse and robust businesses that are all connected to the same community. This gives us more opportunities to enhance and grow our business through the connections and resources these groups provide."
Helping Hands
There is no one-size-fits-all solution to maintaining good community relations. Resourceful race track promoters find creative ways to engage with their neighbors.
"We have a litany of things here that we work through, and I think the top one is that we're proud to be a part of this community," said Pocono Raceway's May. "We've been in this community for 50 years and we are a family-owned business, which makes it a little more meaningful for us. Outside of your normal sponsorship stuff, Doc and Rose Mattioli, co-founders of Pocono Speedway, in their later years ended up sponsoring a good bit of our local health system. We have a medical emergency center and things like that. But you're not looking at things that are direct dollar related. We just really enjoy being part of the community. Probably the number-one thing we do here is offer our Kids Free ticket program. Every kid 12 and under is welcome at Pocono for free, and we'll do that for any race, including our Cup Series race. We've been doing that for three or four years now, and it has been massive for us. It's just a small way we can give back to the community and help grow the sport.
"Secondly, we have an annual Kids Day," May continued. "This will be our 14th or 15th year for our annual Kids Day, and this year it will be Saturday, July 23, which is our Truck Series race, Cup Series practice and qualifying, as well as the Xfinity Series race. We do it a little bit differently than just giving away free tickets. We invite all of our local and regional non-profit friends to come to the race track, set up a display, and then they're allowed to use as many tickets as they'd like for their campers or their community, or their partners or friends. We'll have 20 to 30 displays out and do tens of thousands of tickets for the kids and community groups. They come out to experience NASCAR, and if they're going through a rough time, maybe it's an easy day for them to just unwind a little bit and let their mind focus on something that's more fun and engaging and less serious. 
"A friend of mine told me a long time ago that what we're doing here at the race track, besides being in the fun-and-games business, we do add to the quality of life for folks, and we feel like this is a part of it for the kids and community," May added.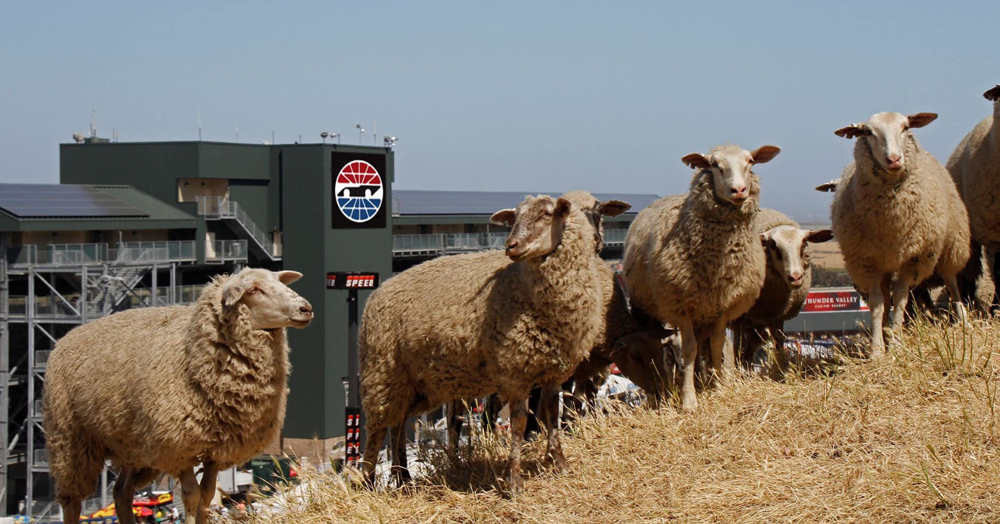 Few people in the motorsports industry have fond memories from the COVID-19 pandemic, but it did provide opportunities for tracks to step up and serve their local hometowns. "Giving back to the community, and tying into non-profits, charities, and food banks, is one of our mainstays here, and we're very proud of it," Evergreen Speedway's Hobbs said. "A couple of fun things we did last year: With COVID, high schools couldn't graduate. A lot of them didn't get to have a graduation ceremony in 2020. So we did a couple of drive-through graduations in 2020, and then last year where everything was locked down in schools, we hosted four area high school graduations in the grandstands. We socially distanced, and we were happy to accommodate schools with classes up to 2,500 people. Normally they'd pay a lot of money for that, but we donate our facilities for those types of things, we don't charge for them.
"Starting from Memorial Day weekend on is when we start doing more of our bigger charity events, just because of weather," Hobbs added. "Memorial weekend we help fund and provide trophies for a local Relay For Life event that's held in a neighboring city. June 18th is our Big Brothers-Big Sisters charity car show, and the last two times we've raised over $100,000 a day for that event. June 25th is our Galloway Shootout, which is our first big NASCAR track event on our calendar, and this year we'll be working with Randy Couture and the Xtreme Couture GI Foundation. Randy will be our grand marshal. We're hosting well over 300 veterans on bikes, with catered dinner and then we're going to be raising charity for that event."
When we spoke with Moore at Lake Erie Speedway in April, the track had just hosted a Walk For Autism event organized by the Autism Society of Northwestern Pennsylvania. "Our one owner, Dan Prischak, is very big into the Autism Society," Moore said. "We had the option to bring it out to the track and it was great. We had about 1,900 people and raised close to $100,000. It was huge. It was nice to see that many people out here at the end of April. We really don't start going full-force until the end of May because the weather is spotty. It worked well having that option to get it out to the track and bring different people to the track who have probably never been here, just so they can see it."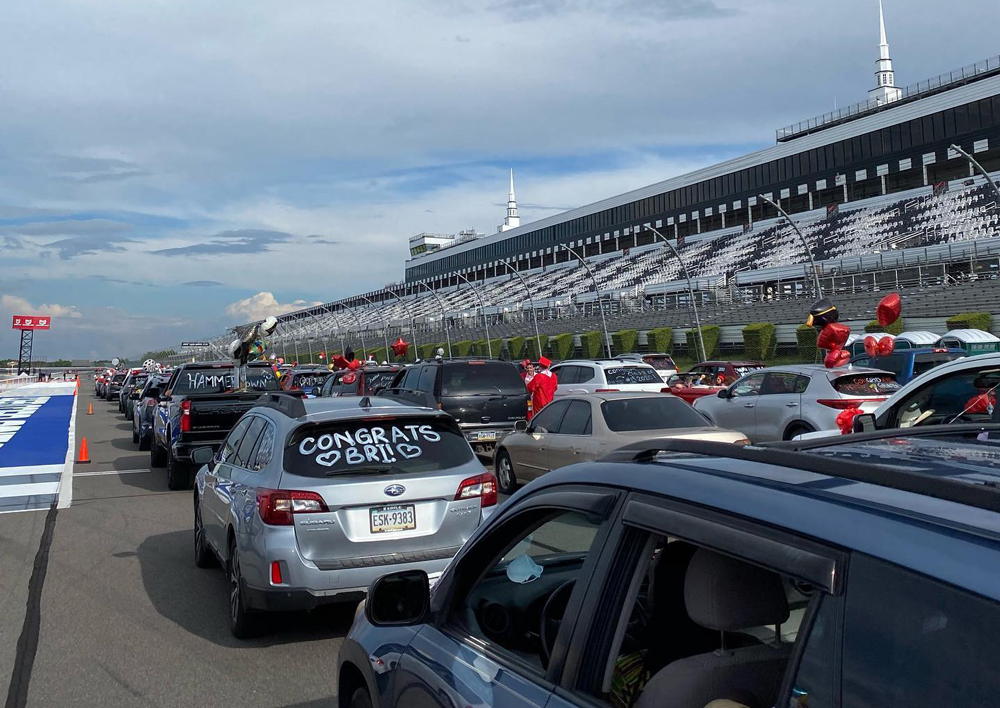 For Sonoma Raceway, having the corporate resources for charitable outreach helps, but the focus is still local. "First and foremost is our outreach through Speedway Children's Charities (SCC). This is our non-profit arm that raises and distributes money each year to children in need in Sonoma County," Gregory said. "We have distributed more than $7 million locally since SCC was chartered in Sonoma in the 1990s. Some other things we have done include opening our campground to anyone who was affected by the wildfires a couple of years ago, opening our facility for charity runs, and participating in many civic events in and around Sonoma County."
Each track's unique circumstances allow for some creativity on the charity side. In what's likely the only one of its type in the nation, Sonoma Raceway initiated an Adopt-A-Sheep charity program in April. "Many people aren't aware that Sonoma Raceway is an active farm, and a part of that includes being home to thousands of sheep," Gregory said. "In looking at new ways to generate funds for Speedway Children's Charities, we came up with the idea to allow people to adopt a sheep. Each adoption package includes a Sonoma Raceway plush sheep, reusable tote bag, official adoption certificate, and personalized photo of the sheep of your choice. A Sonoma Raceway sheep hat is included with the premier package. It has proven quite popular already."
Results Speak
The representatives from the tracks we spoke with have embraced charitable causes as part of being a good neighbor, and because it's the right thing to do, not simply for gain. But there are undeniable benefits for a track that invests time in community outreach. 
"What I have found is there are a few pretty vocal people in our community that don't like us. And by a few, I mean less than a handful," said Alaska Raceway Park's Maynor. "But they have the time and the energy to complain about things. What I have seen recently is when they go on social media and talk about stuff, I don't engage because that doesn't help anything. But it's amazing to see the number of people in the community who stand up for us when we need it to happen. We're providing a place for the kids to race that's safe, and it's not street racing. Because of the various other things we do in the community, people step up on our behalf when there are social media arguments."
Those local fans have also opened their wallets for Alaska Raceway Park. The track initiated a crowdfunding campaign named Club 1320 to raise money for capital improvements that has been met with great success. "Our track is a little bit unique in the fact that 'we're it' for this state. And so our community extends beyond where the track physically is," Maynor said. "We touch racers all across the entire state, which is a pretty big space. Club 1320 has been, for me, very humbling to see the outpouring of support from the racers and the fans and different community members that have participated in that because they want to see us succeed. Having that large community of people of all different user groups that are kicking in to help make our race track bigger and safer and more efficient, if you start thinking about it, gets kind of overwhelming."
Being an integral part of the community also provides conventional sponsorship opportunities. "Last year we had a great example," May said. "Our relationship with our Destination Marketing Organization, the Pocono Mountains Visitors Bureau, used our race as a platform to showcase the region. So we had an Explore the Pocono Mountains 350, which was one of our Cup races last year. I think that's a really good example of how that happens."
Evergreen Speedway's many charitable initiatives that reach beyond the motorsports community have built on their racing programs to attract additional sponsorship. "Right now, today, we're adding another 200 feet of construction for 12x24-foot billboards. We actually exceeded the 40 sponsored billboards we had out there," Hobbs said. "It's worked very well, and I think this has partly to do with—and we might be the only one with this—we have a network TV show on our local CBS affiliate on Sunday nights called Evergreen Speedway Home Track Heroes, which airs for two hours. Tying in our livestream with FloSports and then our weekly podcasts, our marketing partners get a lot of exposure, and we have seen our sponsorship growing immensely from 2019 to 2021 and 2022."
Charitable works and community outreach may not always lead to additional sponsorship or resources, but for these tracks, the appeal of improving their own communities goes beyond dollars and cents.
"It goes back to our core values, and that is tied directly into the community," May said. "One core value here is, 'Do the right thing.' We think this area is beautiful, and it is beautiful. Our Pocono Green and solar farm, and waste diversion and recycling and everything we're doing here, are just what we can do to help make sure the Poconos is still here in another 50 or 100 or 200 years from now, and it's still beautiful."
SOURCES
Alaska Raceway Park
raceak.com
Evergreen Speedway
evergreenspeedway.com
Lake Erie Speedway
lakeeriespeedway.com
Pocono Raceway
poconoraceway.com
Sonoma Raceway
sonomaraceway.com