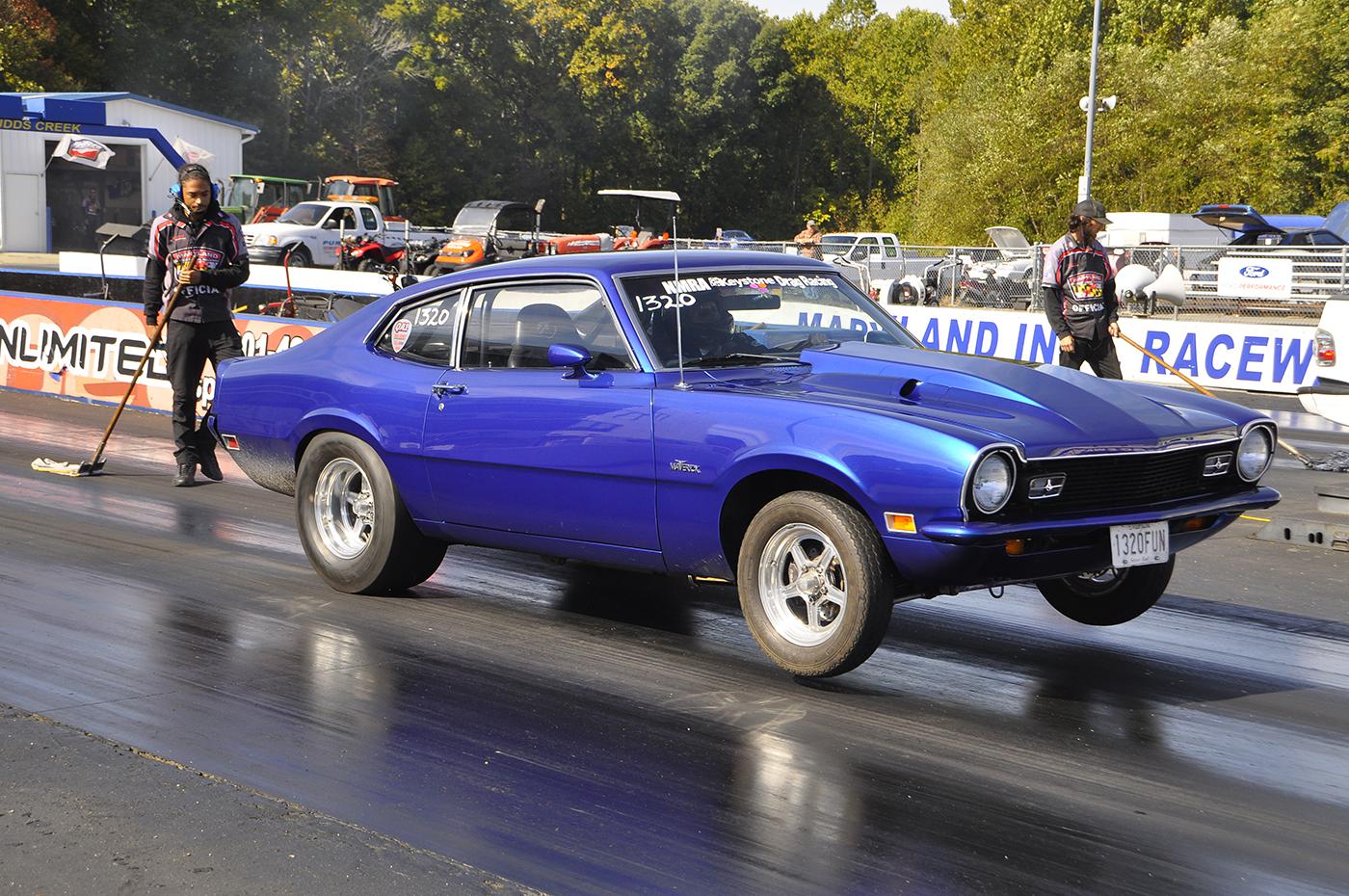 Offering the best of both worlds, street/strip builders profile some of their more enticing projects.
Versatility. That's always been the key to street/strip machines. Drive to the track, make a few passes, and drive home. No trailer needed. It makes a lot of sense when compared to a dedicated race car that sees limited track runs because the owner just doesn't have the time for race car maintenance or track outings. Today's street/strip cars can motor to the track, cut times formerly in the realm of Super Stocks, and drive home without changing a thing. 
While the COVID-19 pandemic has contracted or outright shut down many segments of the economy, street/strip performance work is booming as performance fans find more time to devote to their rides. 
Among the prevailing trends in street/strip today is updating technology in older cars: swapping fuel injection/engine management systems for carburetion, upgrading wiring, suspension, and brakes, and bolting on power adders—superchargers, turbos, and nitrous to satisfy street/strip customers' seemingly insatiable appetite to go faster. 
On the following pages we will profile several street/strip transformations. 
2017 SHELBY GT350 
FATHOUSE FABRICATIONS
MARTINSVILLE, INDIANA
This Shelby GT350 came to the shop already modified by Hennessey Performance with its HPE850 package. "We dyno'd it and saw 670 hp at the wheels," said Ben Stoner. The HPE850 package included a 3.0L supercharger system on the 5.2L V8, and high-flow injectors and throttle body. 
But Stoner said the customer wanted more. "He wasn't happy with the performance, he wasn't happy with the sound, he wasn't happy with his experience overall and he wanted something—something faster, something better, and something that sounded better," Stoner recalled. So they steered the customer to Fathouse's 1400R twin turbo package. "This build is special, as it is our ultimate performance setup for the GT350. This includes a built motor, trans, drivetrain, and upgraded fuel system."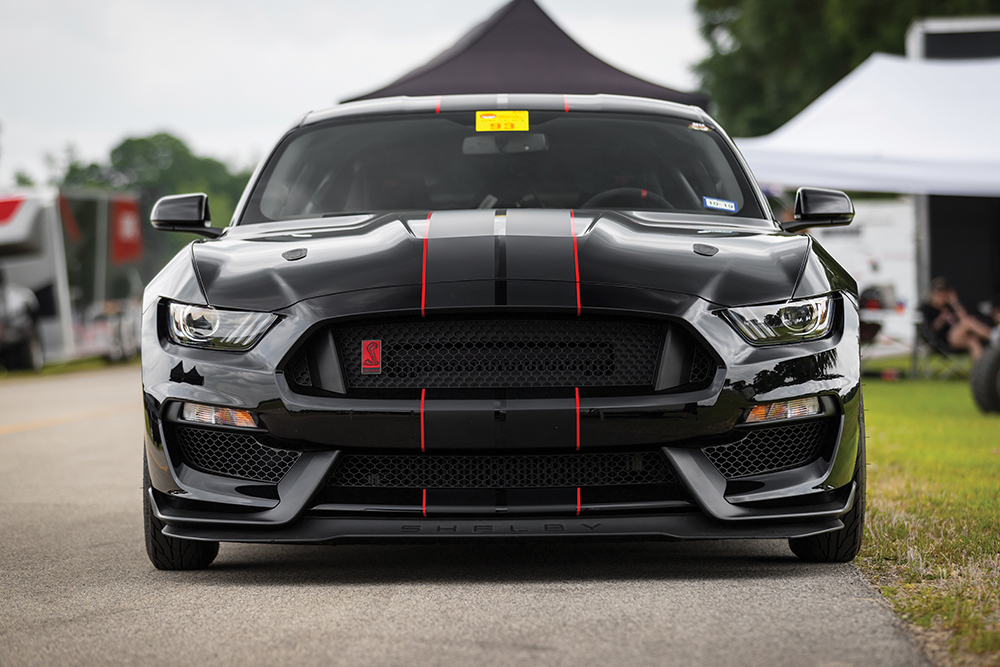 Getting into specifics of the 1400R build, the Fathouse Stage 3 engine upgrade includes swapping in a Coyote crank, and Manley pistons, and billet 300-mm rods. "We go with Ferrea valves and springs for their performance and durability," added Stoner. ARP provides upgraded fasteners, but Stoner stayed with the stock GT350 cam setup and heads. "The heads come CNC-ported from the factory. They flow really well, so there was no need to change that." 
The heart of the build is the twin-turbo setup. "We favor Xona turbos," said Stoner. "They use a splitter-design wheel that flows like a larger wheel but without the inertia-induced turbo lag. We installed 62-mm turbos, but those will be upgraded to 72 mm." The complete turbo kit, stainless steel headers, intercooler, piping, and full custom three-inch exhaust are all fabricated in-house.
"We do a mid-mount turbo set down by the transmission, so it keeps all the heat out of the engine bay," Stoner explained. "We don't modify any of the factory systems, so once the turbos are installed it looks like factory. We run a full exhaust with no mufflers, as the turbos act as a sound buffer."
In addition, the plastic factory intake was swapped for a Plazmaman billet aluminum piece. "We're pushing almost 30 PSI boost and we didn't want to blow the plastic," said Stoner. The manifold supports a Nick Williams Performance drive-by-wire throttle body; Injector Dynamics supplied its 1700cc injectors, plus a new brushless fuel pump system. "It supplies a ton more fuel than we had previously with three Walbro pumps, which ran out of fuel at 1500 hp. We should now be good to handle 1700 hp."
Ignition remains stock, although GT500 coils are used. "It gives us a hotter spark so we can open the gap on the plugs a bit," explained Stoner.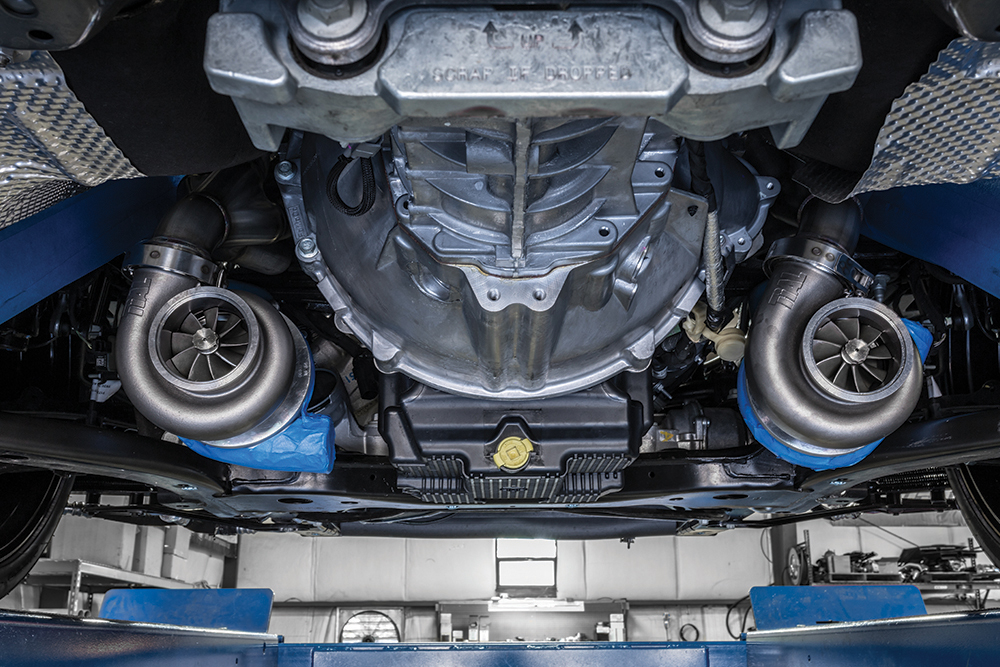 A MoTeC M150 ECU with custom firmware controls the engine and some chassis functions. And steering wheel controls enable settings for E85 or pump gas. "The system provides dynamic traction control, advanced launch control, closed loop boost control, and data logging," said Stoner. "It allows the car to be driven safely on the street, as the driver can adjust the power level anywhere from 900 to 1400 hp via the steering wheel buttons."
The transmission is a Level 7 Tremec T56 Magnum manual six-speed working through an RPS carbon triple clutch, with power then going back via a carbon fiber driveshaft to a Ford Super 8.8 spinning 4.09s and Level 5 axles.
Chassis-wise, the Shelby received the full complement of components from BMR Suspension, including subframe connectors and a rear control arm package for improved launch control and handling. The front suspension remains stock.
With over 1400 hp on tap, the Shelby ran 9.0 at 165 mph at the drag strip.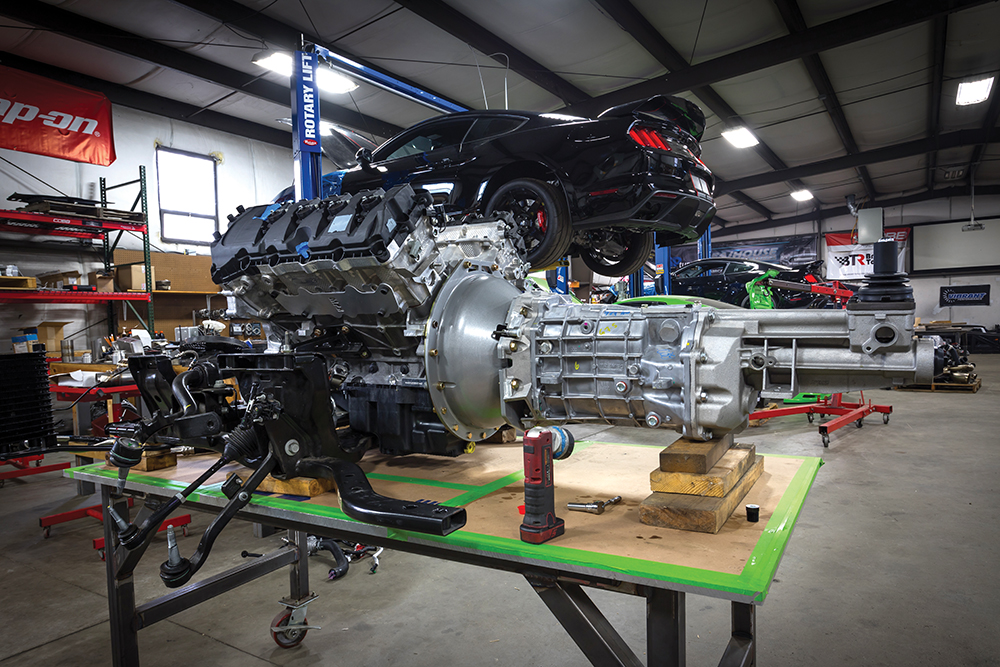 1964 FORD GALAXIE 
PRESTIGE MOTORSPORTS
CONCORD, NORTH CAROLINA 
This Ford street/strip car with a 1960s NASCAR theme was an interesting project as the customer, an older fellow, wanted to direct the restoration/performance upgrade process all the way through. "We had to gently but firmly guide him to keep the build from going off the rails," said Mark Moses. "The direction has changed quite a few times." One example, noted Moses, is ride height and rake. "The customer initially wanted a heavy rake, because that's what they did with these cars back in the day. But a nose-down attitude compromises handling, so we had to steer him in a different direction."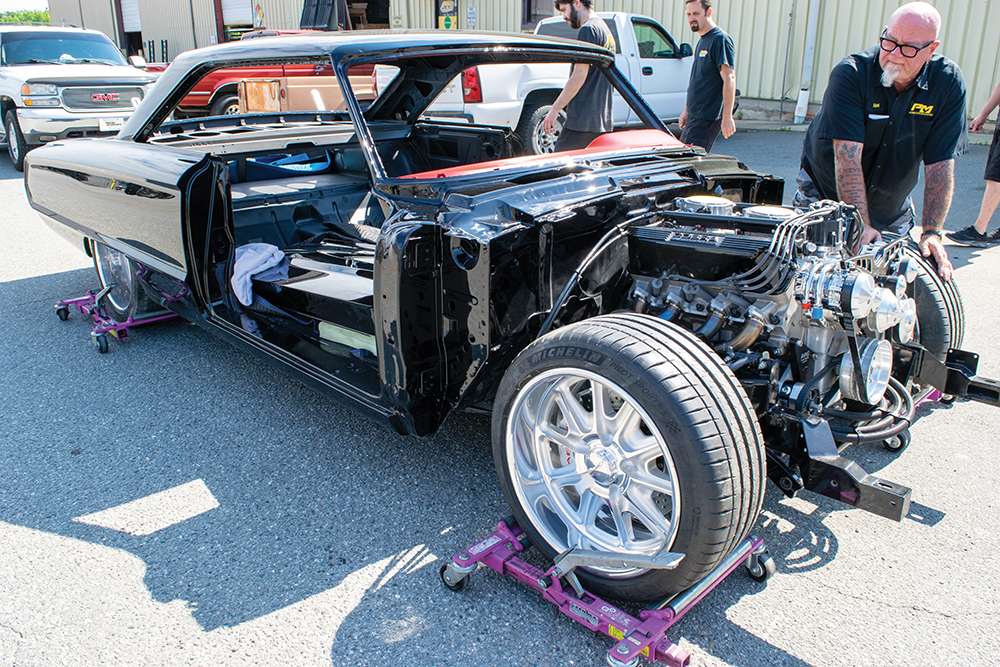 The Galaxie rolled into the shop stock with the factory 390 under the hood. The stock frame wasn't adequate to handle the planned extensive modifications, so Prestige worked with the Roadster Shop in Mundelein, Illinois, for an entirely new chassis. "They constructed a square tube frame and a front suspension with tubular control arms and a rack and pinion, which is a proprietary piece from them," explained Moses. Handling is helped by a 1 1/2-inch swaybar and Aldan coil-overs. Prestige tackled the mounting configuration.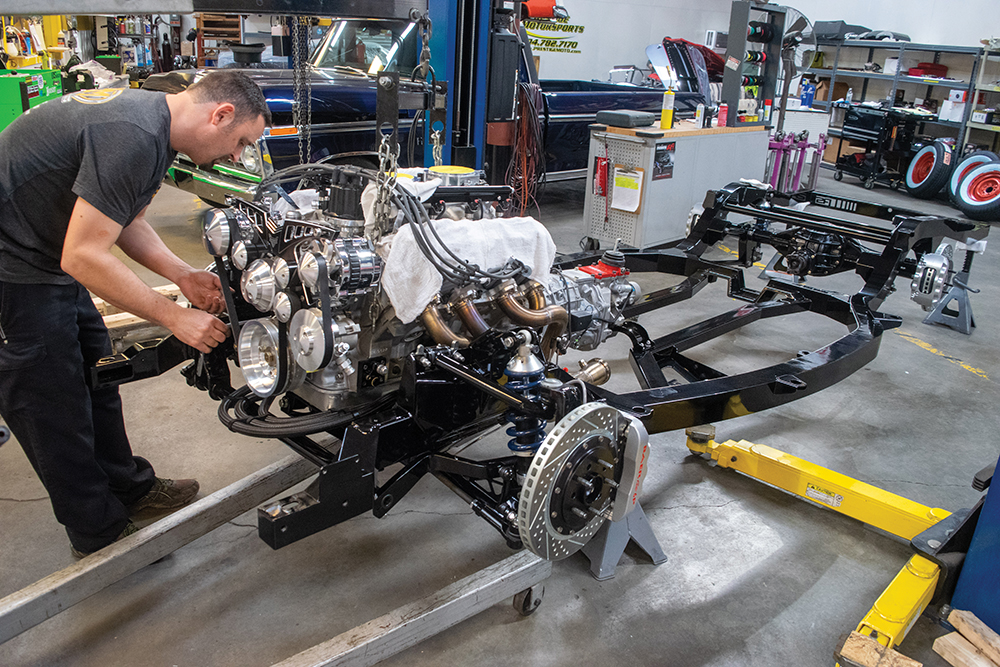 "Out back is a four-link setup with a track locator and coil-overs that came from Strange Engineering," said Moses. Strange Engineering fabricated the nine-inch rear housing that spins 4.30 gears, and also supplied the axles.
The transmission is a Tremec Magnum six-speed manual that works with a McLeod hydraulic clutch. Fifth and sixth gears are overdrive. Baer supplied the brakes.
Under the hood is an all-aluminum 482 Ford FE block from Bear Block Motors in Chatsworth, California. Prestige Motorsports then did all the machine work on the block in-house. "This piece, with siamesed cylinder walls, is more robust than the OE block and offers greater bore options," said Moses. "We always go completely through the oiling system and chamfer all the oil holes. All boring and final machining are done here in-house." The 10.5-to-1 motor is beefed up with an Eagle crank and rods, and DSS racing pistons.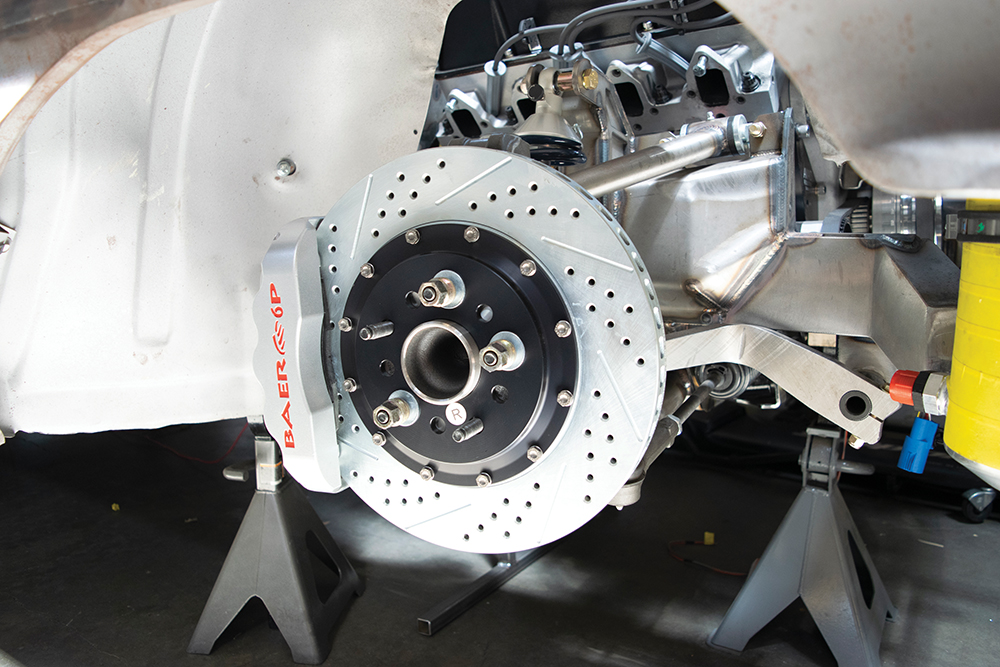 Cylinder heads and aluminum tunnel port style intake also came from Bear Block Motors. "The intake manifold is not designed for fuel injection," explained Moses. "We modified a (carbureted) dual-quad intake manifold by machining it to accept bosses for the injectors, and support dual 1000 CFM throttle bodies." The entire arrangement, including the Holley CAN-bus gauges, is controlled by a Holley Terminator X EFI system.
"One of the things we wanted to do with the car is obviously get the chassis low, and to get the engine as low in the chassis as possible. We didn't have a lot of oil pan clearance," Moses continued. "We ran a belt-driven dry sump, and built our own external reservoir and pump mounts. A Stef's low-profile oil pan maximizes ground clearance."
The Galaxie will be driven over 90% on the street, but is track-ready. No times have yet been recorded.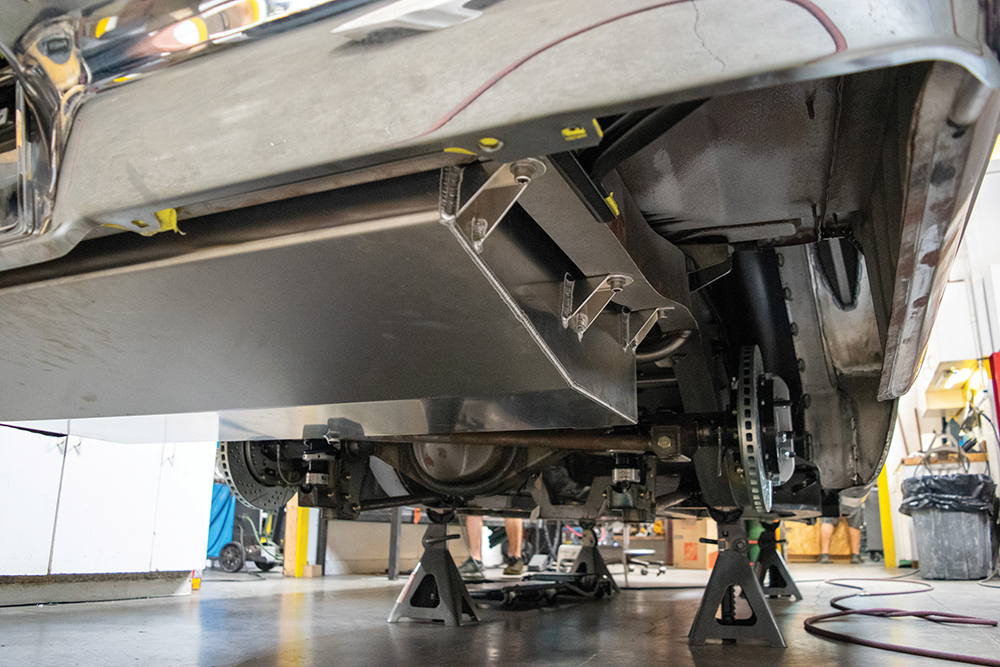 1971 BUICK SKYLARK 
ROLLINS AUTOMOTIVE
GAINESVILLE, FLORIDA 
The Skylark featured here is an interesting build, as the customer wanted to keep it all Buick. "I suggested the quick and easy upgrade of swapping in a big block Chevy and be done with it. But the customer would have none of that," said Jason Rollins. 
The Skylark came in with the 455 Buick motor—.030 over, stock crank and rods, and would be built for 90% street driving. "The customer wanted to drive the car to the track, buzz off low 10s/high 9s, drive home without changing anything, and give Hellcats a run for their money on the street," said Rollins.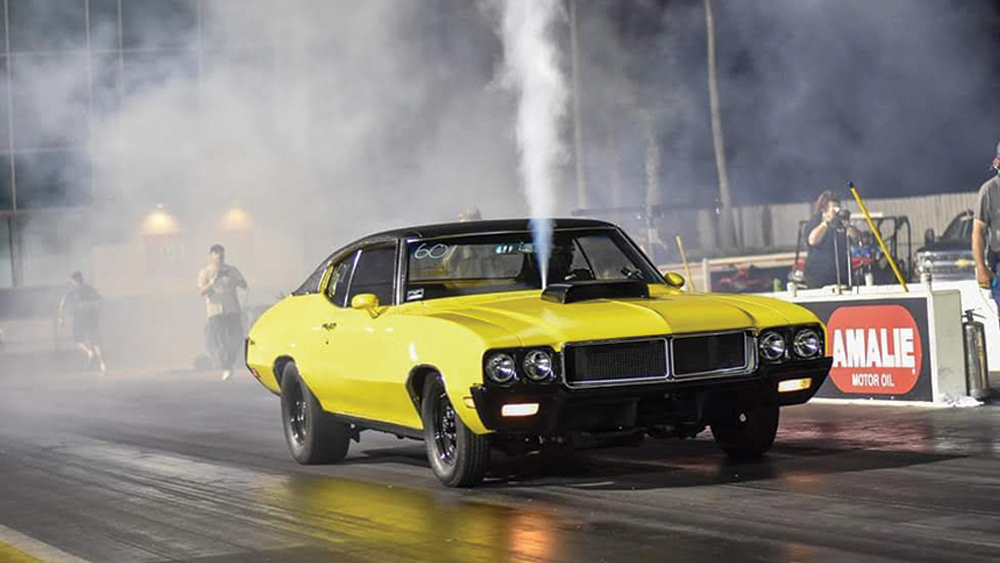 The customer also wanted nitrous, so Rollins went with Sealed Power forged pistons and modified the "notoriously bad" Buick oiling system, increasing flow and converting to through-pushrod oiling. "The oil pump is located in the timing cover, so we went with a TA Performance cover to eliminate any issues there," noted Rollins. A booster plate was added to the oil pump, which was converted for an adjustable oil pressure regulator.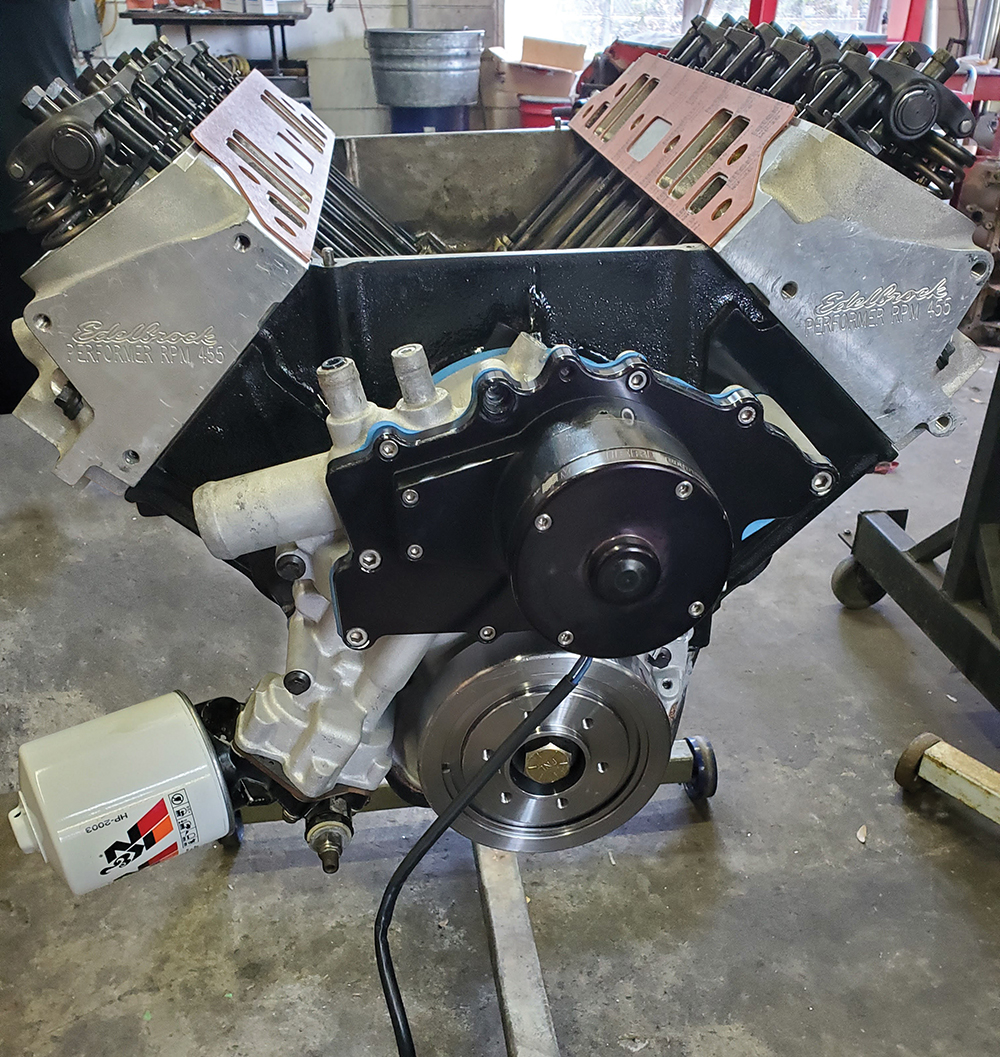 Then, Edelbrock heads received minor port work in-house. "We installed a dual spring with damper from COMP Cams," stated Rollins. COMP Cams also supplied a custom grind flat tappet stick, and its small block Chevy Ultra Pro Magnum rockers and 3/8-inch pushrods.
The nitrous system is a 150-hp shot Saturday Night Special plate kit from Induction Solutions. "We're using a Holley 4150 Sniper Stealth EFI system—something new from Holley. We have the eight 800 lb/hr injector configuration, and an Aeromotive 1000 fuel pump that supports up to 1250 hp on boosted applications," Rollins explained. The system controls everything from nitrous to timing to trans brake launch, and provides data logging as well.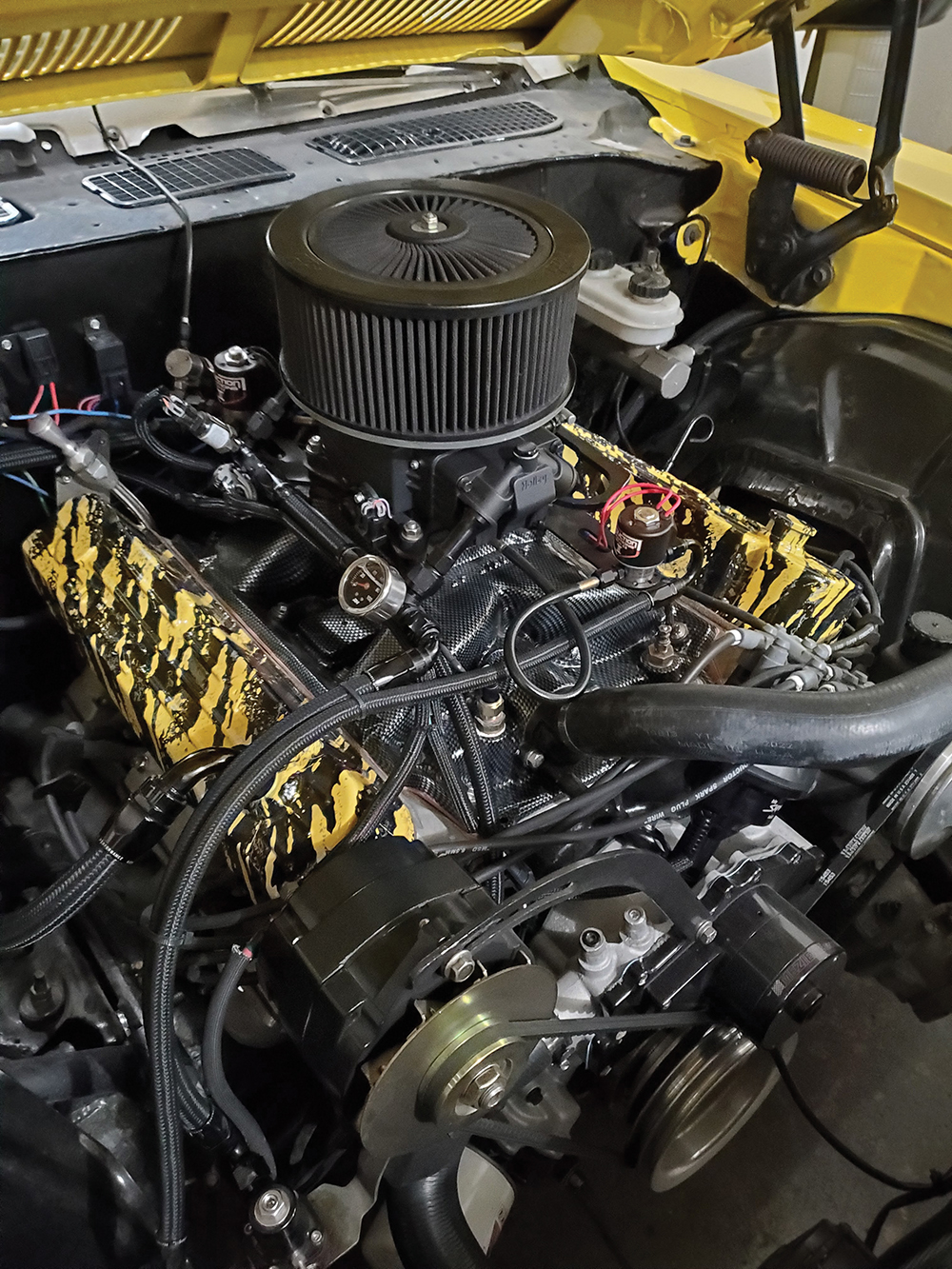 Backing the 455 is a THM400. "It's one of our entry-level race transmissions," said Rollins. "It has an FTI trans brake, full manual valve body, and 4400 rpm-stall converter." He noted a THM350 or 'Glide would have made the car a second slower than the 400. "Besides," Rollins added, "the customer previously blew up one of our THM350 transmissions, and a Powerglide really isn't suitable for the street."
A 3.31-geared 12-bolt Chevy out of a 1972 Chevelle brings up the stock housing rear, while 33-spline Strange axles spin the wheels.
The front suspension is pretty basic with Moroso Trick springs, stock control arms, and Lakewood 90/10 non-adjustable shocks. "The rear is where the customer spent the money," Rollins noted, pointing out that the factory four-link uses TRC double upper and lower control arms. "We welded BMR Suspension lower control arm relocations brackets to the housing to correct the instant center," he added. QA1 braces mount on the housing to connect both sections of the frame for high-rpm trans brake launches. And stock replacement coil springs are damped by QA1 single adjustable shocks.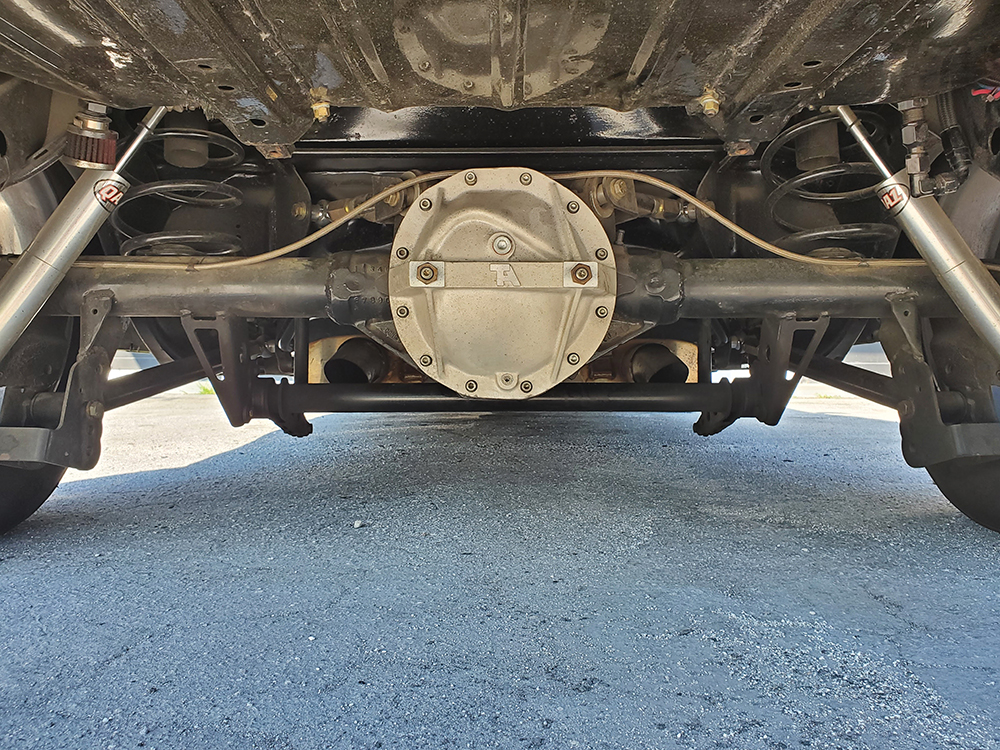 1968 CHEVROLET CAMARO 
PMR RACE CARS
RANCHO CUCAMONGA, CALIFORNIA  
This Camaro came into the shop pretty much as a bare car. "One of the first things I determine on a street/strip car is the percentage of street driving versus drag racing," said Tony Mandella. "That sets the direction of the build." 
A major decision on any street/strip car is the rearend. "There is no such thing as a perfect hybrid third member," explained Mandella. "For drag racing you want a spool, pro gears, and 40-spline axles. But a spool is not great for street driving—especially on wet roads." This Camaro was geared more for the strip, which favored a spool.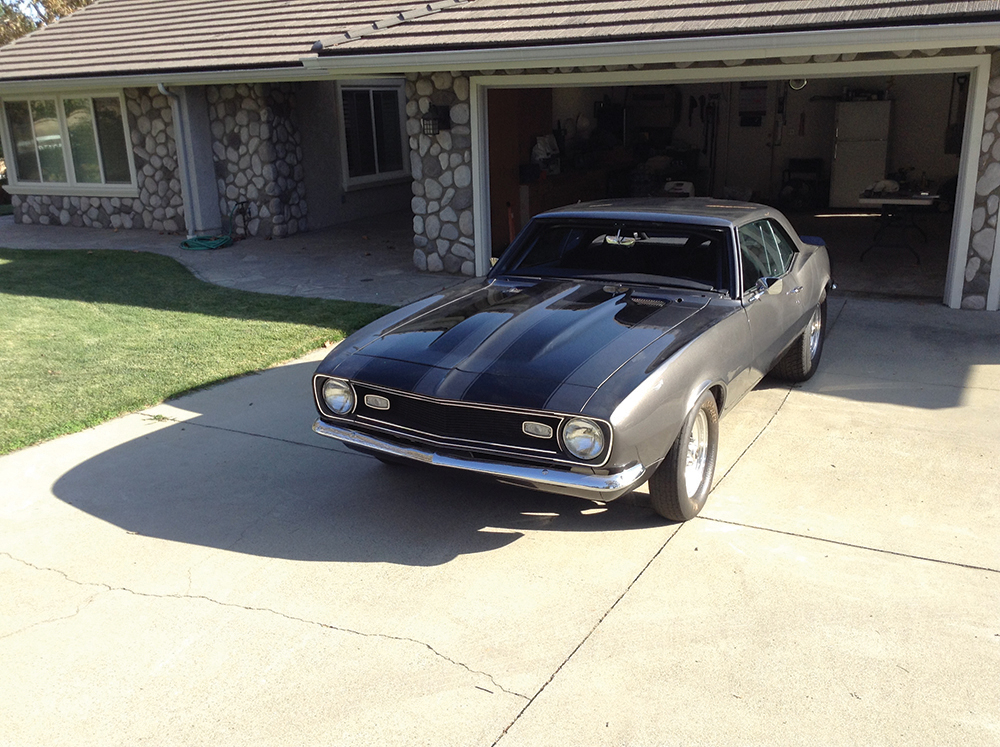 "The same could be said for the transmission," said Mandella. "We went with a Turbo 400 versus a 4L80. It's still good for the street but lacks overdrive. We expect more performance from that trans."
The brand of parts selected for the build is based on Mandella's own experience. "I stay away from components that have failed in the past," he said.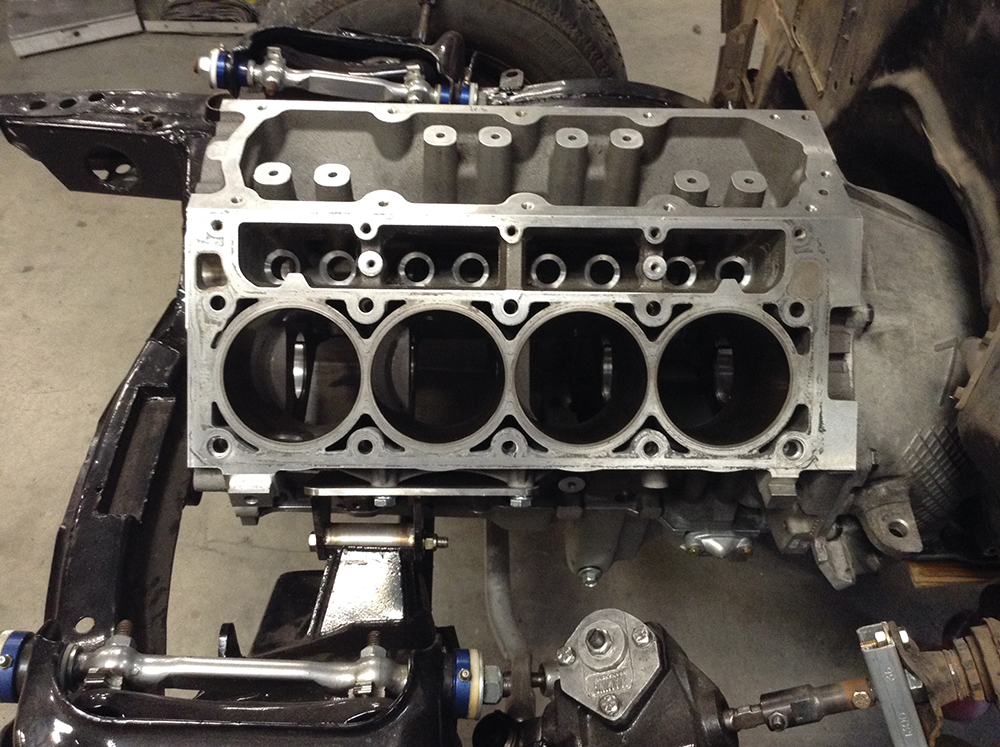 The customer wanted no power adders, so Mandella put together a combination geared more for the strip, and with solid dependability on the street. 
The 12-to-1 pump gas bored and stroked 416-cubic-inch motor is based on the LS3 block topped with Trick Flow GenX 255 heads. "The heads come ready to go and require no additional machining," Mandella noted. The robust reciprocating assembly uses Callies Comp Star crank and rods swinging Racetec flat top slugs.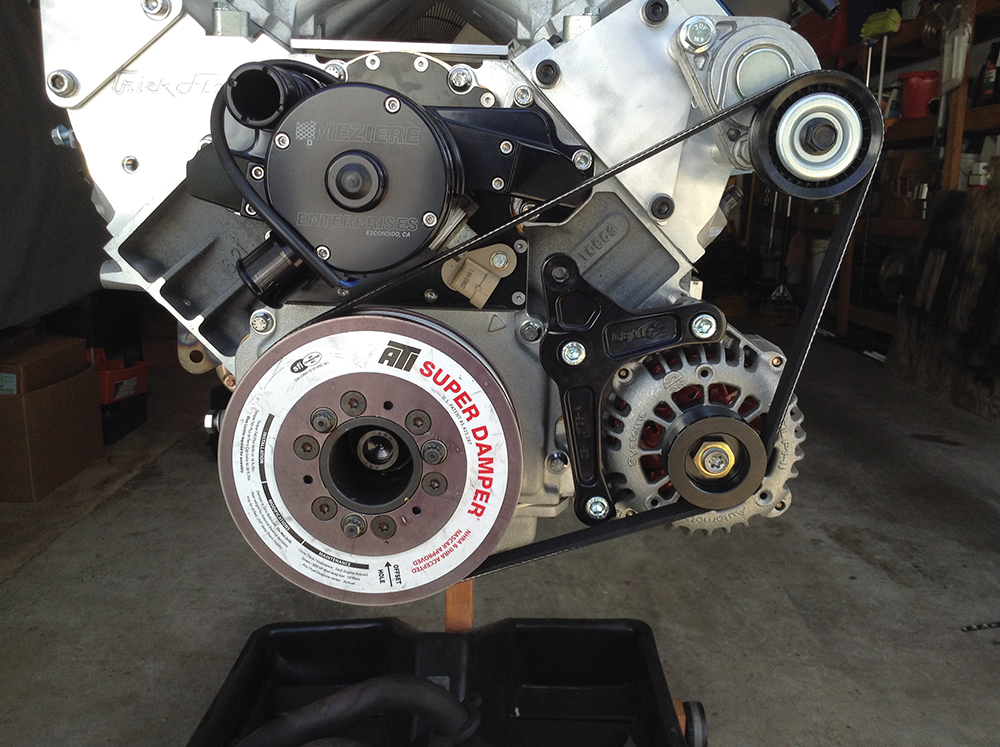 For the intake they went with a FAST LSXR manifold with high-hp runner kit and FAST 102-mm throttle body. It's all controlled by a Holley HP EFI ECU. Custom-built REF Unlimited headers flow into a custom three-inch exhaust with Borla mufflers. "The engine made 665 hp on the dyno," noted Mandella.
The THM400 transmission was built by Remac Transmissions and runs a 4500 stall converter from Edge Racing Converters. 
"To get the car to hook, we went with a Chris Alston Chassisworks ladder bar suspension with adjustable shock mounts and Strange double-adjustable rear shocks with Hypercoil springs," said Mandella. PMR OE-style mini tubs allow for big Hoosier radial race slicks. 
The third member is PMR Ford nine-inch housing with a Strange aluminum HD case center section packed with 4.30 gears, lightweight steel spool, and Mark Williams axles.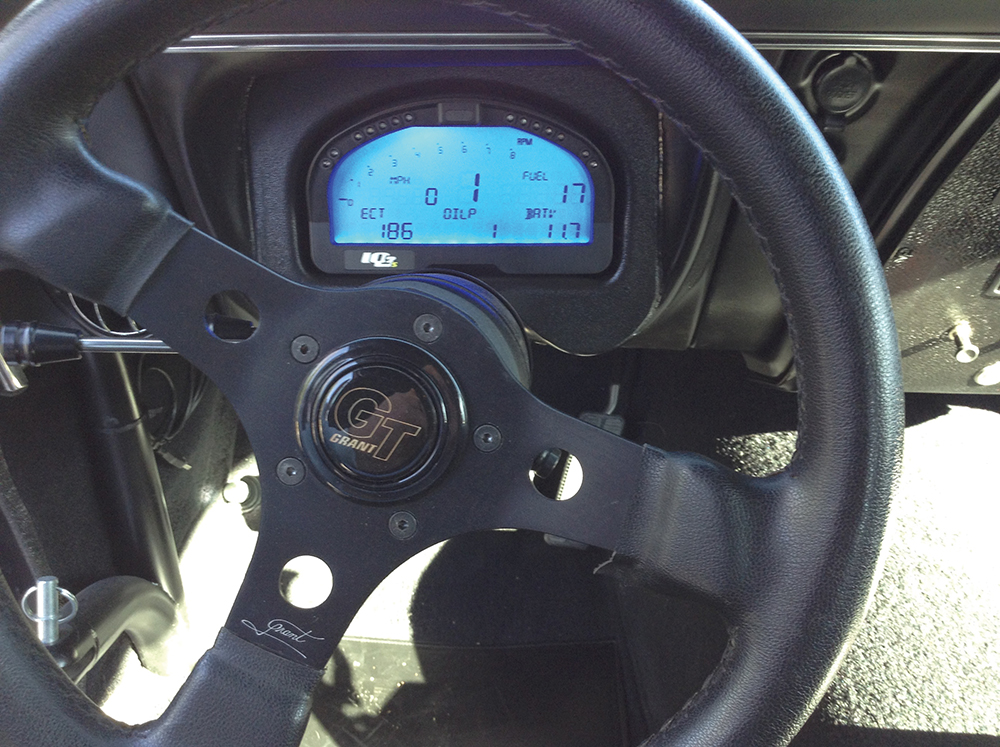 "Up front we stayed with basically a stock-type front sub frame, and we reworked the whole front suspension," said Mandella. "We went with Global West upper and lower control arms, and AFCO low-friction upper and lower ball joints." AFCO double-adjustable non-coil-over shocks work with Landrum coil springs. 
In the cabin, PMR installed a custom 4130 chromoly roll cage with swingouts. Instrumentation is updated with a Racepak IQ3S street dash.
"The car is typically driven to the track on weekends, where it has turned a best of 10.18 seconds at 131 MPH with a 1.37 60-foot," Mandella told us. "It is street driven the rest of the week."  
 
SOURCES
–
Fathouse Fabrications
fathousefab.com
Late Model Engines
latemodelengines.com
PMR Race Cars
pmraceandspeed.com
Prestige Motorsports
prestigemoto.com
Rollins Automotive
rollinsspeedandcustom.com 
Stimulus Packages
Late Model Engines in Houston, Texas, does not work on vehicles—rather, they specialize in custom LS- and LT-based street/strip-style packages. "We build engines and provide those packages for a majority of the high-performance shops in Houston, as well as the big names around the country, such as Vengeance Racing and Late Model Racecraft," explained Bryan Neelen. 
The company's street/strip engines range from an LS3 416-cubic-inch small block that makes 650-plus horsepower up to its 2,000-plus horsepower street engine.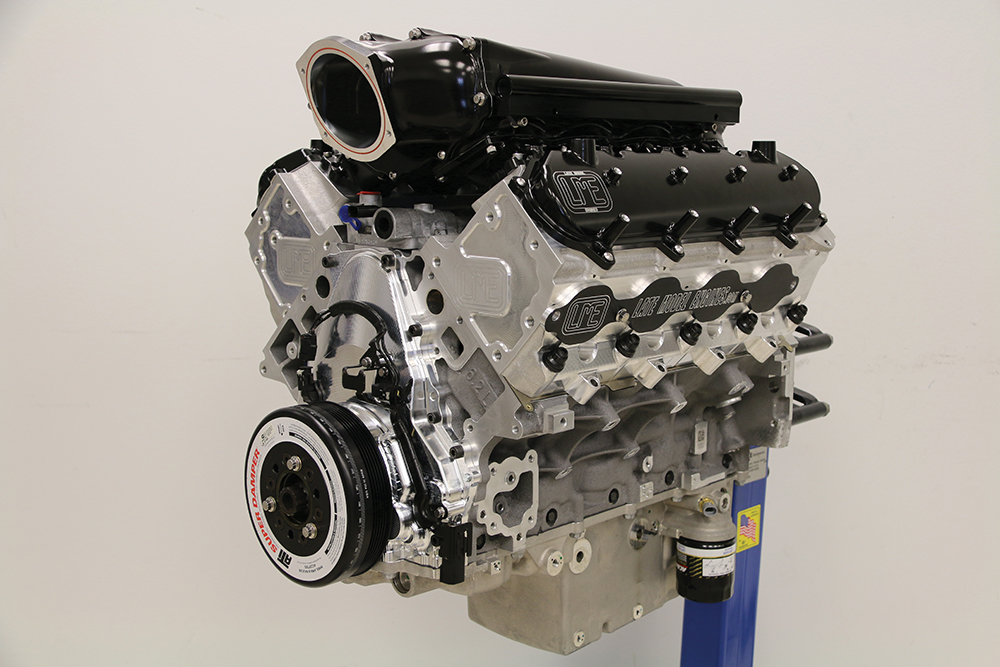 "Currently, most of our engines are for swaps—everything from a 1966 Nova to a 1968 Camaro to the Cadillac V3 CTS-V, ZL-1 Camaro, and LS-powered trucks. But the bulk of our business is the C7 Corvette," said Neelen. 
"Our most popular street/strip package is our 416-cubic-inch LTX—a 10.5-to-1 compression motor designed for boosted applications, the most prevalent being the 2650 Magnuson supercharger," he continued. 
The LSX engines are available in sleeved or un-sleeved versions depending on horsepower, and are delivered naturally aspirated rated 650–700 hp, depending on camshaft selection, and can withstand boost up to 1500 hp.
Build highlights include decking the block and deleting the active fuel management. The cylinder heads come in as raw castings and are fully machined. "We design them a bit different from the standard LT head," said Neelen. "We use a straight exhaust port versus the standard dogleg shape. We're flowing right at 400 CFM on the intake and 300 CFM on the exhaust We run a 2.180-inch intake valve and a 1.630-inch exhaust.
The reciprocating assembly starts with a Callies Magnum eight-counterweight forged crankshaft, and Callies Ultra Enforcer I-beam rods. "We run a Diamond custom piston to our spec that is based off of their 2k forging," explained Neelen. "It's a fully boxed forging with great strength and rigidity in the pin boss area. Typically, you'd need a billet piston to get those features."
The wrist pin is a Trend 225 tool steel. Cam Motion supplied the camshaft. "We run the 33% fuel lobe, which increases the lift of the fuel pump for higher fuel pressure, and we use an upgraded Cloyes timing chain," noted Neelen.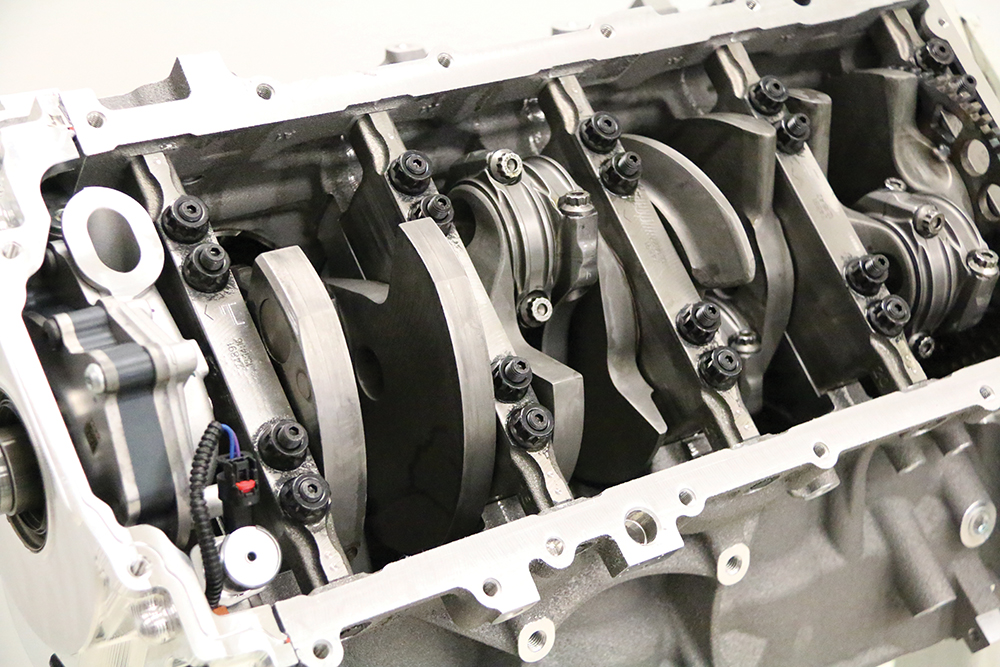 A unique piece that LME machines in-house is the VVT-delete billet front that deletes the factory phaser unit. "At higher boost levels, higher rpm, higher spring pressure, there's fluctuation issues with the phaser, and cam timing becomes unstable," said Neelen. The phaser is replaced by a solid cam gear. Because the gear that mates up to it has a different dowel location, they modify the gear so the cams degree in as they would with the factory phaser unit. 
Additional highlights include LT head gaskets and a copper O-ring setup for the heads to withstand high boost, Johnson hydraulic lifters, Manley 3/8-inch pushrods, and a T&D Machine Products billet steel roller rocker. 
"Essentially, this is an 8000-rpm engine," Neelen concluded.