Special Report: The Ascent of eCommerce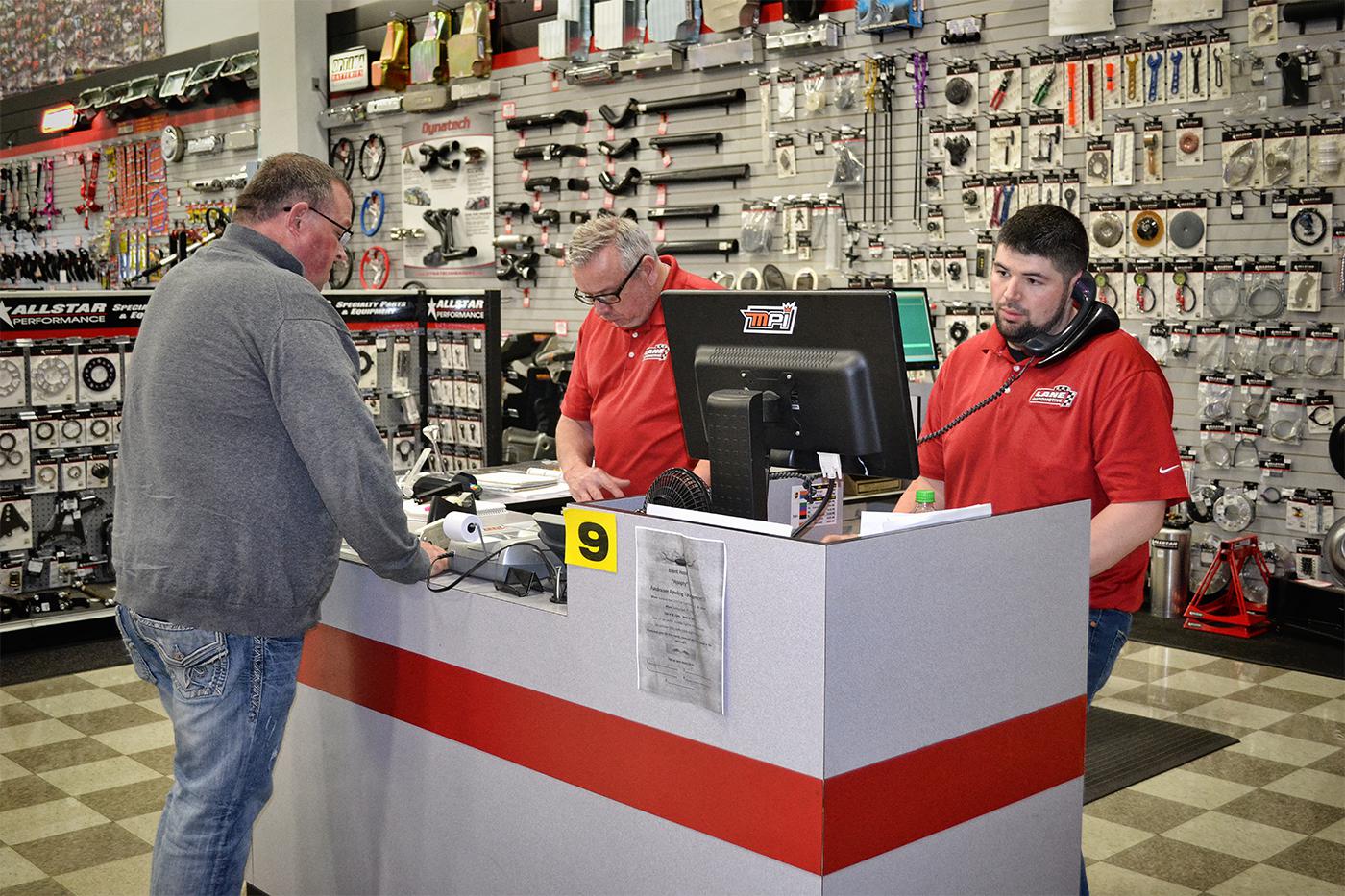 While Internet-based sales had been trending upward for years, the impact of COVID-19 has shifted an even greater percentage of racing and performance parts purchases online. 
Among the tumult that has defined 2020, one of the overriding takeaways is that the ability to adapt to change is crucial to success. Life has a tendency to throw curveballs when we least expect them, and COVID-19 has forced us to reassess how we interact with one another on the most fundamental level. And that, in turn, has made a substantial impact on how we conduct business. 
"In recent years, it's become a well-known fact that shoppers do a lot of online research about products, but there's a comfort level involved in walking into a store and speaking to someone more directly about that product for their specific vehicle or application," explained Gigi Ho of the SEMA Data Co-Op, Diamond Bar, California. "But what the pandemic has demonstrated to everyone—resellers and consumers alike—is that folks are perfectly okay with buying a product online, without that in-store experience."
It's an assertion that's supported by Hedges & Company, a market analysis firm in Hudson, Ohio, that tracks weekly eCommerce activity in the automotive aftermarket, including performance and racing parts. Their data shows that performance and racing parts purchased online increased by 26% during the week of May 3–May 9, in comparison to March 1–March 7, an increase that further expanded to 59% by May 24–May 30 (the most recent period for which data was available at press time). While part of that growth can be attributed to unexpected windfalls—in the form of stimulus checks—Jon Hedges told us online shopping in this segment has been on an upward trajectory for some time now.
"It's not a new trend, really—it goes up every year," he said. "But what we've seen in the last few months is that eCommerce has picked up several years' worth of growth, in terms of market share. Today, eCommerce is where we originally forecasted it to be in 2023." 
And yet despite this, PRI's annual Racing Business Survey (see March 2020 PRI Magazine) indicates that motorsports businesses have been a bit slow on the uptake, with fewer than half of our respondents indicating that they have a website, let alone an online storefront. 
But is this substantial uptick in online commerce simply a passing fad? Let's dig into the data a bit deeper to get a better sense of how the coming months and years are expected to unfold, and get some fact-based tips on how businesses can enter the online space.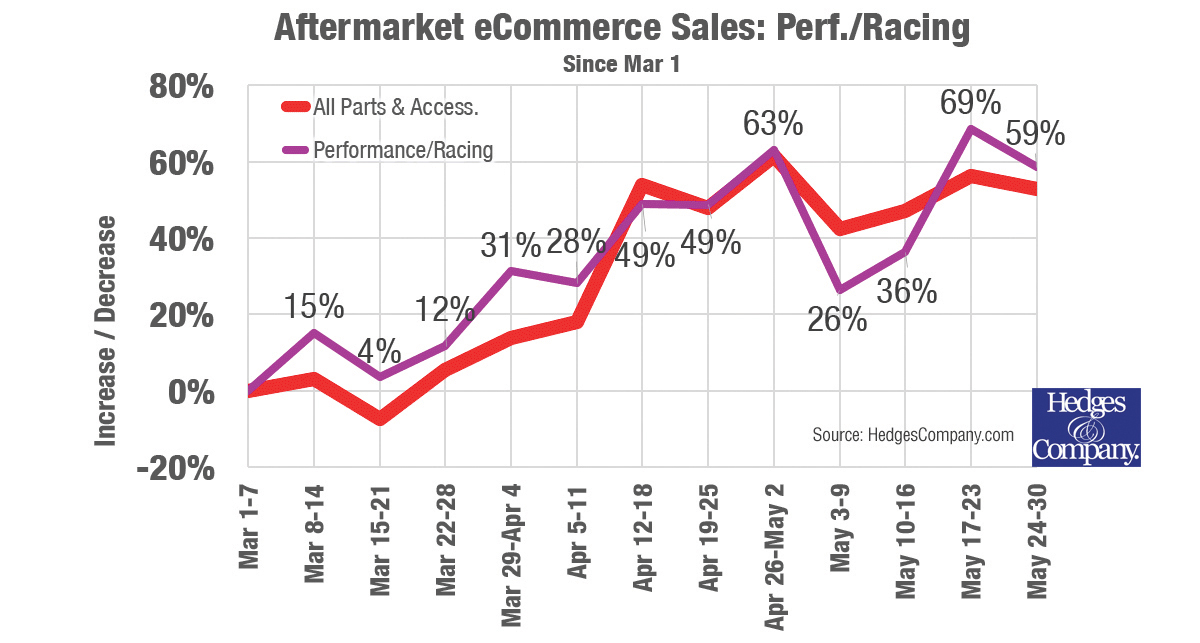 Turning Challenges Into Opportunities 
"The habits and hobbies of racers haven't stopped," said Ho. "They still want to go racing, and they still have projects in the garage that they might have been wanting to work on for a while, and now they likely have more time to do so."
That sentiment is backed by strong sales numbers reported by Primus Racing Parts of Pawleys Island, South Carolina, in recent months. "There's definitely been a lot more people using the online store," said Derich Cutshaw. "And our targeted marketing on Facebook has seen more engagement recently as well. Everybody's sitting at home a lot right now and the car is in the garage, waiting to be worked on, so in general a lot of people have been using the website to order parts."
And Hedges noted that eCommerce interest has increased despite the fact that many auto parts stores have remained open throughout the pandemic as essential businesses. "As shutdowns continued and as people became more apprehensive about shopping in a brick-and-mortar environment, we started to see those sales shift online rather than go away entirely. And then we saw a huge spike in eCommerce sales when the stimulus payments started hitting."
But some sources believe that sales have been fluctuating rather than simply rising. "February and March were particularly busy," said Bob Mazzolini of Bob Mazzolini Racing, Riverside, California. "I think everybody was home and they were working on their cars, but more recently it's leveled off a bit. Now maybe they're getting back to work, or they have less disposable income to devote to their projects."
It's a similar story for TC Race Cars in Frostburg, Maryland. "We don't do too much web stuff," said Chuck Clise. "Use of the online store has actually gone down since February."
NO Flash In The Pan
Current economic circumstances undoubtedly have a profound impact on which way the sales pendulum swings, whether buyers shop online or head into physical retail stores. But regardless of any spikes or valleys along the way, Hedges contends that the shift toward online purchasing is likely to be a lasting one. 
"I think that as people become more comfortable with shopping in brick-and-mortar stores again, some of that online share may drop, but I don't think that it's going to cancel out the change that we've seen over the past few months," he explained. "In general, I think the shift toward online shopping will be permanent." 
Ho agreed. "Even when we start to return to 'business as usual,' I expect that online sales will remain well above previous indexes," she said. "I think the new normal is going to be 20%–30% stronger than it was before all this. Shoppers are getting used to the convenience of clicking that 'buy' button. And ultimately, whatever their experience is with a particular reseller is going to play a big role in who they choose to continue shopping online with in the future."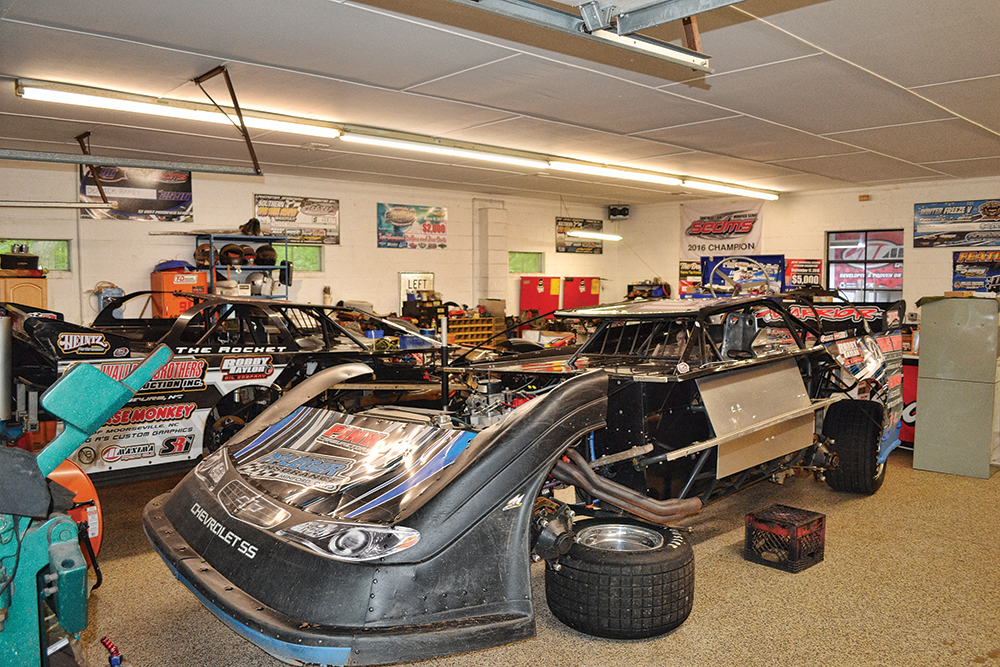 Winning Formulas
Ho's hypothesis is backed by a recent report by the Chicago, Illinois-based financial services company Hilco Global, which contends that the eCommerce transformation that has been taking hold in the automotive aftermarket industry has been driven in large part by big players like Amazon. Having a web presence simply isn't enough to incentivize the use of an online storefront—the shop itself must be intuitive to use and provide enough incentive to make the purchase at that particular site rather than another web store or a brick-and-mortar option. 
"Maybe returns are low-cost, or at no cost," she said. "Maybe a store's expedient shipping prices are lower than their competitors. There are a number of different ways businesses are changing their eCommerce strategies to meet the challenges of this time."
And much of that starts with consumer trust. For instance, Bob Mazzolini Racing's storefront operates on the Ecwid software platform, but Mazzolini also designed an extra layer of consumer security into the company's storefront. "You have the option to pay through PayPal on the site," Mazzolini said. PayPal not only offers purchase protection for buyers and highly secured transactions, it also provides the convenience of faster checkouts that don't require re-entering payment information each time a purchase is made. "And, of course, we do our best to keep up with product pricing as it changes."
Clise pointed to social media as another way of incentivizing the use of TC Race Cars' online store. "We'll post about new items or specials through our Facebook page," he said. "And any promotions we're running will go there as well."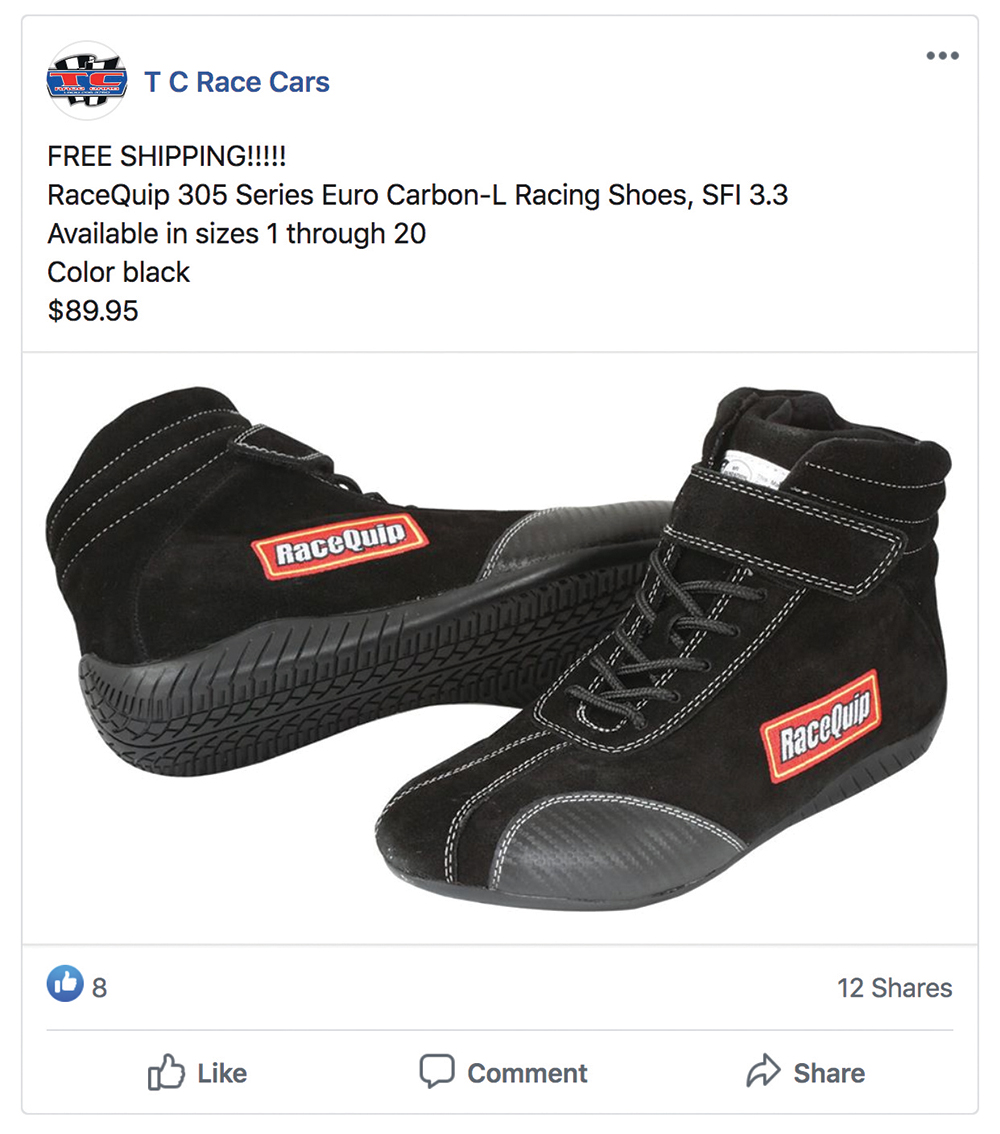 Facebook is also the social media platform of choice for Primus Racing Parts. "We've noticed that the majority of our audience uses Facebook more than other social media platforms, so we've focused our efforts there," Cutshaw said. "Of course, we use it to create posts with product links that take you straight to the website, but we've also set it up so there's a button on the page that you can use to sign up for our mailing list. We use that list to send out emails about sales, coupons, and various specials like that. It's been a good tool to collect customer information so we can get relevant information directly to them."
Promotions play a big role in incentivizing eCommerce use, Ho said. "Shorter time scales create urgency—the buyer needs to act," she explained. "It used to be '50% off for the next two weeks only,' now it's '50% off for the next 48 hours.'"
Cutshaw said that Primus Racing Parts uses 3DCart, an eCommerce platform that integrates with financial software like QuickBooks to keep bookkeeping simple. "But we mainly chose it because we wanted to expand our reach," he reported. "SEO integration is an additional service that they offer—you can choose specific keywords that you want to use to improve the site's visibility in Google searches and that sort of thing. We also made a point of including a detailed history of the company on the site to give folks some peace of mind that they're not dealing with some fly-by-night operation."
Hedges said that effective online storefronts also take the concerns of the customer into account whenever possible. "There's no law that said shipping or returns have to be free," he quipped. "There is, however, an expectation on the part of the consumer that they will know ahead of time what that process looks like. So if a consumer is going to buy from an online retailer, that consumer is going to want to know what their options are if they don't like something that they've bought. I think it's really important to spell all of that out up front in a very clear way."
It may seem like a somewhat trivial component of online commerce, but as Internet purchases become more prevalent, these processes have become a bigger item of contention. "Our biggest issue is just people mistakenly ordering the wrong product," Clise said. "If you're talking to somebody in person or on the phone, sometimes you notice that they're ordering the wrong stuff. When they order it online, you've got no idea what they're doing with their project, so it's impossible to catch something like that."
And that leads to frustration on both ends. But Ho said that one of the most effective ways of combatting the issue is through effective website design. She cited three main areas of consideration for any retailer or manufacturer selling products online. 
"The first is pictures and videos," Ho explained. "Amazon requires five or six images or videos for each product listing as a minimum. If you're seeking out something specific for a particular application, the number of pictures you can look at for a given product listing definitely plays into the satisfaction of that purchase. And if a picture is worth a thousand words, a video is worth a million."
The second is a concise, up-front list of the product's features and benefits. "You can get really detailed in your product description, but people have short attention spans," she said. "And that's why features and benefits need to be front and center. They want to know why this product is better, what it's going to do for them, and why they should care."
And the third is product attributes or specifications. "That's information like measurements, what's included and what isn't, the materials used—any aspect of the product information that is important and that the shopper is going to need in order to ensure that the product is going to work for their application."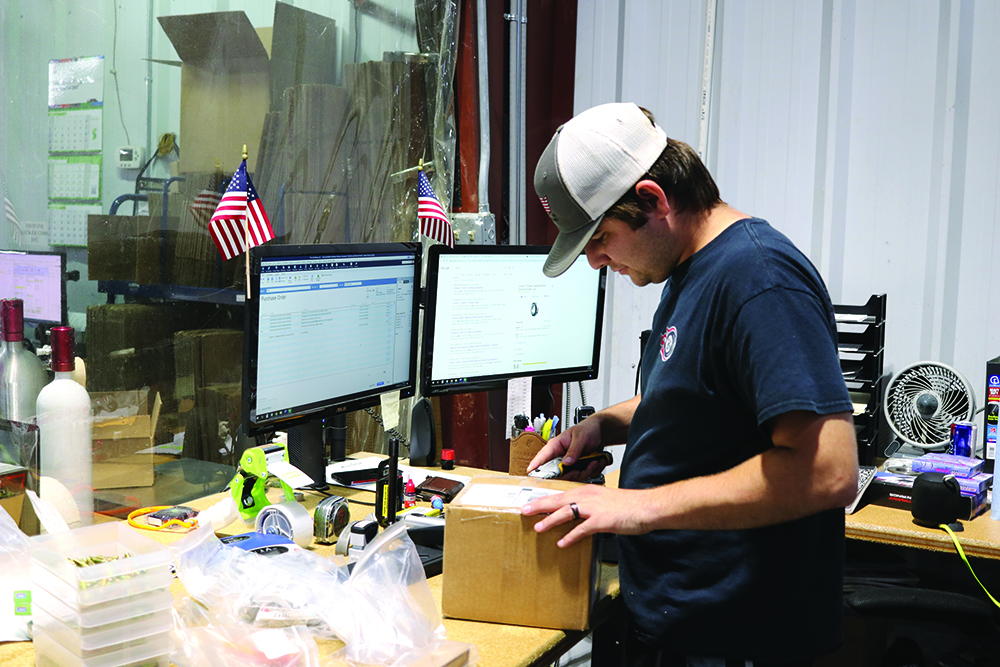 She also emphasized the importance of effective product titles. "An ideal title should be no more than 200 characters, including spaces, and it should include as much relevant information about that specific product as possible. Fitment is key—is this shock absorber just for WRXs, or does it fit something else, too? That should be in the title, along with year ranges, part numbers, etc. You really want to consider the key words that shoppers are typing into the search bar," Ho concluded.
Hedges said that consumers in the automotive aftermarket tend to be obsessed with online research, and that's something that companies should attempt to capitalize on regardless of how the majority of their sales are made. "One thing these companies need to be keenly aware of is digital influence. More than nine out of 10 consumers in the aftermarket will actively research a product before buying it through the manufacturer, an eCommerce site, or a brick-and-mortar store. They're going to research those brands and products that they're considering, and what they find online is going to influence their buying decision through any channel."   
SOURCES
–
Bob Mazzolini Racing
bobmazzoliniracing.com
Hedges & Company
hedgescompany.com
Primus Racing Parts
primusracingparts.com 
SEMA Data Co-Op
semadatacoop.org 
TC Race Cars
tcracecars.com