Image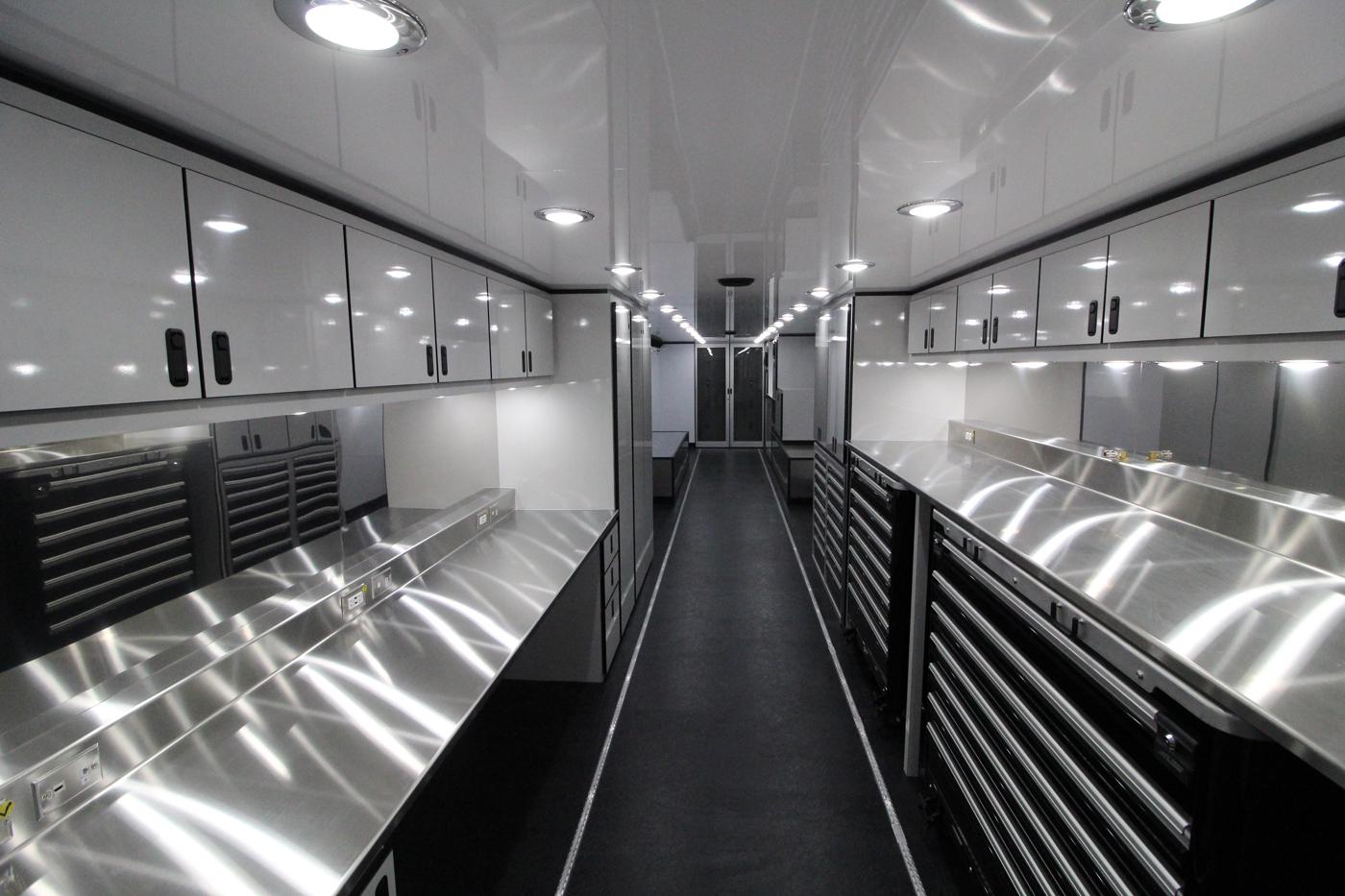 The market for motorsports trailers is not only blistering hot, it's a microcosm of the political, industrial, and competitive landscapes in racing today.
Adjacent to I-44 and a half-mile from the original Route 66 road that runs through the colorful town of Cuba, Missouri, is a large grassy lot set aside for trailers and motorhomes. It's the property of Flying A Motorsports, a dealer for numerous national trailer manufacturers. At any given time this past summer, there was an average of 20 to 25 car-hauling trailers on display.
"We're used to having 200, and eight to 10 motorhomes," said Alan Cape, sighing.
Insight into the motorsports trailer industry today is pretty much a reflection of the entire country's industrial woes as well as its joyous times. Trailers dedicated to racers' needs are backordered for up to two years at some manufacturers. The strong demand is hindered by shortages of raw materials, supply-line issues for critical electronic- and chassis-related equipment, and a lack of returning skilled labor caused by the pandemic.
"We're starting to get inventory back, but it's the cheaper style of trailer," said Cape. "We don't make much money on them, and they're not as popular or desirable right now. What's desirable are the more equipped and more expensive race car trailers, and we can't get those in stock. We do have a bunch of orders, which, when we get them in are delivered right away to the customer. But as far as inventory, we really can't get any."
There's a similar concern at Eldorado Trailer Sales in Eldorado, Wisconsin. "Pre-COVID-19 we kept about 250 trailers and 15 coaches on the lot," explained Abby Kopf. "Currently we have about 150 trailers, and we're averaging between two and four motorhomes."
Kopf said coach orders are a year out, and a large number of trailer orders are up to six months out. "We're starting to catch up, but we're still having a hard time keeping inventory in stock," she explained. "What we're getting in now is product that has been on order for a long time and comes in with a customer's name on it."
One lot owner was so concerned about having enough inventory he purchased his own trailer manufacturing company. "I own two lots, and that was my biggest reason for purchasing United, so I can control my inventory better on my lots and improve the product for every other dealer," said Jason Dietsch of United Trailers, Bristol, Indiana. "We can pretty much supply somebody and they can get something within 12 to 16 weeks."
Industry Update
Driving the demand the past year has been a busy motorsports schedule with full fields at many tracks and a growing number of racers in certain disciplines, such as Outlaw drag racing. A strong economy, although tempered with high inflation, continues pushing race teams to travel farther and more often. In doing so, they're all looking for extra features that provide comfort and utility.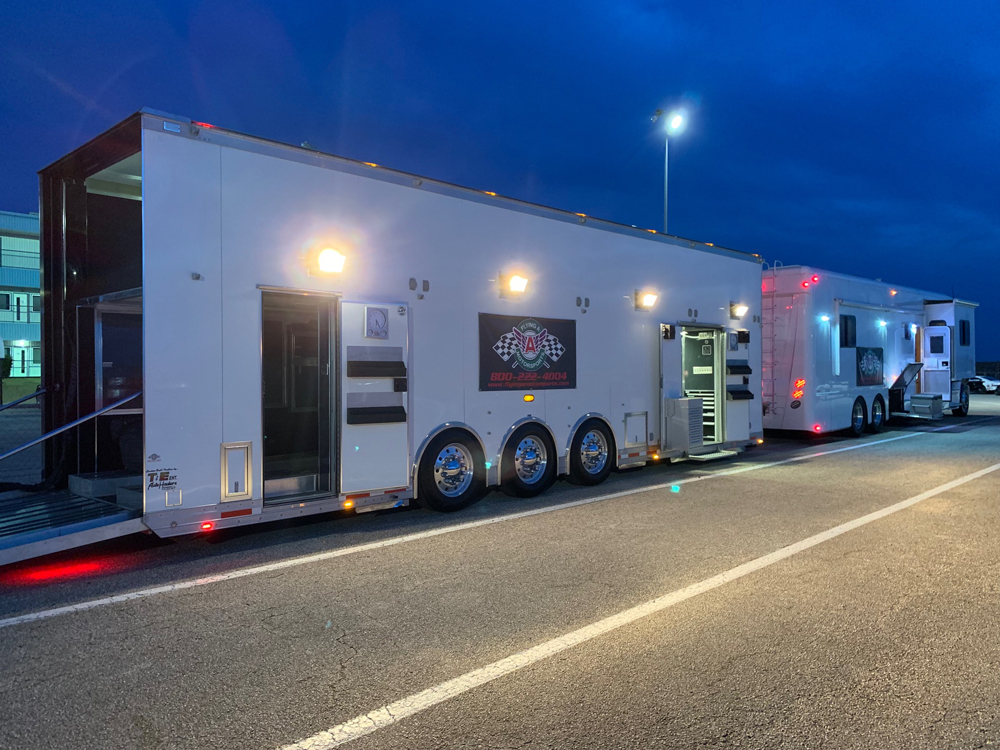 "It really is the best it's ever been," said Mike Nichols of Haulmark, which is part of the American Cargo Group and is based in Elkhart, Indiana. "We see so many new racers coming in and moving up through the ranks. It's obviously new racers and the expanding race industry that have been good to us. We've had two back-to-back record years. We've delivered more than 600 highly customized race units this year."
Nichols said the motorsports trailer industry is coping with the same supply-chain issues as housing, RVs, and just about all manufacturing, yet his company is looking ahead offering new innovations for the 2023 line—which will be on display at the PRI Trade Show in December.
"We have a lot of great racer-friendly changes coming up," said Nichols. "We are going to more rigid and sturdy sidewalls. We're trying to eliminate the oil-can effect and as much wood in the trailer as possible, so we can make the trailer lighter and sturdier. We're upgrading our LED light and stereo features. We'll be leading the way again with new features this year."
Perhaps the biggest challenge currently for the industry is labor. While the actual numbers may vary from company to company, most are feeling the pinch of either not enough labor or the loss of experienced, skilled workers.
"Some of our manufacturers are down as much as 40% from max capacity of employees," noted Kopf.
"It's finding good people who want to consistently work and stay in a position and grow with a company," said Terry O'Neill at Bravo Trailers, Bristol, Indiana. "We are growing as a business. We are expanding our facility here to meet the demand head-on while coming up with new innovative ideas to be one of the industry leaders. But you have to have good people employed. You have to have good skilled craftsmen and individuals who want to come in and do the best job they can every day."
At Victory Custom Trailers & Motorcoaches in Metamora, Michigan, it's a similar story of strong sales that are sometimes hampered by supply or labor challenges.
"I think everybody's about maxed out on their production," said Chris Heffinger. "Several of our manufacturers are building new facilities, trying to increase production. I'm sure suppliers are also doing the same trying to get production up—the axle companies, the light companies.
"The bottleneck has been supplies, both raw materials and manufactured components, but then there's labor," continued Heffinger. "It's just hard getting employees, and everybody's facing that in every industry. I feel the manufacturers have done a really good job of trying to increase production as much as they can but not sacrifice the quality of the product."
"It's the same as the world in general," agreed Cape. "Motorhomes can't get furniture, sometimes generators are slow for a while, and air conditioners are hard to get for a while. So it's just a combination of things that have been hard to get. Our higher-priced race car trailers have sliding-glass doors. Well, you think you'll get your doors in one place, but all of a sudden they're hard to find and they've quadrupled in price."
Brad Bell of Formula Trailers in Bristol, Indiana, acknowledged that there's been limited inventory since the COVID-19 crisis began, but his employee count is back to normal, and he's upbeat about the racing industry overall.
"Motorsports remain strong, and the custom end of the trailer business is still out there. Some of the industry is slowed down a bit due to fuel prices and inflation. But the accounts that I work with, for the racers, I would say it's still going strong."
Turnaround times have been a "struggle," Bell added, due to difficulties in securing raw materials, electrical goods, and air conditioners. Current turnaround time for a "mid-range" car hauler at Formula Trailers is nine to 12 weeks.
"Turnaround time is getting better," observed Bell. "We are at full labor force. Most manufacturers do have a good core group of people, but they're always trying to add a little bit here and there just to finalize their equation. Still, we have a full crew at present."
Essential Options
Besides labor issues and an erratic supply chain, the key factor in driving the lead time is the demand for high-end product and features. The days of racers settling for a basic trailer to load up and go to the track is over.
"Everything we do is very, very high-end and large," noted Todd Datweiler of T&E Enterprises Auto Haulers, Herscher, Illinois. "Almost everything we do is multiple-car trailers, like big stackers and semi-trailers. That's our niche."
"Most of our trailers are high-end and fully equipped," said Dietsch. "We build stackers, goosenecks, bathroom trailers."
"Most of the teams want a turnkey unit when it is finished, so that they're basically loading up their equipment and going to the track," added Mike Galvin of Featherlite Trailers, Cresco, Iowa. "We're doing more with installing all of their IT equipment and making sure it networks properly prior to it being delivered.
"The teams are a lot more focused on the little items that make their job easier," continued Galvin. "So putting an order together probably is a little bit more specific now than it was in the past. A lot of the teams that I work with, they used to order a trailer and tell us to build it like the last one but add this to give it a little different look. Now, the teams are really focusing on what area somebody's going to be working in and the items they need to make that happen."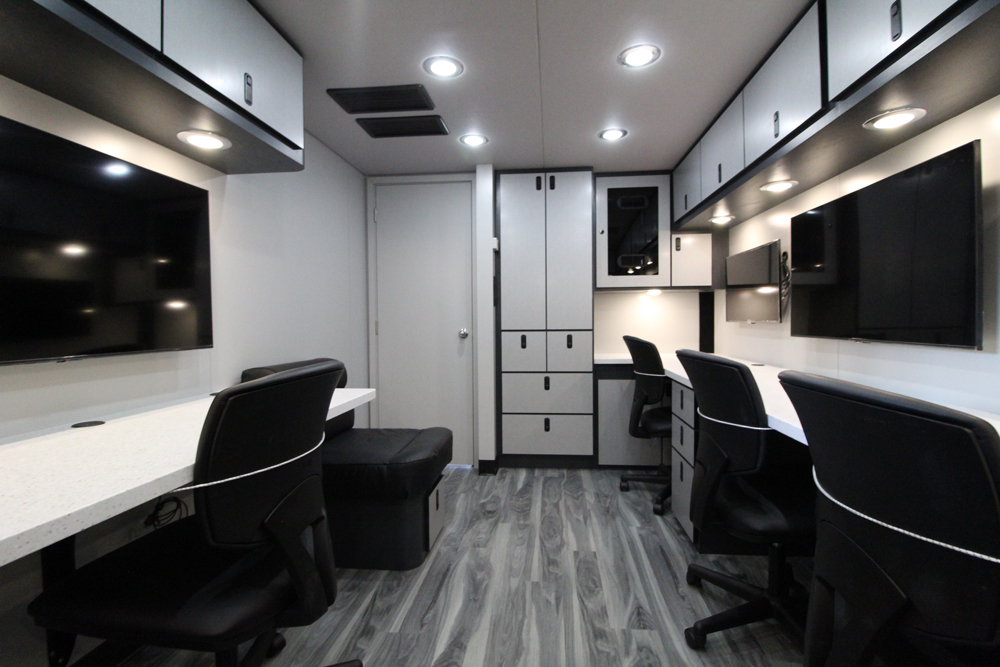 Galvin referenced one example where a customer who normally had his trailers built with a stainless-steel exterior has now requested that the sheathing come from just one location in the world.
"We can only order it in that one place, and it's a very specific product that has unbelievable clarity in the stainless," explained Galvin. "We're building two of those units right now. We're also providing more electronics and the ability for the customers to clearly talk from the track back to their home facility."
Connectivity is a growing feature that teams need in highly competitive racing. Data can be relayed to a tuning specialist or the engine builder in a remote location. Also, teams need to be hooked up to their social media outlets to provide up-to-the-minute reports.
"You almost have to have an AV specialist on your staff to take care of the needs some customers want," said Galvin. "There's just a lot more detail in today's trailer."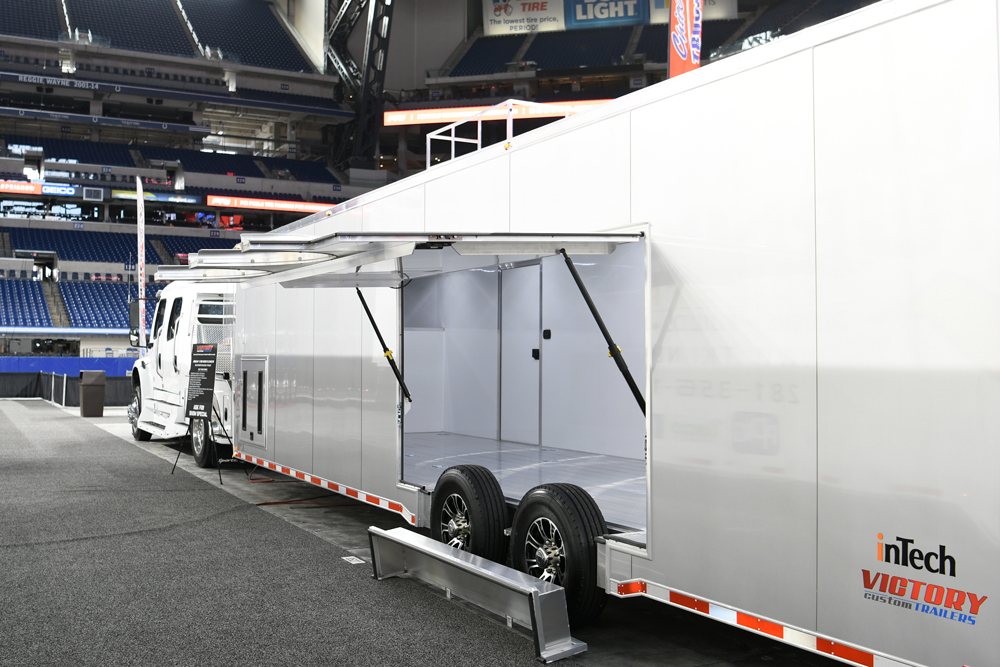 "Take a simple battery indicator," said O'Neill. "All of these trailers have batteries in them, especially the high-end race trailers. However, you never know the level of your battery with regards to the charge. Now I can just look on the wall to see if I need to charge it or not. Just little things like that."
"It's everything technical these days," agreed Dietsch. "I work with guys programming cars, and you have to be Internet-capable."
Cautious Optimism
Looking ahead, the industry shares a cautious optimism—given the inflation numbers and upcoming national election—mostly due to strong orders and decreasing lead time.
"We're extremely busy," said Datweiler. "Typically, when we've seen high fuel prices things have slowed down a little bit. But I really don't know, I'm just hopeful things straighten out. I don't think it will ever get all the way back to what I refer to as normal, but it is heading that direction, anyway. It is getting better."
Finally, there are some new racing essentials evolving in the industry these days that are also driving motorsports designs. Not just the extra space, advanced electronic features, and cool color schemes that are important to racing consumers, but family considerations are playing into the custom orders.
"Now, travel is more of a luxury. Also, they want to save time by having the trailer organized and have certain options and features in the trailer in case there's a problem at the track," said Heffinger. "It has become so important that trailer design is way above what it was five years ago. People used to buy a $20,000 trailer and that was loaded up because they had cabinets and lights in it, and maybe had a tire rack because they thought that's all they needed.
"Well, now we're getting into bathrooms, air conditioning, built-in generators, and just a lot of custom options that really make race day much more beneficial for them," continued Heffinger. "Now, you're seeing a lot more families go to the track, not just the dad and his buddies. Wives are now having more input in the design of the trailer. Obviously, the prices of the trailers are way up, but we've been able to finance them to make it more feasible for everybody. However, the trailer industry has definitely evolved significantly just in the last five years." 
WORDS OF Advice
There's a lot of push-pull in the motorsports trailer industry these days. Demand is at an all-time high, yet at the same time delivery of product is being checked by supply chain difficulties and uncertain labor conditions. To help guide potential consumers through this market, manufacturers and dealers are advising them to study and compare the market, be honest and realistic about their needs and expectations, and perhaps most importantly, buy now! Following is a sample of their recommendations: 
"Well, racers, there hasn't been much inventory around. So, yes, you need to order. I've always been one to [recommend]—when I talk to the racers, especially at PRI—to order. That way you get exactly what you want, right down to the color scheme of how the interior is built. I would say the used market is very slim, and the pricing on used trailers is right up there. If you could find one, buy it. But good luck on finding one that will fit your needs. —Brad Bell, Formula Trailers
"Do your homework. Everybody is strategically trying to get in front of the racers, the consumer. Most of the time, you will see a manufacturer strategize using price or discounts or rebates to move product. The most important advice I can give customers is to understand what you are buying. At today's price, everybody seems to be in the same boat. But it's very important for that consumer to understand and know exactly what they want. And among all of us competitors, who is going to fit the mold perfectly for that customer. Just do your homework.
—Terry O'Neill, Bravo Trailers
"I would buy now and get yourself in the slots. Because I don't see our production slowing down at all by any means. But the biggest thing I tell people who are starting to get into the sport or have had a trailer for a long time, it's a substantial investment. My advice to any team is find somebody that you're comfortable with. Find somebody who is knowledgeable about the product in the series that they're racing in, and work with that person. So many fly-by-nights out there are going to tell you all kinds of stories. We're going on our 50th year here at Featherlite.
—Mike Galvin, Featherlite Trailers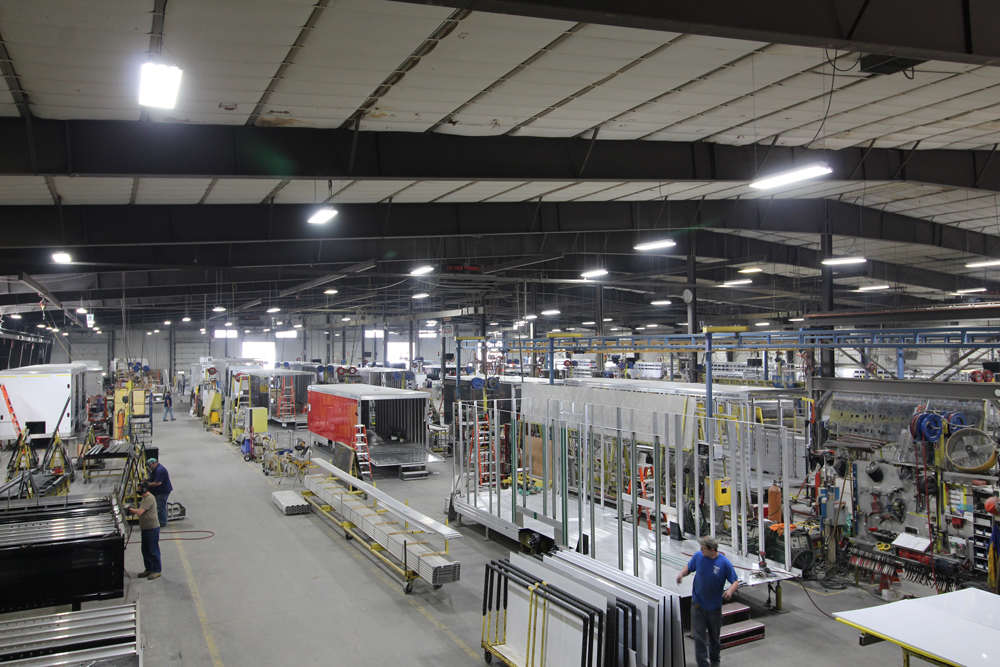 SOURCES 
Bravo Trailers
bravotrailers.com
Eldorado Trailer Sales
eldoradotrailersales.com
Featherlite Trailers
fthr.com
Flying A Motorsports
flyingamotorsports.com
Formula Trailers
formulatrailers.com
Haulmark
haulmark.com
inTech Trailers
intechtrailers.com
Jason Dietsch Trailer Sales
jasondietschtrailersales.com
T&E Ent. Auto Haulers
tande-racetrailers.com
United Trailers
united-trailers.com
Victory Custom Trailers & Motorcoaches
victorycustomtrailers.com