5 Reasons Why The Youth Karting Market Is Evergreen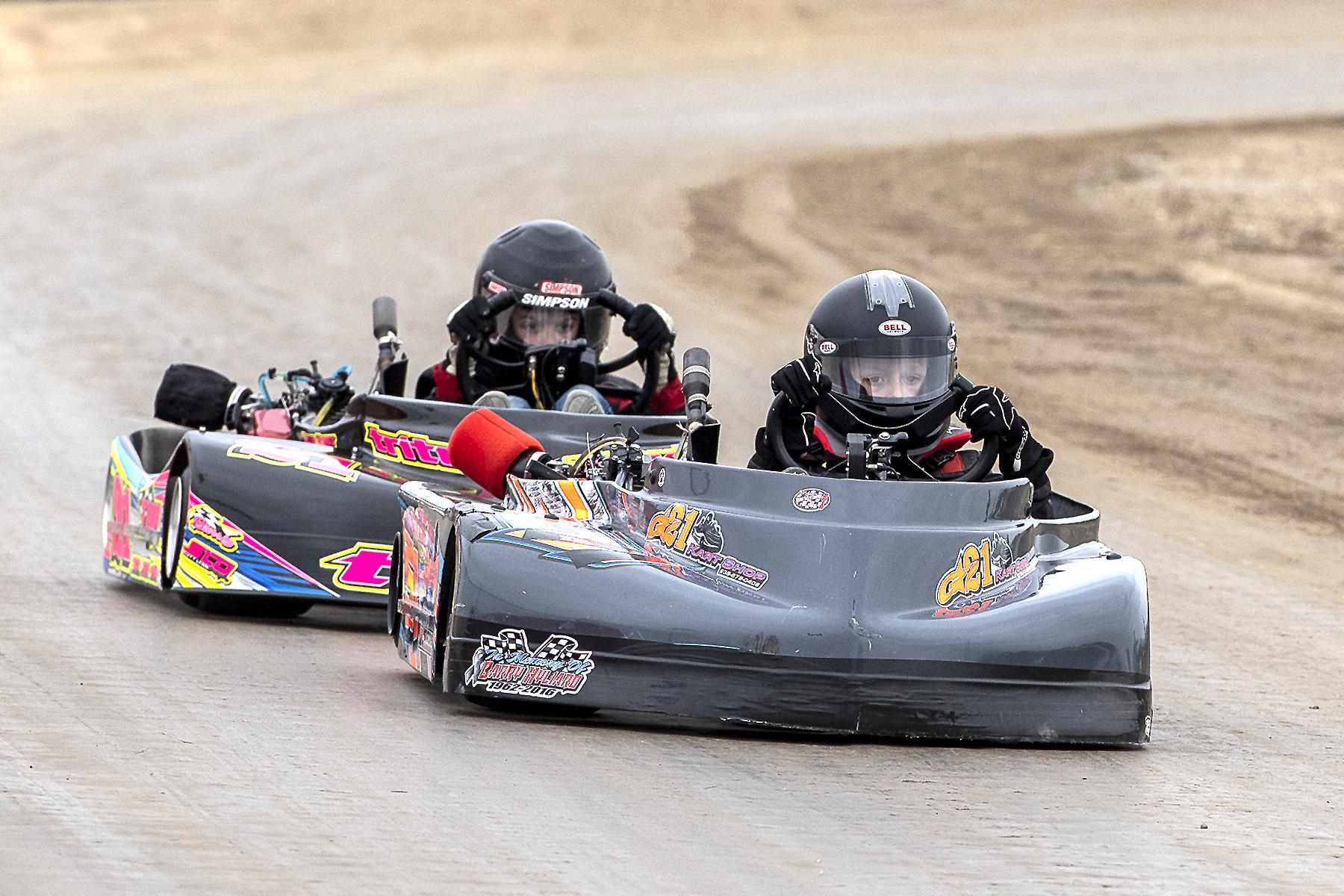 Those who offer expert guidance and product knowledge are often rewarded with loyal customers and word-of-mouth referrals.
If you look at the motorsports backgrounds of the drivers on any current Formula One grid, one thing you'll discover is that the vast majority of them got their first taste of wheel-to-wheel racing at the helm of a kart. Karting may not garner the same level of notoriety that some other four-wheeled racing disciplines enjoy, but it serves as a crucial entry point into motorsports for many fledgling racers. Whether the end goal is a career in racing or simply to mix it up in a highly competitive field, karting's unique attributes make it an attractive option for drivers both young and old, especially during times of financial tumult.
"While it fluctuates a bit, just like any other kind of motorsport, we've seen growth in the karting market over the past few years," said Brad Zoeller of TS Racing, Bushnell, Florida. "The thing about karting is, while it's not totally recession-proof, it's not as affected by the economy as something like SCCA racing."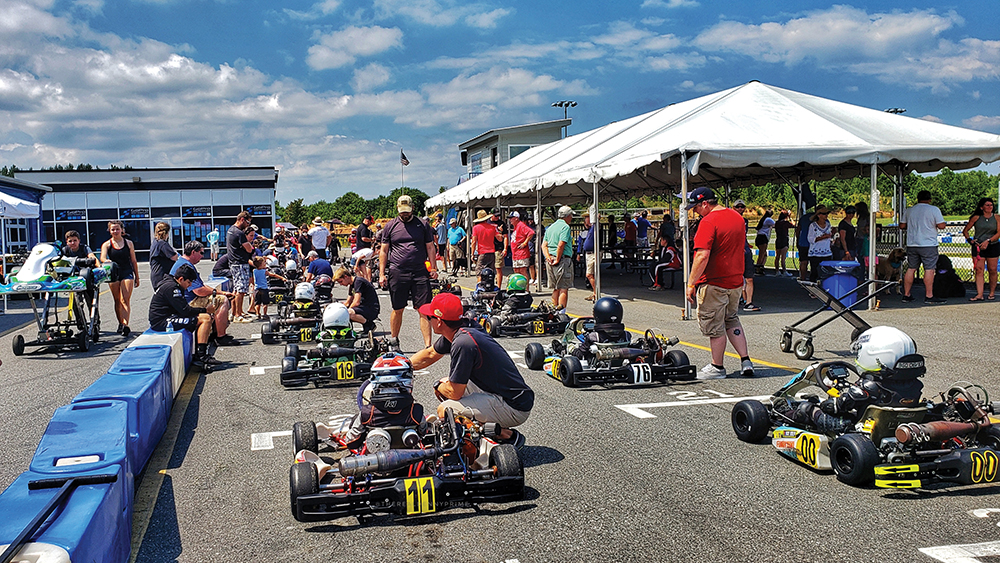 Denis Cammerato Jr. of Kart Carolina in Charlotte, North Carolina, noted that the rise in popularity isn't exclusively driven by interest in Formula-style racing formats. "There are a lot of NASCAR teams here in the Charlotte area, and I think that influence trickles down to the karters, especially on the youth side. I'd say probably 85% of my clients are under 14 years old. And if you go out to the track, you'll see a lot of NASCAR drivers' kids out there racing."
He added that the gateway into competitive karting is as accessible as any prospective racer could hope for. "Indoor tracks like K1 Speed are generally open to the public and provide kids with a chance to get excited about racing," Cammerato said. "We also have a facility here called Victory Lane Karting, which has youth leagues, and I've been seeing a lot more kids transitioning to outdoor competitive karting through programs like those."
The appeal of karting for young racers and their parents runs deeper than that, though. Following are five key factors that continue to play a role in the youth karting market's enduring viability. 
1. The Fundamentals
Though karts may look like simple machines, their behaviors provide new racers with a wealth of knowledge about performance driving. "Many F1 drivers end up going back to karting to train," Zoeller said. "Michael Schumacher has always said that a kart is the closest thing you can get to a Formula One car in terms of power-to-weight. A modern-day Formula car also doesn't really have much in the way of suspension travel, so there's a number of important similarities. Karts allow you to learn how to manage that power-to-weight ratio as well as all of the key aspects of vehicle dynamics—oversteer, understeer, weight transfer, and so on. And the setup is super critical as well."
The responsiveness of karts communicates important information to young drivers, too. "The general feel of a kart is very immediate," said Eric Gunderson of Point Karting, Boulder, Colorado. "So you learn the principles with lower horsepower, and the lessons change as you move up the ranks to more powerful engines. From a driving standpoint, the things that someone learns in a kart will prepare them to excel if they choose to transition to some other form of motorsports."
Cammerato cited other fundamental lessons that come into play as well. "With newer racers, the focus is on teaching them how to drive," he explained. "But with customers who keep returning for coaching and training, the focus starts to shift toward teaching them how to race—learning how to draft, when to make a pass, when to be patient, etc. Those are things that can really translate into any form of wheel-to-wheel competition."
2. The Costs
Like all forms of racing, karting does require some financial commitment in order to get started. But when compared to virtually any other wheel-to-wheel discipline, karting's budget-friendly accessibility is unbeatable. "It doesn't matter the size of the budget, or where you come from—everyone has a chance to be competitive," said Christopher Dionisi of XRM Racing, Mesa, Arizona. 
"Safety-wise, to get started you're generally going to need a DOT or Snell-rated helmet, a neck brace, a rib protector, an abrasion-resistant suit, and gloves," he continued. "Depending on what you choose, that all can range from $500 to $800. And the cost of the chassis is going to vary depending on what class you want to run in."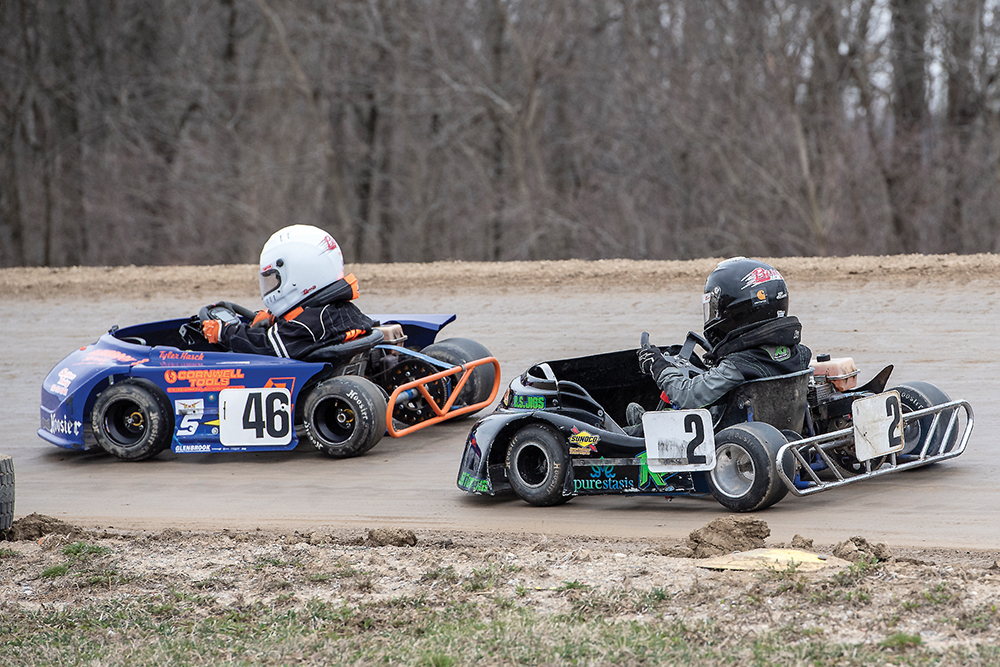 While new karts for young racers generally cost around $4,000, there are other options for teams looking to get started on tighter budgets. "We always suggest folks look at buying used equipment to start out," Zoeller said. "That will allow a racer to get a feel for it and figure out what they like and what they don't before making a bigger commitment." 
And although there are plenty of resources for teams that need to resell gear as racers grow out of equipment or move to a different class, Cammerato said that the modularity of kart designs provides racers with a clear upgrade path, rather than simply having to replace their equipment entirely every few years. 
"I work mainly with a four-stroke program, which run at slightly lower speeds than two-stroke karts," he explained. "With that motor, the kids karts have a special coil that you run, and you swap that out when your racer is ready to move up to the Cadet classes, which is ages seven to 12. At that point you're really just changing out a little slide in the carburetor as you move up, which is about $20. You can essentially use that motor from seven years old and on with no limit—you just need to change out the chassis as you grow."
He noted that there's a robust online community for those racing two-stroke karts as well. "That's a bit of a different motor setup, and there's a lot of forums, Facebook groups, and online marketplaces that are dedicated to buying and selling pre-owned chassis, motors, accessories, and so on. So for people who're just getting into the sport, they have a lot of options to keep costs down, and you can minimize the expense of upgrading along the way by selling off that equipment as you move up," Cammerato added.
Outfits like Kart Carolina also provide arrive-and-drive programs that offer would-be competitors with essentially everything they need to simply show up at an event and race. The packages include a race-prepped kart, fuel, tires, kart setup and tuning, along with all the safety gear and registration costs for one flat fee. 
Meanwhile, Point Karting's Try Karting program allows newcomers to familiarize themselves with race-level karts without jumping directly into competition. "We bring out a fully prepped go kart—very similar to what you would drive in an actual race event—and we spend the day working with the driver getting laps in," said Gunderson. "I try to use this program as an introduction to the sport—it allows people to decide whether or not karting is for them."
So while karting requires investment, there are a number of different ways to approach these expenses, both during initial stages of gauging a driver's interest and aptitude for the discipline, and also when racers are ready to start running competitively. 
3. The Training
The World Karting Association (WKA) and the International Kart Federation (IKF) are generally considered the most well-established sanctioning bodies for karting in North America. Both focus on fostering fair competition and safe racing, but it's worth noting that a comprehensive training program isn't part of either sanctioning bodies' requirements to race.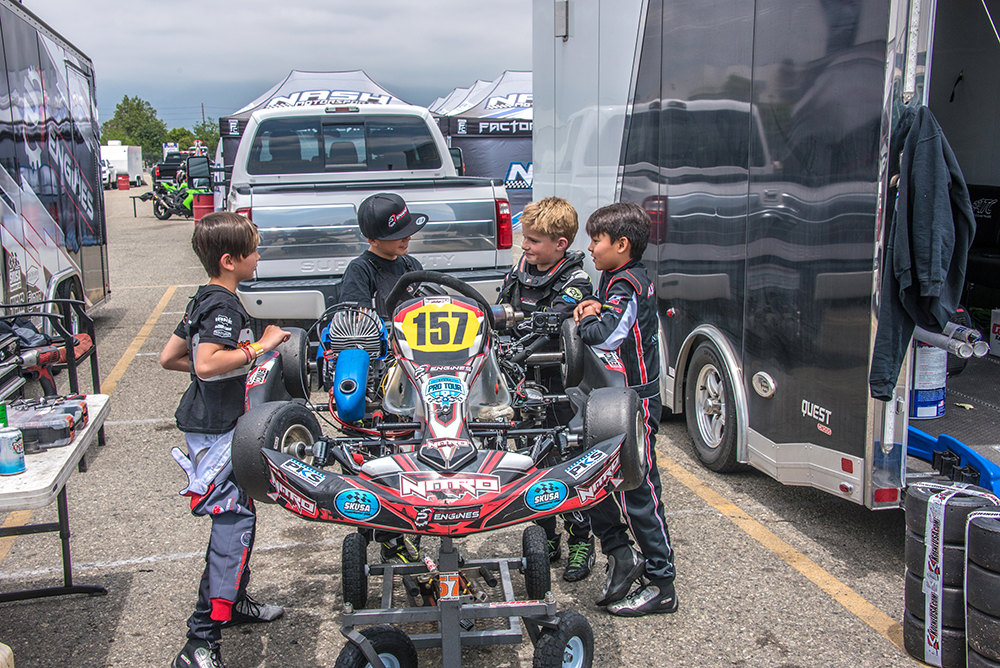 "You basically fill out some paperwork, and then you spend some time in the classroom learning things like what the different flags mean on-track," said Dionisi. "After you pass the written exam, they put a rookie sticker on your helmet to give other racers a heads up, and you're pretty much good to go." 
And because of this approach, the onus for proper training here in the United States is really on the local karting organizations and the racers' families. "It's pretty rare that a formal certification process is required to compete," Gunderson said.
Instead, tracks and companies like Karting Carolina offer supplemental coaching to get drivers up to speed. "We really try to emphasize track days and practice sessions to get their lap times up," Cammerato said. "What we've noticed is that, during race days, some of the really, really new racers might get black flagged because they're not running at a similar pace with the rest of the field. That's especially important with the younger kids who're still learning how to pass and work with slower traffic."
4. The Progression
Whether the objective is to move up the ranks within karting or transition into a different aspect of motorsports, karting provides a ladder system that gives competitors targets to aim for throughout their racing careers, and in turn the potential for life-long customers to those who work with them throughout that progression.
"The skillsets that you develop in karting help these racers learn how to adapt—how to drive different types of karts, and how to transition into different types of vehicles," said Gunderson. "And for resellers, there's not only opportunity for a longer relationship with specific customers, there's also the potential for multiple customers within the same point of contact. You have the kids that want to race, their siblings, and [you] also have the parents who may decide to get involved as well."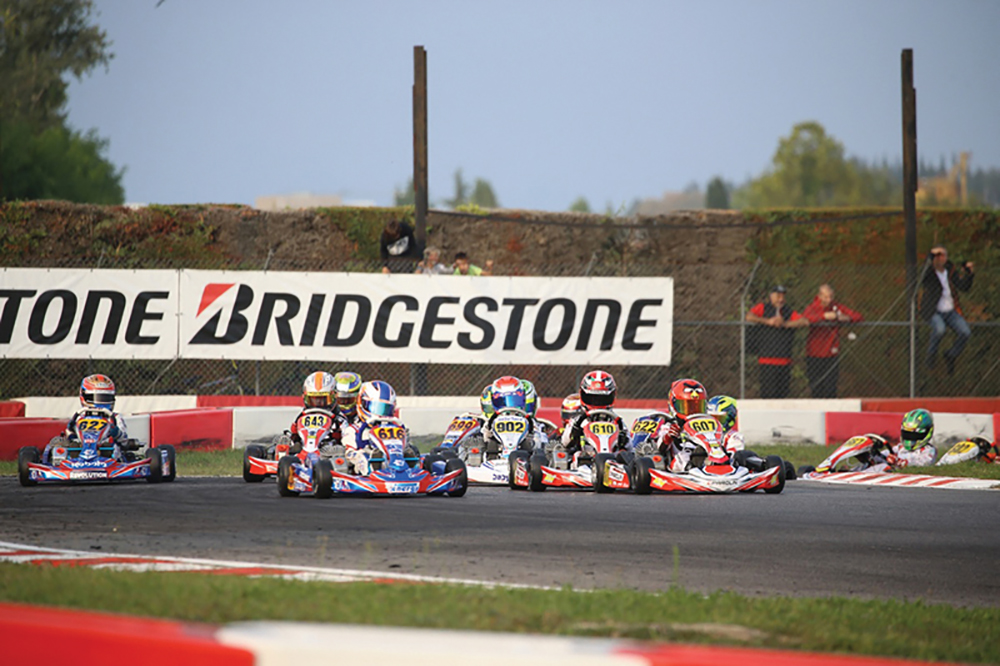 But Zoeller noted that the progression system is not as clearly defined in the United States as it is in Europe. "The path over there is basically karting, to Formula Three, to Formula One. It's a much tighter system. In the US, we have so many different avenues to take, it can be hard for kids to reach the top levels of racing because they're not sure which direction to go." 
And that presents another opportunity for those with more expertise, and a better understanding of particular drivers' strengths and weaknesses, to help guide those racers toward their goals—whether that's circuit road racing, NASCAR, or something else. 
5. The Support
Because youth karting takes on a bit more of a DIY vibe in the United States than it does overseas, there's a need for experienced assistance in various aspects of the discipline, and that has fostered a tight-knit community that appreciates direct involvement from those who support it. 
"Word of mouth is a big deal," said Dionisi. "Oftentimes, existing customers will bring new customers your way if they know they can rely on you."
And a significant part of that comes from having a regular presence at events. "Track support is a big part of our company," said Zoeller. "We're there supporting tire customers because we're a tire importer, or engine customers from the engine shop, or just supporting racers by way of the parts trailer—and that's what these customers really need. When the new guy goes to the track, it can be somewhat overwhelming, especially when it comes to setups. With a race car, you might be able to do two turns of a shock and not notice much of a difference out on track. You make a 16th of an inch of change on a kart and it's a whole new machine. So having someone there at the track is very important."
Gunderson agreed that a hands-on approach is one of the keys to success in this market. "Few resellers in this market take the time to give potential customers important options and information," he said, "and that communicates to those customers that they have to do a lot of this work on their own—that they have to really, really want to be in this sport to find a way to make it happen. So, as a reseller, if you can find ways to inform and be attentive to the needs of your customers, it will make a very big difference."   
SOURCES
–
Kart Carolina
kartcarolina.com
Point Karting
pointkarting.com
TS Racing
tsracing.com
XRM Racing
xrmracing.com