Although events were harnessed this year due to COVID-19, the truck and tractor pulling segment is poised for continued gains thanks to an endless quest for more power and support from grassroots enthusiasts.
Massive horsepower and a growing sense of independence are helping to enhance the character and personality of the extreme motorsport of truck and tractor pulling—even in the current vacuum triggered by the COVID-19 crisis. Always a fan favorite because of the flamboyant body styles, colorful paint schemes, and unlimited classes with radical multi-engine setups, pulling events have been severely curtailed this season, due in large part to many fair circuits being forcibly shut down. Yet, there is unmistakable optimism within the pulling community for next year and beyond.
"We've been wiped out from around 70 events to a half-dozen this year," said Gregg Randall of the National Tractor Pullers Association (NTPA), Columbus, Ohio, who also noted that the 2020 date deposits all rolled over to next year. "If there's a silver lining to all this, we're sitting on the contracts. So, we've got a full schedule set for next year."
Other positive factors for the NTPA include more than 15 years running on RFD-TV, which is a popular rural television network and an important selling point when soliciting sponsor support, and growing audiences on the sanctioning body's live-streaming Internet feeds.
"The county fairs have really slowed up, which definitely hurts the business. But people still have it in their blood," noted Ryan Salenbien of Salenbien Performance, Maybee, Michigan. "They will come to the dyno more times just to find the extra horsepower. So, when that day comes when everything opens up, they are ready to go. I mean, even if they haven't got a place to pull, everybody is still striving to find more power."
MORE HORSEPOWER
When it comes to illustrating the tremendous increase in horsepower delivered by the sport's main classes, consider this comparison from Randall: "The biggest change in the sport has been the amount of raw horsepower that all the divisions are trying to hook to the ground. Thirty years ago, one competitor had seven engines and a few others had six engines. I'm not sure they could compete with some of the three- and four-engine tractors running today. We've got screw superchargers, and we're hearing that people are making 15,000 horsepower!"
Jerry Lagod of Hypermax Engineering in Gilberts, Illinois, who builds his own engines, agreed with Randall's assessment: "These engines max out at a little over 5,000 horsepower. But 10 years ago, they were probably somewhere around 2,500 horsepower. They've almost doubled in power."
There are a number of points that help illustrate the sport's surging autonomy in the motorsports universe. For one, Randall said the most successful events on the NTPA tour are standalones—those that don't depend on fair crowds or some other headlining event to attract the gate. And that's a reflection of promoters building a passionate and fully staffed organization behind those events—as compared to a charity group assigning the event's planning to a volunteer chairman and co-chairman, for example.
Another selling point that's directly in line with the racing industry is the growth of dedicated parts for pullers.
"The technology has come to us. It used to be everybody's stuff was almost hand-me-down from drag racing," said Craig Sage of SCS Gearbox, Bellevue, Ohio. "The guys now are getting the latest and greatest directly from Brad Anderson or Ken Veney. They are not being developed on the drag race side and coming to tractor pulling. It's like the tractor pulling is more the major target. Some stuff may come from Pro Mod, but it's more focused on us. I mean, at any given event there may be more blown alcohol motors at a tractor pull than some drag races."
All that increased power eventually leads to parts failure and even massive destruction. One of the most significant milestones in the annals of pulling came in the early 1980s, when Mike and Chuck Sage developed "quick-change" optional gear sets for tractors that came from the factory with only a single ratio available. The company grew into SCS Gearbox, which now produces all types of race-oriented transmission and driveline products for pullers, monster trucks, and other extreme motorsports. And the key to that parts improvement has come in manufacturing advances.
"The gear technology itself [came] from what my dad started with," said Craig Sage. "The CNC equipment and advent of CMM to check gear tolerances six and eight decimal places out—yes, that technology has just come a long way."
Improving on the factory wares has been a driving force for race-parts development since the first automobiles lined up side by side. It's no different for diesel trucks and tractors that make up a majority of competition at pulling events. First come the requests from racers, then the aftermarket responds.
"We've had diesel guys wanting us to make crankshafts for some time," said Brook Piper of Callies, Fostoria, Ohio. "The demand started with the Duramax world. I hate to say it, but it's not a matter of 'if' but a matter of 'when' you're going to break your crank. These guys all talk, so the Duramax guys were telling the Ford guys how nice our stuff was. So, then they came knocking."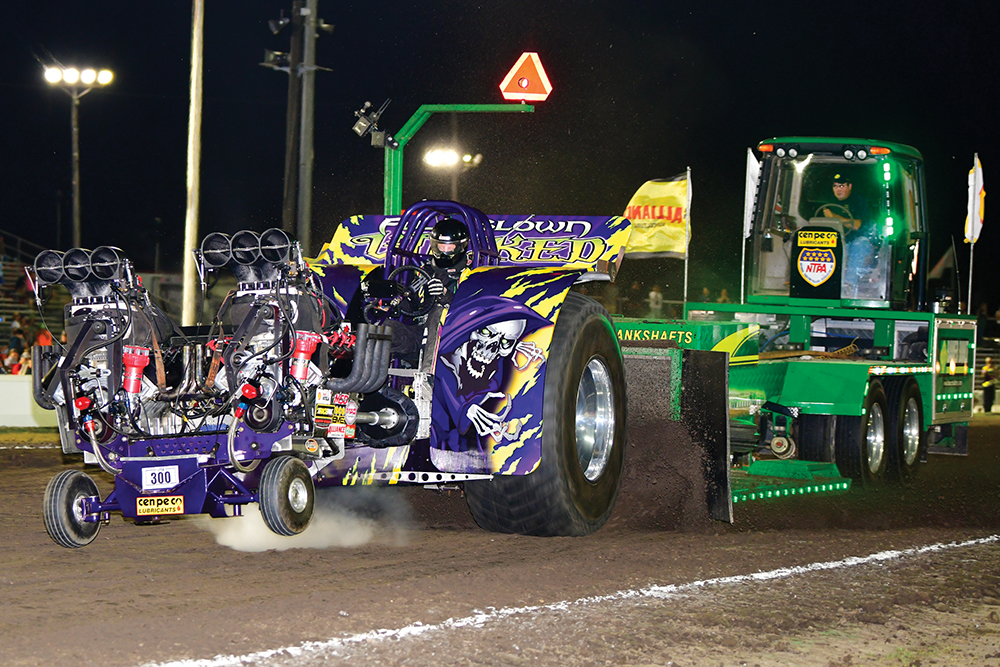 Callies offers different levels of crankshaft strength. The DuraStar is the entry-level model, followed by the DuraMag and then the Ultra Billet. Success with its crank line also led to new camshafts for the GM product, and connecting rods and cams for Fords.
"The cylinder pressures these guys are seeing are just unreal. We try to use our knowledge that we've learned in the Top Fuel world and other places to give them the best product we feel is going to hold up to these kinds of severe beatings," said Piper, adding that the large diesel-tractor crankshafts are being studied for possible development. "We are starting to look at the size of those cranks. You know, it takes special equipment to do that. I carted two John Deere cranks around this week and I'm guessing that thing was almost four feet long. Right now, we're just doing a little homework on those, along with the International."
With diesel engines so prevalent in pulling—both on the track and among fans in the stands—lubrication companies are eager to tap the market.
"We started out with diesel drag racing, and some of the events we sponsored had crossover into truck and tractor pulling," explained Eric Trimble of Lubrication Specialties, Inc., a company out of Mt. Gilead, Ohio, that markets Hot Shot's Secret products. "There are multiple events that we sponsor for the sled pulls—some local ones, some more on a national scale; and then this year we stepped that up and became a key sponsor with the NTPA."
Under normal event circumstances, Hot Shot's Secret would bring 20 to 40 employees, dealers, distributors, and others to an event. Products and swag would be available for purchase, but the primary goal is to interact with the racers and fans.
"We like to bring a lot of people not only to staff the booth but to mingle with everyone…from tower announcers to pit crews to fans. That is our philosophy when it comes to events," said Trimble, noting that the company is committed to the market with a three-year sponsorship agreement.
Fuel additives from Hot Shot's Secret are popular among racers, especially those that provide additional lubricity for injectors and pumps.
"When we work with some of our sponsor drivers in diesel drag racing, it helps us with product research and development because they are pushing it to the limits. And the same thing with these truck and tractor pullers, same concept," said Trimble.
Schaeffer's Specialized Lubricants of St. Louis, Missouri, is leveraging its experience serving the heavy-duty and off-highway markets to provide racing products for different disciplines, including diesel truck pullers.
"We've grown that business quite a bit in the last few years mainly because pulling is a growing sport," said Steve Rober. "Naturally, we are really big in the diesel business. We like to feel that our participation is greatly rewarded by the fact that people give us feedback on the products, as well as demonstrating to other people how beneficial they are.
"The good thing about truck pulling is those guys are active on social media, which we like," Rober continued. "They like to participate in their community, and there is a lot of back and forth. It is very similar to our other racing, except it is just in the diesel truck market, which is basically our favorite place."
FASS Diesel in Marthasville, Missouri, is also promoting a product generally used by long-haul trucks and off-highway equipment to help keep the fuel consistent for pullers. Known as the Fuel Air Separation System, this product removes dirt and water/air molecules to protect fuel injectors and help maintain a reliable fuel flow.
"It increases lubricity, which will extend the injector life and maximize performance. So you get a better burn, a more complete burn. Your horsepower, your torque, your idle—everything is cleaned up," said Howie Thompson, noting that FASS features testimonials from truck pullers in its promotional videos. "Semi-trucks, tractors, drag race trucks to everyday drivers can all use it. We've achieved great flow rates with it, and we can deliver the amount of fuel those higher-horsepower applications need."
As for fuel, there isn't a wide range of grades and additives available for diesel. However, diesel racers are looking for stability and reliability in their fuel—a quality not always found in standard #2 diesel at the truck-stop pumps.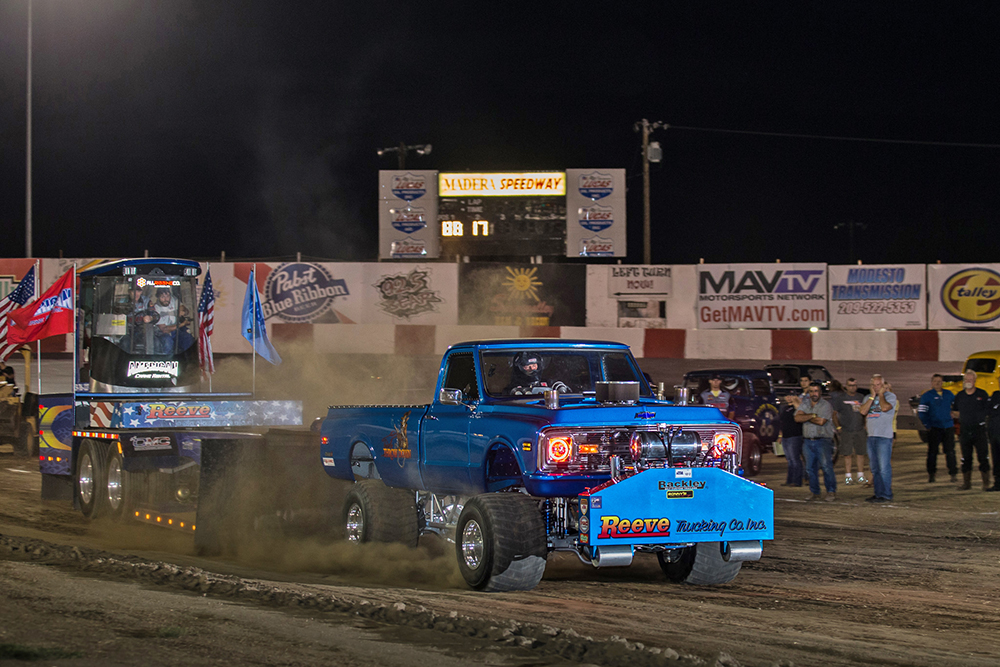 "So, we look at the consistency of the product," explained Fred Turza of VP Racing Fuels, San Antonio, Texas. "We built a fuel that is consistent each and every time for these guys to utilize. We also created a fuel with an oxygenate to help some with performance. I think our objective was to create a fuel across the board that could be utilized in all different sanctioning bodies. It would be the same all the time."
Another important factor in the fuel's development was startup. With so much boost being put through today's racing diesel engines, a lower compression ratio is often required. That forces the crew to use lots of ether to help get temperature in cylinders when starting engines with mechanical injection pumps.
"It's always good to make more horsepower and torque, but I think most of the conversations I have had with some of those fellows is that they're just happy the way the engine feels when it starts up," said Turza, adding that the company is eyeing opportunities to get further involved with the sport. "I think the sanctioning bodies have done quite a bit for us. Now it's up to us to move forward to the next step."
Improving startup routines at the track is a focal point for Milwaukee, Wisconsin-based Optima Batteries, too, as many of the bigger tractors carry Optima-brand batteries in their starting carts.
"They will typically use four batteries," explained Jim McIlvaine. "A good example is Sullivan Pulling. They use four D34 yellow tops in their starting cart. But, for their two-wheel-drive truck they use a single T34."
Many of the batteries used at pulling tracks aren't recharged during the run. Instead, they become deeply discharged and then charged back in the pit. For these racers, it's not so much cranking-amp power, but the ability to deep cycle over and over.
"It is a small enthusiast group in terms of the active participants, but fans of truck and tractor pulling are really loyal and very engaged," said McIlvaine. "We did a series of videos with our brand ambassadors during the coronavirus lockdown. I mentioned that the response we got on the Sullivan pro-pulling high-performance house call was one of the very best of the two-dozen we did. And that is a testament to their fans and fans of truck and tractor pulling that they are into it.
"We get approached for sponsorship opportunities every day from every kind of motorsports. I think truck and tractor pulling will always be a part of what we do because it checks a lot of boxes for us in terms of the people that are involved in it directly and the people who are fans," McIlvaine continued. "Any truck and tractor pull that you go to, you go out in the parking lot and you are going to see a bunch of trucks, and most of them will be diesels and most of those trucks will need two batteries. And so it is a big audience for us, and it's a big customer base."
Rules don't change often in truck and tractor pulling, a position that Randall said helps ensure competitors' continued participation. Safety, however, is one area in which guidelines are reviewed constantly.
Factory bellhousings could never withstand a clutch or torque converter explosion, so Custom Floaters in Brookpark, Ohio, has developed hydro-formed steel housings for popular diesel and blown-alcohol applications.
Citing the company's complete bellhousing units, which are all SFI-certified, Wade Humrichouser said, "We give you the mid-plate, and the bellhousing can use the stock starter, or stock ring gear. It is 10.75 inches deep, which is deep enough for a five-disc clutch. We send them to a test lab certified by SFI and spin a flywheel that has been crippled and ready to explode between 8,500 and 9,500 rpm. It has to successfully contain the debris in three straight tests."
GRASSROOTS APPEAL
The popularity of organized regional and national truck and tractor pulling has spawned a grassroots movement throughout much of the Midwest that involves homemade tracks and rented or homemade sleds. It's called brush pulling.
"A lot of guys that we sell to, I am not always sure where the product is ending up at," Humrichouser conceded.  "We are pretty big with the brush pullers. They're not always sanctioned. They're mostly clubs that put on pulls, but they will go by NTPA guidelines."
"I think you'll see a lot more of the brush pulling," added Kent Crowder of Scheid Diesel, Terre Haute, Indiana. "Pulling in general is becoming more popular."
Scheid specializes in Cummins diesel products, and its approach to product development is somewhat of a blueprint for building horsepower and solving problems. "The Cummins has been our major achievement. We have billet blocks and build our own cylinder heads. Basically, we build that engine from the ground up pretty much in-house," said Crowder. "Throughout the years, we kept pushing the Cummins harder and farther. The first major problem was splitting the block down the middle at the deck."
At first, Scheid designed deck plates and sleeves to help contain cylinder pressure, but that move only drove the weak point lower in the block. "Now that block is actually going to try to separate at the camshaft and come apart in a real ugly manner, destroying a lot of parts. That is where our billet block program came around."
Turbo boost is now around 140 pounds in the engines that Scheid builds for the Super Stock class, which maxes out at 7,500 pounds vehicle weight on an 18-x-34-inch tire. With that kind of torque, the rest of the drivetrain takes a beating. Again, pullers reach out to specialty manufacturers to develop gear particularly for their sport.
"We turn to Profab Machine [in Baldwin, Wisconsin] for those components, and they have done an excellent job of keeping up with whatever we needed, fixing the next weak point," Crowder added.
As mentioned earlier, Hypermax also builds its own engines, a derivative of the International 466 family. In addition, the company has designed a unique turbocharger and its own fuel-injection pump.
"The newer fuel injection is all electronic. With a mechanical system, the injection pump dictates what goes on. We still have pressures that exceed 30,000 psi, which is comparable to a constant-pressure pump on an electronic system," said Lagod, adding that dependability is still key when developing new parts. "Parts reliability has vastly improved in the last 15 years. We always have had a very robust development program, and we would try to find the weak points of the parts here before we sold anything. So, our pumps are all fully developed. We run them on an in-house, high-horsepower fuel-injection bench. We pretty much weeded out the parts that were not robust enough to be able to handle the job."
Along with designing comprehensive test programs for components, pullers are embracing dyno time to fine-tune their engine programs. Salenbien Performance has two dynos, including one that is rated up to 6,000 horsepower.
"On the dyno, we can see gains of 100, 200 horsepower just by optimizing the engine," said Salenbien. "I have had a lot of instances where a customer goes to a pull and they're happy with the way the truck runs. They just do okay. But when they come to our shop, we test it, figure things out, and we get more power. Then they go back to the track and go from taking sixth place to first place. They are more competitive, and happier."
"More competitive" is certainly a fair analysis of truck and tractor pulling today, and it's taken no less than a global pandemic to dampen the merry spirits of pullers and fans. Yet this loyal, resourceful group of racers will find a way to enjoy their sport.
"It's definitely slowed because of our current state, but still in certain areas they do a lot of brush pulling. A bunch of people get together and throw on a pull basically just to pull against each other without a lot of spectators," said Salenbien. "It is just one of those things—people are hungry for the sport, hungry for the power!"             
SOURCES




–
Callies