RACING BUSINESS PROFILE: FRYECO FABRICATION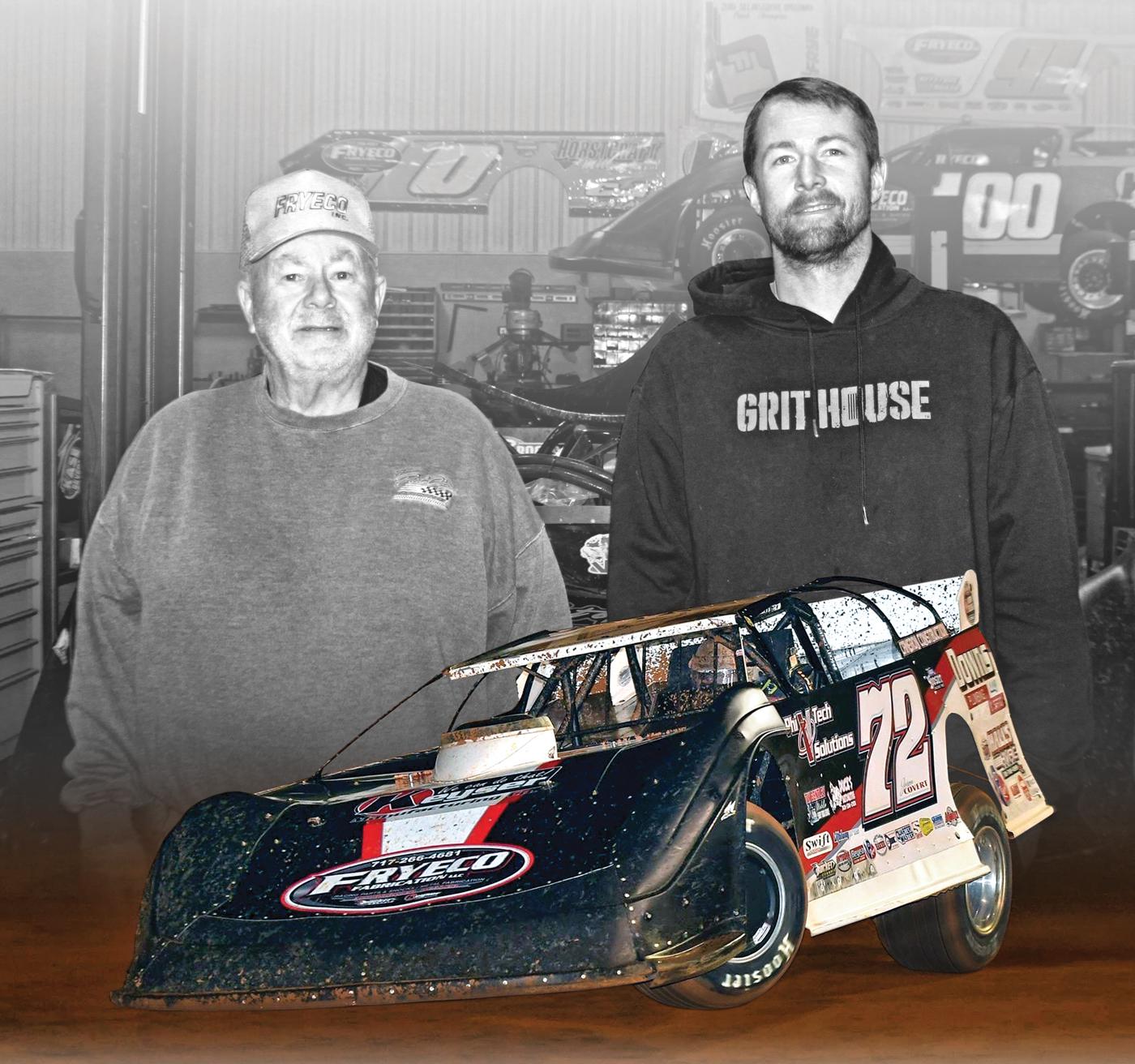 Ronald Frye, at left, and Coleby Frye
 
Diverse services, quality fabrication, and loyal customer relationships on and off the track have turned a small shop into an integral part of the Pennsylvania racing community.
Fryeco Fabrication was founded in the 1990s by Ronald Frye, a logger and auto recycler who turned a home shop into a racing business as a way to reduce the cost of running his own Late Models. At first, the business sold sheets of aluminum and tin, pop rivets, oil pans, Pro Shocks shock absorbers, and parts for Warrior chassis. Fryeco also did a steady business hand-cutting body panels to build and repair local race cars.
Fryeco's fortunes would change, however, when Frye's son, Coleby, first sat in the cockpit of a dirt late model built on a Rocket chassis. Coleby recognized the business potential in the chassis' design, and that notion helped turn his father's shop into an Eastern Pennsylvania success story. Fryeco Fabrication has since diversified and grown into an integral part of the local racing community, due in large part to Coleby's skill as a fabricator, his awareness of trends in dirt late model racing, and his ability to effectively serve his customer base.
And, those customers just may find themselves locked in battle with him at area dirt tracks. Coleby was the 2019 Super Late Model champion at Selinsgrove Speedway, a half-mile clay oval in Selinsgrove, north of Fryeco's location in Dover. In 19 years of racing at local tracks, he had earned 55 feature wins at press time.
SUCCESSFUL LAUNCH
Before that pivotal day with the Rocket chassis, Coleby Frye was working toward running the family business. He'd earned a Bachelor of Science degree in welding and fabrication engineering, and then perfected those skills after graduation working for a company that completed precision metal pieces to fulfill government contracts. He returned home to work at Fryeco as his father began the transition into retirement.
What Frye saw in the Rocket chassis was a characteristic that is a cornerstone of efficient automotive manufacturing: standard parts that can be used on chassis from different model years. He convinced his father that they would see substantial savings by not having to re-inventory parts for each new design of other brands' chassis. That savings would allow Fryeco to grow in other areas.
Rocket Chassis, based in Shinnston, West Virginia, is "very good at keeping a consistent platform," Frye explained. "For example, the upper A-arms haven't changed in nearly 15 years. Consistency made it easier for us to stock all the Rocket parts."
Fryeco became Rocket's Eastern Pennsylvania dealer in 2002, and ever since "we've gotten lots of brand support from them and stayed busy servicing Rocket cars."
Fryeco built a 60- by 80-foot shop in 2004 to handle the increase in business that came from the affiliation with Rocket. There, frames are repaired and components replaced from an inventory of Rocket parts. Customers often stop in to purchase parts they need when doing their own maintenance or repair, saving shipping costs.
Fryeco supports Rocket's customers throughout its business area of Eastern Pennsylvania as well as the bordering states of Maryland, New Jersey, and New York. Customers who want to purchase a Rocket chassis usually will consult with Frye, who then calls in the order to Rocket.
"We have individual local track setup guides for Rocket chassis," he explained. "We start with the base information from Rocket and fine-tune that with the information we gather from racing our Rocket cars at those tracks. We physically help our customers set up their cars."
Frye's talents are respected not only by his customers, but at Rocket Chassis as well. "His biggest attribute is that he is not afraid to get into anything on a race car," said Rocket's Steve Baker. "He's so versatile that we tried to get him to work for us a few years back."
GROWING THE BUSINESS
Bringing Rocket Chassis into the fold was one of many moves Coleby Frye has made to grow the family business. One of the first things he did when heading the operation was to order a CNC router and vacuum table.
"It used to take an hour to fabricate one side of a race car body," Frye said. "Now we can fabricate two sides in the same amount of time. The CNC machine completes the cutting without any errors. It repeats the process to make every panel exactly the same, right up to the rivet holes. We don't have to drill to mate panels. Not only are there no mistakes, there is less waste of material and a big savings in time."
Fryeco customers "knew the quality of the panels we made for years," Frye said. "Now word has spread that the way we make them is even more precise. We're even making panels for other dealers."
Frye also was able to take his experience tuning shock absorbers and turn it into another growth opportunity for Fryeco. He learned to perfect his car's shock performance after a trip to the Integra shock facility at Keyser Manufacturing in Coopersville, Michigan.
"My car was performing really well, and other racers noticed," he said. "I began helping them, and their cars performed better. I suddenly had a regional following just by word of mouth. The shock business is a performance-dependent business. We had the performance, and other racers noticed."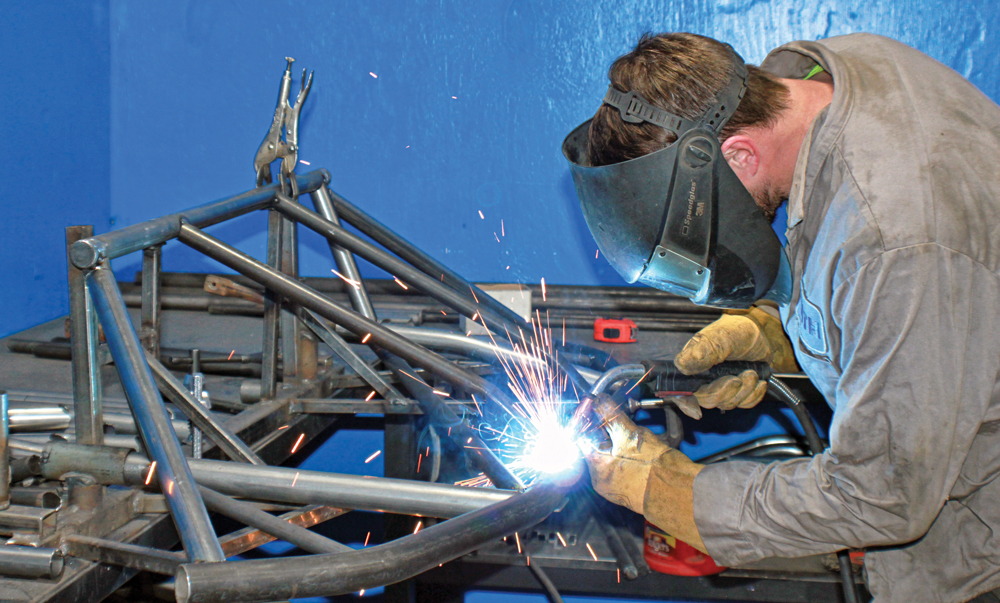 That regional following enabled Frye to start Superfly Performance Shocks, which does shock valving and rebuilding for dirt late models, modifieds, street stocks, sprint cars, and micro sprints. The shop also sells and services Integra, Penske, and FK shocks. World of Outlaws sprint car drivers Brent Marks, Brock Zearfoss, and the late Greg Hodnett have won on Superfly shocks.
To keep up with the latest in shock absorber technology, Frye talks to the manufacturers whose shocks he services to discuss the parts and design innovations being used by top dirt late model competitors. His recent focus has been on slip bands—a piston band, smaller than the slot in a shock piston, that allows the piston to move inside the shock before dampening fluid arrives, creating an instant change in direction.
"Shock absorbers are an open field for creativity," Frye said. "You can build what you want, using different internal parts to make them perform for individual needs. The optimal setup is different for everyone. The job of a shock builder is to help drivers get the feel out of their car's suspension that they require. We've had great success doing just that."
"Coleby is a hands-on racer and great communicator with a loyal following," said Keyser Manufacturing's Anna Daugherty. "He knows what works well, whether it's shocks or suspension components. If he has any ideas on how we can do things better, he shares them with us. Our line of communication with Fryeco is always open."
FABRICATION & CUSTOM WORK
Frye recognized another diversification opportunity when customers would share stories about their expensive brake rotors cracking.
"This is a blue-collar racing region," he said. "Having high-end rotors that break doesn't sit well with customers. So, we made our own design. We built a better rotor, tested it on two cars for a season, and we sell it for half the cost of the expensive brands. The customers love them."
That season of testing showed Frye how to modify Fryeco's half-inch forged-steel, CNC-machined rotors with slots for cooling and holes drilled for weight reduction without compromising the rotor's integrity. Frye jokes that he made them "too good." They don't crack in normal use, and customers are using them for two or more seasons.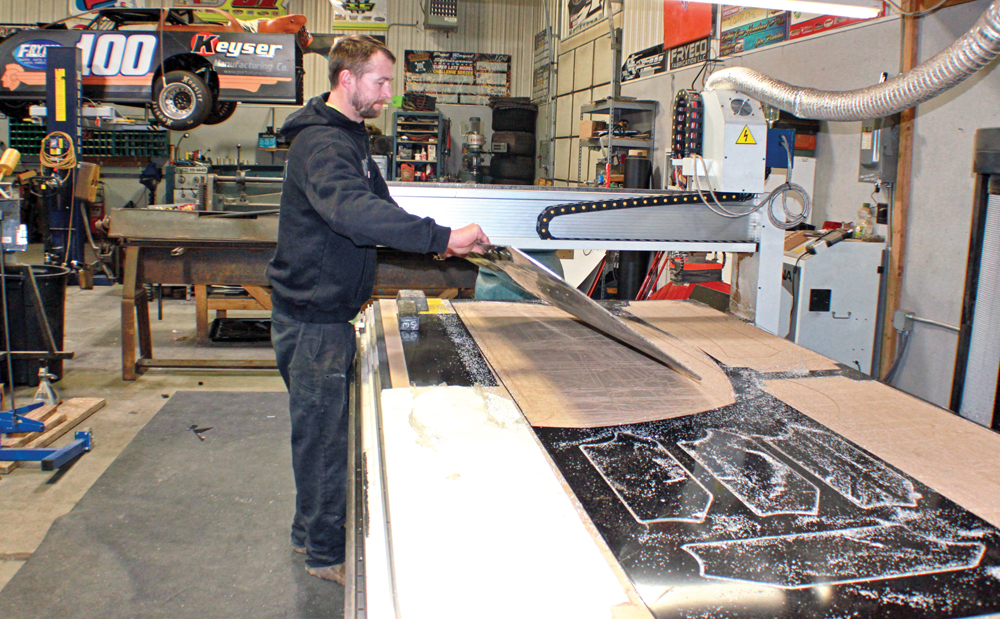 Frye made use of his welding and fabrication education to expand the company into making innovative birdcage components, A-frames, and spindles for its customers. A 60- x 20-foot welding shop was added to Fryeco's main building for fabrication and chassis repair.
Today, the fabrication facility handles a wide variety of tasks. Bodywork makes up 40 percent of Fryeco's business, with the shock valving and rebuilding service recently growing to nearly 40 percent. Repairing race car chassis and hauler frames accounts for the remaining 20 percent.
Fryeco also does custom fabrication, work that remains cloaked in secrecy at the shop. Frye promises his customers he won't reveal to others what he is building for them.
"The customers want to try their different ideas, things that they feel will make their cars faster, and we build those parts for them," he said. "I see it as R&D work and not production." Without giving too much away, Frye described the custom projects as things like altering the degrees of inclination of spindles, the offset of the ball joints in A-frames, or mounting points in birdcages.
"The important thing is to keep a secret. I build the parts, and I don't tell anyone. It's custom work and it's confidential. What works for one racer may not work for another, anyhow."
Frye understands that being profitable as a fabricator makes him dependent upon raw materials.
"I am loyal to my suppliers, but I do believe in price shopping to get the best possible deal," he said. "Raw material drops in price with quantity. The trick is to order materials in the right quantities to get your finances and pricing right. Planning ahead to have raw materials shipped in one load will save money in the long run. You have to balance shipping costs with the projected need of the material over time."
In addition to the fabrication, repair, and service work, there's a retail element to Fryeco's business. A speed shop stocks parts from Winters Performance Products, Sweet Manufacturing, Howe Racing Enterprises, Wilwood, and Keyser Manufacturing. Fryeco is also a Hoosier tire dealer.
COMMUNITY INVOLVEMENT
Frye is a constant presence in the local racing community, as he believes face-to-face service and hands-on experience benefit his company.
"We're at the track, and that is important to our business," he said. "We're handling tires, making track setup decisions, doing race adjustments, and making shock-change suggestions for our customers."
Dirt late model driver Jason Covert of York Haven, Pennsylvania, has raced Frye door-to-door for two decades. He's thankful he befriended Frye.
"I don't associate with people I don't respect," Covert said. "Racing is a dog-eat-dog environment, but at the end of the day, it takes help to be a great racer. Coleby is educated in a wide variety of racing skills. To find a guy like that is a big deal. He can talk about any subject and have a good discussion with you. In the end, you walk away a better racer."
The racing community also needs tracks for racers to race on, and promoters to put on the show. Frye is aware of the importance of both.
Two seasons ago, once-struggling Clinton County Motor Speedway in Mill Hall, Pennsylvania, was being re-born. Though three-and-a-half hours away from his shop, Frye recognized the importance of the track to local racers. He sponsors events there with money and contingencies.
At his local track, BAPS Motor Speedway in York Haven, Frye traded a Fryeco advertising banner for welding needed at the track. He repaired forks on the track's skid loader and welded grandstand railings.
"Even if you have a successful racing business, you should continue to support your local tracks in any way you can," he said. "Our customers need those tracks, and you need your customers."
There are Fryeco decals on nearly half the field of cars at tracks in its business region. Frye rewards those drivers with incentives such as discounts on parts in addition to his never-ending advice for better performance.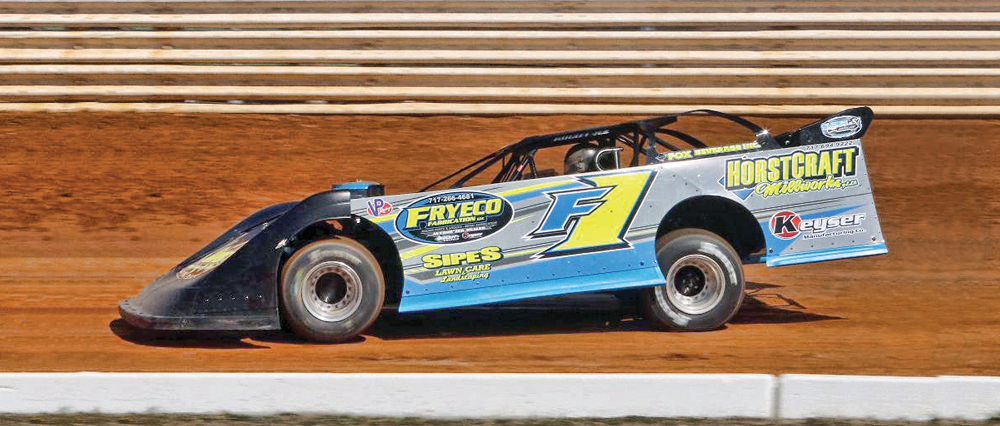 PROFIT AFTER GROWTH
Frye is cautious about growth and analyzes the complexities of his business before decisions are made.
"Do you make more money if you do more work?" he asked. "The oval racing market isn't big enough for us to grow and grow. You hit a business peak, and then, what are you trying to do? If our peak is 150 to 200 repeat customers in our business area, and I serve them all well, isn't that just where Fryeco should be? That's about where we are at. If we grow, there has to be profit after growth."
A half-dozen part-time employees make up Fryeco's current workforce. They are machinists, welders, and construction workers who have the skills necessary to bolt parts together, cut and notch materials, and weld. Most come from the skilled blue-collar workforce in the York-Harrisburg market.
"We will eventually need to hire full-time workers if we are to grow," Frye admitted. "But you have to make a conscious business decision. Are you going to perform twice as much work and only make the same profit? That can be the case when you figure the costs of insurance, taxes, and even the wear and tear on equipment from adding a full-time employee."
Frye's calculated growth for Fryeco is now focused on the hottest trending divisions in dirt racing—E-Mods, sport mods, or B-Mods—the affordable divisions that have seen numbers growing exponentially in the last few seasons.
"Realizing our next stage and being on top of it is the challenge," Frye said. "We're planning to build a few of those Mod chassis this season and go from there. That may be our direction for growth."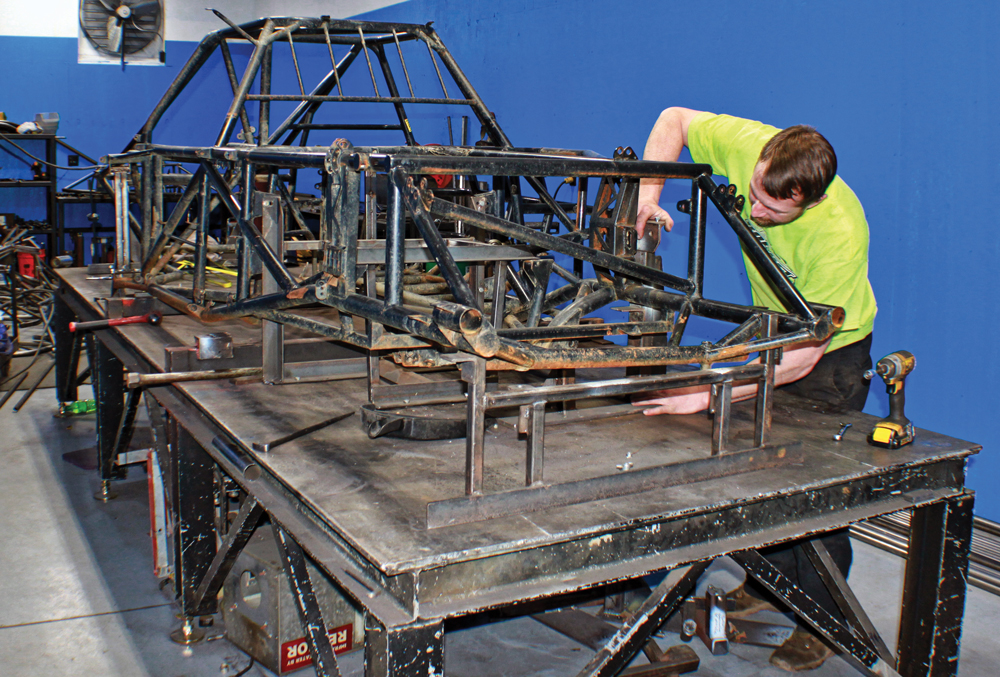 That plan had to navigate a major bump in the road at the start of the 2020 season, as race schedules hit the wall with cancelations because of COVID-19. Frye sees the pandemic's effects on the economy as Fryeco's biggest challenge.
"Racing is a hobby. The kind of racing we do is for average people," he said. "People will quit racing when they don't have money. If there is no money and no racing, no one will need parts or cars repaired. COVID-19 will affect the customer being able to afford racing in the future."
While hoping for the best outcome after the season's delay, Frye will make sure Fryeco survives and wins.
"The future can be bright," he said. "We are not afraid to fabricate other items to get us through this." During the hiatus in the racing season earlier this year, Fryeco's CNC router was cutting wooden cabinet doors.
"In the past, we've outsourced work to other small businesses, and now they are outsourcing work to us," Frye said. "It's a matter of survival."