RACING BUSINESS PROFILE: WILLIAMS PRECISION ENGINES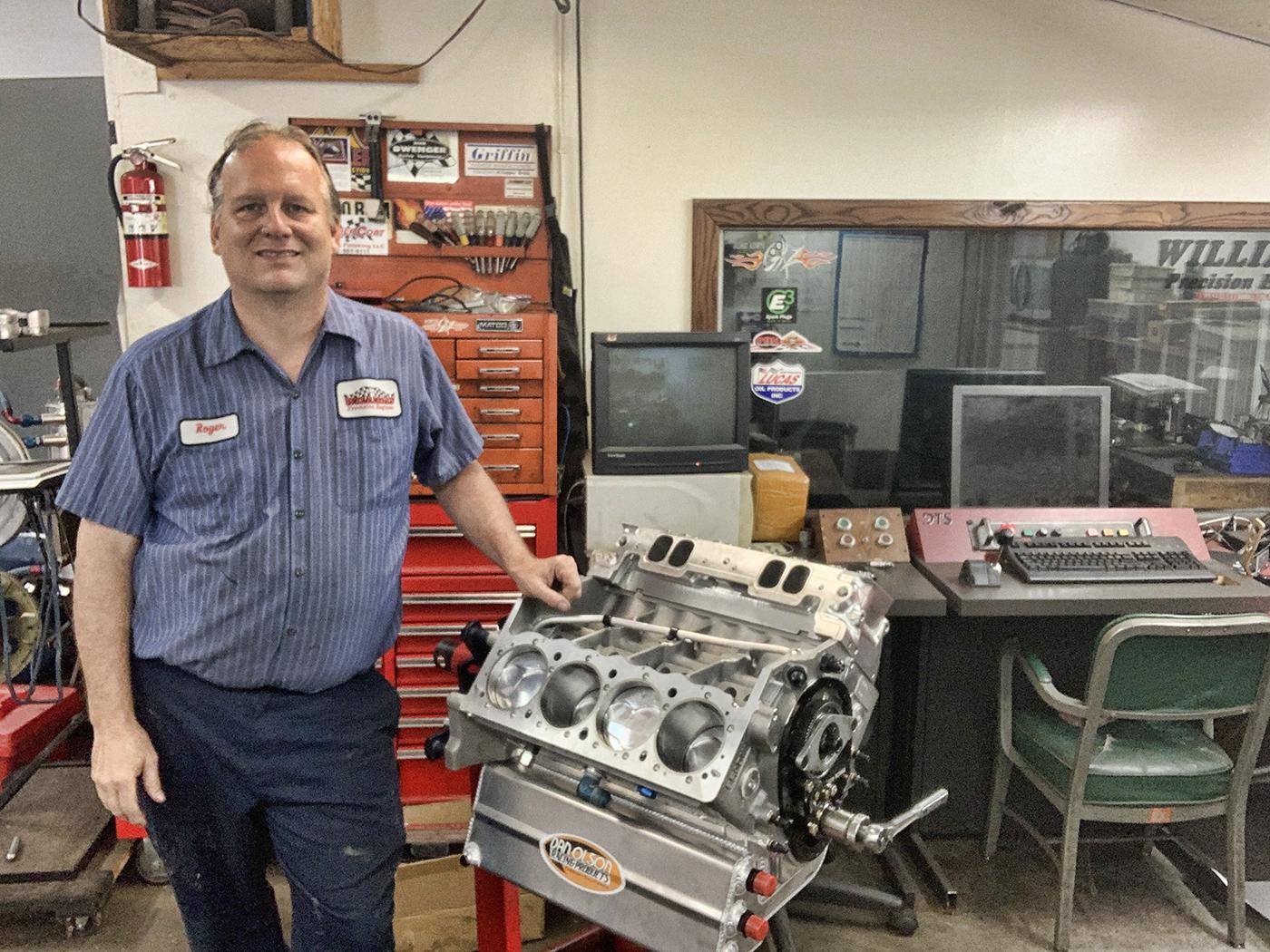 Diversity spells success for this Indiana engine builder, whose customers compete in modifieds, sprints, stock cars, and more across the US and halfway around the world.
Roger A. Williams has competed in a number of racing classes through the years in and around his home state of Indiana. His first experience was in dirt go-karts, and he later spent 10 years racing modifieds on the clay at Lawrenceburg. He went 150 mph on speedways at Kentucky, Rockingham, and Iowa as part of the Frank Kimmel Street Stock Nationals, which led to his current fixation of asphalt stock cars on the high banks of Salem Speedway.
Beyond his experience behind the wheel, he owns the No. 32 E3 Spark Plugs/Lucas Oil-sponsored USAC Silver Crown team.
Williams, however, isn't a full-time racer. He's an engine builder. But there is a definite correlation between his range on the track and the diversity of Williams Precision Engines (WPE).
"Some shops fall into a trap—they do one thing and don't take care of enough other stuff," Williams said. "Then, when the rug gets pulled out from under them, they have nothing to rely on."
For example, he's witnessed the UMP modifieds go from his No. 1 clientele to an afterthought, while a seemingly niche market like tractor pulling is a current money-maker. "It's not a business you want to ignore," Williams said of this lucrative segment.
And that's been his mantra since he founded WPE 30 years ago, where he's developed "a little touch of experience in a lot of things."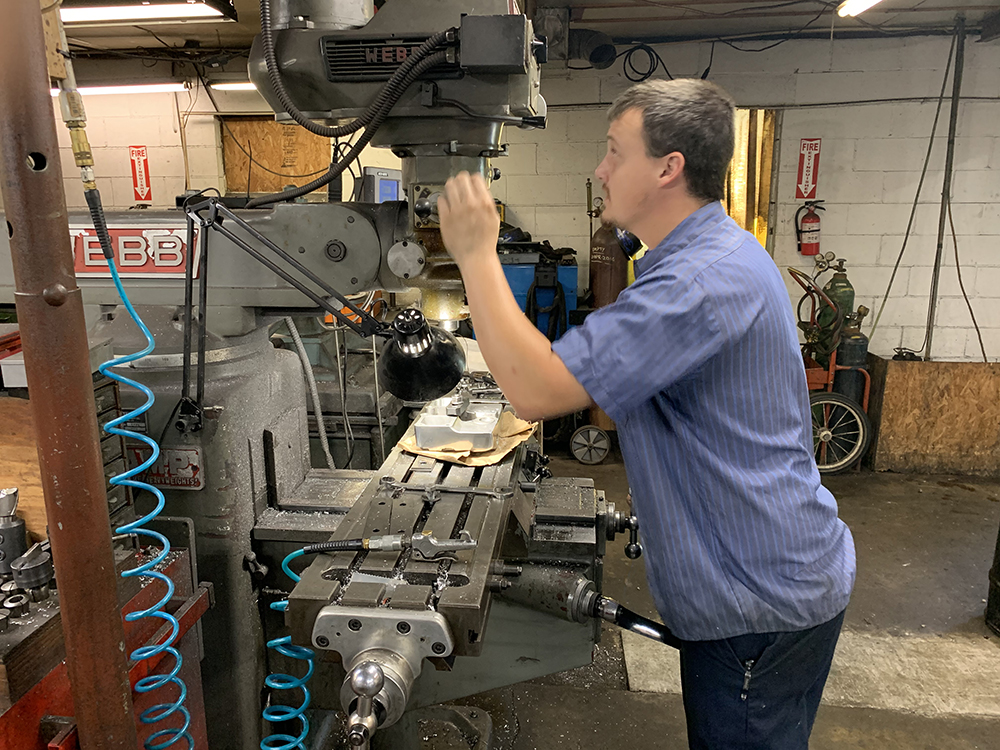 Founded in 1990 in the heart of circle track country in St. Paul, Indiana, less than an hour from Indianapolis, WPE produces 40 to 50 new and refreshed engines each year for a variety of dirt and asphalt customers, and even the Super Saloons class in New Zealand. Williams has made his bones building sprint car engines, but also counts bracket drag racers, mud racers, and street rod owners as customers.
His three-man shop includes himself, machinist and cylinder head specialist Jim Byrd, and machinist and block specialist Jon Steed. They work out of a 40-by-200-foot facility that's loaded with a parts showroom and enough equipment—including a dyno—to do virtually everything in-house except crank grinding.
A "team atmosphere" has helped WPE win dozens of track championships and hundreds of feature events across various forms of motorsports.
GEARHEAD
A proud "gearhead," Williams was influenced by a shop teacher who talked him into attending Lincoln Tech after high school.
His first job was at a shop owned by John Mattingly, who built cars for and raced in what was then the NASCAR Busch Grand National series in the 1970s. That experience linked engine work and racing. "I guess hanging around him a little bit got my gears working," said Williams.
His next gig was at the Zimmerman Bros. Speed Shop in Greensburg, a job he took for less money because he wanted to "learn the trade" of cylinder head work. During that time, he bought a kart and enjoyed his entry into circle track racing. He noted there was a young parts helper at Zimmerman's at the time who he sometimes battled on the track. "You might know him—Tony Stewart," Williams added, laughing.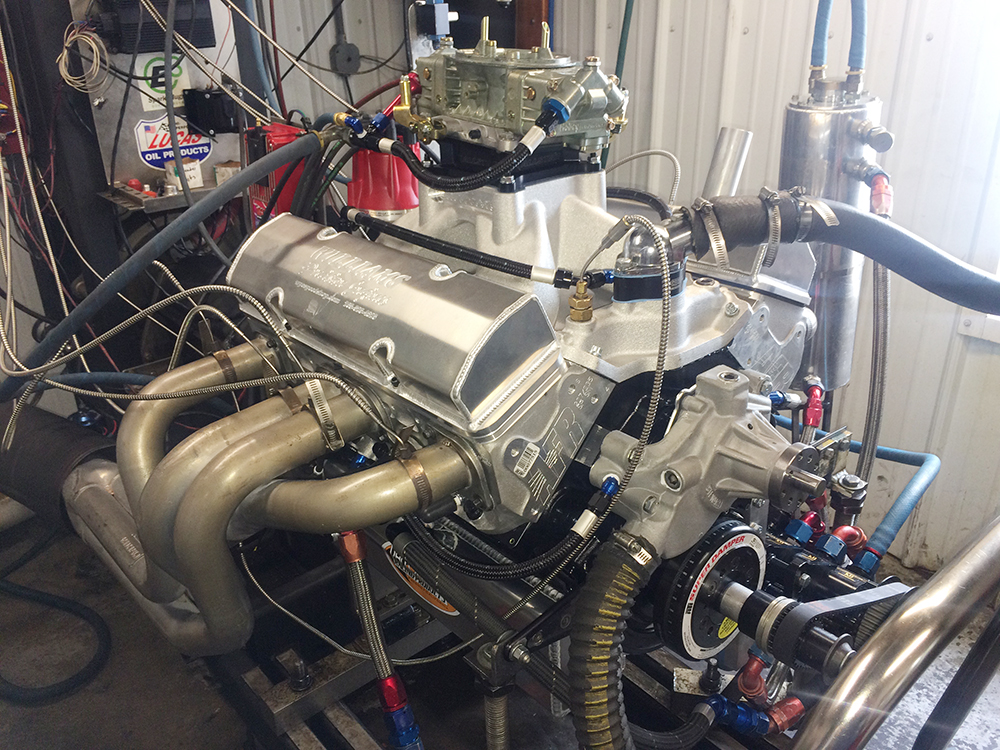 Working on engines—and listening to them turn 10,000 rpm on the dyno at Zimmerman's—further convinced Williams that engine work was in his blood.
Though he enjoyed his time behind the wheel, he decided he'd stay connected to racing through his engine building business. By about age 25, he established WPE.
He took on cylinder head work from auto dealerships and machine shops, and began to buy equipment for head work. Two babies and a bout of appendicitis—with no health insurance—forced Williams back into a factory maintenance job for a year; and he would do engine work at night. But he persevered.
"If you want to do something bad enough, you double up and do it," he said.
IN-HOUSE
A Stuska dyno was one of Williams' first investments. He's on his second dyno now, a DTS he bought about eight years ago, shortly before the company was bought by SuperFlow. He recently spent $20,000 for an electronics conversion.
"The dyno is pretty expensive, but I don't know how to produce a proven, quality product without it," Williams said. "The dyno's nothing more than a tool; you've got to learn how to use the tool properly."
Some customers like to review dyno statistics, but most "just want to know that I say it's good" and can hit the track without further tuning, Williams said.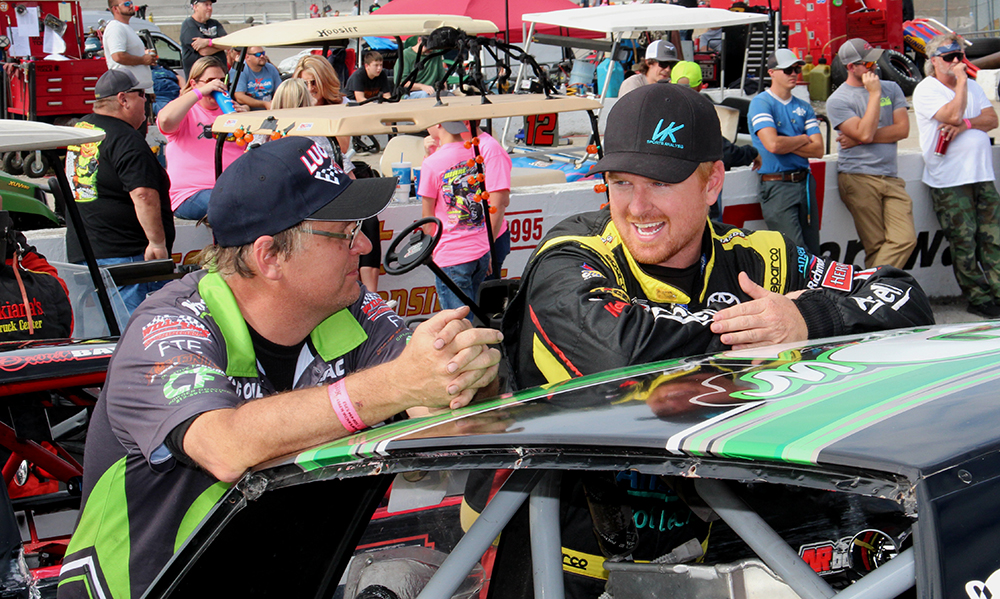 While he purchased his dynos new, Williams said he looks for used equipment, and praises the relationship he has with Joe Baker from Joe Baker Equipment Sales in Cincinnati, Ohio. Among his more recent purchases is a Comec boring mill—a display model he bought a few years ago at the PRI Trade Show.
He also has a Sunnen rod hone, a Sioux valve grinder, a T&S seat-and-guide machine, and a Turner Technologies balancing machine. "Buy good equipment" at the right price, he advised. "It doesn't have to be new."
Williams has been doing most work in-house from the early days of his business. "It's all about quality control," he said. "If you farm stuff out, you don't have near the quality control."
Williams paused, though, recognizing there are a dozen engine builders who farm out their work to WPE. So why do they trust him? "I try to keep the quality level high," he said. "I don't do anything different to someone else's stuff that I wouldn't do to stuff we're assembling."
DOWN UNDER
Williams recognizes that diversity is a double-edged sword. "It's hard to stay really productive…when you're really diverse. I am probably sacrificing income because of not being able to turn stuff as quickly," he said. "But I think I'm securing longevity and stability in the business, because if one thing falls off, the next thing is going to pick up."
Besides, he said, at its core, a race engine is a race engine. "I'm not building them much different if I was building a drag race motor or something like [a UMP modified]. It's just a small block Chevy built within class rules."
Diversity is also represented geographically for Williams, including through his sales in New Zealand. Williams said his first customer there, Mick Quinn, found him online. "He came to me just wanting a little better engine combo," he said. "I built one for him, and he went out and won some races and said how much faster he was," Williams said. "Other folks noticed it and my phone started ringing."
Most of his customers in New Zealand race Super Saloons, which look like a combination of a dirt late model and modified, and have performance characteristics that vary, Williams said. "Some run open tube rears like sprint cars," he said. "Some have injectors, but it's mostly single carbs."
Williams' experience with dirt modifieds—hooking up eight-inch tires spun by big horsepower—has been beneficial in helping his New Zealand-based customers, many of whom now agree that 700 horsepower is better than 800.
"I always worked with the idea that it wasn't the need for more horsepower, it was the need to get driveable horsepower," he said. "I've worked on cam profiles and cylinder head runners and stuff to develop that even with my own mod."
Williams said his New Zealand customers generally handle shipping and customs issues, particularly paperwork. "For the most part we just have to deliver to a terminal or load a truck when it shows up," he said. "I'm not sure I would be interested in that business if I had to take care of all that stuff."
One customer flies to Indiana yearly, rents a U-Haul, drives to California, and loads his purchases into a shipping container.
The New Zealand market is just one example of growth, Williams said. For WPE, it's meant more new builds than rebuilds.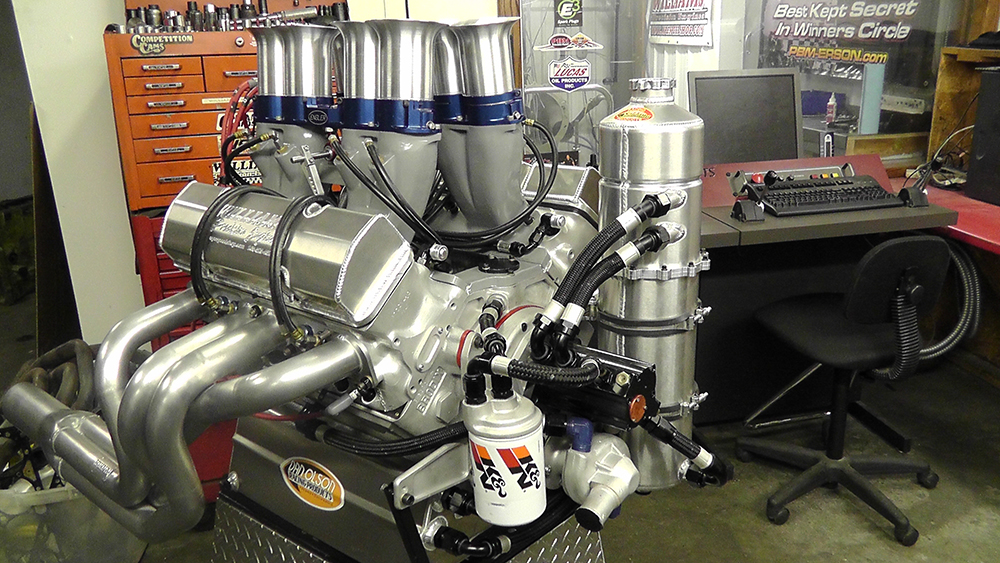 DIVERSITY
Joss Moffatt, a 410 non-wing sprint car racer from nearby Columbus, Indiana, sees value in WPE's diversity, too.
"He learns things from all sides of the world, even drag racing, that can apply, like reliability," Moffatt said about Williams. "It broadens his horizon and helps him learn how to help us as customers."
Moffatt relates it to a racer competing at different tracks. "If I race at one track all the time, I'm not going to learn. I'm better overall because I learn from other competitors, I learn other tricks," he said.
Moffatt called Williams "a phenomenal engine builder," but don't be fooled, he said. "He is a racer, he's a full-blown racer," and understands the predicaments his customers face.
In fact, Williams once helped one of Moffatt's friends with engine trouble at 2 in the morning. Then there was the time Moffatt blew a head gasket in an All Star Circuit of Champions race and wanted to get the engine repaired in time for a World of Outlaws show that same weekend. He called Williams, who told Moffatt to come over to his shop.
"He took time out of his schedule after hours to get this done," Moffatt said, "and he didn't really charge me for it, either."
Helping Williams' cause is his reasonable pricing, Moffatt said. "I'm friends with a lot of people in the racing industry," he said. "He is probably one of the least expensive guys overall and gives you the best bang for your buck."
Danny Sams Jr. along with his son Danny III behind the wheel were directed to WPE four years ago for their first 360 sprint car engine, having been told "it's the best money you can spend." They found that to be true.
"We got a crazy amount of races out of it," some 55 to 60, the elder Sams said.
For 2020 they are running a 360 sprint car in the Lucas Oil ASCS National Tour with new team ownership partners Steve and Karen LaMountain. The LaMountains had their own deep connections in racing and studied their engine builder options when they came on board. It didn't take long, however, for them to agree to stick with WPE.
"'He's the guy we want in our corner,'" Sams recalled Steve LaMountain saying.
For Sams, the fact that WPE handles all but crank grinding in-house is important; he takes solace in knowing his engines aren't being moved from shop to shop.
Sams said his son, having raced with some other engines, likes strapping into a car with WPE power. "He said on the top end they just scream," he said.
MORE BUSINESS
During a normal race season, Williams can be found at a race track most weekends taking care of customers, whether through a quick visit to their trailers or to help diagnose a problem. He takes the role seriously. "You've got to treat them like they're the boss," he said.
And despite his diverse background, he knows he can't stop learning. Among his goals is to improve his knowledge of EFI as it continues to find use in more racing classes. "You've got to stay ahead, keep your ears open, and learn as much as you can," he said.
"If you want to be in this business," he continued. "you have to have attention to detail, be honest and—hard as it is—suck it up when someone's giving you a rough time."
And, yes, there's diversity. Williams' time behind the wheel of a variety of race cars and his willingness to take on virtually any engine project have paid dividends.
"Every class I get involved in personally I pick up a lot of clientele," he said. "Of course, if I'm driving it myself, I'm really involved trying to make a better piece, and that always turns into more business."        
SIDEBARS     
'STEAL THEM FROM SOMEONE ELSE'
Roger A. Williams knows the difficulty of finding quality employees in today's tight labor market, particularly for a technical job.
"I tried three different guys who didn't work out to find the fourth who did," Williams, the owner of Williams Precision Engines, St. Paul, Indiana, said of a recent hiring that took two years. "It's really rough."
He said training from even the best technical school doesn't equal the experience needed for a job in precision engine building, so he advises young machinists and engine builders to "do it for free" if necessary to gain experience.
As to his advice for shop owners facing a hiring challenge, Williams said: "I hate to say it, but you've got to be willing to pay enough to steal them from someone else."         —Andy Heintzelman              
 
A BRONCO, A ROCKER, AND THE POWER OF RERUNS
Williams Precision Engines (WPE) was featured in an episode of Stacey David's "Gearz" in 2013, where the subject of the rebuild was the Zebra Bronco owned by legendary rocker Ted Nugent. WPE owner Roger A. Williams' crew rebuilt the 351 Windsor and dyno'd it at their shop in St. Paul, Indiana.
Though it's been seven years, that show still generates business, Williams said. "Every time that reruns, someone with a Bronco calls me," he said, laughing.
In fact, a stock 351 for a West Coast Bronco customer was in the shop when he related the story earlier this year. "Like there isn't a shop from here to California," Williams joked. —Andy Heintzelman