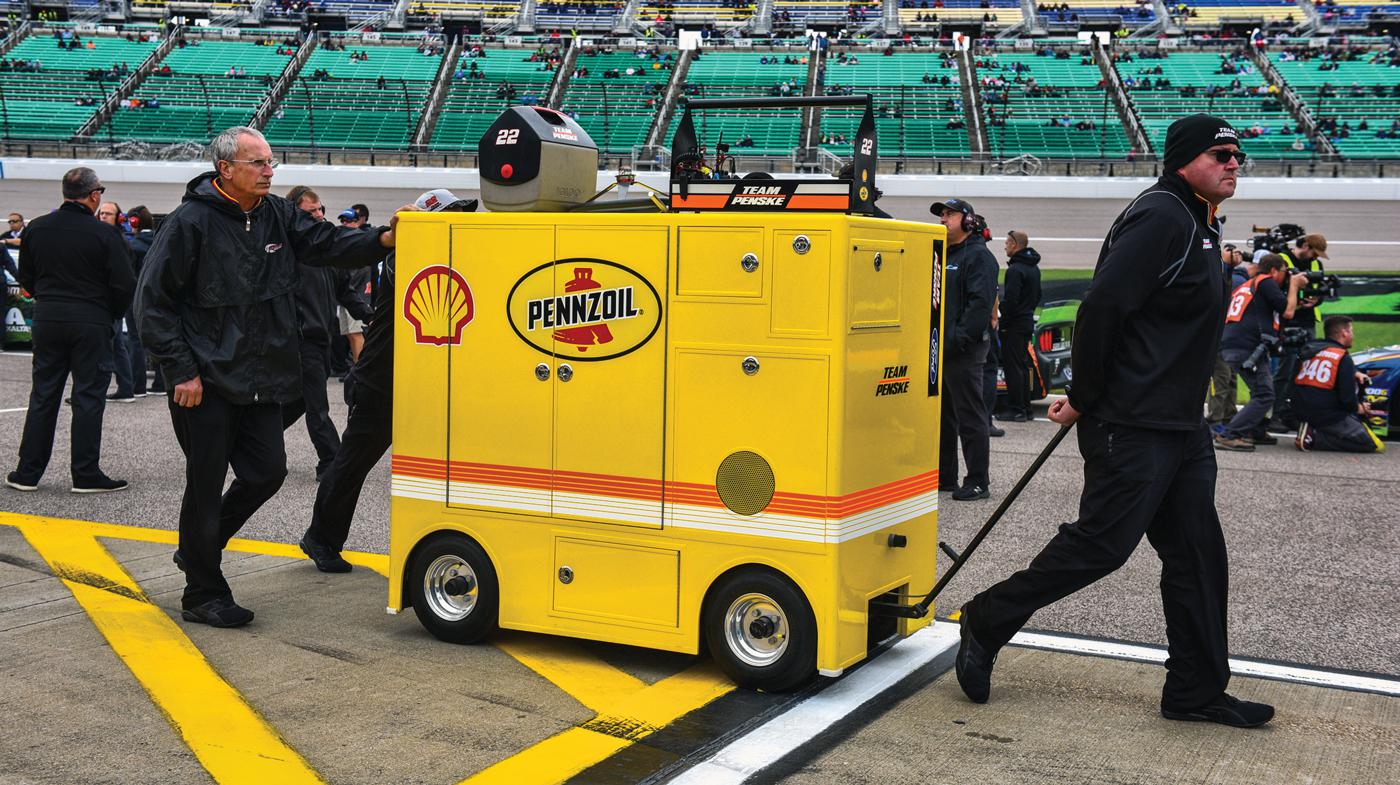 The options for tool boxes, pit carts, and work stations are nearly unlimited, providing innovative solutions for race teams and businesses alike.
Just as a race car driver needs a cockpit optimized for the grueling competition of a race, every mechanic, technician, and crew member needs a viable work station to keep those cars humming. Pit carts, tool boxes, and work stations will deliver maximum efficiency when optimized for the job at hand, and fortunately, there are a lot of options for doing just that. 
Many racers will find it easy to order what they need ready-to-go from a website or catalog, as most manufacturers of shelving and tool boxes offer almost countless configurations as part of regular inventory. But not everything can be bought off-the-shelf. Ready-made products may be plentiful, but the unique needs of racers are likewise astronomical in number. Sometimes only custom options will deliver the required storage. How to navigate all the off-the-shelf or custom options is one of the challenges for any race team.
Not surprisingly, a number of different factors go into making those decisions.
"I always encourage people to get a notepad and a chair and go take 30 minutes and just make a list of what all you're going to put in that space," said Brian Hope of TechnoCraft, Mt. Pleasant, Tennessee. "And then break it down; there's a lot of excitement about a new project, and I try to get people to slow down and think this through for a minute. Think about everything that needs to go in, whether it's in your trailer or your shop or whatever. Think about even the small stuff [like] jack stands or notebooks. Everything that needs to go in there, think about where it's going to go. And then we can help you design a space for that instead of you just trying to buy what we have available on our basic website."
"It ultimately boils down to efficiency versus budget," noted Nate Birkenmeier of CTech Manufacturing, Weston, Wisconsin. "It's our job to make sure that no matter what, race teams are getting the best storage solution possible for their budget. Because every team operates a little differently behind the scenes, most pit storage solutions have some level of customization to match the team's organizational and operational practices. Just as race teams are looking to squeeze every fraction of performance out of their race car, the same can be said about storage solutions in pit lane, trailer, and garage applications."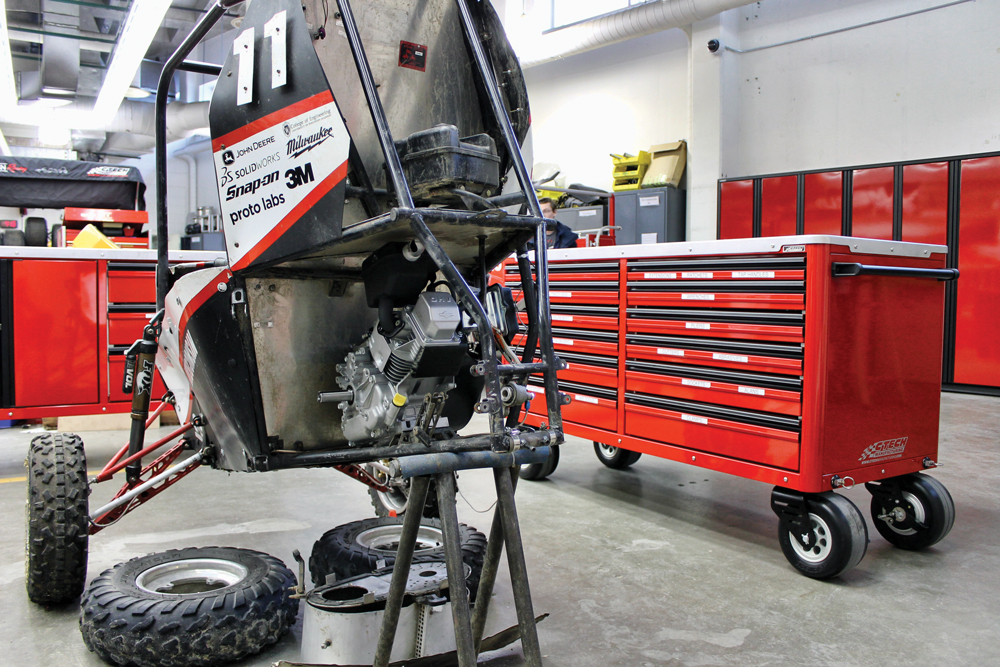 The Internet age has delivered a number of new tools to help race teams construct the work spaces they need. "We have a layout app that's on the Beta website, where they can take a look at their workspace and arrange it so that it's efficient," said Randy Booth of Beta Tools, Winter Springs, Florida. "Sometimes it depends on where lifts are in there, but it always really starts off with, first of all, what available space do you have? The second thing we look at is, what type of professional are they serving?
Being able to move things around on a computer screen before ordering eliminates much of the guesswork from outfitting a shop or garage. "With our brand new online cabinet store and configurator, it's never been easier to plan your next cabinet or closet system," said CTech's Birkenmeier. "Customers can select individual cabinet modules and customize them to match their storage needs. Dimensions, powder coat color, opening configurations, and other options are all customizable, and ordering is painless."
CUSTOM SYSTEMS
For some of the companies we spoke with, getting customers to purchase custom storage solutions requires breaking down the mindset that assumes options are limited to what's shown in the catalog. "They see our website, they see that we have standard sizes, and they call and they ask about a standard size. So then I start asking questions," said TechnoCraft's Hope. "'What do you need?' Because we build everything to order, so if you tell me more about what you need, you may be buying something that you think that's just what we make, and you don't understand that we'll make you what you need.
"There's no rule that says all the doors have to be the same size," Hope continued. "If you need one door bigger than the other door, a lot of people are conditioned that, if I have an eight-foot base, all three doors are the same size. Or if I have a six-foot base, they're all the same size. Well, we can make doors larger or smaller. We have that capability to be flexible. But people are conditioned to read what's available in a catalog and then just order that and kind of suffer through what their need is."
Since many manufacturers of pit carts, tool boxes and work stations have racing backgrounds themselves, they understand how easily the requirements of motorsports can push someone into custom applications. Ricky Sanders of Pitboxes.com in Stockbridge, Georgia, raced for many years in the NASCAR sportsman series and learned firsthand the value of having a mobile tool box on pneumatic tires. When he started showing up at the track with his own creations, fellow racers came to him and asked that he build similar carts for them.

"Pretty much everything has come from my background as far as being circle track and currently road racing-type stuff, and then feedback we'd get from some of our customers that are in different applications such as drag racing, some of the stuff that I haven't been personally involved in," Sanders said. "We take their feedback and develop special stuff that fits that application better. A lot of times if it's popular enough, we turn it into a standard product for other people."
"Adjusting size to meet spatial constraints is common, but the devil is in the details," explained CTech's Birkenmeier. "Teams are often looking to integrate technology and appliances, store very specific tools and equipment, and even outfit workspaces tailored to support various team member roles. The limit to custom features is nearly infinite, and we've had to engineer some extremely unique features in the past."
Each form of racing comes with its own special sets of requirements. "The more specific things that need to be installed inside a cabinet, or if there's equipment they need to roll away under things, that's when we can purpose-build a cabinet or cart with that particular thing in mind and make it as functional as possible," said Tristan Riley of Moduline, Brockton, Massachusetts.
Race teams would do well to understand that there are few custom-feature requests that tool box and storage cabinet makers haven't already encountered, and come up with unique solutions. "With the circle track stuff it's been a seat-top-type deal, where they can put their electronics and sit up on top of the box," Sanders said. "On the drag racing side, we've done special mounts for their special jacks that go under the car."
For Bear Pit Carts in Saint-Sauveur, Quebec, Canada, accommodating the variety of tire needs in racing has driven a lot of custom business. "It could be adjustable tire racks, which I do on my carts. A lot of them have them now, depending on the width of the tire, the type of tires, the location, it could be a little bit more one side, or a little higher, there a lot of little things," said Richard Labrie.
"You could have wiring and plumbing for air," Labrie added. "Let's say you have bottles. I offer an air reel option, so you have an enclosed air reel in one of the cabinets that you can pull the hose from the outside. We've got electricity, so you have inlets and outlets for electricity. With all the phone devices and tablets, you need those USB plugs."
There are other reasons besides specialized tools that a team or shop might need a custom cart—marketing and promotion. "Most of the time we have something that does fit their application," Sanders said. "But if there is a unique situation where they need specific sizes to fit certain tools or something like that, we can, of course, custom make them. Then for display purposes for companies to take to trade shows, that kind of deal. Most of those are usually custom made to showcase their product the way they want to showcase."
Ordering custom, of course, requires teams to be diligent about planning ahead. Lead times for custom orders can vary from company to company, and depending on seasonal demand. "We go anywhere from four weeks to 10 weeks depending on the time of year," said TechnoCraft's Hope. Lead times will be longer in winter, he added, since racers are taking care of offseason tasks.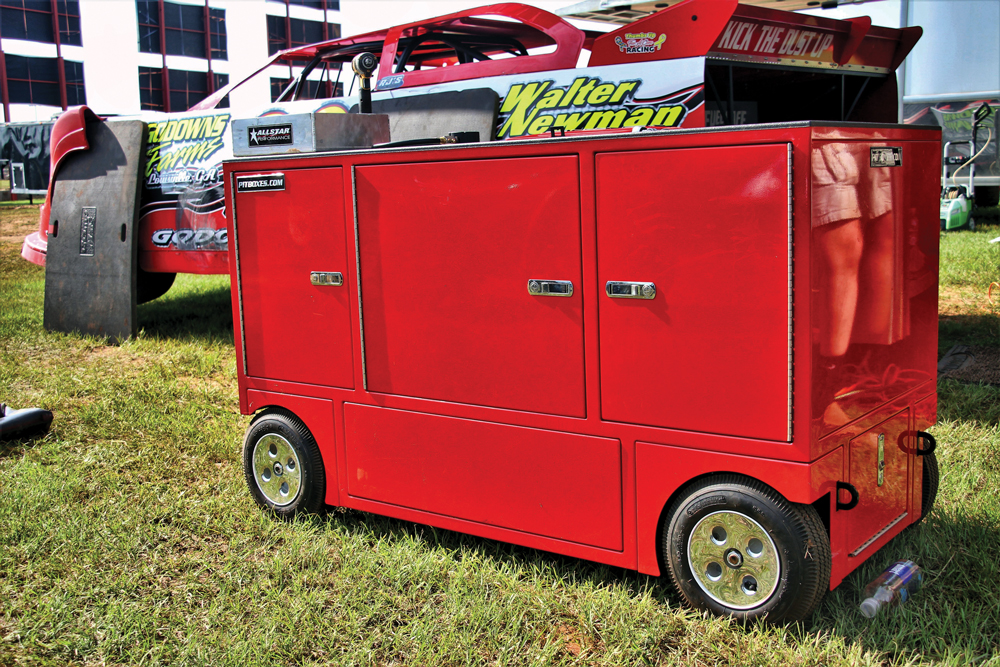 OFF-THE-SHELF
The two strongest arguments in favor of buying ready-made components are saving time and saving money.
Even so, buying off-the-shelf storage and work station components requires planning and research. "Re-organizing can be a difficult and overwhelming process if not handled correctly," Birkenmeier said. "CTech can offer a few tips from experience: Knowing exactly what items you need to store is critical. We often recommend that teams approach organizing their storage unit based on how often certain items are used. The items that you use most often should be the easiest to access, typically via a drawer. Reserve bulk cabinet storage for things that aren't used as often such as spare parts, boxes, and other large items. This is also a great time to make a wish list of additional storage needs that may be needed in the future."
It's also smart to think about organizing not just by individual items, but by looking at it from a systems perspective. "Do you want to systematically set it up based upon components of the car you might be working on, whether it's the front end of the car, whether it's an engine repair, or an engine breakdown?" said Beta Tools' Booth. "You can set tool boxes up based on what that mechanic's specialty is."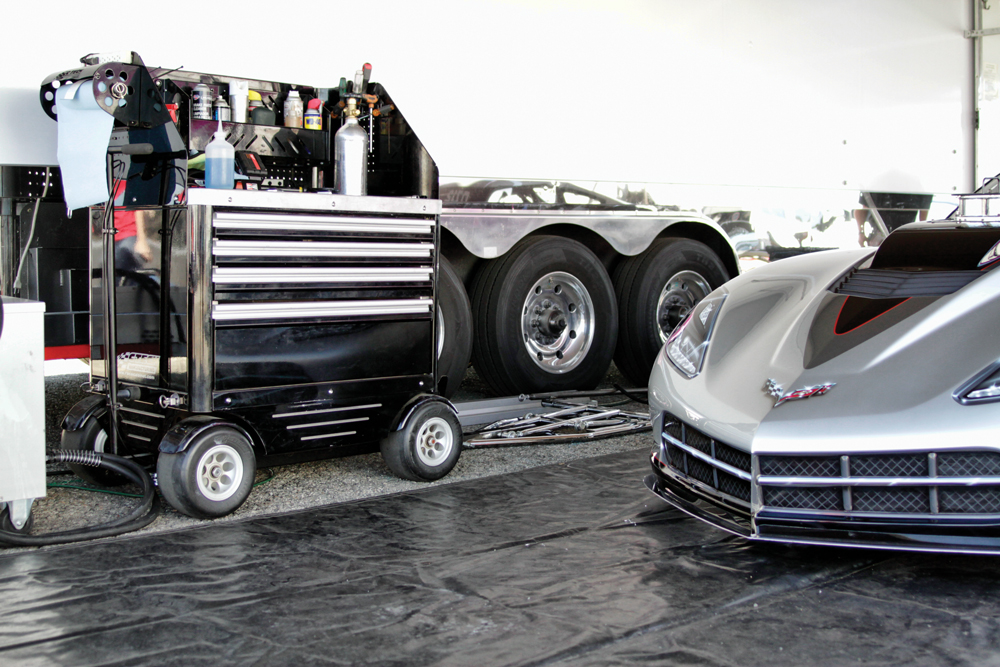 Other choices involve materials, and the strength/weight trade-offs between steel and aluminum. "We have a lot of customers in the performance racing industry that love our products. What I hear from them the most is that they are looking for a product that will withstand the abuse they throw at it every day," said Cody Freeze of Badass Workbench, Kearney, Nebraska. "They say, 'Finally, someone is building a heavy-duty workbench.' And, it's made in the USA, which is important to a lot of these people." He also cited the patented swivel drawers, which appeal to buyers.
NEW FEATURES
At first glance, it might seem like cabinets and tool boxes would be one of the more stable, unchanging outposts in the motorsports market. But advancing technology and an evolving racing landscape are driving innovations and trends in the storage and work station market.
"We're currently doing some new NASCAR garage boxes," said Sanders at Pitboxes.com. "The trend I'm seeing there is downsizing from the huge garage boxes—not the pit road boxes, but the ones they use in the garage before the race. Most of that is getting downsized. Even before the COVID deal hit, the new car that's coming to the Cup series, they don't need the huge tool boxes with all the tools because the car is so spec, they're limited to what they can do at the race track anyway. And, of course, now we're in a weird period where they're not even practicing, so for the most part they don't even need a garage box, because they show up, unload, and get it on the race track. So when that practice deal comes back these new boxes will have more electronics in them and less tool space, because the cars are going more similar to the IMSA stuff, where there are a lot of computer-controlled items on the car. With a lot of spec items you don't have to take as much stuff with you."
Mobility is another driver of innovation in shop storage. "In the garage, many racers and hobbyists are now looking for the ability to change their shop layout on the fly," said CTech's Birkenmeier. "Meaning entire cabinet units are being built on casters, and custom caster cart tool boxes are being manufactured to ensure that the customer can change the way their garage/shop space works if need be."
"The biggest thing that we've seen recently is that people are looking to outfit cargo vans a lot more," said Moduline's Riley. "A lot of teams are buying them as support vehicles, or general team vehicles. They're really versatile and just effective vehicles to have, and there are a lot of ways to outfit."
At Bear Pit Carts, Labrie is seeing more racers looking for carts that won't be impeded by less-than-optimal lighting at night races. "Lately, a lot of the racers are racing at night. Obviously, lighting is a problem at most places, decent lighting when you're in the pits," Labrie said, and Bear has developed options to address the problem. "Under the top of the cart they have an LED light bar that lights the tool box and two of the shelves. As an option I could do both sides. It provides decent light in that."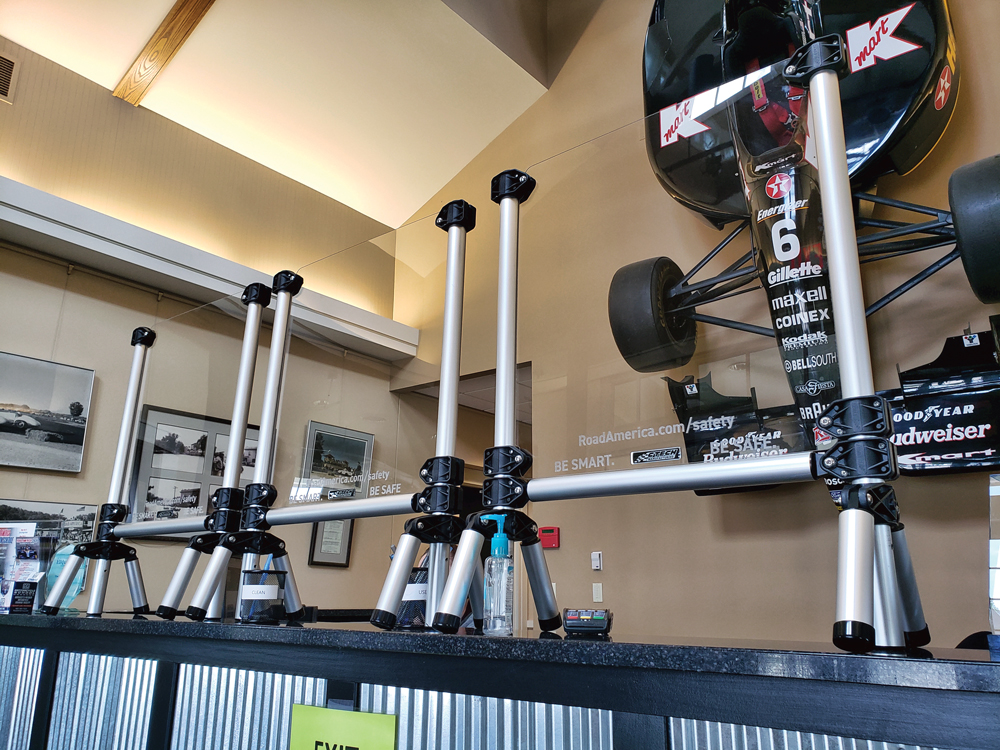 Organizing strategies is another area where tool box development continues to evolve, and methods that were once on the very high end of the scale are becoming more mainstream. "What we're seeing a massive surge in, and what we see consistently, is the organizational structure of the box, how they want to organize their tools," said Beta Pit Tools' Booth.
"And specifically, to that, what most of the higher-end professionals are going to is a foam cut-out that fits in the drawer that matches the size and length of the tool, so that it fits down in this little foam insert," he continued. "The advantage to that is, number one, when it's laid out efficiently you typically can get more tools in the box, and you're not digging through a bunch of wrenches to get one. You know exactly where it's at and it should be in its place." Also, after the work day is done, it's an easy check to open every drawer and see if anything is missing, he said.
The big driver in adaptation and innovation in motorsports in 2020 was, of course, the global pandemic. Going forward, an automotive workspace will include a lot more than just work benches, cabinets, and drawers. Many of the newest products from the manufacturers we spoke with were developed to ensure a sanitary work station.
New from TechnoCraft is a hands-free, standalone handwash sink. Hope explained, "Of course, it's a result of the COVID pandemic. It's foot operated, water pump, everything's self-contained. It's got a hands-free soap dispenser, hands-free paper towel dispenser, hands-free sanitizer. So it's for industrial workshops, for convention centers, for movie production. We do a lot of cabinets for movie production, and they requested it to be on sets."
In May, CTech released a new sneeze guard for work stations that will have wide applications in the motorsports arena. "Our sneeze guard represents the first non-storage product we've ever manufactured," said Birkenmeier. "The biggest impact that it's had so far is helping our local road racing circuit, Road America, open its doors to fans. With many racing series still operating on no-fan or limited-fan attendance rules, Road America has been able to host SCCA, IndyCar, and SVRA vintage events with virtually no fan limitations thanks in part to our sneeze guards being deployed at all high-contact areas. Any race shop or team looking to protect their staff and fans or customers can incorporate these adjustable sneeze guards into their space."
Whether by ordering custom or off-the-shelf, there's a solution for any racing-oriented work station. Even when a global pandemic throws a wrench into everyone's plans.
SOURCES
–
Badass Workbench