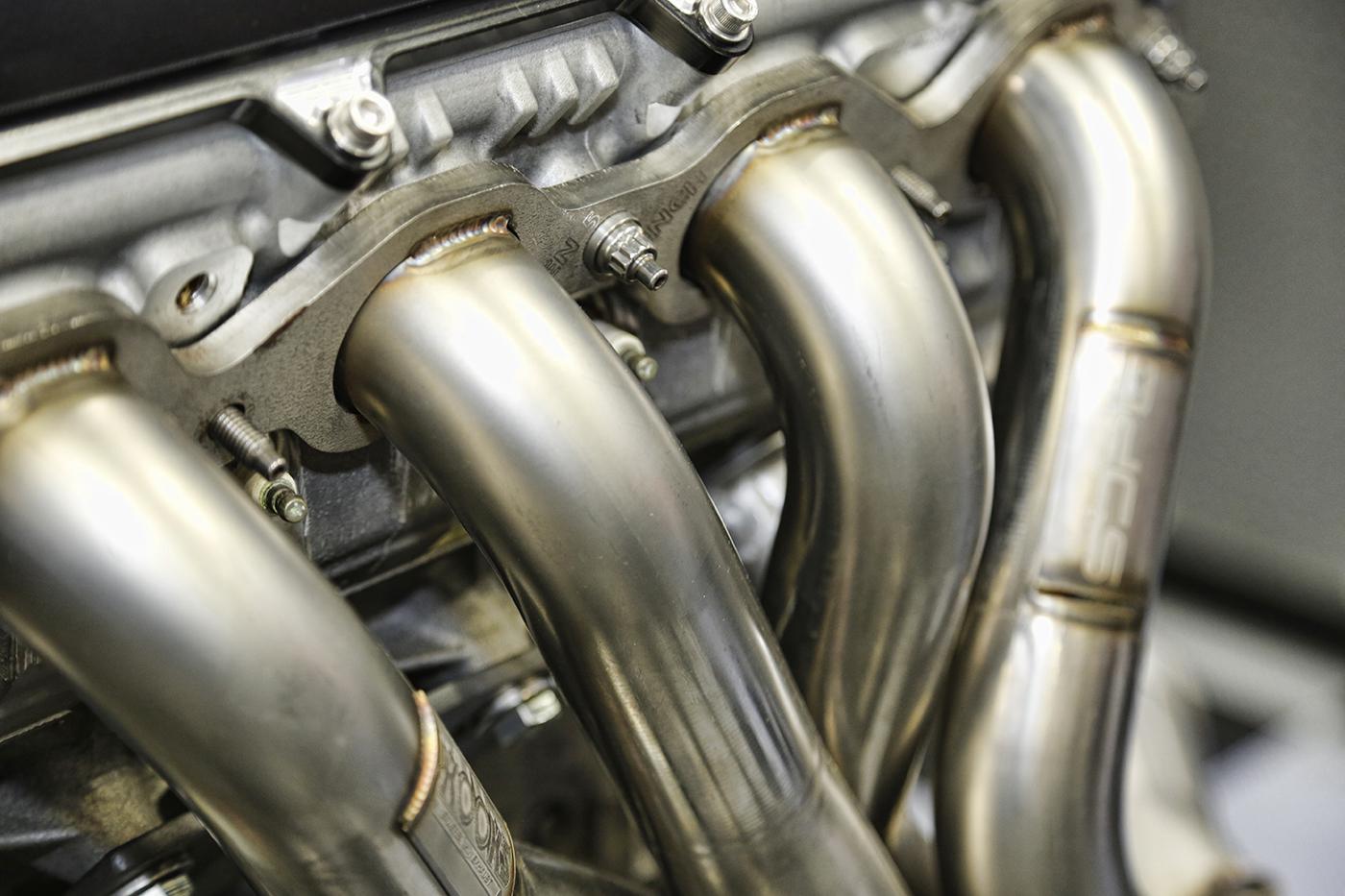 Exploring the many factors that influence a race exhaust system, and how today's manufacturers are bending the curve.
While many of an automobile's functions have become more complex—and in some cases computerized—over the years, one component has remained fairly straightforward and not governed by a microchip.
"With the exhaust, the basics have always been the basics," said Jim Renella of Performance Tube Bending (PTB), Irwindale, California. "Tube diameter, depending on engine size, will always create power."
What has become more complex are the factors that contribute to a well-performing exhaust system. Circumstances far beyond the simple act of venting waste from internal combustion play a role in the development of these components. In fact, there may be a coming trend of exhaust systems having nothing to do with internal combustion at all. We explore a few of these topics with several companies that specialize in racing exhaust systems and components in the pages that follow.
NOISE CONTROL
Making power and expelling waste may be an exhaust system's primary function, but mitigating the engine's noise is increasingly important.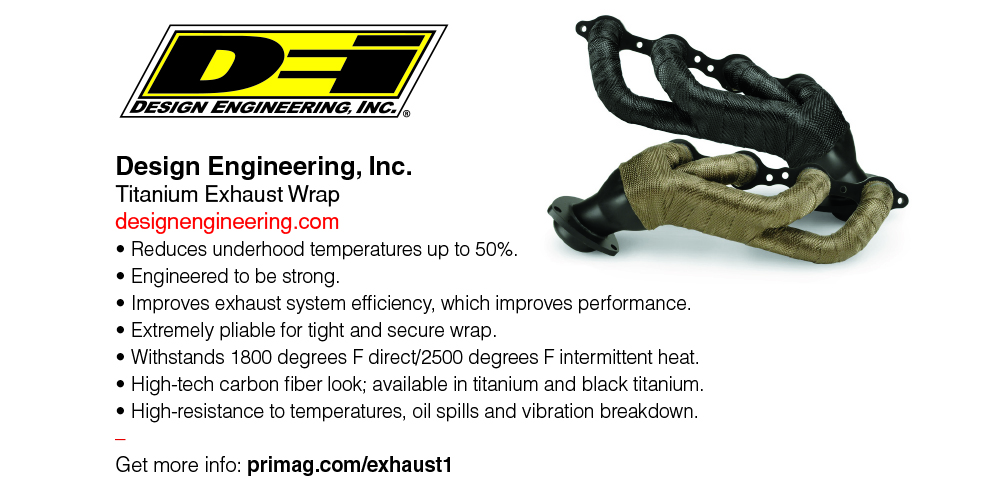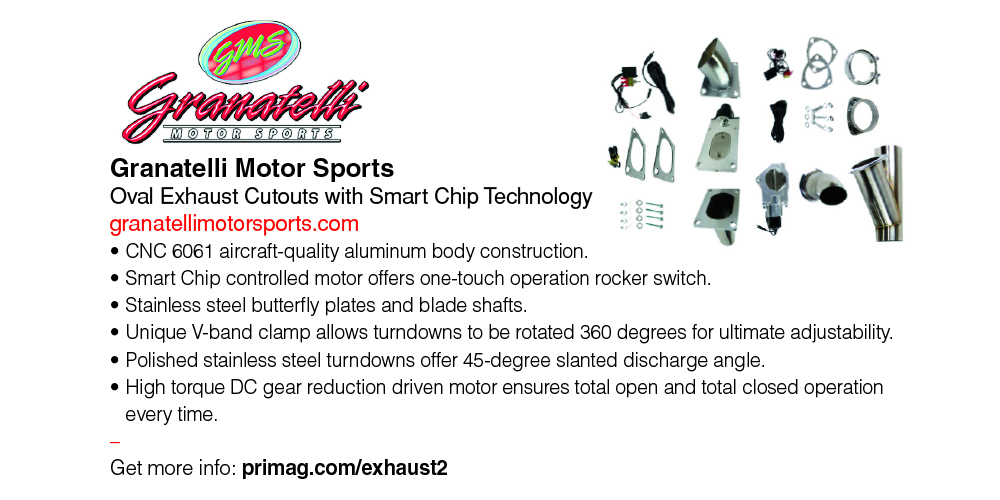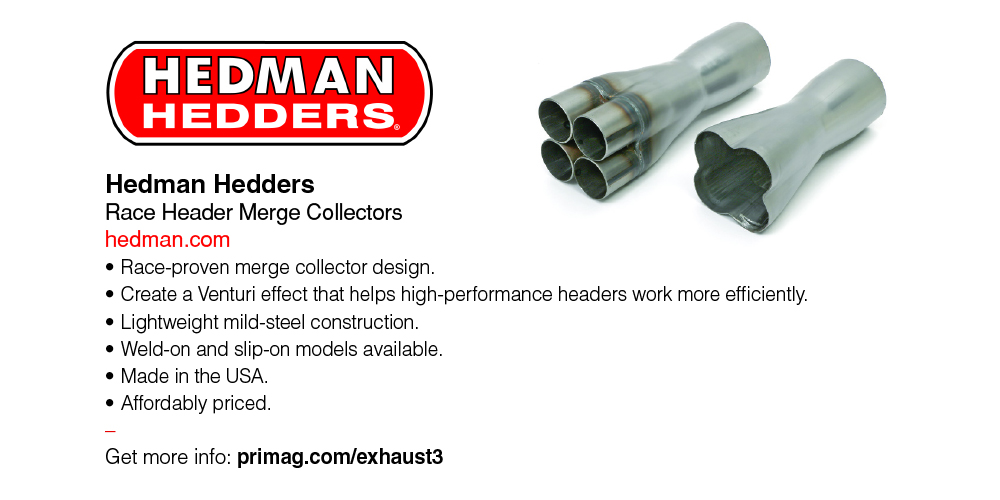 "Noise ordinances at race tracks are becoming more common," said Skylar Drake of Holley Performance Products, Bowling Green, Kentucky. "Customers now need a muffler capable of delivering big horsepower and reducing noise."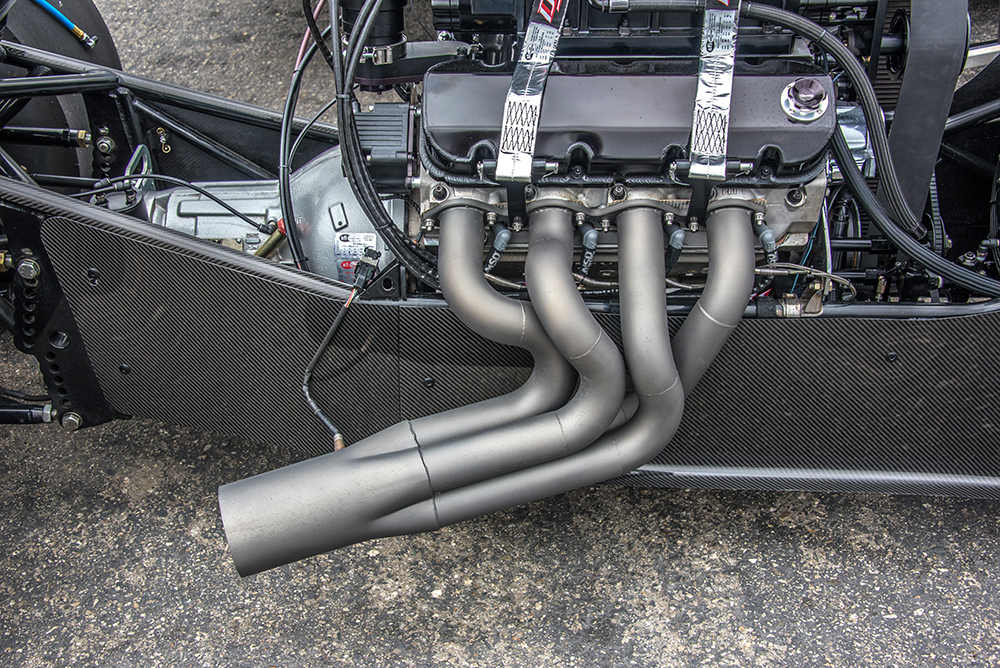 "Sound and noise regulations at tracks like Laguna Seca are extremely important and require muffler development," added Vince Roman of Burns Stainless, Costa Mesa, California. "Right now, a lot of stock street cars with their original mufflers will not pass sound at places like Laguna Seca. Cars like the 911 GT3 require additional muffling besides just the OE systems. We've designed an external muffler system for cars like that."
Noise management isn't limited to the sound outside the car either, Roman said. "Another issue, whether the cars are used on the street or track, is exhaust system droning," he added. "Droning is something a lot of customers do not want to put up with. That usually requires considerable R&D per application to develop exhaust systems that won't drone."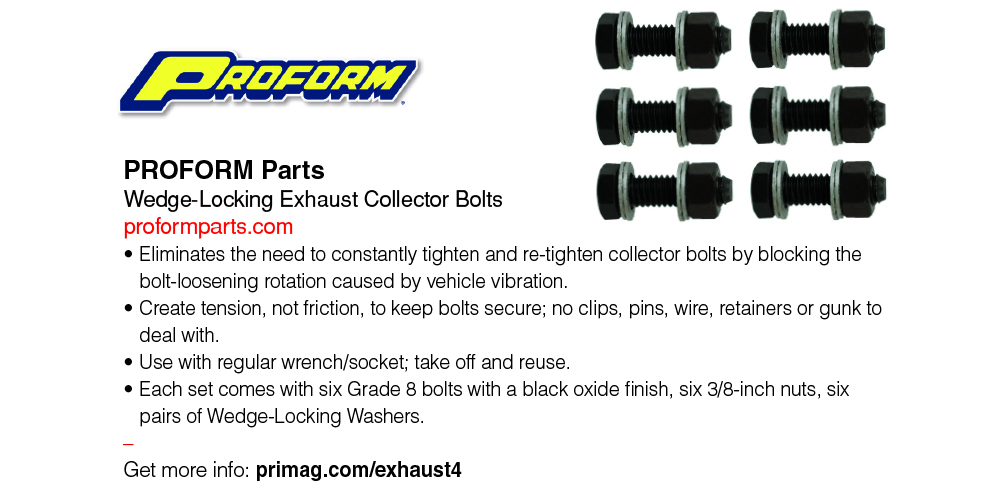 WEIGHT
"Recently we've had more customers trying to lighten things up," noted Chris Hill of Specialty Products Design (SPD), Rancho Cordova, California. "Lighter means faster. Losing weight means accelerating more quickly. If weight is diminished, it can be added when and where it's necessary."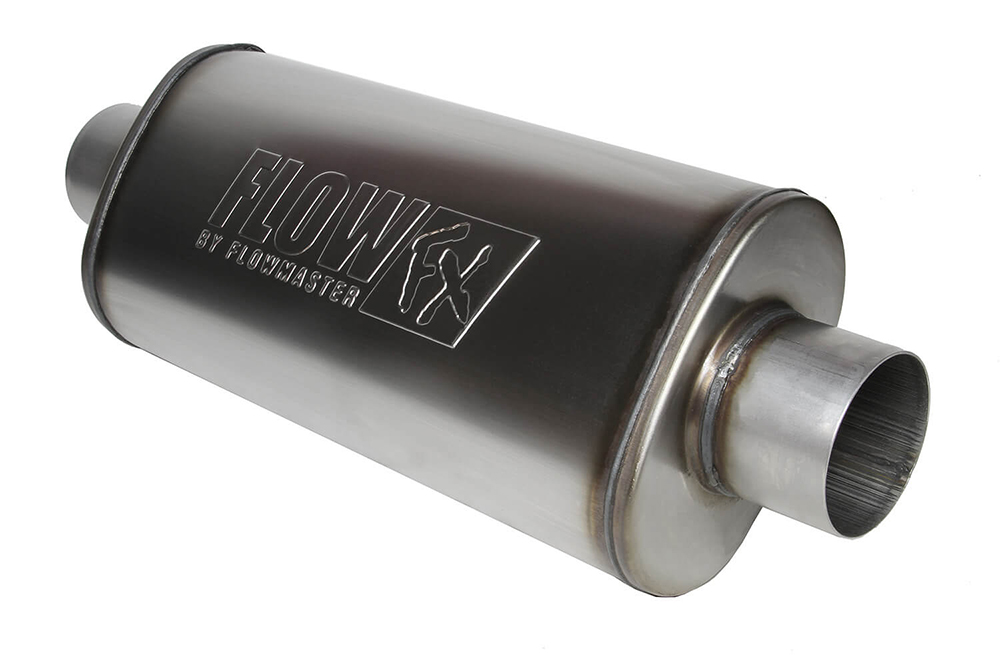 Hill added, "Exhaust systems are built heavy to last, but 0.065-wall stainless is unnecessary except if you're looking for absolute longevity." Among the alternatives he suggested were lighter, 0.035-wall 304/321 stainless, 0.035/0.049 titanium, "and even 625 Inconel is beginning to trend as more popular. But with titanium or 625 Inconel, you better be ready to extend your pocketbook. And there are fewer fabricators capable of working with those materials."
STRENGTH
Ultimate Headers of Berea, Ohio, also works with 321 stainless, but not because of its weight. "321 is 50% stronger than 304 at operating temperatures," said Jim Browning, "so the material doesn't suffer thermal fatigue or thermal cracking. It is truly the right material for higher horsepower late-model engines."
Currently the company offers 321 stainless exhaust systems for late-model Mustangs and Camaros, "and we'll shortly be engineering for late-model GM trucks," Browning said. "We're going to do C7 Corvettes, C6 Corvettes, maybe C5s. Some of these vehicles have now gone to their second, third, or fourth owner. The cars are more affordable, and the guys buying them want to do modifications and race them. There should still be a pretty strong market for them."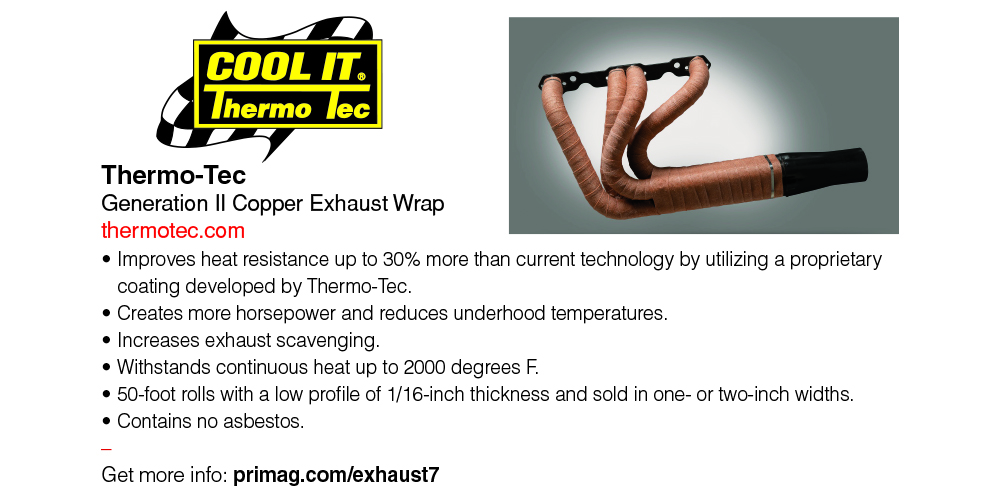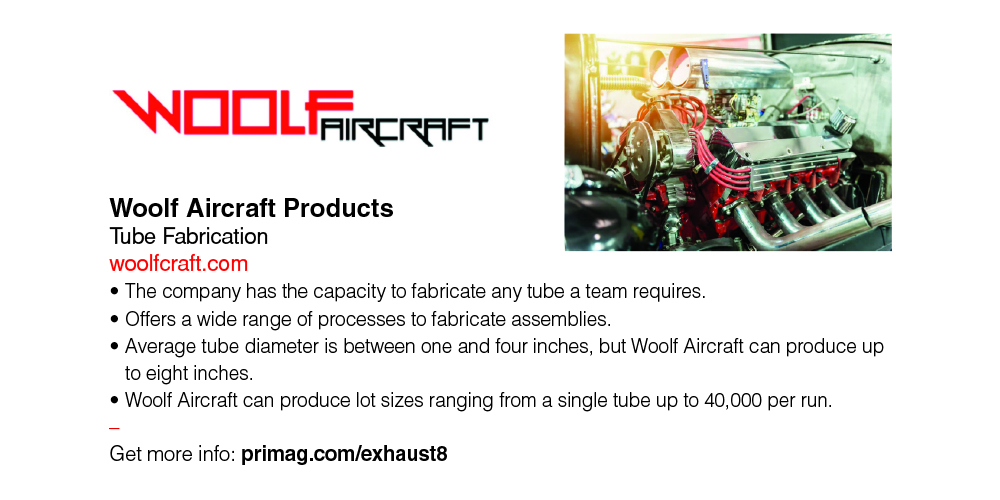 MANUFACTURING & CONSTRUCTION
"It happens all the time," Renella said of customers who call PTB looking for just one or two tubes. "It's a priority here to have these pieces in stock. If we get a call for a tube with a 1-inch or 1.5-inch radius, and the customer wants to buy just one, we can sell them just one. We don't have to set up a run or make them order 25 to pay the setup costs. That makes it super convenient for them and makes it good for us. We have the luxury now that in the warehouse, we stock from 1 inch all the way up to 5 inches in aluminum, steel, and stainless steel. We probably have about two or three or more of each radius of each particular diameter tubing. We're proud of the variety of bends we stock."
SPD is also "working hard at becoming more efficient in manufacturing all of our goods," said Hill. "We have automated several more procedures in building merge collectors that should enable us to build them more cost-effectively. We're looking for the high price point to diminish by year's end."
Burns Stainless utilizes an in-house program "that allows us to design headers for maximum performance based on engine architecture," Roman said. "We're well-equipped to design header manifold systems for all types of race engines, usually done on a case-by-case basis. We've been using that program for close to 20 years, and it's pretty remarkable how well it predicts the proper exhaust system design."
In terms of component construction, mandrel-bent tubes remain a favorite among high-performance exhaust companies for their consistent inside diameters throughout a system's bends and curves.
"Replacing your setup with mandrel bends reduces performance loss," said Drake. "In a vehicle that is 13- to 14-feet long or more, this adds up quickly." Switching to mandrel bends, in addition to upgrading to stainless steel to save weight, "may seem like minor improvements, but if racers and engine builders are willing to swap intake manifolds and cylinder heads for minor gains, why not look toward the exhaust system?"
Popular as it is, mandrel bending may not be the solution for every problem, Browning said. "In some situations, like fitting headers in a tight space, the primary tube and the face of the port may not be square, which makes for poor flow out of the port and into the primary. That can happen because you can't get a mandrel-bent tube as tight as you need it. We make cast elbows that keep the headers tucked tight to the block, so you have more clearance around the steering shaft and motor mounts. It's another tool in the tool box we use to design and build the best-fitting headers out there," he explained.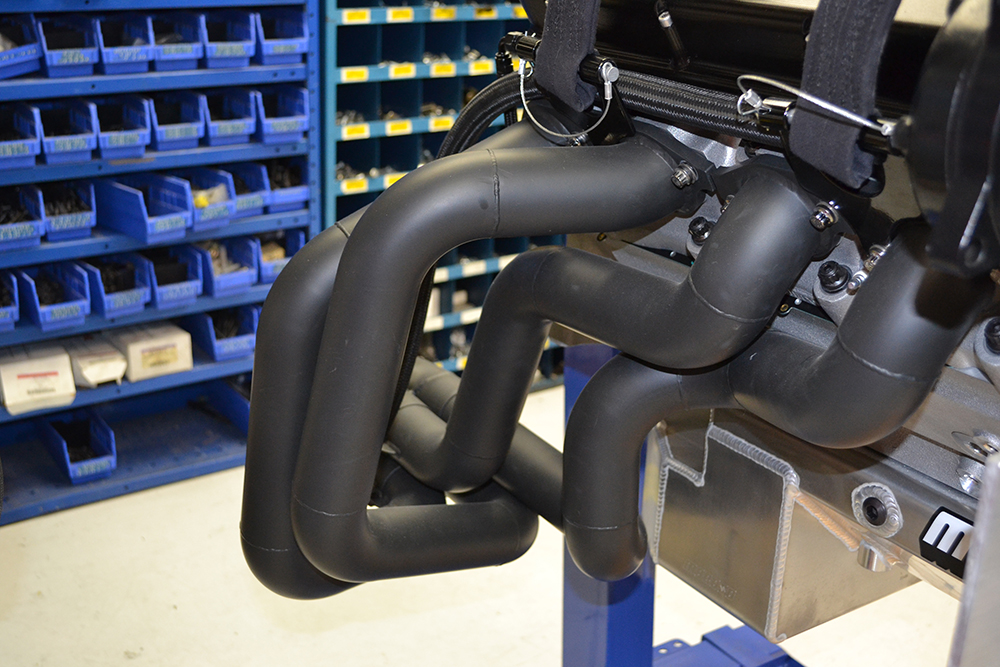 CRATE ENGINE FITMENT
Speaking of fitments, Browning talked about a challenge Ultimate Headers currently faces in building header systems for customers who want to put GM's LT crate engines into spec chassis destined for an early muscle car or pickup.
"These new LT engines have a knock sensor on the driver's side of the engine," he explained. "In most cases it's not an issue, but right now I have three LT engines going into spec chassis, and it's a challenge to get everything to fit and work, between the engine, motor mount, steering shaft, and that knock sensor. The way some of these chassis are being designed and manufactured, they don't always leave a lot of space for the steering and exhaust to work in unison. They try to get the motor as low as they can for the best handling, but when you try and put all this modern technology into an earlier platform, it makes the header design very tough."
 A one-size-fits-all approach doesn't work, either, Browning added. "For example, the motor in a first-generation Camaro sits flatter. It has very little drive angle to it, like one or two degrees. We have another customer building a first-generation Chevelle on a new spec chassis, and he's at three degrees. In the header design, I have to play with the collector, or the end of the header may be different, to accommodate the different drive angles. If you try to use a header on the wrong car, it's going to push the header up into the bottom of the floor, or look like it's going to run up into the bottom of the floor."
FOUR-DIGIT POWER
"With the shift into adopting power adders, Holley is seeing a lot of customers looking to transfer heat out and away from vital components," Drake said. "This newfound power also means they are taking their race vehicles to new levels in terms of needing durability and weight savings. In response to this, both Hooker Blackheart and Flowmaster have begun offering stainless components (304 and 409 stainless steel) as well as featuring mandrel bends on their newer bolt-on systems. It's not uncommon to see vehicles making four-digit power now, and that means your standard 2.5-inch dual exhaust will not cut it anymore."
EMISSIONS
Emissions compliance is a complex and thorny issue in the exhaust market, with variables that include vehicle regulations that differ from state to state, the growth in popularity of racing modern (and emissions-equipped) muscle cars, and the question of whether a street vehicle that has been modified for race-only use still falls under public-road emissions rules. (See sidebar RPM Act: 'We Have to be the Squeaky Wheel' for more on the topic.)
Burns Stainless, which is based in California, has "not done a lot of work" on cars with catalytic converters and emission controls, Roman said. The company did assist in the design of exhaust headers for Porsche 911s customized by Singer, but that system was built to earn an Executive Order (EO) number, indicating it was emissions-legal in California. "The design would have been different from a design intended for complete performance."
Burns has done header work on older, street/strip cars, "but a lot of the owners of those cars want to have catalytic converters, to have somewhat of a green car," Roman said. "When you're used to driving cars with modern emissions, and then you get into a car with no catalysts, you start smelling fumes and things that used to be the norm but are no longer. If people want to use them as a driver, we design and build systems with high-flow cats."
"If you're in an area that evaluates emissions, then it is extremely important to focus on items like high-flow catalytic converters," added Drake. "Flowmaster does offer 3-inch universal converters, but we advise customers to speak with our technical support team to be sure these are legal for their application and area."
ELECTRIC RACE CARS
"The demise of the internal combustion engine has been greatly exaggerated," said Roman. But he does see a growth trend in electric race cars. A Burns Stainless customer, the Hancock and Lane drag race team, "did a lot of development work on the eCOPO Camaro," Roman said, referring to Chevrolet's electric-powered Stock/Super Stock race car. The team also worked on Ford's electric drag strip counterpart, the Mustang Cobra Jet 1400.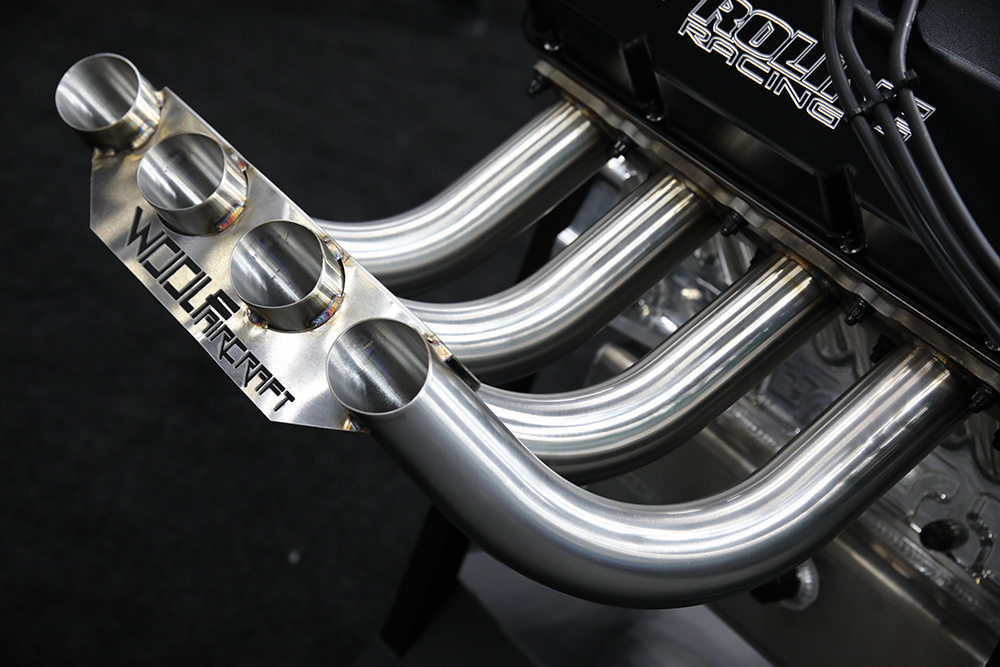 Another Burns customer, Curtiss Motorcycles, "was formerly known as Confederate motorcycles and built $70,000 to $150,000 V-twin-based motorcycles," he said. "Now they've switched the whole company over to building electric motorcycles. So, it's definitely a trend. How quickly we'll have to reinvent ourselves, I'm not quite sure. Obviously, an electric car doesn't require a conventional exhaust system like we're used to, but there is heat management that has to be done there."
COVID-19
The interviews for this story took place in early summer, while the country as a whole—and racing in particular—faced tremendous uncertainty due to the COVID-19 pandemic. Yet our sources were, for the most part, encouraged about their businesses.
"We've been good," said Browning. "Our backlog is very, very strong. I feel that the pandemic has forced people to stay home and work on projects they haven't worked on in the past, with opportunity and time they didn't have until now." Ultimate Headers had to shut down for two weeks "per the state mandate, and the phones were a little quiet, but then they started ringing off the hook. We had a record month in June in both shipments and new orders."
"Everybody is telling me they have time to work on their project now," said Renella. "Our business has done very well. We've maintained our sales, maintained our customers, and I haven't laid off any of my workers. We have plenty to do, plenty to catch up on."
At PTB, Renella has held meetings with the staff "to reinforce the safety of the whole [pandemic] situation." He did have one employee test positive for the coronavirus. "From day one we had the security protocol in effect—washing hands, keeping the distance, wearing the mask—and we haven't experienced anybody else getting sick."
"SPD is a well-established business with many years under our belt," said Hill. "We are weathering this storm, but like many others, we are struggling to find skilled employees. Nonetheless, our glass is still half-full. We will overcome!"
 
SOURCES
–
Burns Stainless
hedman.com





Holley Performance Products
holley.com





Performance Tube Bending
rippmods.com





Specialty Products Design
spdexhaust.com





Specialty Equipment Market Association (SEMA)
sema.org





Summit Racing Equipment
SIDEBAR
RPM ACT: 'WE HAVE TO BE THE SQUEAKY WHEEL'
Given the COVID-19 pandemic, the state of the US economy, the upcoming election, and other matters facing Congress these days, an automotive racing bill may not be top-of-mind among other priorities. That's exactly why it's so important for members of the racing industry to contact their elected officials and ask them to support the Recognizing the Protection of Motorsports (RPM) Act.
"We're confident that we're in the game," said Eric Snyder, SEMA's Director, Congressional Affairs, of the RPM Act's status. "But we need racing enthusiasts to really get engaged. We have to be the squeaky wheel, reminding our elected officials that this issue matters to a lot of people. Members of Congress need to be reminded that racers and the tens of thousands of people in the industry are paying attention, and they vote."
The bipartisan RPM Act was drafted in response to a change in emissions enforcement made by the Environmental Protection Agency (EPA) in 2015. Prior to that, the cars, trucks, and motorcycles converted from street use to become dedicated race cars were exempt from emissions regulations put in place by the 1970 Clean Air Act. As such, the parts used in their modification were legal to manufacture, sell, and install.
In 2015, the EPA asserted that converted vehicles must remain emissions-compliant, even though they were no longer driven on public roads. The EPA also contended that it is illegal to sell legitimate racing parts for use on converted motor vehicles, and that installation of the part is an act of tampering.
This has had a chilling effect on the racing parts industry. In just one example, a source contacted for this article, who wished to remain anonymous "to keep out of the EPA's bulls-eye," is discontinuing the manufacture and sale of racing exhaust components to focus instead on cat-back exhaust systems for street cars.
The RPM Act, versions of which are currently moving through both the House of Representatives and Senate, protects the right to convert street vehicles into dedicated race cars, and clarifies that it is legal to manufacture, sell, distribute, and install race parts that modify the emissions system of a motor vehicle that is used solely for racing.
The RPM Act provides "long-term assurances to racers who have converted or intend to convert street-legal vehicles into dedicated race cars that the EPA can't enforce against them for making these modifications," said Snyder. "It's also incredibly important to the supply chain that makes racing possible, from manufacturer to distributor, retailer, and installer."
Being the squeaky wheel means a lot of outreach to members of Congress. "Lawmakers pay attention when they hear from a large number of constituents," said Snyder. "We've found that enthusiast outreach to Congress has been invaluable in getting the RPM Act to the point it's at and the success the legislation has had."
It takes just minutes to make your voice heard. A plug-and-play platform on SEMA's website (sema.org/RPM) generates emailed letters directly to the author's US Senators and Representative asking for their support of the RPM Act. The body of the letter is already drafted, but it can be personalized should racers and industry members want to add their own comments. PRI readers can help spread the word by including the link on their websites, and engage their customers and followers on social media using the hashtag #SaveOurRacecars.  —Drew Hardin