INTERNATIONAL REPORT: THE PRODUCTS THAT ARE DRIVING MOTORSPORTS ABROAD
Image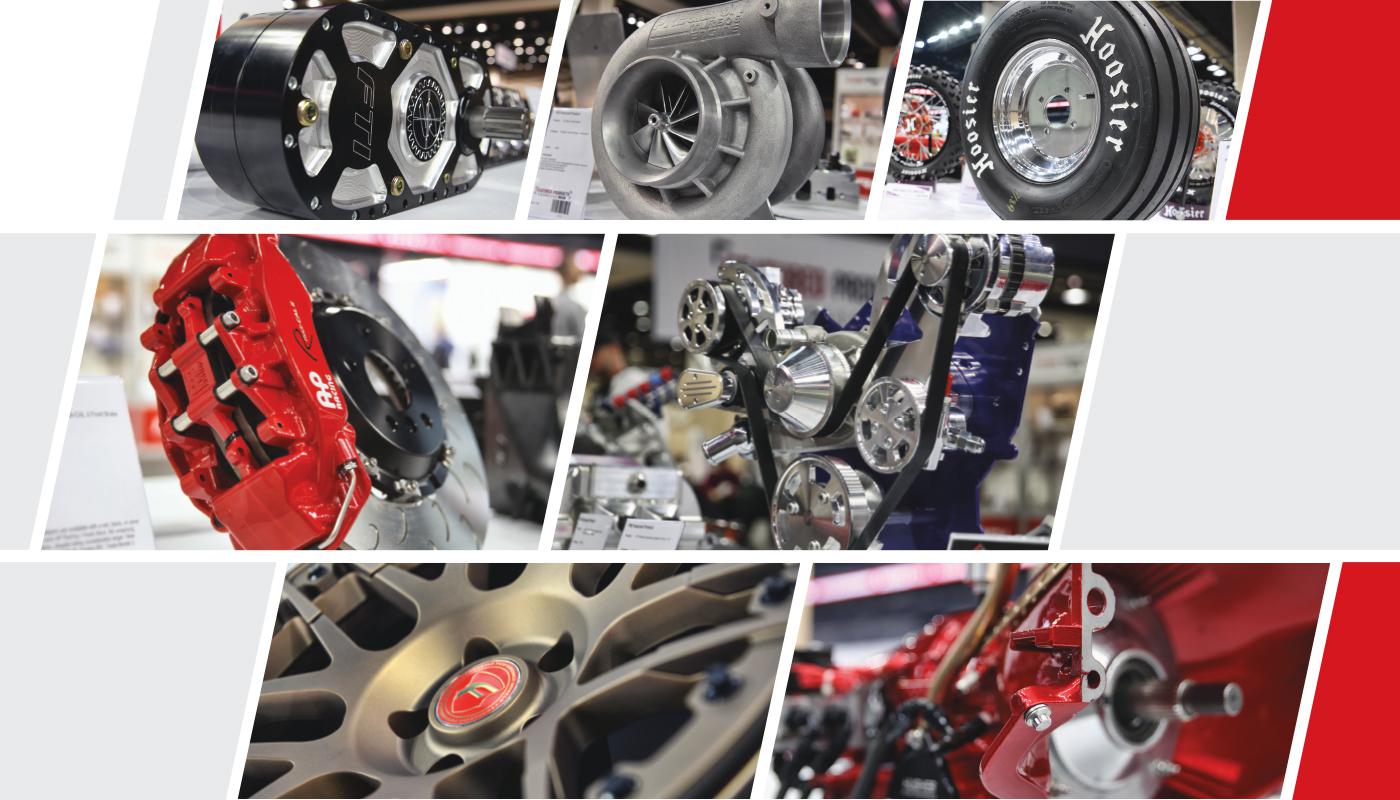 Five overseas motorsports journalists share which segments of racing—and the parts most widely used in those classes—are generating excitement in their home countries.
We live in a global society. And while COVID-19 has certainly disrupted the cross-border exchange of ideas, products, and personnel, it's reasonable to believe a return to normal is inevitable.
This notion certainly applies to the motorsports industry, where US-made parts and equipment remain very much in demand worldwide. In fact, whether it's four-way adjustable drag shocks, welding helmets, torque converters, or billet manifolds, the appetite for innovative new parts, equipment and technology by top manufacturers and service providers is as vibrant as ever.
With that in mind, we recently asked a select group of international motorsports journalists to weigh in on the products that are currently in demand in their local regions in order to provide some insight into the racing disciplines, classes, and larger overall performance trends that are picking up steam outside the US. Following, in their own words, is their feedback, edited lightly for clarity and brevity.

Any enthusiast worth their salt will tell you we're living in a golden age of performance equipment. As technology improves in leaps and bounds, quality aftermarket gear is becoming more and more advanced and accessible.
Led by trends in the United States, Australia is seeing the astronomical rise of radial tire racing and super-fast "street cars." Today's technology allows street-going vehicles to boast performance figures once only reserved for dedicated race vehicles. Events locally like Street Machine's Drag Challenge, Grudge Kings, and KENDA Tires 660 Drag Radial Series are packed with radial-shod, street-appearing cars that prove today's modified vehicles are not one-trick ponies, and are equally at home on the street as they are at the race track.
With all that in mind, the following has caught my attention...
First is Hughes Performance's Pro Series Power Glide 2-Stage Dump Valve. Small-capacity engines with large turbos are a common sight at Australian drag strips. In these combinations, the real struggle starts before the green light as racers battle to get power through the converter and the car on to the two-step. This setup from Hughes Performance addresses that very issue. Not only will this help get the combination set on the start line, but the two-stage arrangement will help during the run, allowing the racer to slip the converter where required down the track. Bravo!
Next is AFCO's Dominator 4-Way Adjustable Drag Shock, where AFCO has packed all the features of a high-end performance shock absorber into a product that a lot of racers can afford. With small-tire and radial racing all the rage in Australia, I can see racers really getting the best performance from their cars with this product, at a price point that will have them stand up and take notice.
Then it's a pair of FuelTech ECU units: the FT600 and FTSPARK-8. Marrying the ECU and dash into one unit is absolute genius. With the seemingly endless amount of outputs and inputs available, the FT600 ECU can really do it all. With racers looking to monitor an ever-increasing number of sensors and looking for every pound of weight saving, it will be hard to look past the FT600.
As for the FTSPARK-8, high-boost, methanol-engine packages are all the rage, and for that you need an excellent ignition package. The FTSPARK-8 has got you covered. The fact that this is a simple CAN connection away from the FT series ECUs is great, but being able to use this product with any ECU on the market is a masterstroke from the team at FuelTech.
McLeod Racing's FTI Performance GS20 Torque Converter is next on the list. Torque converter technology has come ahead in leaps and bounds in the last few years. With McLeod stepping into the ring, racers on a budget will have access to converter technology usually reserved for the bigger-budget operations. I look forward to what McLeod, with their years of experience in manual clutch technology, will bring to the converter world. Exciting times for sure!
Next up is the Plazmaman Big Block Chevy Billet Intake Manifold. I mean, a billet big block inlet manifold—what's not to love? The turbo revolution is in full swing here in Australia, and this product is on top of most racers' wish lists. The finish on these manifolds is exquisite—it's almost a shame to bolt them to an engine. This low-rise manifold with a burst panel neatly incorporated screams that it's a serious piece of performance gear.
RC Components' aggressive wheel designs are starting to gain traction here in Australia. And now that RC offers a two-inch backspace, they have opened up to a larger group of customers who don't wish to modify their car to fit three inches of backspace. Increasingly, we are seeing traditional big tire cars trying their hand at radial racing, where these wheels—the 2.0-inch Offset Rear Race Wheel—are the perfect addition to get those little radials sitting pretty.
Finally, there's the Turbosmart Gen-V eWG60 Electronic Wastegate. Most "serious" boost controllers are air-over-air. Whilst they work well, there are factors outside of the controller that can let them down—leaking air lines, empty air bottles, or something as simple as forgetting to turn the air bottle on. These can cost you a race. You can reduce all the complication and let your ECU do the work with this electronic wastegate from Turbosmart.

Motorsport in India isn't as mature as it is in the United States, but there is still a sizeable community that takes part in the various championships that are held across the country. In India, the cars we race are the cars available and popular here, and more often than not, this means cars with small-displacement engines.
Here, I'll focus mainly on the touring cars and rally cars that run in our national championships, as these are the two series that are extremely popular and also see tuners pushing the envelope with their builds.
Popular cars in the touring car championship include the Honda City, Volkswagen Vento, Honda Jazz, and Suzuki Swift (badged Esteem in India) while the Volkswagen Polo and Mitsubishi Lancer are popular in the rally championship.
When it comes to intakes, BMC and K&N are the most popular choices in both the touring and rally series. And due to a touring car championship rule change last season, which now allows teams to run turbochargers, Garrett turbos have emerged as the most popular choice in the series.
For exhaust systems, there are a number of specialized manufacturers in India that build exhausts to the tuner's requirements. However, there is a growing market for aftermarket exhausts for road cars with manufacturers like Novitec, Akrapovic, and Remus favored amongst enthusiasts.
ECUs from MoTeC and Haltech are also popular, and they're often combined with a race dash. India's own RaceDynamics also makes custom motorsport piggyback ECUs, which are considerably more cost-effective than imported ones. Sequential gearboxes are sourced from Hewland and 3MO.
When it comes to suspension, Reiger suspension is extremely popular in the rally circles, while Bilstein and KW Suspension components are preferred for the touring cars. Safety equipment like seats, harnesses, and suits are generally sourced from Sparco or OMP.
In the realm of tires, the touring cars normally ride on products from the two Indian tire giants—MRF and JK Tyre. For rallying, competitors are free to choose which tires they want to run and generally pick between MRF and JK, though teams occasionally opt for foreign brands like Continental or Yokohama. Hoosier slicks remain popular in drag racing.
Other in-demand racing products include suspension mounts, high-grade engine and gearbox oils from companies like Motul and Castrol, sintered brake pads, wiring harnesses, Quaife limited-slip differentials, and toolcases.

Face masks are pretty big business these days, and so are racing simulators. We recently picked up a new sponsor/supporter in SIMWORX racing simulators; the COVID-19 shutdown was actually a real boost for their company. When the racing industry shut down in Australia, simulator racing became the big filler of time—not only for fans, but also motorsport drivers. In Australia, the Supercars are our top-tier motorsport; they ran a professional eSport series during the initial shutdown that was also televised nationwide.
Our Supercar elite category is up and running again on a very different calendar with back-to-back events, but all national support categories have stopped, as have many of the smaller state and regional events. And since the cars have been in the garages for quite a while, many owners have been focusing on maintenance and upgrades. Given that, I suspect that things like brakes components from AP Racing and RDA Brakes—parts like discs, brake linings, and pads—are important items from the top tier on down.
From there you might be looking at pistons, rods, rings, top-end gear. Some of the top-tier teams manufacture their own or use JE Pistons, who have been tinkering away at small upgrades and improvements in perceived areas of weakness.
Another product that is in great demand would be pedal boxes, from the top tier down through to grassroots racing—PE Racing is the main supplier of these. And in Australia, companies like Revolution Racegear are always popular for race wear like overalls, helmets, boots, along with team apparel for the pits and marketing.
We recently did a story in Velocity Magazine titled "Light at the End of the Tunnel," where we talked to a few car/team owners about COVID-19 and the effects on their racing programs. One was pessimistic and reported that he had lost a fair portion of his budget with businesses no longer having the cash flow to continue.
The second team owner lost international drivers who can't travel to Australia when racing resumes, but was optimistic in that he believed people will want to promote their business to generate sales when things improve. He feels there will be new advertisers and sponsors coming into the market. The final team owner had his own business in the building industry and has hardly felt a change in his business income, so he is ready to race whenever he can. Given these points, it stands to reason that drivers and teams may need new race gear and crew clothing to represent new sponsors to the team.
Finally, new products in fuel additives, hoses and linings, and other consumables used in the course of a season are also worth noting. KCK Lubricants is a new Australian supplier of oils and additives, and these guys are working their way into the motorsport industry nicely.

Here in Brazil we have lots of demands when we talk about performance. Because of COVID-19 things are slower right now, but motorsport is starting to come back.
Off-road racing is getting bigger, and top speed competition, like half-mile events held on airstrips, are becoming more frequent. FullPower organizes many of these events at airports, and Brazil has some race tracks that are now holding races without crowds.
Ford Mustangs and Chevrolet Camaros are popular in that realm, and along with V8s, turbodiesel-powered vehicles are gaining some attention in off-road racing. Rally dos Sertões is the most popular rally in South America—it's like Dakar on a smaller scale. While pickup trucks are commonplace in that event, UTVs from companies like Can Am and Polaris are quickly gaining popularity, and the drivers need parts for them.
And, of course, products like suspension components, lightweight wheels, tires, seats, seat belts, racing suits, helmets, and brakes system parts continue to be in demand across various motorsport disciplines.

Latin America is slowly coming back—not only from COVID-19, but also from government policies that have not worked well in this kind of environment in regards to import duties and customs regulations.
In Perú, [officials] are trying to develop international drivers and race series for karting. Particularly at Kartodromo Santa Rosa, Peruvian karting is running IAME X 30 in its junior categories up to 14 years, [as well as] seniors and masters. It is also run inland in the cities of Cusco and Arequipa, which makes it two Peruvian Karting Championships. Made in France, karts come from Sodi-Kart. They have karts for rent, and also run an international tournament. 
Nearby, the Kartodromo La Chutana runs the RMC Rotax Max Challenge with baby, mini, junior, senior, and masters categories. This is the most popular track.
The Peruvian organization FETAME is being formed to educate, train, and develop racing shops with new products like the ones that we see at PRI, focusing largely on software organization and costs areas. 
Costs are a huge factor, as it always is in any form of motorsport. An attempt is being made to introduce a category with a four-stroke Honda GX engine that's prepared in Brazil. Internationally it is run with Briggs & Stratton and endurance. This will bring opportunities for PRI [exhibitors] and others to make their presence felt.
The idea is to expand the base with inexpensive go-karts—$3,000 Briggs & Stratton engines and hard tires that last one or a half-season. Currently, a new race-ready kart built in Lima costs $10,000 and drivers spend $2,000 per race in a six-race season. 
At the 2019 PRI Trade Show, we had the opportunity to check out SimCraft, one of the most advanced simulators. In eSports there are three championships. Karlo Carrillo from eSports equipment supplier Achorao.com states that the Playseat Challenge + Logitech G29 wheel and pedals is a popular entry-level setup. 2020 will be up a colossal 50% versus 2019, and keeping that level up post COVID-19 will be the challenge.
Rallying continues to be the fan favorite. Some wealthy drivers are ganging up with N5 FIA Rally that runs in Spain and nearby Argentina. Can-Am in rally and cross country off-road desert 4x4 is a success in the making, with short-course racing coming up like in Baja Mexico. Tubular welding and specs are going to be a target with EV power. 
The opportunities are always there!
SOURCES
–
Auto Mundo