RACE BUSINESS PROFILE: WINDING ROAD RACING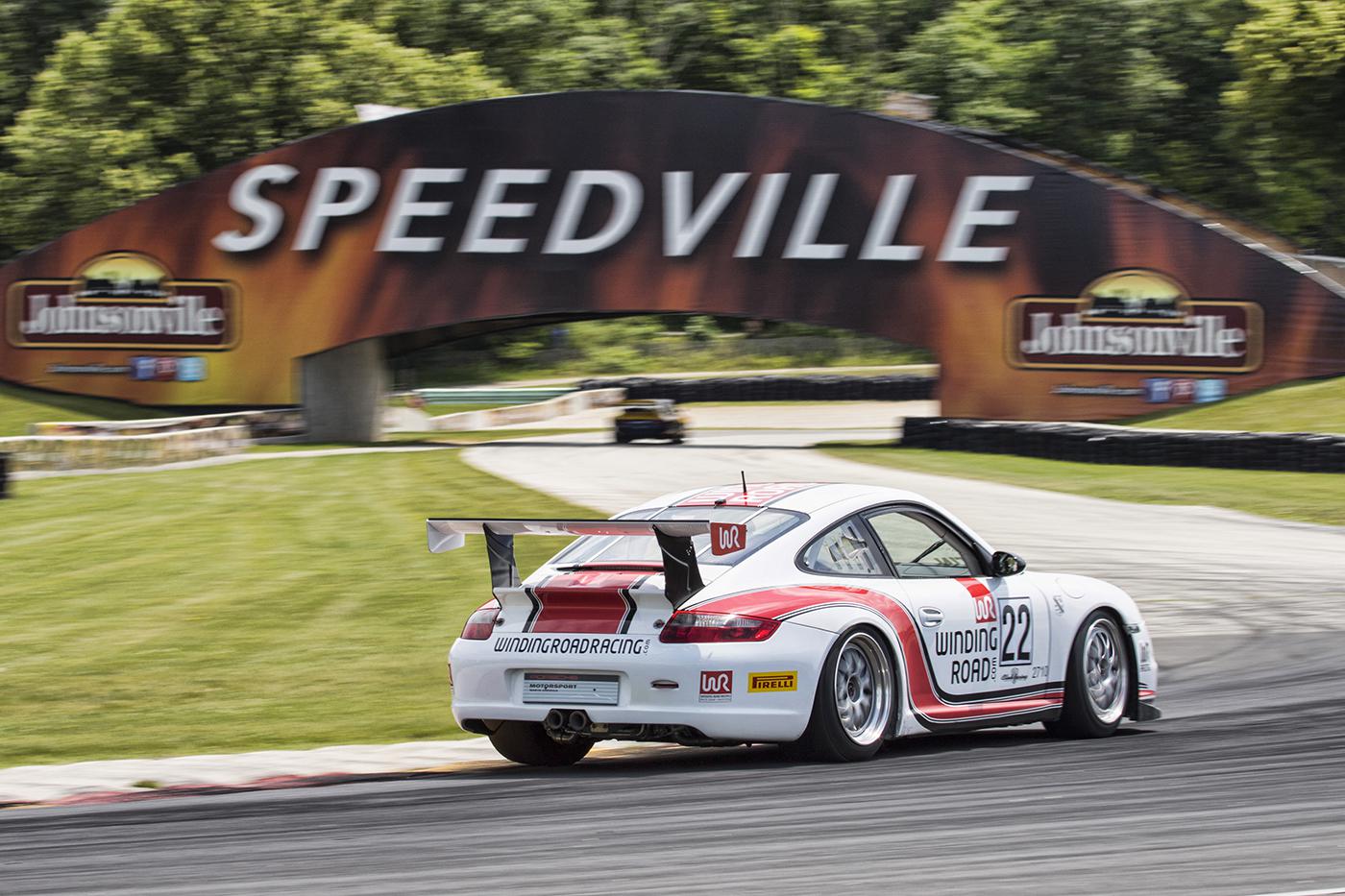 Using its unique combination of media, retail, and fabrication services, this Texas-based shop's mission is to build bridges that transition customers from street car enthusiasts to on-track competitors.
Tom Martin Jr. recalls an early exposure to racing at the famed Road America's four-mile road course in his home state of Wisconsin.
"Seeing 20 494-aluminum-block Chevys coming up the main straight at Road America…yeah, it still gives you chills," said Martin, now aged 65. "As a teenager you're like, 'Sports car racing is super cool.' That thought stayed with me."
Much of Martin's life, in fact, has involved sports car racing, and it has culminated in one of the more unique businesses in the high-performance market: Winding Road Racing (WRR).
Martin employs about 20 people at Winding Road's 22,000-square-foot headquarters in Austin, Texas, and across its retail locations in California, Georgia, and Kentucky.
Serving autocross and club racers, track day enthusiasts and professional racers, WRR is a combination media company, parts retailer, race car fabricator, and at-track supplier and coaching service.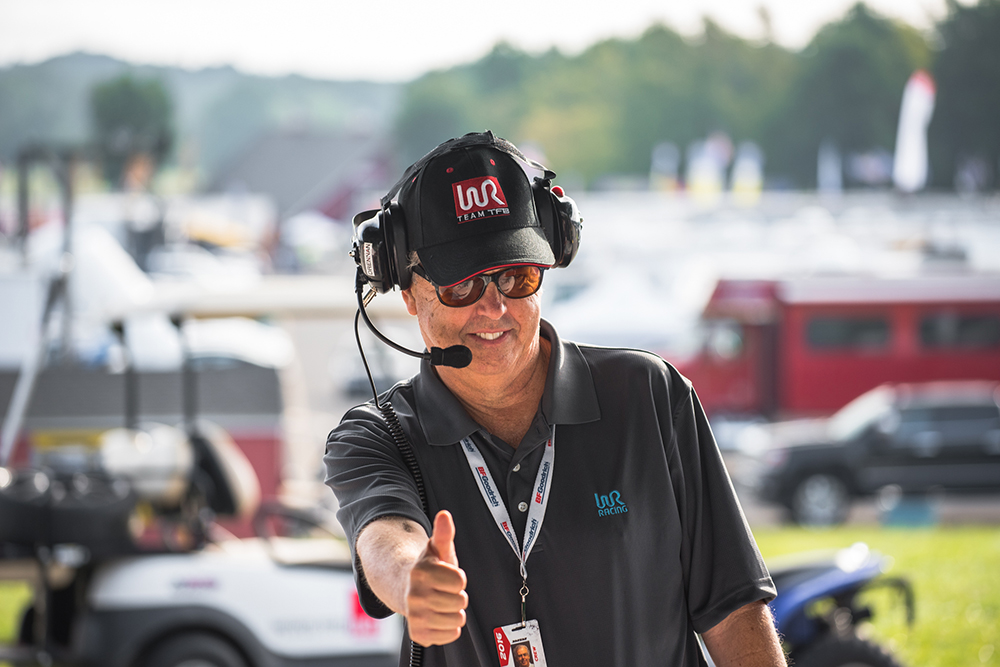 Oh, and bridge builder, at least figuratively. Martin's goal is to bring more street car enthusiasts over to racing, providing them with knowledge while using their passion to make it happen.
A FIRST BRIDGE
Perhaps the first bridge Martin saw built in racing was in the late 1960s, when the SCCA developed the Can-Am series. His father, then a vice president at Johnson Wax, was involved in connecting the company as the title sponsor, Martin said.
"SCCA saw an opportunity for sports car racing in America to be a little more like F1—more professional with famous drivers and state-of-the-art cars," Martin said.
And it mostly worked. It certainly helped spawn an era of innovation with creations like the Shadow—"it's like a go-kart with a 427!" and some of Jim Hall's Chaparrals, Martin said. But there were still limitations in attracting new participants.
Some 50 years later, as Martin expanded his media company to include parts retailing and a multitude of racing services, he was addressing the same issue he believes has always impeded road racing: fragmentation.
"The track is owned by the track, but the event is run by the sanctioning body, but the tires are supplied by a tire supplier, but the cars are built by either the driver or a professional builder, but they're operated by a race shop, and the safety gear comes from another entity," Martin said. "Each of these requires expertise, which is part of the reason things are the way they are, but you wouldn't as an objective observer call that an integrated experience designed for customer satisfaction and efficiency."
Winding Road's goal was to identify places where it could make it easier for a fan to transition to participant. "Who knows how much contribution we can make to solving the problems, but our original idea was let's take a look at this and try to identify areas where we can bridge it a little bit, make the customer experience better and invite more people into the sport."
And it's not just about money, Martin said. It starts with information, a natural for Winding Road because of its foundation as a media company featuring car and equipment reviews. Today, it has over 694,000 YouTube subscribers.
Martin wants to meet the potential customer where he or she is—in a street car—and let them know what more is available.
"A very common model is you have a GT-R or Ferrari 488 or a BMW M5, or maybe a Camaro or Mustang, and then it occurs to you, maybe not completely in your consciousness, 'This car is way faster than is usable on the streets. So now what do I do?'" Martin said.
That's where Winding Road tells them about track days, high-performance driving events (HPDE), and organizations such as NASA (National Auto Sport Association). They tell them about taking their car to a track to drive, "almost for free," Martin said.
"Yes, $350 isn't really free, but you have a $90,000 car, dude; you can afford $350 to go drive your car," he said.
Martin said there are many ways to entice these potential racers, "but I've got to start where they are, which is they're interested in cars."
BUILDING CONNECTIONS
Winding Road's Performance Shop specializes in performance upgrade services that include suspension setups, brake services, and roll-cage, harness, data, and other installations. The Race Service Division provides preparation, tuning, and at-track support for SRO World Challenge, Spec MX-5 Challenge, NASA, SCCA, and SVRA (Sportscar Vintage Racing Association). Engine and fabrication work are also among the services offered, and Winding Road sources parts from the industry's top manufacturers.
In Austin, about 15 complete cars were built in 2019, and the crew tries to complete five to 10 projects per week. Those, of course, vary.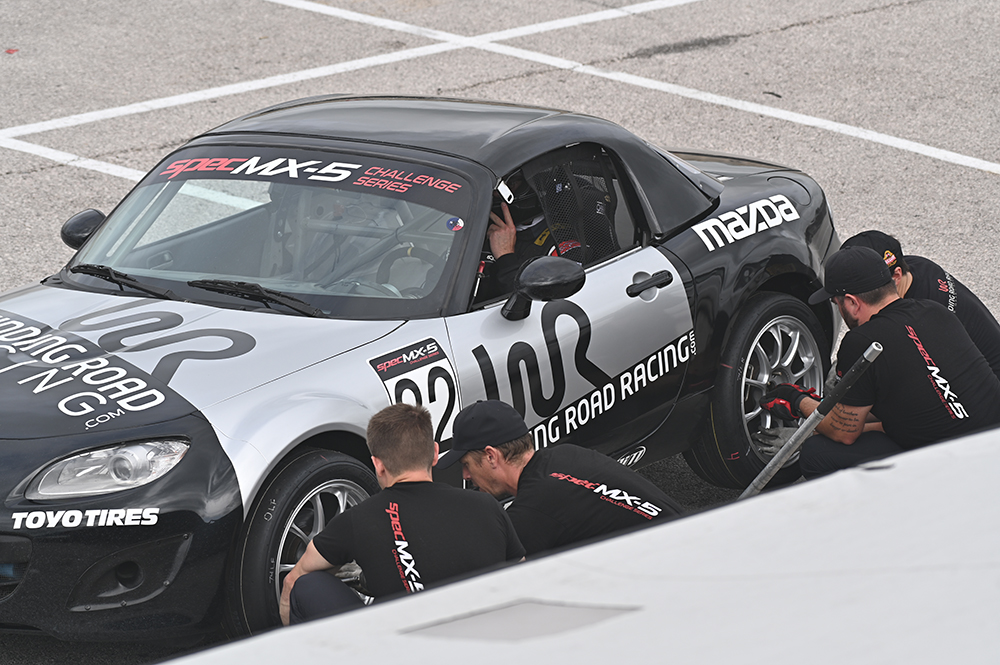 "A project where the customer has essentially found the donor car and we're turning it into a track-day car is a much longer project than putting a seat and six-point harness into a GT3 RS," Martin said.
Not that a harness install is an afterthought, considering it might involve integrating an aftermarket harness with an OEM seat—possibly on the passenger seat, too, for a ride-along coach—through Winding Road's custom sewing operation.
"It sounds minor," Martin said, "but you've got a $250,000 GT3 where you spec'd the fabric and the stitching—you want what you want. As I say, the art of the cars is something that we love, and we respect the owners for doing what they're doing."
Integrating data systems into an OEM setting is another common project. The company has found that the AiM Solo 2 HD system works well because of its size. "A lot of guys want a data system, but they don't want it to take over the entire dash panel," Martin said.
As a racer, orthopedic surgeon Dr. William Tally of Athens, Georgia, has benefited from the data acquisition expertise of Winding Road Racing. But the IMSA and MX-5 Challenge Series driver said Martin provides much more than parts.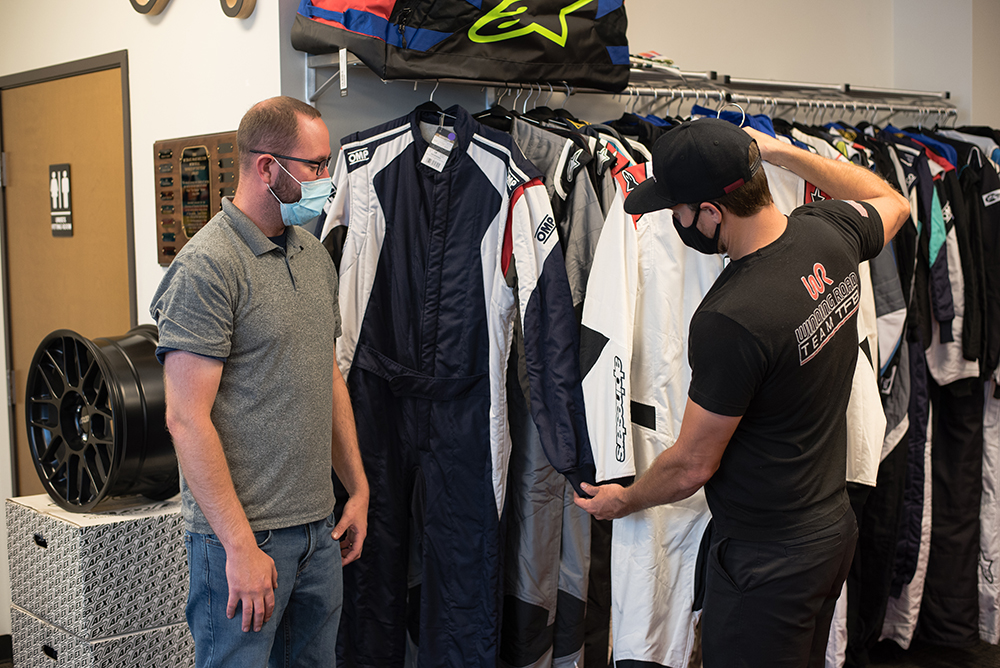 "He looks at it from a scientific perspective—he looks at it from a data perspective, from an algorithm perspective, but he also looks at it from the human interaction side," Tally said. "It's not just, 'Here's your data set on your throttle position for the lap—go learn that.' It's also, 'OK, as a human, what are you afraid of, what intrigues you, what part of this mistake is from your personality, what part is from your lack of concentration?' It's identifying what makes you tick."
From helmet sales to newsletters, Martin blending a number of vital elements in his one-of-a-kind business, Tally said. "He's not just looking at it as a guy who's trying to go fast or a guy who's trying to make money. He's trying to do something interesting," he explained. "It's a novel concept, and I think if there were more things like what Tom's trying to do, racing would be on a stronger footing."
RETAIL EXPERIENCE
Winding Road was selling online for years before opening its first retail location, in Austin, in 2012. Martin said he took a cue from fellow Austin-based company Whole Foods, which has a flagship store on the first floor of its headquarters.
"It's just easier to experiment when you can walk downstairs and see how it's going," Martin said.
Four years after the Austin site opened, Winding Road Racing launched a retail location in Santa Ana, California, and it has since opened stores across the street from Road Atlanta in Georgia, and on the grounds of NCM Motorsports Park in Bowling Green, Kentucky.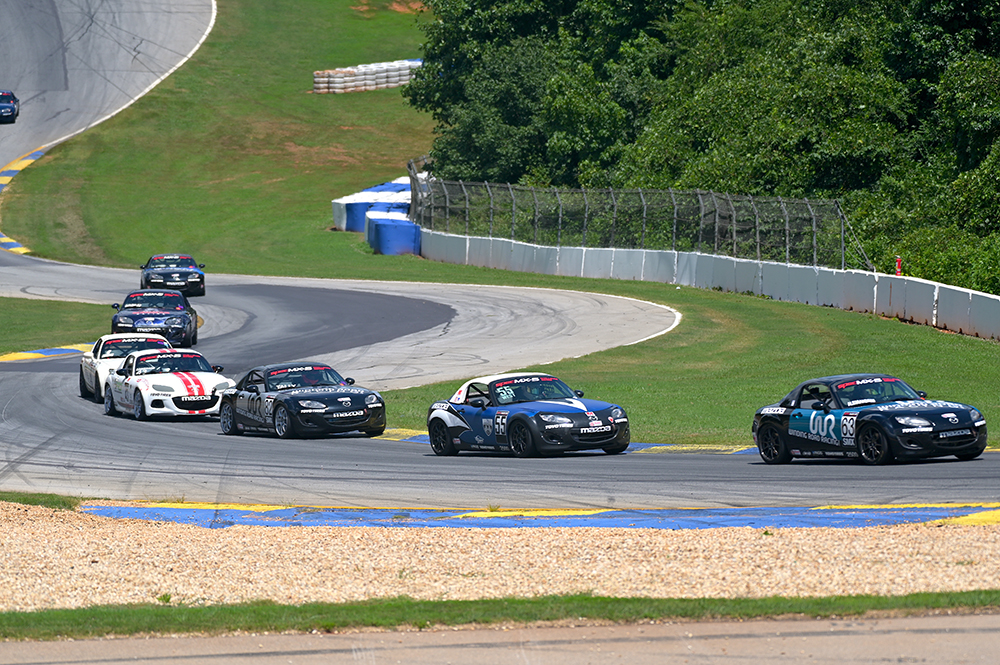 Martin considers his retail business primarily an online function, but having the physical locations is important. "I can service customers in a retail operation pretty easily from something that's like a warehouse," he said. "What I get from that as a side benefit is that my sales staff has direct contact with customers at a level of depth that is just unlikely to happen in a pure online sale. It's invaluable to have that interaction for us, to have a better sense for the kind of questions and concerns that people have at various stages of the journey."
The Southern California location proved its worth to James Dyer when he was in search of a new driver uniform. The 27-year-old who races Miatas at Willow Springs Raceway heaps praise on the personal interaction. "The fact that I can go in there and physically touch things and try them on" is a benefit, Dyer said.
In fact, he was intent on a Sparco suit, but input from Peter Nelson, retail manager at the California store and Winding Road magazine editor, changed that. "Pete was like, 'Hey, this Alpine Star suit fits you the best," Dyer said. "I have no regrets."
Dyer's been back a number of times, and Nelson has helped him in "countless ways" with his racing career. "I haven't had a better experience," Dyer said. "Their customer service is fantastic, and the inventory is always stocked with a plethora of brands and styles and sizes."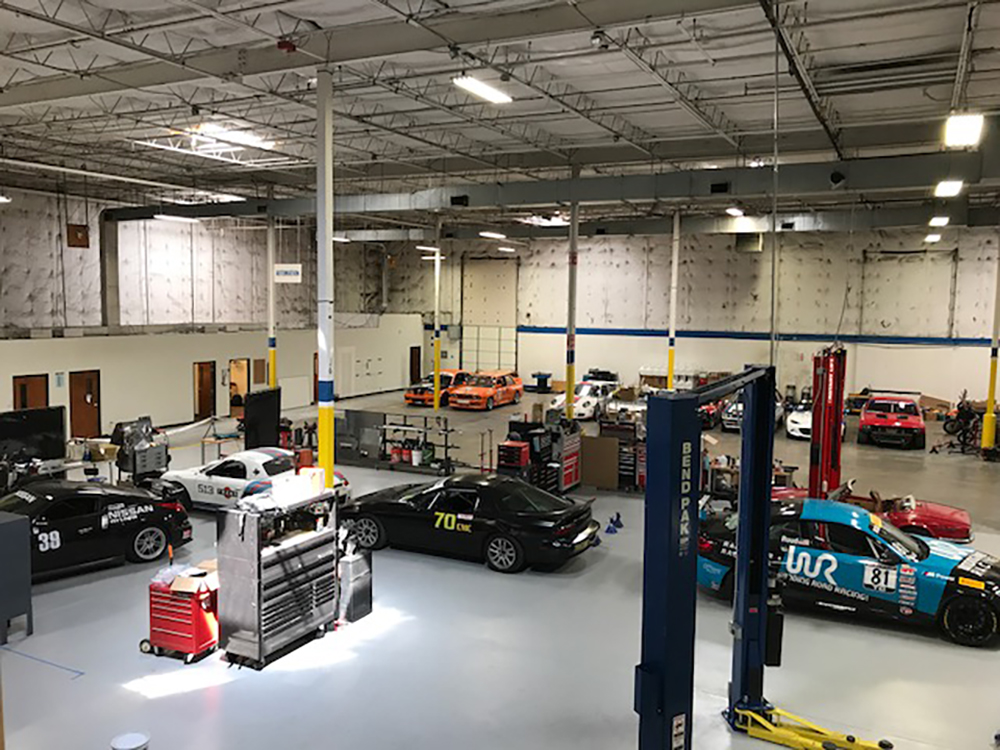 MORE BRIDGES TO BUILD
Martin has derived decades of enjoyment from road racing, in which he and others have helped grow the market through low-cost parts and events like track days.
But the challenge continues. Consider licensing. An anxious driver ready to pursue his passion in the heat of summer may find the next licensing opportunity is at a driving school in December.
"Can you imagine if at Best Buy there was just one weekend in December where you can buy a TV?" Martin said. "It's not as easy as TVs and Best Buy because this is a super niche sport and there isn't enough volume to have the store be open every day, but we're trying to ask the question right now: How can we be open more months of the year?"
On a larger scale, Martin sees opportunity for other forms of motorsports to use spec cars as "huge cost reducers." It's happened with the Lemons and ChampCar programs—"really the greatest innovation since Spec Miata," he said of the two series that started tongue-in-cheek as an off-shoot of the 24 Hours of Le Mans and ChumpCar, respectively.
"Taking licensing out of the picture and allowing people to share cars and providing a natural way for people to be their own crew is a great cost-reduction opportunity," he said. "We have to support that part of the equation because it brings more drivers into the game."
He believes a question all participants in the industry have to ask themselves is, "How do we support cost reduction in general?"
"Not in all possible ways," Martin answered, "but by looking at every element of cost and trying to figure out where are the opportunities to reduce costs in a way that would lead to a bigger industry."
And so there are more bridges to build, but Martin is confident he will get more enthusiasts to cross over if they're provided the right experience. "I like what one of our drivers said: 'This is a thing that really makes me feel alive. It's a passion that's life-changing,'" Martin said.
"You have something that powerful," he added, "the question is how do you build bridges to help more people experience that?"                      
A TASTE OF PRO DRIVING
The team at Winding Road Racing in Austin, Texas, has great respect for the Spec Miata road racing community.
"We hold it in really high regard because it's so successful," said owner Tom Martin Jr.
Because of its history with that segment of the industry, Winding Road supported the start of the Global MX-5 Cup, where Martin said there is "incredible excitement in every corner."
And yet there was the age-old racing problem: Affordability.
"What we found was 95 percent of the people who were interested in MX-5 Cup just couldn't afford it," he said. "What they wanted was something that had more of a professional feel—epic tracks and so on—but they wanted a budget more like Spec Miata."
Mazda led the way to a solution: the Spec MX-5 Challenge Series, which debuted in 2018. The cars cost about half that of the MX-5 Cup level; the season is half as long; and the prize money is a little less than half.
"But the tracks are mostly the epic tracks that people want to run," Martin said, including Circuit of The Americas in Austin, site of the $50,000-to-win championship.
Dr. William Tally, an orthopedic surgeon from Athens, Georgia, who finished second in the series in 2019, is a good representation of its drivers. No doubt everyone wants to win, but they also want a positive experience—and a race car that's still intact when the event is over.
"(Martin) is trying to help people get better and bridge that gap for people like me who are getting serious about this," Tally said. "How do you go from the model Porsche club amateur racing to, 'I want to be a professional driver…how do I get there?'"
MX-5 Challenge has the right mix of elements, Tally said. "When you leave that event, you're a better driver" through conversations and data study, he explained. "There's a camaraderie to it that everyone wants to come back, and that's unlike any other series."
Fifty new cars were built for the 2020 season with a new engine and suspension package, and Martin anticipates 100 cars for 2021. "We are building what I'm pretty confident will be the next great road racing series for amateur drivers," he concluded.                                               —Andy Heintzelman