RACE TEAM PROFILE: BOB CULLEN RACING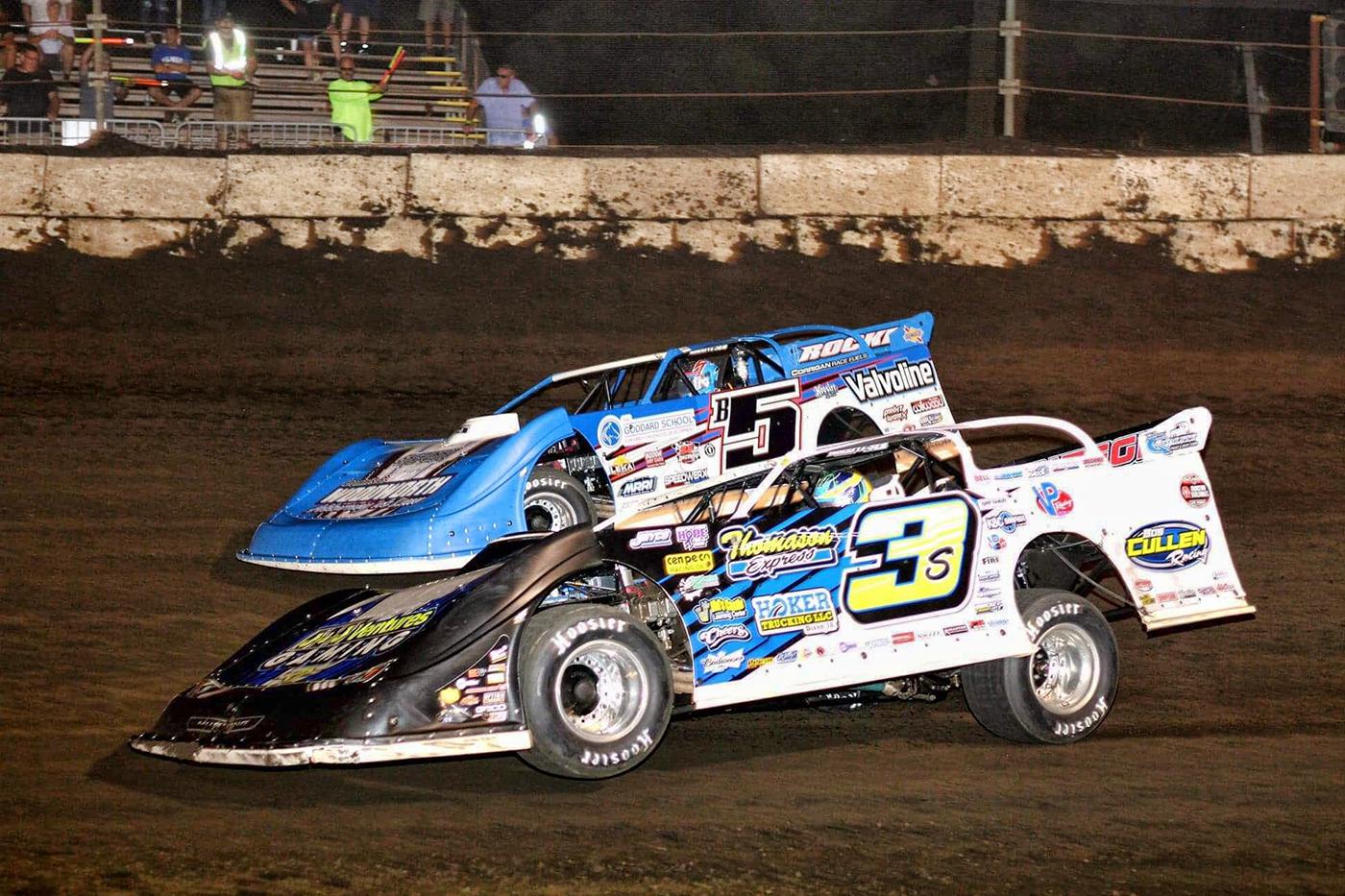 A fortunate turn of events gave rise to this Midwest-based dirt late model powerhouse whose owner-driver bond is as notable as its on-track success.
"It's a hard deal to be in this sport as a car owner," said Bob Cullen. "If you take the house cars away and you try to come up with car owners, there's not many of us."
Cullen faces that reality every day now. Although a successful racer in his own right, it's only in the last five years that he's taken on the role of team owner with someone else behind the wheel—proven full-time dirt late model driver Brian Shirley.
Together they've had an outstanding run, consistently finishing in the top five, grabbing year after year of regional championships, and winning enough giant trophy checks to paper an entire wall of their shop. But it hasn't come easy. With a grueling schedule, tough competition, and the rapidly escalating costs of running a competitive late model team, Cullen and Shirley know the sacrifices it takes to be as successful as they are.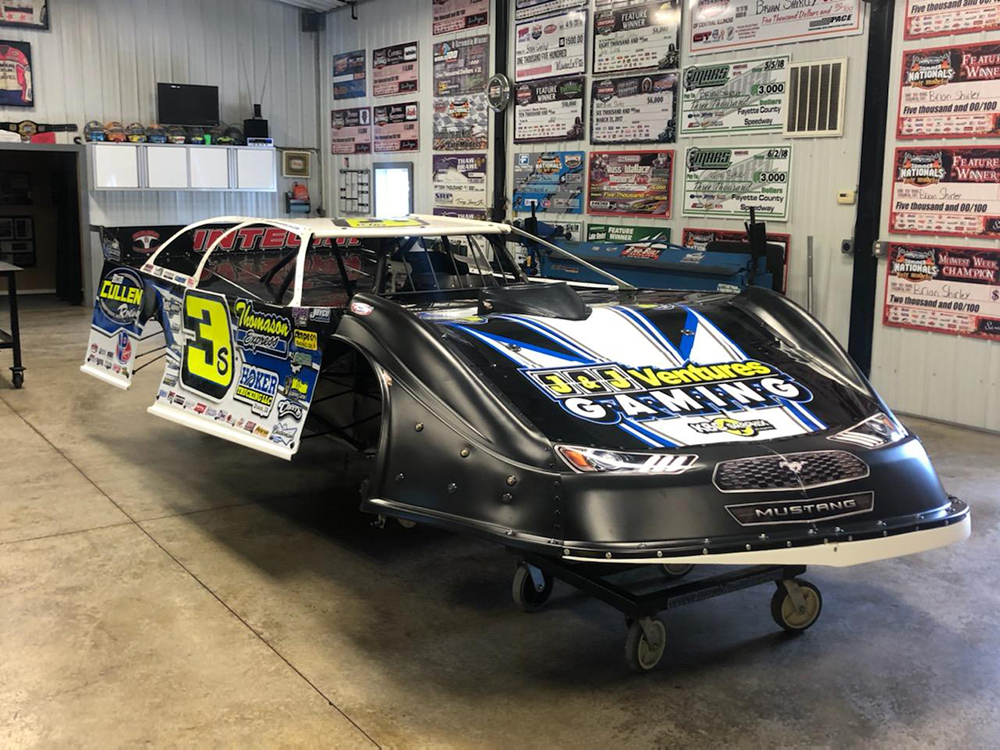 They also know gratitude. Which is to say if they hadn't met each other, they both might have left racing for good by now.
LUCKY PAIRING
After nearly 20 years of dirt-track racing in and around his native Wisconsin, by 2015 Cullen was approaching his late 40s. Between his businesses, his family, and his young son's packed sports schedule, he had plenty of other priorities to occupy his time. But he wanted to stay involved in racing. So stepping out of the driver's seat and becoming a team owner seemed like an ideal solution.
Cullen didn't plan on that becoming a relatively large operation with a full-time driver so soon. But things took on a life of their own when he met successful late model driver Shirley, from Illinois. The fortunate pairing happened by sheer luck, after several other potential drivers fell through for a late-season 2015 race at Cedar Lake Speedway in New Richmond, Wisconsin. Cullen explained, "My crew guy at the time got to talking at Cedar Lake and he says, 'You want to get into this stuff full-time? Just make sure you pay him, and he'll come back.' So I paid Brian pretty good to be at Cedar Lake, and we built a relationship."
Cullen's decision to step out of the driver's seat couldn't have come at a better time for Shirley, too. By this point he was in his mid 30s, and he'd had a strong dozen years piloting dirt late models throughout the Midwest. But things were changing in his life. "In about 2015, I decided I was going to throw in the towel because my wife was sick," said Shirley. "I didn't feel like having half-a-million, three-quarters-of-a-million-dollars' worth of equipment and all that stuff wrapped up in this when my wife wasn't sure what her future was. So I decided to get out of racing. And then the Good Lord blessed me with Bob coming into my life. I really didn't miss too much of a beat."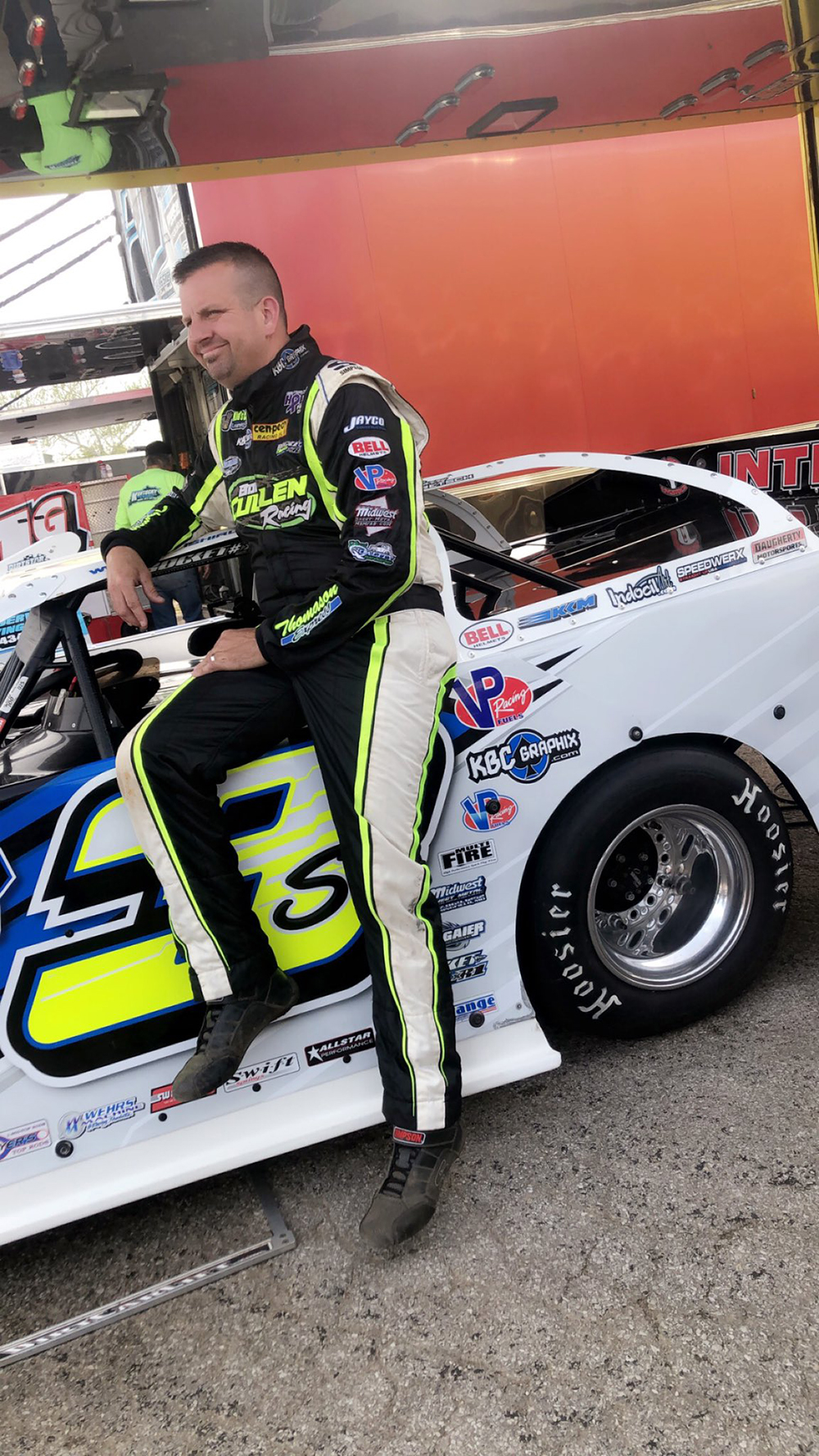 Cullen added, "Two years later, we had three cars in the shop, a semi hauler, four motors, and we're racing full time. It just all happens."
VEHICLES FOR SUCCESS
With 16 wins in 2019 alone, Shirley obviously has the talent to make it to victory lane. But even so, much of the team's success comes from having quality equipment. For that, Cullen and Shirley draw lessons from the Rocket Chassis house team, based in Shinnston, West Virginia. "We don't reinvent the wheel," Cullen said. "Mark Richards does a great job. He's really smart at what he does. He puts good people around him, and they win a lot of races. So we try to mimic that."
Given that source of inspiration, it was only natural that Cullen would choose the Rocket XR1 chassis for his team's cars. But he isn't using these chassis just on blind example of the company's house team; he cited additional reasons of his own for choosing Rocket: "The information. The availability. You call, something gets taken care of."
Along with Cullen's chassis choices, the Rocket team also provided the template for his choice of engine builder, Durham Racing Engines in High Point, North Carolina. According to Cullen, the Rocket team's endorsement of Durham Engines proved to be well-founded, even as they tried different types of motors. "I like Andy Durham," said Cullen. "He and I are great friends. I feel like he builds one of the best motors in the country. We started out with Andy, with the Chevy motors, and we tried the wide-bore motors. And then we found out that the Ford D3 was the best motor. Now that's all we run."
BACK AT THE SHOP
Although the pairing of Cullen and Shirley is a potent combination, it's not without challenges. Foremost among them is the physical distance that separates the two. There's about six hours of driving between Shirley's shop in Chatham, Illinois, and Cullen's operation in Chilton, Wisconsin.
Nonetheless, they've worked out an effective arrangement, with most of the racing operations run out of Shirley's facility. "It'd be impossible for me to race out of Wisconsin," he said. "For the most part, we're centrally located. It's pretty easy, because everything involved with the race team is out of my shop. So, really about the only thing I've got to do is every couple weeks on Monday morning I mail him the checks that we get from racing."
That said, the two stay in close contact. Cullen goes to as many races as he can, and he maintains tight communication when he can't be there in person. "We talk pretty much every day," said Cullen. "And if I'm not there then I watch the video and then we talk about it."
Along with the team's three cars, Shirley's 40-by-100-foot shop is also where they keep their semi hauler—a motorcoach and trailer—built by S&S Welding, in Greenwood, Nebraska. The bright-yellow rig has enough room to hold everything the team needs on the road. "Sometimes the crew has to live in it for months at a time," said Cullen. "Like last year, we left for Vado, New Mexico, and we were gone for 60 days of straight racing. So it's pretty nice inside. We haul two cars and spare motors and spare parts, spring smasher and a shock dyno. At the track, we've always got two cars and a spare motor. And we've got enough parts to probably build a third car."
Although Shirley's shop is where most of the action is, Cullen nonetheless still keeps a 70-by-40-foot shop of his own in Wisconsin. "My nephew has a Sport Mod in my race shop up here that he and I go race together when I'm home—if we don't have baseball, wrestling, or football for my little guy."
One thing you won't find at either shop is elaborate fabrication equipment. Over time, they've found it's simply not worth their effort to build parts or do large repairs. "We have a little bit of fabricating equipment," said Cullen. "But now we buy everything right from Rocket. For the time it takes you to make it and what they sell it to you for, you're better off just buying parts. They make everything in so much bulk. We buy our cars ready to go. We just drop a motor and a seat in them."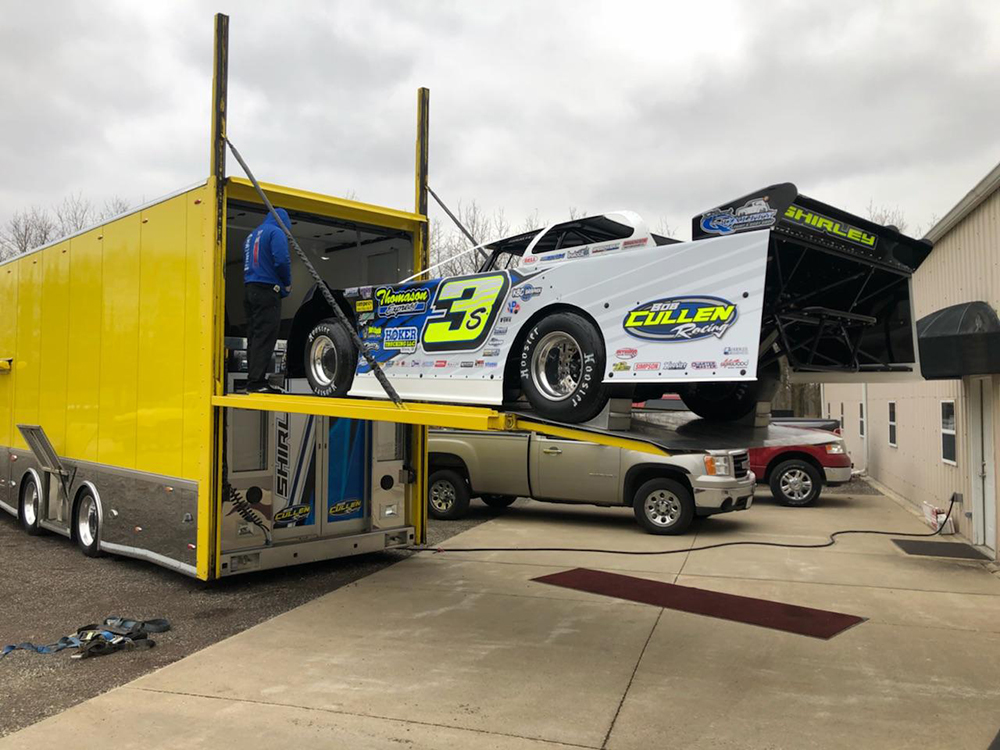 LEAN STAFFING
With their relatively well-funded setup, you might expect to see a pretty big crew supporting Shirley. But, perhaps surprisingly, the head count accompanying him to races is kept to a minimum.
The team started 2020 with a new crew chief, Anthony Burroughs from Clint Bowyer Racing. With Burroughs' help, Cullen and Shirley were planning an assault on the Lucas Oil Late Model Dirt Series. Unfortunately, the relationship didn't prove as effective as they'd hoped. "Anthony is a hard worker," said Cullen. "I just think that when it came to setups, him and Brian just had different mindsets. It just didn't quite work out the way either one of us thought. We ended up breaking our ties and forgoing the Lucas Oil Series.
"So right now we're down to one person," continued Cullen, referring to Aaron Mitchell as "a real good kid, and he works hard. We're looking for another crew person. We're just probably going to finish out the season with him. I think Brian's average finish was better than fifth place every time he unloaded. That's pretty tough to do having one guy. I sent my maintenance guy Bob Flemming from my real estate company down there for one week to help. Then I had a buddy of mine's kid, Will Garcea, who is 14, go down and work with them for a week. So, we piece it together."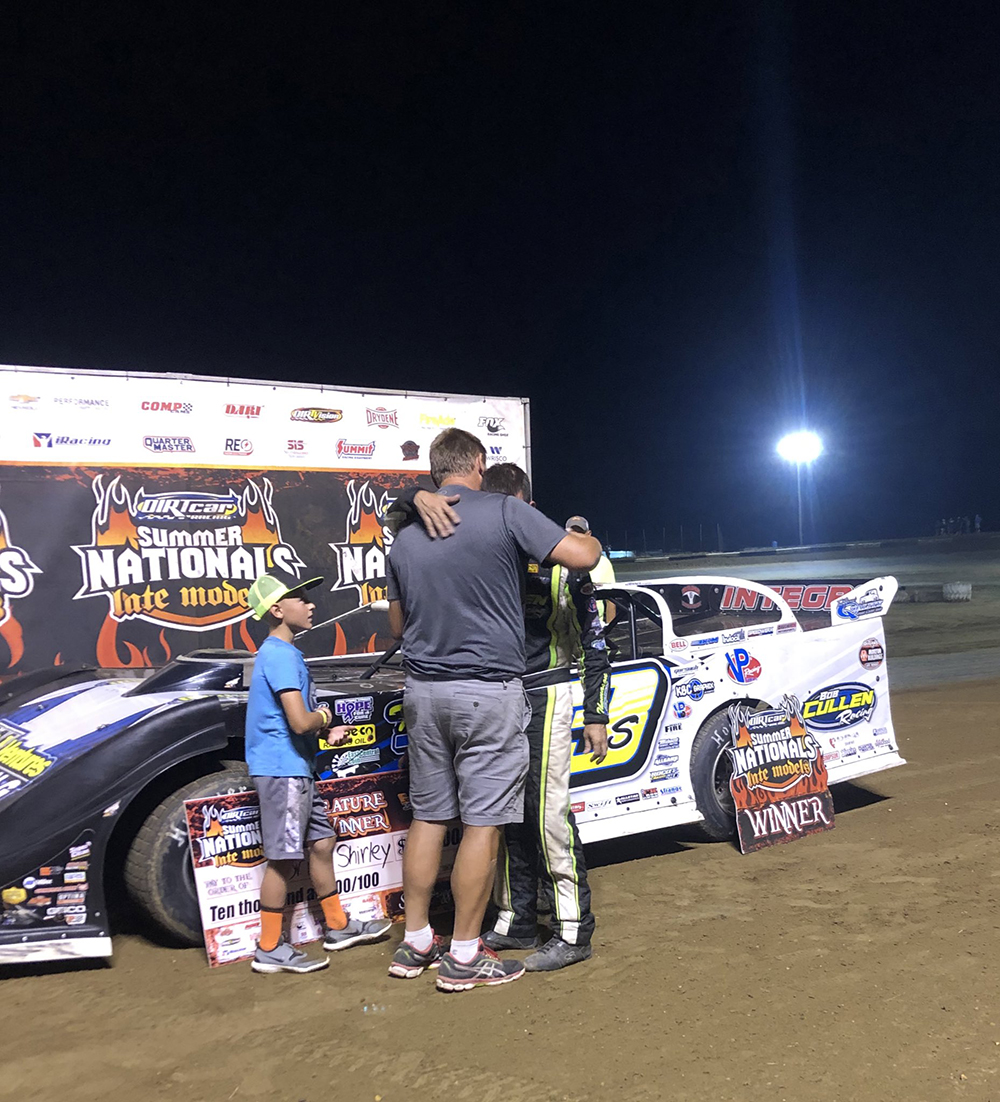 SUCCESS ON TRACK
At the time this piece was written, in late August, Shirley had just won the 2020 UMP DIRTcar Summer Nationals championship, with a healthy 132-point margin and seven victories in the series. It's Shirley's fourth Summer Nationals championship and the third time in a row he's won it with Cullen, making them one of just three teams to three-peat since this five-state Midwest series began in 1986.
Although they focus their efforts in the Midwest, the team also races extensively throughout the country. Nonetheless, they still question the merits of running a national tour. "I'd rather run a tour, but it's so hard," said Cullen. "People don't realize how grueling running a tour is, like Lucas or World of Outlaws. It's a lot of financial backing, and a lot of work; it's a lot of traveling. And then you've got to give up some of the races you're really good at locally. There's $10,000 to win at Farmers City, which is 45 minutes from Brian's shop, but we'll be racing in Pennsylvania. It's so hard to go do that. There's so much racing in Illinois. It's one of the greatest states to be in if you're a dirt late model racer. I like to have him race a lot."
So just how many races is "a lot?" Shirley laughed. "We've already run 65 this year," he said. "By the time the year's up, we normally run about 80. I'd say we're on track to run 90 to 95 this year. We'll race probably until the end of October. We choose not to race some races in November and December, because it's just not feasible. At some point you have to stop and regroup."
TAKING CARE OF BUSINESS
Of course, none of this would be possible without funding. To that end, Cullen's businesses are an important ingredient. "I own a real estate company up here," he said. "We own storage units, rentals, and duplexes. I also own an arcade route, with pool tables, jukeboxes, dart machines, and all that. I started in 1994 with two games, and I think we've got right around 3,000 now. We have 12 people full-time there. Brian and I also own a bar together down in Illinois, called Harry's Adult Daycare. It does very well. It was named that when we bought it."
In addition to Cullen's sources of income, there are essential sponsorships that contribute to the team as well. "Thomason Express is a major one," said Cullen. "That guy has given us a fuel card for as long as we race. He's just a great guy. Along with them, J&J Gaming and Hoker Trucking are our big sponsors."
PEOPLE POWER
On any great team, the linchpin of success depends on the chemistry of those involved. And that's perhaps the greatest asset of Cullen and Shirley's pairing. "Our relationship grew past friendship," said Shirley. "His family is like my family. We've just grown on one another."
Besides having compatible personalities, their relationship is built on mutual trust and respect. "To make longevity work, you have to have a guy like Brian," said Cullen. "He doesn't abuse the checkbook, doesn't wreck the equipment. He consciously takes care of stuff like it's his own. Even my semi hauler is immaculate and clean."
Shirley offered equal praise for Cullen's efforts. "Racing isn't a bona fide moneymaking situation," said Shirley. "A guy like Bob could do a lot of other things besides lose a couple-hundred-thousand dollars a year in racing. He does it for the pure enjoyment. So to be that lucky to have someone that cares enough to help, I feel like I have to do my best to reciprocate and show my appreciation."
Behind the scenes are people like Chris VanAkkeren, Cullen's neighbor who manages the team's online presence, including their website and Facebook pages. "He's always in contact with me, Brian, or our crew guy," said Cullen. "He updates our website a lot. We sell a lot of T-shirts and hats and stuff off of it also. So he's always taking care of the inventory."
Then, of course, there are the families. Cullen's wife, Lisa, is a racing fan, too, which is partly the reason he decided to become a team owner when he was done driving. It's what they love. And it also allows Cullen a little more flexibility to be with his kids Alyssa, Nicole, and Carsin. "A week ago, me and the wife and my little guy, Carsin, we went down to four or five races in a row for the Summer Nationals," Cullen said in August. "We love racing, and my wife does, too.
So we get there as much as we can."
Shirley agreed on the role of family in pursuing the sport he loves, and he tries to plan his racing schedule around the needs of his wife, Shannon, and their three kids Brinley, Drue, and Briar. "I really don't want to be out on the road for weeks at a time," said Shirley. "I do it when I have to. I like to race Thursday through Saturday. That way I'm home with my wife and kids Sunday through Wednesday."
So what does the team have planned for next year? "We're going to keep doing with what we have, and get one more crew guy," said Cullen. "At this point in time I would guess that we're not going to follow a series. We never even think we're going to follow Summer Nationals. It just falls good. We definitely wouldn't do a 60-day swing again, like we did last year. Brian's got a family, too. It's just too much time gone. It ends up just not being fun."
At the same time, they'll keep pursuing the bucket list goal they both share. "We've never gotten that [Lucas Oil Late Model Dirt Series] Crown Jewel win together," said Cullen. "We've got a few things we're going to work on to try to get one."
In the end, Cullen and Shirley are both deeply thankful for the opportunities they've been given. They enjoy their efforts, and they continue to make the most of their relationship every single day. "It just all came together," said Cullen. "We just gelled. Brian is a really good guy.
"I think some days if I would have gotten a different driver," he added, "I may have not stayed in the sport."