RACING BUSINESS PROFILE: MODERN RACING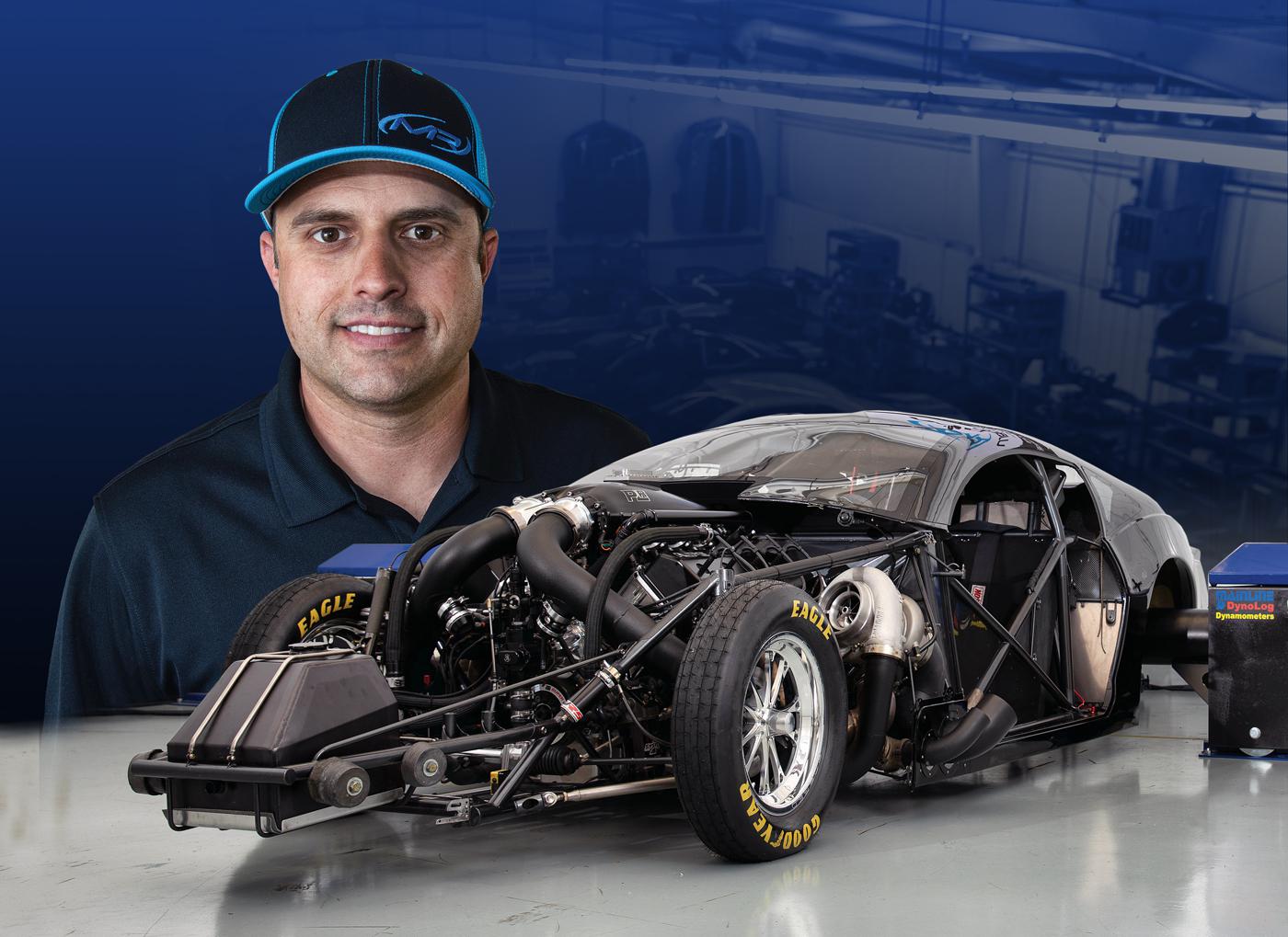 To serve his customers, Modern Racing founder Justin Elkes draws on years of IHRA and NHRA Pro Stock experience. "Whether you buy a $100 part from us and need help setting it up, or you spend $100,000 building a car with us, the support after the sale is our big thing."
From consultations and chassis design to wiring and fabrication, Justin Elkes and his crew based in 'Race City USA' provide professionalism and deep industry knowledge to help customers compete and conquer.
Anyone setting up shop in a place nicknamed "Race City USA" must have an edge, something to set it apart from all the other race shops located in Mooresville, North Carolina. For Justin Elkes of Modern Racing, that edge is a deep commitment to customer service.
"Whether you buy a $100 part from us and need help setting it up, or you spend $100,000 building a car with us, the support after the sale is our big thing, what we really pride ourselves on," Elkes explained.
Several factors contribute to Modern Racing's delivery of above-and-beyond customer service. Elkes hired a staff of master craftspeople who specialize in tuning, wiring, fabrication, and other skills. Plus, Elkes himself brings years of experience to the business as a tuner, consultant, and crew chief for several successful drag racing teams.
That perspective pays big dividends for Modern Racing's customers. Elite Motorsports, which campaigned the 2019 NHRA Pro Stock championship-winning car with driver Erica Enders, for example, not only hired Modern Racing for fab work and wiring on a number of its race cars, it also used Elkes as crew chief on the team's twin-turbo, NHRA-legal Pro Mod car, also driven by Enders.
"I've known Justin for quite some time and have had the privilege of not just working with him but racing with him as well," Enders said. "In addition to being a great tuner—he called the shots on our 261-mph world-record run—he knows his way around a race car and has the ability to manage a team and his employees."
To Enders, the crew at Modern Racing treats each job as if they were working on their own race car; they take pride in their work. "Justin has put together an incredible group of people," she said. "They are trustworthy, fair, honest, fun, and their caliber of character far exceeds most in our business. It's a rare find and something that can't be bought."
DRAG RACING ROOTS
Elkes' performance career has roots in his teenage years, when his stepfather would take him to bracket races in his home state of Florida. He studied mechanical engineering and automotive technology at Florida Atlantic University, and, prior to finishing school, landed a job working with Keith Wilson at Wilson Manifolds in Ft. Lauderdale, Florida. Elkes was a quick study, and he worked his way into a partnership running the business with Wilson. He also served as co-crew chief of the company's in-house IHRA Pro Stock car, which won three championships racing in the American Drag Racing League (ADRL) Extreme Pro Stock series.
Elkes would take his crew-chief skills to NHRA Pro Stock champions Greg Anderson and Jason Line, and was later recruited by the Al-Anabi race team to work on its ADRL Pro Extreme car. While Elkes was there, the car became first in its class to run in the 3.50s and won two championships. Elkes returned to NHRA racing when Gray Motorsports, then a rookie Pro Stock team, hired him for tuning help. That position would evolve into a role as crew chief for the three-car team, during which time Elkes relocated to Mooresville and developed connections with tuning companies MoTeC and Racepak. Those relationships laid the groundwork for Elkes to strike out on his own and form Modern Racing.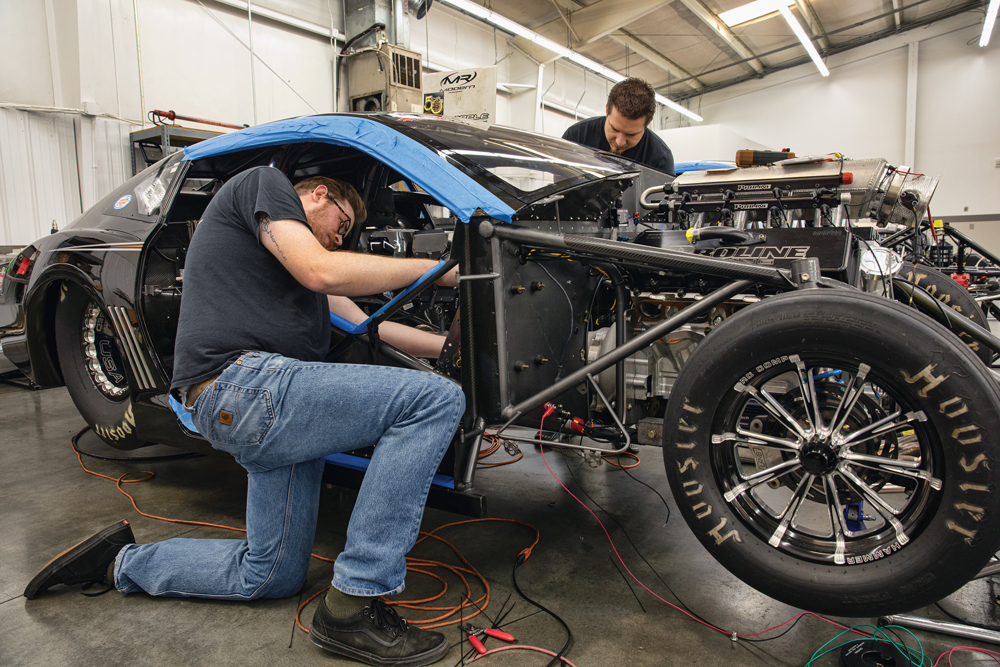 BRICK, MORTAR & BEYOND
At first, Elkes operated Modern Racing by himself, bringing his tuning, electronics, and data-acquisition skills to a number of clients. But, as his new business grew he recognized the need to expand, and he entered the brick-and-mortar world.
"I hired my first employee and started doing data systems and wiring harnesses," he said. "From there, it grew to a fabrication company. The next thing I knew, there was so much fabrication work getting stacked up that I ended up hiring a full-time fabricator." With his crew-chief background, he had insight into how cars should be set up or changed. This pushed him to expand his race shop.
Modern Racing is now located in a standalone, 13,000-square-foot building in Mooresville's Lakeside Business Park. "We have 10 people total," Elkes said, including a secretary, a full-time parts department employee, four full-time people in the fabrication shop, and a full-time manager of the race-team side of the business. Elkes is proud of the fact that he still has the first employee he ever hired.
The building is divided into sections, each dedicated to one of the company's specialties. The fabrication area is the largest at 5,000 square feet, while the wiring shop and parts department share an additional 5,000. The dyno room is 2,000 square feet, and there's a 1,000-square-foot showroom.
Each sector at Modern Racing has its own department head and employees. Everybody specializes in their specific craft, and his team members don't deviate from their respective trades. The wiring technicians don't fabricate, and the fabrication technicians don't wire parts.
"When a project comes in, we truly can send it through the different departments and turnkey it with a specialist in each department," Elkes explained. Following this business model, they've become masters at what they do.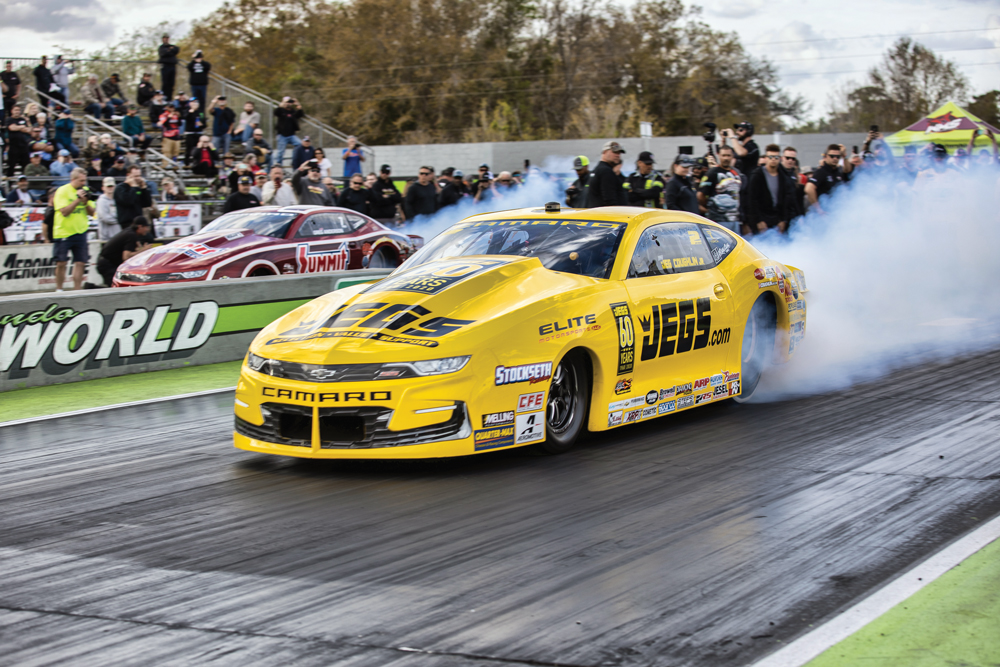 Complementing the physical location in Mooresville is the online side of the business. An e-commerce portion of the company's website sells a variety of products, with a focus on motorsports wiring and electronics—connectors, ring terminals, wire—all the tools and supplies a do-it-yourselfer needs to build harnesses. An employee is dedicated to overseeing the site along with Modern Racing's social media presence.
"We run different ads," Elkes said of the company's online marketing. Earlier this year, "we had a 10-percent [off] ad, we do free shipping, and then we do things like look for abandoned shopping carts [when people shop online]. Stuff like that, trying to get people back."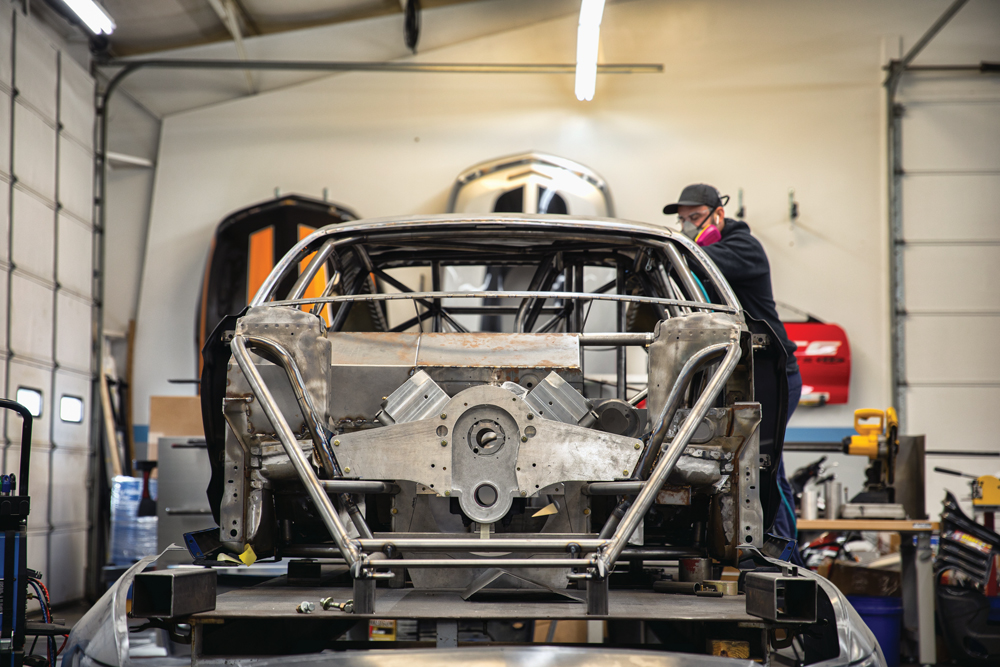 VALUABLE INSIGHT
Modern Racing assists a variety of racers, from street cars to karting, drag racing, and more. Premium products are offered, from brands including Holley, Meziere, MSD, Aeromotive, and others. "We're direct with the main electronic companies and work directly with those companies on a lot of different ventures," Elkes said.
Additionally, Modern Racing is a Racepak Elite Dealer. Partnered with Racepak since 2004, Elkes has established a close relationship with the brand, which has "really allowed me to have insight on what's going on," he said. "We have a lot of depth as far as the knowledge here to be able to do technical support, not just sell the product. I think that's really what has separated us from a lot of other vendors."
Elkes' clientele is impressive: Al-Anabi Performance, Chris McGaha, Musi Racing, KB Racing, Derec Kramer, and PDRA Pro Nitrous record holder Lizzy Musi, to name a few. In addition to its work for Elite Motorsports, both on its Pro Stock championship teams and Pro Mod teams in NHRA, it has worked with countless other professional racers like NHRA driver Alex Laughlin and NASCAR's Kurt Busch. Among Modern Racing's team management clients is Steve Matusek, president and founder of Aeromotive in Lenexa, Kansas.
ONE-STOP SHOP
Until very recently, Elkes saw Modern Racing as a professional race team support business, with little focus on hobbyists and other non-professional consumers. Few people beyond the professional ranks know Modern Racing, and catering to the DIY retail customer has put Elkes on a learning curve. He admits it's been difficult to do the level of work they need to do for the rate at which they need to do it in order to compete with smaller businesses.
To help all racers, professionals and amateur enthusiasts alike, Elkes has worked to make Modern Racing a one-stop shop, offering excellent customer service before the sale, through the sale, and especially after the sale.
"We support our customers in several ways," he explained. The company's trackside services trailer attended all of the PDRA [Professional Drag Racers Association, of which Modern Racing is a supporting sponsor] events this season, as well as some others. "Wiring Manager Mitch Jackson and I were on hand at multiple preseason testing sessions. It's good for our customers, and for our own R&D as well. It allows us to follow our products all the way from an idea, to track use, to the podium."
As a way to offer even more specialized attention to his customers, Elkes had a hub dyno system installed at Modern Racing in February of this year. With the hub dyno, Elkes and his team can wire race cars, put engines in, set them up, and test all the different electronic systems as if they were racing at the track before the car leaves the shop.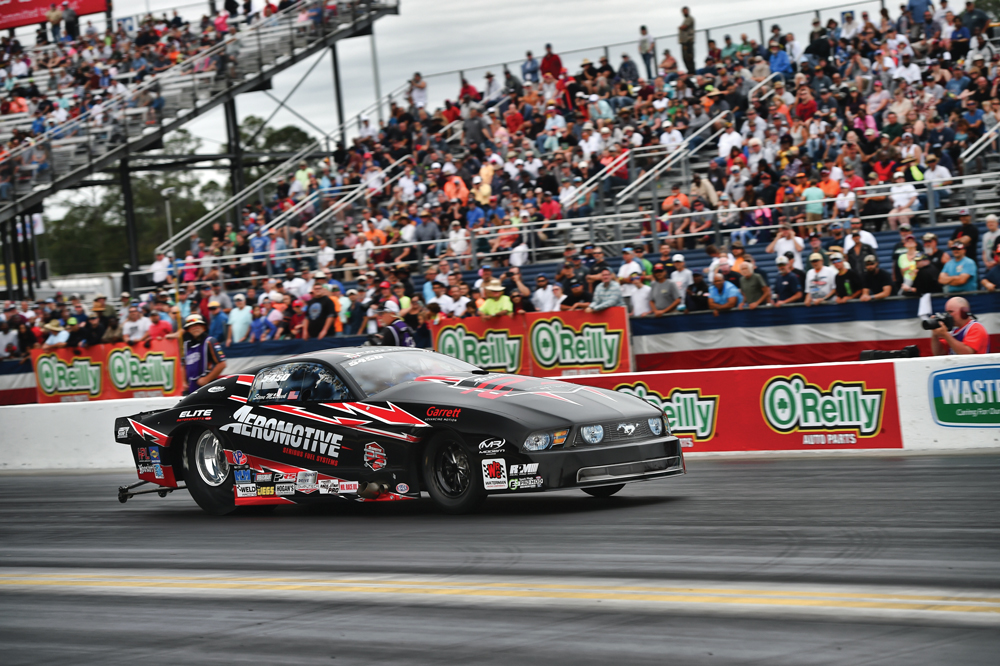 'VERY HANDS-ON'
Aeromotive's Matusek is among the Modern Racing customers who appreciate the company's intensive commitment to service. Matusek became aware of Modern Racing when Elkes was the crew chief on a Pro Mod car he was campaigning in tandem with Danny Rowe a few years ago. From then, Matusek learned more about Modern Racing and the shop's capabilities.
"Justin and Modern Racing are very hands-on," Matusek said. "They understand what we do. They understand how to tune a car, how to set up a car, how to wire a car, from an applications perspective. They have a very forward-thinking approach, not just for performance, but also for safety."
That knowledge, paired with understanding what a car does on the track, is important, Matusek added. Applying that know-how to the race car and offering quality products to customers is why he has had a long-standing relationship with Elkes and Modern Racing.
Yet it's not just knowledge and experience that create a successful entity, Matusek believes. It's also in how Elkes and company operate in the business environment. He appreciates the detailed, itemized quotes Modern Racing provides for work being done. "Typically, if they quote you something, that's what they charge you at the end of the project. You don't have any surprises," he said. "It's been a very good experience."
Legendary engine builder Pat Musi of Pat Musi Racing Engines, also in Mooresville, agreed. Modern Racing offers "service, knowledge, the whole deal," he said. "They're always there. The wiring guys, Mitch and James, are always there for us when we need something. [Modern Racing has] great service, which is what we need in this whole community."
Modern Racing's approach to quality and professionalism is serious. Whether customers are aspiring racers or championship-winning veterans, the company's expert craftspeople, exceptional customer service, and robust product and service offerings has clearly set them up for racing success.