Image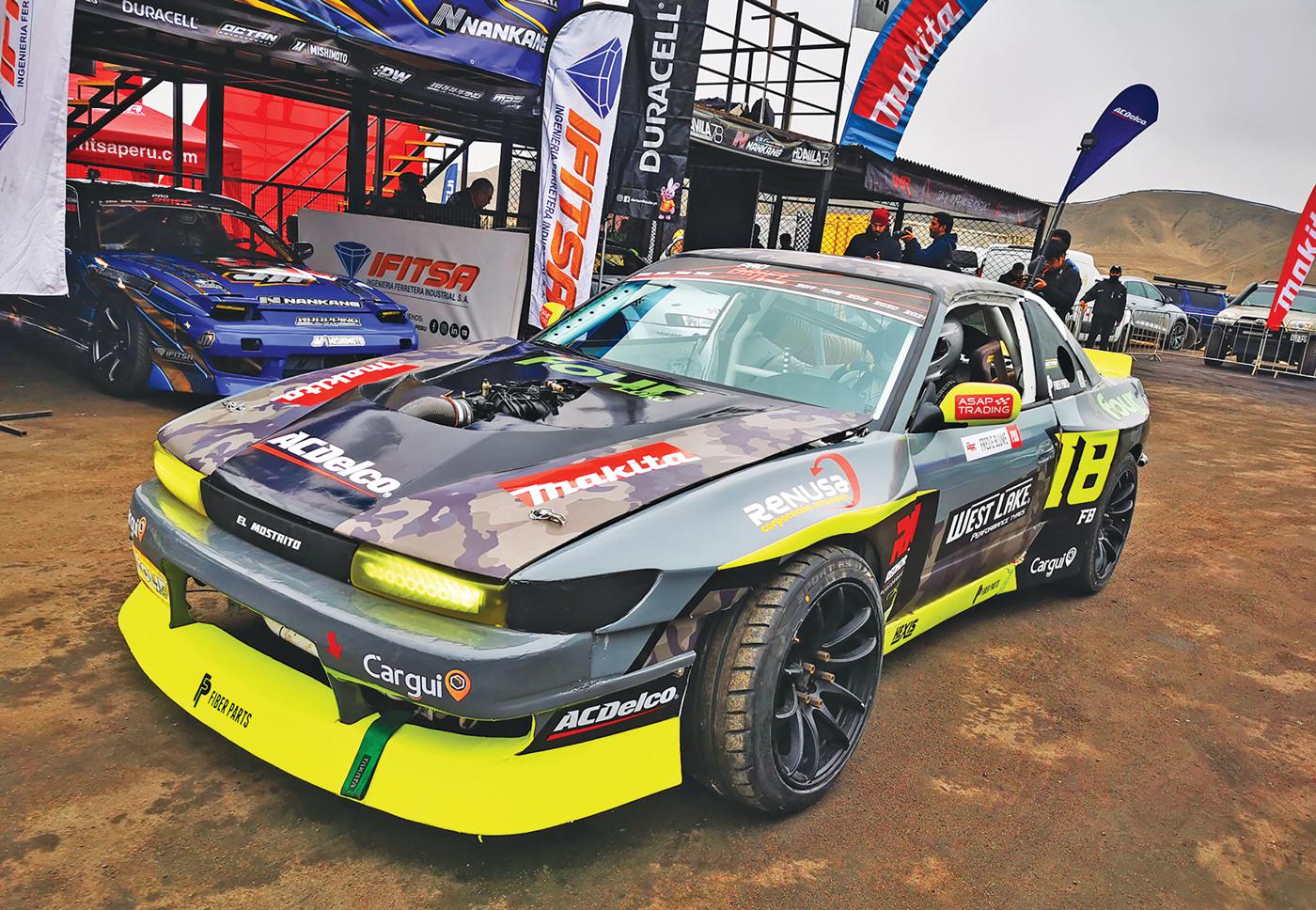 What does motorsports look like around the globe? Surprisingly familiar, as we discovered in visits with retailers and service providers from Europe, Australia, South America, and the Middle East.
For all its diversity—with differences in culture, climate, and geography, to name a few—the world truly is a small place. Especially when it comes to racing. The appeal of going fast is nearly universal, as is the satisfaction of going faster than whoever is next to you.
How to beat the next guy or gal to the finish line is also remarkably universal, as we discovered after speaking with racing and performance retailers and shop operators around the world. When we asked which products and companies were favored among their customers, the lists we received included several very familiar names, no matter if the vehicles in competition were being driven on asphalt, sand, snow, or some other surface. Some of that preference had to do with the cachet of US-made components. But more often, it was the quality, reliability, and performance potential of American speed parts that made them attractive to racers the world over.
Australia
American Speed is a retail and wholesale business situated in a 5,000-square-foot warehouse in Moorabbin, Victoria (a suburb of Melbourne). "We supply brands that are used in everything from street cars to the weekend racer," said Fred Solazzo. "Our market demographic is no longer the serious drag racer, dirt track racer, or circuit racer, but more the folks who are club racers or street car owners who drag race at street meets held at a local drag strip."
The "hardcore racers," he said, "often source their products, such as custom pistons, fuel systems, engine blocks, etc., directly from US-based manufacturers and suppliers. Our professional circuit track racers, such as V8 Supercars teams, predominantly manufacture their own products within their own facilities, much the same as your NASCAR teams would."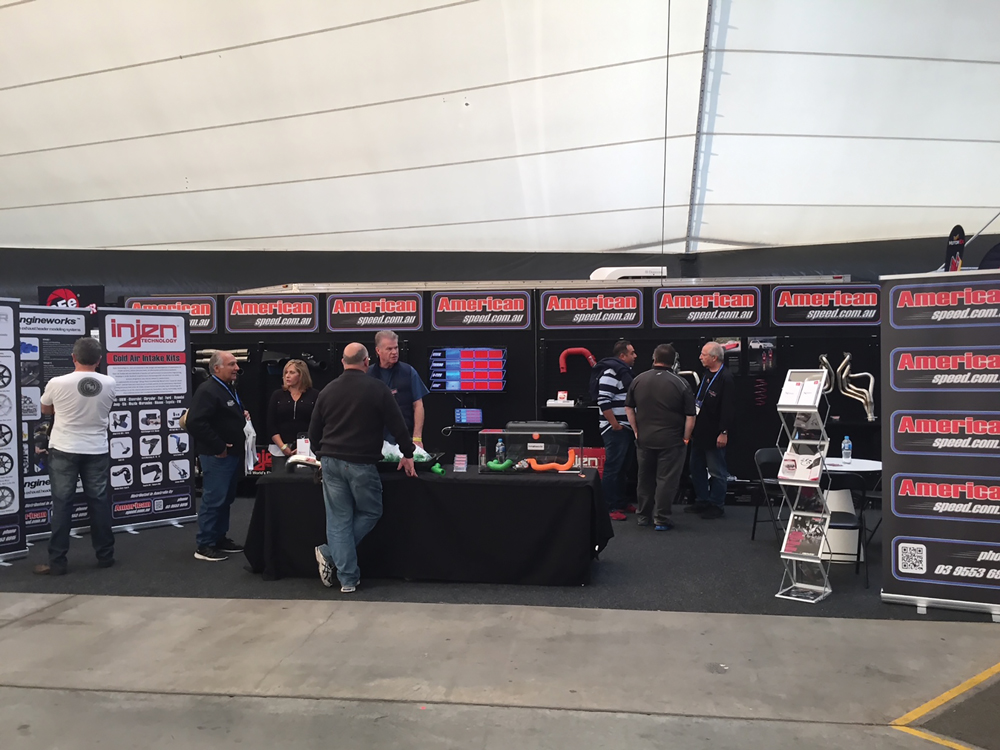 Solazzo imports performance products from the US and Germany. His most popular products include Borla exhaust systems and mufflers, Injen cold air intake kits, and components from American Racing Headers, Edelbrock, COMP Cams, Mantic Clutches, DW (DeatschWerks), Ferrea, Eagle, and Boundary Engineering, plus Vogtland sport suspension kits and coilover kits from Germany.
"We here in Australia are basically the same as the US when it comes to the variety of motorsport options," Solazzo said. "Where we are, based in Victoria, we have two fantastic road circuits, Sandown and Phillip Island. We have just one drag strip left here in our state, and it is miles away from much of Melbourne. On a national basis, most of our states have at least one drag strip and a number of great circuit racing tracks, with the most popular circuit track being Bathurst, which attracts race teams from around the globe."
One difference he has seen between the two countries has to do with racing sponsorship. "Sponsoring racers, especially drag racers in Australia at any level, is certainly different from what I have seen in the US. Here we have found that many are happy to get your product as a freebie but give very little back in the way of product endorsement or promotion of your brand. As such, many performance parts suppliers or brands have pulled away from sponsorship of drag racers and lower ranking circuit racers."
Solazzo promotes American Speed by attending "a number of shows," but he acknowledged that "the pandemic killed that for all shows the past two or so years. This year we displayed once again at MotorEx here in Victoria. The show attracts show cars, street cars, and race cars."
Car shows weren't the only aspect of his business affected by the pandemic. "For us and many others, importing has become an extremely expensive business," he explained. "The pandemic has made it extremely hard, with manufacturers in the US constantly being short of product, manufacturing delays, massive cost increases, and shipping delays."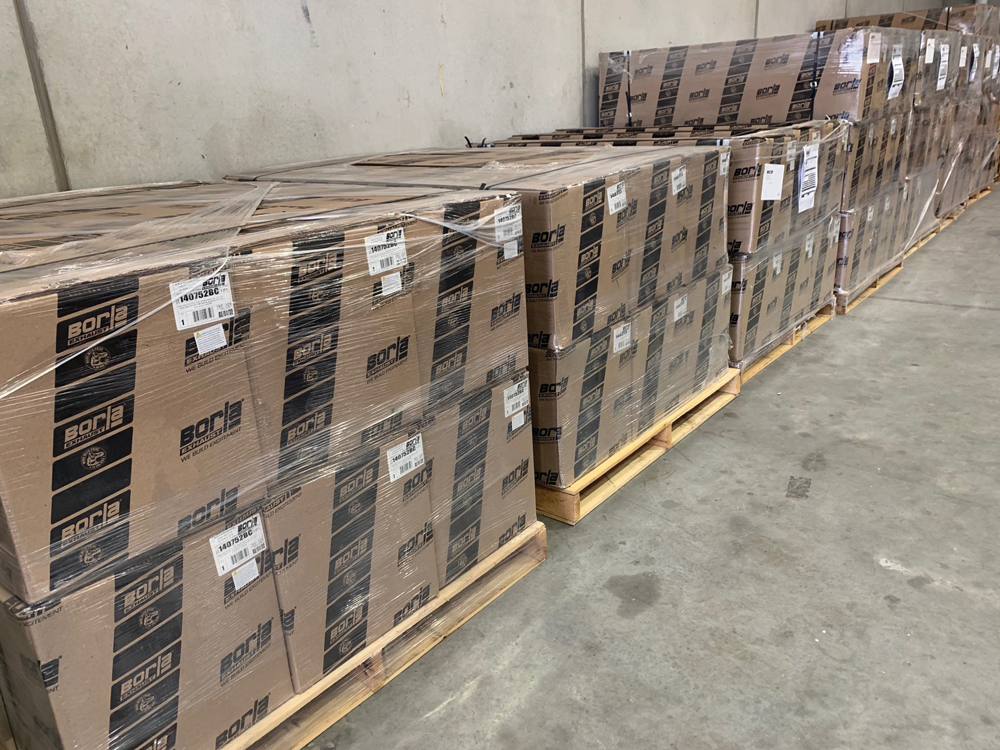 As an example of the challenges he faces, he told us about a "load of product we had ready back in mid-February of this year. We had already made payment. Our shipping brokers tried to secure a 40-foot container so the products could be loaded and shipped to a port in the US. Then they make a booking with shipping lines in order to get vessel space. Once vessel space is confirmed, they send a container to be loaded. It took 10 weeks to finally get a booking and have the container loaded onto a vessel. Add to that a minimum of a four- to five-week sailing time to Australia. We then get hit with a further week for quarantine due to the brown stink bug that is prevalent in the US that time of year. So our money has been sitting out with zero return for five to six months. Prior to the pandemic, shipping times were like two- to three-week delays in the US and four weeks sailing time."
Europe
For perspective on the European racing market, we received feedback from two Scandinavian companies.
"American cars have always had a strong foothold in Sweden," said William Hansen of Hansen Racing, Stockholm, Sweden. "In the early 1950s, hot rods were built from American models in Sweden. Swedes got inspiration and guidance for the car hobby via American car magazines that were sold in Sweden. Some enthusiasts went over to the USA themselves to check out the latest in the industry and brought the information with them to inspire other Swedes."
In 1966, Carl, Sessan, Zefir, and Mistral Hansen founded Hansen Racing in a basement shop in Östermalm, Sweden. "Carl's founding ideals have remained within the company," Hansen said, "and we have continued selling performance and replacement parts with high service and expertise for American cars." He is among the third generation of Hansens running the company, with relatives Ken and Ted.
Hansen Racing today is part of Hansen Group, which has become "one of Europe's largest and leading distributors of car parts and accessories for American vehicles," Hansen said. The team consists of 70 employees, and the company's 150,000-square-foot warehouse stocks more than 60,000 part numbers.
Hansen Racing works with "all the top-brand suppliers in the US," including Aeromotive, ARP, Auto Meter, EBC Brakes, Edelbrock, Energy Suspension, Ford Performance, FiTech, Holley, K&N, Lokar, Magnaflow, Moroso, Painless Wiring, PerTronix Ignition, Powermaster, and Scat. Orders are consolidated in Atlanta, Georgia, and shipped in 40-foot containers on a weekly basis to the Hansen warehouse. "Availability and service are key for the operation, and our logistics allow us to replenish inventory and provide fast deliveries." When necessary, Hansen places orders by air freight daily from the US.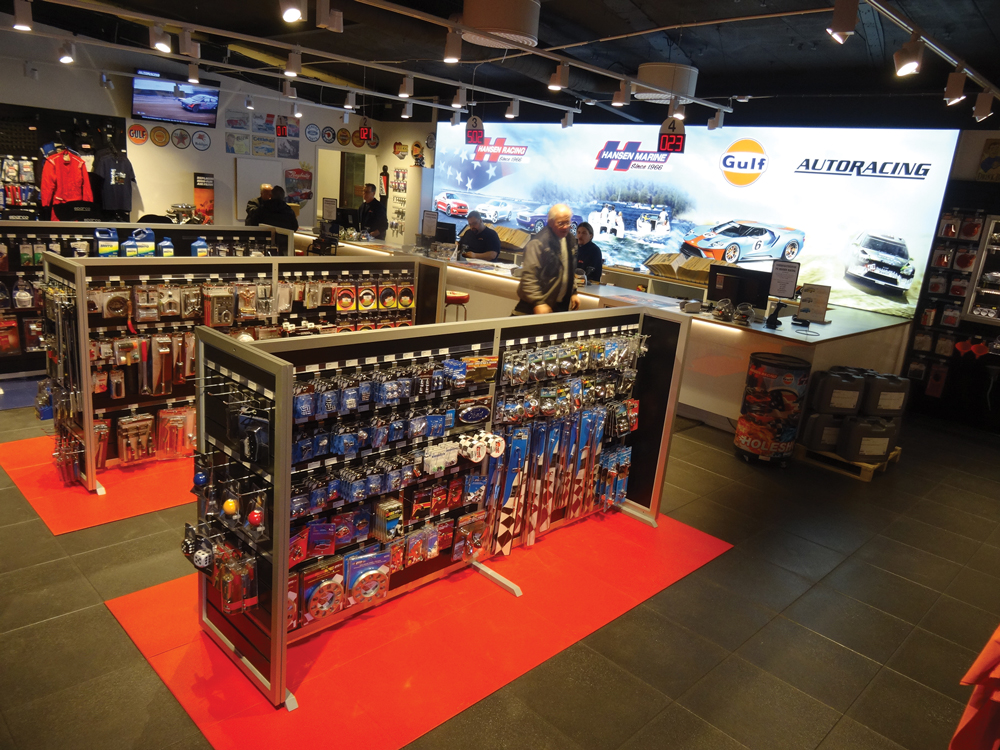 "There are all kinds of branches within Swedish motorsport," Hansen said. "Here you can find everything from formula car racing to beginners in karts." He said Folk Racing, or Folkrace in Swedish, "is one of the most popular. It's an inexpensive, entry-level form of Nordic rallycross that originally comes from Finland. It was developed to meet the demands of amateurs to compete in car races. Thanks to its rules, finances can never be the deciding factor in who wins. In addition, there are no qualifications or other obstacles that exclude those who want to participate in the competition."
Drag racing "is also very popular. The first official race in Sweden was held back in 1968. Today, drag racing has many spectators, and competitions are being held from 'street' cars to Top Fuel dragsters." For its racing customers, Hansen offers a wide range of performance products, as well as accessories, spare parts, and safety gear.
The pandemic was challenging for Hansen Racing, "with both changing consumption patterns and transportation options. As countries shut down, production in factories and ports decreased. As a result, the shipping companies reduced the number of vessels to reduce their financial losses. We felt this as most of the goods we import are transported on sea. When production resumed, shipping companies still had lower capacity, which led to major imbalances in the container flow. This caused prices and delivery times to increase."
Air freight was also "greatly affected. Passenger flights, on which a large part of the goods is normally transported, came to an abrupt stop due to the pandemic. The reduced capacity also increased prices significantly." In 2022 Hansen said the company is experiencing increased fill rates on orders and faster deliveries, "but prices remain high."
Norway's Aarnes AS Amerikanske Bildeler was founded in 1954 as an engine shop, said Anders Back. In 1975, the company's main business shifted to selling car parts for American cars only, and the engine part of the company was sold.
"Today, we have 14 employees," Back said, including 10 in sales and two at the warehouse. "Our main business is the typical service parts, such as brake parts, oil, filters, suspension parts, etc. But we also sell a lot of performance parts for road cars and in motorsports. We are the distributor of many famous motorsports brands from the USA, such as Holley, MSD, Allstar, Edelbrock, Racepak, Earl's fittings, Moroso, Lucas Oil, Rislone, Pennzoil, Quaker State, Simpson, and many more. If we don't have it in stock, we provide it from one of our US suppliers."
Back said those brands are popular in Norway "for many reasons. They are old, established brands in the USA, good quality, and they are promoted on car shows on TV all the time." Aarnes buys most of its parts "directly from the big companies in the USA, but we also have a cooperation with Motor State and Keystone. They are big within the racing parts arena.
"We meet our customers' needs by having the 'basic' parts in stock," Back continued, "but we also supply parts from our suppliers in the USA weekly in the racing season." He admitted that "it is almost impossible to have everything in stock," and that was a particular problem during the pandemic. "Our suppliers did not have the materials to make parts with." The situation "has gotten better now, but we can still see problems."
The company has a long history of experience with drag racing, Back said, "and four of our employees are active drag racers today." He is one of them, racing a Top Sportsman C5 Corvette. "Our company has for many years been sponsoring drag racers and is today one of the main sponsors of Norway's only drag racing strip, Gardermoen Raceway. We are also sponsoring eight drag race teams in Norway," including his Corvette and Thorbjørn Back's Top Sportsman C2 Corvette.
Middle East
Saif Beljaflah said his Underground Performance Garage in Dubai, UAE, has been in business since 2012, "and it is very popular in the Middle East. I get cars from all around the Gulf area. We build high-horsepower engines, race half-mile races and drag races." His was the first shop to build a Nissan Patrol drag car "that hit 7.20 at 190 mph in the quarter (4.4 in the eighth mile). That was a world record, which got me a lot of media in the region." He also built a 2,160-hp Patrol engine "from a cast block with a manual gearbox" that ran 198 mph in a half-mile race.
Nissan's Patrol SUV is the most popular vehicle in his area, and its 4.8-liter six-cylinder engine "is easy to modify, easy to fix, and it's multi-use. In off-road and drag racing we love this engine because it can be super quiet and very smooth—driving like stock—even with 1,400 horsepower. It makes super sleeper cars. One car can do camping and off-roading during the weekend, and on the way back home it can race a Ferrari. Or be a family car if needed. That's the beauty of it." Also popular are full-size American pickups like the Chevrolet Silverado, and cars such as the Nissan GT-R; hot four-cylinder cars include the VW Golf.
The preferred form of motorsports in Beljaflah's area are sand drag racing and half-mile racing. Traditional drag racing is "very low profile" and less attractive to younger enthusiasts, "so most modified cars are mostly street users."
Beljaflah said "we trust a few brands" at his shop "for their long-life products." Among them are Garrett, Turbosmart, Tial, HKS, GReddy, Precision Turbo, Albins (for its gearboxes), OS (clutches), Vibrant Performance, K&N, Aeromotive, Diamond Pistons, and CP-Carrillo.
"Racing parts from the USA are mostly not profitable to sell due to high shipping charges," Beljaflah said, "and racing parts shops here are lowering prices as much as they can to compete with each other, which hurts us. I buy my products from USA directly with no margin to sell. After the pandemic we are short of many products, like pistons and engine gaskets, etc. As soon as we can buy a big quantity, I buy it for the season, as our season is only during the winter, October to April."
Beljaflah said he wishes the brands he buys from would "remove dealers from our area and make it a vibrant, non-dealer, distributor-only option for shops that have a license and can buy in quantity. That would make me a 30% profit on my sales."
LATIN America
"With offices in California, Peru, and Colombia, ASAP Trading USA partners with US-based companies to represent and sell performance, racing, and off-road products in Latin America and the Caribbean. "We offer personalized attention, service, and negotiate good prices for the importers in the region," said Ricardo Rebaza. "In the case of Motor State Distributing we work with their internal sales to offer dealers in the region volume pricing. With the manufacturers we represent, we make sure to establish pricing specifically for market. Finally, those brands we distribute are priced taking in consideration shipping, taxes, and duties that importers in our region would have to pay."
Rally, road racing, drag racing, and drifting are the most popular disciplines in their region, Rebaza said. The parts racers ask for specifically include brake components, fuel systems, driveline components, brake fluid, and fittings from brands that include Allstar Performance, Wiseco and JE Pistons, Fuelab, Cometic, and Redhorse Performance among others.
Of all the companies we spoke with, ASAP Trading USA seemed the least affected by pandemic constraints. "Since June 2020, we've seen a significant sales increase in the region," Rebaza said. "Our biggest problem for importers in the region was product availability in the US, since some products had, and still have, a significant backorder and delays in shipping. Things have improved in 2022. There are fewer stock shortages." 
SOURCES
Aarnes AS Amerikanske Bildeler
aarnes.no
American Speed
americanspeed.com.au
ASAP Trading USA
asap-trading.net
Hansen Racing
thehansengroup.se
Underground Performance Garage
instagram.com/underground_
performance_garage