Special Report: 2022 PRI Trade Show Guide
Image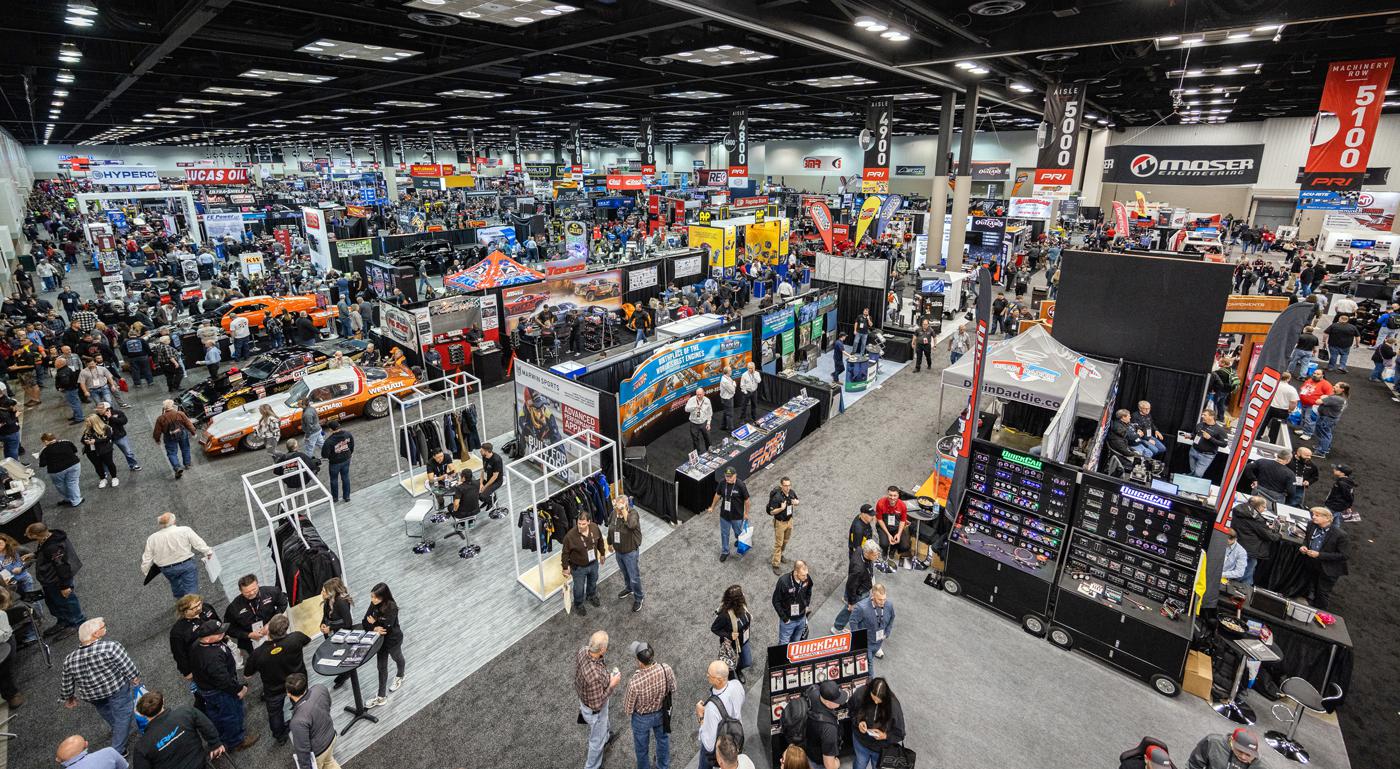 The PRI Trade Show will deliver a concentrated dose of racing passion for three solid days in Indianapolis. We spoke to Show exhibitors—veterans and newcomers alike—to find out why this event, scheduled for December 8–10 in downtown Indianapolis, is the place to do business if you want to go faster, or help racers go faster, in the coming year.
Variety. Efficiency. Camaraderie. While that sounds like an inscription etched into a medieval coat of arms, those were cited in a number of interviews as some of the most popular reasons why anyone involved in the racing and performance industry should attend the PRI Trade Show, which will once again fill the Indiana Convention Center (ICC) and adjacent Lucas Oil Stadium on December 8–10 with more than a thousand exhibiting companies and tens of thousands of attendees. 
"If I were a buyer or end user, the number-one word that comes to mind about the PRI Show is variety, followed closely by scope and breadth," said Dan Roche of Briggs & Stratton Racing Engines, Wauwatosa, Wisconsin. "There's just so much to see at the Show. The breadth of all the different types of motorsports represented there is just jaw-dropping."
"In one trip, I can see 10–15 different companies I need to speak with in a couple of days, and in person," said Filip Trojanek of CorteX Racing, Loveland, Ohio. "I don't think there's anything as efficient as that for getting it done."
The PRI Show "is just pure racing," said JR Clark of Clark Copper Head Gaskets, Blaine, Minnesota. "It doesn't matter what form of racing it is, it's all automotive talk when you get there."
Keith Cookson of TW Metals, headquartered in Exton, Pennsylvania, agreed. "One of the biggest things about the PRI Show is that everybody who is there has the same passion. We're there for a reason. Whatever we race, whatever we do, it's the same passion." 
We recently spoke with a dozen exhibiting companies about why the Trade Show is such an effective place to do business, no matter the racing discipline. Here's what they had to say.
'No Better Place'
One of the PRI Show's main draws is its role as a launch pad for new racing-oriented products and services. Racers, fabricators, engine builders, distributors, retailers, and others know the Show aisles will be packed with the latest technological achievements. As Cookson said, "With any new product that any company is showcasing, at the PRI Show the buyers can feel it, touch it, look at it, and get a much better understanding of the product in person than they could online or by brochure."
"I can think of no better place than the PRI Show to showcase your product and create those important relationships," said Deena Salenbien of ApexTurbo, Maybee, Michigan. Deena and Ryan Salenbien chose the 2019 PRI Show to introduce their innovative turbocharger, which features reshaped wheel geometry (forming the apex in the company's name) for "more air grab and more power potential," she explained. Response to the product was "overwhelming. We clearly had something to offer to the market that was very different, and that created a natural attraction. We were flooded the whole time, and we could really feel the excitement."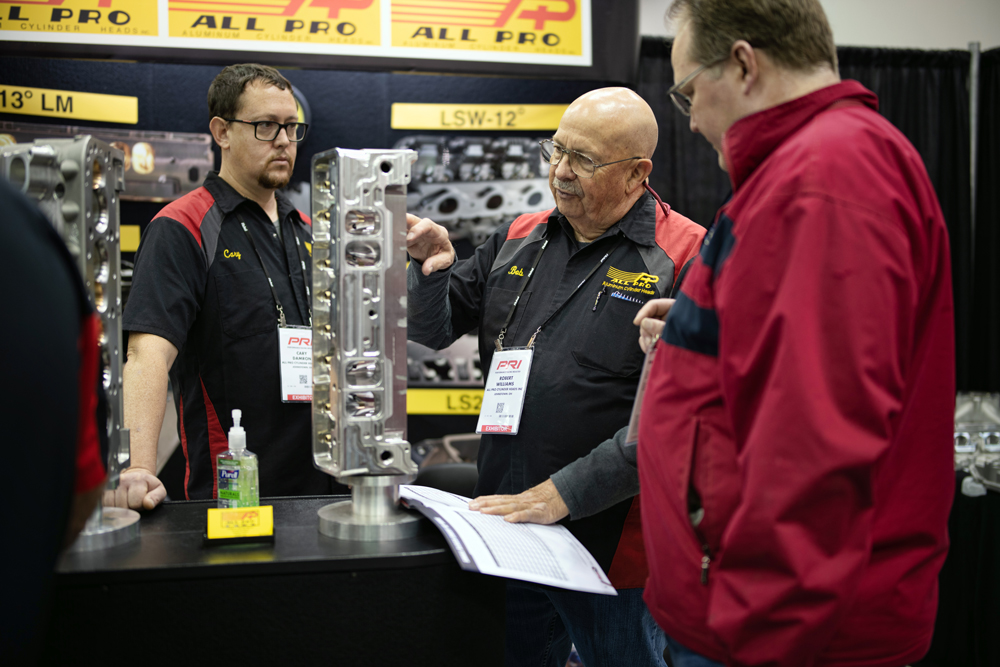 That first year they connected with race shops and also inked an exclusive distribution deal. "Those relationships were founded on the PRI Show floor, and they just blossomed and grew from there. To this day, we are working really closely with suppliers, vendors, and partners we met at our very first PRI Show."
Evolve Lubricants was a first-time exhibitor in 2021, and the timing was fortuitous, said CEO and President Rick Lee of the Reno, Nevada-based company. Grand Opening Breakfast keynote speaker Roger Penske's comments about the need for sustainability in racing "set the stage for our disruptive technology." Evolve has developed a number of non-fossil-fuel sustainable lubricants, including its Ecorsa non-petroleum racing motor oil. Lee said attending the PRI Show last year "was pretty fun, coming into the high-performance area and showing customers and enthusiasts that we can make high-performance, carbon-negative products that outperform existing products. We have a fairly young company, with a new type of technology, and it was a great place for us to launch."
Lee was pleased with "the quality of attendees walking the aisles, the engineers working for each of the companies, and their receptiveness to new technology." Among the booth's visitors was Indiana Governor Eric Holcomb. "Indiana is near and dear to our heart, as our product's origination comes from soy, and Indiana is in the heart of soy country," Lee said. Since then, he has "opened up discussions about bringing a refinery to Indiana, based on the access and quality of people we met at the Show. That's what made the difference—the quality of the people at the Show."
Another first-time exhibitor in 2021 was Hypercraft of Provo, Utah, which offers electric crate motor systems for a variety of vehicular applications. "We spoke with everybody" during the Show, said Logan Tanner, "and that was surprising to us. We talked to a lot of good old boys who wanted nothing to do with EVs, and a lot of good old boys who wanted everything to do with EVs because they saw it as the future. We talked to mechanics who were eager to understand EVs and start working on electric vehicles. We talked to other mechanics who did not understand the technology but wanted to start embracing it so they wouldn't go out of business. We talked to racers—drivers, teams, and organizations—who were very interested in the potential for EVs in their sphere of racing. We were very impressed by the variety of people, from low-level mechanics all the way up to race organizers."
Todd Flis of Flis Performance in Daytona Beach, Florida, has been attending the PRI Show for 15–20 years. Yet 2022 will mark only the second year that the company, which is the exclusive builder of cars for IMSA's Mazda MX-5 Cup, is an exhibitor. Why make the switch? "We wanted to open up new avenues of exposure for our customer base, for the series and for the cars," Flis said. He also uses the booth to display "the production side of what we build and sell."
The PRI Show is "the standard of anything racing related," Flis said. "It does a much better job dialing in on racing than any of the other shows." The Show "brings everybody to one central location, so it's a good place to meet and mingle. Most of our partners we use for the production side are at the Show exhibiting, so it's a good place to meet with them."
'Planting Seeds'
Not every company at the Show has a new product to offer. "We look at the Show more as planting seeds for customers than anything," said Drew Pumphrey of D&J Precision Machine, Cambridge, Ohio, which specializes in diesel performance. "Customers aren't going to need our engines tomorrow; they're going to need them when they need them. We try to have that seed planted, so when they do need it, they call us." 
In a similar fashion, GingerMan Raceway of South Haven, Michigan, has exhibited at the past two PRI Trade Shows "to let people from different race groups and race teams know that we're available if they need testing," said Maribeth Jordan. "That was our whole reason behind coming—to get us out there. And it's worked."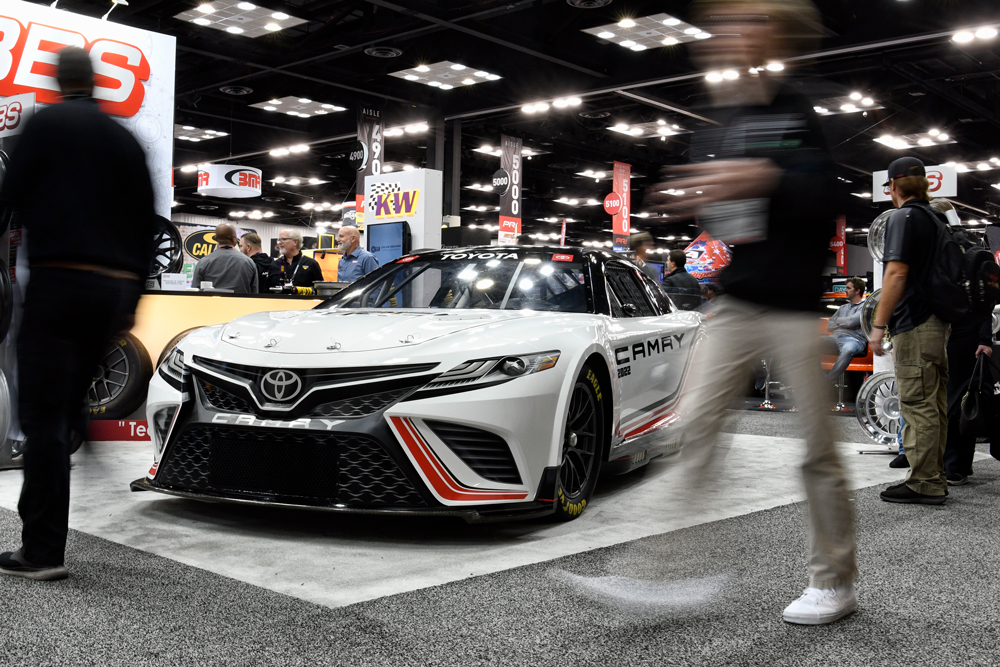 M1 Concourse in Pontiac, Michigan, is also exhibiting at the PRI Show to get the word out about the availability of its track, garages, and event spaces, said Tim McGrane. "I started visiting the PRI Show a few years ago when I was running Laguna Seca. It's an important Show in the racing space, and the day before the Show they were doing the Race Track Business Conference, which gave us two reasons to go to Indianapolis from California. We'd always see people we knew in the racing world, and we'd also meet new people."
Once the M1 Concourse facility was completed, it was important for McGrane and his team to be at the Show "to let people know the track was available for rent, and also that we do events here. It's the event awareness, from a participant point of view, a spectator point of view, and a potential vendor or sponsor point of view, that we started connecting with people at the Show. Our experience has been that the Show presents a lot of opportunities." 
'Face to Face'
"Without a doubt, it's the face-to-face interaction that makes the PRI Show so important," said TW Metals' Dan Schaeffel. "There's only so much you can accomplish online or over the phone. The Show is the one time of year you know everybody more or less is going to be in the same spot. It provides that open marketplace feel, where you can get things accomplished. A lot of the people we deal with like that face-to-face interaction. They're able to get good information and get things done at this Show."
Clark spoke for many when he said one of the biggest benefits of being at the PRI Show is "to see our customers, keep the customer relations up. We take very few orders there. It's more a matter of seeing our customers, getting to know them face to face. For many of these people, that's the only place we'll see them during the year. A lot of big engine builders are so busy at their shops they never get a chance to go anywhere other than the Show."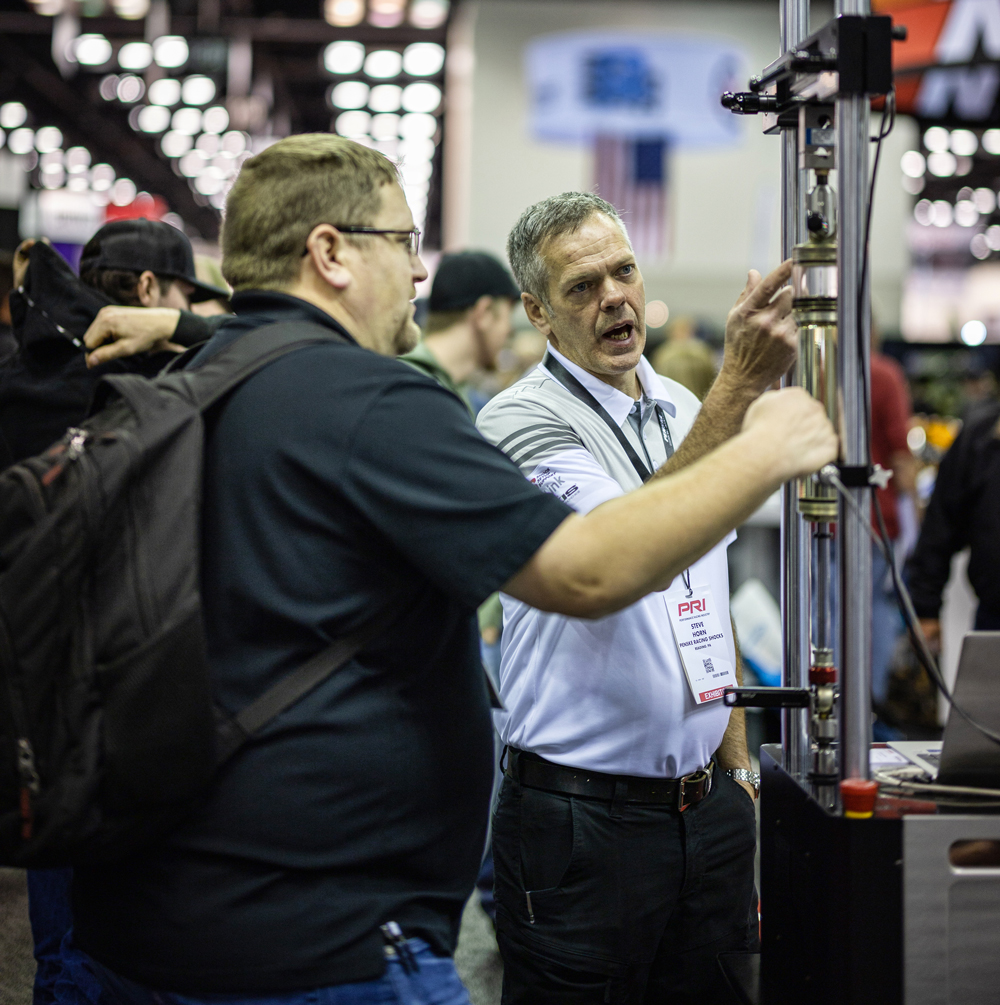 Tim Suddard of Grassroots Motorsports Magazine in Holly Hill, Florida, attends the PRI Show "primarily to see past customers and existing customers. It's a logical time of the year. We're working on renewals for advertising, marketing partnerships for our events, social media, and so on. A lot of people, when you try to talk to them earlier, they say, 'Let's just meet up at PRI.' 
"It's a very convenient place to visit our regular partners," he added. "To travel around the country to visit 30–40 customers in three days is pretty damn expensive and inefficient. When we schedule meetings in our booth, we can catch up with everybody, see what they want to do, and tell them what we're doing for next year."
'The Gamut of All Motorsports'
One area we wanted to address with our exhibitors was the perception by some in the industry that the PRI Show is "an oval track show" or "just for drag racers." Those racing disciplines are well represented at the Show, but as ApexTurbo's Salenbien said, "PRI provides the gamut of all motorsports. Here we come from the truck and tractor pulling world, and it's still motorsports, even if it's very different from oval track and drag racing."
From the perspective of the TW Metals team, the PRI Show "is a Show for everything," said Terry Hanneman. "Indy is racing. Anything you can race is there." 
Added Keith Cookson: "We get buyers and customers from all aspects, whether it's drag racing, circle track, road course, off-road trucks, monster trucks, even motorcycle stuff."
"The Show reflects the reality of the marketplace," said Suddard, who has been attending the PRI Show for longer than he could remember. "Do you remember Nashville? I do," he said. "When we started, there wasn't much road racing other than pro racing. There wasn't a NASA—just the SCCA and maybe two or three independent clubs. That was the whole world. Now there are so many sanctioning bodies—ChampCar, Lemons, Lucky Dog—and now so many schools, track-day events; there's so much going on, and that's reflected at the Show. There are more and more booths that talk sports cars, road racing, and so forth."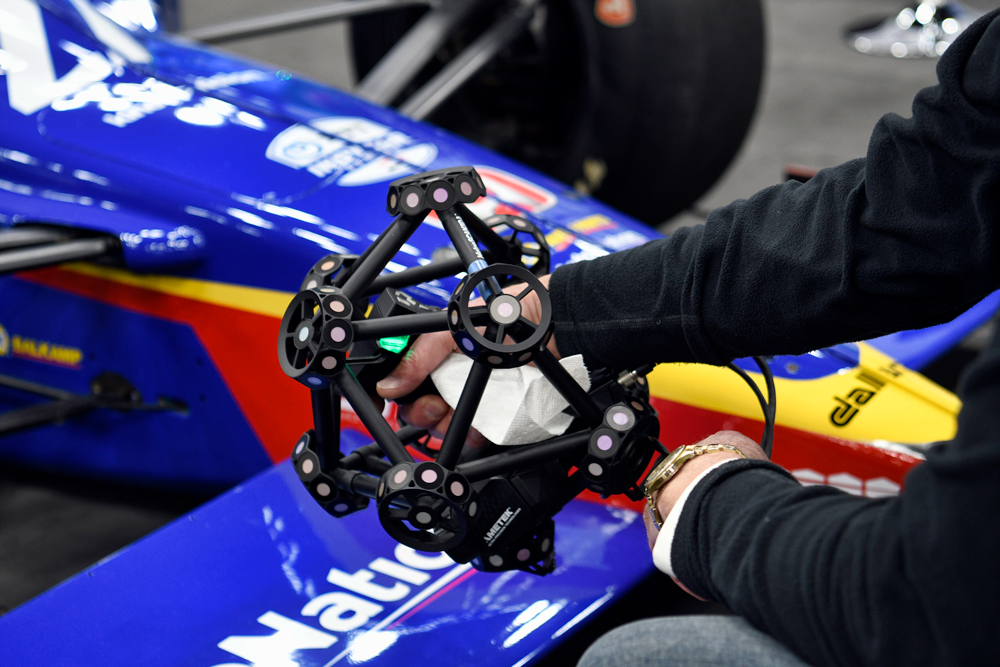 For Trojanek, "there's a bunch of companies at the Show with the kinds of products we need to buy" for CorteX Racing's road race customers, "things like rod ends, plumbing, different engine components. Those are generic and not specific to one industry or another. Sure, there's a lot of specialty products that are geared toward circle track or drag racing. If all the major companies are there, you're just going to get a lot more in those areas because that's what's most popular in the US right now. But they also offer things that are more road-race oriented as well, for the more generic consumables." 
Pumphrey has noticed "an up-and-coming push in the diesel market to be at the Show." What's helped is the fact that "we've made leaps and bounds on getting faster and faster with diesel drag racing, to where people are actually paying attention and not looking at us like we're a bunch of guys out there just blowing smoke and not going very fast." Some of that attention is coming from drag race and circle track customers who aren't familiar with diesel racing. 
That kind of crossover presents a number of opportunities, Salenbien said. "There are things that people who mainly provide to the car world can provide to the diesel and truck and tractor world, and there's knowledge gained in the truck and tractor world that they can provide to the car world. We are a perfect example of that. What ApexTurbo has done for the truck and tractor world we are now bringing to the car world, allowing these people to upgrade their turbochargers and reach their goals and dreams of improving their vehicle on the drag strip. That crossover is key. The PRI Show is a great place to share knowledge. It just benefits all."
'Success Stories'
"We have a ton of success stories from the Show," Salenbien said. "By launching at PRI, which has a large attendance of car enthusiasts, we were able to build that crossover from truck and tractor pulling to the drag car world. Back in 2019, we didn't have a single car with our turbos on them. Now we have world record owners with Apex turbochargers." Arnaldo Rodriguez of the Venenum Racing Team "made the switch to ApexTurbo on his Pro Mod drag car after learning about us at PRI and went on to set the Pro Import world record of 5.557 seconds in the quarter-mile. We also have an ApexTurbo on the world's most powerful Honda four-cylinder," a 1,600-hp powerplant built by Nicolas Feliciano of Nicolas Auto Repair in Griffin, Georgia. "Now he won't purchase anything but Apex turbos."
A "main takeaway" for Hypercraft was inking a deal at the PRI Show "to be the electric drivetrain provider for a customer of ours that's building an all-electric track car," said Tanner. "The car will race in a series against other electric vehicles of the same make and model. It's a sanctioned race series with a major race organization here in America. It's going to be high performance, fast, fun, and exciting." Tanner said more details about the race series and the car will be announced at the SEMA Show, and Hypercraft will have the car in its PRI Show booth. 
"We had a win-win-win-win when we were able to pay back one of our competitors by inviting them to display a Formula car in our booth," said Briggs & Stratton's Roche. "We need to have some cool stuff in our booth, because people who show up at our booth year after year need to see something different to be excited about us again. That was the second win. For the third win, we always try to show that Briggs & Stratton Racing is comfortable with people stepping beyond our program. We were able to prove you can go from karts to cars. And the fourth win was we were able to get some publicity for this racer, allow him to tell his story in our booth in a relevant way for both of us."
For McGrane at M1 Concourse, his Show success stories had to do with the connections he made. "It started this past year, at the Race Track Business Conference the day before, and then during Show days, they had a panel discussion with track operators. We connected with the person who runs the track at the National Corvette Museum at Bowling Green. They have a very active karting track, and we're in the process of developing something that would include a kart track, so we were able to connect there." A recent transplant to the Midwest, McGrane was also able to talk to other track owners about "what we can do during the winter months with a track to keep it operating, keep it generating revenue."
CorteX Racing is involved in the build of a TA2 car to run at Pikes Peak, "and because they're not limited by TA2 rules, they wanted to use some of our more exotic products—bigger brakes, better suspension," Trojanek said. "They came to our booth to look at all the products. And we worked with guys from the chassis manufacturer, Howe Racing Enterprises, who were also in our booth. We could discuss some of the details as to how best to implement the products on the car. Normally, being able to get two or three manufacturers and the customer together in one place is pretty rare. That meeting was kind of a big deal, and usually can't happen without a lot of effort."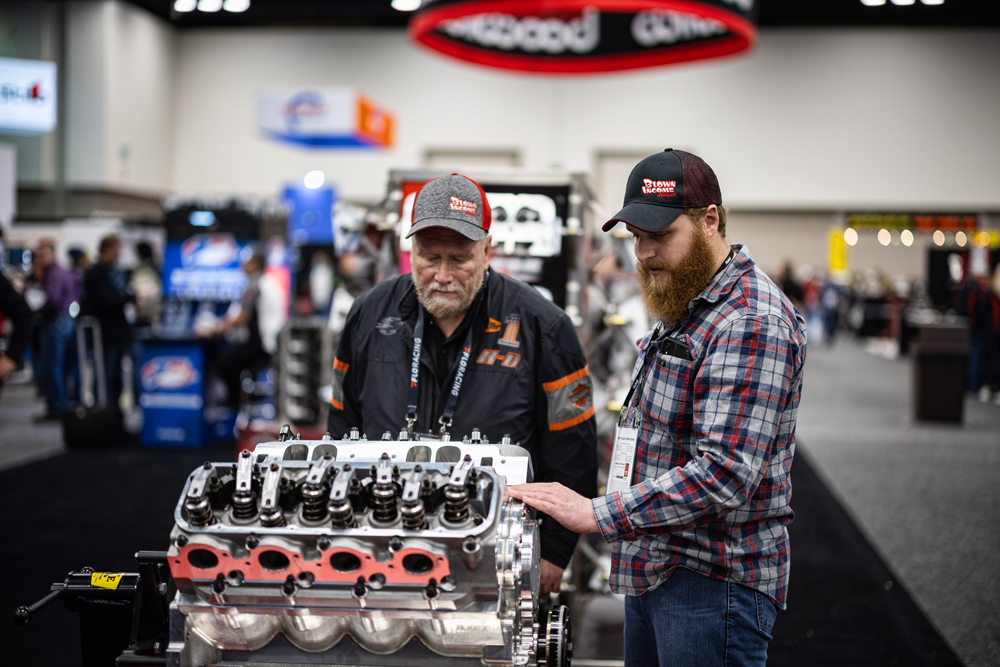 TW Metals has enjoyed a number of success stories over the years. "They come to us asking questions," Cookson said, "and we have been able to do more of the net-shape product, versus a standard off-the-shelf, which would save them a lot of machining time." 
"For many years, we had a great relationship with a particular customer," Hanneman added. "By talking with them, we were able to set things up so we could cut to length for them so they wouldn't have to do the first operation. That just came up in conversation: 'Hey, we have this saw, we can certainly cut to length for you.' Stuff like that comes up when you're sharing information back and forth."
"It almost never fails," said Schaeffel. "Every year, certain buyers that deal with you pigeonhole you into certain products. When they come by the booth, they'll look at everything you have to offer and say, 'I didn't know you did that. Can you tell me a little more about this?' That opens up new channels for that buying marketplace."