PRI Helps Honor Industry Leaders At NCMA Ceremony
Image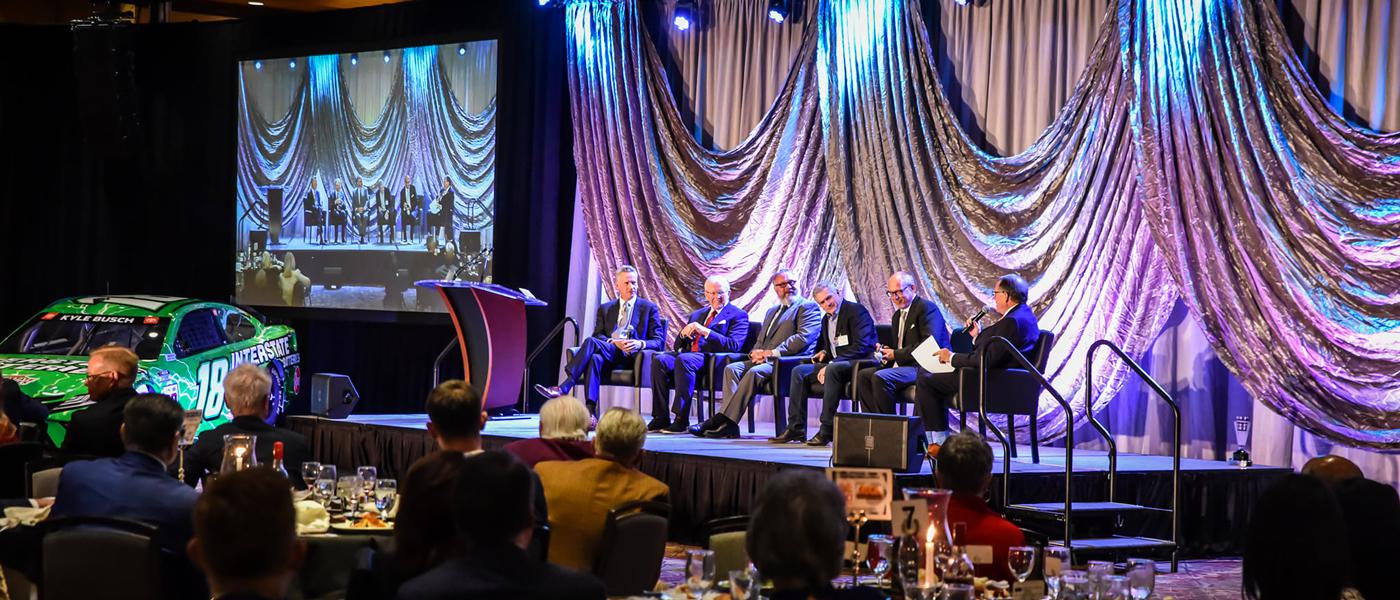 The North Carolina Motorsports Association (NCMA) recently hosted its NC Motorsports Industry Ceremony presented by Fifth Third Bank. The event, held in Concord, North Carolina, honored NASCAR Hall of Fame championship team owner Joe Gibbs for his outstanding contribution to the sport with the Achievement in Motorsports Tribute Award.    
Additional honorees included Rockingham Dragway and longtime owner Steve Earwood; the Town of Mooresville, North Carolina; Speedway Children's Charities; and Toyota Racing Development. Larry McReynolds was also honored with the Jim Hunter Memorial Media Award.  
PRI Track Ambassador Tom Deery was on-hand to support the event, which took place at the Embassy Suites Charlotte Concord Resort. PRI was joined by District Director Brett Keeter and Regional Director Will Bowen from the office of U.S. Representative Congressman Patrick McHenry (R-NC), who is the lead sponsor of the RPM Act. Also attending the ceremony was former Governor Pat McCrory, who is running for the U.S. Senate.  
"With NCMA focused on racing and high-performance applications in the state of North Carolina—which I put on par with Indiana in that we're highly dedicated to the industry—it's great to see PRI, which is on a national scale, take an active role in supporting our state. It gives significant weight to what we do," said NCMA Executive Director David Miller.  
The ceremony also provided the opportunity to update the industry on the latest advocacy efforts affecting motorsports, including PRI Membership and the vital RPM Act. The RPM Act (H.R. 3281 and S. 2736) is common-sense, bipartisan legislation to protect Americans' right to convert street vehicles into dedicated race cars and the motorsports-parts industry's ability to sell products that enable racers to compete.  
"There are several things we're working on with PRI, but the biggest might be the RPM Act. We are raising awareness of this bill throughout the state, and as a result of these efforts, several congressmen in the state of North Carolina are co-sponsors of the RPM Act," Miller said.  
SRI and Stock Car Steel & Aluminum President and Owner Greg Fornelli—who is also a PRI Founding Member and NCMA Chairman—echoed Miller's sentiments and, during the ceremony, stressed the importance of the passing of the RPM Act to those in attendance.  
For more information on NCMA, visit northcarolinamotorsportsassociation.org. For more information on PRI Membership, including how joining supports motorsports, visit performanceracing.com/membership.