Digital Marketing Grows In Value In Promoting Buyer Attendance At PRI Show
Image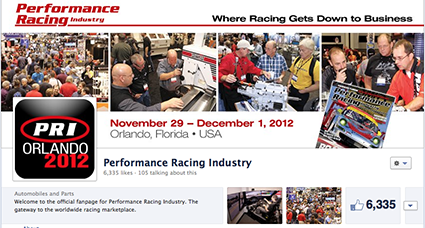 Social media such as Facebook, Twitter, LinkedIn and YouTube, as well as eNewsletters, have become increasingly valuable components in effectively promoting buyer attendance at the Performance Racing Industry Trade Show.
"The PRI email list includes over 30,000 members of the racing industry, and we've worked very hard to make it a tight, accurate list," said Andrea Brake, PRI sales and marketing manager. "Beginning in June, we've been sending out two eNewsletters per month that include information promoting attendance at the PRI Trade Show."
The eNewsletters alone will result in over 100,000 impressions, per the current open rate.

On PRI's YouTube channel, exhibitors and attendees will find interview there of both exhibitors and buyers on their PRI Trade Show experience in 2011.
"We also developed a 'front page' news format for the PRI Trade Show, so members of the racing business can find the latest industry news every day at www.performanceracing.com," said Brake. "That page is double every year in unique viewers and page views. It provides news about the PRI Trade Show on a regular basis."
For more information on the 25th Annual PRI Trade Show, which takes place November 29-December 1, 2012, in Orlando, Florida, visit
www.performanceracing.com/tradeshow/
.