PRI Trade Show Advertising Campaign To Make Over 400,000 Impressions
Image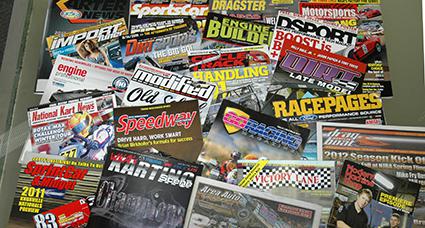 Exhibitors take note: Performance Racing Industry uses every avenue to aggressively spread the good news far and wide about all the trick new racing products being introduced at the PRI Trade Show in Orlando.
It goes far beyond the pages of PRI magazine, as the Trade Show buys media in magazines with a diverse range of readerships representing the full spectrum of motorsports.
"With the reach of PRI magazine and the 20+ additional publications in which the PRI Trade Show advertises, exhibiting companies can be confident they are working with a Trade Show team that is very aggressive in generating buyer attendance," said Eric Jurado, PRI sales and marketing manager. "The exhibits of new racing products are the star attraction of the PRI Trade Show, and PRI 'bangs the drum' loudly everywhere to spread the news of this spectacular event."
National Dragster, Speedway Illustrated, Sprint Car & Midget, Circle Track, Sports Car, Grassroots Motorsports, Import Tuner, Modified, Victory Lane, Dusty Times, Race Pages, Fastest Street Car, Dirtsports, Drag Boat Review, Dirt Late Model, National Kart News, National Parts Peddler, Drag Illustrated, DSport, Area Auto Racing News and other racing publications are on the PRI Trade Show advertising schedule. Few companies in racing advertise so extensively, and to such a diverse audience in racing.
Publications with readership beyond racing are also included, such as Modern Machine Shop and Engine Builder.
Altogether, the magazines represent over 400,000 impressions about the PRI Trade Show.
In addition to the print publications, PRI has an extensive advertising campaign on the Internet, including such websites as racer.com, hoseheads.com, tjslideways.com, openwheeltoday.com, thedirtrackchannel.com, machinetool.com, whowon.com and more.
For more information on the PRI Trade Show, visit
www.performanceracing.com/tradeshow/
.