Unleash More POWER With JMS Chip And Performance Products
Image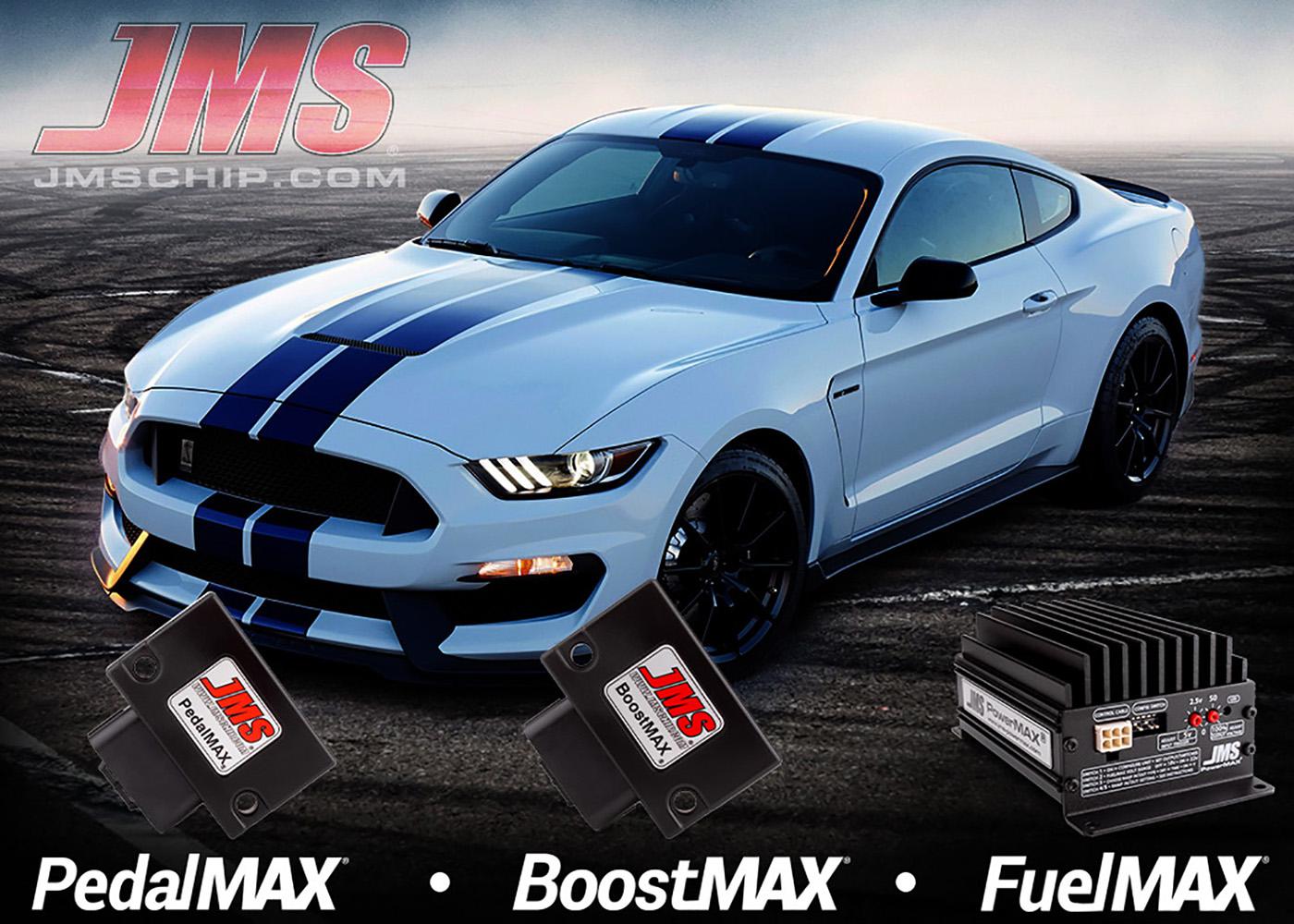 JMS Chip is a manufacturer of high-quality electronic components for the Automotive and Powersports industries. They develop and design products that improve the overall performance, reliability, and safety of the vast majority of modern vehicles on the road today. Led by industry pioneers with decades of experience ranging from manufacturing, aftermarket upfitting, and automotive calibrations software, their electronic components are some of the most technologically advanced in the industry today, utilized by OEM's and consumers alike. JMS's top-selling line of products includes PedalMAX®, BoostMAX® and FuelMAX™ and many other innovative products.
Improve your vehicle's throttle response and driving characteristics with PedalMAX®. Throttle response and 0-60 acceleration are improved, boosted applications see a big lag reduction, all leading to better initial power, torque, and shifting characteristics. Taking only minutes to install, the unit plugs in-line between your vehicle's pedal position sensor and vehicle harness, utilizing OEM-connectors with a control knob making performance adjustable on-the-fly! Coming in 3 different models, PedalMAX®, PedalMAX® Terrain, and PedalMAX® Extreme to enhance any vehicle on or off-road.
BoostMAX® is a complete plug & play performance solution for 2011+ Ford Ecoboost, allowing you to add additional boost via the control knob to your engine. Easy to install, it plugs in-line using the vehicle's factory wiring connectors and harnesses. BoostMAX® connects to the factory MAP and TIP sensors using OEM-style connectors and is controlled via the accelerator pedal position sensor to allow for on-demand increases in low-end, mid-range, and top-end power and torque. Heighten your driving experience even more by stacking it in-line with the PedalMAX® to improve all-around throttle response while further enhancing low and mid-range torque. Or dial it back down to factory settings to give yourself an edge in low-traction conditions.
The FuelMAX™ fuel pump voltage booster features exclusive digital technology that provides up to an 85% increase in fuel delivery from your factory OEM fuel pump, giving it the highest continuous voltage and amperage output without the need to disassemble the fuel tank or install time-consuming aftermarket fuel pumps. Plug and play installation connects the supplied OE-style harness directly to your fuel pump driver module and activates via the pedal position sensor, minimizing install time and eliminating the need to drill extra holes in the firewall. User-adjustable voltage ramp-in/out rate allows the elimination of fuel pressure spikes for maximum control and customization if desired. These kits feature heavy-duty 10-gauge wiring, industrial-grade heat-sink, proprietary enclosure, and everything else you need for a clean and complete installation. Compatible with all 12-and 16-volt battery systems, plus all aftermarket fuel pumps.
All JMS units are backed by a lifetime warranty and made in the USA from highly durable components.
Keeping with their race roots, JMS also offers drag-style wheels, the Savage and Avenger lines, which every racer needs in their garage. JMS Wheels are engineered to fit specific Ford, Dodge, and GM vehicle applications while accommodating the larger factory or aftermarket braking systems commonly found on the Boss 302, Shelby GT500, and SRT8 Dodge cars. Each vehicle-specific wheel is machined with exact center-bore tolerances and utilizes a 60-degree lug seat for a true OEM fitment. Color-matched lug nuts are included, and they are custom manufactured with a ¾" SAE hex head to prevent damage to the lug opening during the wheel and tire installation and service.
Avenger Series Wheels feature a contemporary five-spoke design, while the Savage Series Wheels feature a modern five-hole drag-style design. Both series wheels are manufactured from single-piece aluminum moldings that offer high-strength yet are lightweight. Each style will be available in the following finishes: Polished Silver, Satin Silver, Chrome Silver, Gloss Black, and Black Chrome. For an ultra-modern look, the wheels are also offered with a diamond or mill cut process before finishing.
All wheels are offered in these common sizes; 15" x 10" & 17" x10" rear wheels, and 17" x 4.5" & 18" x 5" front wheels. Supported vehicle applications include 1994-2021 Ford Mustang, 1994-2002 Chevy Camaro and Pontiac Firebird, and 2006-2021 Dodge Charger and Challenger. Wheel sizes are pre-engineered for fitment on each vehicle based on factory or aftermarket brakes, and the backspace/offset specifications are designed for optimal fitment.
Never one to settle, keep your eyes out for new JMS products releasing in 2021.