Image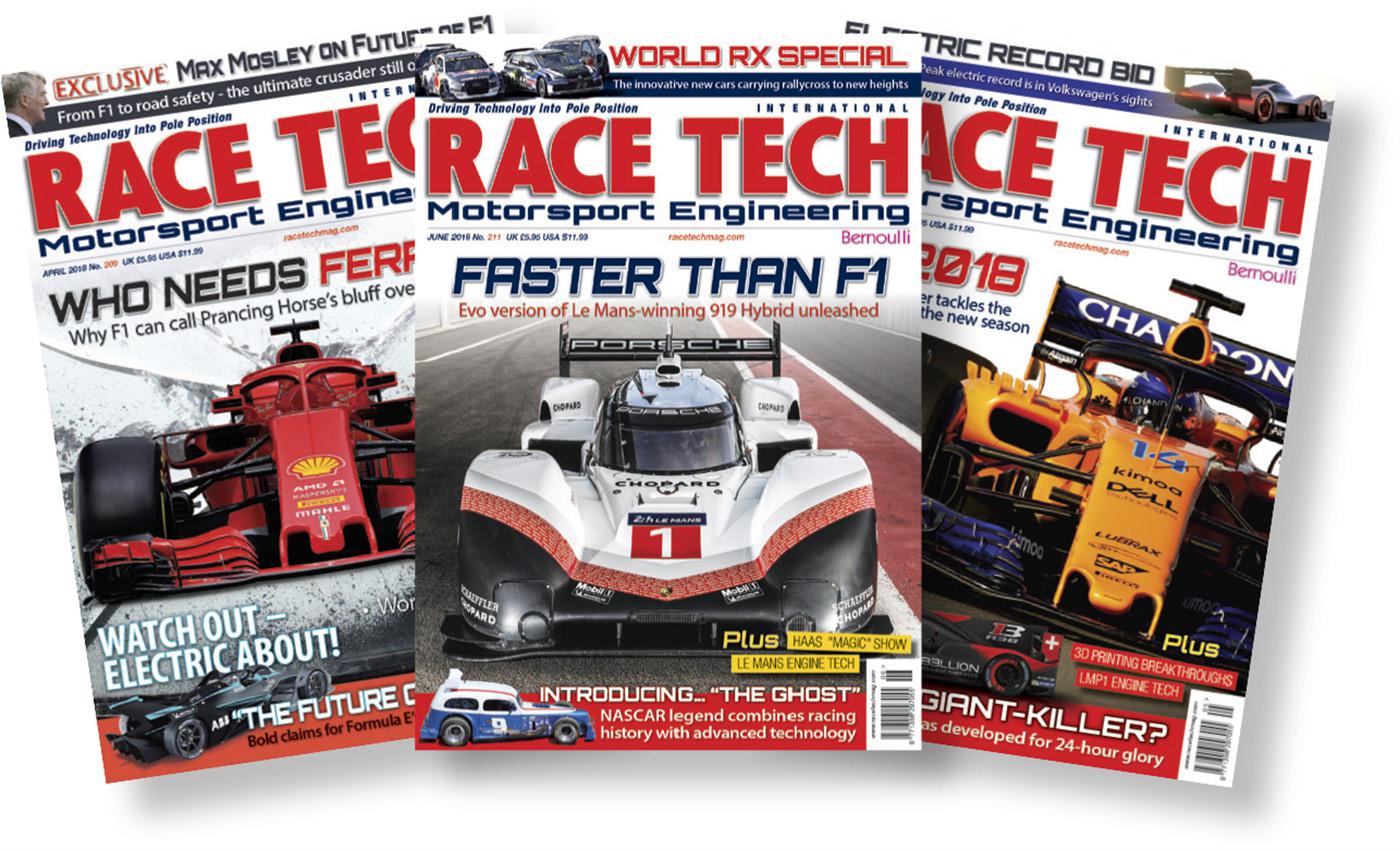 RACE TECH is the technical Bible for everyone involved in the motorsport industry as well as the serious enthusiast who wishes to be better informed, featuring in-depth articles written by engineers for engineers.
Don't miss our January issue, where you will find:
An A-Z analysis of the controversial 2018 F1 season

An incisive assessment of what Mercedes' departure means for the DTM

The important innovations that have already emerged and are expected this show season

A deep dive into the Integral e-Drive technology that powered VW's record-breaking run at Pikes Peak

A revealing look at the moves to bring top-tier simulation tools in reach of engineers in other series
RACE TECH reaches a global audience of more than 56,000 motorsport professionals, including engineers, designers and senior decision makers. Catering to a well-informed and highly relevant audience ensures maximum exposure.
Having celebrated its 20th anniversary as the world leading motorsport technology magazine, RACE TECH is the primary source of racing technical information with every aspect of the race car covered from concept to the starting grid and everything in between.
The magazine is recognized as the leading international authority on engineering and technology in motorsport and applies its unique approach to all aspects of motorsport engineering, from the engine and powertrain, through to suspension, vehicle dynamics and aerodynamics. Beyond that, it also covers the wider motorsport industry, looking at business and administrative issues, technical regulations and current affairs.
Annually the magazine also hosts the world's leading motorsport technology forum, the World Motorsport Symposium. It is the only event of its kind where the most senior international motorsport and automotive engineering decision makers get together for two days to discuss how technology will shape the future of their sport, and in turn influence and affect engineering sectors across the globe.
Attendees are the first to hear about new ideas and decisions before they are formally announced, and be privy to highly confidential industry information only available due to the Chatham House rule.
The concept of the electric single seater racing series was first muted at the symposium that has since become the extremely successful Formula E, as was the Global Race Engine concept. Knowing that it won't be reported, governing bodies also talk in confidence about their future plans.
A networking opportunity like no other has also meant that this symposium has gained a reputation as the 'Davos of Motorsport Engineering' where many return year-on-year.
RACE TECH is part of Kimberley Media Group. Other titles within the Group include Historic Racing Technology and Track Car Performance.
Uniquely, Historic Racing Technology is dedicated to the engineering and craftsmanship found in today's historic racing industry. Inside you'll find in-depth technical articles on preparing, racing and restoring historic cars in the modern era.
It has rapidly established a keen following among professional engineers and home enthusiasts alike. Ranging from club competitors to those involved with major international events, it covers every aspect of classic and vintage motorsport.
Track Car Performance magazine will appeal to everyone from the person who just wants to take their car to the track for a bit of fun to the high-end track owner who all have the same mission in mind—that is to go as fast as possible along a given piece of track!
It contains everything you need to know to convert your road car into a race car, items such as roll cages and seat belts and track side equipment such as video systems and lap timers and how to test your car on a rolling road.
For more information about any of the above, please visit:

www.kimberleymediagroup.com

www.racetechmag.com

www.historicracingtechnology.com

www.trackcarperformance.com