HOW TO: Build Durable Diesel Power With Fluidampr Performance Diesel Dampers
Image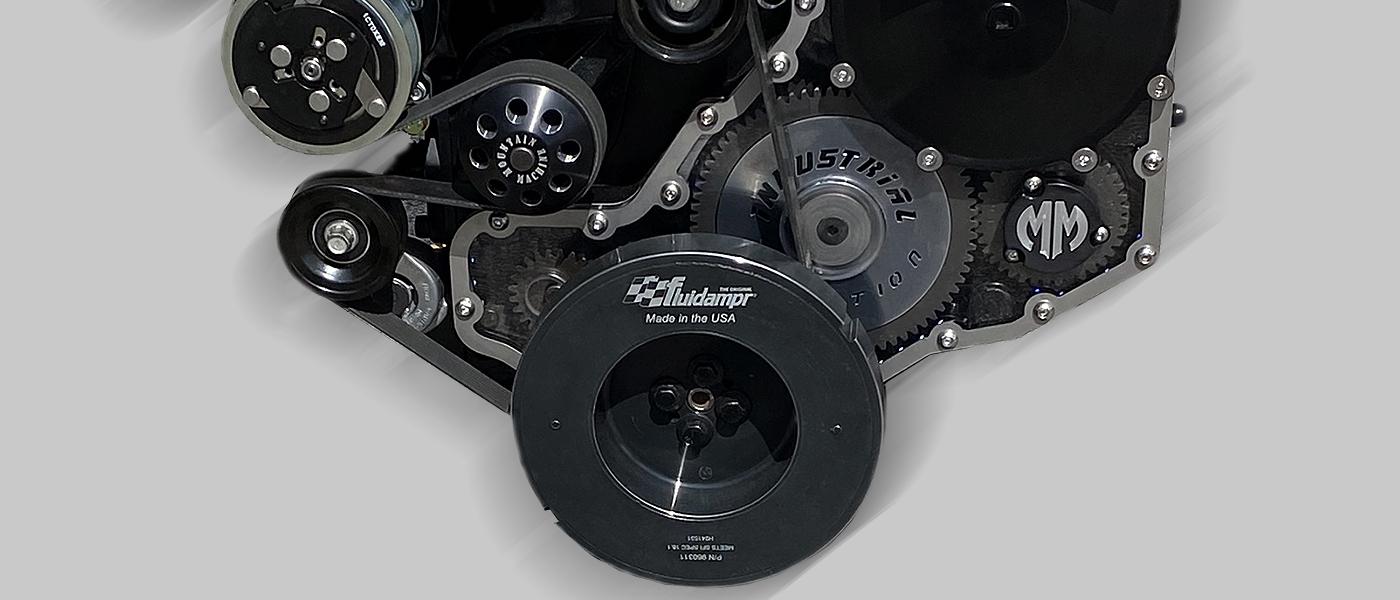 Diesel engines inherently see more severe combustion cycles than their gasoline counterparts. Higher compression ratio, direct injection, and diesel fuel translate to higher cylinder pressure. That gives us what we love about diesel; torque! But that intense force applied to the crankshaft will cause it to twist and rebound ahead of its natural rotation. Peak-to-peak deflection can be two (2) degrees or greater! As the engine continuously cycles, crank twisting and rebounding, we refer to this as torsional vibration. These destructive vibrations are what cause wear on critical engine components and reduce power output. 
Fluidampr Performance Diesel Dampers 
Fluidampr Performance Diesel dampers are made in the USA and designed specifically to minimize crankshaft torsional vibration in both stock and performance applications. As a result, you reduce wear on critical engine components, lower the risk of crankshaft failure, and improve overall efficiency. Greater efficiency means more torque and horsepower too! 
"Fluidampr proved to be the best...On top of the numerical data, there was a noticeable reduction in harmonics that could be felt in the concrete floor of the dyno cell. We'll be using Fluidampr on all of our in-house builds..."  
– Jeremy Wagler. Wagler Competition Products. 
Kill Devil Diesel. 6.4L Ford Power Stroke
They're also built for long-lasting durability under extreme diesel motorsports conditions. The hermetically sealed design contains an inertia ring inside a laser-welded outer housing. This prevents any outside particles or oils from contaminating the damping medium or outer housing separation in bolt-on designs. The design is so rugged that you'll find OEM variants sub-supplied to the United States military. 
"All these rubber dampers, including the stock damper, won't do the job.  Just will not.  [Fluidampr] will do the job, and you can run it forever and not rebuild the thing." 
– Gale Banks, Banks Power. (https://youtu.be/vRoGMXF_Qhc?t=923)
Check the stock damper. If it shows signs of cracked, bulging, or missing rubber, it has been overworked and is not providing optimum damping. Upgrade to a Fluidampr Performance Diesel damper. If you modify the rotating assembly, your stock rubber damper may no longer be in tune to provide optimum damping. Upgrade to a Fluidampr Performance Diesel damper for broad range protection.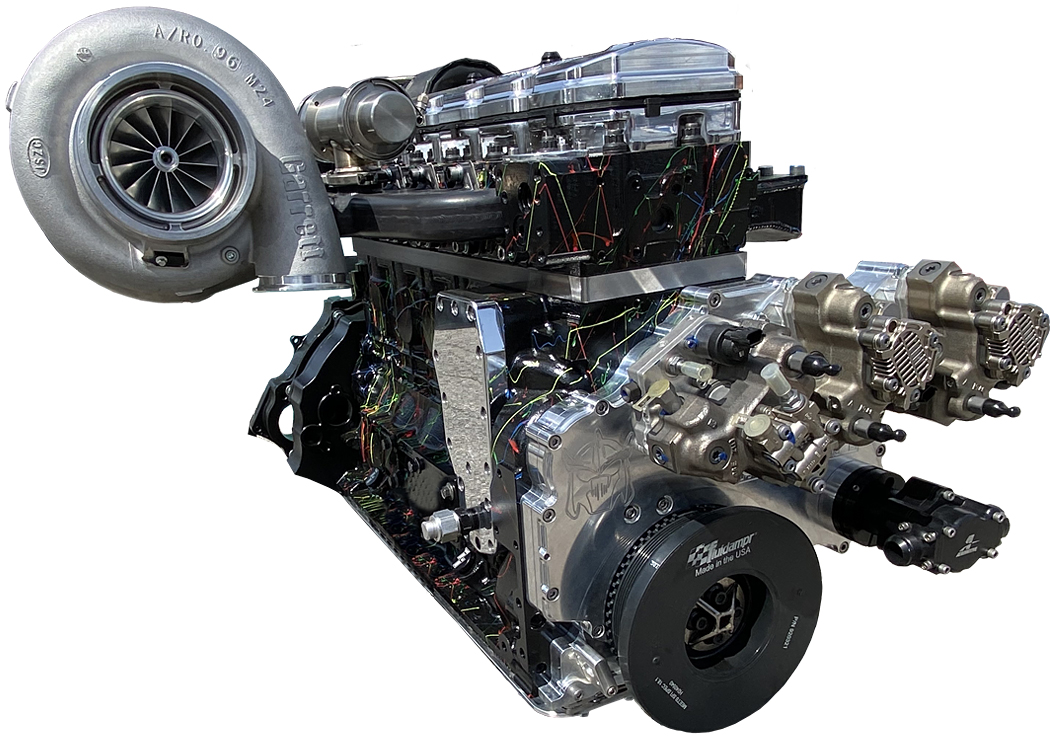 Industrial Injection – Shawn Bacca (Master Shredder) 6.7L Cummins
Fluidampr is SFI 18.1 spec for competition use. Check with your sanctioning body and class to see if SFI 18.1 spec harmonic damper is a safety requirement. 
Fluidampr Performance Diesel Installation Kits 
For proper fitment, use a Fluidampr Performance Diesel installation kit as recommended. These help ensure a secure connection to the crankshaft and protects against fretting.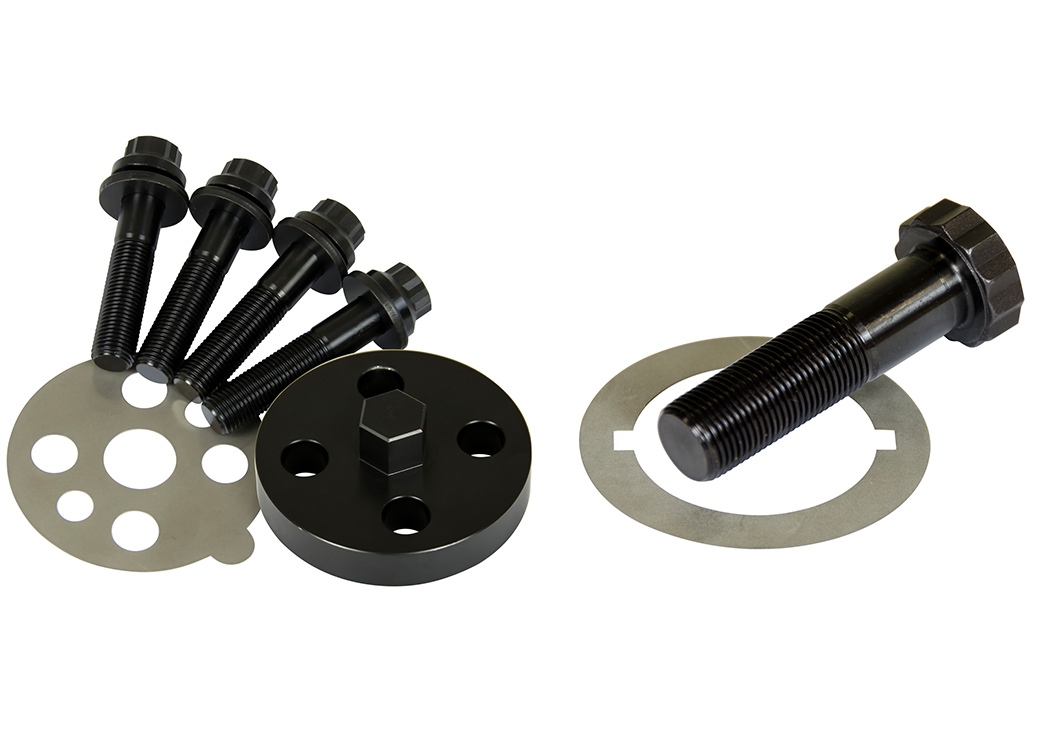 (left) Cummins Full Power Kit p/n 300008. (right) Duramax High Strength Bolt Kit p/n 300010
Each High Strength Bolt Kit contains a diamond plated friction washer and ARP® high strength bolts. The Cummins Full Power Kit also includes a torque plate with a 5/8" hex head for barring the engine over. Last, for Cummins engines turning 3,500+ RPM, the Drill Pin Kit adds additional dowel pins to the damper and mounting flange. 
| Part Number  |                           Description  | Application  | When To Use  |
| --- | --- | --- | --- |
| 300002  | Drill Pin Kit: Drill fixture, drill bit, reamer, 3 dowel pins.  | 5.9L & 6.7L Cummins  | Above 3,500 RPM  |
| 300008     | Cummins Full Power Kit: Torque plate, friction washer, high strength bolts  | 5.9L & 6.7L Cummins  | Above 700 hp, 1,250 lb-ft torque  |
| 300007     | Cummins High Strength Bolt Kit: Friction washer, high strength bolts  | 2003+ 5.9L & 6.7L Cummins  | Below 700 hp, 1,250 lb-ft torque  |
| 300009     | Cummins High Strength Bolt Kit: Friction washer, high strength bolts | 1989-2002 12v & 24v 5.9L Cummins  | Below 700 hp, 1,250 lb-ft torque  |
| 300010     | Duramax High Strength Bolt Kit: Friction washer, high strength bolt  | 2001+ 6.6L Duramax  | Each installation  |

"Fluidampr is the Official Damper of the Ultimate Callout Challenge. Teams have to use the same truck in drag racing, sled pulling, and dyno run competition. It's arguable one of the most grueling events in motorsports," said Fluidampr Marketing Manager Brian LeBarron. "What we found early on was the top Cummins diesel teams were increasingly laying bigger and bigger torque, that the flange mounting holes were fretting. In 2017, we redesigned the outer housing by thickening the flange mount area, tightening tolerances, and developing the installation kits to keep the damper in its place. With teams now using the revised damper and proper kits, there have been no reported issues as they routinely hit over 3,000+ lb-ft torque." 
"They actually came to our engine dyno and helped us do some R&D. Checked the harmonics of our engines because we were having harmonic balance issues. We've had incredible results with the Fluidampr products."  
– Lavon Miller, Firepunk Diesel. 3x UCC Champion, Diesel Drag Racing Record Holder.

New Products 
Cummins 6.7L Competition Series 
Many professional diesel drag racing and sled pullers have adopted the 6.7L Cummins. Their damper of choice has become the Fluidampr Performance Diesel - Competition Series. Competition Series dampers are slightly larger in diameter, contain more damping inertia mass, and forgo the accessory drive pulley.  
P/N 980301    Fits 2002+ 5.9L/6.7L Cummins common rail 
Tractor Pulling 
Building on the success of Performance Diesel – Competition Series dampers, Fluidampr released its first true, SFI 18.1 spec, Tractor Pulling Damper. This massive 12-13/32" diameter, 37-pound damper is the largest in the catalog. Features universal fitment for taper lock hubs, overall thicker steel, internal components to handle thrust loads, plus clockwise and counterclockwise laser engraved timing marks. 
P/N 1243101     Universal fit for taper lock hubs. 
Duramax L5P 
The 2017+ Duramax L5P promises to be competitive as more teams adopt the engine. To help achieve optimum performance, Fluidampr has released an all-new damper specific to the L5P. A six-bolt 3.2" hole pattern accommodates a custom drive mandrel. 

P/N 830141     2017-2019 Duramax L5P 

P/N 830151     2020+ Duramax L5P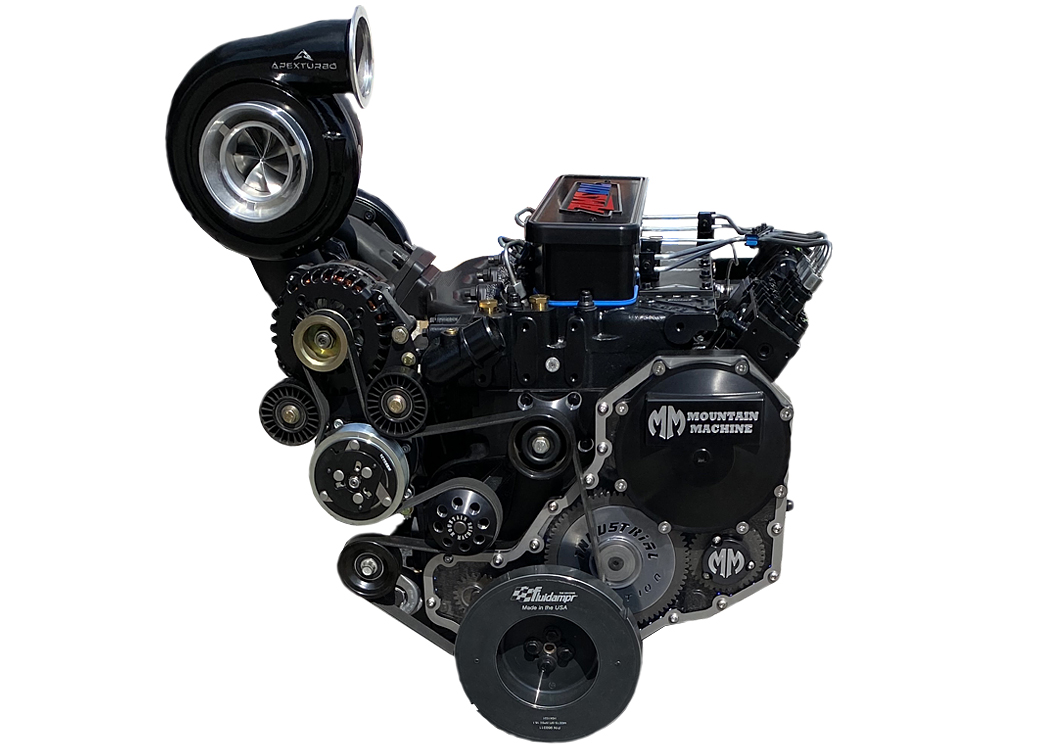 Mountain Machine. 12V Cummins

Power + Durability 
Now that you understand why and when you need to upgrade to Fluidampr Performance Diesel dampers, it's time to start building. They're available for all recent Dodge/Ram Cummins, GM/Chevy Duramax, and Ford Power Stroke engines. In addition, Fluidampr supports classic Ford 7.3L and GM 6.2L diesel engines as they remain popular for sled pulling and restoration projects. Find your damper and locate a distributor or dealer at fluidampr.com.